This board is about as light and portable as they come. Weighing only 17 lbs. it is extremely easy to carry anywhere you want to go.
It is basic in design but stable and fun to paddle. It is great for cruising around on lakes, ocean bays or rivers.
The best part about the 11' Ultra-Light is that it is quite affordable.
For a really good price, you get a durable and light inflatable SUP that is versatile enough to be used with kids and adults alike.
Saturn Ultra-Light Stats
11 feet long
30" wide
6" thick
weighs 17 lbs.
air pressure: 10 – 15 PSI
can hold up to 220 lbs.
has one large removable fin
Material: 140mm heavy-duty PVC drop-stitch material
Pros: Super light weight, easy to carry, very portable, stable, easy to paddle, tracks well, has center D-rings that can be used to attach a seat, easy removable fin
Cons: No bungee cord system for securing gear, no back D-ring
Where To Buy
Click here for the Saturn Ultra-Light Inflatable SUP at Amazon.com.
Click here for the Saturn Ultra-Light Inflatable SUP at Boatstogo.com.
More In-Depth Info On The Saturn 11' ISUP
This board is easy in every way. Easy to setup, easy to paddle and easy to take anywhere.
It inflated quickly, the fin was easy to secure and it took very little effort to paddle.
It has a basic SUP design and although it is not a high-performance SUP, it paddles just fine and I think is great for cruising around and having fun on the water.
The simplicity of it makes it quite versatile and I think it would work equally well for cruising, yoga, kids, dogs or even fishing.
There are 4 D-rings at the center of this board that can be used to secure a kayak seat.
The seat is an extra purchase but it is always nice to have that option if you would like to possibly paddle your board kayak-style.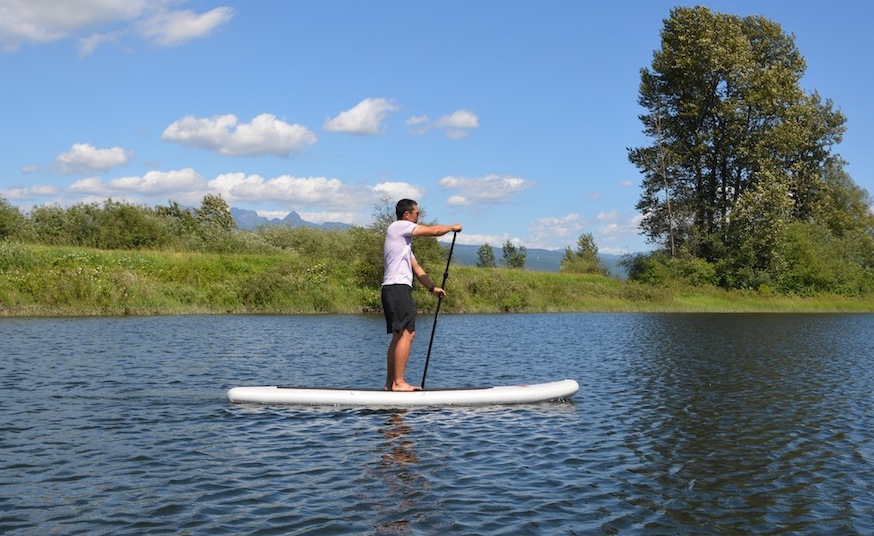 Saturn Ultra-Light Features
Durable PVC Fabric – You could tell as soon as this board was inflated that the fabric and construction is durable and strong.
Sometimes the super-light boards will lack in durability. It can be a compromise between choosing an ultra lightweight SUP or a heavier board that will last longer and withstand more abuse.
However I didn't notice a lack in durability with the Saturn Ultra-Light and overall it felt solid and rigid to me.
The heavy-duty PVC fabric that most ISUP's are made of in general tends to hold up really well and be able to withstand a fair amount of use.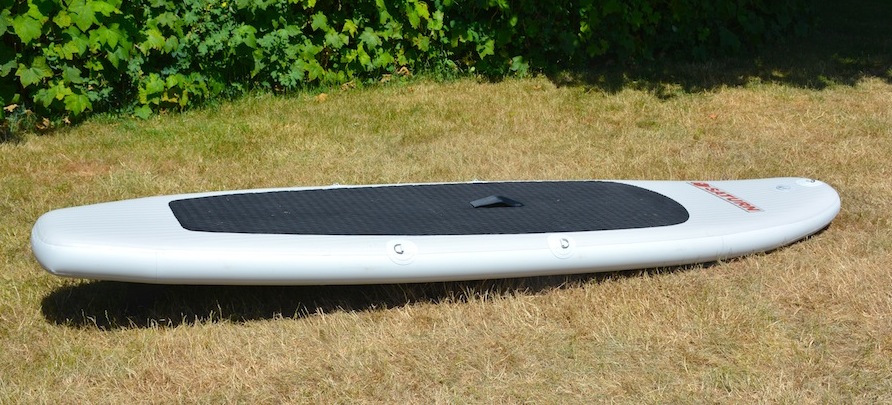 Handle – There is one nylon carry handle at the center of this board. It is very easy to carry.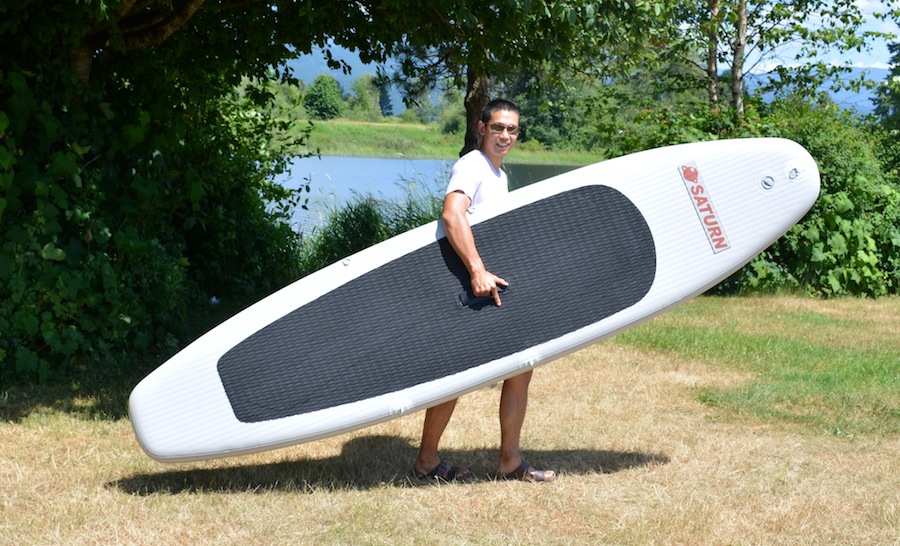 Traction Pad – The traction pad is a nice size and is comfortable to stand on. It really helps to grip the board while paddling.
D-rings – There is one D-Ring at the front nose tip of the board perfect for towing if needed.
There are also 4 D-Rings at the center of the board that are ideal for securing a seat if you would like the option of sitting down and paddling kayak-style.
Fin – The fin is a good size and it slides easily into the fin box.  Once the board is inflated, the fin stays securely in place.
With the fin attached, this board tracks fairly well.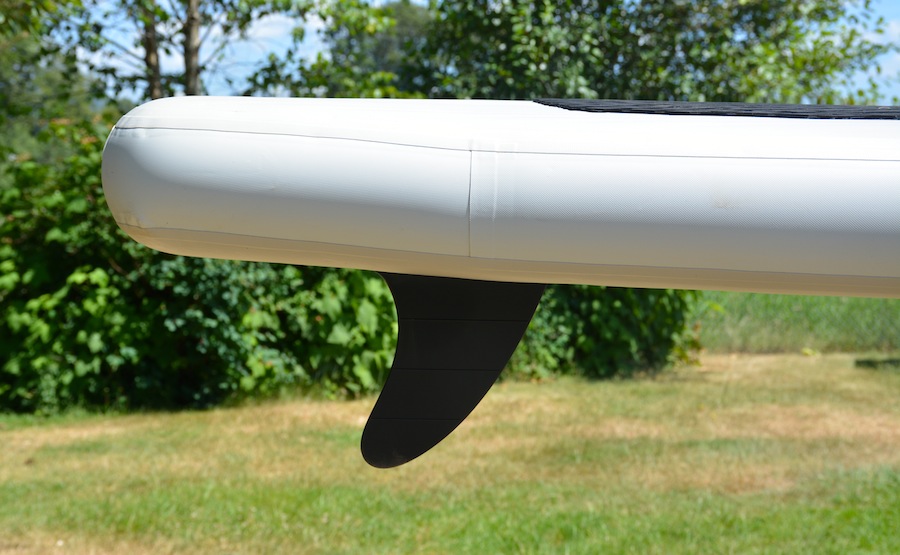 Valve – The one-way Halkey-Roberts style valve is the same valve you will typically see on most inflatable SUP's.
It works great. Push in and twist so that it is in the 'popped up' position when inflating.
Then push in and twist again so that it is in the 'down' position to let the air out when deflating.
These valves are ideal as they don't let any air out until you've pushed the knob in.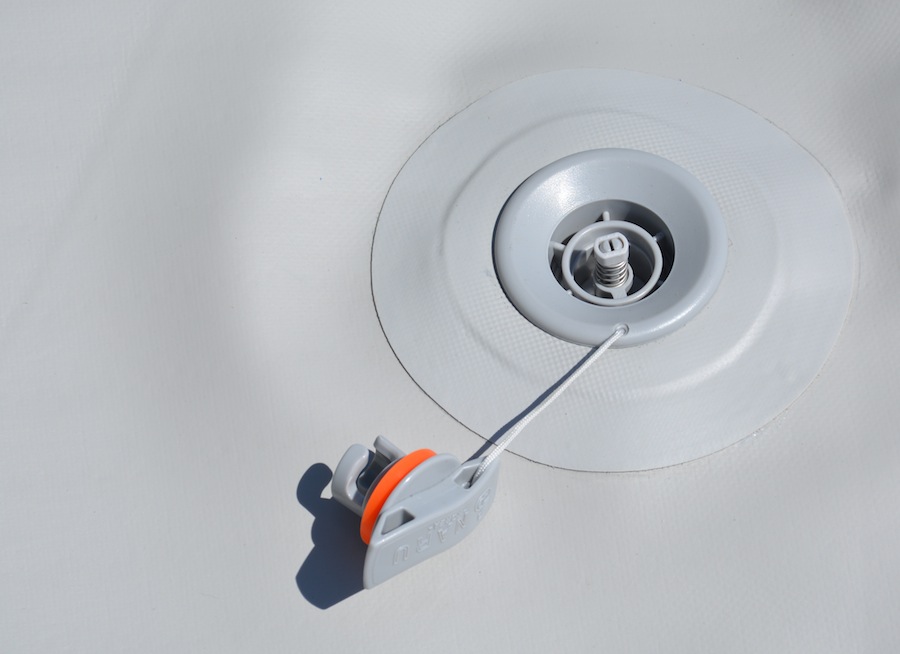 Backpack – Included in the price is a backpack carry bag.
The backpack is made of nylon and mesh. It is quite large so it easily fits the board, the pump and the fin.
It has slightly padded shoulder straps and a front pocket for extra small gear.
There are much nicer SUP backpack carry bags out there and I wouldn't want to do any airplane travel with this bag.
However for just transporting your SUP to and from the water in your vehicle, it will work just fine.
The Saturn Ultra-Light is priced very well and to get a price like this there will be corners cut in certain areas, and I feel like the backpack was one of those areas.
It works fine but it won't last forever.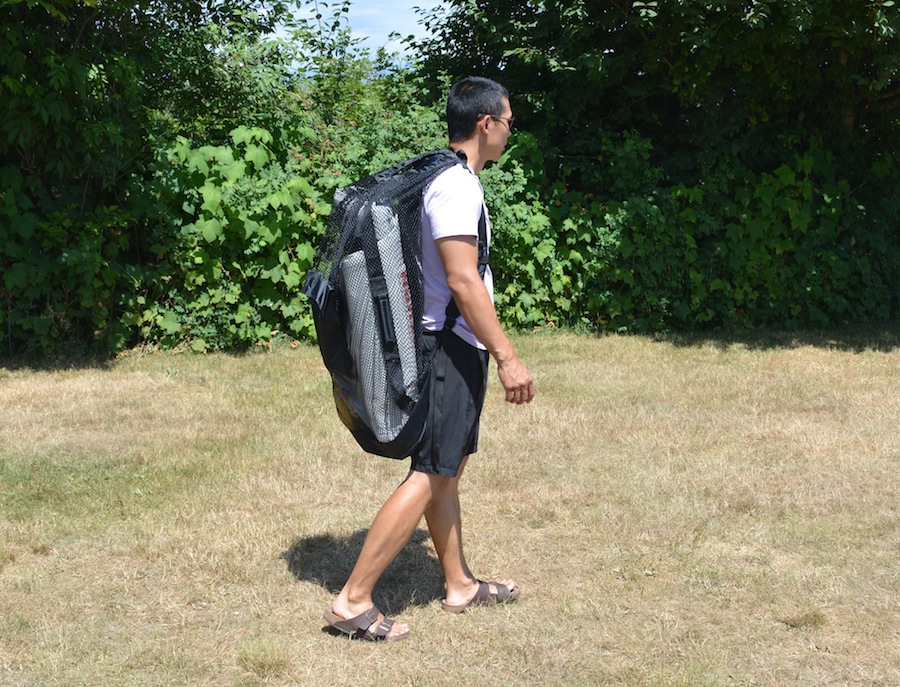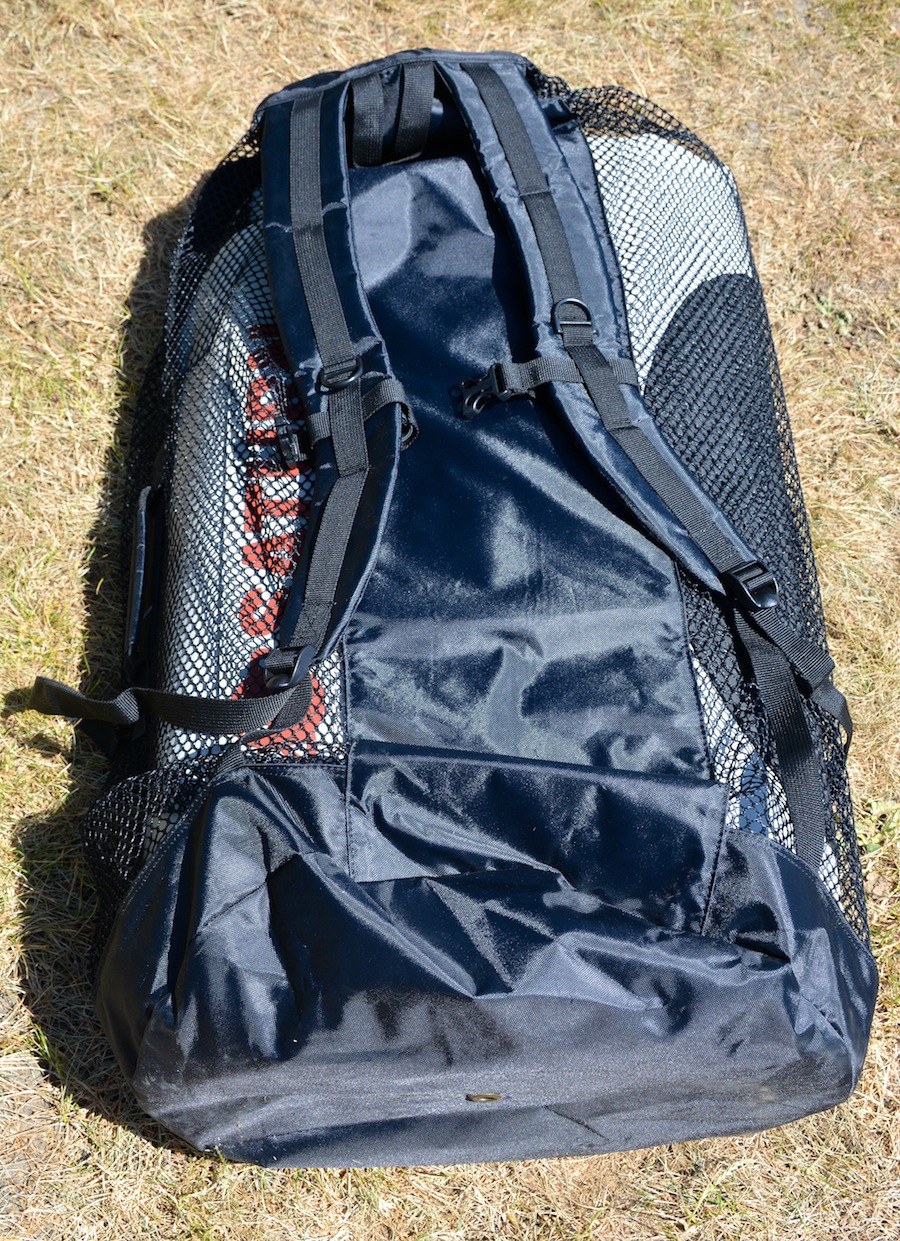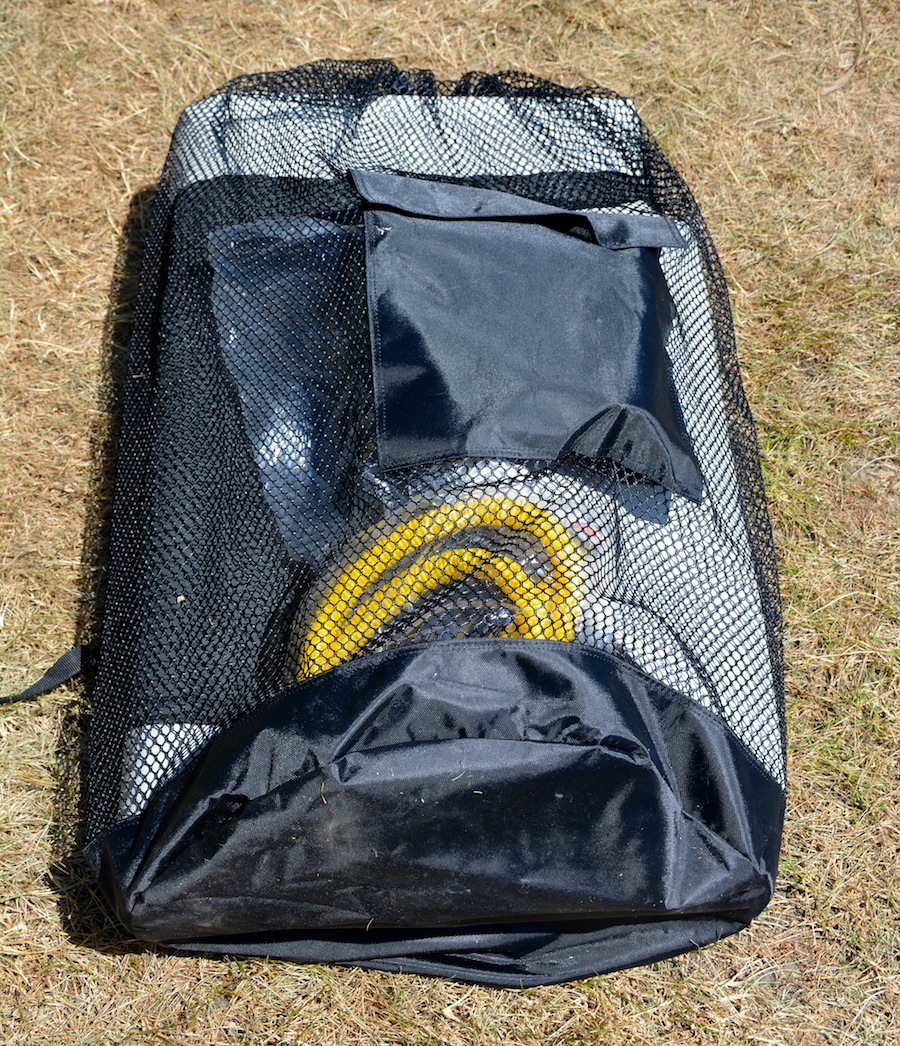 Saturn Ultra-Light Setup
Setup is very fast and simple. Take the board out of the bag and unroll.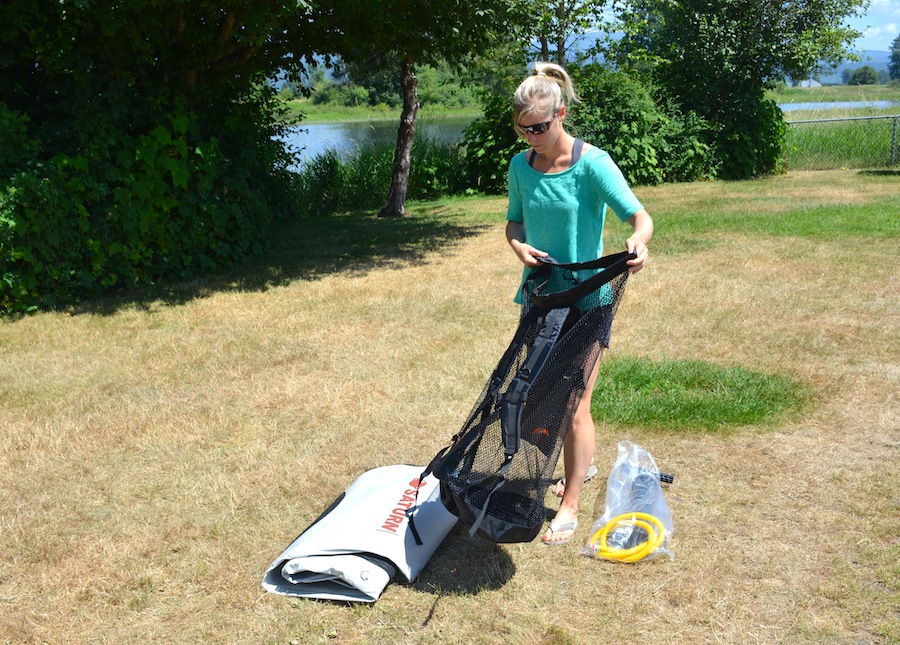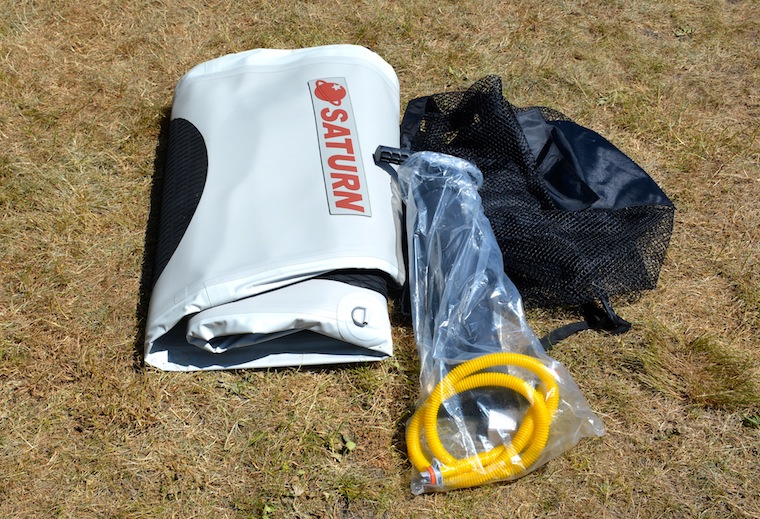 Attach the fin first. You will need to attach the fin before inflating in order to fit it in properly.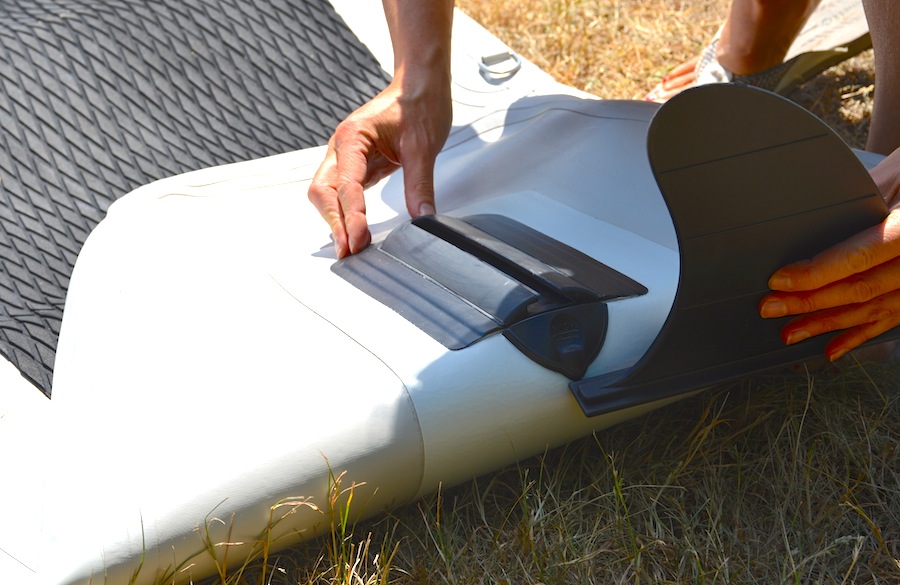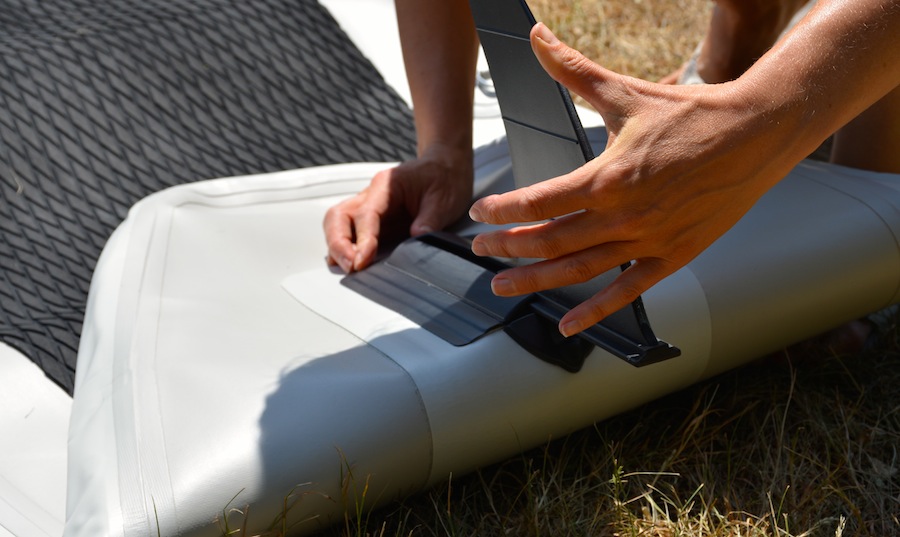 Then inflate. The hand pump that comes with this board works fine. It is a basic manual hand pump with pressure gauge. It will take a little effort to get it inflated up to 15 PSI but it's doable.
I personally prefer to use an electric pump with my boards… just makes life easier.
However with a little effort this hand pump will do the job quickly.
Once inflated the board is extremely light and easy to carry to the water.
After use, dry the SUP off with a towel, deflate and then remove the fin. Getting this board packed up and back in the car only takes a couple minutes.
Ultra-Light ISUP Performance
The design of this board is basic yet versatile. I found it paddled well. It is definitely not the fastest board in the water but for cruising around having fun, it was great.
It is stable and versatile enough that anyone in the family could use it.
The 6" thickness makes it quite stable and rigid and consequently it can hold a fair amount of weight.
It is easy to paddle and can be used on flat water such as lakes, ocean bays or rivers and will hold up fine in surf as well.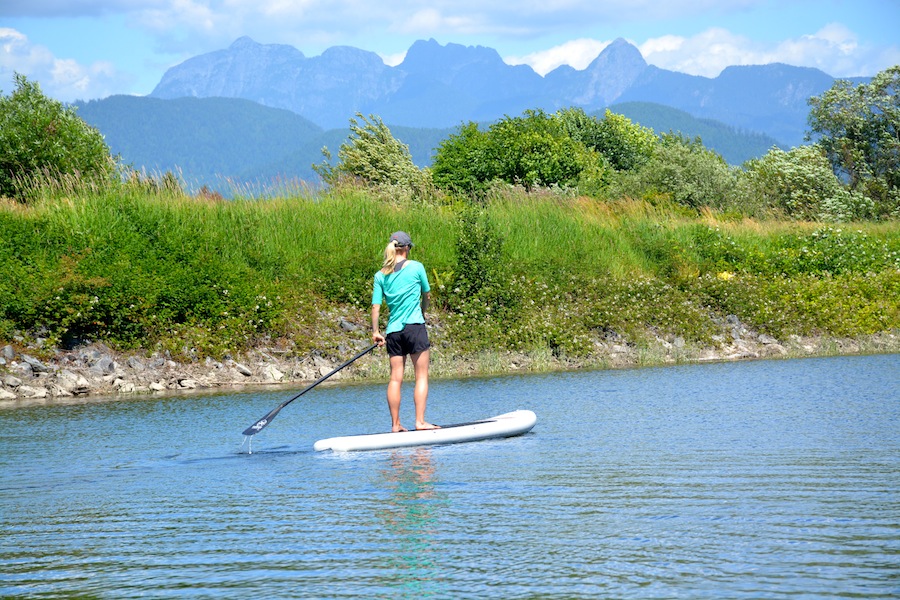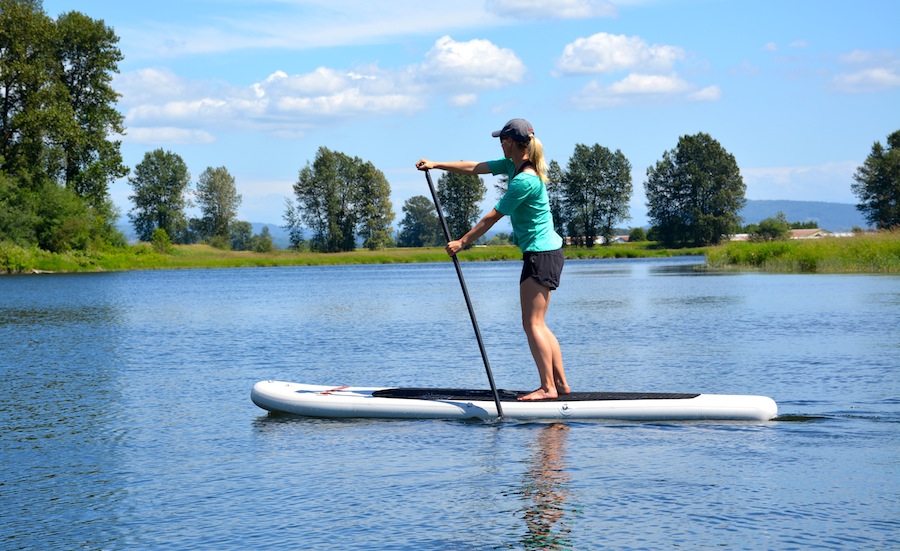 The Negatives
The negatives you have to take with a grain of salt and decide how important these things are to you as compared with the price of the board.
This is a very affordable option for anyone to be able to spend some time on the water stand-up paddling.
The areas I found lacking are:
There is no back D-ring to attach a board leash. You could solve this by adding an extra D-ring yourself or just securing the leash to the back center D-ring.
There are no bungee cords for securing gear. I personally really like having a front bungee-cord system in order to secure my water bottle, my flip-flops and a dry bag if needed.
The backpack is not that comfortable to carry and quite basic. It is what it is, great for transporting to and from your vehicle but I wouldn't want to carry it too far of a distance or use it for airplane travel.
The Positives
All that being said, this board has some real positives as well.
Simplicity – The simplicity of design and lack of bungee cords on the board make it ideal for doing yoga or Pilates.
There is nothing really to get in your way and overall it is fairly stable even though it is only 30" wide.
Also I noticed that Seth (my dog) liked that there are no bungee cords up front.  He tends to like to ride right up front at the tip of the board so no bungee cords probably made it more comfortable for him.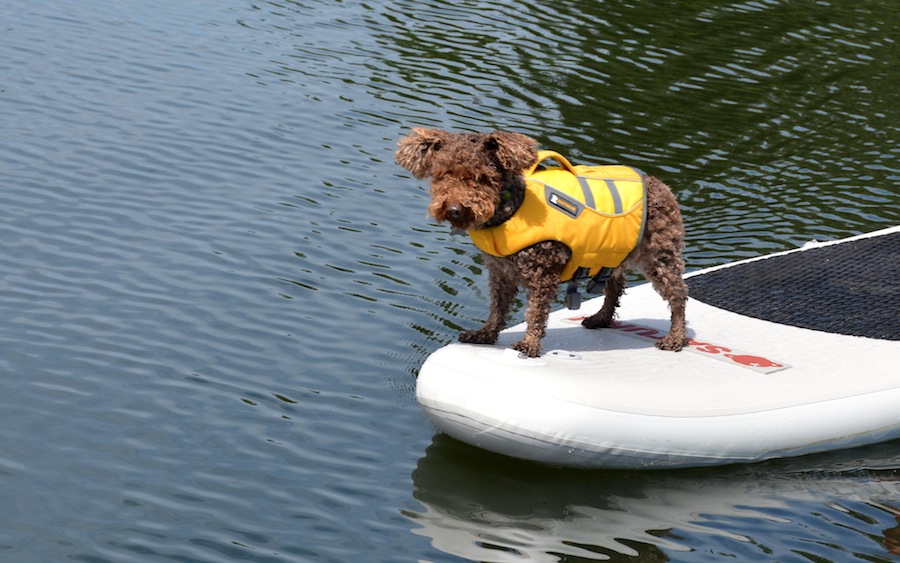 Light Weight – Of course the Ultra-Light only weighs 17 lbs. It doesn't get much easier to carry or take anywhere you want to go.
Tracks Well – Although not super fast, I found it tracked quite well. I didn't have any issues of being blown by wind and it handled chop and waves just fine.
Versatile – Bottom line is this board is versatile. Kids could paddle it, different sized adults could paddle it, dogs can easily sit on the board and it can be used in just about any type of water.
More Pictures Of The Saturn Ultra-Light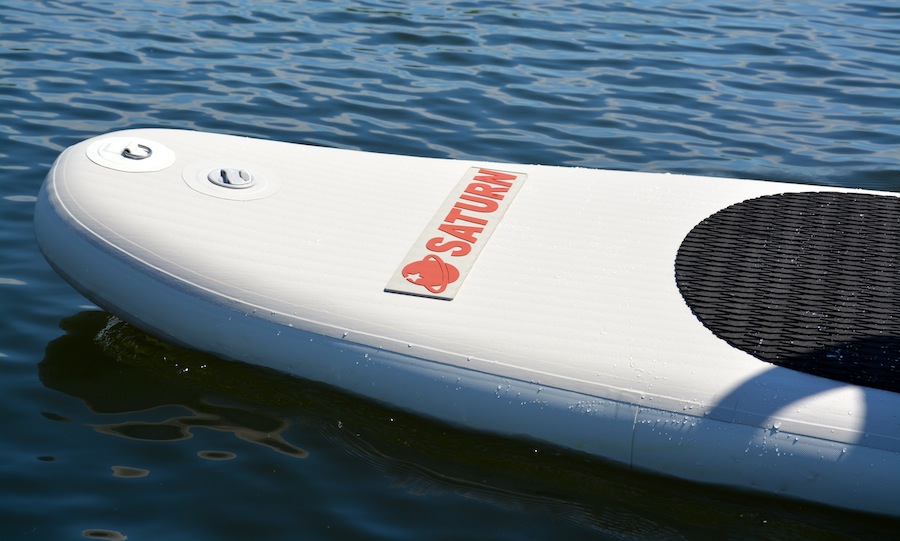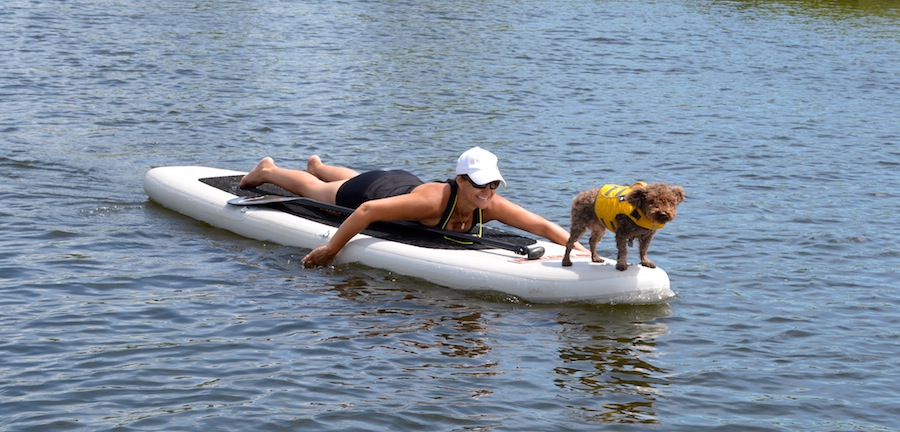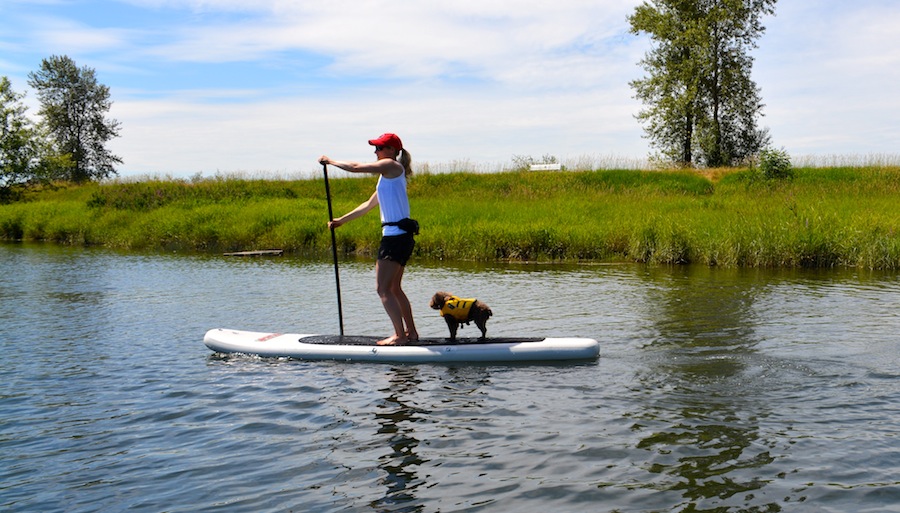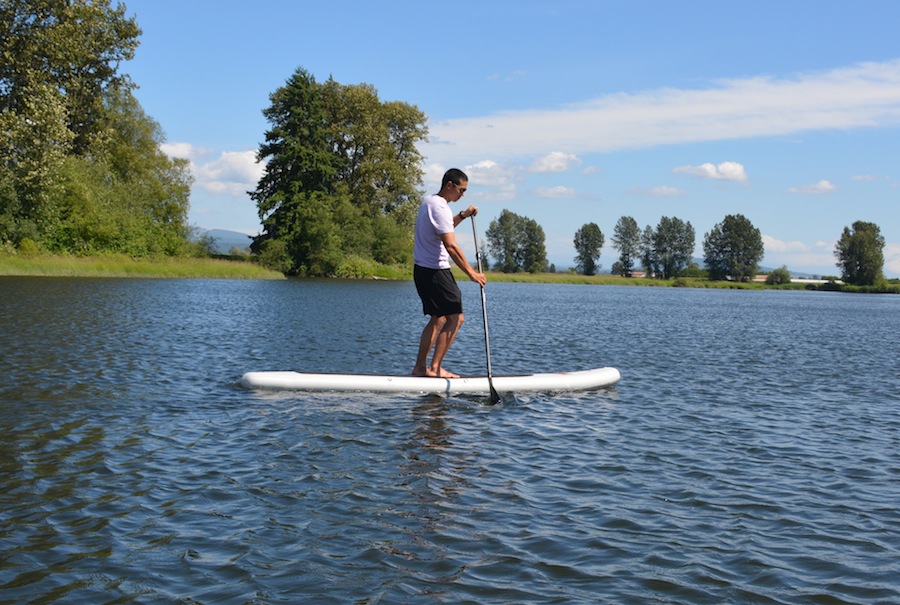 Final Thoughts
This board is priced very well and ultimately it is a nice affordable option that is extremely portable and easy use.
I like the versatility of it and even though it lacked in a few features, overall it is strong and rigid and ideal for cruising around having fun.
The 11' length, 30" width and 6" thickness make it ideal for a large range of people.
Where To Buy
Click Here For The Saturn Ultra-Light Inflatable SUP At Amazon.com.
Click Here For The Saturn Ultra-Light Inflatable SUP At BoatsToGo.com.
Did You Know?
By clicking on any of the above seller links you can help keep ISUPworld.com growing. When you make a purchase after clicking on our links, the retailer will contribute a portion of the sale to help support this site. It won't cost you anything extra and it's a simple way to help us fund our gear reviews. Thanks!