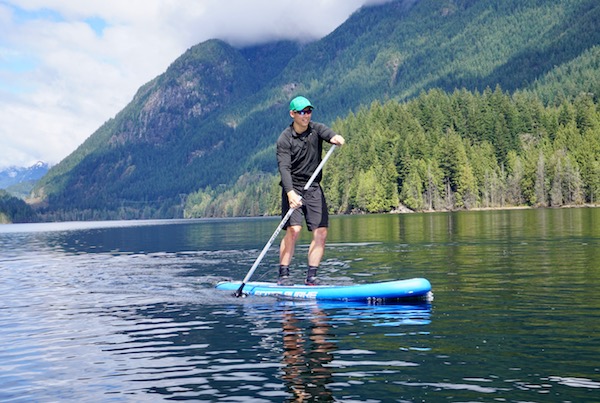 A smaller sized board can be a lot of fun to use and this Burke 9' Quest ISUP is exactly that… fun!
This board feels very responsive, it turns quickly and takes very little effort to get moving.
We found that it plowed through chop and wind with ease and although it won't keep up with a longer and more streamlined touring SUP, it definitely did not feel sluggish.
The lightweight keeps it very portable and convenient to take anywhere.
Although the 9' Quest can in fact hold quite a bit of weight it is also small enough that it can easily be paddled by a smaller person or a child as well.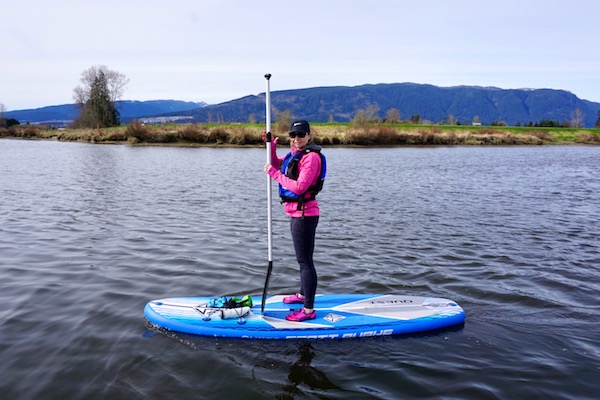 Specs For the 9' Quest ISUP
9' long
30" wide
4.75" thick
weighs 18 lbs.
can hold 250+ lbs.
Material: Triple layer drop stitch PVC coated and reinforced fabric, EVA traction pad.
Best Suited For: Flat water cruising, rivers or surf.
Pros: Takes little effort to get moving, very responsive to quick turns, easy to maneuver, light weight and easy to carry or transport anywhere, good accessories.
Cons: Takes more effort to keep it tracking straight, carry bag could be longer, no kick tail
Where To Buy The Burke 9' Quest
Click here for the best deal on the Burke 9' Quest inflatable SUP at Amazon.com.
More In-Depth Info On the 9' Quest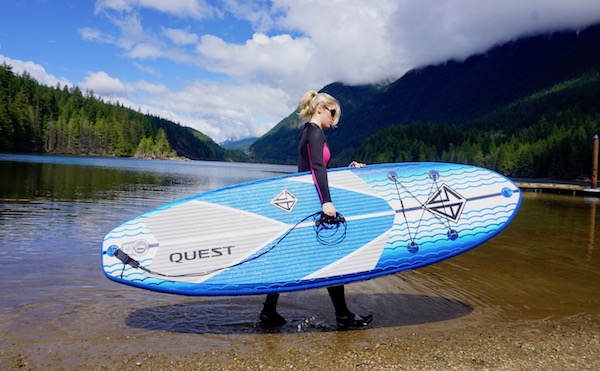 This is the smaller board in the Burke Quest series and it definitely stands out.
The colors and design are really attractive. It looks sharp in the water and we think would appeal to just about anyone.
The main benefit to this board in our opinion is the fact that it is so portable.
At only 9' long, 30" wide and 4.75" thick, it packs up small, is light weight and super easy to carry and transport.
However despite the smaller size, it is very rigid when fully inflated and capable of holding a lot of weight.
You will notice that your feet are lower to the water because of the smaller thickness (4.75" thick as opposed to 6" thick), although the rail is still well above the water line.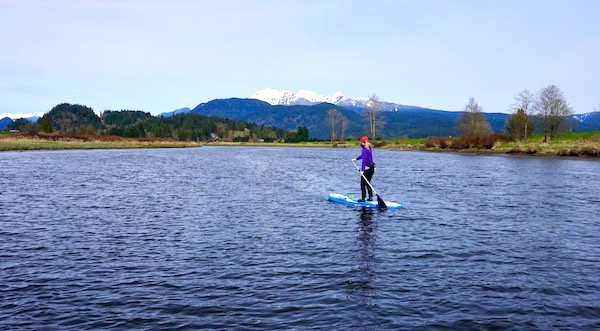 The benefit of a 4.75" thick board is that it turns fast, is quick and easy to maneuver and the lower profile provides a real authentic surf/paddle board feel.
On the flip side you will also notice that it is less stable and takes more focus to paddle than a 6" thick SUP.
It is a compromise between giving up a bit of that stability and security in order to have a board that responds super quick.
It is a lot of fun to paddle and both Darryl (who weighs 200 lbs.) and I (weight 130 lbs.) had no trouble paddling it.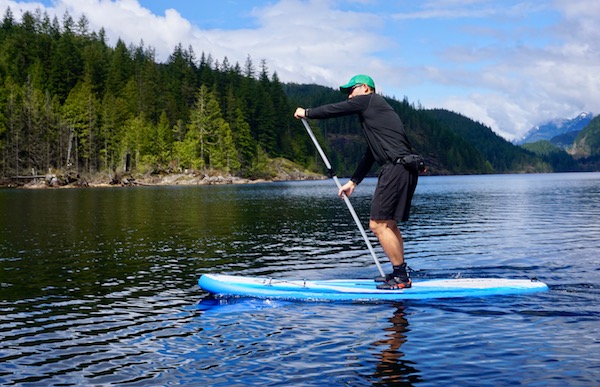 Important Features
Bungee System – The bungee system at the front of the Quest is just in front of the traction pad.
It is easy to access and large enough to fit a PFD, a dry bag, a water bottle or other essentials.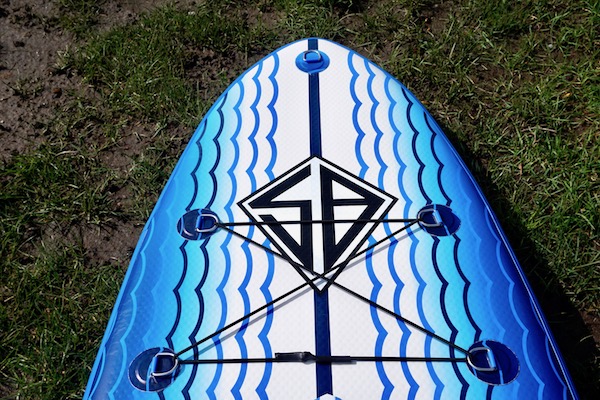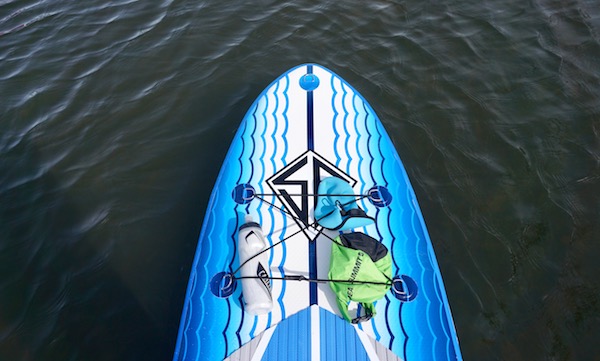 Fin – This board has a single large center fin that is ideal for flat water paddling.
I often see tri fin (thruster) configurations on smaller ISUP's so I was surprised that this one only had the one fin.
However this is not a negative. In fact it probably helps it to move better and eliminates some drag.
A common three-fin setup includes two small side fins and one large center fin. This type of setup can help with tracking but mostly helps with better turning ability, particularly when surfing.
The one large rear center fin setup as you see on this SUP will help with tracking as well as with longer arc type turns and stability. It helps you to focus on your lines as opposed to carving and fancy maneuvers.
That being said the Quest responds quickly to whatever you want it to do.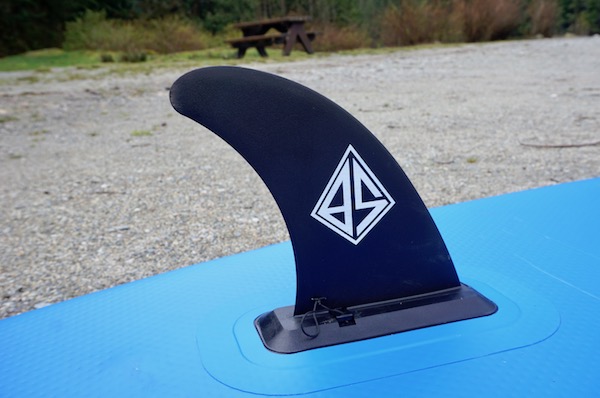 Traction Pad – The EVA traction pad is comfortable and offers good grip when standing or kneeling.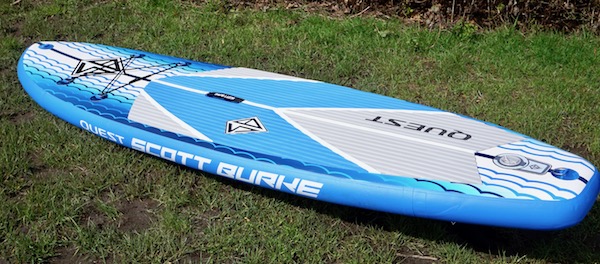 Stainless Steel D-Rings – There are 6 stainless steel D-rings for securing your gear and accessories.
There are 4 being used by the bungee cords up front.
There is one at the tip of the nose that can be used for towing and there is one at the back tail that is perfect for securing your board leash.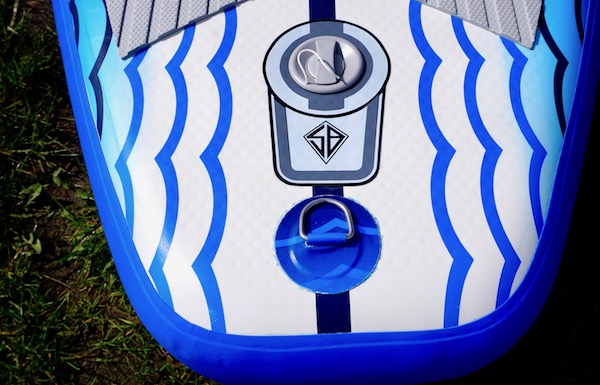 Carry Handle – The strong nylon center carry handle is all you need to carry this board to and from the water.
It lays flat and doesn't get in the way of your feet while paddling or moving around.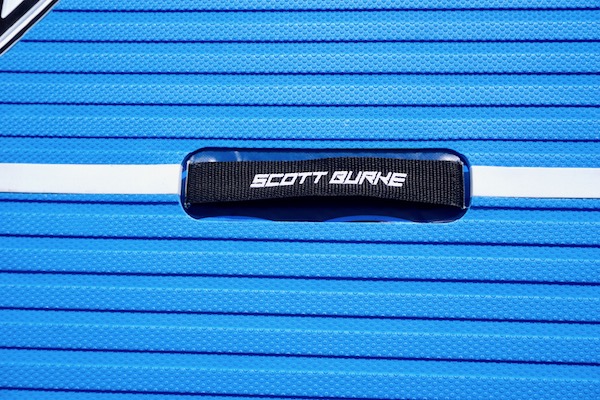 Included Accessories
Backpack – The backpack that comes with this package has mesh sides that allow the board to breathe and a strong nylon front and back.
There are bungee cords on the front of the bag that can be used to secure the pump or extra gear.
The bag can be cinched tight at the sides or loosened for larger loads.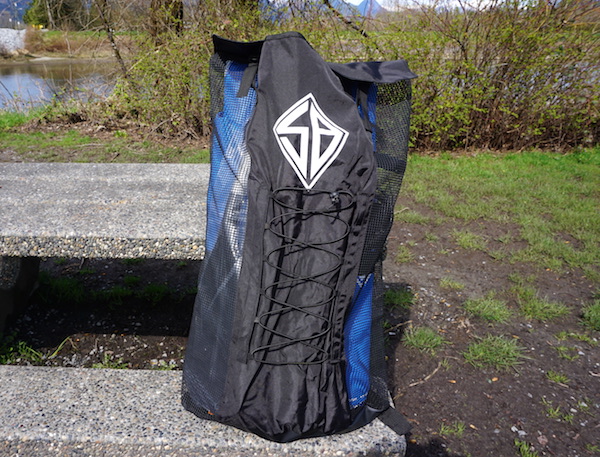 The bag fits the board well but with the pump and paddle inside you cannot close the top of the bag. We would love to see the bag just slightly longer but for this smaller SUP it works just fine.
It has padded adjustable shoulder straps and a waist belt. The bag is great for transporting the board to and from the water and for storage.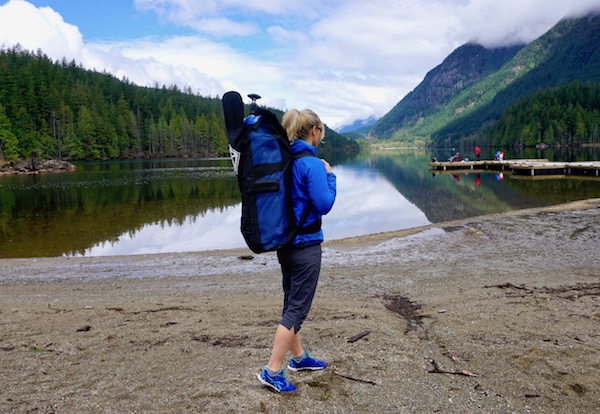 Leash – The leash included in this package is a great bonus.
Attach the leash to your ankle or calf and attach the other end to the back D-ring.
If you end up in the water this will ensure that your board sticks with you and doesn't get swept away.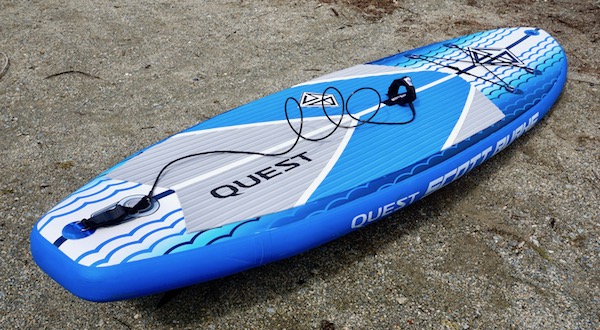 Paddle – The paddle comes apart into three pieces making it very easy to store, transport and travel with.
It is a fully adjustable aluminum paddle that although a little on the heavy side, makes for a great starter or travel paddle.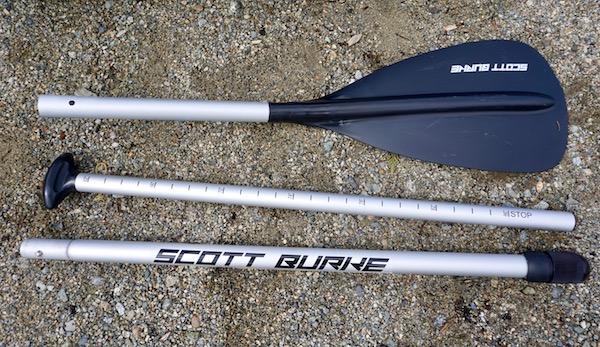 Pump The high-pressure hand pump included in this package gets the board inflated to 15 PSI quickly.
It has two modes for high and low pressure making the inflation process fairly painless.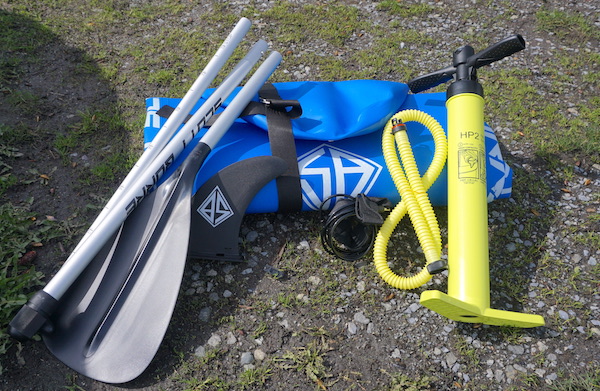 Burke 9' Quest Setup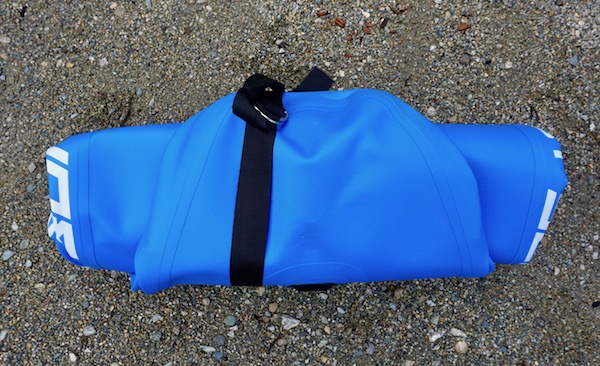 The smaller size of this board makes the setup process particularly fast.
Take it out of the bag, unroll and push in the valve tip and twist so that it is in the 'up' position.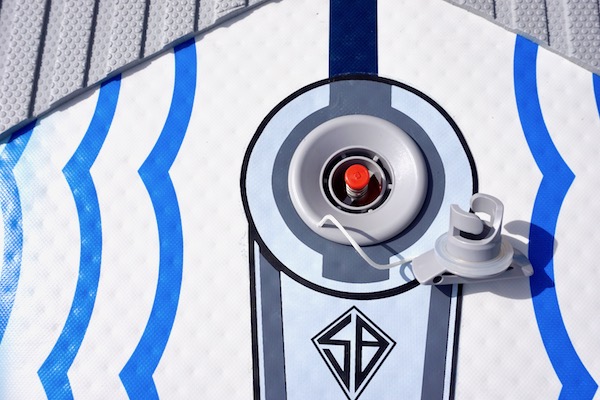 Hook up the hand pump and start pumping. It takes approximately 5-7 minutes to inflate.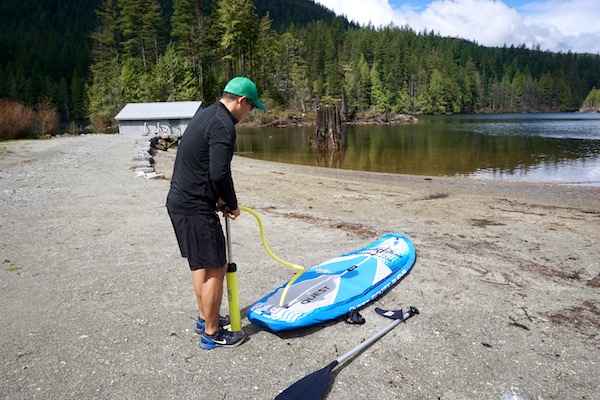 If you have an electric pump you can avoid the hard work but truthfully it's not so bad especially once you get used to it.
Once the board is fully inflated to 15 PSI then you can attach the fin and the leash.
After use dry the board off with a towel, deflate and store it back into the carry bag.
While we were out with this board we had a couple people comment on how nice and portable it is.  They were surprised at how quickly we got the board deflated and put away.
Performance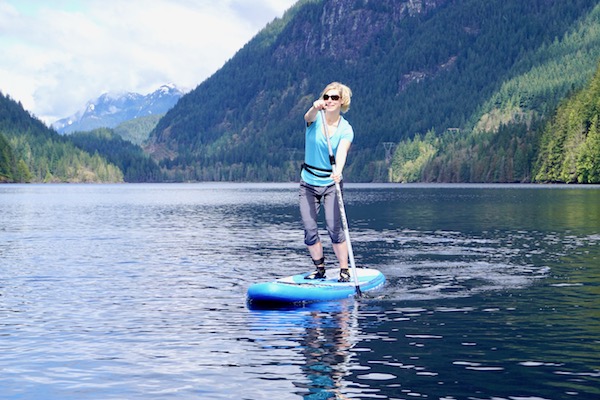 This SUP performs well for a small board.  It is not fast but it moves effortlessly.
It turns quickly, handles well in wind and chop and cruises along nicely on flat water.
You could use this SUP on any type of water.  It will be less stable in ocean chop but a smaller sized person would do fine on it.
It is a lot of fun to paddle and keeps you focused and on your toes.
The Negative
There is nothing too major to report in this category. All in all it is a great board and a good package.
Below are a few things just to be aware of… None of which would deter us from buying this ISUP.
1. Tracking is decent but not fantastic. This isn't out of the ordinary for a shorter board however and I wouldn't let it worry you.
With the fin attached the tracking is much improved and this ISUP is designed for cruising as opposed to fast touring.
We feel that the tracking is about as good as it will get for a short SUP of this size.
What it lacks in tracking it makes up for in fast maneuverability.
2. We would love to see a slightly longer backpack carry bag. The board fits in nicely but the top just closes with no extra room and if you don't fold the board just right the top is hard to close.
3. Also worth noting there is no kick tail on the Quest. Kick tails are fun for doing pivot turns. It is certainly not critical but nice to have.
Bottom Line
Bottom line the 9' Quest is lightweight, convenient, super fun to paddle, very responsive, ultra portable and it looks great.
It comes with everything you need to get on the water including a paddle, pump, board leash and fin.
Where To Buy
Amazon.com has a great sale on the 9′ Quest. The price is excellent for what you get.
Click Here For The Best Deal On The Burke 9' Quest Inflatable SUP At Amazon.com.
Did You Know?
By clicking on any of the above seller links you can help keep ISUPworld.com growing. When you make a purchase after clicking on our links, the retailer will contribute a portion of the sale to help support this site. It won't cost you anything extra and it's a simple way to help us fund our gear reviews. Thanks!