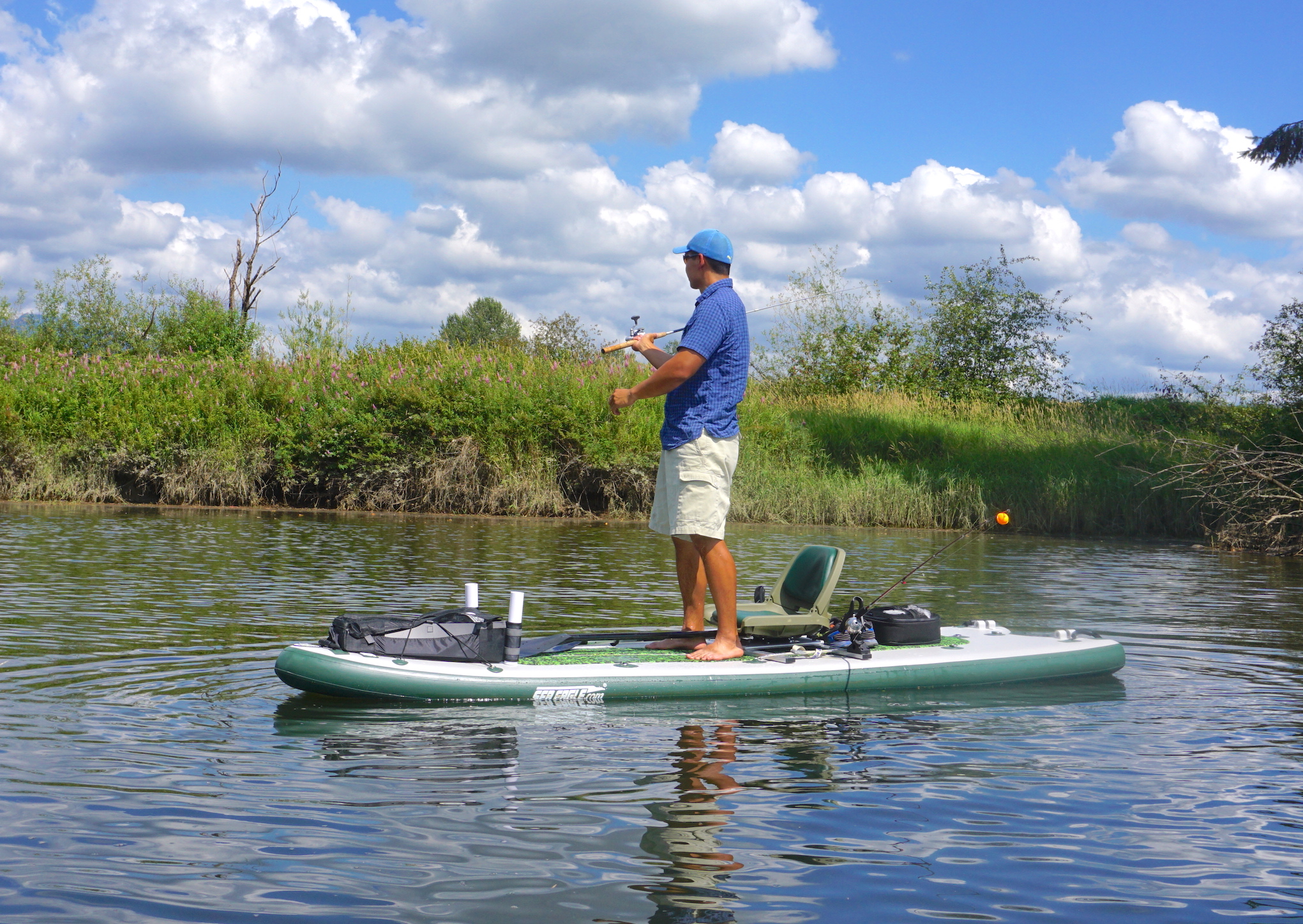 This is the ultimate portable, convenient and fun fishing 'boat'! We love the Sea Eagle FishSUP for so many reasons.
It is loaded with great features, extremely comfortable to use and easy to take absolutely anywhere.
If you like to fish but don't want to deal with getting a heavy boat to and from the water then this is a must have!
Specs For The FishSUP
12'6" long
40" wide beam
6" thick
weighs 44 lbs. / 48.5 lbs. with motor
can hold up to 350 lbs.
inflation pressure 12-15 PSI
engine capacity 55 lbs. thrust (20.4 kg max weight)
Material: 1100 Decitex reinforce drop stitch with quadruple overlap seam.
Pros: Stable, easy to paddle, comfortable, tracks well with fins attached, versatile and portable, convenient and functional features, sit or stand, paddle or use motor, great accessories.
Cons: Heavy for one person to carry especially when loaded up with seat and engine. The EZ Cart wheels solve this problem!
Where To Buy The SE FishSUP
Click here for the best deal on the Sea Eagle FishSUP 126 at the official SeaEagle.com website.
More In-Depth Info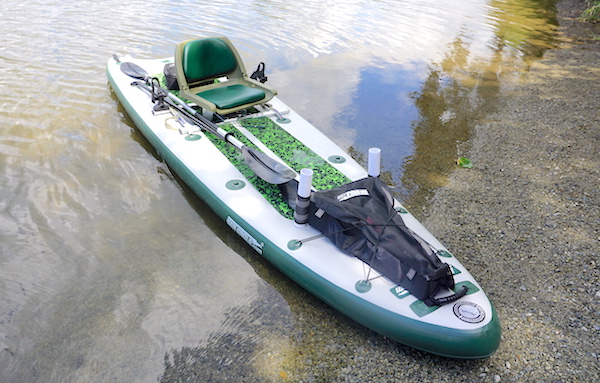 This FishSUP is so much better than we even expected. We couldn't believe how comfortable it was to paddle whether standing or sitting on the swivel seat.
You have the choice of stand-up paddling, sitting down and using the kayak paddle or using an electric trolling motor depending on what package you choose.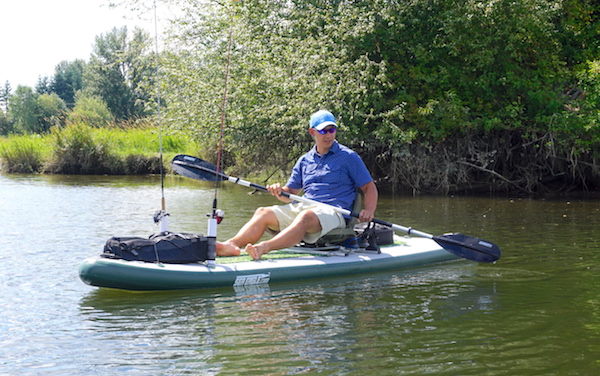 It rolls up into a backpack carry bag that can be transported in the trunk of your vehicle and it takes about 7 minutes to inflate with the hand pump.
This board is durable, strong and ideal for getting into those hard to reach pristine fishing spots.
Loaded With Great Features
The FishSUP 126 is loaded with features to help make your fishing experience awesome.
Built-in 36" Fish Ruler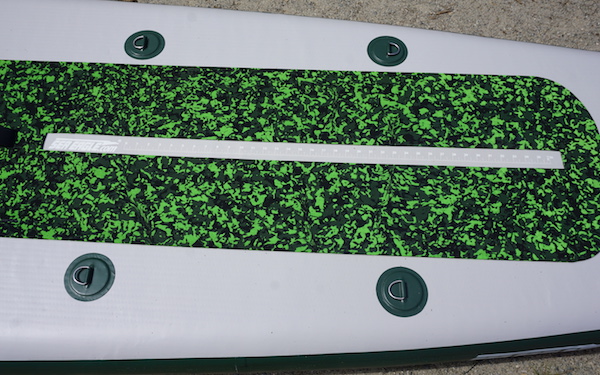 The 36" long fish ruler located near the front of the deck pad is extremely convenient.
It allows you to measure the fish without having to bring along any extra tools.
It's a little thing but it is thoughtful features like this that make this board stand out from others.
14 Stainless Steel D-rings
There are a ton of D-ring attachments on this board that can be used to secure gear and equipment.
There are four D-rings up front being used by the deck bungees, 4 down each side of the deck pad, as well as two near the tail end of the board.
The back D-ring is ideal for attaching your board leash (it is not recommended to use a leash if you are using the motor).
With all these D-ring attachments it is easy to secure any gear you want to bring along.
Paddle Pocket
The paddle pocket located just at the front of the deck pad allows you to stow your paddle out of the way when not in use.
The pocket is a simple thing but really handy for keeping your paddle secure and out of your way. Last thing you want to do is nock your paddle overboard while catching a fish!
Removable Motor Mount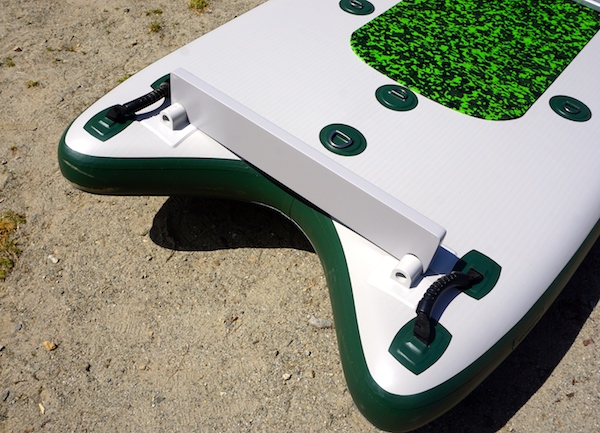 The removable motor mount is really easy to attach when needed and remove when not using the motor.
With the motor mount attached you can mount up to a 55 lb. thrust electric motor.
Swallow Tail
We thought that the swallow tail was an excellent part of the design. It really helps with stability and maneuverability.
It is a well thought out feature for a fishing ISUP and we really like the feel of it.
It helps with control when turning and a swallow tail will help when plowing through small waves.
The fact that it resembles a fish tail also goes towards the look of the board since this is a fishing specific paddle board.
Water Camo Patterned Non-Slip EVA Foam Deck Pad
The green camo EVA foam deck pad adds comfort and provides good grip while standing.
It also provides a nice extra layer of protection against punctures from hooks and fishing tools.
4 Carry Handles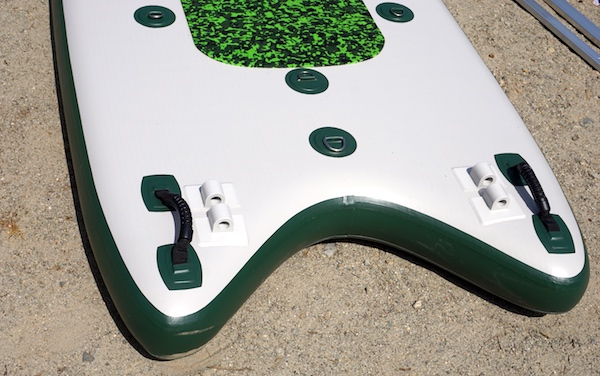 This board has two rear grab handles as well as one front grab handle and one center carry handle.
The choice of handles makes it convenient to either carry the board by yourself with the center handle, roll it with the EZ Cart using the front handle or carry it with two people using the front and back handles.
Slide-in Removable Rear Skegs
There are three skegs included in this package and all three are removable.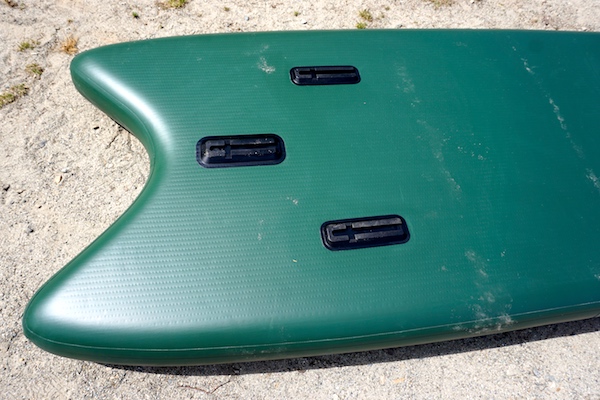 They easily slide in to their fin boxes and clip into place. We found that the skegs greatly help with tracking.
We left them off one day just to try it without them and paddling was quite a bit more difficult especially to keep it going straight efficiently.
We would recommend always using them unless you are in extremely shallow water.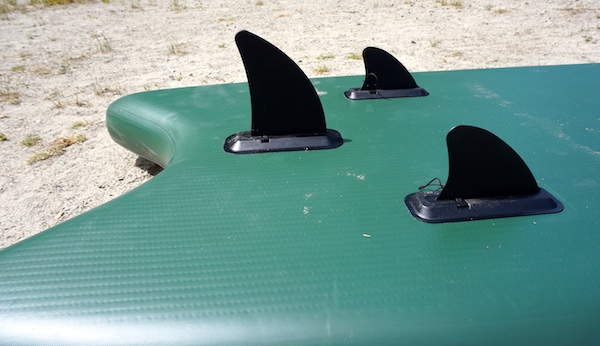 Bungee Shock Cords
The bungee cords attached to the front four D-rings are ideal for securing gear.
They are a good size and you can easily fit the mesh storage box that comes with the board, or a lifejacket and/or a drybag, etc.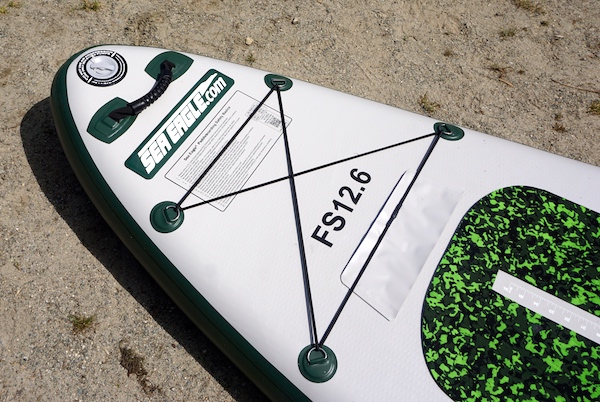 Upturned Bow
The upturned bow is perfect for plowing through chop and waves when necessary making the FishSUP quite versatile.  It will handle well when flat water paddling, taking on wind or when paddling through ocean waves.
Halkey Roberts Style Valve
The one-way Halkey Roberts style air valve is what you see on most inflatable SUP's. They work great and I have rarely ever had issues with them.
Storage Space
Considering this is a paddle board there is quite a bit of room for storage.  The multi-purpose mesh storage box can be stowed under the front bungee cords and is ideal for storing smaller items.
There is enough space behind the seat for a cooler and there is actually quite a bit of space at the front end of the board in front of your legs for more gear.
You can secure gear to any of the D-rings along the side of the board as well.
The Negative
There truly isn't much negative to point out with this one. It isn't fast but with the width and design I wouldn't expect it to be.
If you want to move faster with less effort you can always use the motor.
However it still glides well, and feels secure and stable. It is just so comfortable to ride or sit and wait for the fish to bite!
We do find it heavy for one person to carry when loaded up with the swivel seat fish rig and especially with the motor attached.
The basic SUP can definitely be carried by one but if you have it loaded up you will need a wheel system such as the EZ Cart to pull it or someone to help you carry it to and from the water.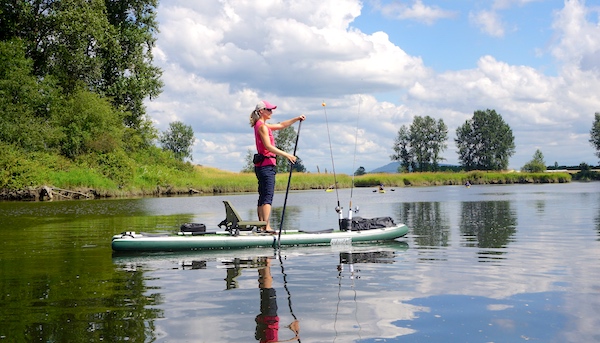 Optional Accessories
There are five different package options to choose from depending on your budget and needs.
The base package comes with:
FishSUP 126 Hull
Gray Backpack
3-Piece Adjustable SUP Paddle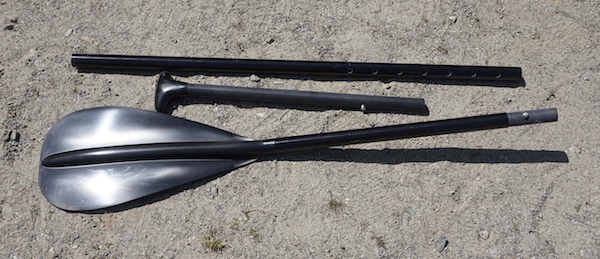 Multipurpose Mesh Storage Box with Rod Holders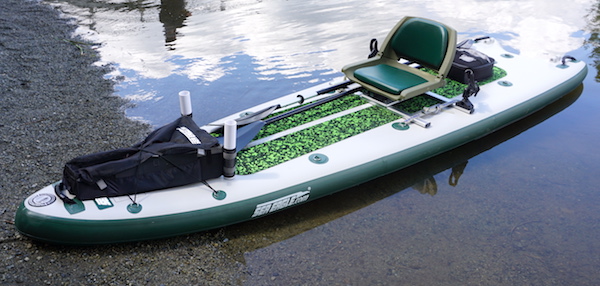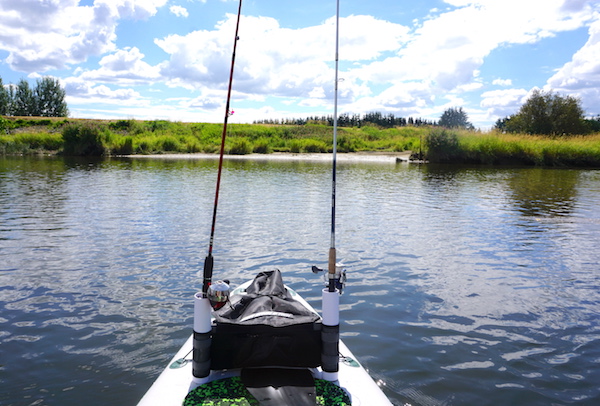 Manual SUP Pump
Repair Kit
From there you can add on to your package if you choose to fully outfit your FishSUP for fishing.
The optional accessories include:
4-Piece Kayak Paddle
Deluxe Inflatable Seat
Foot Pump (to be used to inflate the Deluxe Inflatable Seat)
Green Swivel Seat Fish Rig (Includes:  swivel seat as well as aluminum frame base, 2 Universal Scotty Rod Holders with universal deck mounts and 2 6-foot quick release cinch down straps)
Watersnake Venom 34 Electric Motor
Trolling Motor Power Center
BP12 Single Stage Electric Pump
Out of all of the package options, we would highly recommend the green swivel seat fishing rig.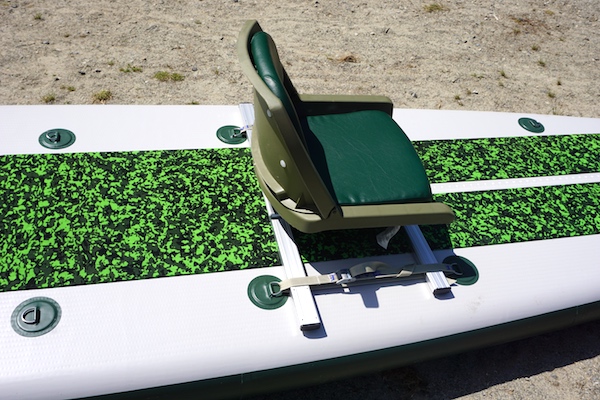 That swivel seat is extremely comfortable, has a cushioned seat and back and provides great back support.   We found that it really elevated the experience and our comfort to a whole other level.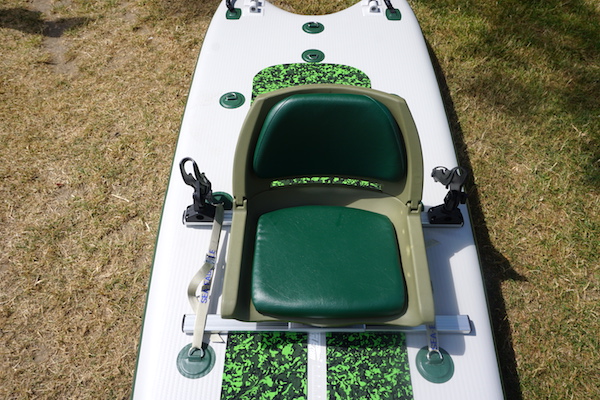 With the swivel seat you also get:
the aluminum frame base
2 Universal Scotty Rod Holders with universal deck mounts
2 6-foot quick release cinch down straps
The kit weighs 15 lbs. and can also be used with any of the other Sea Eagle ISUP's as well as with the Sea Eagle Explorer or FastTrack kayaks.
However we suggest you browse the different package options to find the one that suits you best. Prices are excellent across the board considering everything that is included in each package.
EZ Cart
The EZ Cart is not included in this package and it is not a must.  However we thought it was worth mentioning because if you plan to go out by yourself, this board is not easy to carry solo with all your gear attached such as seat, motor, cooler, etc.
The EZ Cart is a low profile, easy to assemble and store away wheel system that allows you to wheel your board to the water.  It weighs 7 lbs., is rustproof and can handle up to 125 lbs.
Click here for more info on the EZ Cart.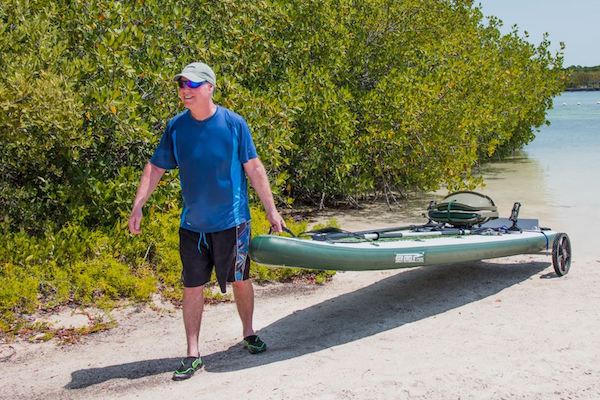 Picture from SeaEagle.com.
Backpack Carry Bag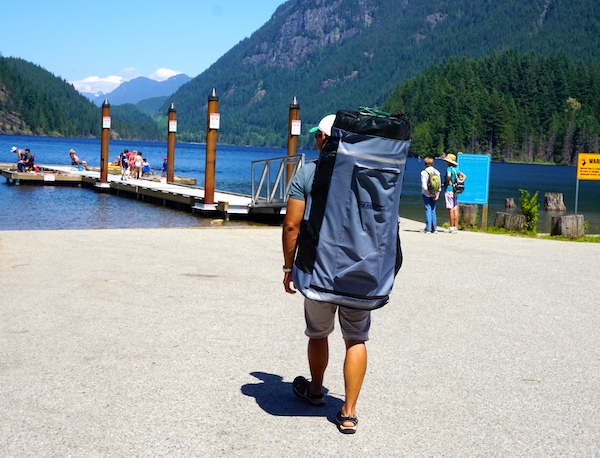 The grey backpack that comes with this package is a good size.  It zips open on three sides making it very easy to get the board in and out of the bag.
It is made of durable nylon with mesh sides.  The top has a drawstring closure and two clips to secure it.  You can easily fit the board plus pump and the SUP paddle inside.
There is an outside zippered pocket for storing the repair kit and any essentials you need to bring.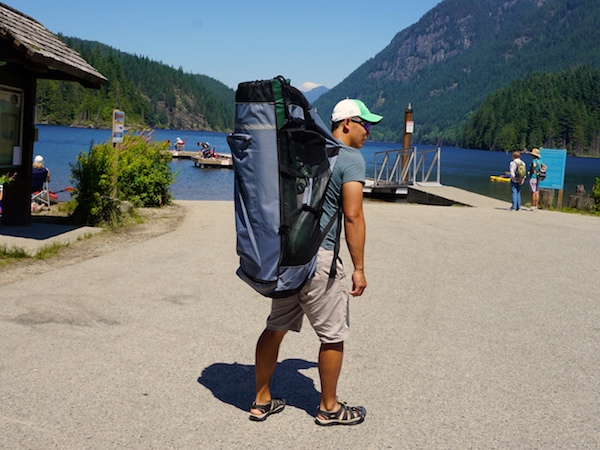 The bag is fairly comfortable to carry and has padded adjustable shoulder straps.  It is totally functional and we had no issues with it.
With this backpack you can bring the FishSUP anywhere and store it away in a small space.
The package isn't that light so it does feel heavy to carry on your back.  We wouldn't want to have to carry it too far.  However the bag feels strong and it is doable.
SetUp Process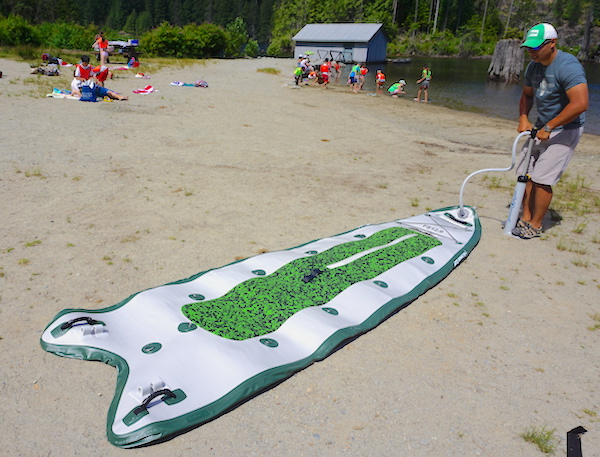 The initial setup process takes longer depending on what accessories you have.
The swivel chair was the longest part for us to setup. However it is a one-time setup so once it is done you do not have to do it again.
Our recommendation… Get the seat setup and attached to the aluminum frame before leaving home and follow the instructions step by step.
Below you can see Darryl working his way through the setup process – wishing we had done it at home first! 😉
It is not complicated, it is just a matter of following each step.  Plus you will need a screwdriver so make sure to read the instructions first so you have everything you need.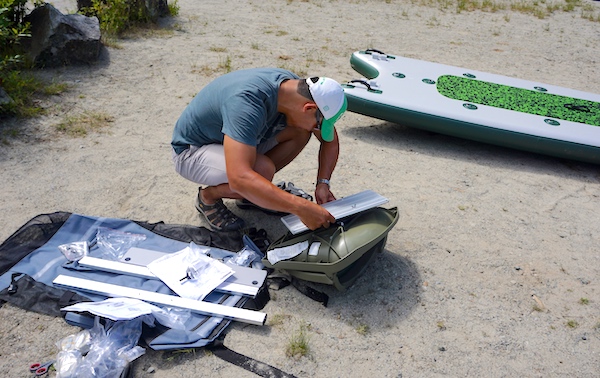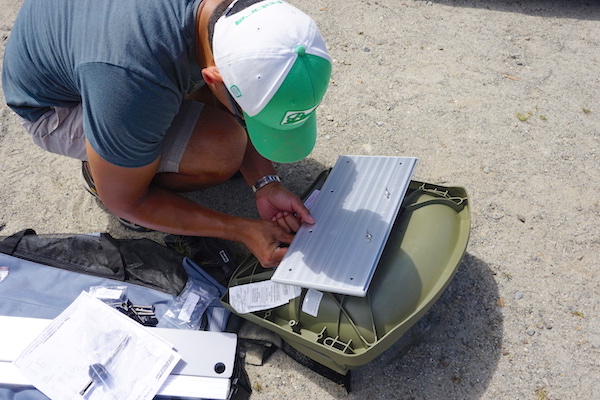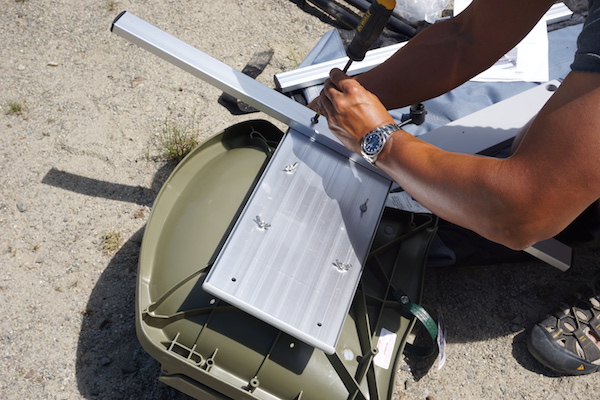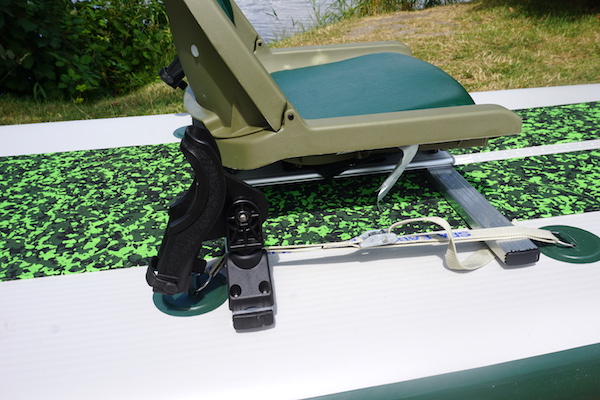 Inflating the board takes roughly 7 minutes with the hand pump.
It is a little faster and of course easier if you use the electric pump (available in the 'Ultimate' package or the electric pump can be bought separately).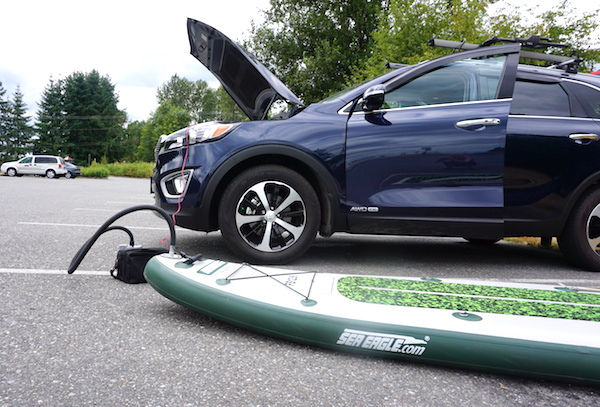 Securing the fins takes only seconds and securing the seat (once setup) takes only a minute.
If you have the inflatable seat as opposed to the swivel seat you will need to inflate it (which takes 30 seconds) then attach it to the D-rings.
Attaching the motormount is extremely easy and takes no time.
Basically after the initial setup process is complete you can expect to be on the water within ten minutes from arriving.
The board inflates up to 15 PSI and is extremely rigid when fully inflated.
Sea Eagle's Warranty
One of the things that we love most about Sea Eagle is their 3-year warranty and 180-day guarantee.
Basically if you are unhappy with your purchase you can return it within 180 days for a full refund as long as it is in good condition.
That policy provides a lot of peace of mind, especially when buying online.
Bottom Line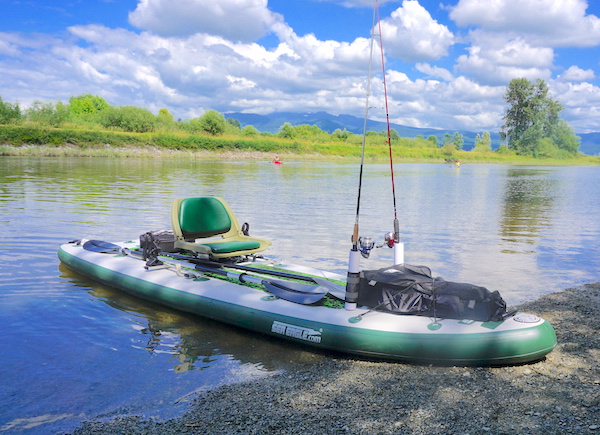 We love the FishSUP and thoroughly enjoyed testing and reviewing it.
The 12'6" length, upturned bow, tapered nose, wider beam width, swallow tail and great accessories make it a total winner.
This board will get you to the fish quietly and efficiently and be a lot of fun to ride.
We had several people comment on how cool it looked while we were out on the water.
You can take it anywhere including to remote fishing locations by plane or boat.
I can remember years ago seeing people in Hawaii fishing on a SUP.  They used an old milk crate to sit on and made it work.
You can use any paddle board for fishing but this FishSUP takes comfort and convenience to a whole other level.  It's awesome.
Where To Buy the Sea Eagle FishSUP 126
Click Here For The Best Deal On The FishSUP 126 From The Offical SeaEagle.com Website.
Did You Know?
By clicking on any of the above seller links you can help keep ISUPworld.com growing. When you make a purchase after clicking on our links, the retailer will contribute a portion of the sale to help support this site. It won't cost you anything extra and it's a simple way to help us fund our gear reviews. Thanks!