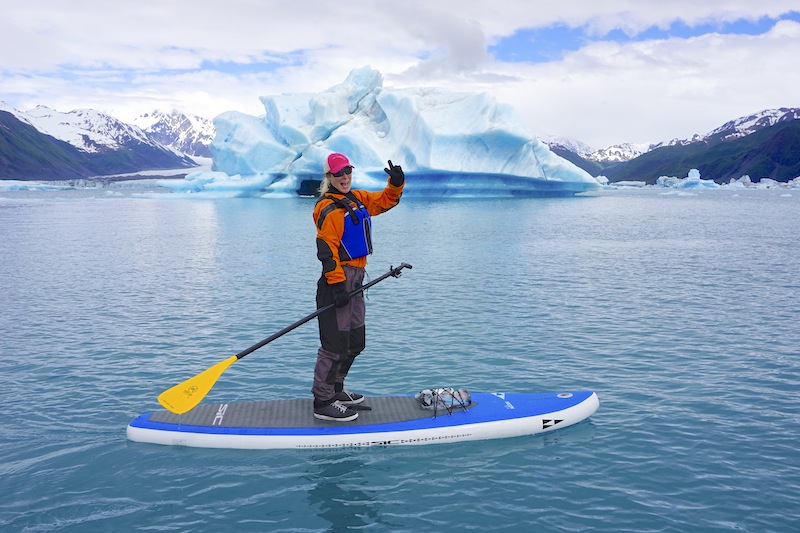 On a recent trip to Alaska we went on a guided paddleboard tour to Bear Glacier in Seward.
This trip included the use of inflatable SUP's. Mainly they had Red Paddle Co boards, which I started off paddling at the beginning of the trip and which I have had a lot of previous experience paddling before.
However I noticed one of the guides was using the SIC Air-Glide Recon 10.4, which I had never tried before.
We switched boards so I could test it out and see what it was like to ride.
I ended up spending all day on the Air-Glide Recon and loved it. It was only a one day outing so I didn't get to test the board as extensively as I normally would have for a review.
However I felt I got enough of a feel for it to be able to add my two cents in case others are interested.
This ISUP has two different size options… 10'4″ long or 11'4″ long.  I got to paddle the 10'4″ model so that is what this review is based on.
Specs For The SIC Air Glide Recon 10.4
10'4" long
31" wide
6" thick
weighs 19.4 lbs.
can hold up to 220 lbs.
Best Suited For: Cruising, Surf, Touring, lightweight riders
Material: Durable single-layer PVC tarpaulin skin, double reinforced rail construction
Pros: Versatile, glides nicely, very responsive, easy access bungee system up front for securing gear, lightweight and very portable and easy to carry
Cons: Not as stable in waves, lightweight so more susceptible to being blown in wind, no kick tail, only 1-year warranty
More In-Depth Info On The Air-Glide Recon 10.4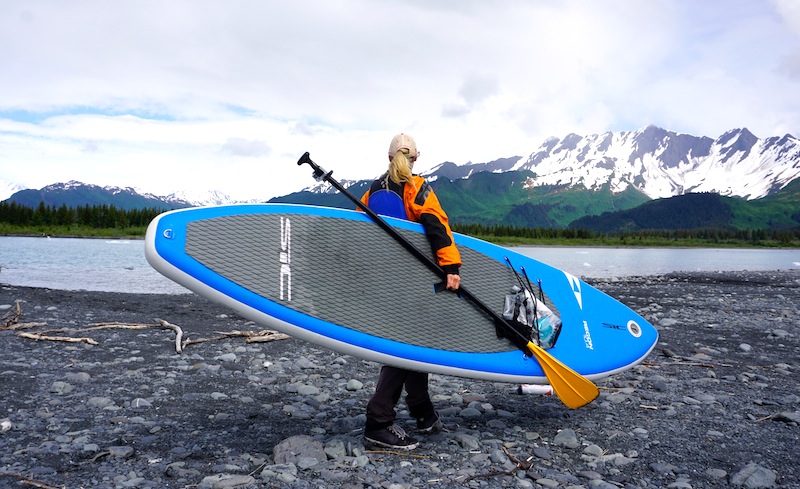 The SIC Air-Glide Recon surprised me with how fun it was to paddle. The shape, design and lighter weight make it very easy to move and maneuver.
I found that for a smaller sized board it glided really well, crushed through smaller waves and chop and turned easily with little effort.
It is best designed for a lighter weight person – I would say 160 lbs. or less.
However that being said it is capable of holding a lot more weight and the 6″ thickness provides a fairly rigid and stable platform.
My guide (who was riding the Recon initially) was a big guy that definitely weighted over 200 lbs. and was handling it just fine, although he was a fairly experienced stand-up paddler.
He said they usually give the wider more stable boards to their clients so either he or another guide will often ride the less stable Recon.
After paddling on the Red Paddle Co Allwater initially that day I definitely noticed less stability with the 10.4 Recon especially in wind.
However it is exactly that reason that it is also so fun to paddle. It does require more focus but with a little practice and experience a beginner could also enjoy this ISUP easily, especially on flat water.
Important Features and Accessories
D-rings – There are 7 stainless steel D-rings. 6 are up front being used by the bungee system.
The seventh is at the back tail of the board and is ideal for attaching your SUP leash.
There is no D-ring underneath the nose of this board for towing like you see on many other ISUP's but it is often not needed or necessary.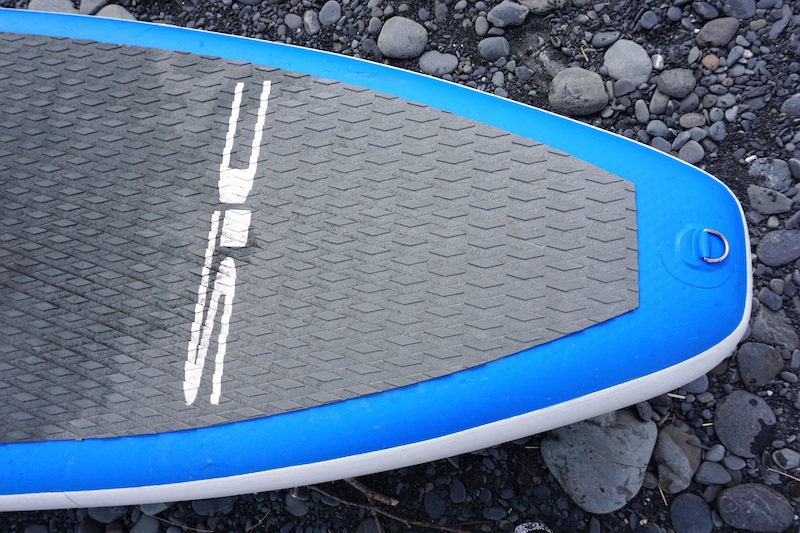 Bungee System – The bungee system is a nice size and perfect for securing a few small accessories such as a dry bag, snorkeling gear and/or a water bottle.
I like how the bungee system is easily accessible from the center of the board. Sometimes they are a little further up front making you have to reach for your stuff.  This one is easily accessible.
Also this bungee system uses 6-Drings instead of only 4, which is what I see most often.  The extra D-rings make for a nice sized bungee system and really helps to secure your gear properly.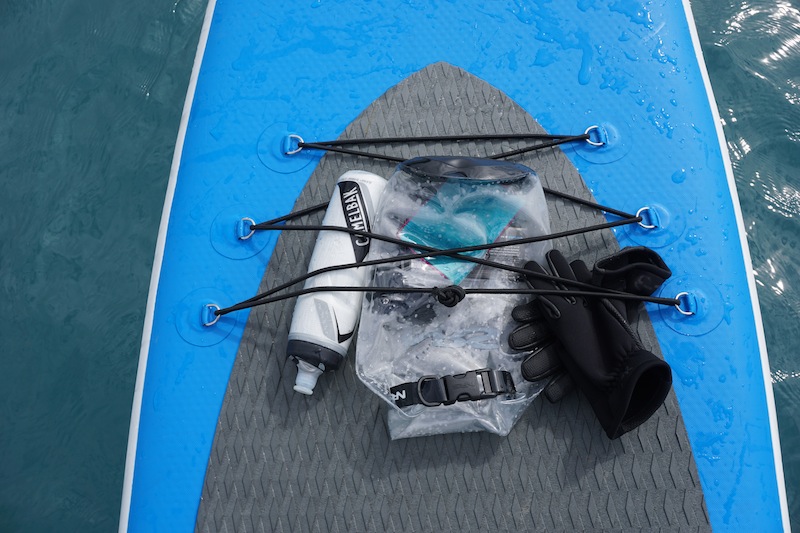 Traction Pad – The traction pad is a decent size and goes all the way to the back end of the SUP.
We were in freezing water so I was wearing water shoes and a full drysuit.  Consequently I couldn't really feel the traction pad with my feet but it did work well to provide some grip.
Carry Handle
The carry handle is a standard nylon handle. It seemed strong and durable and didn't get in the way of my feet.
Fin & Fin Box – The U.S. finbox is a nice feature as it means you can customize your fin if you choose to.
It does come with a 9" fin that is easy enough to secure by screwing in a little bolt.  Once secured it is quite solid and it definitely helps with tracking.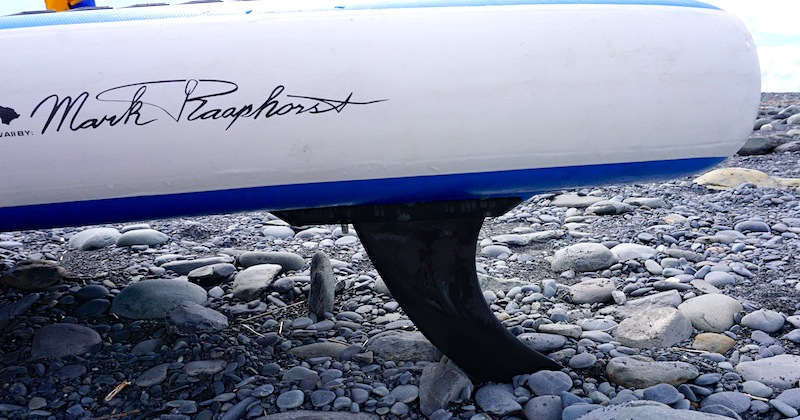 Backpack – I didn't get to see the carry bag that comes with this package unfortunately.
However I have read that it comes with a nice backpack with wheels making it very easy to store and transport.
I love when the backpacks includes wheels. It is always a nice option to be able to pull the bag instead of carry it.
The backpack has a full front zipper, which would make it very easy to put the board in and take it out.  Especially with the smaller size of this SUP I imagine it is quite easy to pack away.
Tapered Nose & Tail Both the nose and the tail on this paddle board taper in.
The pointier nose cuts through the water nicely and the tapered tail really helps the board perform and turn well.
The tapered design does make it less stable as well but improves the way this board moves.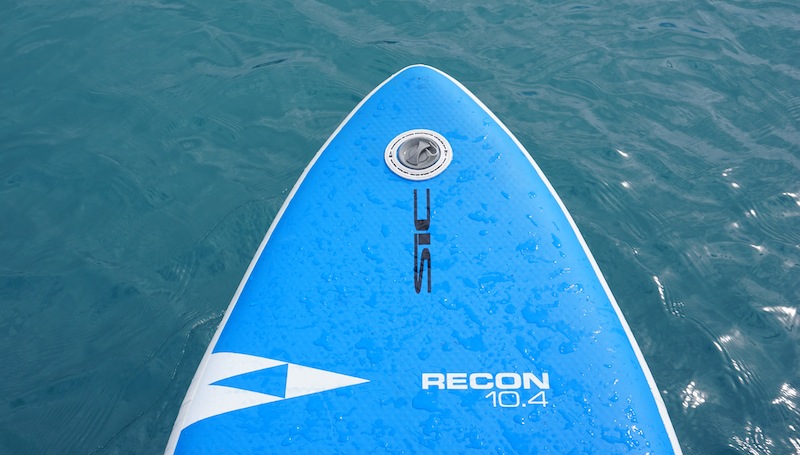 Setup Process
Our boards were already inflated by the time we arrived for our paddling trip so I didn't have the chance to set the Recon up.
However this one is no different from the many inflatable boards I have setup before so I can tell it would be an easy process.
The valve is a typical Halkey-Roberts style valve that is very common on most inflatable paddleboards.
With the size of this SUP I would guess inflation takes only 5 to 8 minutes max.
The fin can be attached after the board is fully inflated.
In general inflatable SUP's are fairly easy to set up. It is always an easier process if you have an electric pump instead of having to put in the hard work of manually inflating.
However this board does come with a dual-action hand pump so the process shouldn't be too bad.
Versatility
The 10.4 Recon is the perfect size for versatility. It can be used for just cruising around having fun on flat water, you can take it down a river or play in the waves.
It moves well enough that it can be used for touring and it is responsive and fun in chop as well.
I think with the lightweight design the Recon is really ideal for traveling.  It is perfect for exploring different waterways.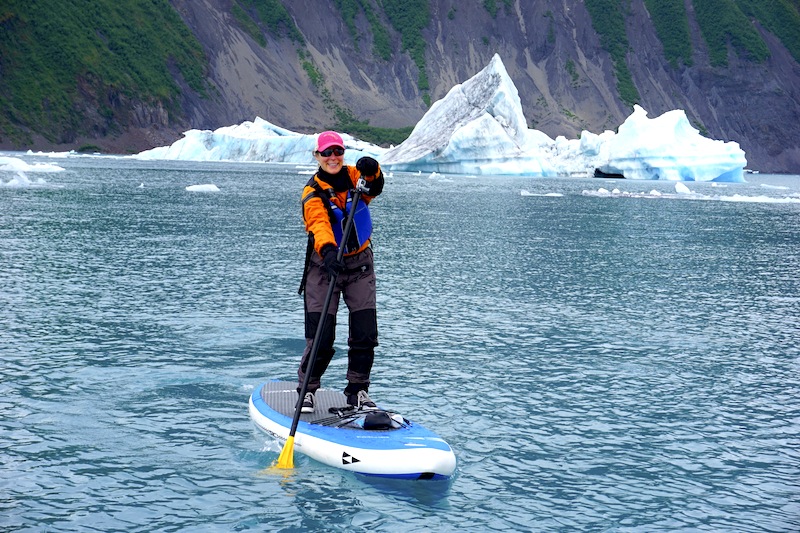 Performance
On flat calm water it is a breeze to paddle, the tracking is good and I found it faster than some of the wider SUP's that were out that day.
In wind I noticed that I had to work a little harder. It only weighs 19.4 lbs. making it susceptible to being easily rocked in the wind.
That being said it is still an awesome inflatable paddle board and I would choose to ride it again in a second.
I found it fast and easy to turn and it took very little effort to get moving. A lighter weight person could have a lot of fun with this SUP.
I was mostly padding in a sheltered area with calm water.  The wind did really pick up in the afternoon and I had to work a little harder paddling into the wind and dealing with choppy water.  The board handled just fine, I simply had to be a little more focused.
It wouldn't be my personal choice for touring in open water as I prefer a slightly larger board.  However if you have the skill, you could have a lot of fun with the Air-Glide Recon in waves and surf.
A smaller person will appreciate the ease of paddling this paddle board and it's zippy nature.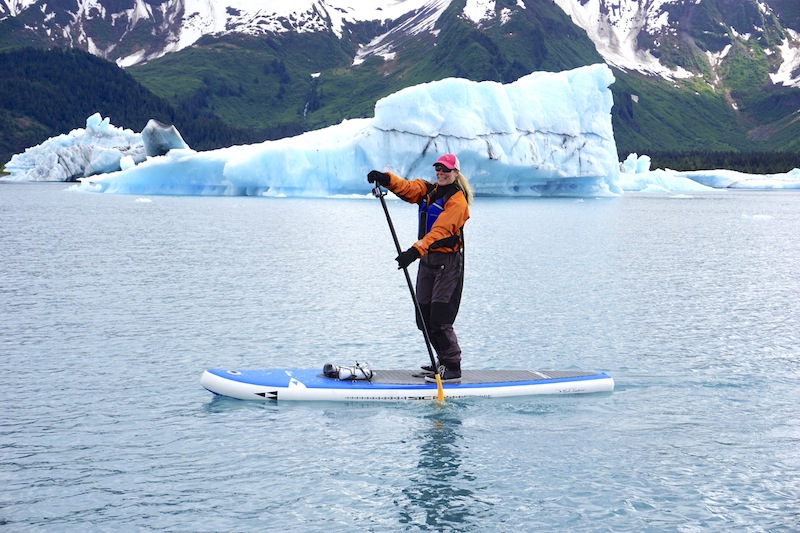 A heavier person can still use this board and the 6" thickness makes it a rigid platform to hold more weight… but it will take more skill and focus to balance.
The Negative
The negatives are few and far between. It does feel a little wobbly in chop and waves and I can definitely see how a lighter rider will enjoy this board more than a larger person.
It is extremely versatile but not the fastest board out there or easiest to control.
However I had no complaints while paddling it. It may be a jack-of-all-trades and a master at none but it sure is fun to ride.
There is no kick tail on the tail of the Recon. A kick tail is fun to use for quick maneuvers and pivot turns but not critical.
The price is a little on the high side even considering everything that is included in the package such as board, pump, coiled SUP leash and wheeled backpack – but not that out of range in comparison to other similar type ISUP's.
I'd love to see a longer warranty than only one year for that price.  I would hope with a little care this board will last a very long time.
More Pictures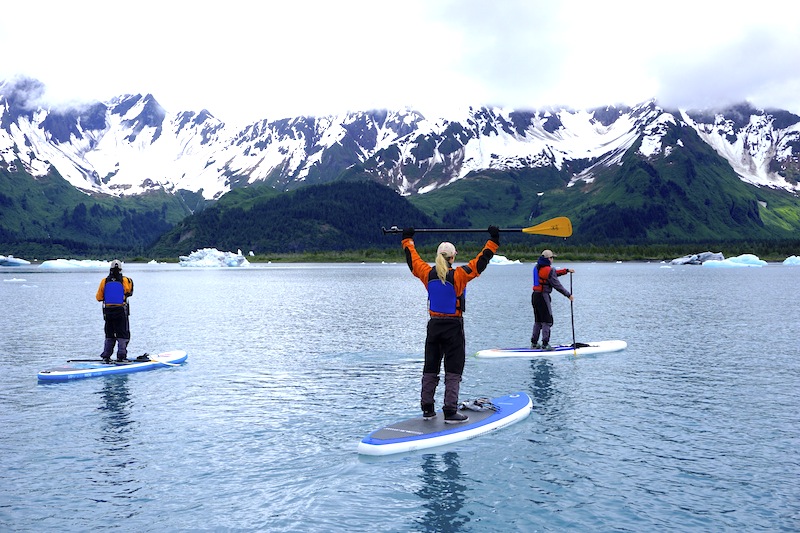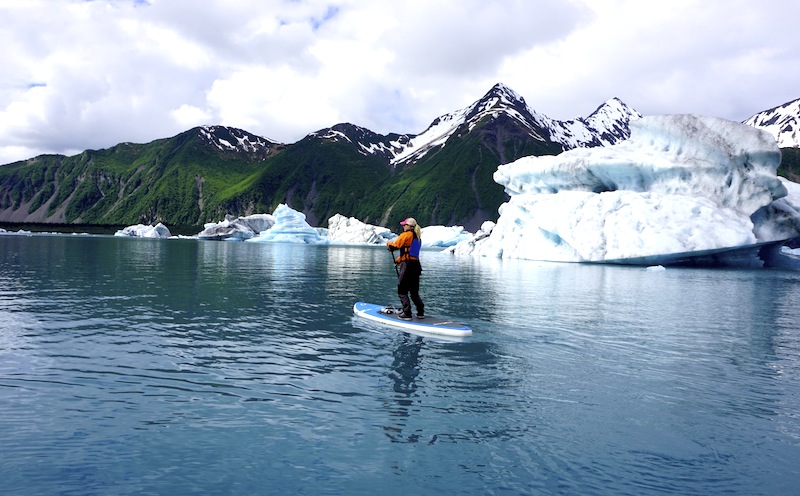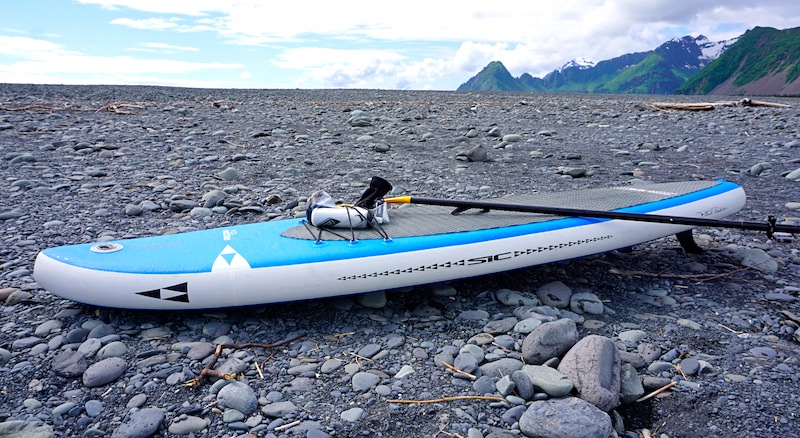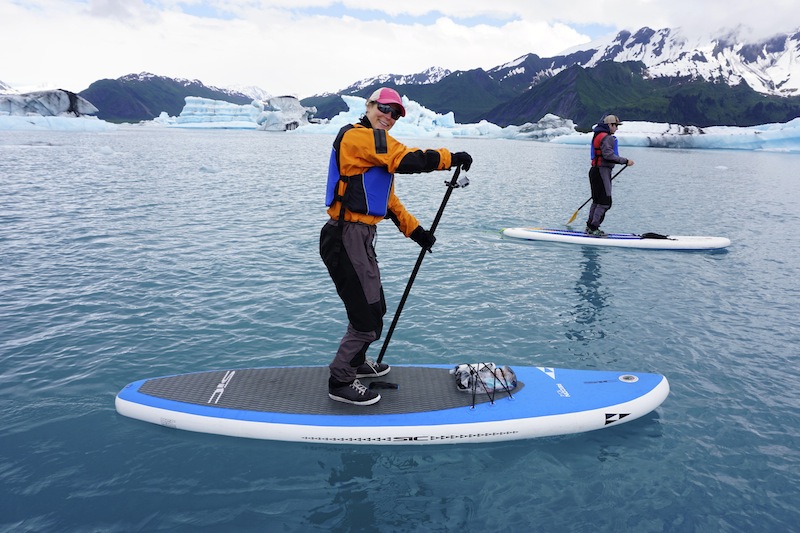 Final Thoughts
Overall this is a very functional and fun board to ride.  It's a little on the wobbly side and those with little to no experience will take a bit of time to feel comfortable unless you are on flat calm water.
I think I had a goofy grin on my face this entire paddling trip as I was in awe of the scenery around me.  It was an epic experience and paddling the SIC Air-Glide Recon made it that much more enjoyable.
Keep in mind I only got to use this inflatable paddleboard the one day so you can take my review for what it is.
I would say if you love to travel and want a lightweight board that can go anywhere, the 10.4 Recon is definitely worth considering.
Where To Buy
Click here for the Sic Air Glide Recon from the official Sic Maui website.