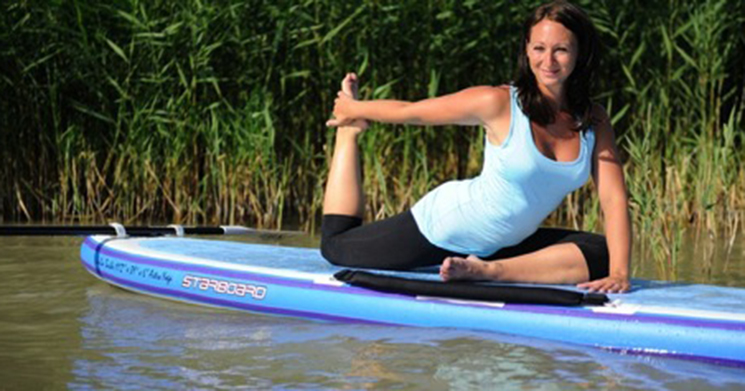 SUP Yoga has become extremely popular in the last few years.
Although I am not a regular yoga student myself I have seen many people both individually and in classes doing yoga on their boards out on the water.
It's not only a beautiful and peaceful way to exercise but doing yoga on a paddle board adds a whole other level of core strength and stability.
Inflatable SUP's are ideal for yoga because they are stable and have a softer and more comfortable board surface for performing moves.
The Starboard Astro Yoga SUP is one of the first actual yoga boards in the industry and I was fortunate enough to get to try it out.
I found it extremely stable, functional and attractive in design.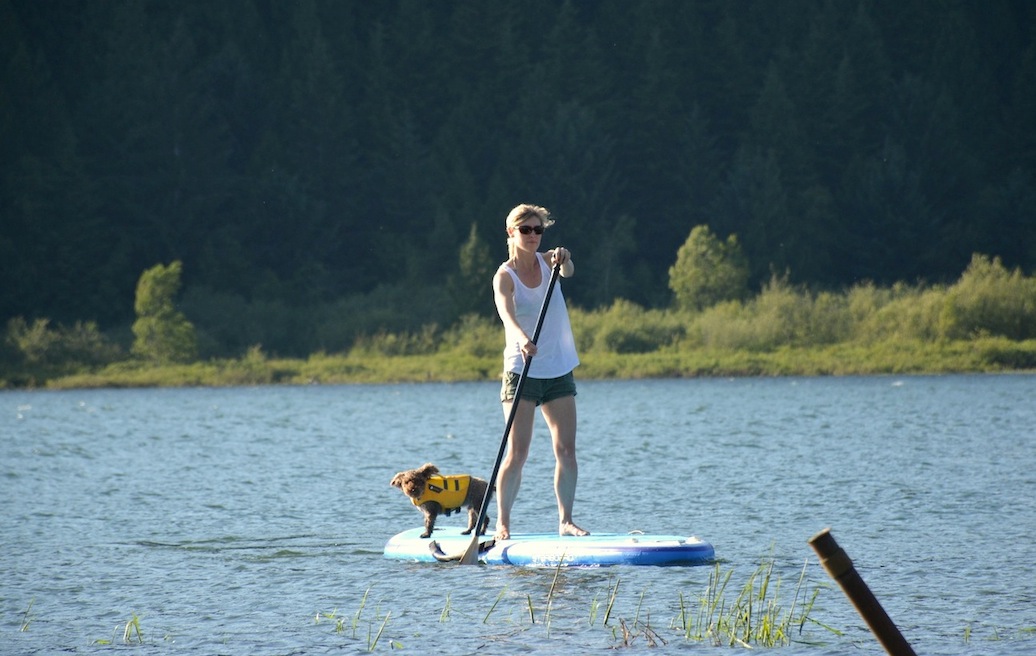 Quick Stats
Specs
11'2" long
40" wide
6" thick
weighs 30 lbs.
holds 15-18 PSI
can hold up to 230 lbs.
3 removable skegs
Material: 6" linear drop stitch core material with high tensile UD center stringer for stiffness.
Pros: Super stable, strong, rigid, nice bungee carry handle, attractive design, comfortable deck pad, paddle holder, great carry bag, very portable
Cons: A little heavy, slow moving
Where To Buy
This original Starboard Astro Yoga inflatable SUP is now quite hard to find.  I don't know of any stores selling it at the moment.
However Starboard has a new yoga SUP available that I think is even better.  It is 10′ long and 35″ wide, so stable for yoga but also awesome to cruise around on.
Click Here For The Best Deal On The Starboard Yoga ISUP At PumpedUpSup.com. – use coupon code ISWPUS75 at checkout for $75 of your order of $500 or more.
More In-Depth Info
The nice thing about the Astro Yoga board is that an actual SUP yoga instructor designed it.
Every aspect has been thought out to provide the most benefit and convenience to those who want to do yoga on a stand-up paddleboard.
The first thing that stood out for me was the design. The color and design look fantastic.
The second thing that stands out is the width. Most standard inflatable SUP's are roughly 30 – 35 inches wide.
This board is 40" wide. The extra inches makes a huge difference when doing yoga poses on the water.
That added width and the fact that it is 6 inches thick makes this board extremely stable.
It gives you a fairly large platform to do any type of yoga pose. The deck pad is also large and comfortable for your hands, knees and feet.
The fact that it is so wide could in theory make it quite hard to carry to and from the water as it would be difficult to use a normal carry handle, which is usually at the center of the board.
However the Astro Yoga board has a unique bungee cord carrying handle so you can carry this SUP on your shoulder. It works great and makes carrying the board easy.
It's a little heavy at 30 lbs. so I wouldn't want to carry it too far, but it's still very manageable.
The fact that it's inflatable means that you can take this board anywhere you want to go and continue to do SUP yoga all over the world.
The weight is still easily checked onto an airplane and the backpack carry bag it comes with makes it easy to transport anywhere.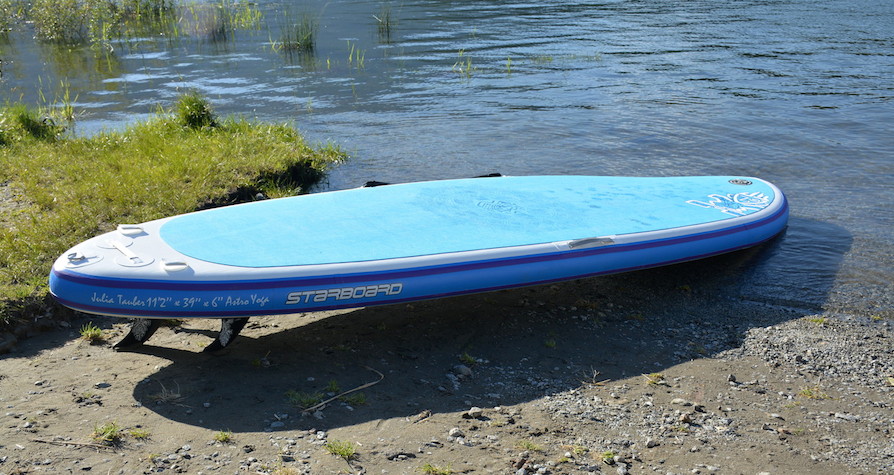 Setup
Setup is fairly simple. There are three skegs that need to be screwed on. The skegs aren't large but they will help with tracking.
You can use the included hand pump to inflate the board or invest in a good electric pump, which inflates the board in only a couple minutes.
This Yoga board can hold between 15 and 18 PSI.
I inflated it to 15 PSI and found it to be extremely rigid.
Deflation is just as easy and the board rolls back up nicely into its carry bag.
The backpack carry bag opens at the front by zipper, which is a very nice feature. That front zipper makes it simple to place the board back into the bag.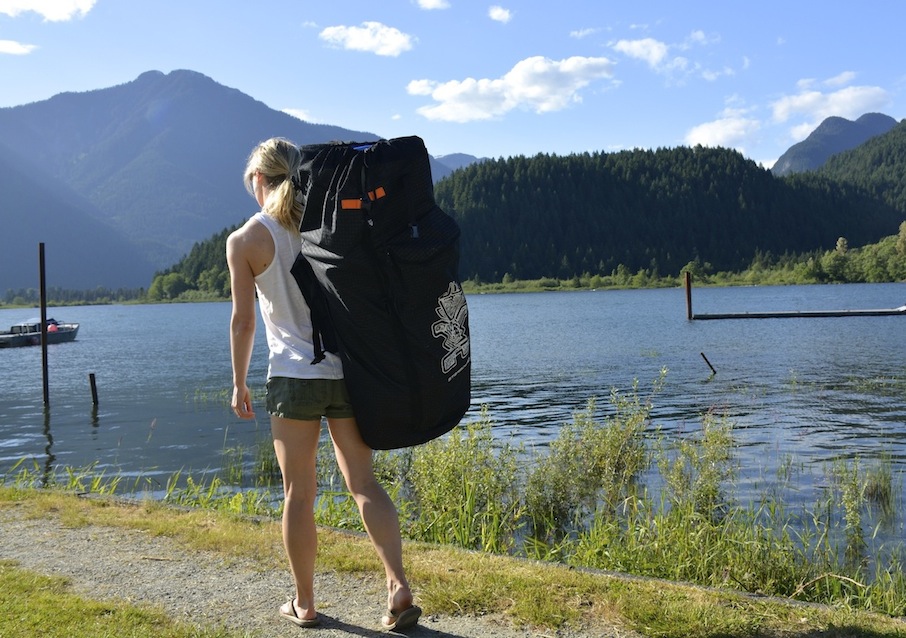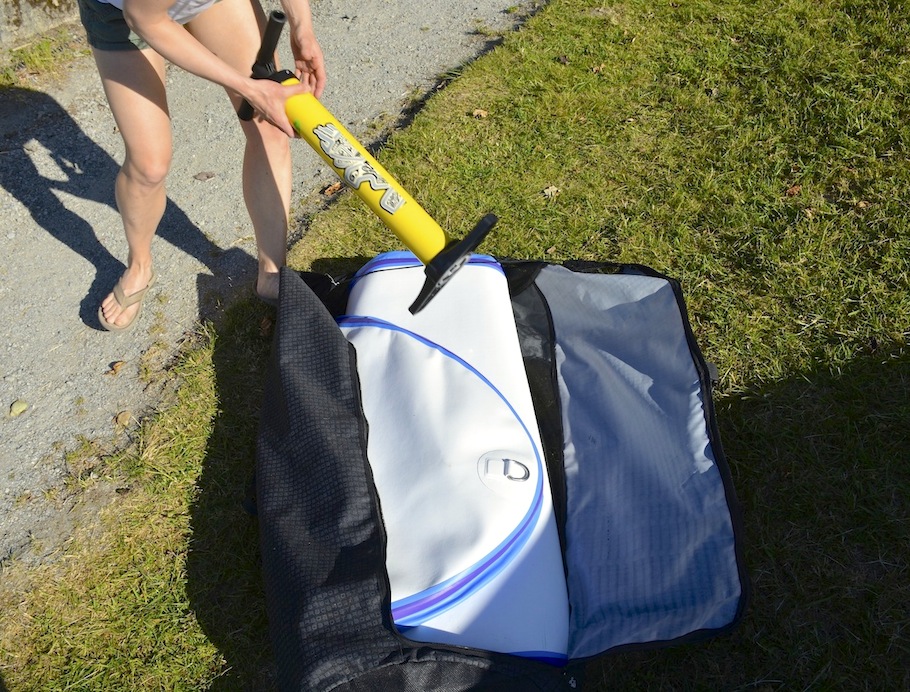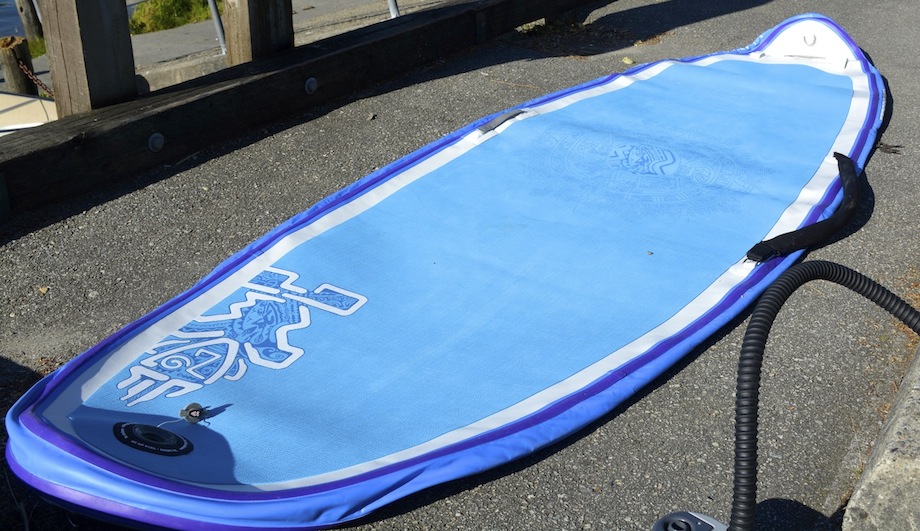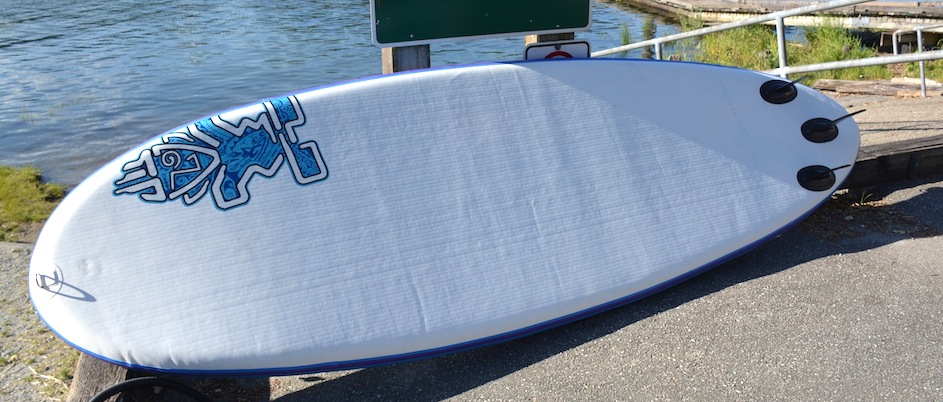 Performance
As this board was really designed for SUP yoga it performs best as a stable platform to do all kinds of yoga and fitness poses on.
It is stable, strong, rigid and very functional. It includes a paddle holder at the back of the board so you can secure your paddle out of the way while you are doing yoga.
There are very few D-rings on this board – just one at the back to secure a board leash if needed.  The lack of D-rings on any other board might be a negative.
However with this Yoga board, the lack of D-rings means you have a smooth open surface for doing yoga and they won't be in your way.
The 11' length makes it nice to paddle as well but keep in mind that a board this wide is going to be a bit sluggish when paddling through the water.
That being said you can certainly paddle it around for recreational fun as well as use it for SUP yoga.
Down Side
The down side of course is that it's not going to paddle too fast and it's going to take a bit more effort to maneuver.
It's also a little on the heavy side but that is to be expected with a board this size.
For yoga and fitness poses however, I see no negatives. It will be far easier and more convenient to do yoga on this board than on a standard stand-up paddleboard of any other kind.
My Pics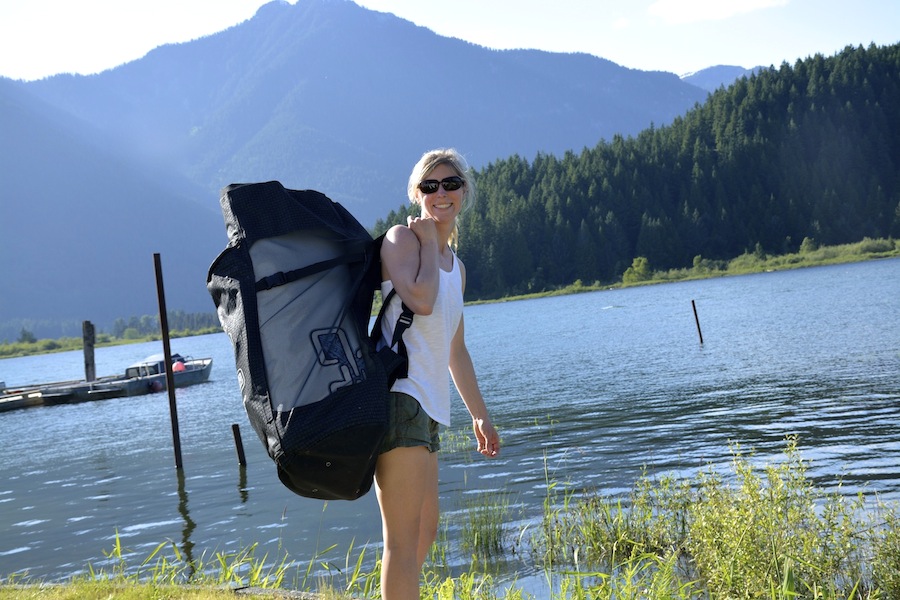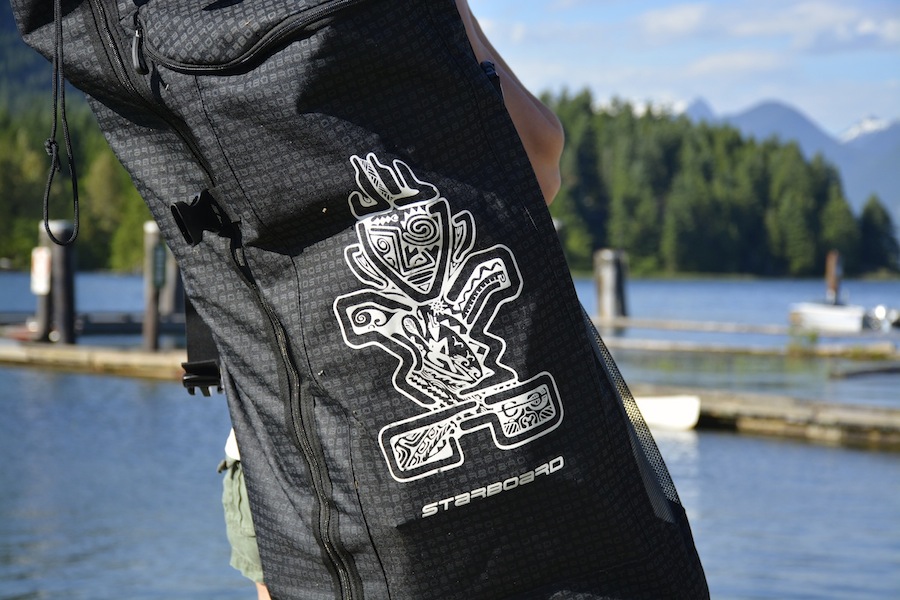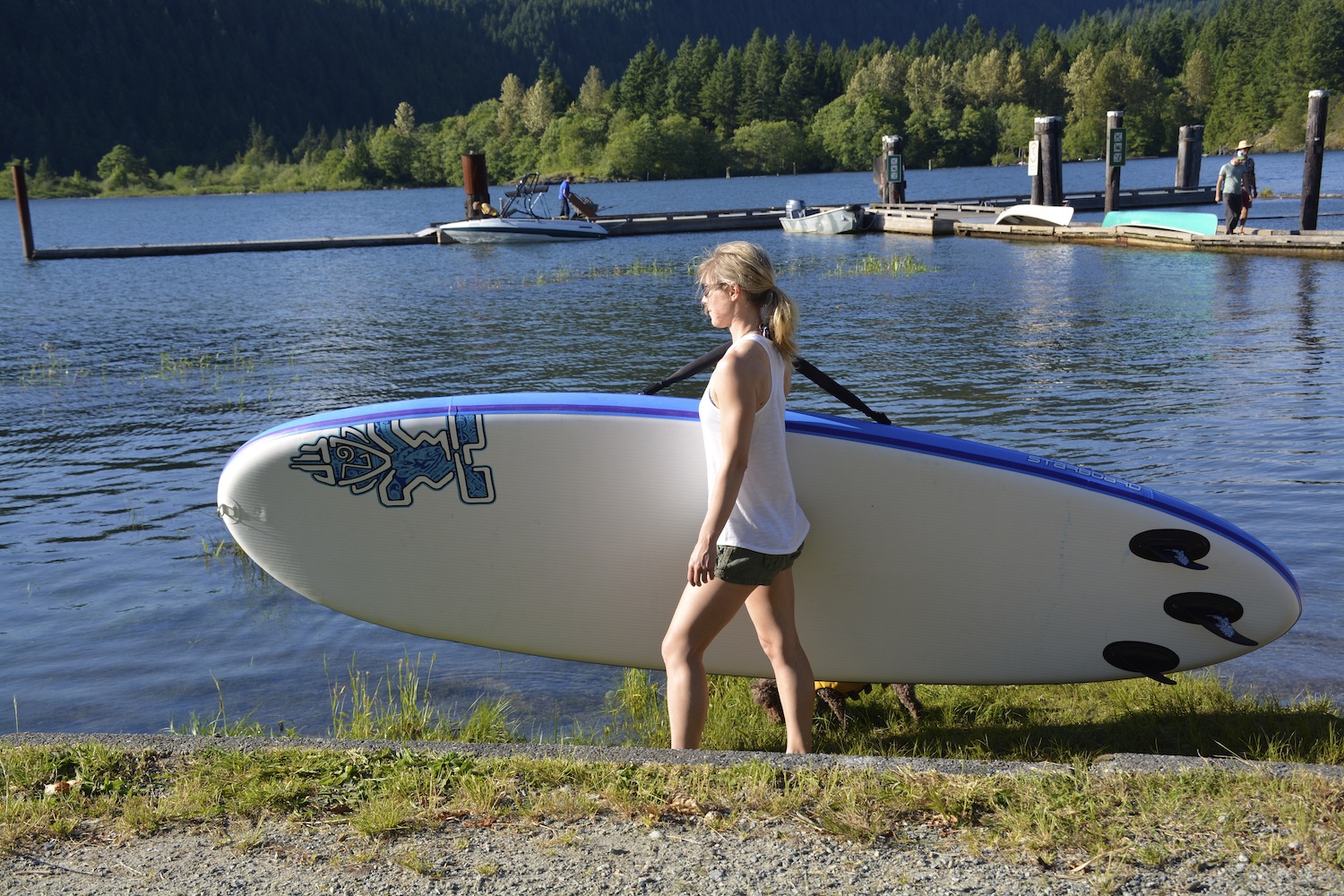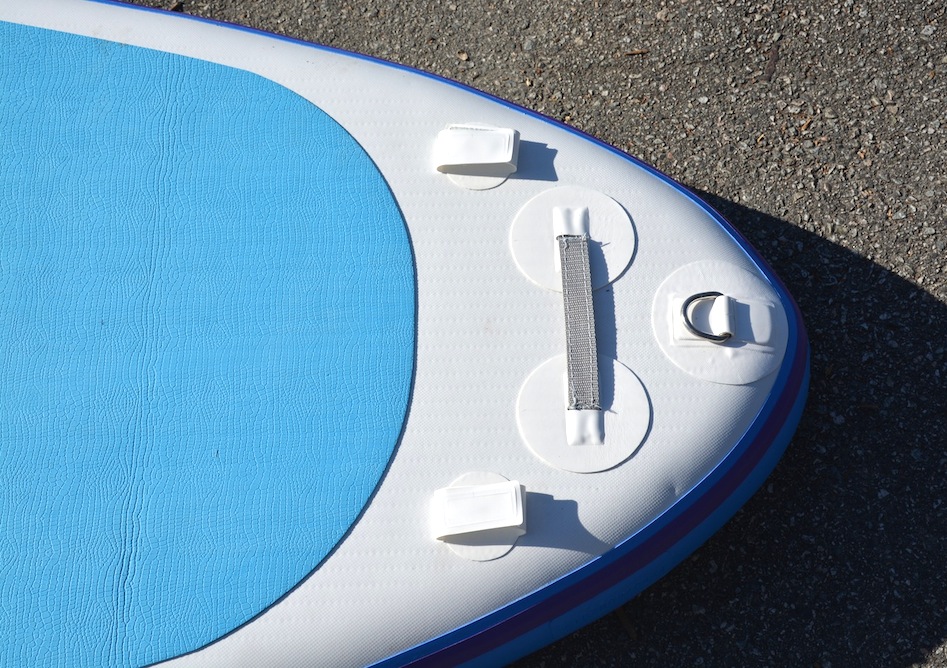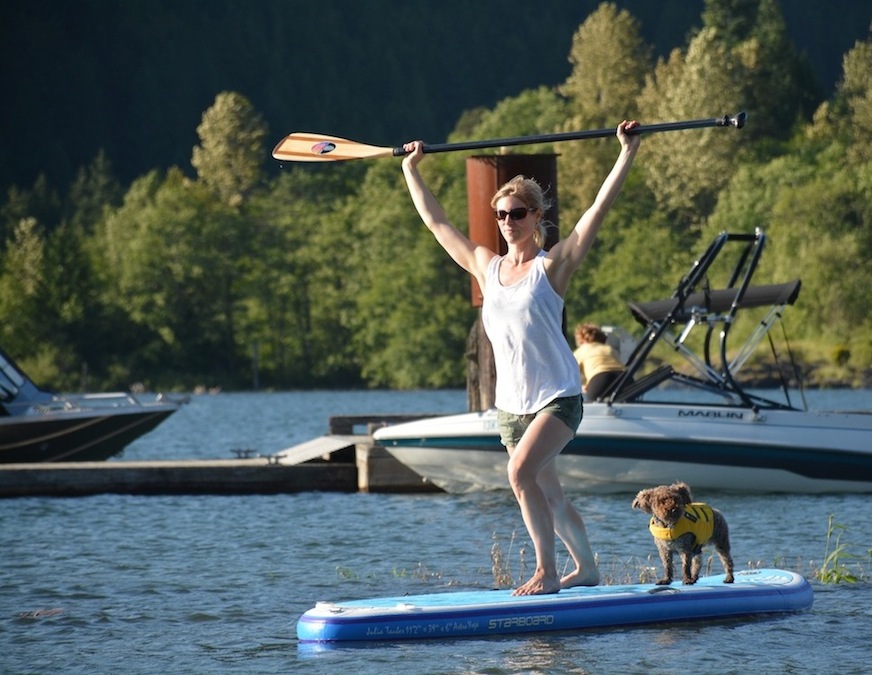 Final Thoughts
Overall I thought this board was very attractive, functional, comfortable and ideal for SUP yoga.
It wouldn't be my choice for paddling in general but for yoga enthusiasts that want a stable platform for performing yoga poses on the water and a board that can be paddled around short distances for fun, the Astro Yoga board rocks.
It's a specialty board and a little higher priced however the quality is good and you can expect this board to last for many years with a little care.
Where To Buy
Click Here For The Best Deal On The Starboard Yoga ISUP At PumpedUpSup.com. – use coupon code ISWPUS75 at checkout for $75 of your order of $500 or more.
Did You Know?
By clicking on any of the above seller links you can help keep ISUPworld.com growing. When you make a purchase after clicking on our links, the retailer will contribute a portion of the sale to help support this site. It won't cost you anything extra and it's a simple way to help us fund our gear reviews. Thanks!