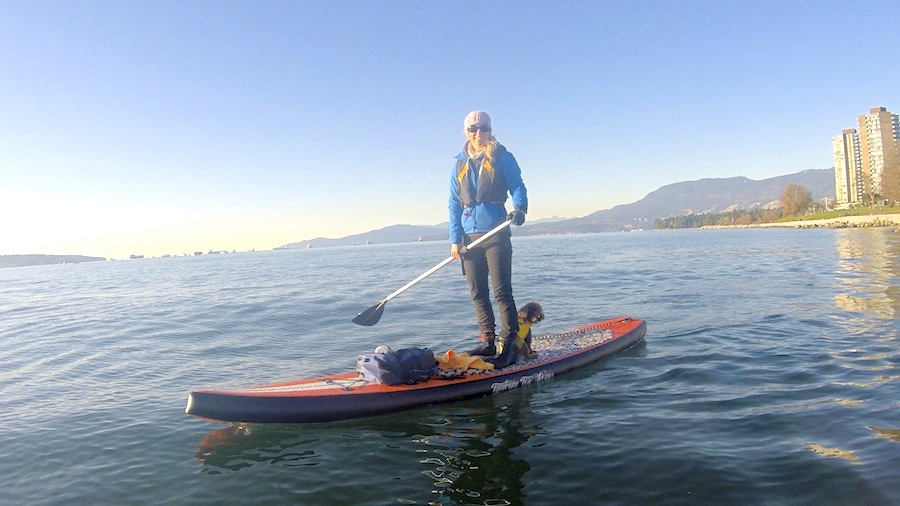 Tantrum Tow Ropes has a few well priced, nicely designed inflatable SUP's on the market. This past month I really enjoyed testing out their 12'6″ touring model.
It is designed to glide quickly through the water while still providing decent stability and rigidity with the 6" thickness that this ISUP offers.
I really like the shape and design of this board and I think it would suit a large range of people from beginners to intermediate paddlers.
It has some nice features that make it very functional and portable. Plus the whole package is priced very well.
Specs For The Tantrum Tow Ropes ISUP
12'6" long
31" wide
weighs 28 lbs.
can hold up to 320 lbs.
Material: Constructed with three layers of PVC fabric
Pros: Glides nicely, easy to turn, good traction pad, several D-rings, bungee system for securing gear, fairly fast, comes with a paddle
Cons: Bag is lacking in some areas, felt a little unstable when paddling in waves, no D-ring under nose of board for towing and no center D-rings
Where To Buy The Tantrum Tow Ropes 12'6"
Click here for the best deal on the Tantrum Tow Ropes 12'6" ISUP at Amazon.com.
More In-Depth Info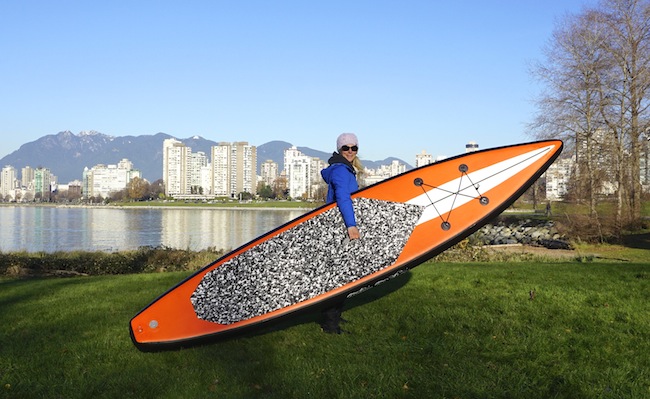 The 12'6" Tantrum Tow Ropes inflatable SUP has a really nice shape to it.
When I first took it out of the bag the feel and construction reminded me of the majority of other inflatable SUP's that I've seen… nothing wrong with it, the construction seems solid but it didn't feel like a top of the line board.
However once I rolled it out and inflated it I noticed how streamlined it is.  I think this is a cool looking SUP.
Looks are one thing but I wondered how it was going to perform. The first time I took it out was on the ocean.  I noticed right away how quickly it got moving and picked up speed.
On small waves and choppy water, it did feel a little 'tippy'.  I would say it felt slightly less stable than other boards of similar size.  However I was very pleased with how nicely it glided.
The pointy nose and streamlined design cut through the water easily and it took very little effort to get it moving.
I did notice that I had to focus a little more to stay balanced with the 31" width however I got used to it quickly and really enjoyed paddling this board.
The next few times I took it out was on flat lakes. This is where I found it excelled the most.
On flat water, this ISUP moved quite fast and glided smoothly. The tracking is great and I found I was much more comfortable.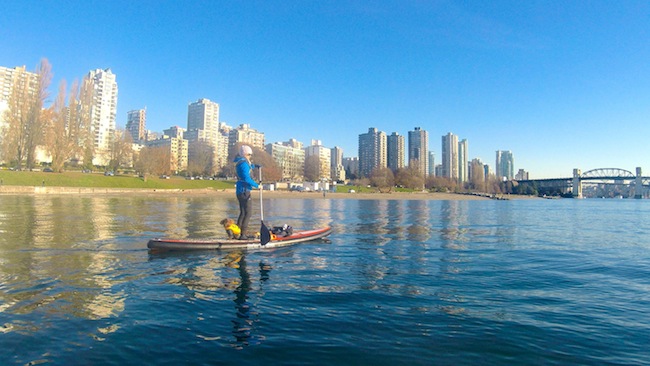 It is 6" thick so it is still very rigid and stable even when carrying a lot of weight.  It takes a little more focus when paddling in choppy water but overall the stability is good.
I would say beginners might have a trickier time with it initially but you would get used to it quickly and ultimately really appreciate the performance level.
Important Features
Fins – There are three fins on this board. Two small side fins that are attached and one large removable center fin.
I found that when using the three fins together the tracking was really good and they helped with the stability.
If you are in shallow water or taking on some small surf, then you may want to remove the center fin and only use the side fins.
The fin configuration provides good versatility and the fins are solid.
The way this fin clips into the fin box is unique to this board as far as I know.  I've never seen another attachment like this one.
It is easy to clip in. There are no extra parts to have to worry about. Once attached it is very secure.
Bungee System – There is a front bungee system for securing gear.
The bungee system is not overly big due to the fact that the nose of the board is quite slim and pointy.
However I was still able to secure a fair amount of gear for my cold weather paddling outings and found it easy to access from the center of the board.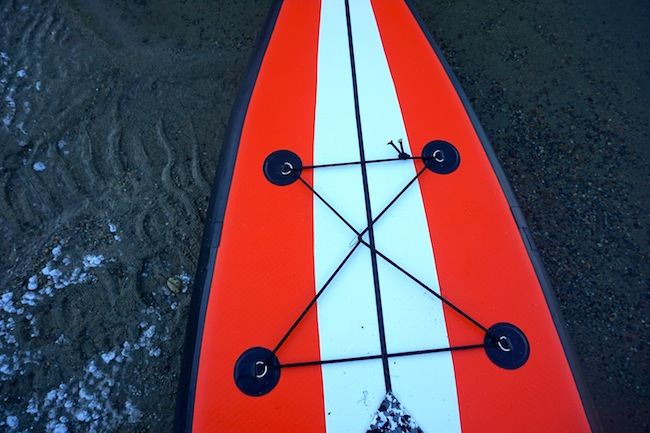 D-Rings – There are five metal D-rings. There is one at the back of the board for attaching your SUP leash as well as four D-rings up front securing the bungee cords.
It would have been nice to have one more D-ring underneath the nose of the board for towing, but it certainly isn't critical.
There are also no center D-rings for a seat attachment which makes no difference to me but for those who like a seat option you can always add extra D-rings yourself if needed.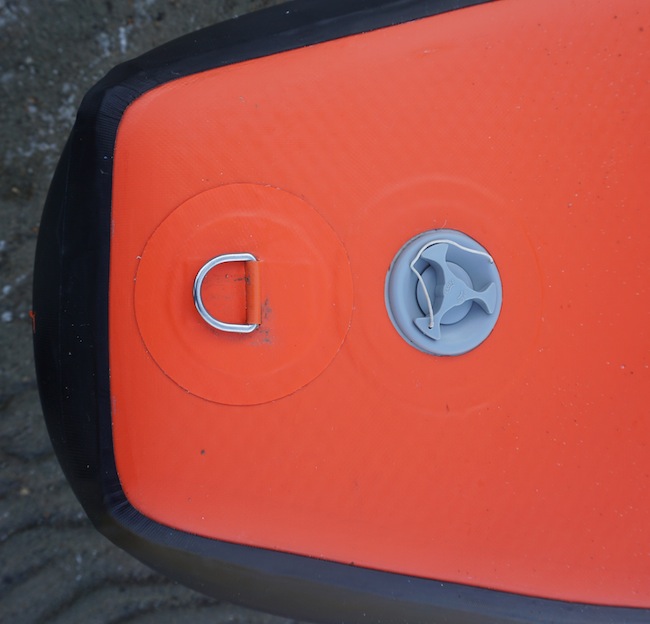 Pump – The pump that comes with this board is decent.  It takes some effort to get to the 15 PSI mark but it is doable.
I much prefer using my electric pump when inflating stand-up paddle boards personally.  I find it makes getting on the water far easier.
However for first getting started, this pump will work fine.  It has two settings making inflation a little easier and has an ergonomic design and built in gauge so you can check the PSI level.
Traction Pad – I like the design on the traction pad, I think it really stands out.
The pad is thick enough to be quite comfortable to stand or kneel on and it is glued solid to the board.  I saw no issues with it.
It isn't super long as you can see in the picture and there is no rear kick tail.  However for flat water paddling and straight touring it is comfortable.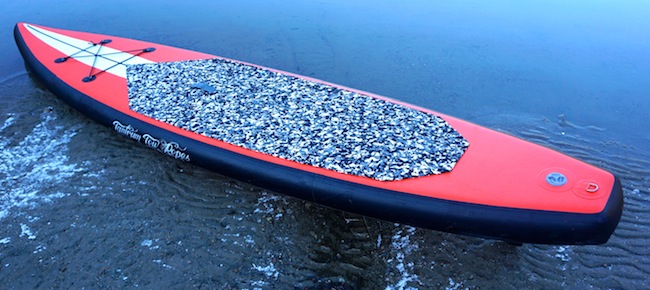 Carry Handle – There is one carry handle at the center of the board.
It is made of nylon and feels strong. It lies flat while paddling.
Bag – The backpack carry bag has some pros and cons.
The bag seems solid and fairly well constructed. It is made of rugged nylon. It is quite long and wide enough to fit the board but there is no stretchy give in the material.
I found length wise there is lots of room and it fit the board nicely.  There is no drawstring at top but you can roll the extra material down and then clip it closed.
Width wise it seemed a bit snug to me. It fits the board fine as long as you have it rolled up really tight. However I found the side fins would get caught trying to get the board back into the bag and because there is no give in the material it was difficult to fit the bag over the fins.
It definitely fits, but I did find it to be a bit of a struggle. Therefore it took a little longer to pack away.
The bag has adjustable padded shoulder straps that are fairly comfortable to carry.
A very big pro that I like with this bag is the red mesh pockets at the bottom that can hold your paddle.
You can place the blade of the paddle in the mesh pocket and use the clips on the side of the bag to secure the shaft. This is a very convenient feature and I appreciate the thought that was put into that.
There are no other pockets however and a front zippered pocket to secure the fin and repair kit would definitely add to this bag.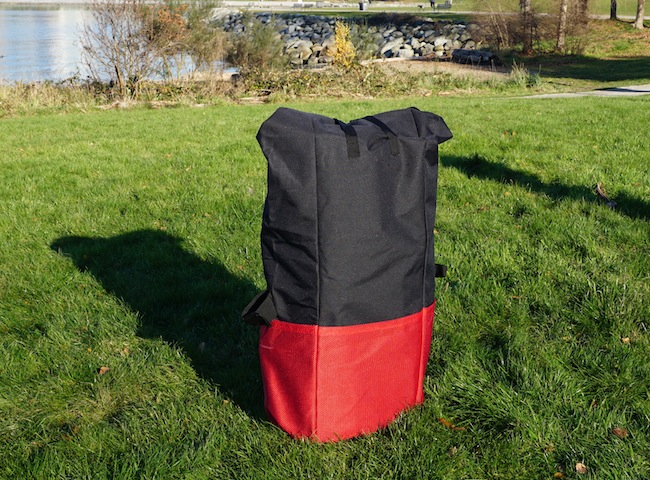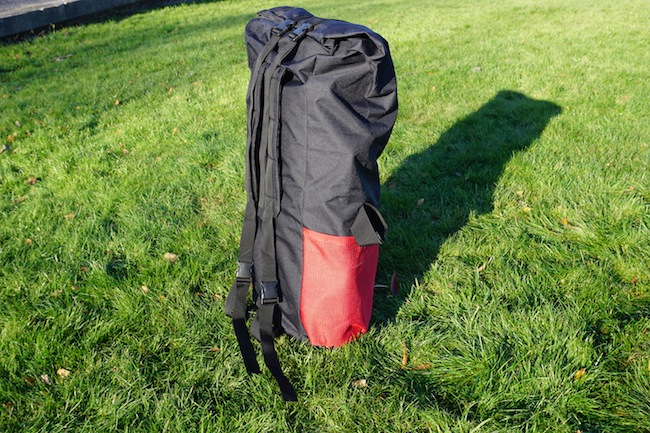 Paddle – A really nice bonus with this board is that it comes with a 3-piece paddle.
The paddle is height adjustable and because it comes apart into three pieces, it is very easy to travel with.
It is a basic paddle but works fine.  The paddle will get you started then you may want to upgrade it down the road or keep it simply as a travel paddle or as a backup.
Setup
Take the board out of the bag, unroll, inflate, then attach the fin. All in all setup is a very fast process.
That's what I love about inflatable stand-up paddle boards… they are super portable and easy to get on the water.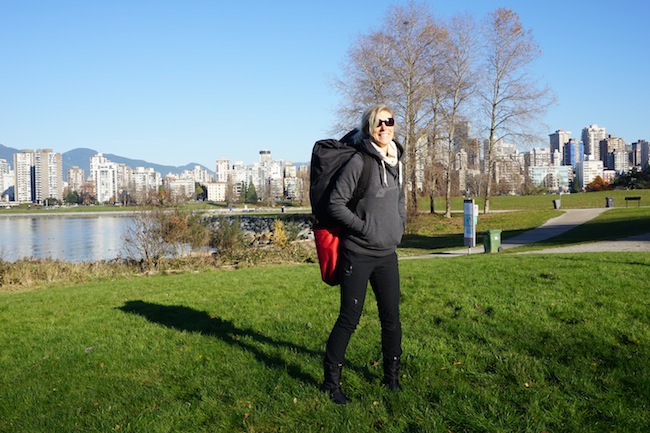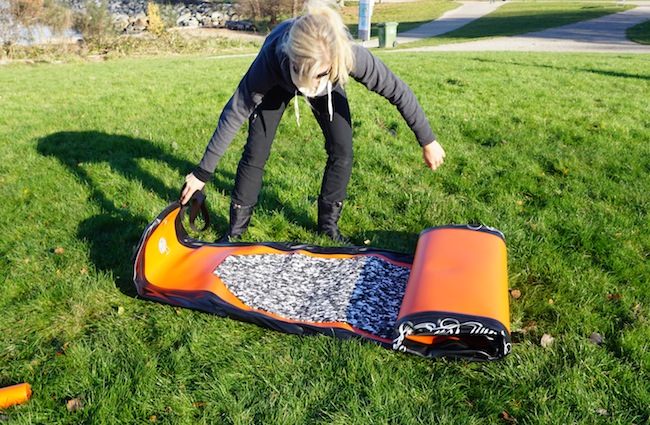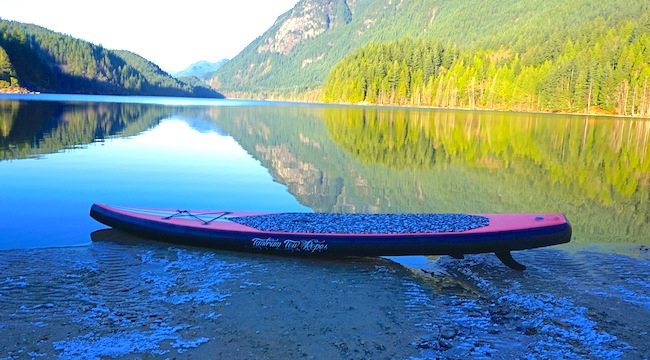 Performance
The performance of this board was actually very good.
It is a nice length at 12'6" long. The length and the leaner 31" width as well as the nice streamline design make it glide really nicely through the water.
It is a lot of fun to paddle. It tracks straight even in waves and I found it easy enough to maneuver as well.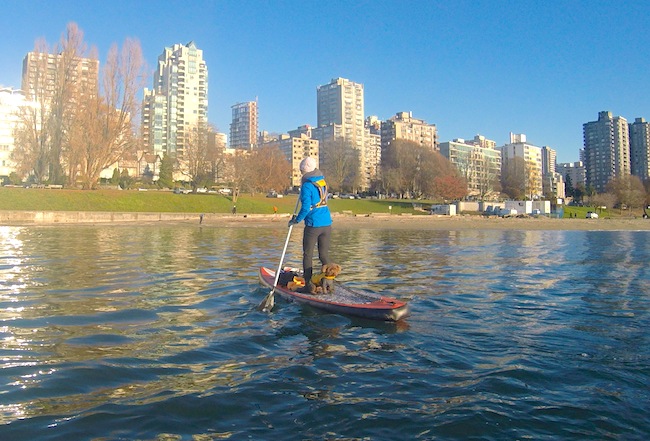 It can hold a lot of weight (up to 320 lbs.) and still perform at an optimal level.
I did find it less stable than some other boards of similar size so it required a little more focus when paddling in choppy water.
However I also found it easy to get used to and I liked that it picked up speed easily and glided well on flat water.
Except for having to put in a little extra focus the best way I can describe paddling the 12'6″ Tantrum Tow Ropes board was that it felt effortless.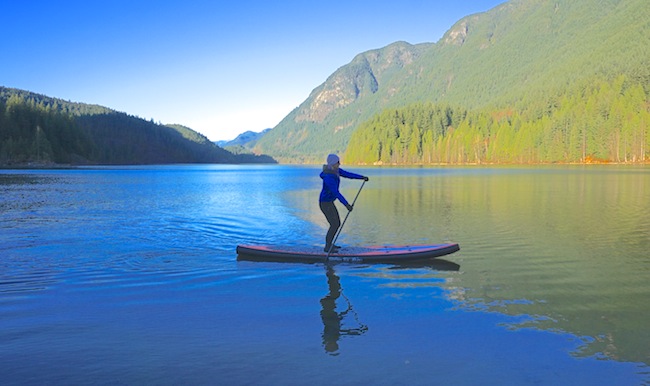 The tri-fin configuration adds some stability and really helps with tracking.
The nose of this board bends up a little bit. I found this helped when plowing through waves.
Overall it is simply a lot of fun to paddle.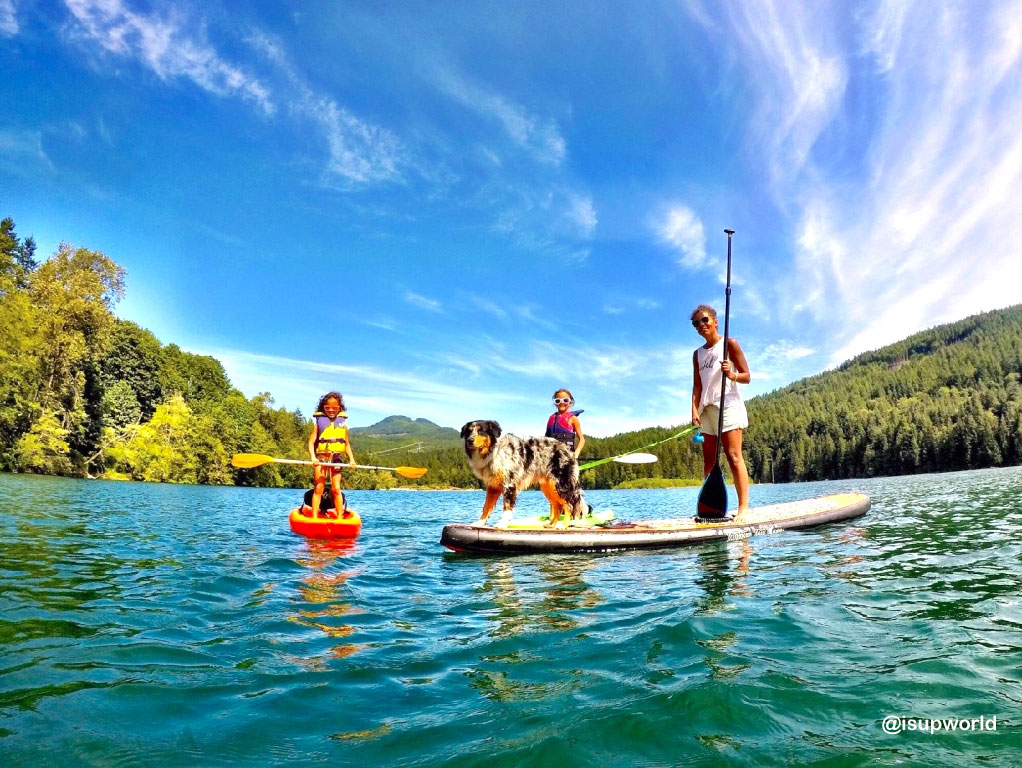 The Negatives
I do wish there was a little more width to the backpack carry bag. The material is not stretchy and fitting it over the attached side fins takes a little effort.
This wouldn't stop me from buying the board as ultimately the SUP does fit in the bag, but a little more width would make putting it away easier.  An extra zippered outside pocket on the bag would also be nice to have.
For inflation I found that my regular electric pump did not have the right size attachment for the valve on this board. That rarely happens.
I ended up using the Airhead electric pump instead, which worked fine. There were no issues with the hand pump that comes with this board however. It secured easily to the valve.
Other than that there is not too much to complain about. The board paddles well, is light enough to take anywhere and would suit a large range of people.
More Pictures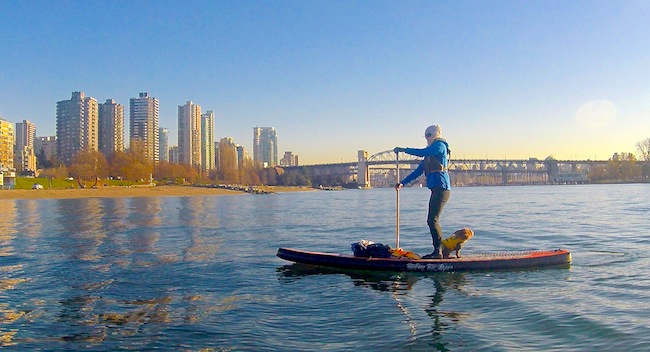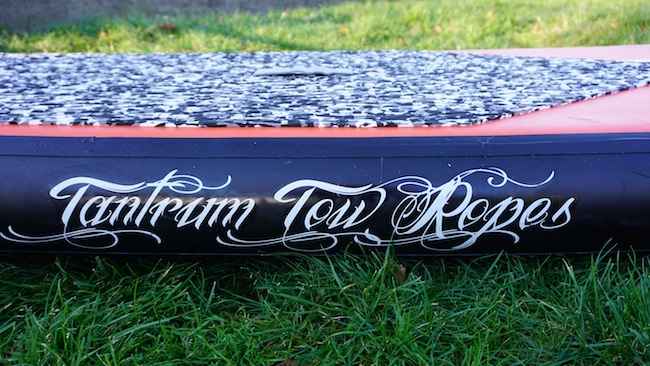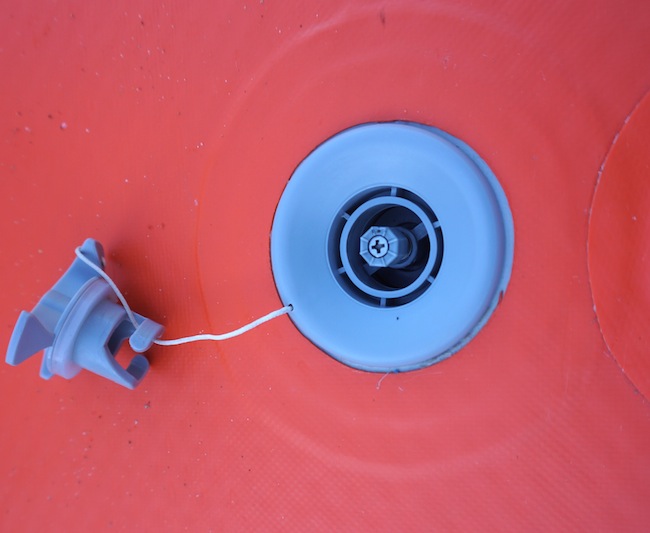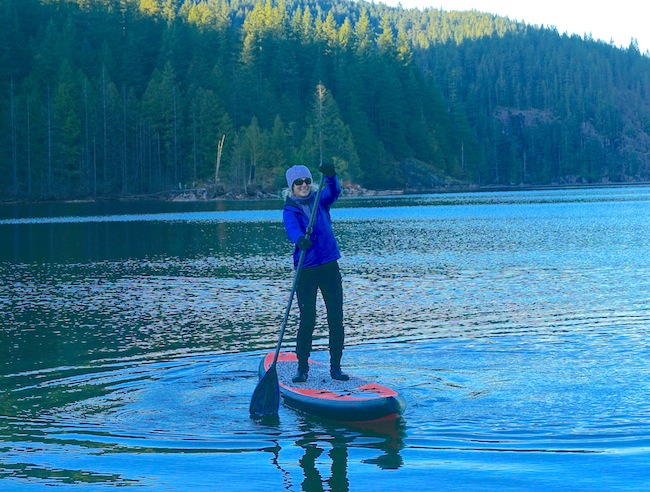 Final Thoughts
I like that Tantrum Tow Ropes includes everything in the SUP package that you need to get out on the water right away.
The board comes with a backpack carry bag, a hand pump, a 3-piece paddle, a repair kit and the removable center fin.
I think for the price, this package is a good buy.  They give you a lot for an affordable price.
This ISUP is a lot of fun to paddle and the size makes it convenient for so many different riders.
I had it loaded up with extra gear and my dog and felt really happy paddling this board around.
It comes in two nice and bright color options… orange or blue.
Where To Buy
Click Here For The Best Deal On The Tantrum Tow Ropes 12'6" ISUP At Amazon.com.
Did You Know?
By clicking on any of the above seller links you can help keep ISUPworld.com growing. When you make a purchase after clicking on our links, the retailer will contribute a portion of the sale to help support this site. It won't cost you anything extra and it's a simple way to help us fund our gear reviews. Thanks!