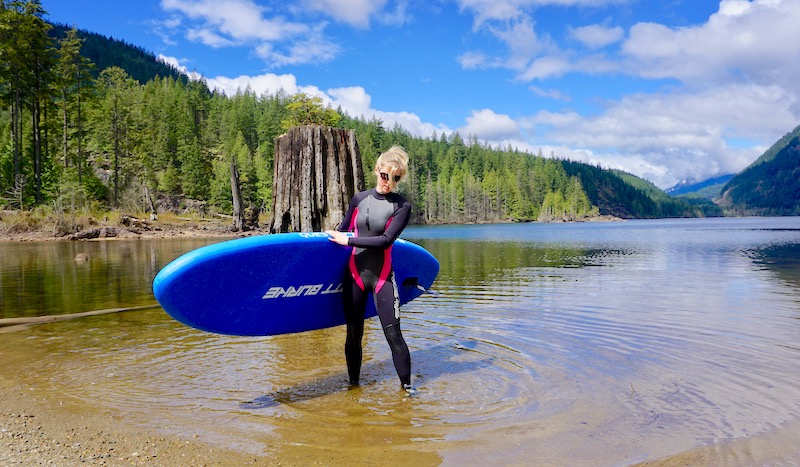 We had a rough winter this year and I had the opportunity to test out this wetsuit in some pretty crappy weather.
Freezing temperatures and pouring rain may not seem like the ideal conditions to test a wetsuit but that's what we got day after day this winter and right into the start of Spring.
It certainly allowed me to get a feel for how warm this suit would keep me and how comfortable it was to stand-up paddle while wearing it.
I waited until the weather warmed up slightly (10 degrees Celcius/50 Fahrenheit) before I got brave enough to venture into the water and swim with it (as well as get some good pictures!).
I had a lot of fun testing it and overall I got a great feel for how functional and comfortable this Tantrum Tow Ropes wetsuit is.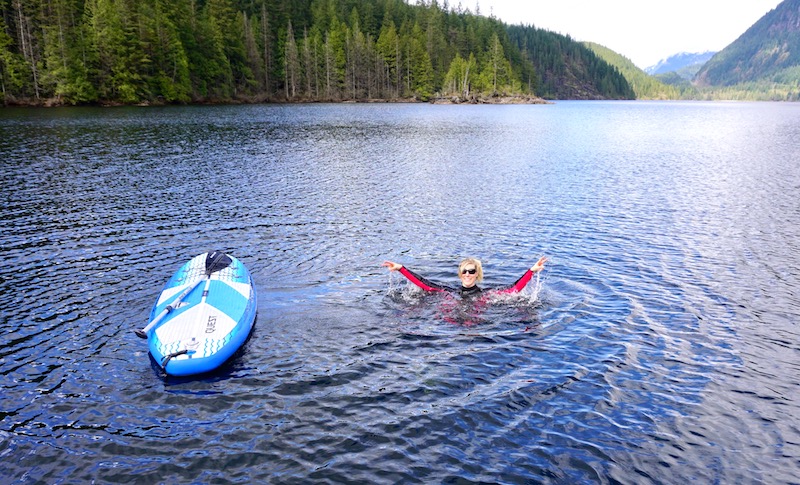 How Do Wetsuits Work?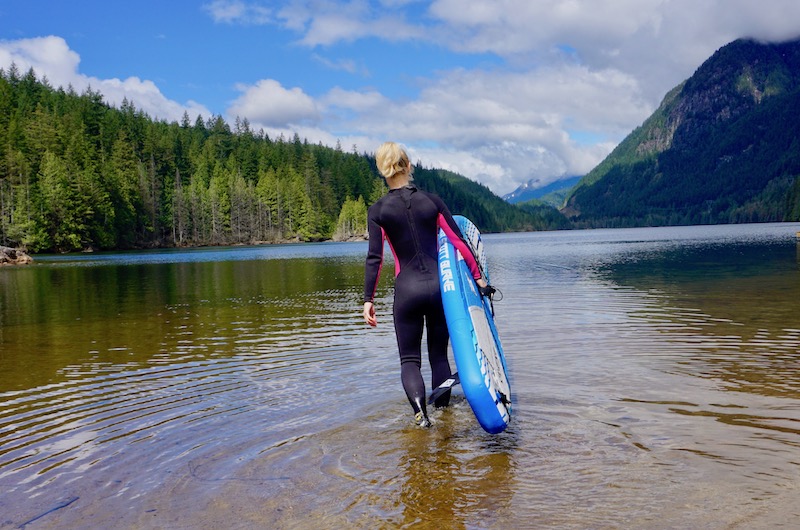 It's important to understand how a wetsuit actually keeps you warm.
The neoprene material traps a thin layer of water against your body. Your body will warm this layer of water so that it keeps you warm even while in cold water.
Depending on the thickness of the wetsuit, it can keep you extremely warm and really protect you from the elements.
The suit needs to be quite tight against your skin. However you will have different needs for fit depending on the type of activity you are doing.
Wetsuit Fit
I have a wetsuit for swimming that is super skin-tight and works well only for swimming. It is not flexible enough to be used for other types of activities comfortably.
For stand-up paddling or surfing you are not only going to want warmth but also a little more flexibility.
If you have ever tried a wetsuit on you will know that simply getting it on and off can be a process in itself – and usually not a fun one.
I found this suit to be much easier to get on than my swimming wetsuit, which was a nice surprise.
It is tight but it is still quite flexible. I easily had full range of movement of my arms and legs.
I am 5'8″ tall and 130 lbs.  I wore a ladies medium and liked the fit.  I probably could have gotten away with a small as I had a little extra room but I was worried the small might be too short for me.
Wetsuits feel quite tight and restricting when you initially put them on.  However I found with this one especially that I got used to the feel very quickly and was comfortable moving around and paddling.
Below is the sizing chart for the women's wetsuit.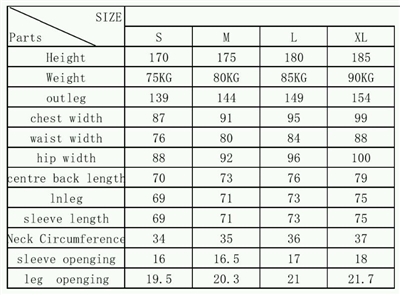 Important Features
There are several things I really like about this suit…
1. Knee Shields
It has knee shields that provide a little extra protection and durability if kneeling on your board.
The knee shields don't affect the flexibility when bending the knees at all.  They feel quite comfortable.
They are definitely a nice touch and I really like them especially for stand-up paddle boarding.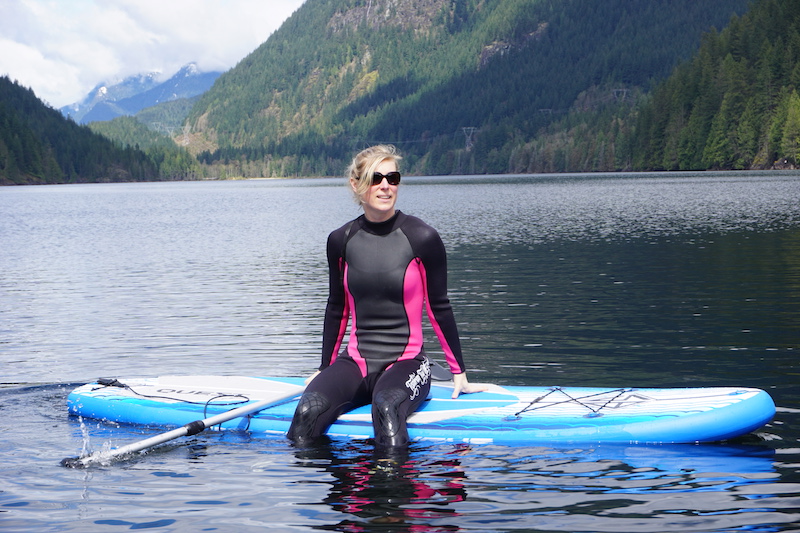 2. Easy-Pull Back Zipper
Wetsuits are notoriously tough to get on and off. Therefore an easy pull back zipper is essential to be able to dress and undress yourself without help.
The back zipper has a long strap on it that allows you to reach down your back and pull it up yourself. Once the zipper is all the way up you can secure the Velcro flap to keep it in place.
The zipper is durable and works exactly as it should allowing you to dress in your wetsuit (and remove it) quickly.
The strap on the zipper plus the soft inner nylon material really makes it a fairly easy process to get this suit on and off.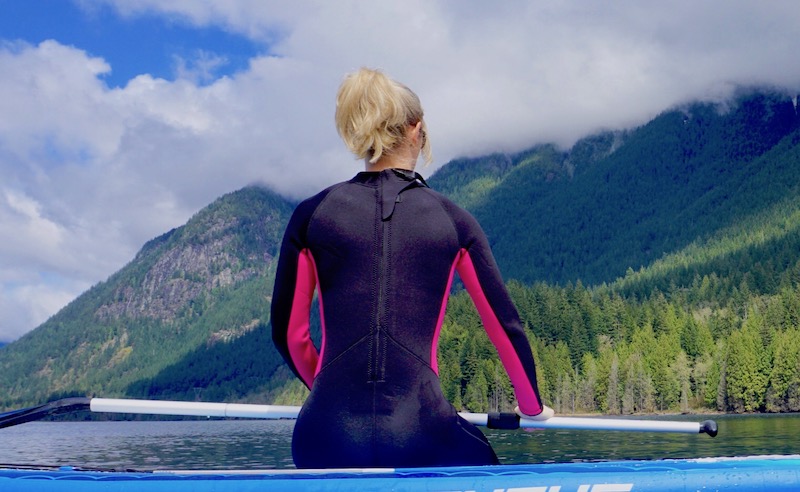 3. Full Body
This one is a full body suit meaning it fully covers your arms, your legs and your torso.
There are others that are shorter in length and don't cover all your limbs. These are fine for warm weather.
However if full body warmth is what you are after then this is a nice design and exactly what you want.
For extreme cold you may need to add gloves, booties and a hood for your head as well for total protection.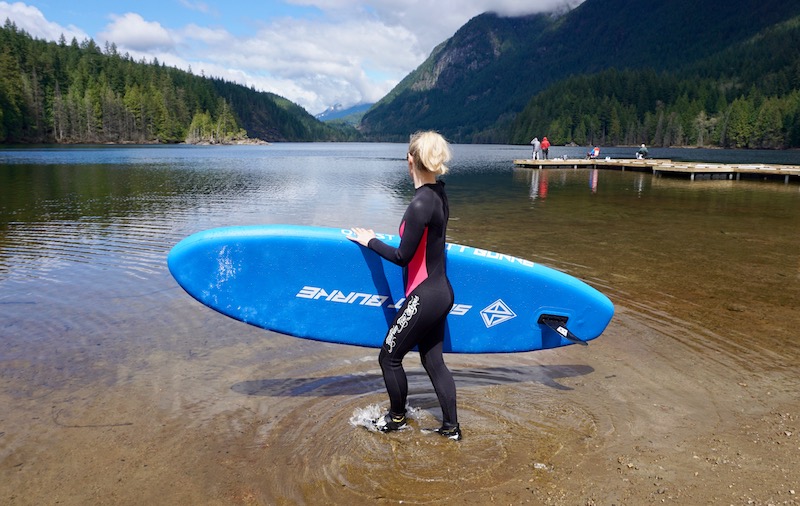 4. 3MM Neoprene
The neoprene material of a wetsuit can vary in thickness, usually from 1 – 6mm.
This particular suit is 3mm thick. This thickness can be worn in temperatures below 10 degrees Celsius (50 F) up to 20 degrees Celcius (68 F).
A suit this thick is really nice for keeping your vital organs warm, in particular around your torso area.
I found it to be quite warm. It helped block the wind, rain and cold temperatures and I was always happy that I had it on.
4.  Flexibility & Fit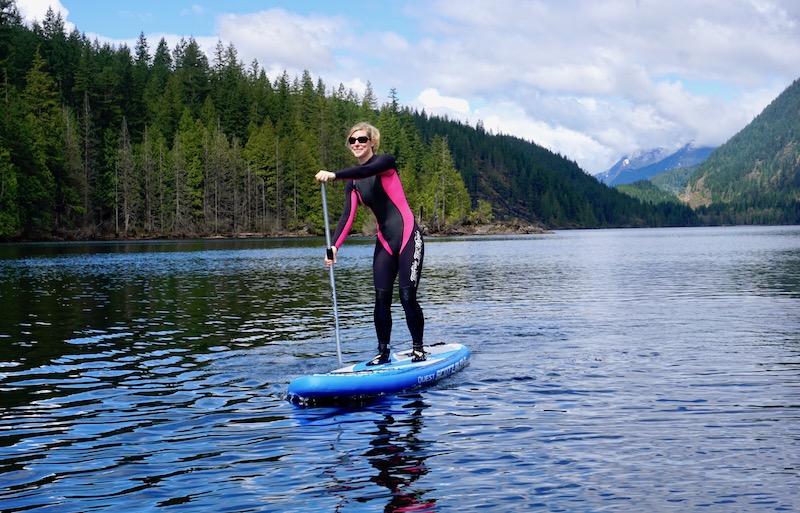 In general the thicker the wetsuit the less flexible it will be. 2mm is known to be a little more flexible for paddling and swimming.
However at 3mm thick I still found this suit to be quite flexible. The 3mm material really seemed like a nice happy medium – not too thin that you feel cold but not too thick that you can't move well.
The fit and flexibility might vary depending on body size as well, however the material will stretch well over different body sizes and shapes.
5.  Design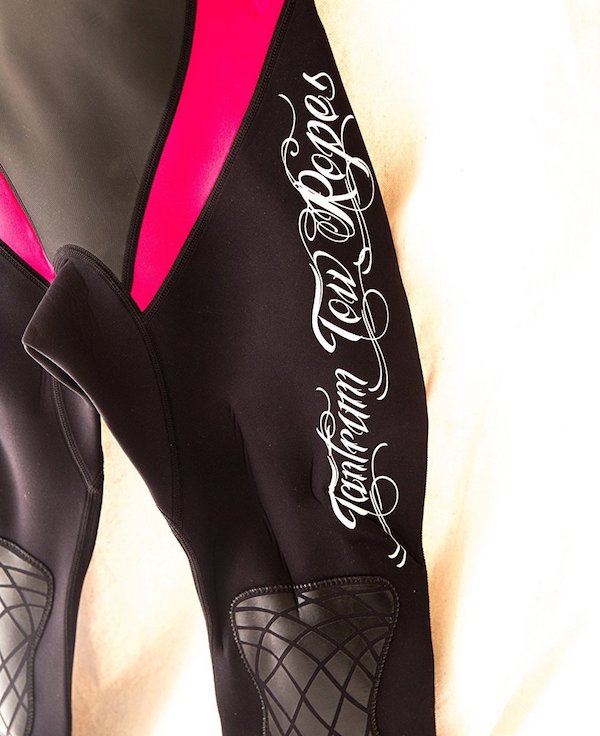 The overall design of the women's wetsuit is quite nice.  The legs, arms and back are black.
The torso is dark charcoal grey with pink accents up the body and down the inner arms.  The pink is fairly bright so it makes you easy to spot in the water.
The Tantrum Tow Ropes logo goes down the left outer leg.  Overall it's a nice look, sporty and attractive.  I was happy with it.
6.  Price
Wetsuits can get really pricey. The price is usually based on thickness, features and stitching.
This suit is exceptionally well priced for what you get.
Honestly for the price you really can't go wrong, it is a great buy.
In The Water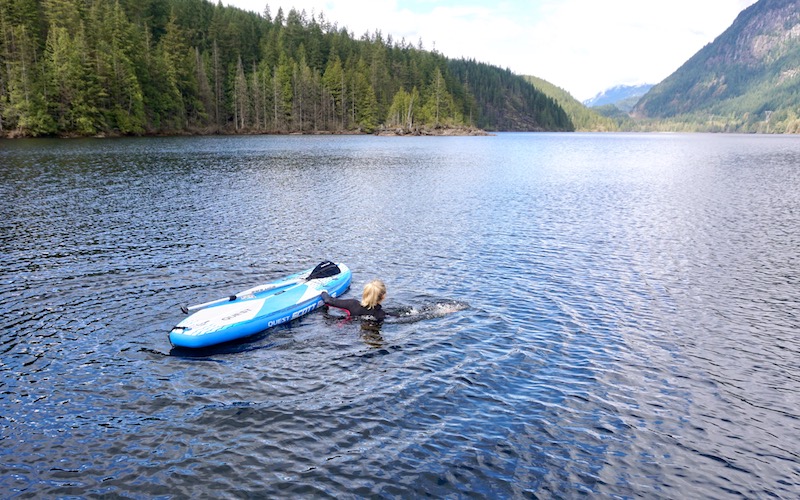 This wetsuit is quite warm outside of the water but it is also important to know how it feels in the water.
Although you won't be using this suit for swimming per say you need to know that it does the job well if you should end up in the water for whatever reason.
When I went in the water with this suit it was approximately 11 degrees Celcius (51.8 F) outside.
I don't know how cold the lake was that I was in however it is known as a cold water lake and people don't swim in it (without a full wetsuit) until July and August, at which point it is bearable.  It was April when I went in, so still very cold.
Cold water reduces body heat 25 times faster than air does at the same temperature.  That is why if you are paddling or boating in cold water it is so important to make sure you are protected.
With this wetsuit on I was able to enter the water and swim around briefly.  I didn't go too far or stay in for too long as I wasn't wearing gloves or head protection.
My body felt cold the instant I went in but I was fairly comfortable after the first few seconds.  My feet got cold quickly as my footwear wasn't as warm as it should have been.  However my body felt okay.
I went in several times and really started to enjoy myself as I was feeling very comfortable with this wetsuit on.
Upon getting out of the water and paddling a good half hour back to shore I was totally warm even though I was wet.  The wetsuit did it's job very well.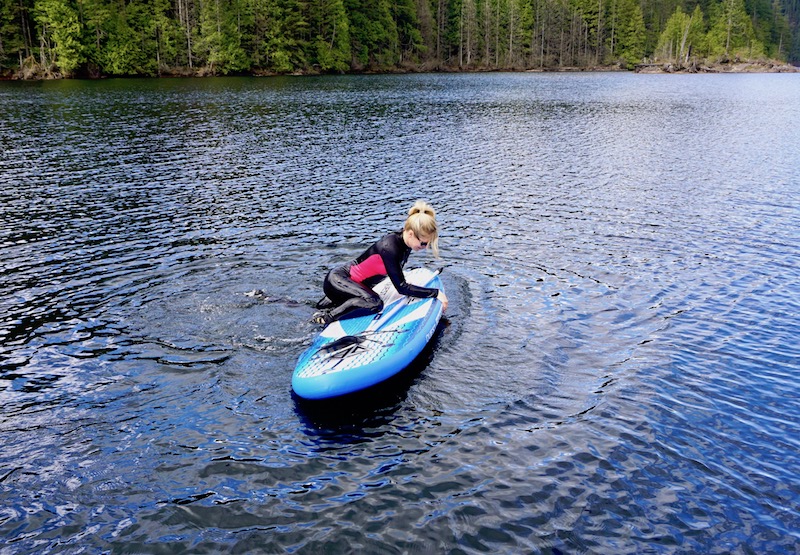 Once I got back to shore I was so warm and comfortable that I dried off my board, deflated it, rolled it up and put everything away before I ever got changed.  There was no rush as I was not cold at all.
Best Uses
This wetsuit is ideal for just about any type of water sport where you need added warmth, protection and still have flexibility to move well.
We think it is most ideal for paddle boarding, tubing, water skiing or getting towed behind a boat.  I would probably even wear this suit kayaking in really cold weather.
It is not best suited for long distance swimming.  This suit is not as tight fitting as a swimming specific wetsuit.
I was quite comfortable doing a very short swim and playing around in the water with it on, however I would not have wanted to swim across the lake – unless it was an emergency and I had to.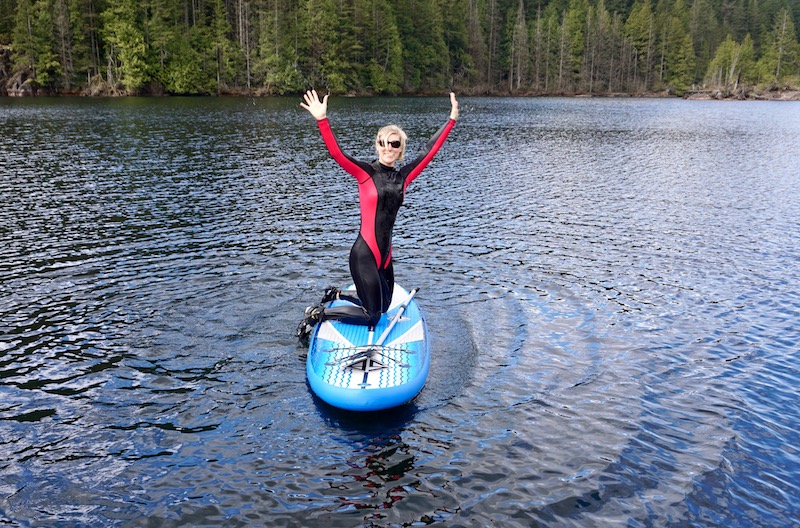 Bottom Line & Where To Buy
My partner and I agree that this wetsuit is a definite win.
In fact we were both so impressed with the comfort and functionality of the suit for water sports that we plan to get him the men's version as well, at which point I will update the review with more pictures and his male point of view!
Click Here For The Best Deal On The Tantrum Tow Ropes Women's Wetsuit At Amazon.com.
Click Here For The Best Deal On The Tantrum Tow Ropes Men's Wetsuit At Amazon.com.
Did You Know?
By clicking on any of the above seller links you can help keep ISUPworld.com growing. When you make a purchase after clicking on our links, the retailer will contribute a portion of the sale to help support this site. It won't cost you anything extra and it's a simple way to help us fund our gear reviews. Thanks!