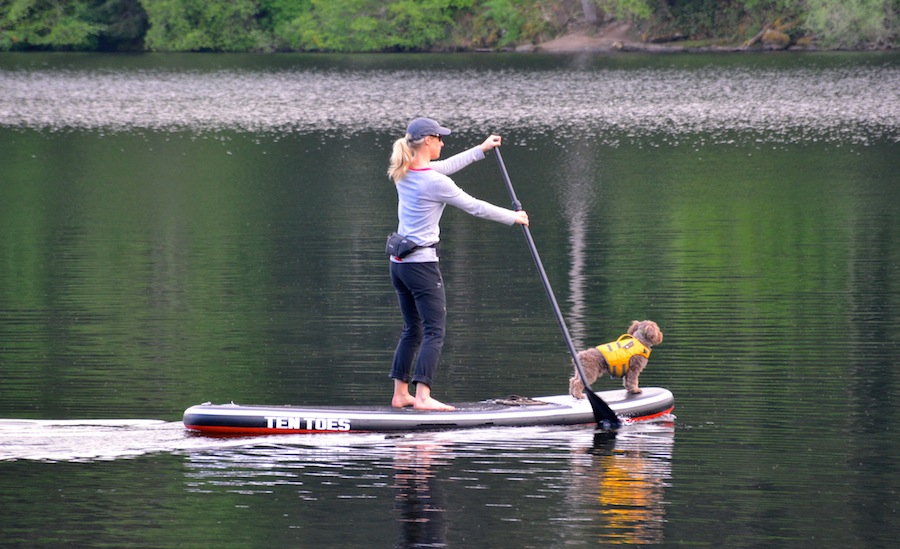 Ten Toes Board Emporium at this time makes four different inflatable stand-up paddleboards.
I was lucky enough to get to try out their very versatile 10' Weekender ISUP.
What I like most about this board is how easy and convenient every aspect of it is.
It provides all the features you need and has a versatile shape that can paddle in any type of water yet the design and graphics are quite simple.
There is nothing difficult about this board. It is easy to inflate, easy to carry, easy to paddle and convenient to take absolutely anywhere.
It is available in six different color options… blue, green, blush pink, gray, seafoam or black.
I tested out the black board. I have never seen another all black-top inflatable stand-up paddleboard before and I quite liked the simple design.
I thought the black material might get extra hot in the sun but it didn't seem to be an issue.  The black is nicely complimented with the bright red on the backside of the SUP.
I really  like the blue board as well.  It's a great color blue and I think looks fantastic.
Specs For The Ten Toes Weekender
10 feet long
30" wide
6" thick
weighs 29 lbs.
can hold up to 275 lbs.
air pressure: 12 – 16 PSI
two removable small fins, one large removable fin
Material: Military-grade PVC
Pros: Stable, easy for any person to paddle, inflates quickly, nice bungee system, good tracking fins, solid and durable, versatile
Cons: No D-ring up front, not that fast, only one carry handle at the center of the board
Where To Buy The 10′ Weekender
Click here for the Ten Toes 10′ Weekender inflatable SUP at Amazon.com.
More In-Depth Info On The Weekender ISUP
I really enjoyed this board. It is versatile and easy, portable and convenient.
At only 10' long and 30" wide it is not that big. When deflated it rolls up into a very compact package.
Yet when it is fully inflated to the max air pressure of 16 PSI it is completely solid and can hold a lot of weight – up to 250 lbs.
The size makes it very easy to handle and highly maneuverable. The 6" thickness creates a solid and rigid base that feels supportive and secure.
This board will be easy for people with smaller frames to paddle but also very functional for a larger person.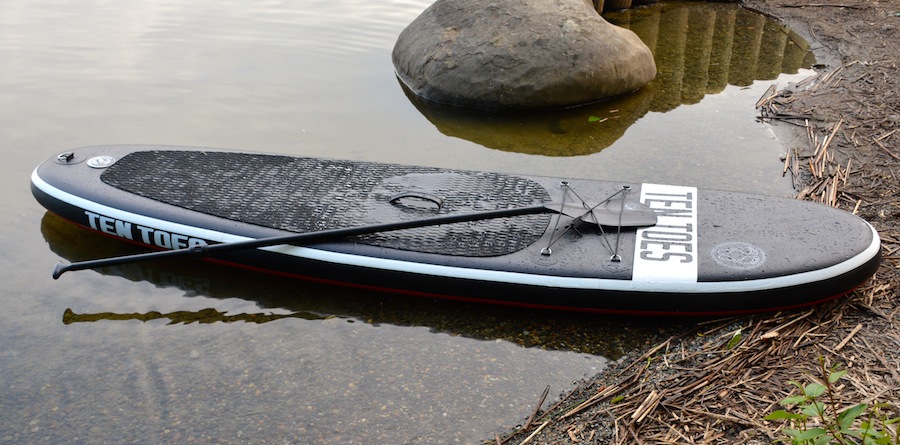 Important Features
Overall I found the design basic but functional. It has a traditional board shape with some good features.
The shape and design of the board make it very versatile. This board paddles fairly well in flat water, especially when using the removable large fin for good tracking.
It is also ideal for rivers and easy to handle in surf and choppy water.
The rounder turned-up nose allows it to plow through the waves easily.
This would be an ideal SUP to take traveling as it can be used on just about any type of waterway and it is so highly portable.
Bungee Cord
There is one bungee cord system at the front of the traction pad. It's a decent size and ideal for securing your water bottle and gear.
I like boards that have a front bungee cord system a lot as I find I use it all the time. This one is easy to access and secured with 4 D-rings.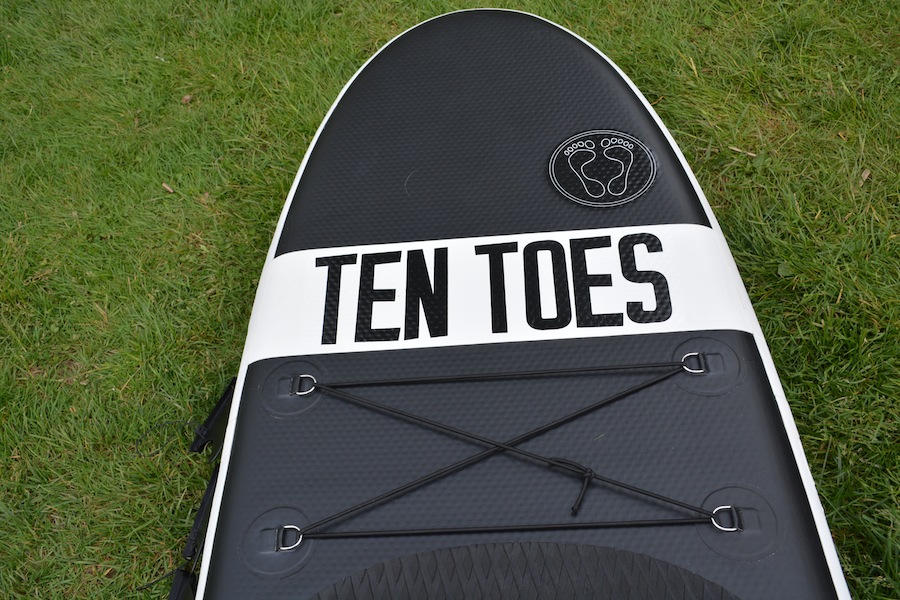 D-Rings
There is one D-ring at the back of the board that is ideal for attaching your board leash.
There is also 4-Drings up front being used by the bungee system.
I felt there could have been one more D-ring up front. An extra D-ring is always handy in case you have anything extra to secure or for towing.
It is not critical however as the main D-rings are covered, just something to point out.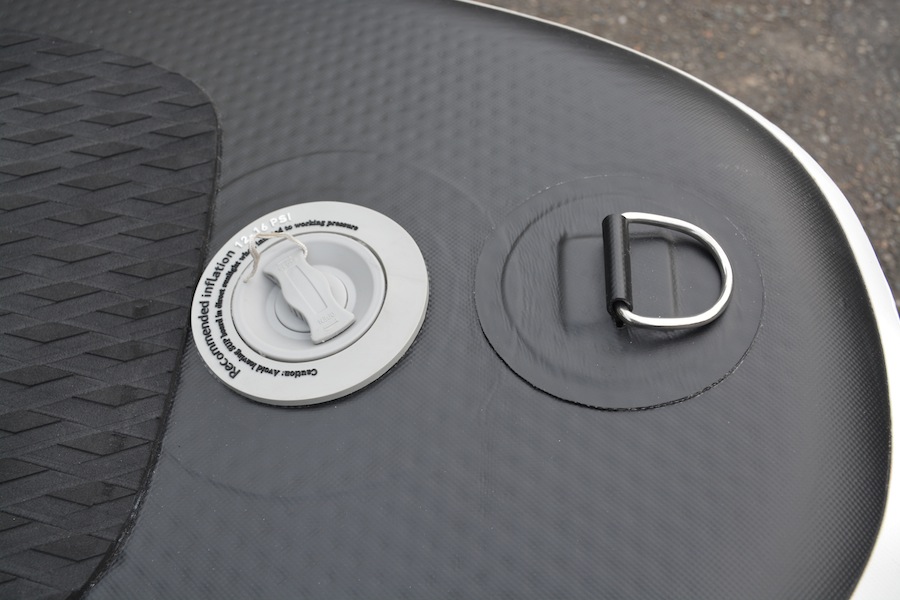 Fin System
The fin system is great. There are three separate removable fins included in the package.
Normally I see inflatable SUP's that have two attached side fins and one removable larger fin.
The fact that all three of these fins are removable made me worry I would lose one. Probably not a valid concern however if you're conscious about putting everything back in the bag.
In reality the fact that you can remove all three fins allows you to really customize the board for the type of water you are in.
For open flat water I used all three of the fins and found the tracking to be quite good.
In shallow water or rivers with lots of debris you might not want to use any of the fins… Or possibly just the two smaller side fins.
The fins easily slide into place and are secured with a push-in clip. Once secured, they are solid.
All three fins can be easily replaced if ever needed.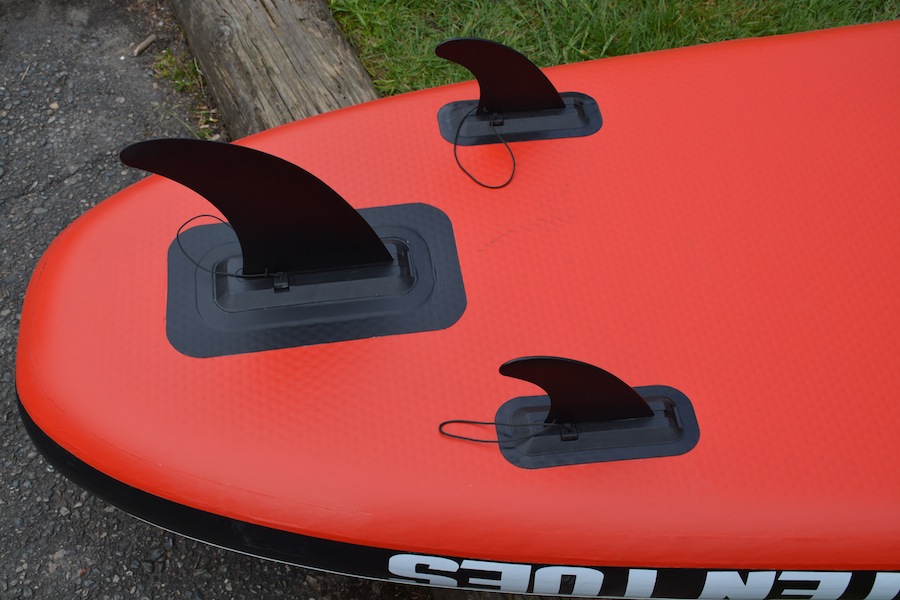 Traction Pad
The non-skid EVA traction pad is comfortable to stand or kneel on.
The traction pad isn't overly long up front but this is a board where you will be either standing right at the center or even a little ways back as opposed to a racing board where you might want to be standing a little closer up front.
Therefore the traction pad is a decent size for this type of SUP and it feels great.
This is the only ISUP I have ever seen that comes with an extra piece of traction pad. Included in the bag is a fairly large square piece of the traction pad.
I have never had to replace the traction pad on any of my boards but I thought it was a nice extra if you ever did need it.
Carry Handle
There is only one carry handle on the 10′ Weekender at the center of the board, which is fairly typical for an ISUP of this size.
I like when there are carry handles at the front and back as well in case you want to carry it with someone else.
However the board is not that big and does not weigh much so it is easy for one person to carry and the center handle is definitely the one you would use most often.
The center carry handle is a nice one. It is covered with PVC fabric adding a little bit of padding making it super durable.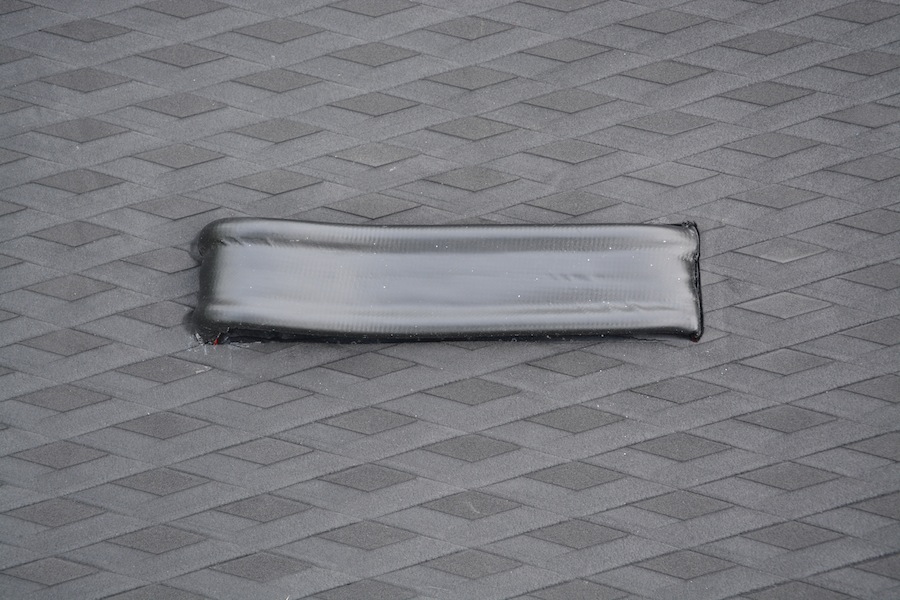 Backpack
There are two bag options for the Ten Toes Board Emporium ISUP's.  They are not included in the price of the boards.
A regular SUP backpack called the Rambler Rucksack Bag
Or a rolling backpack that you can pull called the Nomad Roller Bag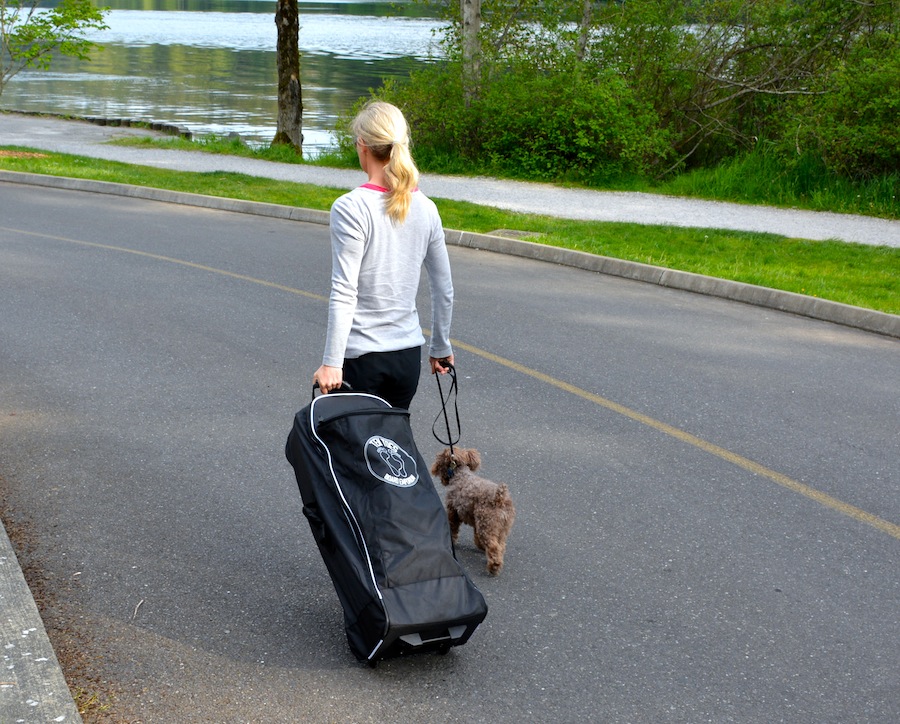 I really like the rolling backpack. I prefer it over the regular backpack. Even though the board isn't super heavy it is really nice to have the option to pull it instead of carry it.  It is ideal for airplane travel and just easy to take anywhere.
The rolling backpack unzips all the way around so it is easy to place the rolled up board right inside.
There is also a fairly large front zip pocket to store the pump, the fins and your repair kit.
The backpack straps can be tucked inside if you don't need them or if you are traveling by airplane and want to keep the straps out of the way.
There are three carry handles, one on each side of the bag and one on the top.
The top padded handle is the one you would use when pulling the bag.
All in all it's a great bag, well made and sturdy. It is definitely convenient and super portable.
The regular backpack (the Rambler Rucksack Bag) has two padded shoulder straps, as well as a front pocket for the pump and repair kit.
There is a drawstring and a clip to secure it at the top. There are two side carry handles. It is not fancy but it is functional and very useful.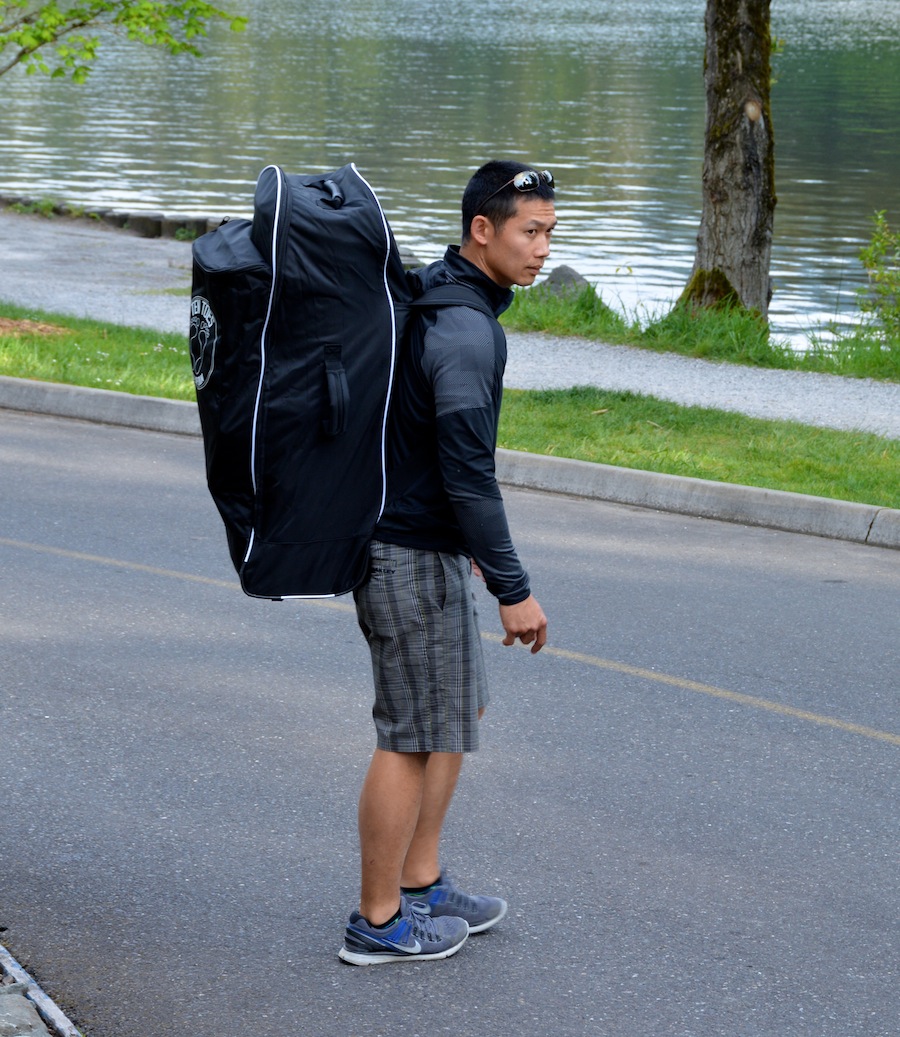 Pump Bag
It may seem like a small thing but the inflation pump comes with it's own little carry bag. The carry bag also has a separate inside pocket for the pressure gauge.
I have only ever seen a few ISUP's that include a separate carry bag for the pump. I like it because it keeps everything together… one less thing to lose.
The bag is just thin and made of nylon. It has two cord shoulder straps so you can carry it like a small backpack or just sling it over one shoulder.
The bag is a nice extra feature. Like I said it's a small thing, but I like it.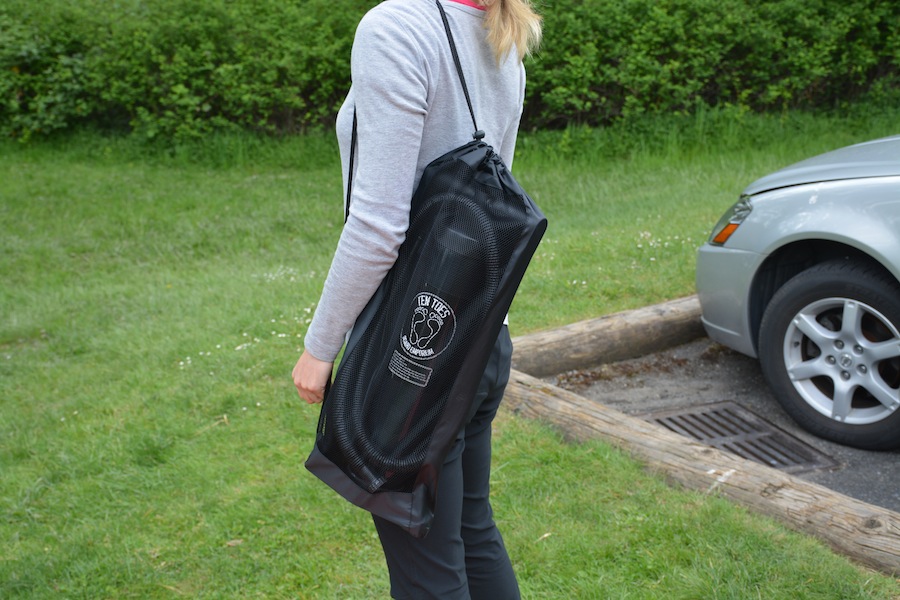 Manual Pump
The pump that comes with the Ten Toes Weekender is decent. It comes with a pressure gauge so you can make sure you are inflating to the correct PSI level.
It took a bit of work to get it to 15 PSI but since the board isn't that big, it didn't take as long as inflating many other ISUP's.
You may find you want to invest in a good electric pump down the road to make life easier but this pump will work just fine initially.
6" Drop-Stitch Material
The material is strong and durable. I have no concerns at all about this board being able to handle a fair amount of abuse and  lasting a long time.
The 6" thickness makes it very stable even though it is only 10' long. It can hold a lot of weight with no flex.
The thickness and rigidity of this board make it ideal for people of all skill levels.
Ten Toes 10' Weekender Setup
Setup is a snap. Take the board out of the bag, unroll and inflate.
Using the manual pump, inflation takes about 8 minutes. Possibly a little longer if you take more breaks but overall it is fairly fast.
It takes a bit of effort inflating with a manual pump but it is very doable.
The valve is a Halkey-Roberts style valve. Make sure to push in the spring and have it in the popped up position when inflating. Then push in and twist to deflate.
Once inflated, secure the valve cap then attach the three fins and off you go.
It is easy and packing it away is just as simple. Dry off with a towel, deflate and store it back in the carry bag.
That's what I love about inflatable SUP's… there is not much to worry about. You don't have to think about roof racks or any heavy lifting.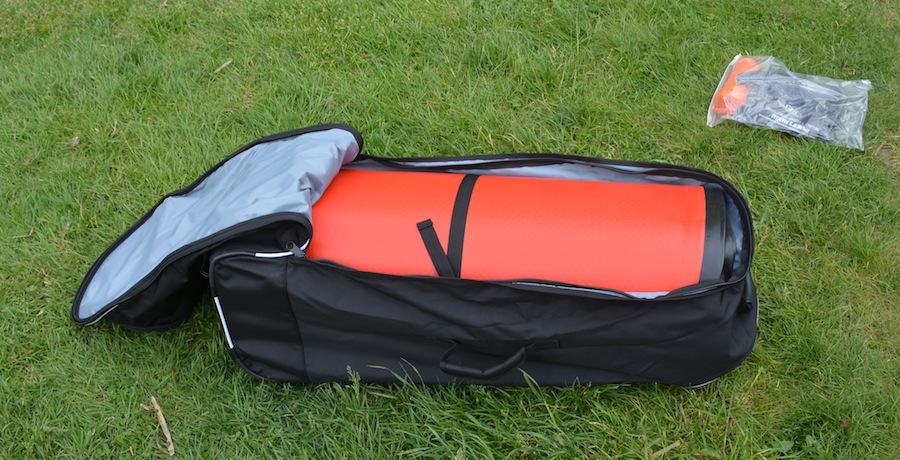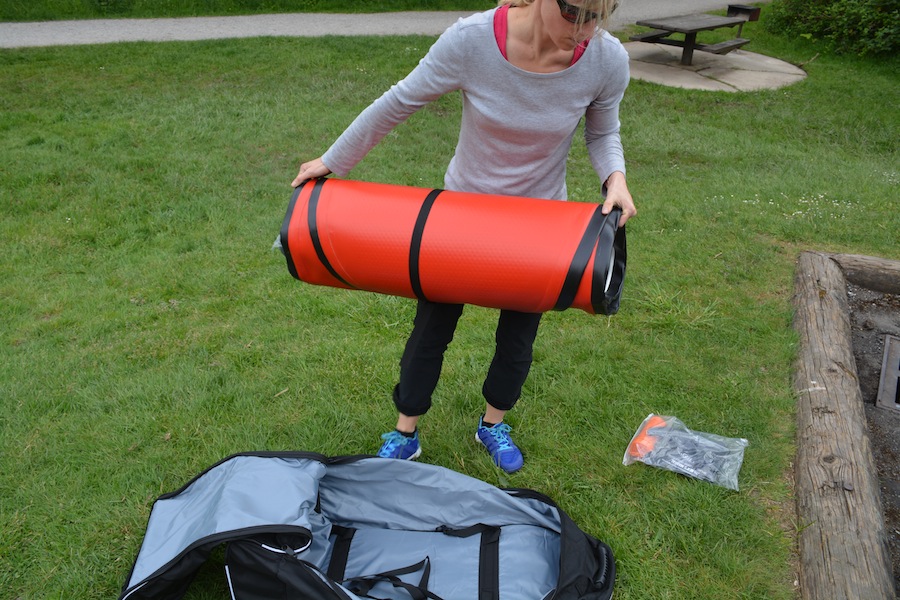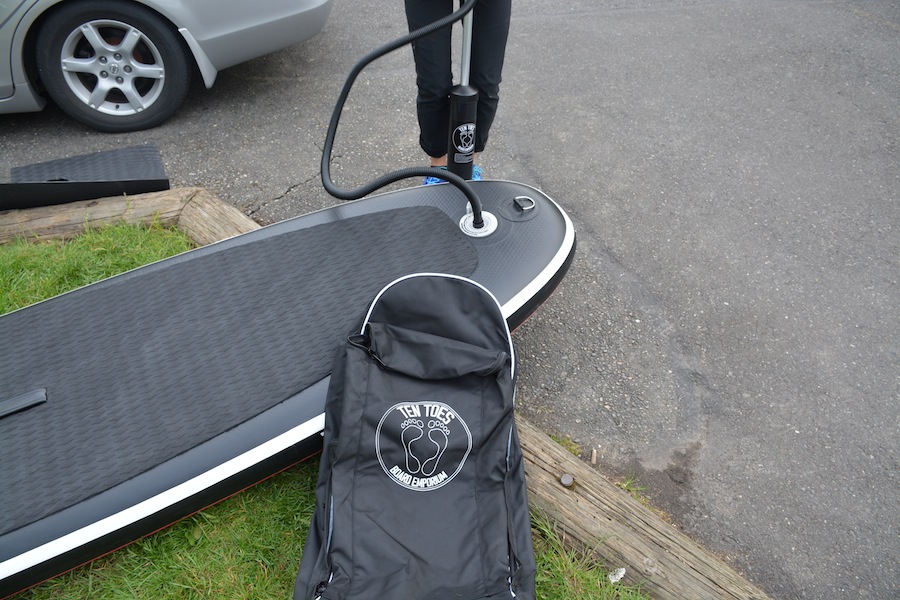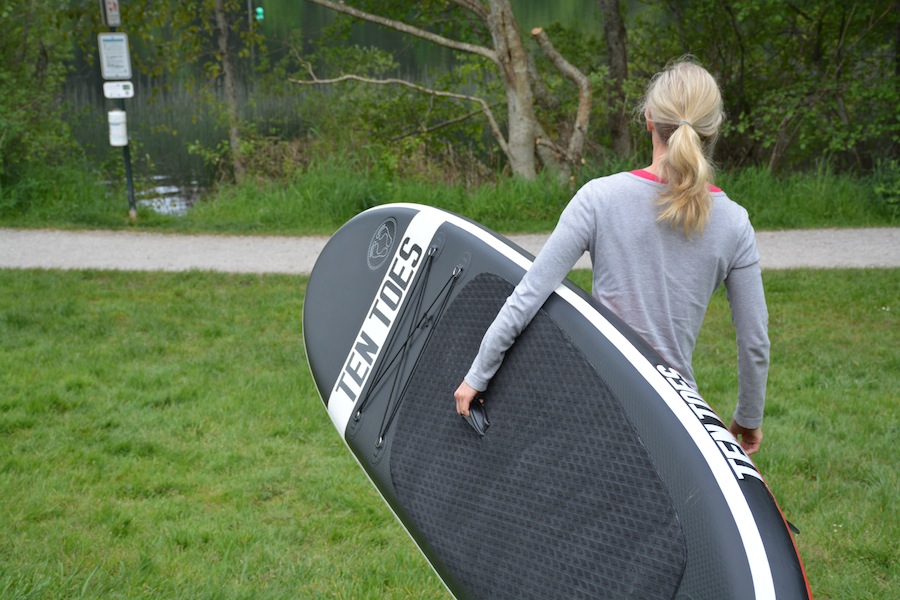 Paddle
Included in the price of the package is a three-piece paddle. It is a fairly basic aluminum paddle however it is awesome that you get everything you need in this inflatable SUP package to get out on the water right away without spending a huge amount of money.
The paddle breaks apart into three pieces allowing you to store it in the backpack carry bag and it is height adjustable.
It can extend up to 9′ and breaks down to about 3′.  It is ideal for traveling and will suit a large range of people.
The paddle has a quick-release system to adjust the height.  It locks into place and is easy to adjust.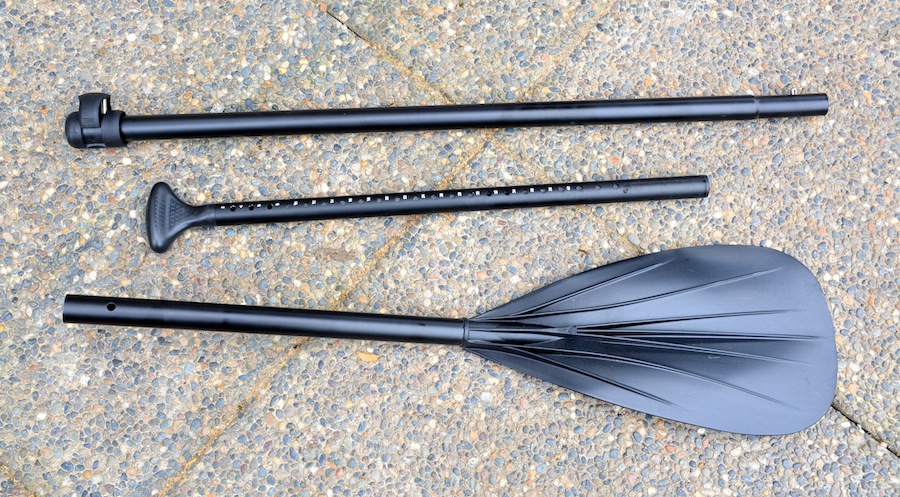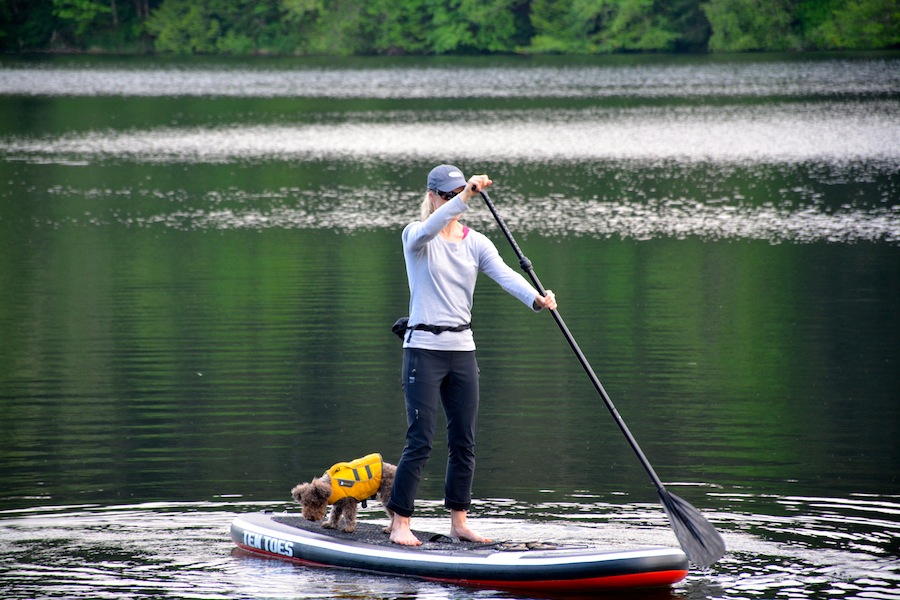 10' Weekender Performance
This board is a jack-of-all-trades but a master at none. It won't be the fastest board in the water or the absolute best performer.
However it is super versatile and overall I don't think there is much to complain about performance wise.
It moves nicely, is easy to paddle and feels solid.
Being a smaller frame, I found I had good reach when paddling and good range of motion with this ISUP.
My boyfriend who is bigger than me felt solid on the board and thought it was fun and easy to paddle.
I think this would be a great board to share with family and friends because anyone could use it.
My dog was perfectly happy riding up front and this board could easily support a much larger dog than my little guy.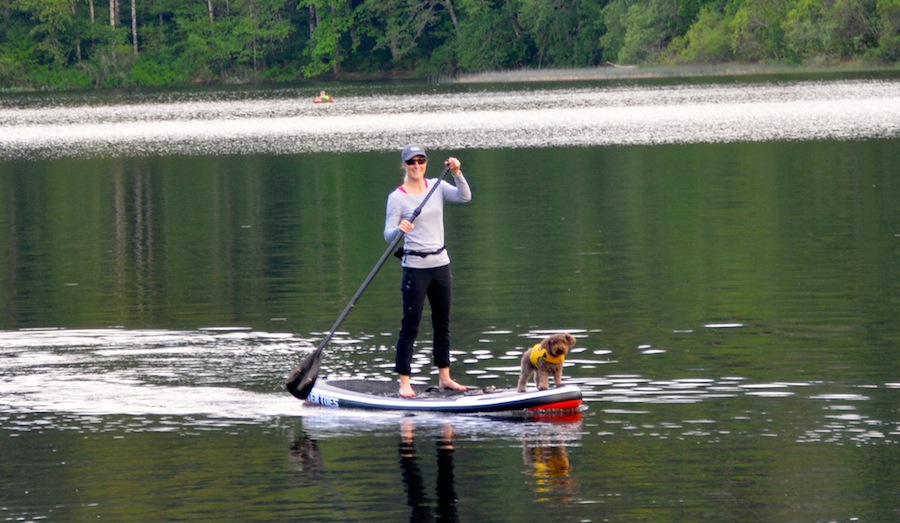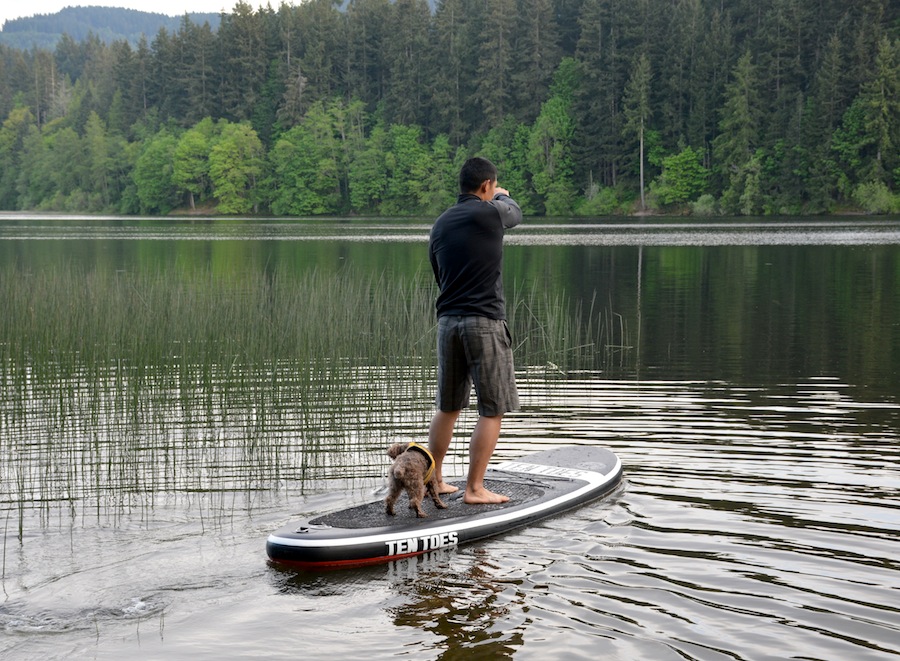 The Negative
The only negatives I would point out are small points. A couple extra carry handles and D-rings would be nice… but are not critical.
The board is not super fast, but it is not designed to be. The tracking however was quite good considering the size and shape of the Weekender.
I feel you are definitely getting good value for the money .
More Pics Of the Ten Toes Board Emporium Weekender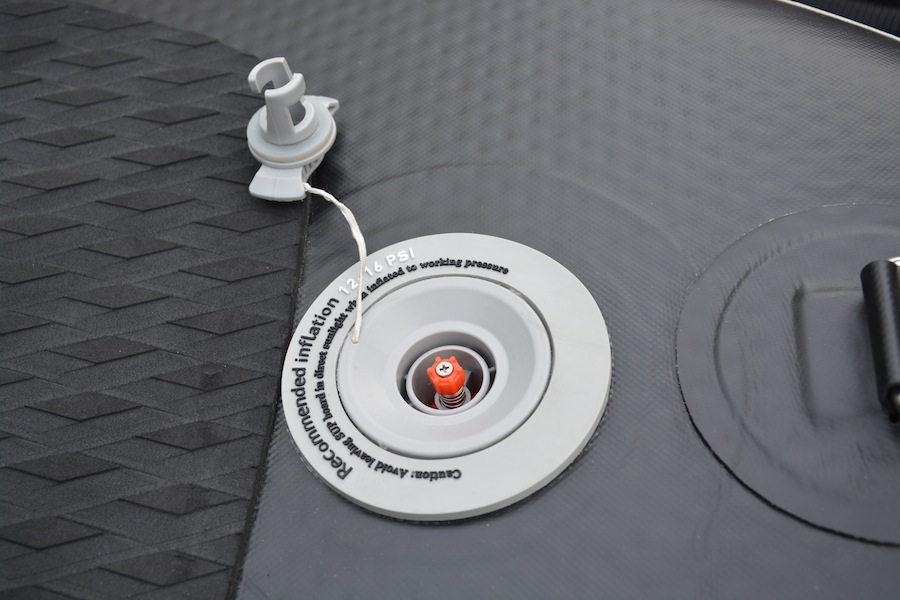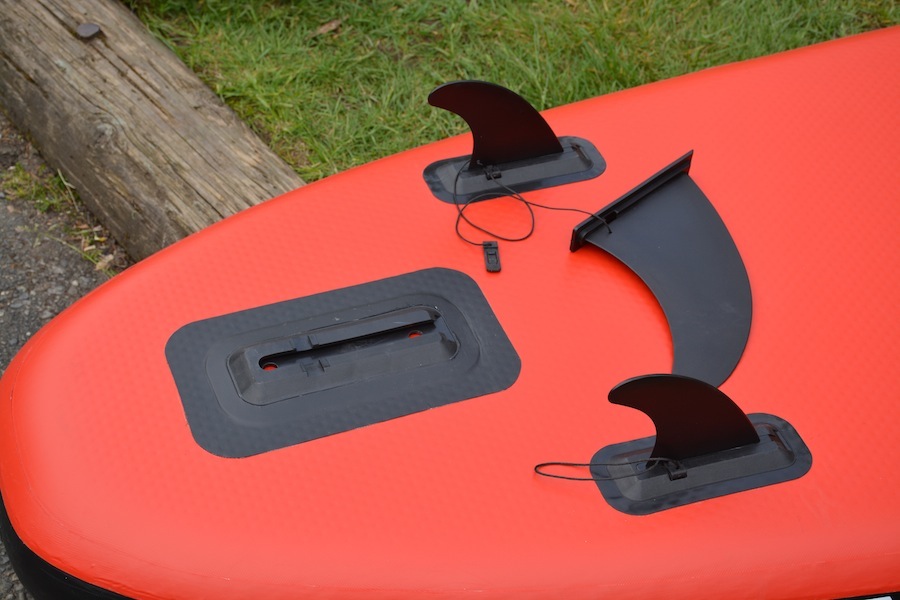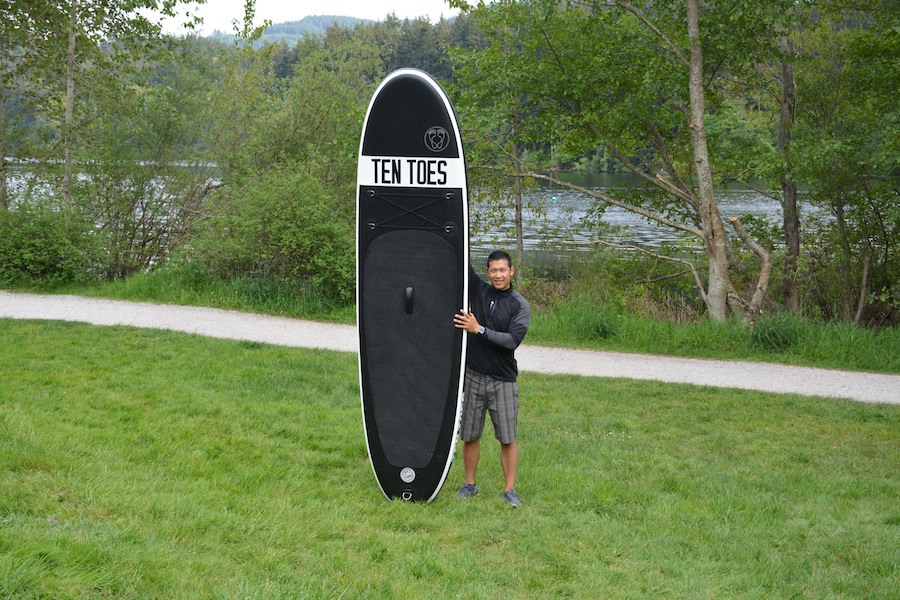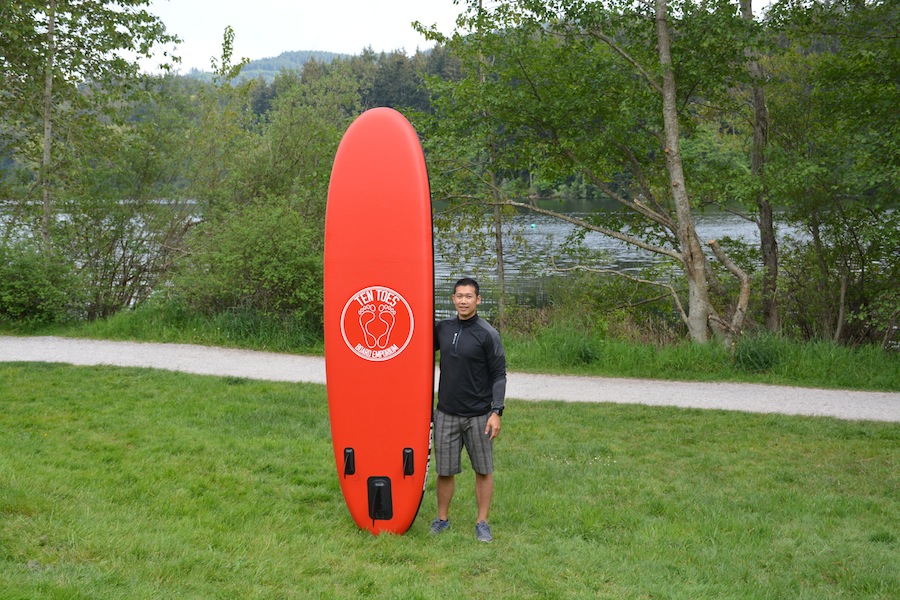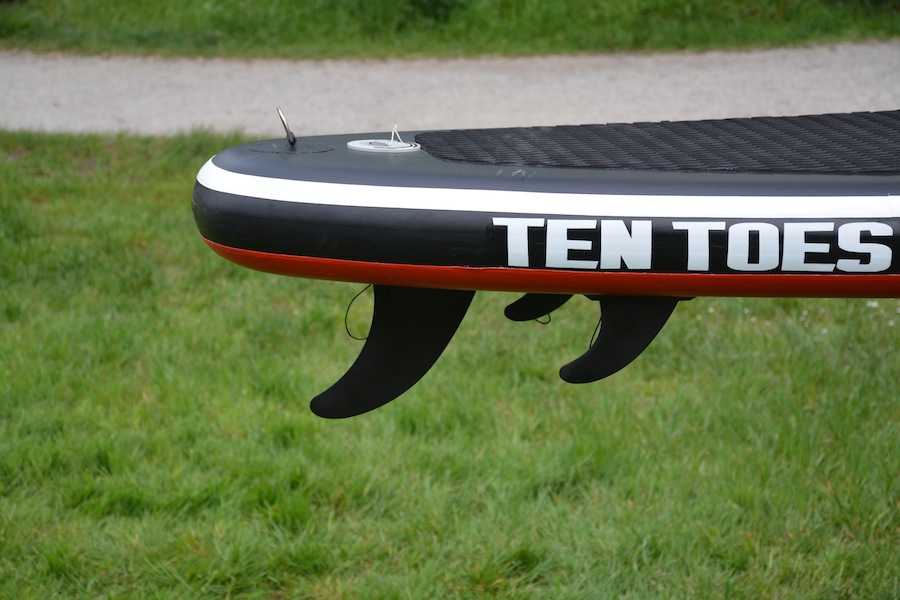 Where To Buy
Click Here For The Ten Toes 10' Weekender Inflatable SUP At Amazon.com.
Click here for the Ten Toes Rambler Rucksack Carry Bag at Amazon.com.
Click here for the Ten Toes Nomad Rolling Backpack at Amazon.com.
Did You Know?
By clicking on any of the above seller links you can help keep ISUPworld.com growing. When you make a purchase after clicking on our links, the retailer will contribute a portion of the sale to help support this site. It won't cost you anything extra and it's a simple way to help us fund our gear reviews. Thanks!