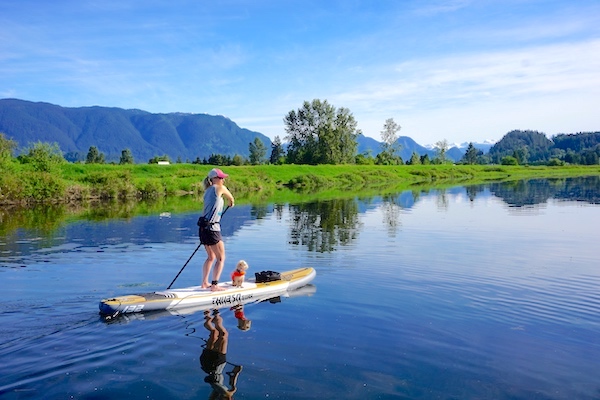 The WaterWalker inflatable SUP by Thurso Surf is a winner.  This is one of those boards that everyone will love right out of the package.
Besides having a very attractive design, it is very functional and comes with some fantastic accessories.
The size makes it very versatile and we feel that it will suit a lot of different people.
The board is long enough and wide enough to feel stable and secure, yet not too bulky that it drags.
We had no complaints with the overall performance and the whole Thurso Surf package is pretty awesome.
Basically it looks great, feels great and is super fun to paddle!
Specs For The Thurso Surf ISUP
11' long
32" wide
6" thick
weighs 25 lbs.
can hold up to 280 lbs. (with a more advanced rider it can easily hold up to 350 lbs.)
Material: Two-layer construction – Military Grade PVC layer on top of a drop stitch internal fabric.
Best Suited For: Cruising on lakes, rivers or ocean
Pros: Stable, easy to paddle, great accessories, good package deal, very portable
Cons: No kick tail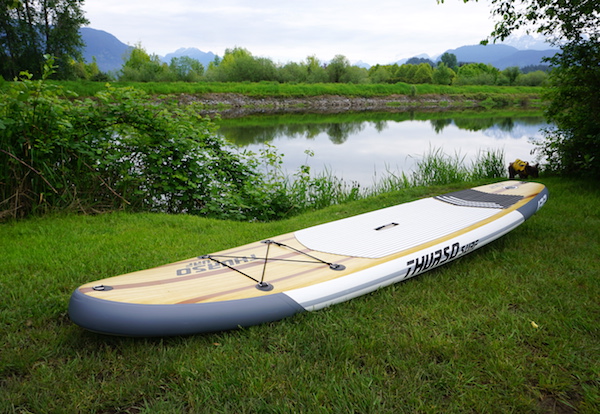 Where To Buy The Thurso Surf ISUP
Click here for the best deal on the Thurso Surf inflatable SUP at Amazon.com.
More In-Depth Info On The Thurso Surf Paddle Board
We really like the look of this board. The top layer of the material is made to look like wood grain.
Even though this inflatable SUP is made of PVC material it still has a very natural look to it.
This isn't a bright flashy paddle board but in my opinion it looks really quite sharp and classy. It has a lot of things going for it including:
When inflated to 15 PSI it is extremely rigid and can hold well over 300 lbs.
The shape and design will appeal to a large variety of paddlers. The all-round design means you can use it on just about any type of water.
The 11′ length and 32″ width is a common size for all-round ISUP's and usually quite popular for good reason as it is very versatile.
The size will suit both small and larger riders and it is ideal for paddling with a dog or even with kids.
It is big enough and stable enough to accommodate a larger load without feeling like a slug in the water.
However it is still light enough to easily carry anywhere but not too light that it gets blown by the wind.
It's hard not to love this Thurso Surf paddle board!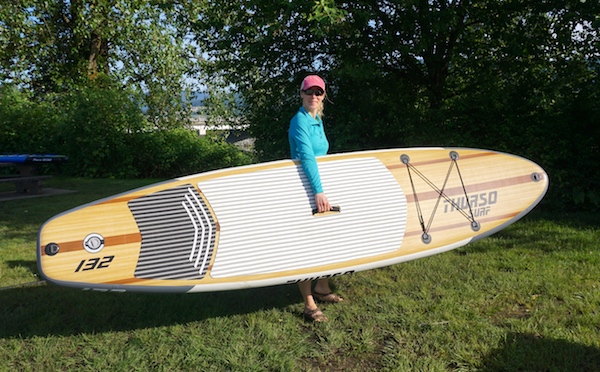 Important Features
Traction Pad
The traction pad isn't super long but is totally functional with deep grooves to help with grip and comfort.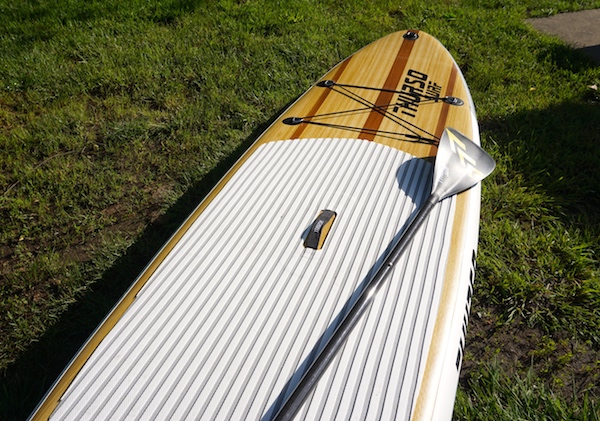 Wood Grain PVC
This is the second ISUP I have seen now with a PVC deck designed to look like wood grain.
It is an attractive design; very natural looking even though the board is made out of durable PVC material.
Deck Bungees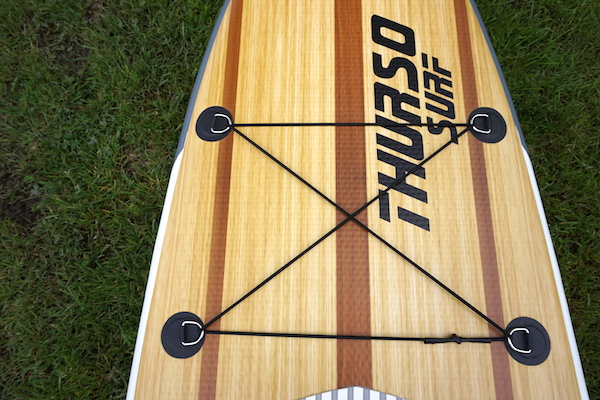 The deck bungees are right in front of the traction pad and easily reachable when standing or kneeling at the center of the board.
They are a great size for securing any gear you need to bring.  You can easily fit a PFD, a dry bag, a water bottle and your flip flops under the bungees cords to keep them secure.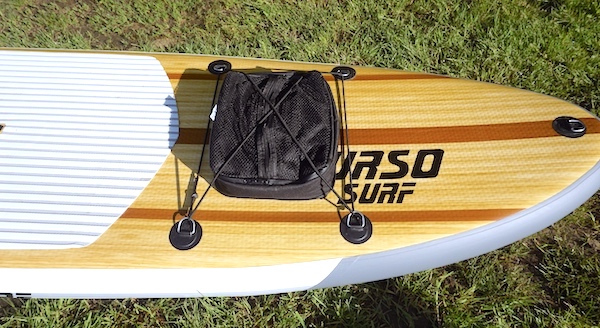 D-Rings
There are six stainless steel D-rings attached to the Thurso Surf ISUP.
1. There is one up front that can be used for towing or to secure more gear.
2. There is one at the back that is ideal for securing your board leash.
3. There are also 4 being used by the deck bungees.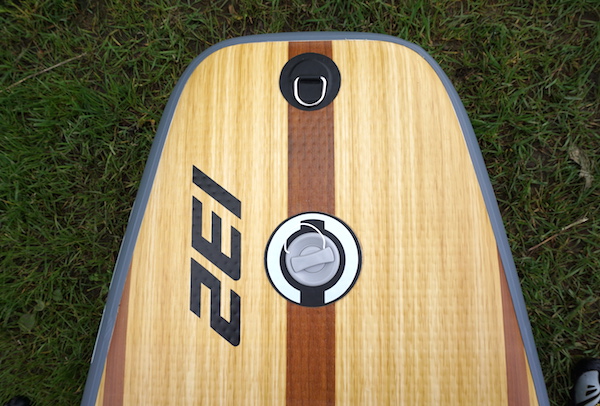 Fin
The durable plastic fin easily clips into place and really helps with tracking.  No tools are required to install the fin, it has an easy snap closure that feels solid once secured.
I would recommend always using the fin as it really helps with the tracking and performance, unless you are in really shallow water then you may want to leave it off.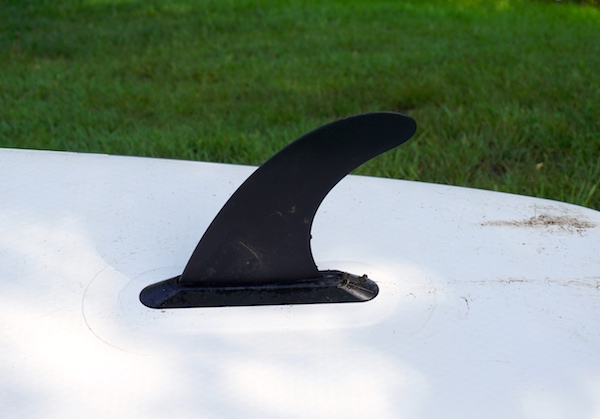 Carry Handle
There is one center carry handle to easily carry this board to the water and back.  The handle feels durable and strong.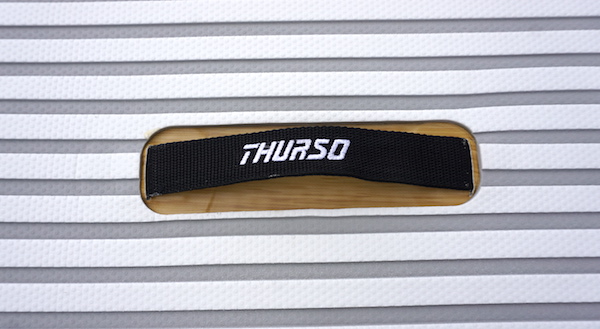 Included Accessories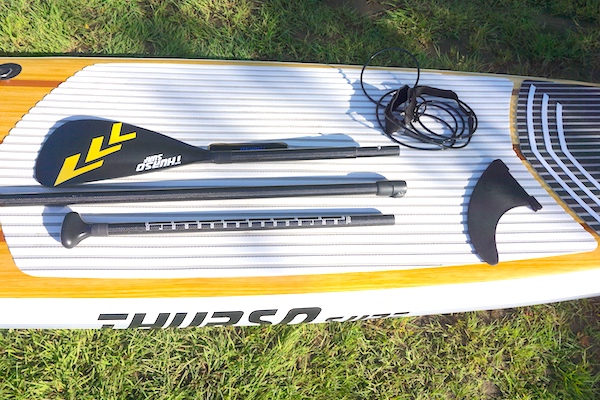 This board comes as a complete package. All you need extra is a PFD and you are set to go!
I love the accessories that come with this SUP.  It feels like you are getting a lot for your money, which is always a nice thing.
Deck Cooler Bag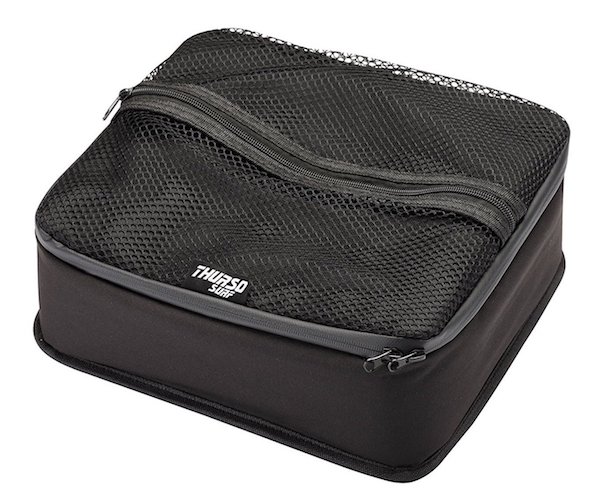 The included deck cooler bag is a total bonus. It sells separately on Amazon.com for $45 US.
You rarely get half decent deck bags thrown into a SUP package and I was pretty stoked to see this one.
I like the shape, size and overall functionality of this bag so much that I have been using it every time I go out.
The size of the bag is 14" x 12" x 4" and it can easily fit 10 cans.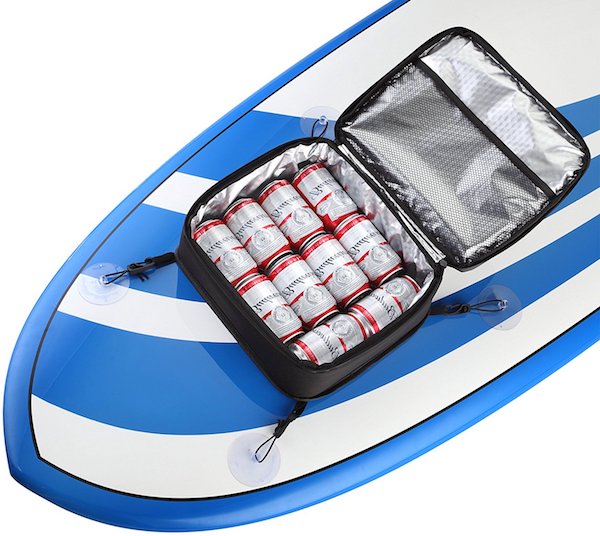 It has some fantastic features such as:
It is water-resistant and insulated.
The heavy duty zipper seals it tight and the water resistant material keeps your goods dry. The bag is sturdy and the quality seems good.
The inner liner is made of thick insulation material that will keep your food and drink cool.
The outer zippered mesh pocket is ideal for keeping items handy that you don't mind getting wet. I keep my dogs leash and water bowl in that pocket.
This bag comes with 4 suction cups with hooks and 4 bungee hooks to attach to your board. They work fine but I found it just as easy to not use them and simply place the bag under the deck bungees.
The bag also comes with a waterproof cellphone pouch to keep your phone safe.
The water resistant material seems to work well. Even with splashes nothing inside gets wet.
However keep in mind it is not a dry bag so anything that absolutely should not get wet such as a camera or cellphone should be kept in waterproof pouches (or dry bags) inside the cooler bag – just in case your board flips over.
Board Leash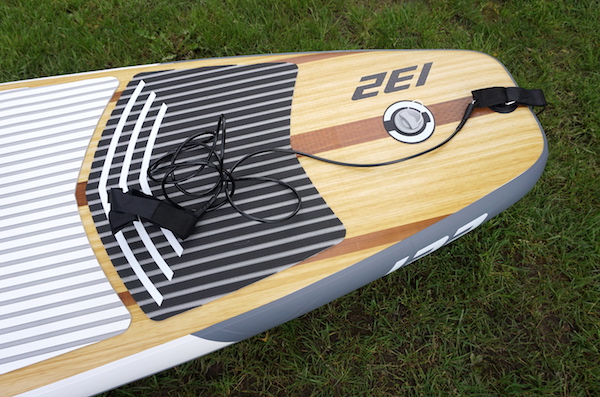 More and more companies are including a board leash in their package, which is so great.
A board leash is an important safety item. It attaches to either your ankle or your calf and to the back D-ring of your board.
If you should fall off your ISUP the leash will keep your board from floating away.
The leash that comes with this package is a straight leash, which is ideal for keeping the board away from you if you fall in the surf.
I personally prefer a coiled leash for flat water paddling as it stays out of the water better and minimizes drag.
However I am not complaining. A leash is a leash and it is important to have.
Pump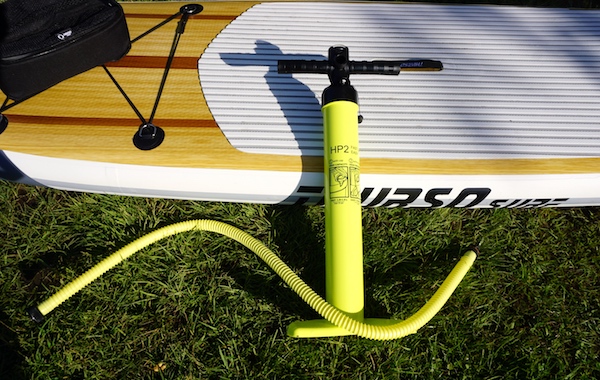 The double action manual hand pump is a fairly standard pump.  I see this exact one often in many inflatable SUP packages.
It works well and takes about 8 minutes to fully inflate the board.
It takes a little extra effort to inflate the last 5 PSI to reach the 15PSI mark however it is very doable.
If you prefer to rest your arms before hitting the water you could always upgrade to an electric pump.  This is the one that I use most often.
Paddle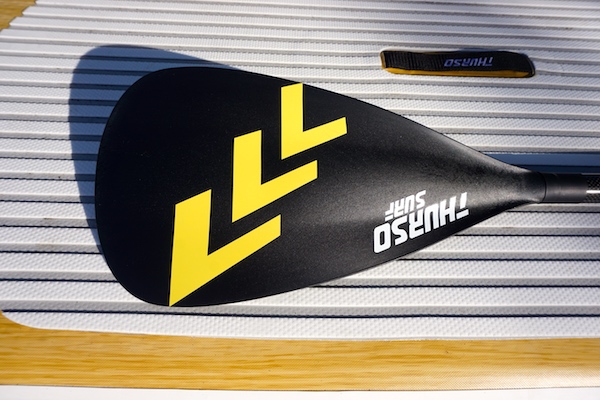 The paddle is another item worth raving about. Often when a SUP company includes a paddle in their package it is a cheap and often heavy aluminum paddle.
Nothing wrong with a base aluminum paddle and it can be a good one to start with, however a lighter paddle will help you go further and faster with less fatigue.
I was impressed that the paddle that comes with this package has a carbon shaft making it a little lighter and easier to use.
It is not a high end all carbon paddle but it is a definite step up from the base aluminum paddles we usually see.
The paddle comes apart into three pieces making it easy to store in the carry bag and travel with.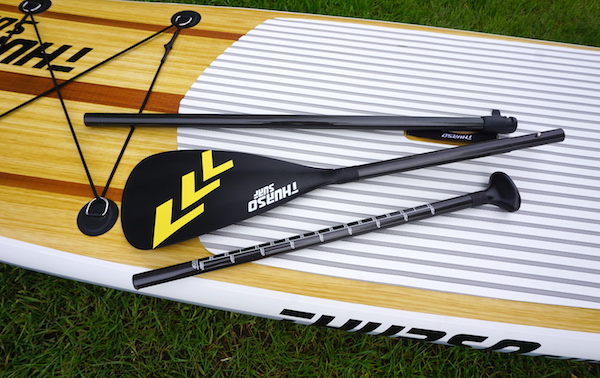 We did notice a little flex in the shaft when paddling but nothing too concerning.
It is height adjustable up to 86″.
Backpack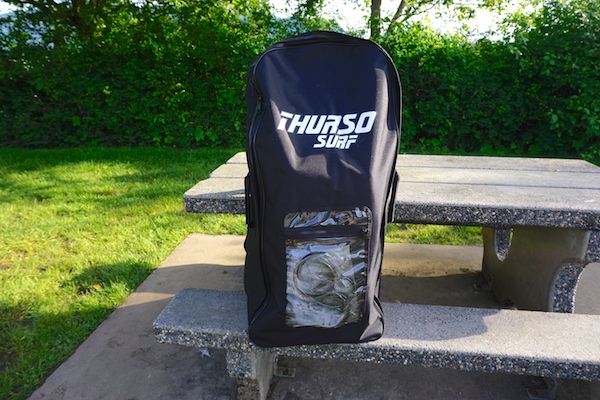 The backpack carry bag has adjustable padded shoulder straps and a waist strap.
There are three carry handles – one on top and one on each side.  There are also two stainless steel D-rings on the shoulder strap area.
The heavy duty zipper opens the bag on three sides making it very easy to get the board in and out of.
There is also a clear zippered pocket on the front of the bag where you can store the leash and fin.
It is a nice bag, it feels strong and is quite functional.
The extra handles, D-rings and outer pocket make it stand out from many others that we have seen.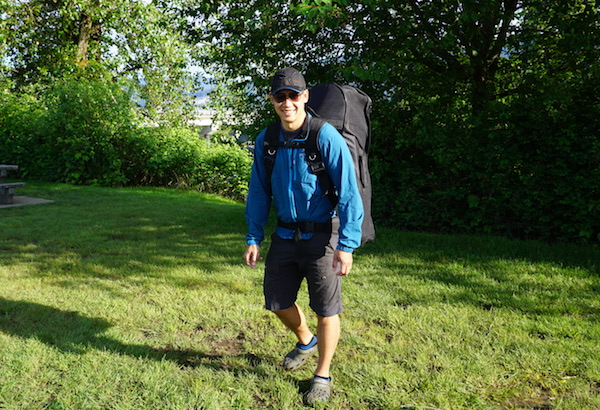 Repair Kit
All inflatable stand up paddle boards come with a repair kit. Inside you will find a tube of glue, a repair patch and a valve tightener.
Performance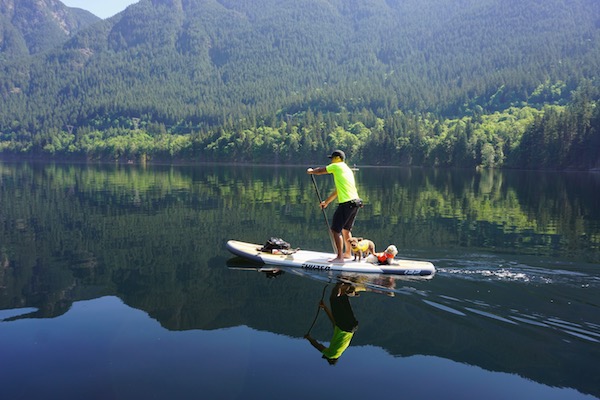 The overall performance is good. This board feels solid, is easy to paddle and is quite responsive.
For the size and design it moves along nicely and we really enjoyed paddling it.
The tapered nose and tail help it to glide through the water and turn easily.
We found it to be a very comfortable ride and the speed is just fine for touring around.
It held its own when paddling into the wind and took on chop with ease.
It can handle quite a bit of weight and we had no issues when it was loaded up with our dogs, it still moved nicely.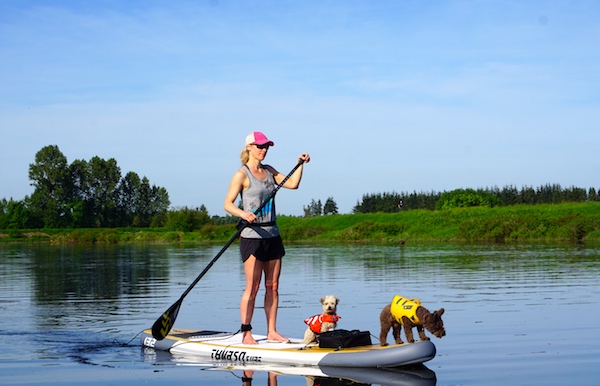 Set Up
The setup process is quite simple.  Take the board out of the bag, undo the strap around the board and roll it out.
Remove the valve cap then twist the valve tip so that it pops up.  Then you can attach the pump and inflate.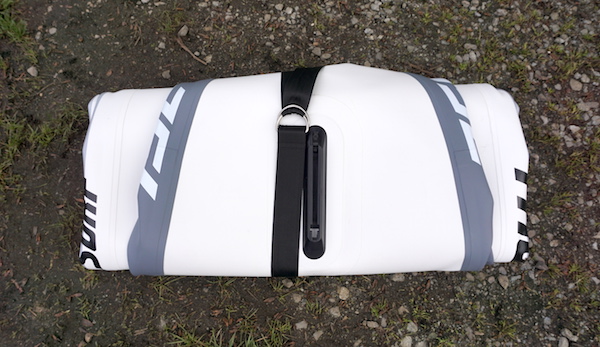 Once you have inflated the paddle board to 15 PSI you can replace the valve cap and then secure the fin.
The whole process takes about ten minutes.
When you are finished paddling dry the board off with an old towel, deflate and roll it back up.  Secure the strap then place it back into the backpack.
If you have an electric pump the process is even easier.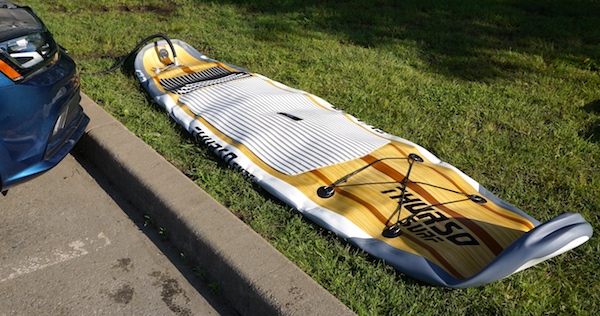 The Negative
We honestly couldn't come up with many complaints for this board.
We would love to see a kick tail at the back end for pivot turns and added control but it certainly isn't critical.
For the shape, size and design we felt that it handled well and performed as it should.  It seems well made and durable and extremely rigid when fully inflated.
It is simply quite a nice package.
Bottom Line
Anyone could use this board from new beginners to intermediate paddlers.
The convenient all-round design makes it very versatile and you can use it on just about any type of water.
You can pile on the kids, gear or dogs and know that you will still feel secure and have a nice ride.
We are definitely a fan of the Thurso Surf ISUP.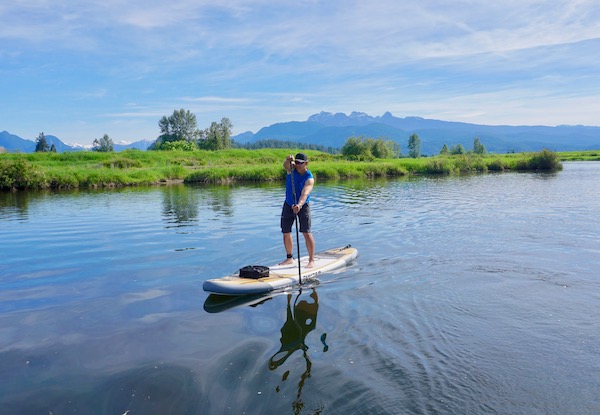 Where To Buy
Click Here For The Best Deal For The Thurso Surf ISUP At Amazon.com.
Have you tried this inflatable SUP?  We'd love to hear your thoughts, leave us a comment below!
Did You Know?
By clicking on any of the above seller links you can help keep ISUPworld.com growing. When you make a purchase after clicking on our links, the retailer will contribute a portion of the sale to help support this site. It won't cost you anything extra and it's a simple way to help us fund our gear reviews. Thanks!