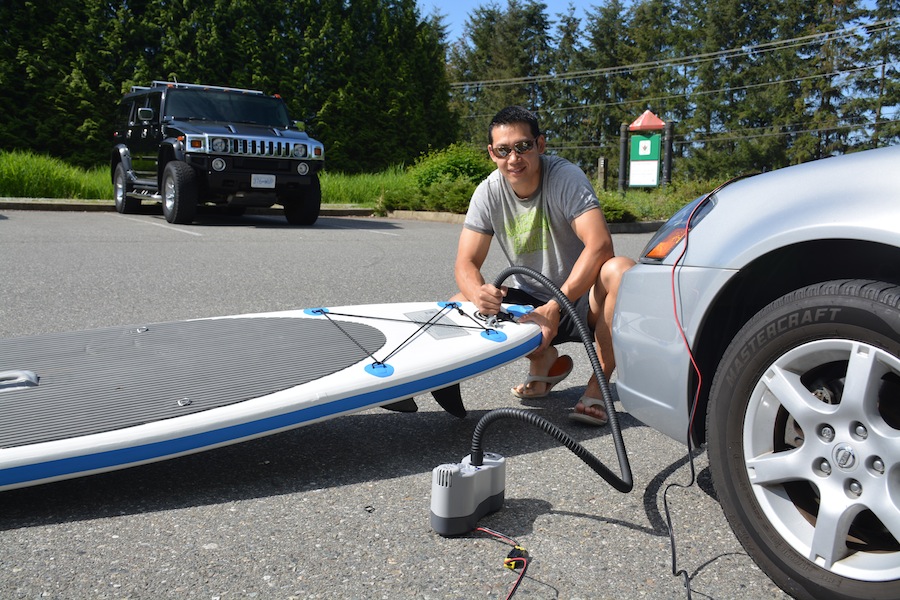 Many of the hand pumps that come with inflatable stand-up paddleboards when you buy them are quite good.
When just inflating my own board, I don't really mind doing it manually by hand and I can get my board inflated in about five minutes.
Some hand pumps are better than others but in general they work quite well.
However if you have more than one board to inflate or if you really just don't want to have to break a sweat before you even get on the water then an electric pump is the answer.
ISUP's can hold quite a bit of air pressure – far more than an inflatable kayak.  Most ISUP's can be inflated up to 15 PSI and some even higher.
As many of us know, it does take a bit of work to inflate your board up to 15 PSI.  the first couple minutes of pumping are no big deal but the last few minutes get harder and you can count on being a little out of breath by the time you are done.
I use the hand pumps when reviewing a new board so I can test out the pump and see how well it works.  Therefore I manually inflate a lot of boards.
However for my personal outings I always use an electric pump, especially when not alone and there are two boards to inflate.
It is not so much the time saver that I am concerned about because I don't find the inflation time to be that dramatically different than when using a manual pump.
It is more the fact that I'd rather not exert myself too much before I start paddling.  Truthfully I've gotten spoiled.  Once you try an electric pump, it's hard to go back to a hand pump.
Sheer laziness kicks in and I have no problem admitting that I am much happier connecting my electric pump to my car battery, sitting back and letting it do the work for me.
I much prefer saving my energy for paddling. I am sure there are others who feel the same way and feel it's worth the extra cost for the electric pump.
So with that being said let's take a look at the three best electric pumps on the market right now for an inflatable SUP.
Electric Pump Options
I've tried several different pump options and I've even tried to make some work that quite obviously were not even remotely made for paddle boards.  In my experience most don't work that well and even the one's made specifically for ISUP's are not perfect.
There are three that I have found to work the best and that are worth using.  These three come with the proper valve attachment for a SUP valve.
Bravo BTP Two Stage 12V Electric Turbo Pump – Most expensive option but good if you want to be able to use it for larger boats as well as your SUP.  It can inflate up to 14.5 PSI.
Bravo BP12 Single Stage Electric Pump – Can inflate up to 14.5 PSI.  I personally think this pump gives you the most bang for your buck.  It is not perfect but the price is good and it does the job well.  The best deal for the Bravo BP12 Pump is at Amazon.com.
Airhead SUP High-Pressure 12V Electric Pump – This one is quieter than the other two and can inflate to 20 PSI but it is really quite slow and not as powerful.  If you have the patience to wait it still works well.
More Pump Details
I have used all three of these pumps for several years now and have really learned the pros and cons of each. Read below to find more details and which one will suit you best.
1. Bravo BTP Two-Stage 12V Electric Turbo Pump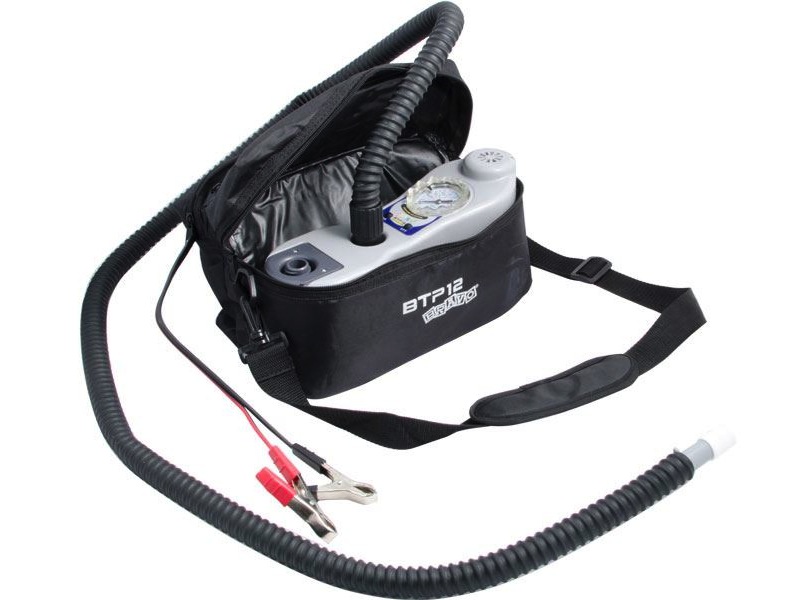 You can get this pump with or without a battery pack. Without the battery pack you would need to use the alligator clips to attach the pump to your car battery.
With the battery pack you can inflate your board close to the water or anywhere you want for that matter.
This was the first electric pump I owned and I still use it. It is a little noisy but works really well and inflates the boards quickly.
You can set the PSI level and watch the progress. It will shut off automatically when it reaches the right air pressure. This pump is able to inflate up to 15 PSI.
It has two inflation stages:
Stage one is the low pressure/high volume turbine blower. This stage will inflate your board until it takes shape. Then it switches to stage 2.
Stage two is a little noisier but also more powerful using the high-pressure piston for higher PSI.
I would say this is one of the faster electric pumps I've tried. It comes with an 8'6" long cable and alligator clips, a 6' inflation hose and all the common valve adapters including one that works well with ISUP valves.
It weighs 5 lbs. and can be used not only for an inflatable paddle board but also on inflatable kayaks, inflatable pontoon boats and yacht tenders.
This pump comes with a carry case with three separate zippered compartments that holds all the parts.
With Or Without Battery Pack?
I have the battery pack that is an available option with this pump. The battery is really handy to be able to inflate your board anywhere you like.
However these days I find I often don't use it as I am able to park my car fairly close to the waters edge.  So more often than not I simply use the alligator clips with my car battery.
However it is nice to have the option of using the battery… but it will cost you quite a bit more to get the battery pack. So you will need to weigh whether it is worth it for you or not.
With a full battery charge you can inflate an inflatable SUP several times over.
The BTP 2-Stage 12V pump is available at Amazon.com as well as at Sea Eagle.com.
2. Bravo BP12 Single-Stage Electric Pump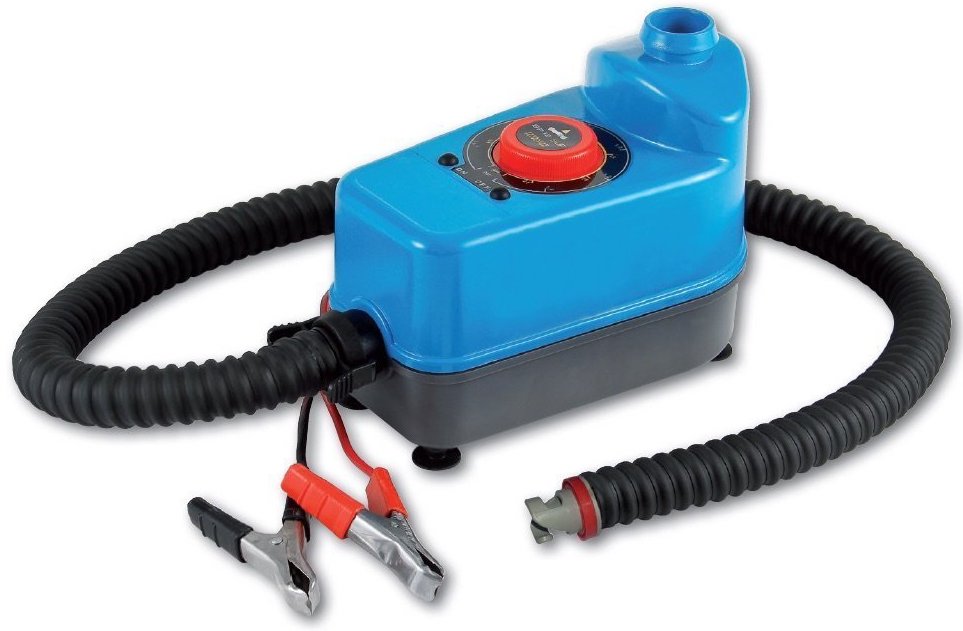 I also own this Bravo 12V Single-Stage electric pump. Considering this pump is at least $50 less than the 2-Stage pump, I have to say I like it almost as much.
The more expensive two-stage version is great for SUP's, kayaks and larger boats. Whereas this single-stage option is better suited just for inflatable SUP's and inflatable kayaks – not larger boats.
So if you mostly plan to use this pump for your ISUP only it works just fine and you really don't need to spend the extra cash on the more powerful two-stage pump.
This pump is a little smaller than the two-stage pump and weighs half the weight… only 2.6 lbs.
Besides the fact that it is a single stage pump the only other major difference is that you can't see the inflation progress on the dial.
You can still set your desired PSI level and it will still automatically shut off when it reaches that level.
However the dial does not show you where it is at while inflating the board like the two-stage pump does.
The first time I used this pump I found it vaguely annoying that I could not tell how far along the inflation process was because I was used to watching it on the other pump.
However truthfully it doesn't really matter. Just attach the hose, set the PSI level, let it do its job and it will shut off when done. You really don't need to watch it go from 2 PSI to 3 PSI to 6 PSI and so on.
You can set the PSI level up to 14.5 PSI, which is what I always inflate my boards to.
What's Included
The BP12 Single Stage Pump comes with:
A carry case with shoulder strap and all the proper valve attachments.
An 8'6″ long cable with alligator clips and a 6′ long inflation hose.
Best Option For The Price
I personally think for the price this single-stage electric pump is the best option. I have recommended the Bravo BP12 to a lot of my friends.
It is worth noting that they do burn out after awhile. Mine died on me after three years of use. I think mine got overused and abused however as I use it several times a week often with multiple boards at a time.
They seem to last longer if you only inflate one board each time out or if you wait a few minutes in between inflating multiple boards. It gets hot and I think needs the time to cool down.
The best deal for the Bravo BP12 Single Stage Electric Pump is at Amazon.com.
3. Airhead SUP High-Pressure 12V Electric Pump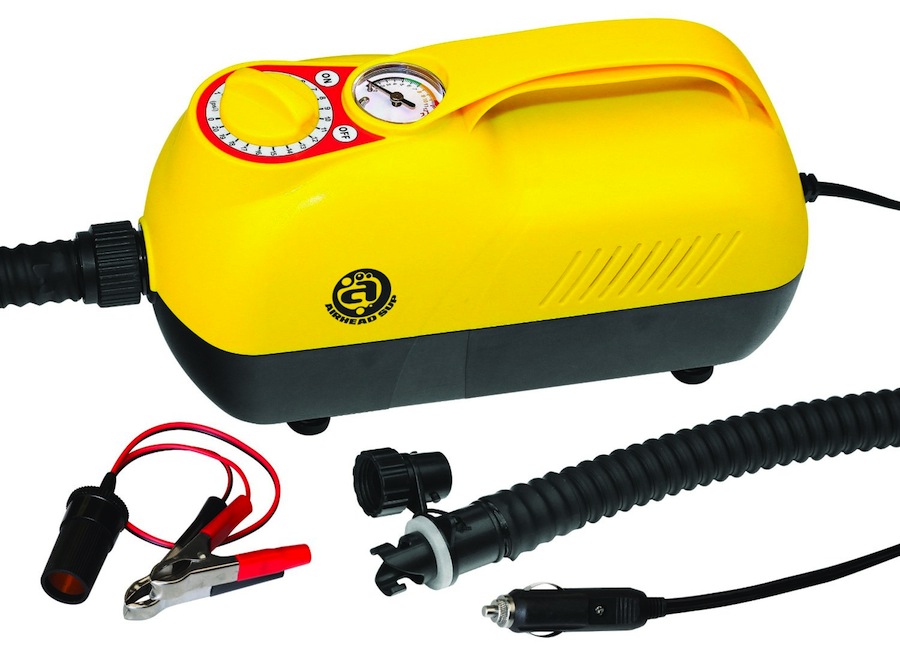 This Airhead pump is the third option and the only other electric pump I've tried that works efficiently with inflatable paddle boards.
There are pros and cons to this pump.
Pros
First big pro is that it is able to inflate up to 20 PSI.  Before the Bravo BP12 came out with its newest model, this was the only electric pump that could go that high.
It has a simple dial that lets you set your desired PSI level and it will shut off automatically when it reaches that level so there is no risk of over inflation.
It comes with alligator clips to attach to your car battery and a 10' inflation hose giving you lots of room to maneuver.
It comes with H-Valve and Boston Valve adapters and easily secures to the valves on most inflatable SUP's.
I also like that this pump is slightly quieter than the other two. However that is possibly because it is not quite as powerful bringing us to the cons.
Cons
The downside is that it does not come with a carry bag so you will have to keep all the parts in a separate bag or keep the box it comes in.
Also I find this pump to be a lot slower to inflate one board. It is definitely not as powerful as the other two mentioned.
There have been many people who have reviewed this pump who say it takes a long time to inflatable their paddle boards.  I have to agree.
It may be able to reach 20 PSI but it will take quite awhile to get there and you will need to wait patiently for it to finish the job.  We have gotten tired of waiting before and just finished off the job with the manual hand pump.
It can also burn out over time.  This seems to be an issue with all ISUP electric pumps.  They are not perfect, but thankfully they are improving albeit slowly considering how rapidly the paddle board industry is growing.
You can find this Airhead electric pump at Amazon.com.  It has some definite positives and I have used this pump extensively but for the price I personally think the better deal is for the above Brave BP12 pump, especially with the new and improved version.
Other Electric Pump Options
Be careful with other electric pumps on the market that are not specifically designed for paddle boards.  I have wasted my money on several that simply don't work.
The Coleman pumps that you find often in the camping section do not do the trick. Not even the powerful ones.
They are either not powerful enough or else they don't have the right valve adapters.
Once while on vacation I  even tried adapting one myself to fit my SUP valve.  It didn't work.
For these reasons I would say either stick with your hand pump, use the K-Pump or go for one of the electric pumps mentioned above as they really do work the best.
If you have tried other electric pump options that have worked for you please leave a comment below.  I would love to know of others that have worked well.