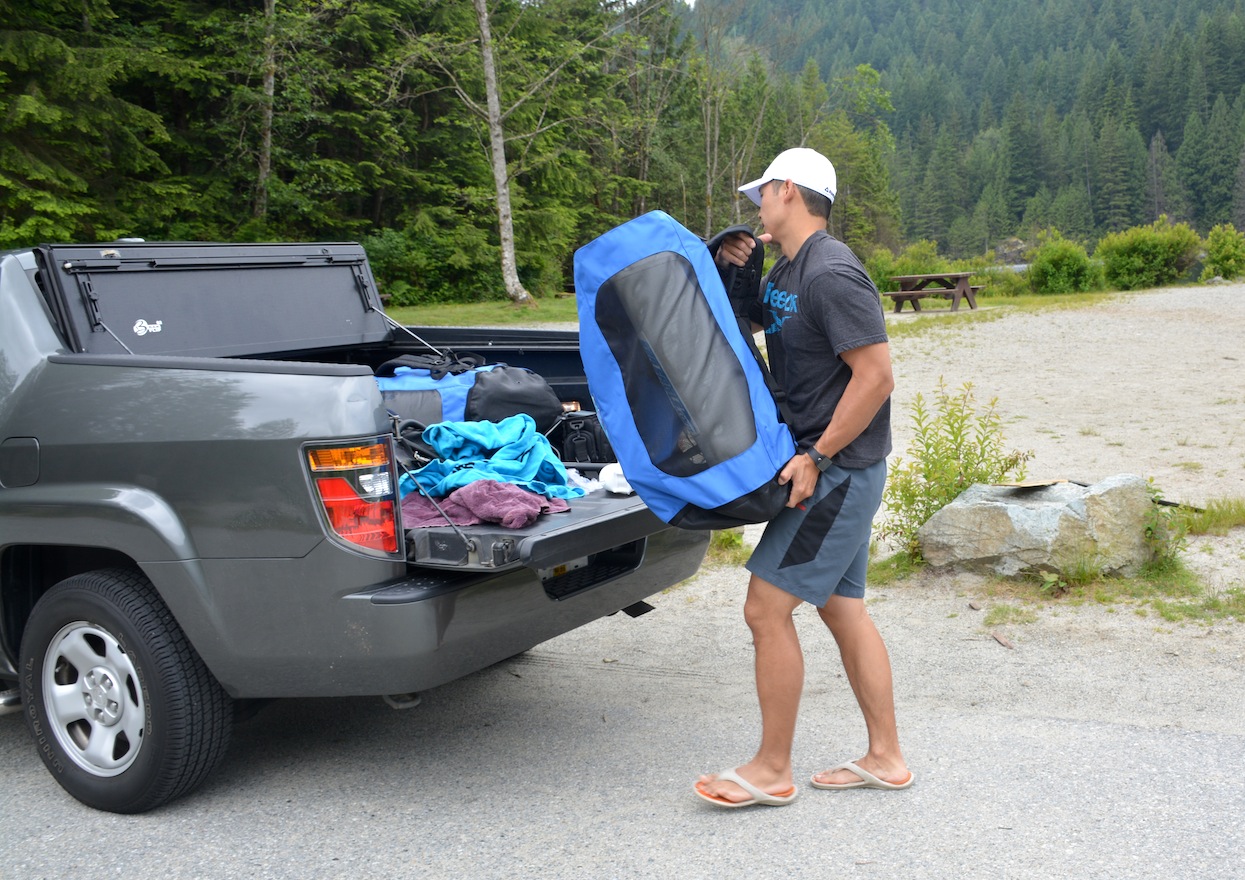 Most people want an inflatable SUP because they are so portable and compact. With an inflatable you have options and the advantage of being able to transport it anywhere by all different means.
You don't need to use a roof rack if you don't want to or do any heavy lifting to get it where you need to go.  Transport it by car, bus, plane, boat, or even by bike.
SUP In the Trunk
Most common with an inflatable SUP board is to transport it in the trunk of your vehicle. The majority of them come with a backpack carry bag and it fits easily into the trunk of just about any vehicle.
In fact if your trunk is a decent size you could most likely fit a few boards in if needed as well as your paddles, pump and accessories.
Transporting your ISUP in the trunk is easy and convenient but what if you don't want to deflate your board each time?
SUP On The Roof Rack
I have had quite a few questions from people wondering if it is okay to transport an inflatable SUP on the roof rack of their vehicle.
The simple answer is yes absolutely. There are a couple of different ways to do this in order to protect your board and your vehicle.
If you have a roof rack then you can tie the board right on top. Damage to the board is unlikely but possible if you don't add any protection.
For added protection especially if you will be transporting the board this way often or going longer distances is to add some pipe insulation on the roof rack.
Pipe insulation can be purchased from most hardware stores. It is quite cheap and easy to find.
Simply attach the pipe insulation to the roof rack of your car and then strap your board down on top of it. This way you are sure to protect your SUP from any scratches or nicks.
I don't mind inflating and deflating my board each time I go out. It doesn't take long… especially with an electric pump.
However I have used the roof rack method before when on vacation. If you travel with your ISUP this can be a great option.
When traveling, especially somewhere hot, it is nice to not have to deflate your board every time especially if you are using it daily.
If you have no roof rack but still want to secure the board to the roof of your car then you have a few options…
Roof Rack Alternatives
If you do not have a roof rack then you have three options.
1. Foam Blocks – Foam blocks are basically a temporary roof rack. They are inexpensive and easy to secure and remove. They attach to your car roof with nylon straps.
They work well but are obviously not as durable as an actual roof rack. However they make a great temporary fix.
For a stand-up paddle board you will need foam blocks that are a little longer than the foam blocks used for securing a kayak. These foam blocks by Malone are the best I've found.   They are a little more expensive but they work great for stand-up paddle boards.  They includes two 24″ foam blocks that can be secured to a roof rack or to the bare roof of your vehicle. It also includes two 22″ foam spacers for stacking two boards as well as load straps.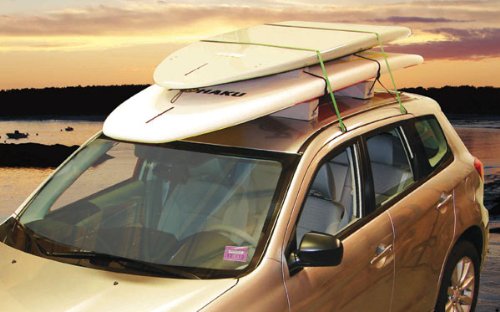 2. Inflatable Roof Rack – I've used an inflatable roof rack before. I find this one can be great for traveling (if you want to secure your board to a rental car but it has no roof rack) as they deflate and roll up into a little tiny package that can easily be stored in your backpack or suitcase.
An inflatable roof rack works well but it is not as durable as an actual roof rack. Mine lasted for a year then it got a leak. I only used it for short distances and I was happy with it while it lasted… it just didn't last all that long.
The Malone HandiRack inflatable roof rack is supposed to be a good one.  The one I originally bought was a cheaper version.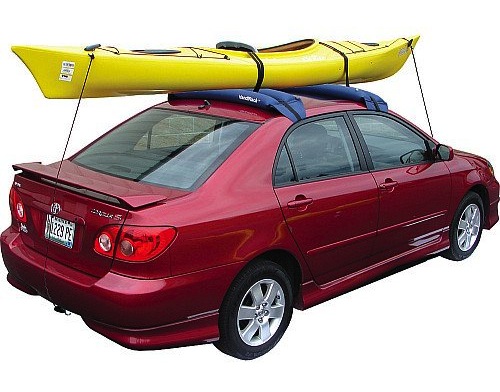 3. Roof Of Car – The fact that you are using an inflatable SUP means you could actually tie your board right down onto the roof of your car.
I have also done this before. It is certainly not the most recommended thing to do as you have no protection for your board or your car.
However the couple times I did it, I had no problems… no scratches to board or roof. I would only recommend this for short distances however and only if absolutely necessary. Secure the board with the front side down as it has more padding from the footpad.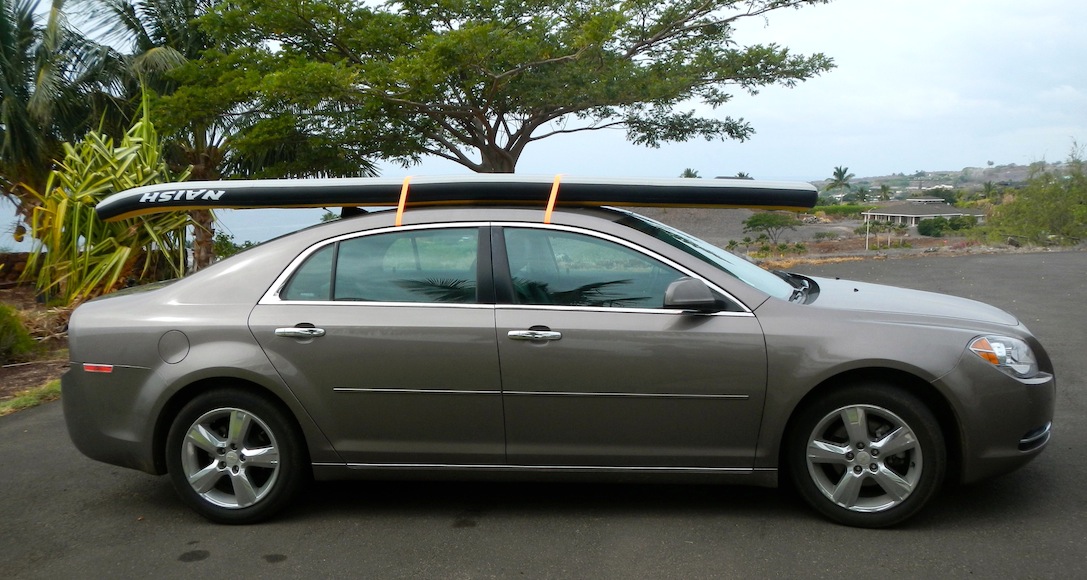 Highway Driving With Your ISUP
It is no problem to do fast highway driving with and inflatable stand-up paddleboard secured to the roof of your vehicle.
The majority of ISUP's have a D-ring at the front and back. Therefore you can secure the front and back end with rope or straps. Then secure straps around the center of the board.
The board will be secure and you should have no issues.
If your SUP does not have front and back D-rings you can always add your own. Extra D-rings don't cost much and can easily be glued on.
Airplane Travel With Your SUP
If you plan on transporting your board on an airplane, the process could not be simpler.
You can store your SUP in the included carry bag or else place it in a large suitcase and check it in as your second suitcase.
If you simply store your SUP in the backpack carry bag I would recommend taping the loose straps around the bag before checking it on the plane so that they don't get caught or torn in the transport process.
I've never had any issues except for some wear and tear on my bag such as black marks.
I bought a large rolling duffel suitcase to transport my inflatable SUP by airplane last time I traveled with it. The only reason I did was to protect the carry bag and to be able to pull it as opposed to carry it once I got off the airplane. It worked great.
Transport SUP By Boat
If you travel by boat or spend a lot of time on a larger boat, an inflatable SUP will be one of your favorite toys.
They are absolutely ideal for boat lovers as they can easily be stored away on deck and not take up much space.
The ISUP will give you a great way to paddle from boat to shore or just to play around in the water.
Transport SUP By Bike
Transporting your board on a motorbike or a bicycle is a little trickier.
You will need a trailer to carry it. The nice thing is that you don't need a big trailer and the board is not heavy so it is easy to pull if you are pedaling.
If you have the will, transporting by bike is definitely possible.
Transport By Backpack
Although not all inflatable SUP boards are light enough to backpack any distance with, many can definitely be carried along your travels to remote waterways.
I wouldn't personally want to backpack too far with one, but if you have the strength and the desire it is certainly possible.
Many ISUP's come with their own backpack carry bag, which is super convenient.  The bag typically holds the board, the pump, the repair kit and possibly your paddle.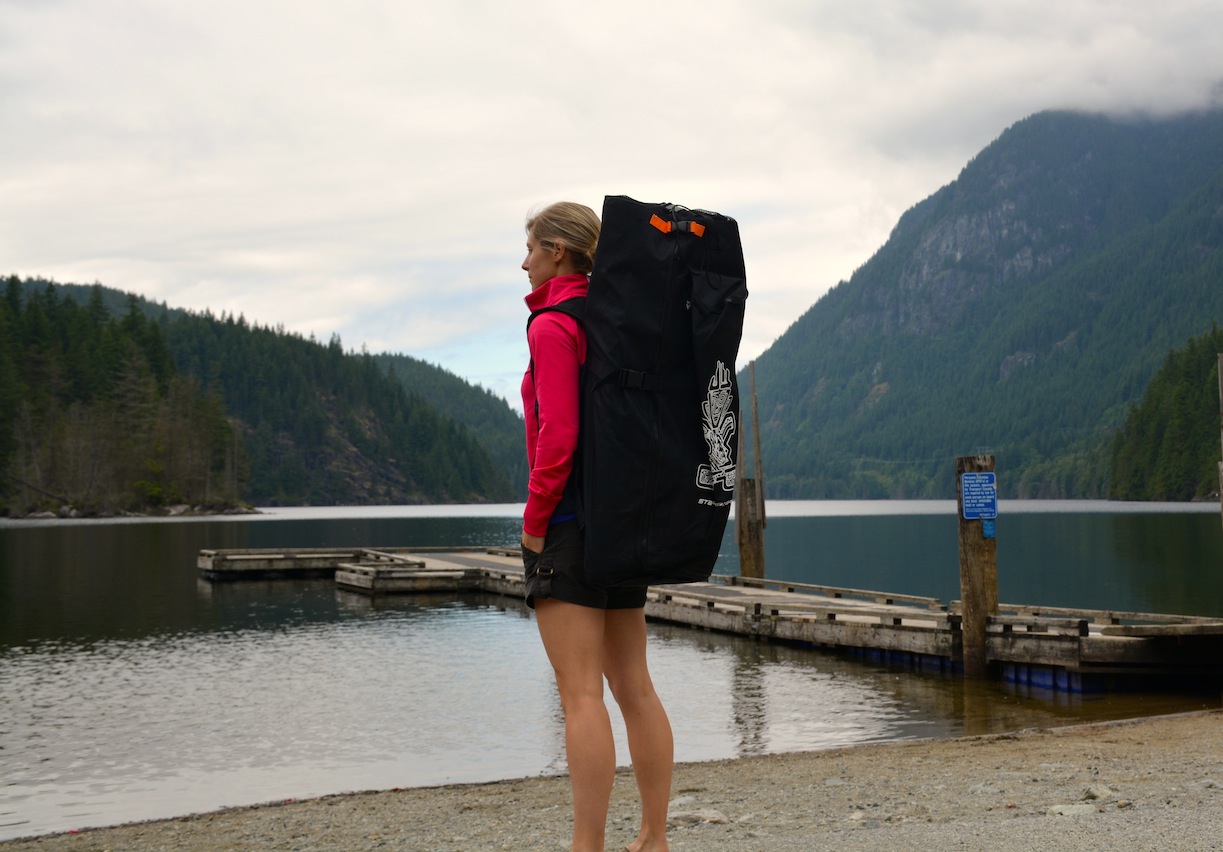 Convenience
The bottom line is that it is easy to transport an inflatable SUP absolutely anywhere you want to go by just about any method.
If you choose not to deflate your board after each use make sure you re-check the air pressure each time before you go out.
Depending on the temperature, the air pressure of your board could expand or decrease over time.
It is worth checking to see if you need to top it up or possibly let a little air out.
With a little care when transporting and using your ISUP it will last a very long time.
Click here for more inflatable SUP tips and advice.