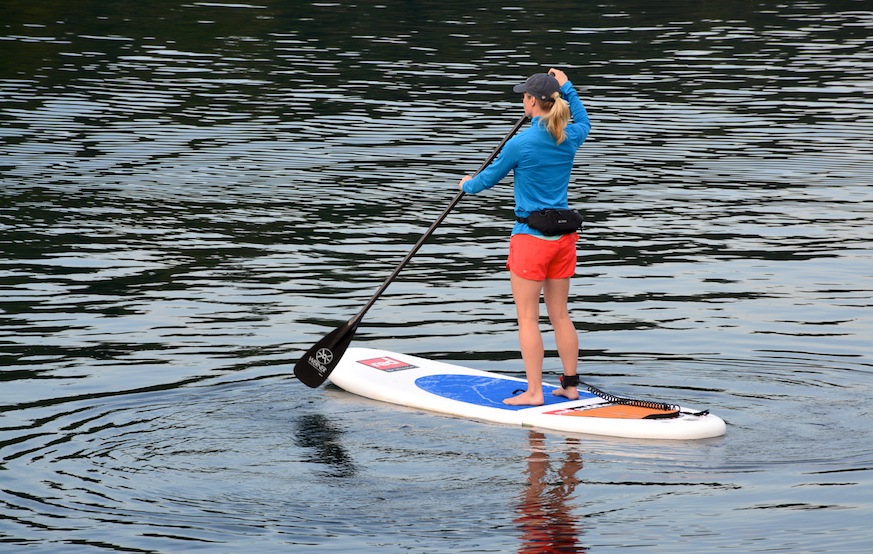 A couple months ago I went on the hunt for a new stand-up paddle for my boyfriend.
After much research I chose the Werner Nitro SUP paddle.
I was excited to try it. I had read only really positive reviews and I knew it was super lightweight, strong and versatile.
We have now used it several times over the course of a couple months and we both agree that it does not disappoint.
He was really happy with it and I love it so much that now I want to use it all the time.
Features
Versatility
The best thing about this paddle is its versatility. The design allows it to be used for flat-water touring, taking on choppy ocean water, whitewater or surf.
It is light enough that you can paddle all day with far less fatigue.
We found the lighter weight to be awesome. It is much easier to pick up a faster cadence with this paddle and we both noticed less arm and shoulder fatigue.
Overall it was just easier and more enjoyable to paddle with the Nitro than with the other paddles we have been using.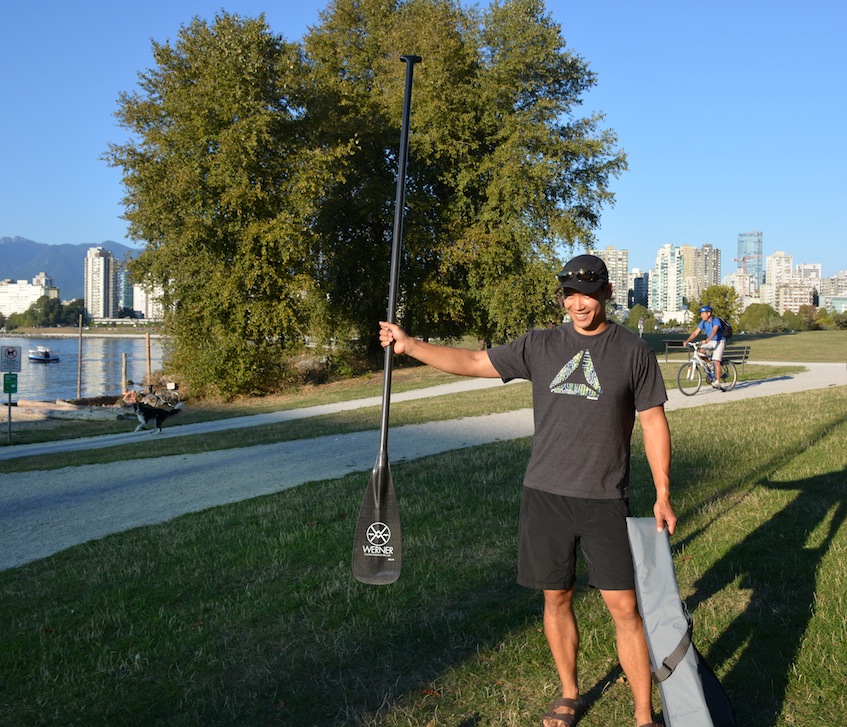 Size
There are three different blade size options to choose from. We ordered the medium, which we found to be an ideal size.
I probably would have ordered the small for myself but find the medium to be great for both of us to use.
It has a unique 100 sq. in, elongated blade shape, which releases from the water much better than the standard teardrop shape.
At its widest point in the blade the width is less than 7.5?.
With the longer and leaner blade the stroke is smooth and quick.
You can choose from small, medium or a full-sized blade.
The small is ideal for females or smaller paddlers. Medium is very versatile and will suit a large range of people.
The full size has a slightly larger blade and is most ideal for larger well-conditioned paddlers.

Weight
The one-piece is 4 oz. lighter than the two-piece version.
One-piece paddle:
Small blade – 16 oz.
Medium blade – 17 oz.
Full blade – 18.75 oz
This is one of the lightest SUP paddles I've tried.
I find there is such a huge difference in using a lightweight carbon paddle as opposed to a slightly heavier fiberglass paddle.
For easy, quick and smooth strokes, the Nitro rocks.
Although you pay more for a lightweight carbon paddle, I think it's worth the money.
For me it makes the whole paddling experience more enjoyable.
Strength
In general a carbon paddle is not going to be as strong as a fiberglass paddle.
You sacrifice some of that strength for the lighter weight.
However the Nitro is quite strong compared to many other carbon paddles and because it offers that strength it is very versatile.
It is ideal for flat water touring but also strong enough to take on some larger surf.
The design of this paddle allows it to be used for touring, surfing, rivers and just cruising around.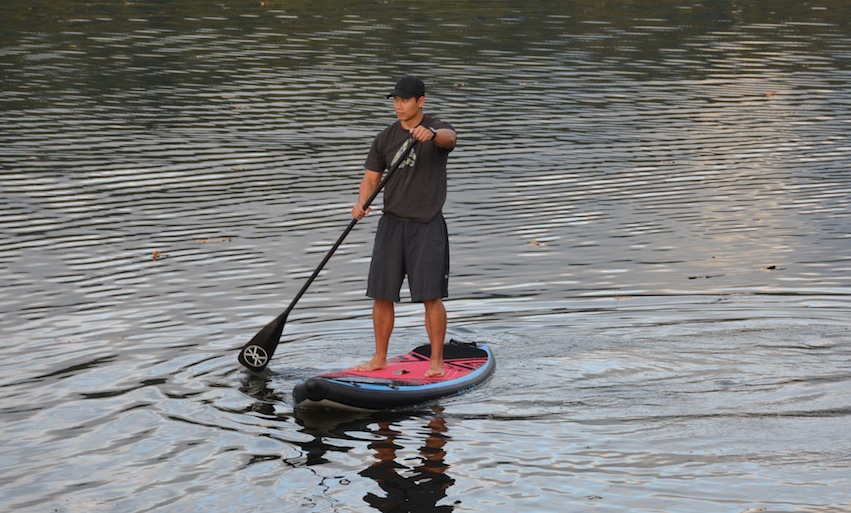 Shaft
The carbon shaft is light and strong. There are 4 shaft options to choose from:
A 1-piece straight shaft – this is the one we ordered and is the lightest option
A 2-piece straight shaft – ideal if you want to share your paddle and need to be able to adjust the length
A 3-piece straight shaft – ideal for traveling
A 1-piece bent shaft – this is the heaviest option weighing a few ounces more
We chose the one-piece for the lightweight and because we didn't plan on having anyone else use it.
The 2-piece is really great if you want to be able to share it between friends or family members and you need to be able to adjust the size.
The 3-piece is perfect for traveling. It will easily fit in your SUP bag or suitcase when broken down into three pieces.
The bent shaft is slightly heavier. It will align your wrists in a more ergonomic position, which is supposed to reduce fatigue.
It is also supposed to increase your reach and therefore allow for a longer stroke.
The bent shaft weighs between 23 and 25 ounces.
I like the idea of the bent shaft and how it will protect your body a little more.
However unless you are really going long distances or racing, it isn't totally necessary.
You will pay more for the bent shaft. For the majority of people, the straight shaft is just fine.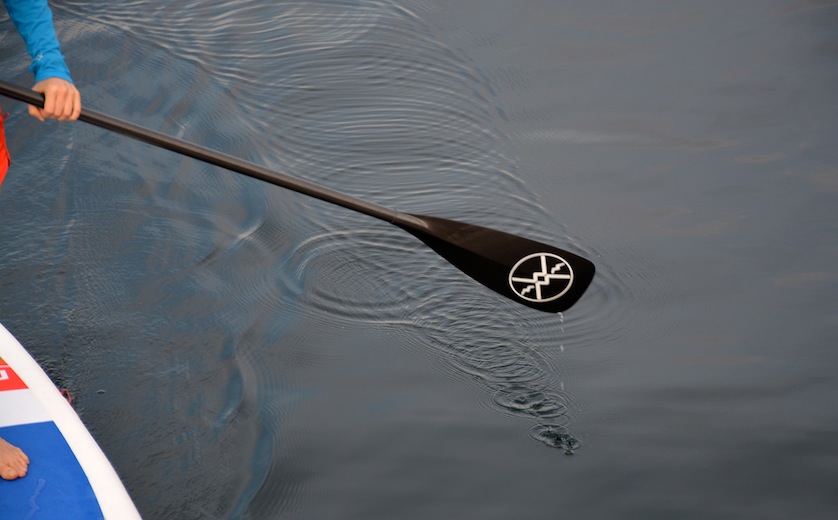 Durability
As mentioned before carbon paddles are not as durable as a fiberglass paddle.
However the Nitro is very strong as far as carbon paddles go. You can usually count on Werner to give you a top quality paddle and the Nitro delivers. It should last a very long time.
If power and strength however are more your priority then you may want to consider a paddle with a fuller blade as it might better suit your needs.
Pros
Lightweight
Unique full carbon blade allows for quick, smooth and effortless strokes
Versatile and can be used in many types of water
Good size options
Durable and strong
Made in the USA
Nice sleek look
Cons
Not as durable as fiberglass
Not super powerful – if you need more power instead of quick efficient strokes then consider the Werner Fuse or Werner Spanker, which both have larger blades.
Price Point and Where To Buy
You can expect this paddle to cost just over $300. The price is high but very typical for a well-made carbon paddle, especially one made and tested in the USA.
Click the links below to find the best prices.
Click Here For The Best Deal On The Werner Nitro SUP Paddle at Backcountry.com.
Did You Know?
By clicking on the above seller links you can help keep ISUPworld.com growing. When you make a purchase after clicking on our links, the retailer will contribute a portion of the sale to help support this site. It won't cost you anything extra and it's a simple way to help us fund our gear reviews. Thanks!