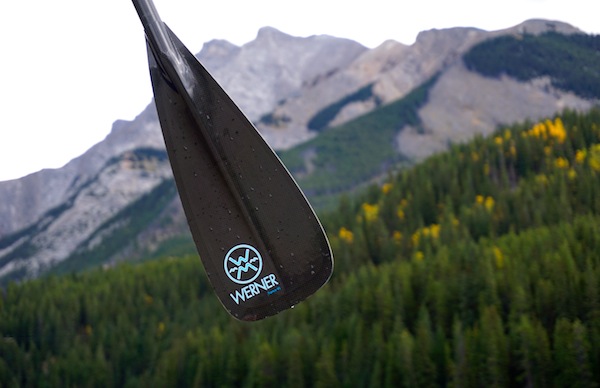 There are a lot of great SUP paddles out there and many board manufacturers are making their own.
Werner has been around a long time and they have quite a few SUP paddles to choose from and a range of prices to suit everyone.
I tend to favor their paddles. Mostly because I have never had any issues with any of their paddles that I have tried. The grip is good, there is never any twisting or wavering with the handles or in the adjustment and I have always been happy with them.
For these reasons I tend to lean towards the Werner paddles when choosing one for myself to use. I have a Werner kayak paddle that I absolutely love and I wanted to find a good Werner SUP paddle that I would enjoy using equally as much.
My partner Darryl has the Werner Nitro, which is no longer in production but a wicked paddle that we both love.
After stealing/borrowing Darryl's paddle most of last year, I decided it was time to spoil myself with a really good carbon SUP paddle of my own.
I wanted a one-piece paddle that was not only lightweight but that will last me for many years to come.
After some searching and testing, I decided on the Werner Trance.
Trance Paddle Specs
There are two size options for the Trance… The Trance 85 or the Trance 95.
I chose the 95. It has a slightly longer and wider blade surface, which I personally really like the feel of.
Blade Specs for the Trance 85
Length: 17.75"
Width: 6.5"
Surface Area: 85 sq in
Weights for the Trance 85
Straight 1-piece: 15.5oz
Straight 2-piece: 19.25oz
Straight 3-piece: 21.5oz
Bent 1-piece: 21.5oz
Blade Specs for the Trance 95
Length: 18.75"
Width: 7"
Surface Area: 95 sq in
Weights for the Trance 95
Straight 1-piece: 15.75oz
Straight 2-piece: 19.5oz
Straight 3-piece: 21.75oz
Bent 1-piece: 21.75oz
Why The Werner Trance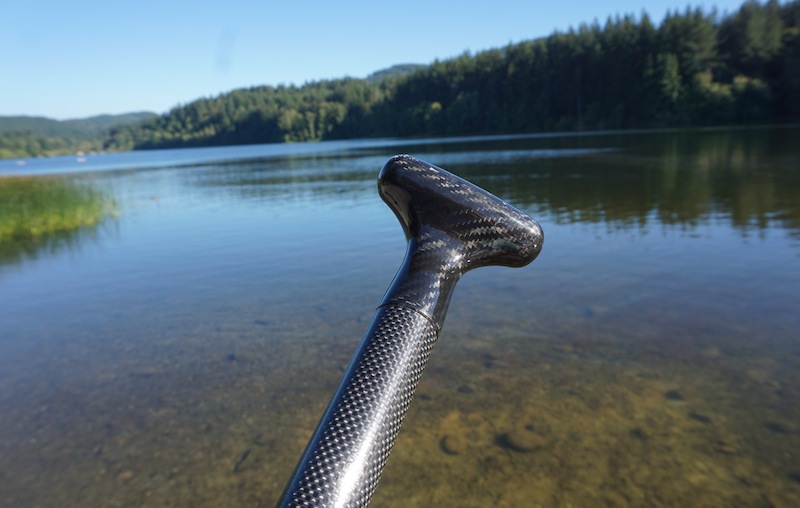 The reason I chose the Werner Trance is pretty simple. I wanted a good quality, light weight carbon paddle that is versatile and comfortable to use.
Those were pretty much my requirements. The type of stand-up paddling I do is mostly touring on flat water lakes and choppy ocean bays and sometimes down a calm river.
My paddle needed to be good for touring as well as suitable for faster strokes when I am trying to get in a good workout or racing my friends.  I wanted a true performance paddle.
Werner has three categories of paddles:
Standard
Premium
Ultimate
I knew I didn't want a standard Werner paddle as I have used many standard paddles over the years and definitely wanted an upgrade.
I probably would have been just fine with a Premium paddle and it would have been more affordable as well.
However I wanted the Ultimate and mostly I wanted one that was as light weight as Darryl's paddle as I loved using his Nitro.
So with a little research and those requirements in mind, that narrowed my search down to the Trance.
Now it was just a matter of deciding on the size.
How To Choose Your Blade Size
This particular paddle has two blade sizes to choose from – The Trance 85 or the 95.
The 85 sq-inch blade is most ideal for those of smaller to mid-size stature as well as those who would like to limit exertion.
The 95 sq-inch blade is suitable for those of medium to larger stature and for those wanting to move more water.
From previous experience trying paddles with smaller blades I found the strokes to be easier but less powerful.
With a larger blade you are able to get a more powerful stroke and move more water but it will take more effort.
With my size – I am 5'8" and 130 lbs., I figured I could most likely go either way.
I knew that I like the feel of a more powerful stroke with a larger blade however I don't like the blade to be too large for my size.
Werner SUP paddle blades in general tend to have a longer, narrower profile already as opposed to a shorter wider blade.
Therefore I decided to choose the Trance 95. Even though it has the larger blade as compared to the Trance 85, it is still narrower than many others I have used in the past.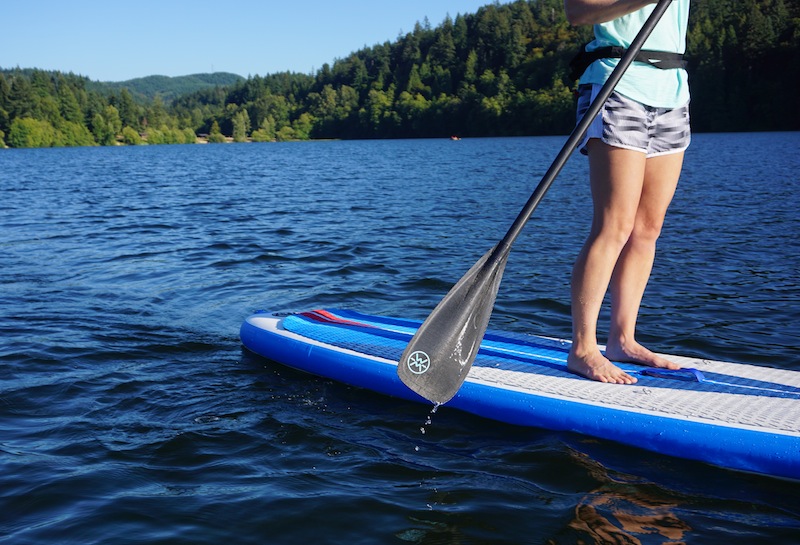 It was a good choice for my recreational style of paddling. The overall fit is excellent and I love the feel of using this paddle.
If you like to race and you are smaller in stature you might like the smaller 85 sq-inch blade, which will give you more spin rather than push, takes less effort to use and is great for endurance athletes.
1, 2 or 3-piece Paddle
Next you will need to choose whether you want a solid 1-piece paddle specifically cut for your height.
Or do you prefer an adjustable 2-piece that can be shared with friends and family members of different heights and be transported easily in the trunk of your vehicle.
If you plan to travel a lot with your board, which is very doable with an inflatable SUP, you may choose a 3-piece paddle that is easy to transport in a suitcase.
I would say for this paddle go for either the 1-piece or 2-piece.
If you have decided that the Trance is the SUP paddle for you, then you are going to be dishing out a decent amount of cash for this paddle.
Personally unless I was racing professionally, there is no way I would travel with a paddle that is this good.
I wouldn't want to risk my good paddle getting broken, scratched or lost as sometimes happens on airlines.
I would take a cheaper aluminum or fiberglass 3-piece paddle any day over my good everyday-use one.
If money is no object, you may feel differently but for me the Trance was going to be my go-to paddle for day-to-day use and not my travel paddle.
I also had no intentions of sharing 😉 Therefore I bought the 1-piece and had it cut for my exact height.
If you want to be able to share this paddle with your partner or with a friend then the 2-piece is an excellent choice. It is slightly heavier than the 1-piece but is adjustable for different heights.
Straight or Bent Shaft
I initially wanted the bent shaft but ended up buying the straight shaft.
My kayak paddle has a bent shaft and I love it. It provides a more ergonomically correct position for my wrists, arms and shoulders.
I thought that a bent-shaft SUP paddle would be just as cool but after a little research I changed my mind.
For one the bent-shaft paddles are even more expensive than the straight shafts.
Also some people have noted that they are not able to get as much power with a bent shaft SUP paddle.
I have only tried a bent shaft kayak paddle and never used one for stand-up paddling so it is hard for me to compare.
In the end I decided that I don't paddle hard core enough to make a bent shaft worth while.
If you have wrist, elbow and shoulder issues a bent shaft might be a great option.
For most other recreational paddlers, the straight shaft will do just fine.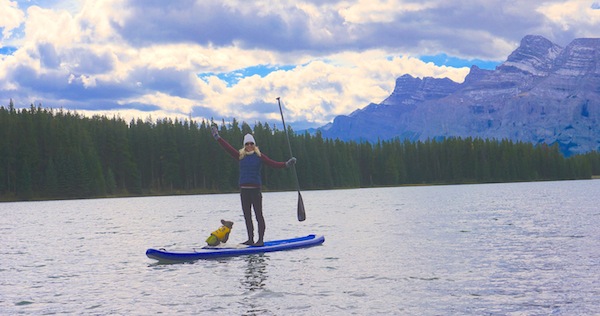 Shaft Length
If you are buying a one-piece then you will need to choose the exact length that you need.
For touring add 10" to your height. I am 5'8" (68") tall therefore I ordered a paddle that is 78" in length.
For surfing add only 8" to your height.
Benefits of a Carbon Paddle
I used a fiberglass paddle for years before trying out a good carbon paddle.
Once you have tried one, it is REALLY hard to go back to a cheaper, heavier, fiberglass or aluminum paddle.
When you haven't used one, you simply don't know the difference.
However I found that once I did try one, my overall comfort level, enjoyment and endurance just got better and better.
The lighter weight of a carbon fiber paddle means you can paddle further with far less fatigue.
Paddle strokes become easier and the overall feel of using a carbon SUP paddle is simply awesome.
In general carbon is quite stiff in nature. Therefore less material is needed in construction.
The less material equals lighter swing weight while still remaining durable and strong.
If you are only paddling a few times a year then a carbon paddle isn't going to be worth the cost.
However if this is your new favorite activity, as it is mine, then a carbon paddle is a great investment.
Protect Your Paddle
Once you get that awesome yet pricy carbon paddle, protect it with a SUP paddle bag.
I have tried a couple different ones and my favorite is the Dakine SUP paddle bag. This bag has more padding and feels stronger and more durable than the popular Deluxe SUP paddle bag by BPS. It is also much easier to get the paddle in and out of the Dakine bag compared to the other.
You can fit two paddles in either of these bags.
Bottom Line
For me the Werner Trance is ideal. My forward stroke feels smooth and solid. It allows me to go further, faster and I definitely notice less fatigue in my arms and shoulders.
It is an elite paddle in Werner's 'versatile' line and perfect for those spending a lot of time on the water.
The Trance seems to have a good balance of flex and strength and makes me feel even more confident on the water.
I am not a technical paddle expert by any means so for me I go by feel and I watch for durability. All I can say about this one is that I am super happy with it.
Where To Buy
The below stores all sell the Werner Trance. Click the links to find the best deal.
Click Here For The Best Deal On The Werner Trance SUP Paddle At Amazon.com.
Click Here For The Werner Trance SUP Paddle At Outdoorplay.com.
Click Here For The Werner Trance SUP Paddle At Backcountry.com.
Click Here For The Werner Trance SUP Paddle At ColoradoKayak.com.