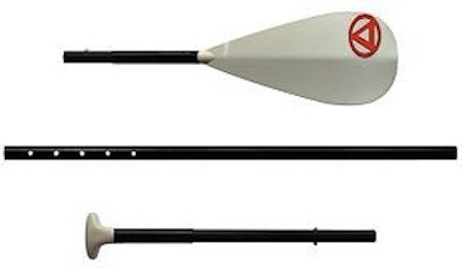 I bought the Accent Max FX 3-piece SUP paddle while I was in Hawaii last winter. I bought it specifically because it comes apart into 3 pieces so I could easily pack it in my luggage and bring it home on the airplane.
I used it all winter and feel I got my moneys worth. I was used to a more advanced and much lighter paddle that I use at home. So the Accent Max FX took a little getting used to for me.  Although don't get me wrong, this paddle is not really heavy… just heavier than an expensive carbon paddle.
It was a little heavier than I was used to but overall I really enjoyed paddling with it. I used it mainly for paddling in flat water and ocean surf.
Although I prefer using a very lightweight carbon paddle, I think the Accent Max FX is a great deal for the money. It feels pretty good and I was definitely able to get some good power strokes with it.
My boyfriend who is bigger than me actually preferred using it to a lighter paddle.  He found it to be more solid and quite easy to use.
Accent Max FX Features
This is a fiberglass paddle that is adjustable from 74" to 82"so it can be shared by people of different heights.
The angle of the blade is great for easy paddling or for more aggressive strokes so it is quite versatile.
The ergonomically designed T-grip handle fits the hand comfortably. Neither I nor my boyfriend never had any issues of discomfort while using this paddle.
It has aluminum inserts that make it quite strong – it is not flimsy at all and definitely feels like it would last a long time and probably be able to handle a fair amount of abuse.
The best part about it and the whole reason I bought it was because it separates into three pieces so that it is extremely convenient for traveling.
However I should note that when separated there is still one piece that is fairly long and would not fit into my suitcase with the other two pieces.  I ended up storing the long piece in my boyfriends golf bag which worked out well.
However I wasn't bringing a board traveling with me that time and if I had I would have just stored the paddle in the ISUP bag.
General Thoughts
I would definitely recommend this SUP paddle for anyone wanting to travel with their board or for those who are limited in storage space.
It is comfortable, versatile and convenient… a great all around stand up paddle. I think it would work well for both men and women.
Although I prefer using a very lightweight carbon paddle it is important to note that a carbon paddle will cost at least twice as much.
For this price range, the Accent Max FX adjustable paddle is a great buy. I will use this paddle every time I travel and probably sometimes at home as well.
Where to Buy
Click Here For The Accent Max FX 3-Piece Adjustable Paddle At ColoradoKayak.com.
Click Here For The Accent Max FX 3-Piece Adjustable Paddle At GreenWaterSports.com.
Did You Know?
By clicking on any of the above seller links you can help keep ISUPworld.com growing. When you make a purchase after clicking on our links, the retailer will contribute a portion of the sale to help support this site. It won't cost you anything extra and it's a simple way to help us fund our gear reviews. Thanks!