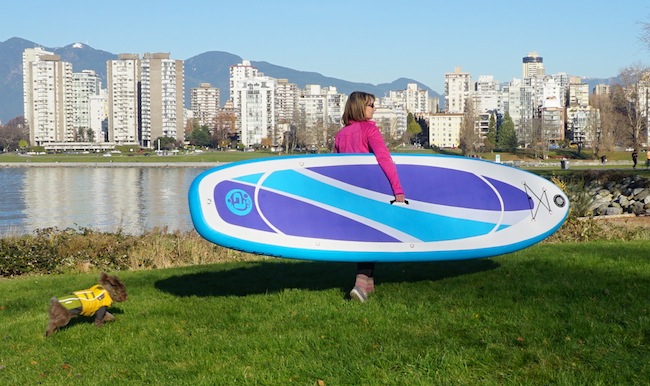 Designed for fitness and yoga in mind this board offers great stability while still providing a versatile platform for cruising around on just about any type of water.
I really enjoyed paddling the Fit. It is not a real performance board.  However it is stable in waves and chop and glides nicely on flat water.
It is stable enough that I actually accomplished a few beginner yoga poses on it, which felt kind of nice.
It is one of the few yoga boards that I have tried that I actually still enjoyed paddling.
It is a very versatile, very attractive looking ISUP that could be used by a wide range of people from old to young, from beginners to advanced fitness enthusiasts.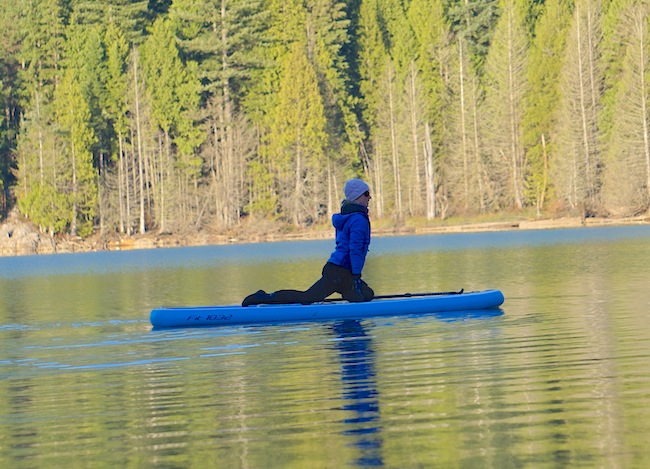 Specs For The Airhead SUP Fit 1032
10'6" long
32" wide
6" thick
weighs 27 lbs.
can hold up to 300 lbs.
includes one 9" removable center fin
Material: Strong and durable PVC
Pros: Stable, lots of D-rings, large removable fin, can hold a lot of weight, easy to paddle, versatile, well thought out design for yoga and fitness
Cons: Not that fast, a little heavy for its size, only one center fin (no side fins)
Where To Buy The Airhead SUP Fit
Click here for the best deal on the Airhead SUP Fit at Amazon.com.
More In-Depth Info On The Airhead SUP Fit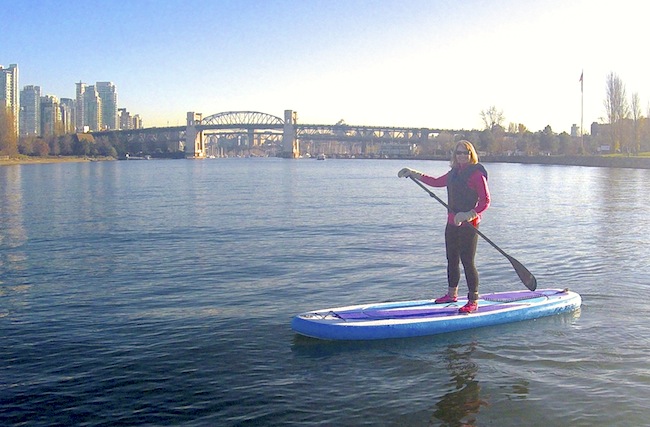 I found that the Airhead Fit had a really good feel to it. It is stable to stand on, easy to paddle and shaped just right for doing SUP yoga.
The 32" width gives you a good base without being too wide to still paddle efficiently.
The rounder shape also creates stability and provides lots of room for fitness poses.
A pointier nose or a leaner tail would take away space and stability. The rounder design gives you ample room to do all kinds of exercise.
I think this board was really well thought out. The size, the shape, the design of the traction pad and even the placement of the D-rings and the bungee tie-down cords are all ideal for yoga, stretching, and other types of SUP fitness.
Plus this ISUP looks great, the colors are really attractive.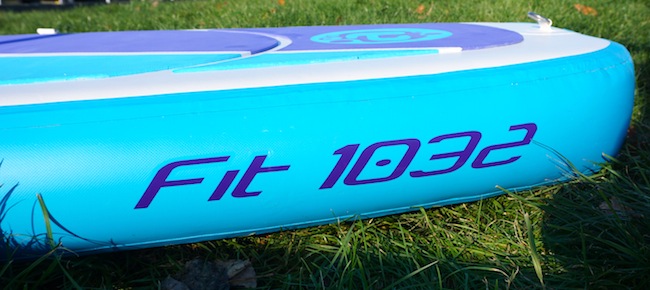 Important Features
EVA Deck Pad The deck pad is 4mm thick and quite long.
The extra long length is ideal for yoga and the 4mm thickness keeps you comfortable whether standing or kneeling.
Bungee Tie-Downs Many fitness boards won't even have bungee tie-down cords because they can get in the way of your movements and foot placements.
However I really like that the Fit has a small bungee cord system at the very tip of the nose.
It if far enough up front that it does not get in the way no matter what you are doing.
The downside to it being so far up front is that it takes more effort to reach it from the center of your board.
However I think it is still a great feature and nice to have so you can secure your water bottle or other gear.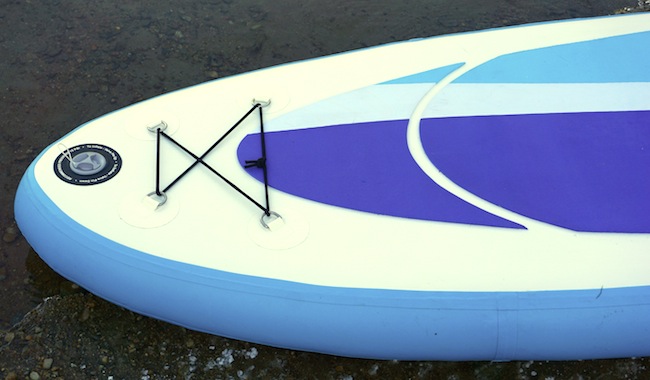 D-rings There are 9 stainless D-rings on this board.
There is one at the tail for attaching your SUP leash.
There are 4 D-rings strategically placed near the center of the board (2 on each side). These are perfect for adding SUP resistance training bands.
Then there are 4 more D-rings up front being used by the bungee tie-downs.
All of these D-ring options make this board extra versatile.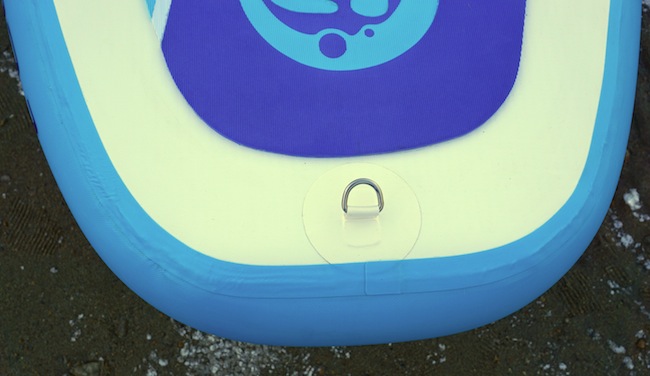 Fin There is one 9" removable center fin. The fin is easy to attach and very solid once secured in the fin box.
With the fin attached you will notice improved tracking and stability. It really makes a big difference and I suggest using it at all times unless you are in very shallow water.
There are no attached side fins as you see on many other inflatable stand-up paddle boards.
The side fins aren't critical but do add to the performance and versatility. I didn't find I missed them while paddling the Fit however.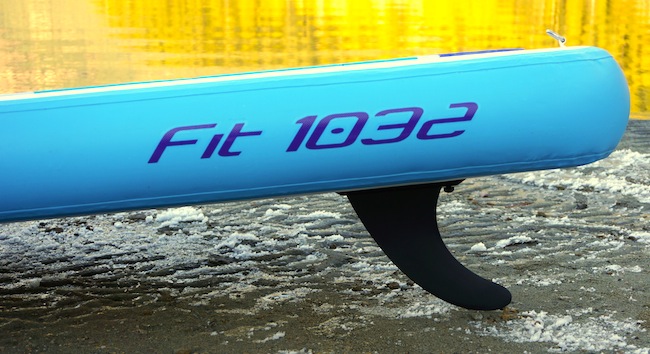 Valve The valve is an EZ Push Hi Pressure valve.
Push in and twist so the valve pops up to inflate. Then push and twist so the valve is in the down position to deflate.  Once inflated you can secure the valve cap.
I had no issues with the valve it worked exactly as it should.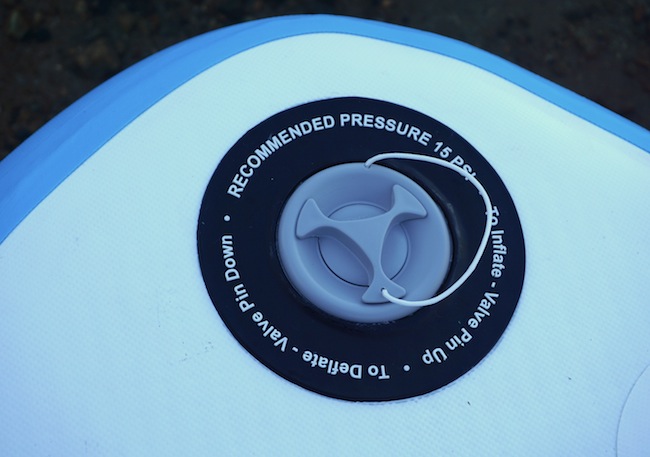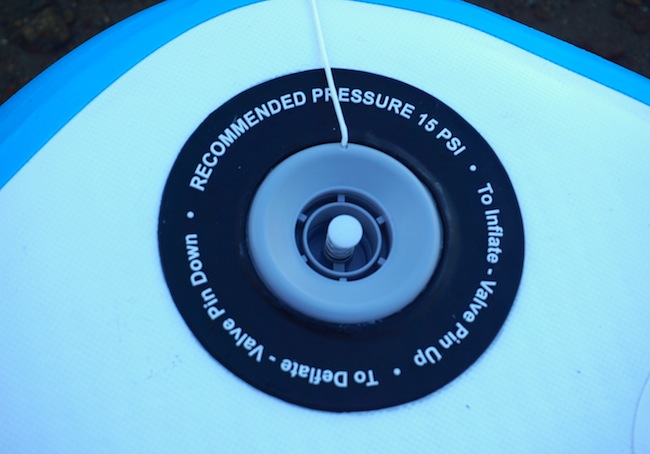 Carry Handle
There is one carry handle at the center of the board. The carry handle is not that wide but it seems strong enough.
It is made of rugged nylon and can lay flat on the board when not using it so it doesn't get in your way.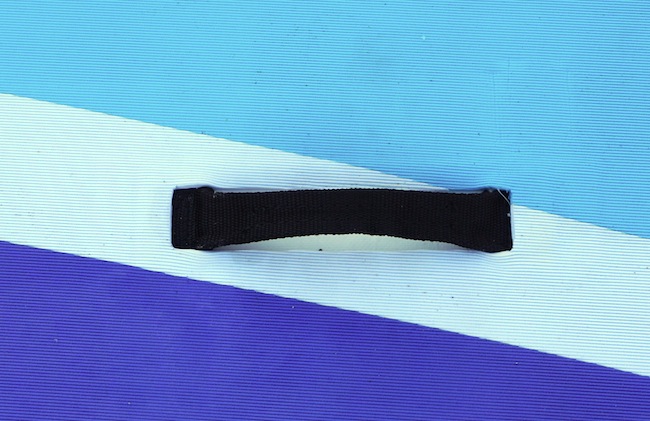 Backpack
The backpack feels durable.  The body of the bag is mesh so the board can breathe.  The back padded shoulder straps are adjustable.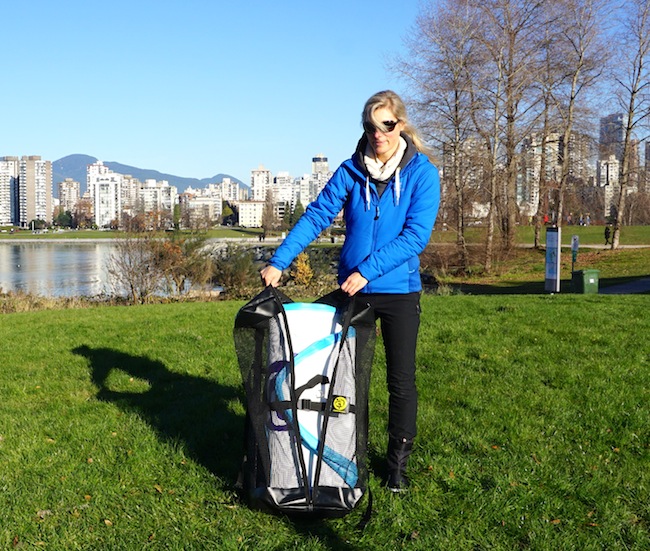 I don't find this bag super comfortable but for carrying to and from your vehicle to the water it is just fine.
The mesh is nice for breathability.  I worry that the mesh could tear if the bag gets caught on anything sharp so I would just be conscious of that.  However it feels fairly strong.
This wouldn't be a bag I would do any airplane travel with but for use at home it works great.
The Airhead backpack is a good size to easily fit the board, the pump and even your paddle.
The best part is that it has a front loading zipper making it extremely easy to get the board in and out of the bag.  Once zipped in you can tighten and secure the clips to secure the whole package.
There is also a nice zippered inside pocket to store the fin.
3-Step Setup
Inflatable stand up paddle boards are very easy to setup and this one is no different.
There are three simple steps to follow:
Take the board out of the bag.
Unroll and inflate.
Then attach the fin.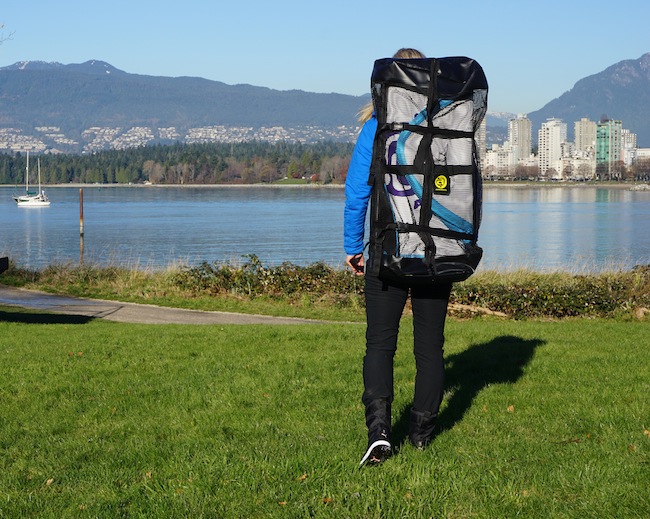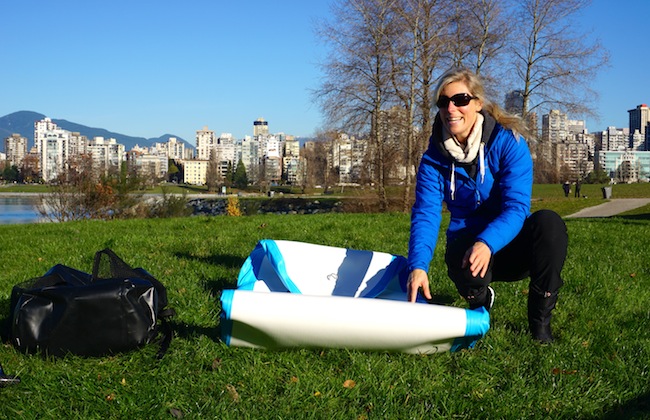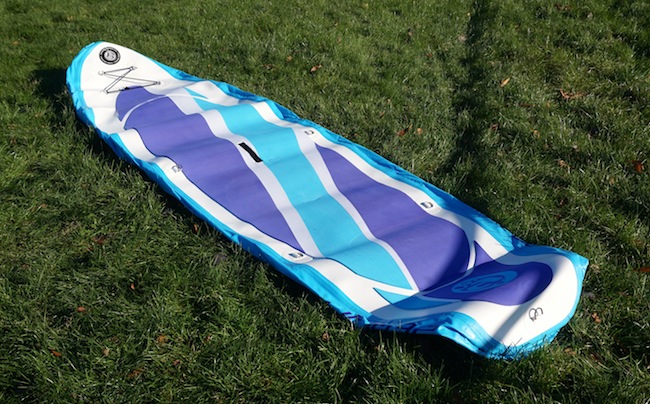 Inflating the board with the included pump takes roughly 6 – 8 minutes depending on how fast you pump.
The fin is really easy to secure. Place it in the fin box and screw it in. Once attached it is very solid.
After you have finished paddling, dry the board off, deflate and roll it back up. It is easily placed back into the backpack carry bag.
If you want to alleviate the work of pumping by hand you can try the Airhead electric pump.  It works great!  It's not super fast but I much prefer it to a hand pump and you won't be out of breath before you start paddling.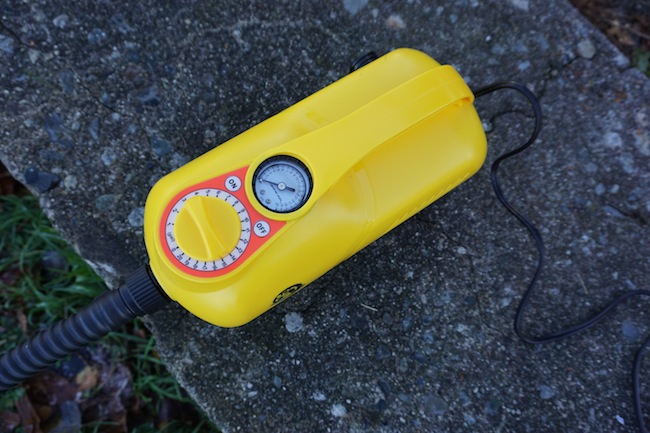 Airhead SUP Fit Performance
The Fit isn't meant to be a performance board however I enjoyed paddling it around.
Besides fitness activities I would say this ISUP is a lot of fun to cruise around on.
It tracks well and is easy to turn and maneuver. It is not that fast but I didn't find it sluggish either.
Overall it is quite versatile. A couple of smaller attached side fins would have been nice to add to the performance but the large fin that comes with it certainly helps with tracking and stability.
We found it stable even on waves and choppy water so a beginner would have no problem on this board.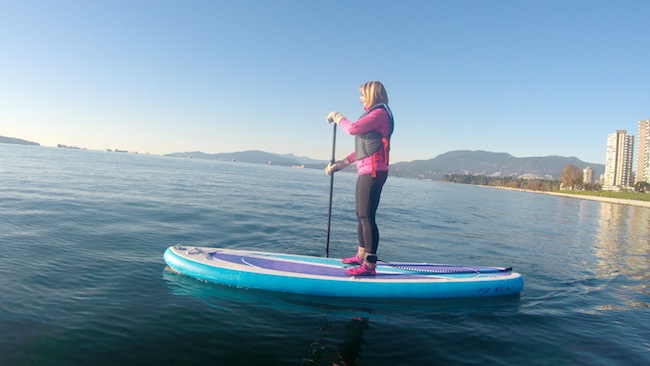 Being a specialty type of fitness board I was excited to practice some of my yoga moves on the Fit.
Doing SUP yoga certainly takes your practice to a whole other level. I found the Fit to be a good match for yoga and stretches.
I was shaky and could only master the basic moves on the board.  I'm sure my layers of winter paddling clothes and the fact that I desperately didn't want to end up in the freezing water didn't help.
However I really enjoyed it and would like to do it more often.
I thought that the Fit provided a nice stable base for a beginner SUP yogi like myself.   Goal for next year… look a lot more accomplished in my SUP yoga photos!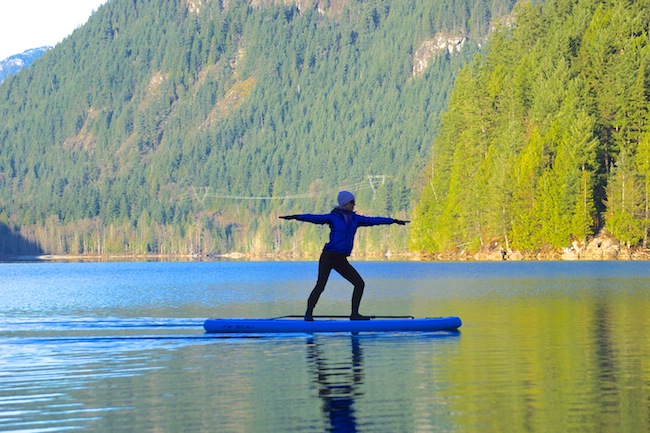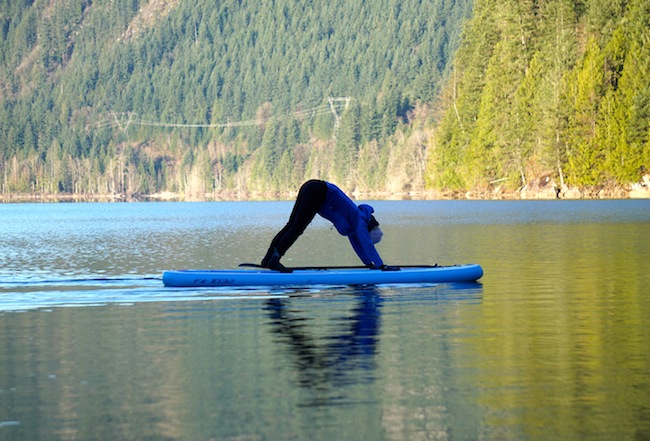 The Fit is truly a good 'fit' for fitness, yoga and cruising around. The board is also great for taking out your dog or paddling with kids.
It can hold up to 300 lbs. with no flex. When inflated to 15 PSI it is very rigid.
The Negatives
There are a few negatives but nothing major to be concerned about.
The first is that a tri-fin configuration would have been nice. The one large center fin is a big help so it isn't critical to have two extra side fins.
I just find that the side fins add some versatility but for many this won't really matter.
The board isn't that fast. However yoga boards are never fast and all things considered this one does paddle fairly well.
Unless you are specifically looking for speed, I don't think you will have any issues with it.
At 27 lbs. I thought it was a little heavy for it's size. However we had no trouble carrying it.
The weight does keep it solid in the water though which is especially nice for yoga.
One more thing to point out is that a side paddle holder might have been a nice added touch.
I secured the blade of my paddle in the bungee cords to keep it on the board but found that the shaft was in my way when I was trying to do some stretches and yoga poses.
Again this isn't critical but for a fitness board it would have been a nice feature.  You could easily add a make-shift one yourself by using Velcro to secure your paddle to the side D-rings.
More Pictures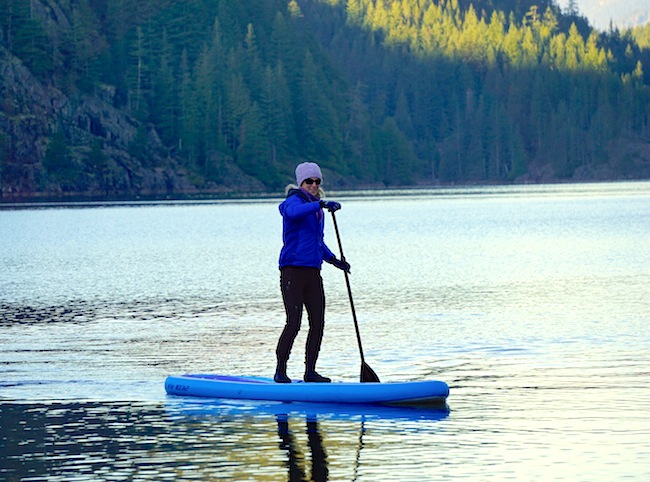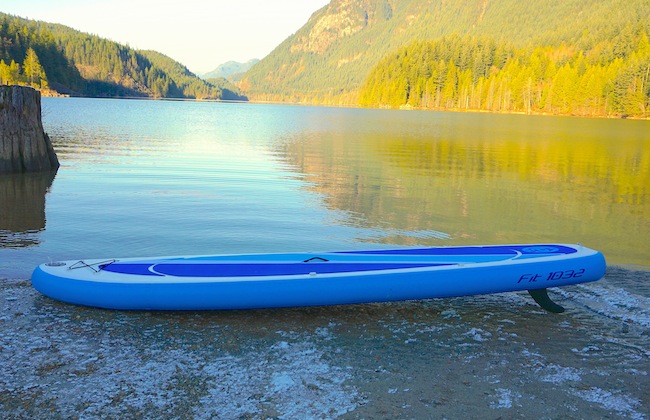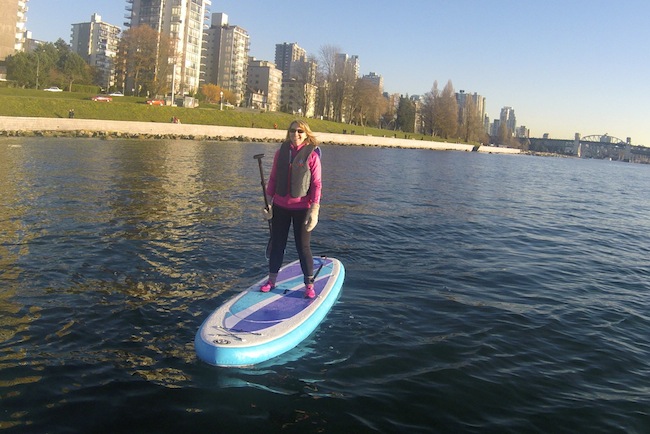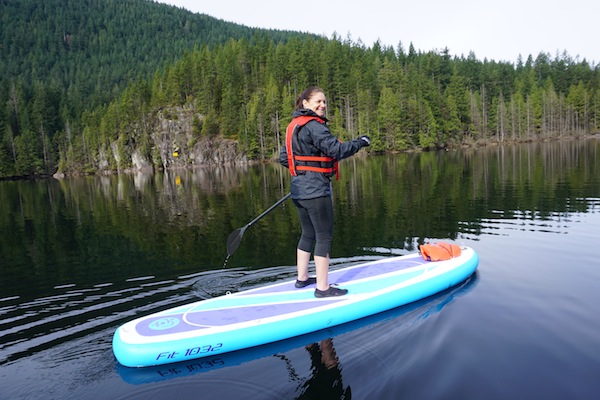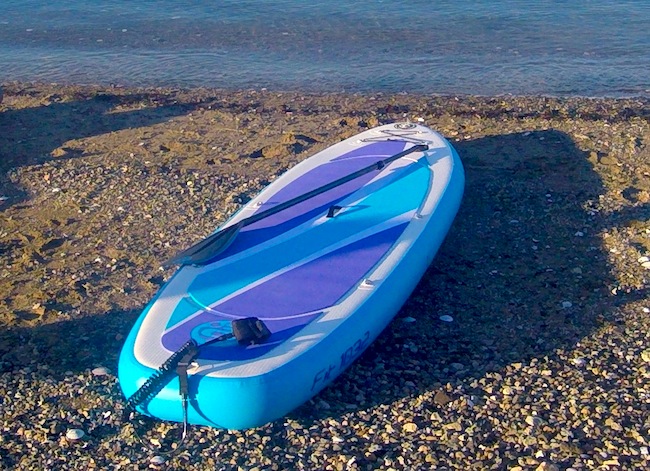 Final Thoughts
Overall I liked the Airhead SUP Fit a lot. It is designed well for fitness activities and is really just a lot of fun to cruise around on as well.
I took it out several times and the general consensus from my female friends was that it is a really attractive looking board.  The colors were a hit.
Anyone old or young, big or small could use this board.
It is a very versatile shape and size. It is designed more for flat water but it handles well on waves and chop as well.
Where To Buy
Click Here For The Best Deal On The Airhead SUP Fit At Amazon.com.
Did You Know?
By clicking on any of the above seller links you can help keep ISUPworld.com growing. When you make a purchase after clicking on our links, the retailer will contribute a portion of the sale to help support this site. It won't cost you anything extra and it's a simple way to help us fund our gear reviews. Thanks!