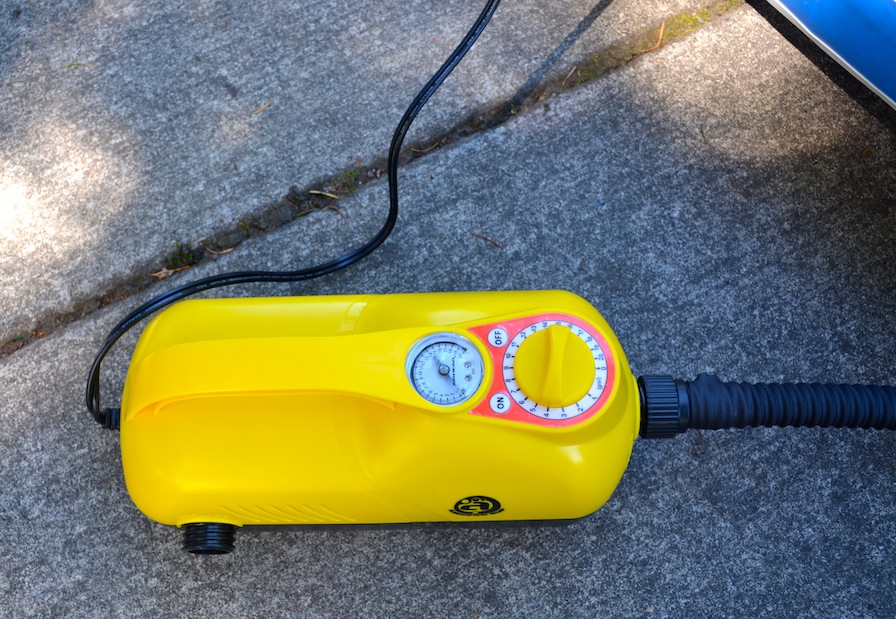 I love using an electric pump with my inflatable boards. It makes inflation super easy and fast.
I've tried several pumps over the years and from what I've seen there are really only a few electric pumps on the market that really work well with inflatable stand-up paddleboards and that are able to get them inflated to the proper PSI level.
The Airhead High Pressure Electric Pump is one of the good ones.
This pump has a 10' power cord and alligator clips that attach to your vehicle battery as well as a car lighter style plug for 20 amp outlets.
I found it to be convenient, lightweight, and very useful.
Important Features
There are a few things that make this pump extremely convenient.
It has a carry handle that makes it easy to carry.
It comes with interchangeable H-Valve and Boston Valve adapter.  Attachments fit securely so you don't have to hold the hose while your board is inflating.  You can attach and walk away.
It is capable of inflating up to 18 PSI… that's higher than most other pumps. I found that the gauge worked well.
It has a pressure release valve so that it automatically shuts off when it reaches your desired PSI level so that you don't over inflate your board.
The hose locks securely onto the pump and the valve adapters attach securely to the board so there are no accidental disconnections.
The 10' hose gives you lots of room to maneuver.
Besides inflatable SUP's, this pump is also ideal for inflatable kayaks, inflatable boats, pool toys, and other inflatable accessories.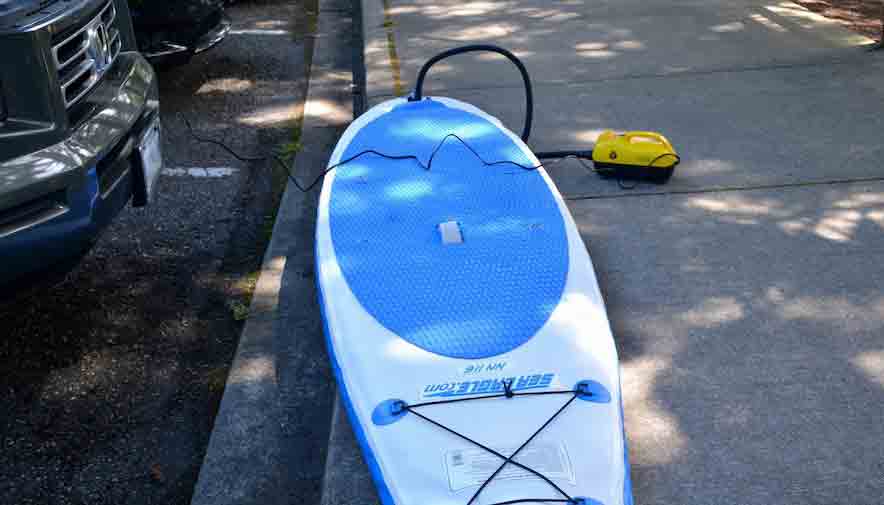 Cons
There are only two things that I would point out as negatives with this pump.
For one it does not come with a carry bag. However it does have a carry handle that makes it easy to carry.
I would suggest keeping the box it comes in and store it in there so you don't lose any parts.
Second I found that although it works well, it was slower to inflate my boards than what I was used to.
The first stage of the inflation process went quite quickly but when the high-pressure mode kicked in, it definitely slowed down.
I don't think it is that big of a deal, especially if you're not in a hurry.  It got the job done without me having to lift a finger so I was happy.  Plus it really wasn't excessively slower, only a little slower.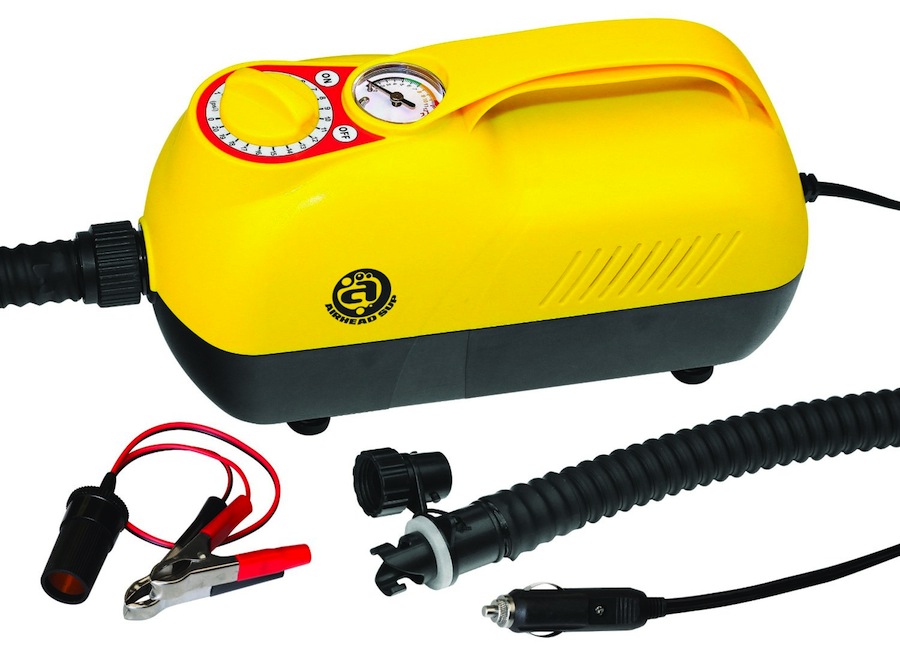 Bottom Line
Overall I feel that the Airhead 12V high pressure electric pump is a good product for the price.
Although slower than a more expensive model, it is still highly convenient, easy to use and very functional.  It is also a little quieter than other models I've tried – which can sometimes be quite noisy when in high pressure mode.
The price is also a little lower than other similar electric pumps which is very appealing.
Where To Buy
The best price I've seen is at Amazon.com especially with their free shipping option.
Click Here For The Best Deal On The Airhead High Pressure Electric Pump At Amazon.com.
Did You Know?
By clicking on the above seller link you can help keep ISUPworld.com growing. When you make a purchase after clicking on our links, the retailer will contribute a portion of the sale to help support this site. It won't cost you anything extra and it's a simple way to help us fund our gear reviews. Thanks!