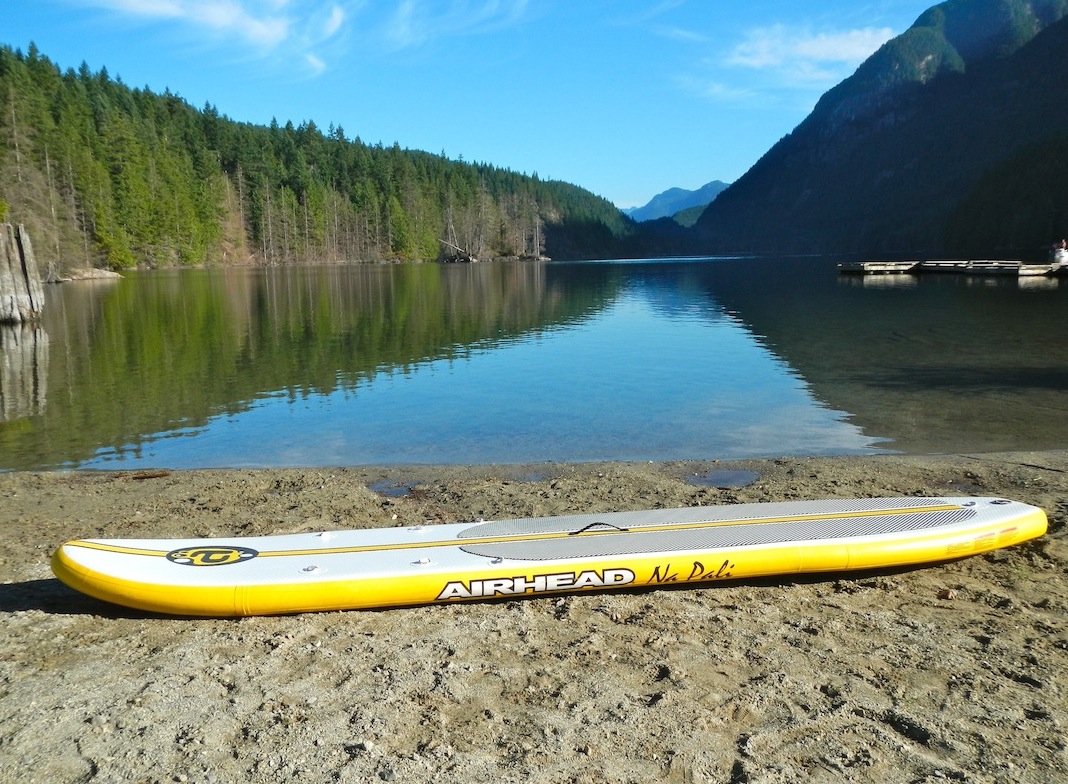 After several enquiries about this inflatable SUP from visitors to ISUPworld.com I was lucky enough to get my hands on it and do a proper review.
The Airhead Na Pali is a great board for an affordable price. I enjoyed testing it and reviewing it and think that it has a lot of positives that will make it quite popular.
It is very well made, inflates easily and is a convenient size that will suit a large majority of people.
Quick Stats
Specs:
10 feet 6 inches long
30 inches wide
4 inches thick
weighs 38.5 lbs.
can hold up to 225 lbs.
has 1 large removable center skeg
has two smaller removable side skegs
1-year warranty
Material: Rugged drop-stitch material.
Pros: 3 removable skegs for good tracking, removable seat for sit-down or stand-up paddling, 6 D-rings up front and one D-ring at the back to secure gear, rigid and tough, compact, great backpack carry bag
Cons: Removable fins take a bit of work to attach, a little on the heavy side – but still manageable
Where To Buy
Click Here For The Best Deal On the Airhead SUP Napali Inflatable SUP At Amazon.com.
More In-Depth Info
What I like most about the Na Pali is its versatility. It has some really cool options that allow you to use it in different conditions and paddle in different ways.
For example it is one of the few inflatable SUP's that comes with a removable seat. The seat attaches to the D-rings and gives you the option of sitting down and paddling kayak style or stand up paddling.
The anti-skig surface is cushiony and I found comfortable when sitting on the seat but also provides great traction when standing.

Setup
The Na Pali comes with a rugged backpack that can easily hold your board, the seat, the pump, a few accessories and your paddles if they come apart into two pieces.
Although I found the Na Pali a little on the heavy side compared to other models of similar size that I have tested, it was still manageable to carry on my back and bring to the water by myself.
When deflated it rolls into a nice compact package that can easily be stored and brought anywhere.
Inflation is simple. The valve works really well and I found that I could inflate it to 10 PSI quite fast. This SUP is capable of holding up to 15 pounds of air pressure but I found it wasn't necessary to inflate it to 15 PSI in order for it to be super rigid and perform well.
I used it a couple times when inflated to only 10 PSI and it was still extremely rigid and supported my weight as well as my dogs weight easily.  When inflated to the maximum air pressure of 15 PSI it is truly rock solid.
The only part of the setup I had some trouble with were the fins. The fins slide into place and then you secure them with a bolt. It took me several tries to get the fins fitted in properly and secured in place which was a bit frustrating.
However once locked in they were very secure and they provided great tracking. The fins should be install before the board is inflated.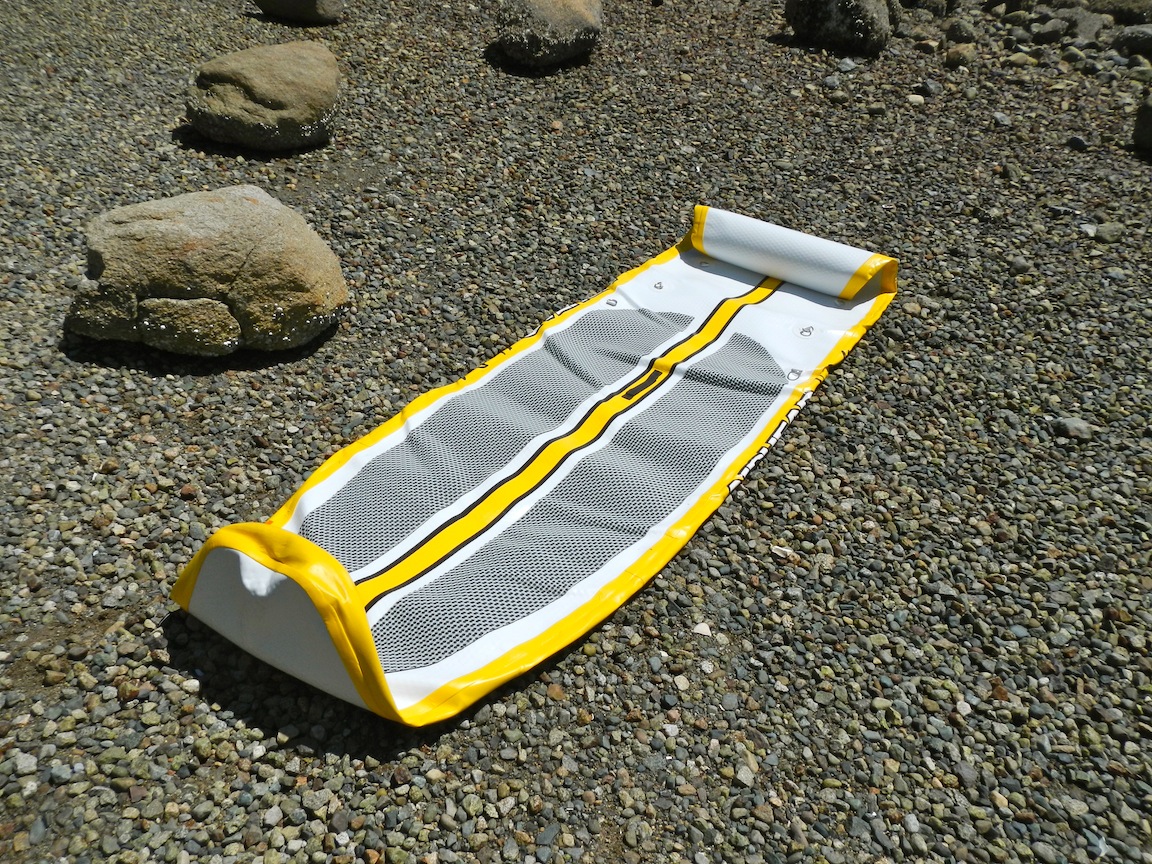 3 Removable Skegs
There are 3 separate skegs that come with the Na Pali. The large center skeg is ideal for flat water paddling and makes a big difference in keeping this SUP tracking straight.
The two smaller side skegs are great for paddling in rivers as they are less likely to get caught on anything but still make maneuvering easy.
The skegs are all removable which is one of the reasons this board is so versatile.  Once attached the fins work great and are very solid.
Performance
Overall the performance of this inflatable stand-up paddle board is good. It paddles well, is easy to maneuver and feels very comfortable. There is no flex when standing on this board, it is very rigid.
The rugged construction, the design and the fins keep it tracking straight and gliding nicely through the water. I enjoyed paddling it and had no real issues with the performance.
I don't think it is the fastest board out there but it is designed for recreational use, cruising around lakes, touring ocean bays or even paddling down slow moving rivers.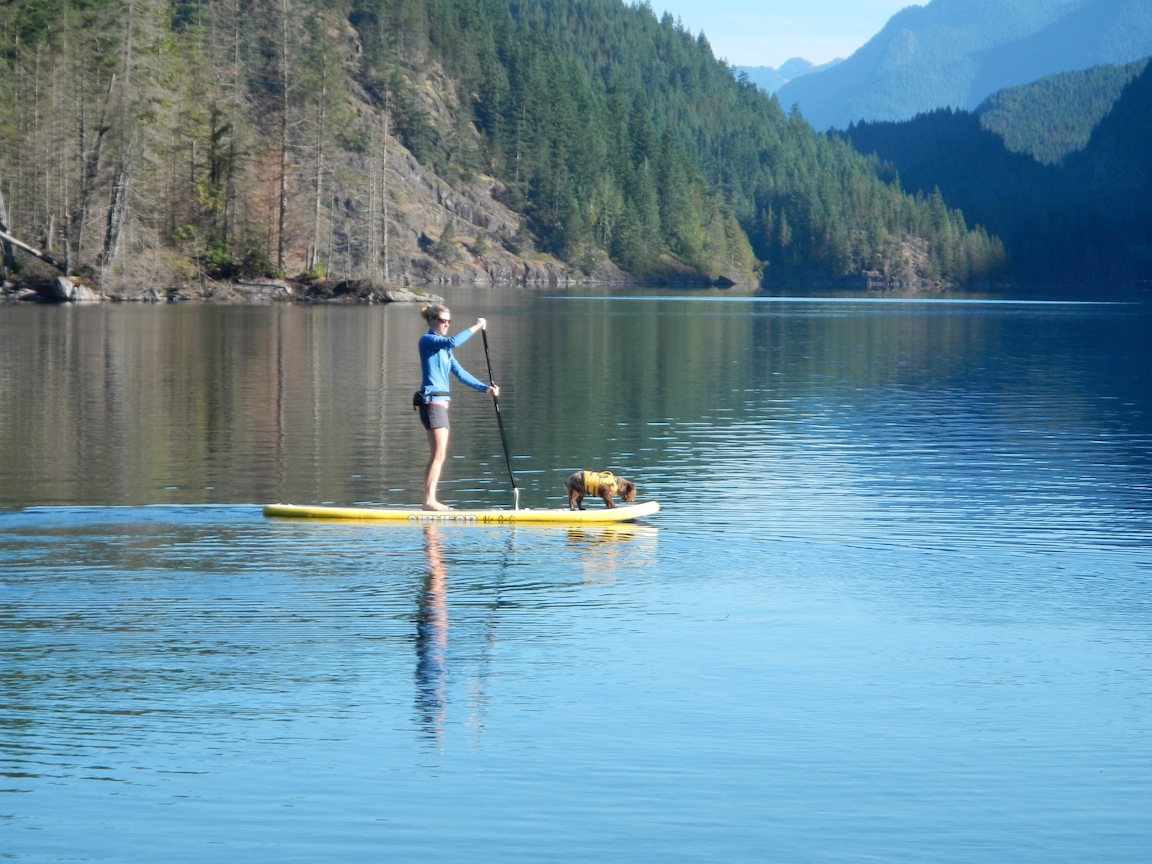 Convenient and Compact
This SUP is very compact. Considering the length, it rolls up into a nice compact package that is easy to transport in the trunk of your vehicle or even taken on an airplane.
The convenience that inflatable SUP's offer for those who love to travel or for those who are short on storage space is bar none. This is a highly portable stand-up paddle board that is very convenient to use.
The backpack carry bag makes it easy for one person to carry to and from the water as well as store away.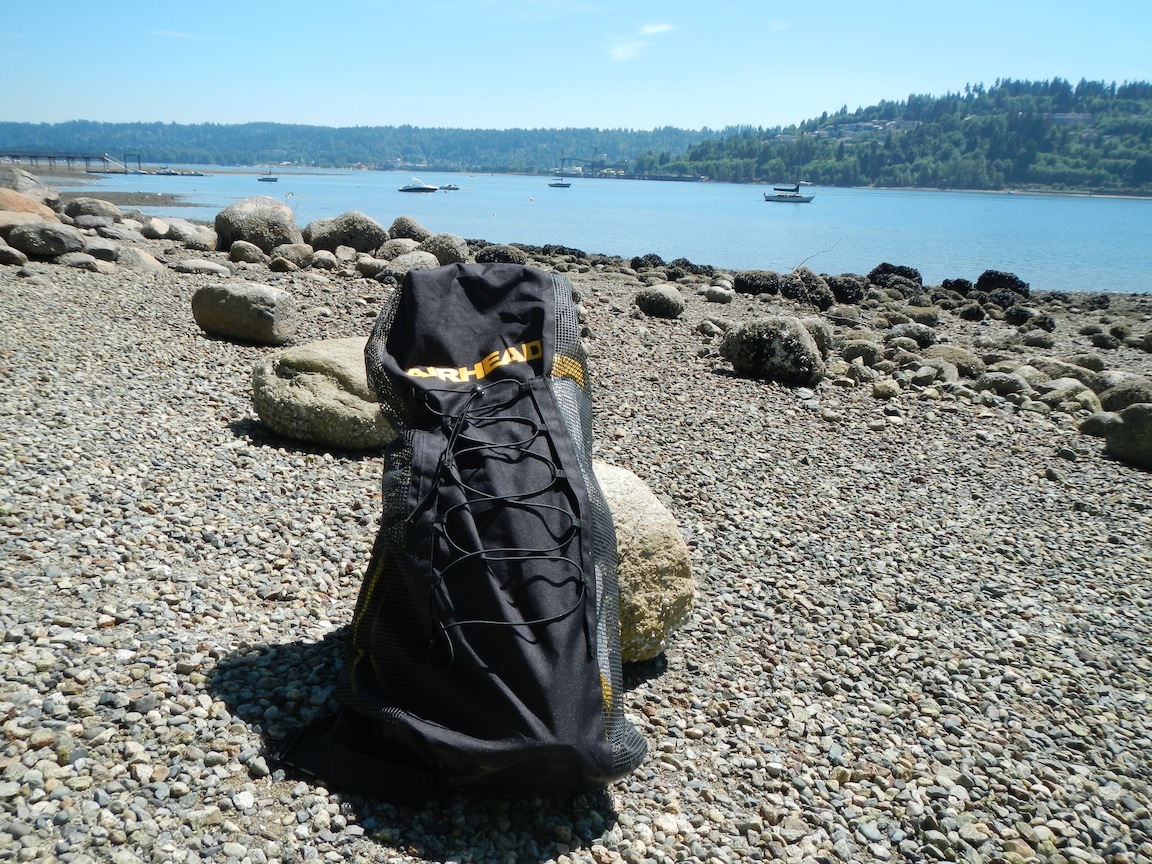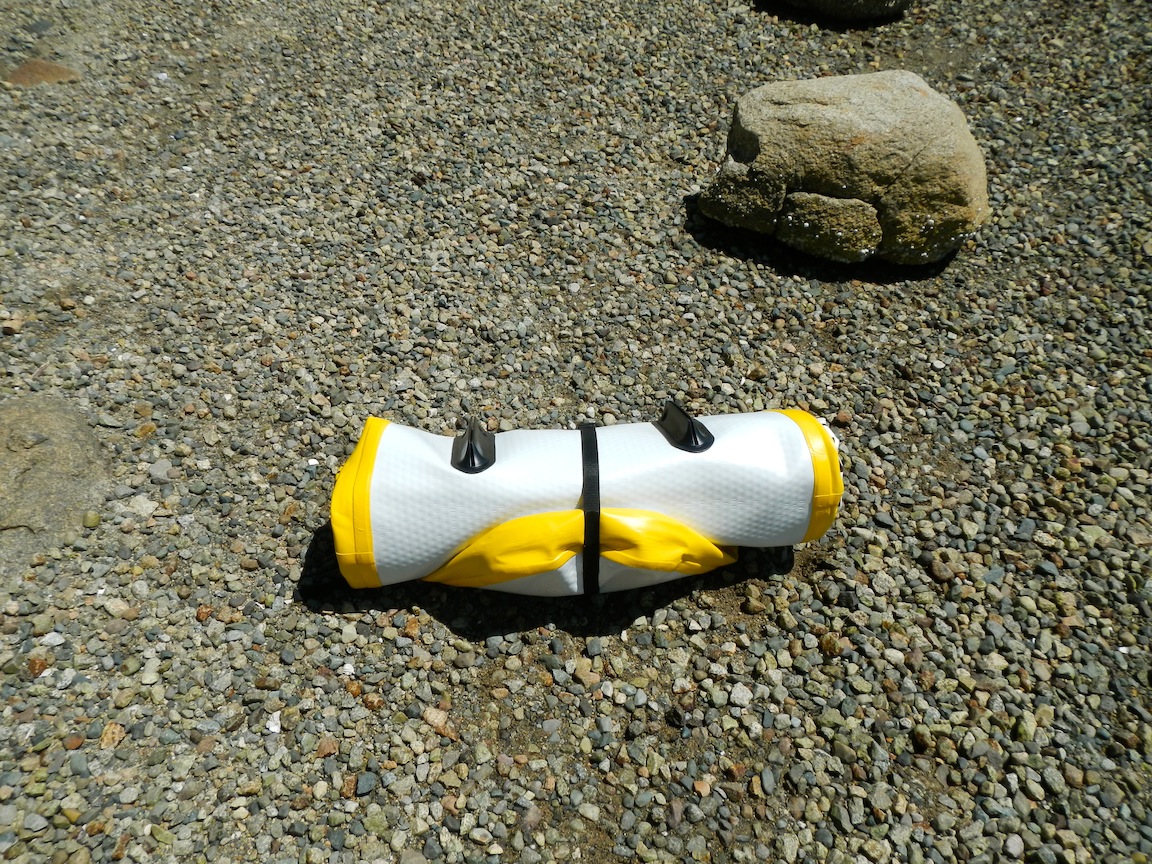 Length and Width
I like the size of the Na Pali. It is 10'6″ in length and 4″ thick which is ideal for many people. It is long enough to take touring but not so long that it gets hard to maneuver. I found the length very convenient even when paddling with my dog.
I had no issues with stability. Right off the bat the Na Pali feels very solid and stable. My brother was visiting me from Singapore while I was reviewing this board. He had never stand-up paddled before and had no trouble going out on the Na Pali his first time out.
There is ample room to secure gear if you need to bring any with you.  There are 2 D-rings to attach the seat as well as 4 extra D-rings up front that you can tie gear down with as well as 1 D-ring at the back.
The Down Side
Each board usually has an issue or two that is worth pointing out. For this one it is the difficulty attaching the fins and the weight.
Neither should be a big deterrent. The weight although heavier than I prefer was still easy to carry by myself and I am not a very big person. The fins although they did take a while to figure out and fit in properly, work great once attached.
Note: The fins for the 2014 SUP's have been improved upon. The base that is attached to the bottom has been changed for ease of install and removal. With this new base the fins are easier to attach and can be installed either before or after the SUP is inflated.
My Pics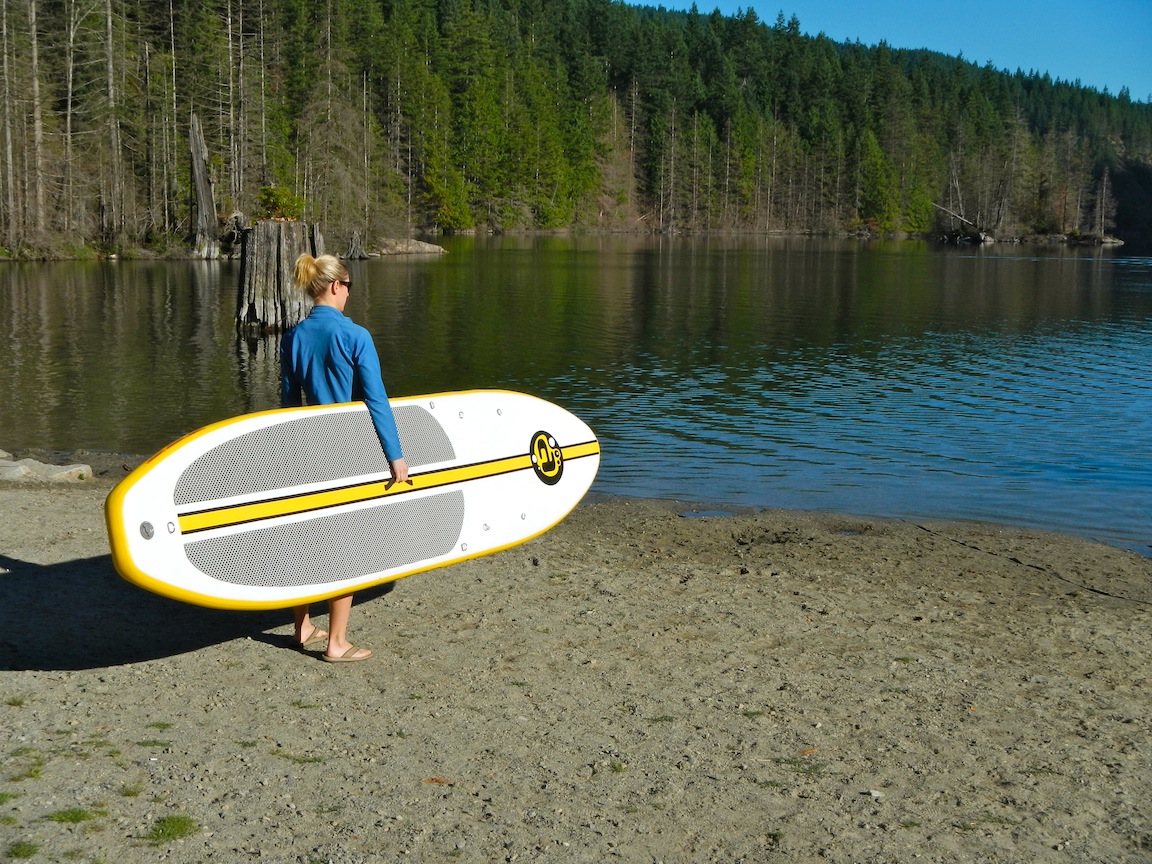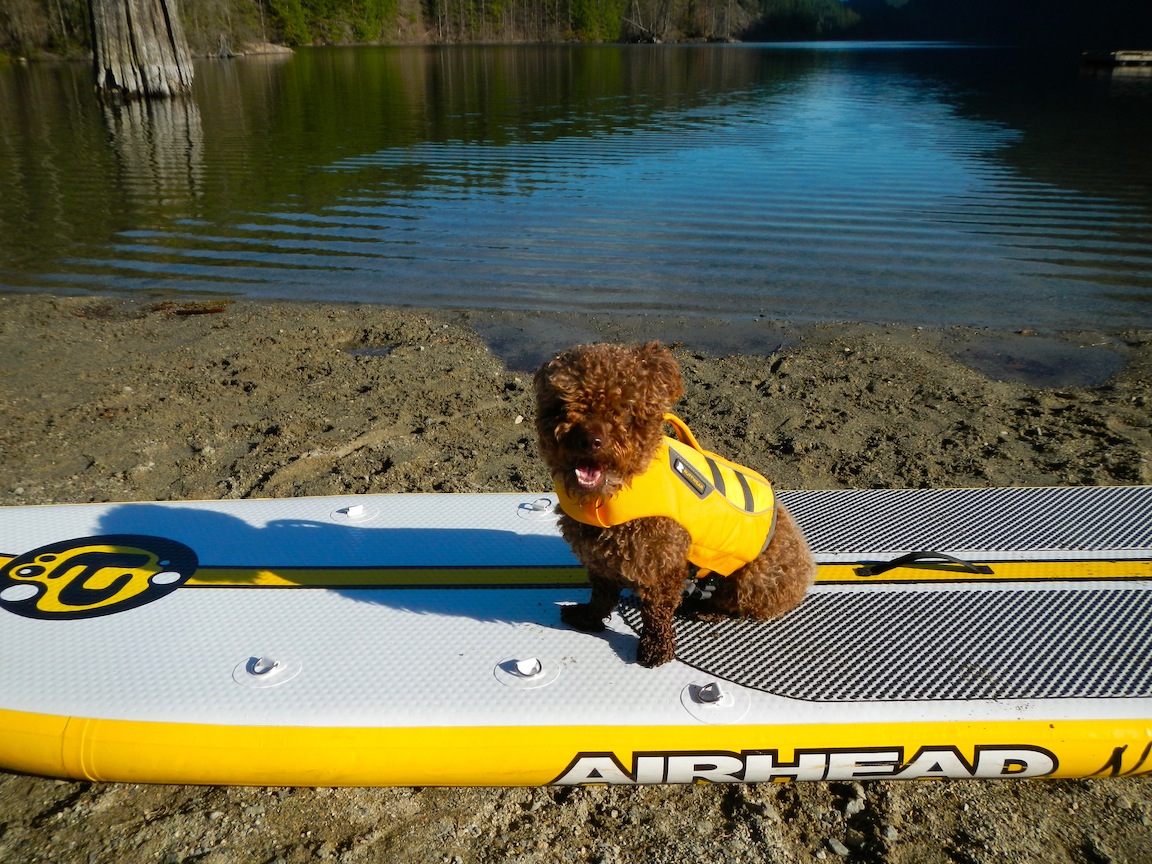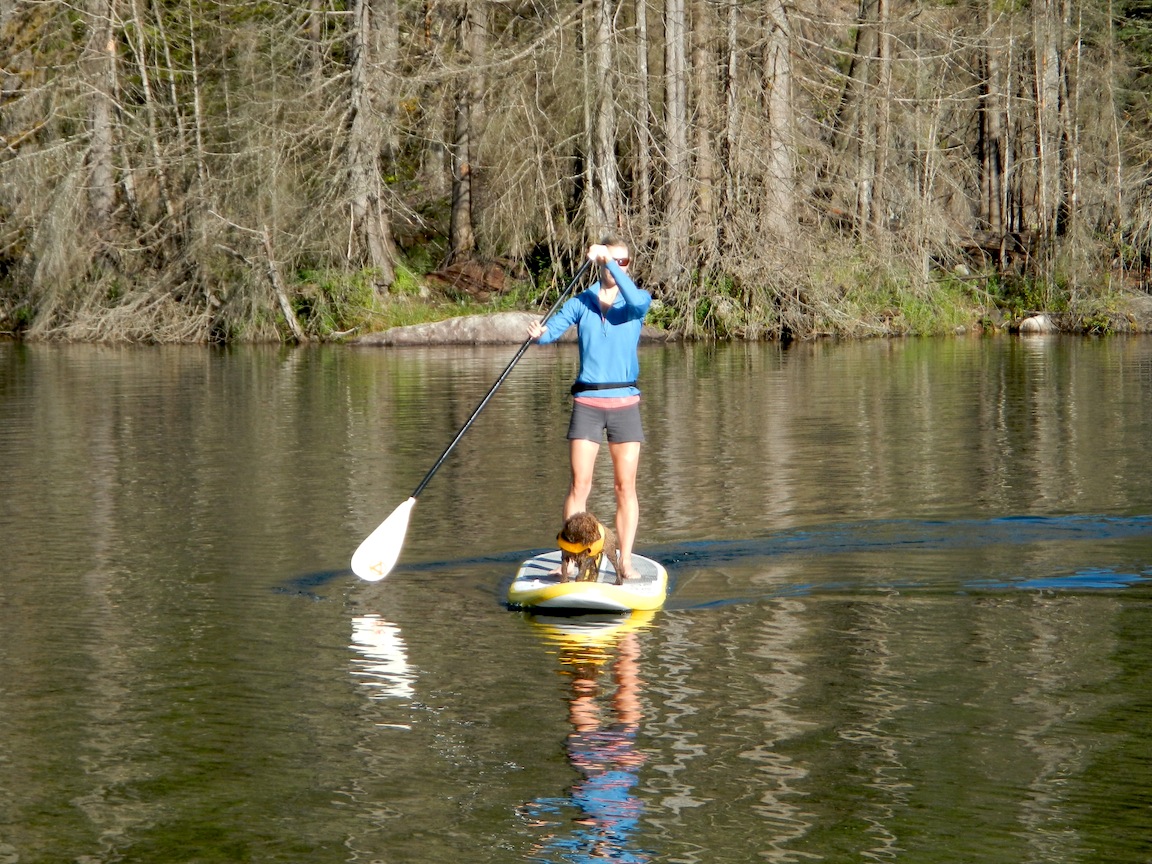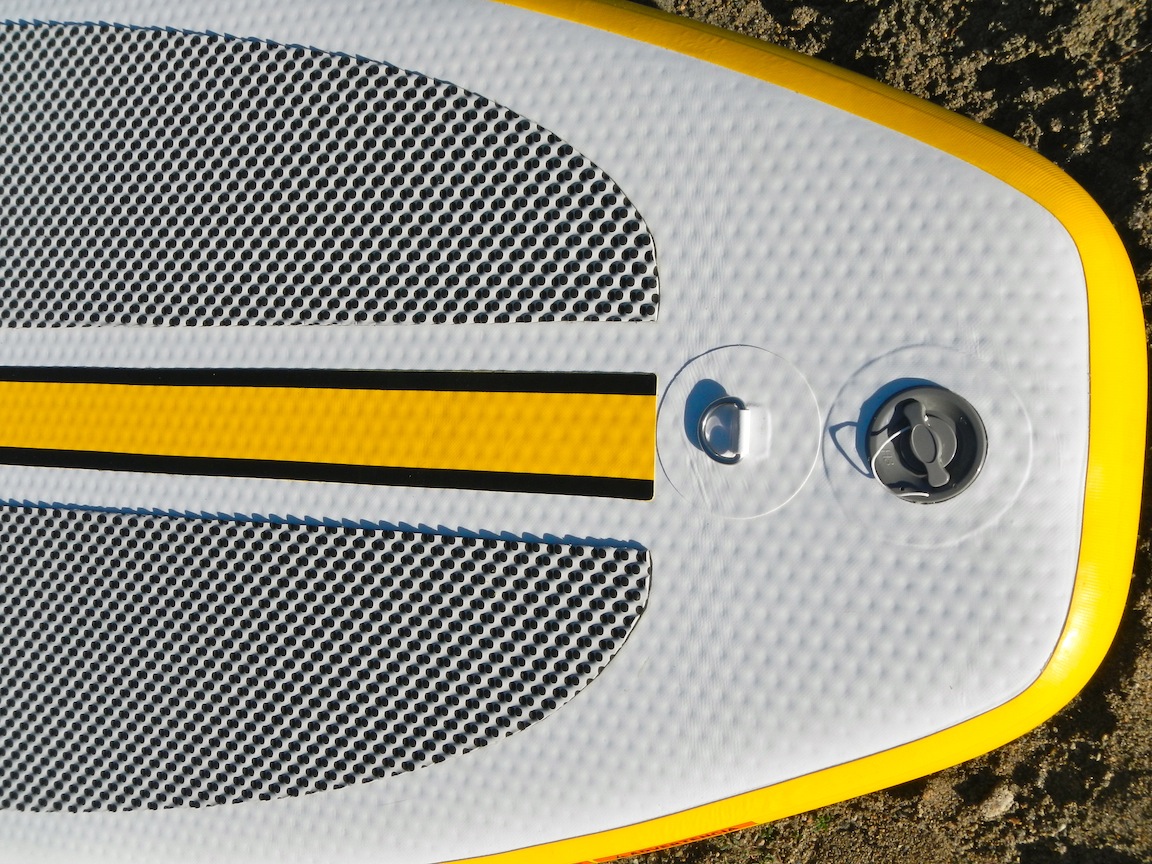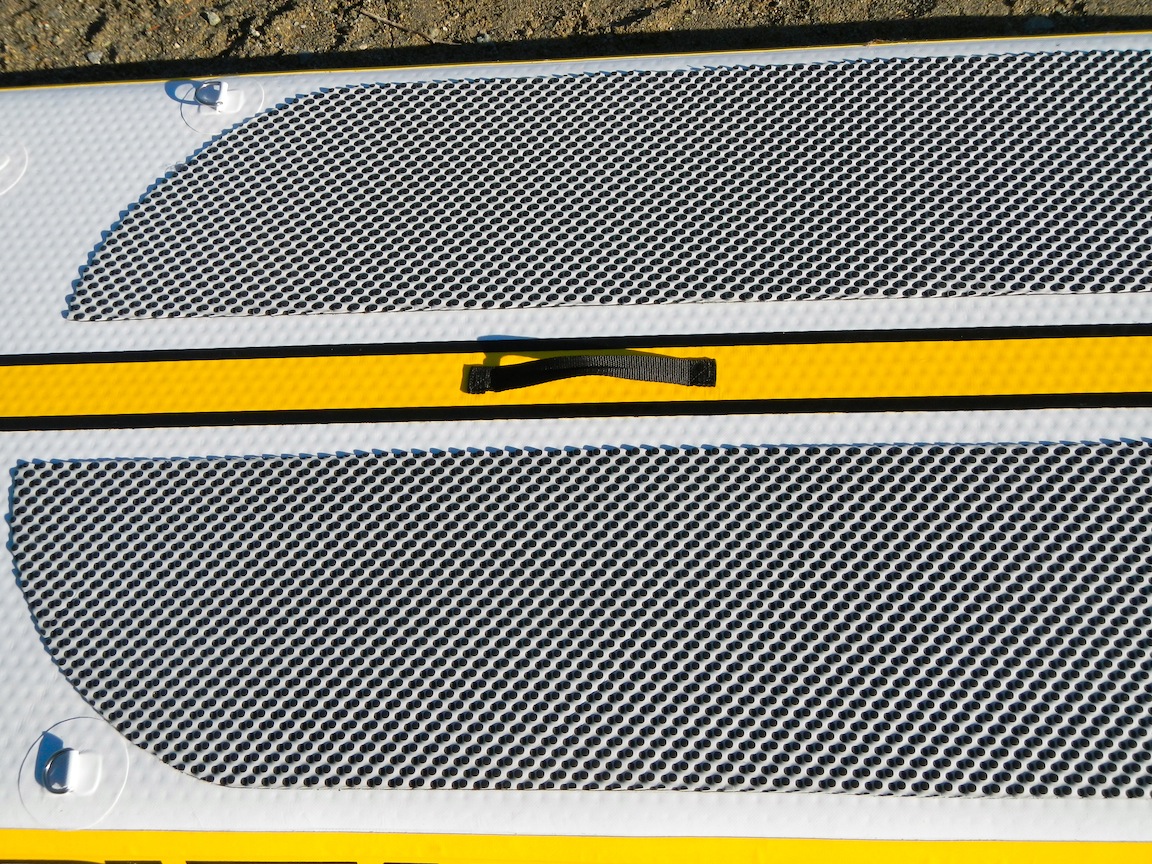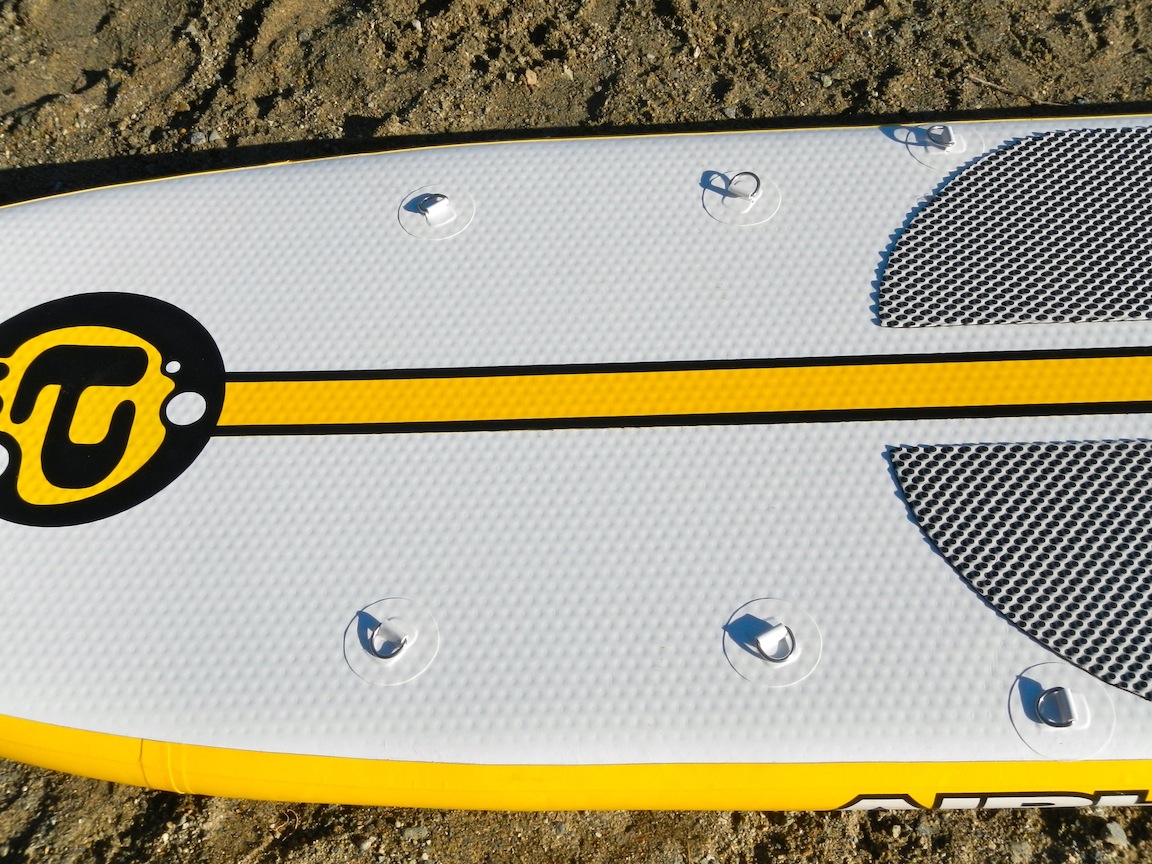 Click here to view more of my pictures of the Airhead SUP Na Pali inflatable SUP on Flickr.
My Video
Final Thoughts
Overall the Airhead Na Pali is a great board for an excellent price. It is solid, fun to paddle and highly portable.
This SUP is well made and with a little care can last a very long time and provide many hours of paddling fun.
Where To Buy
Click Here For The Best Deal On the Airhead SUP Napali Inflatable SUP At Amazon.com.
Click Here For Current Prices On The Airhead SUP Na Pali Inflatable SUP At Airhead.com.
Did You Know?
By clicking on any of the above seller links you can help keep ISUPworld.com growing. When you make a purchase after clicking on our links, the retailer will contribute a portion of the sale to help support this site. It won't cost you anything extra and it's a simple way to help us fund our gear reviews. Thanks!