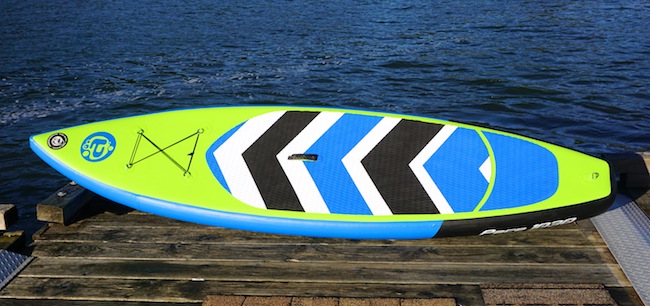 The Pace is Airhead's performance inflatable SUP and it comes in two different size options, 10'6" long or 12'6" long.
I got to review the 10'6" Pace. The first thing that stands out for me with this ISUP is the bright colors. It is a nice looking board and is very visible in the water.
Airhead has designed this board for speed and although it isn't the fastest board I've paddled it has all the right components for a performance board and glides nicely through the water.
I wouldn't classify this as a race board (at least not the 10'6" long one) but instead as a great all-rounder that will keep you moving at a good pace with not a lot of effort.
Specs For The Airhead SUP Pace 1030
10'6" long
30" wide
6" thick
weighs 24 lbs.
can hold up to 240 lbs.
Specs For The Airhead SUP Pace 1230
12'6" long
30" wide
6" thick
weighs 29 lbs.
can hold up to 300 lbs.
ISUP Package Includes: 9" removable fin, mesh backpack, high pressure hand pump with gauge, board strap, repair kit, valve wrench
Material: Durable PVC
Pros: Glides well, removable racing fin, US fin box so you can switch fins if you want to, moves swiftly, bungee tie downs, 6 D-rings, nice traction pad
Cons: A little wobbly when paddling in waves
Where To Buy The Airhead SUP Pace
Click here for the best deal on the Airhead SUP Pace at Amazon.com.
More In Depth Info
I like the look of this board and I was impressed with how nicely it glided on flat water.
The narrow design does make it less stable than some other boards.  However on flat water it is easy to maneuver and paddles well.
I enjoyed it most on lakes and calm rivers.  It could also be used for paddling around ocean bays but it wouldn't be my choice for taking on waves.
The Pace has some good features that not only help it to perform well but also make it very functional.
Airhead SUP Pace Important Features
D-rings
There are six metal D-rings on this board.
There are four up front being used by the bungee tie-down cords.
Then there is one at the back tail of the board that can be used for attaching your SUP leash.
There is also one underneath the tip of the nose that is ideal for towing.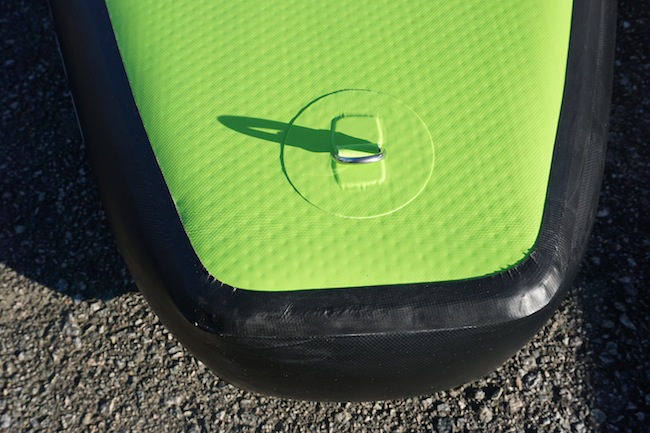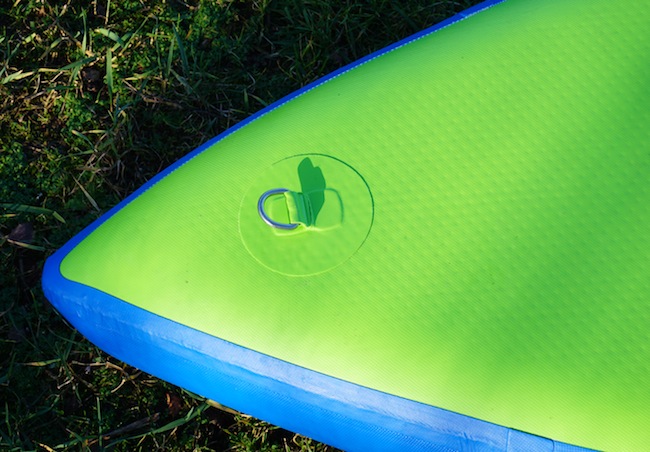 EVA Traction Pad
The traction pad in my opinion has a really sharp design. It stands out and looks great.
The pad is thick enough to feel comfortable when standing or kneeling and offers decent traction while paddling.
Bungee Tie Downs
The bungee tie-downs are not that big as you lose a little space with the pointy nose.
However they are still great to have and ideal for securing a water bottle or some extra gear.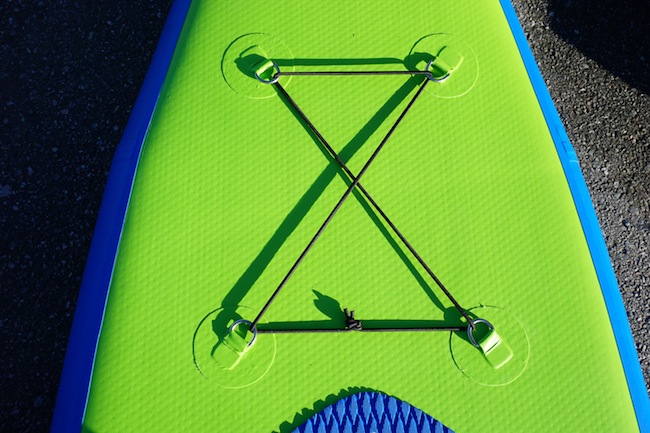 Fin
The removable fin is 9" long and when attached it really helps with the performance.
It makes a big difference in keeping the Pace tracking straight. It also helps with stability and picking up speed.
The fin slides into the fin box then you will need to secure it with the screw that comes with it.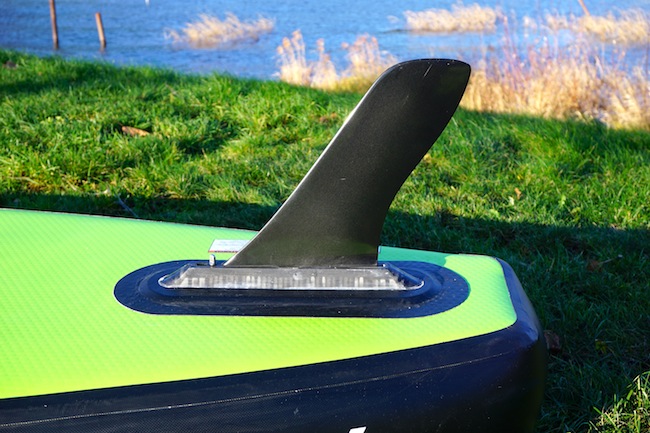 Fin Box
The US fin box is handy because it allows you to switch your fin if you would like to.
The downside is that you have to deal with a couple little extra parts in order to secure the fin into place.
I don't like dealing with extra bolts and screws as it is so easy to lose them.
However this type of a fin box on a stand-up paddle board is seen as a good thing as it allows you more versatility with your fin choices.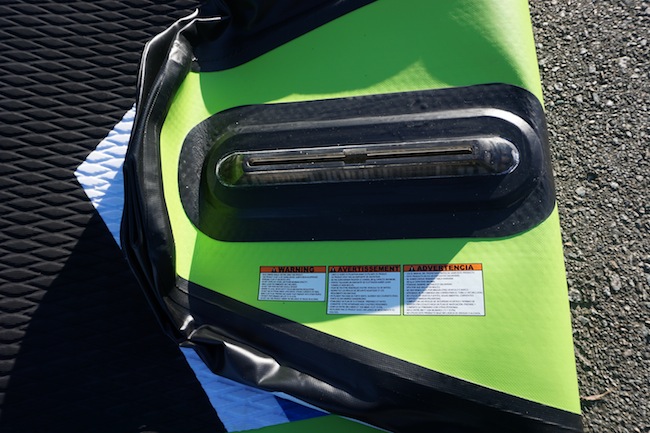 Valve
The valve on the Airhead SUP Pace is a push-push valve. It is a little different than the Halkey-Roberts style valves I see on most ISUP's.
However it works well and does not leak air even if the cap is not inserted.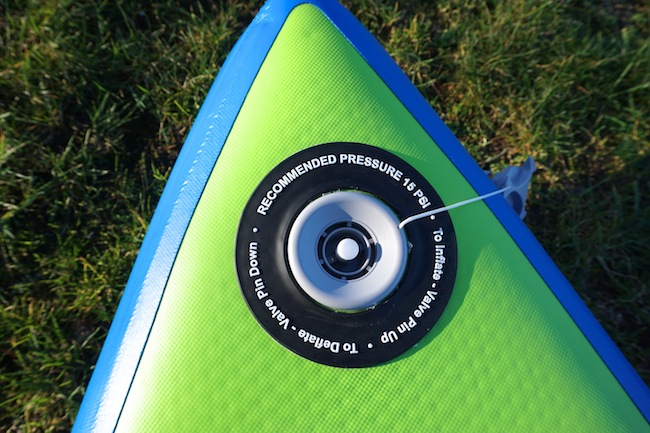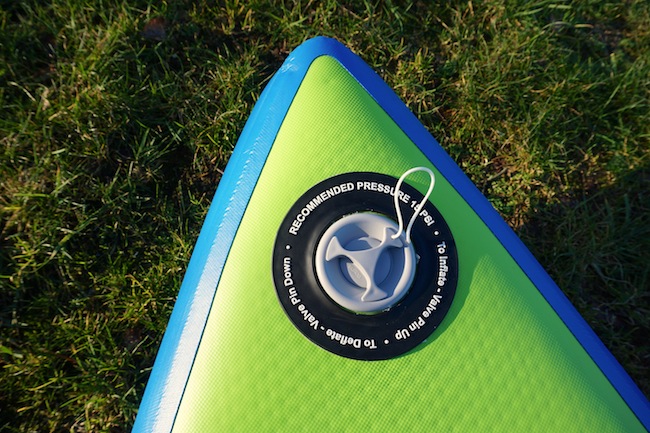 Carry Handle
There is one center carry handle and it is a good one. It has rubber padding around it making it very easy to carry this board.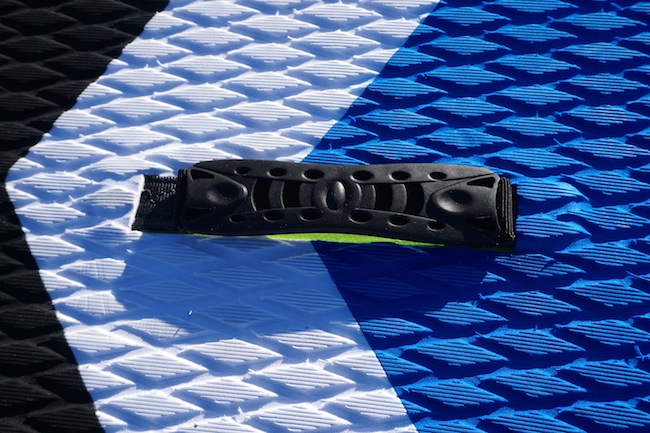 Backpack
The mesh backpack that comes with the Pace isn't super high quality but it is decent.
With all the mesh it wouldn't be my choice for airplane travel but it works well for going to and from the water in a vehicle.
It is basic but has a nice front loading zipper making it very easy to get the board in and out of.
There is an inside pocket for storing the fin and padded adjustable shoulder straps for carrying.
I don't find the bag super comfortable to carry but it does the job. It is functional and the mesh sides allow the board to breathe when stored away.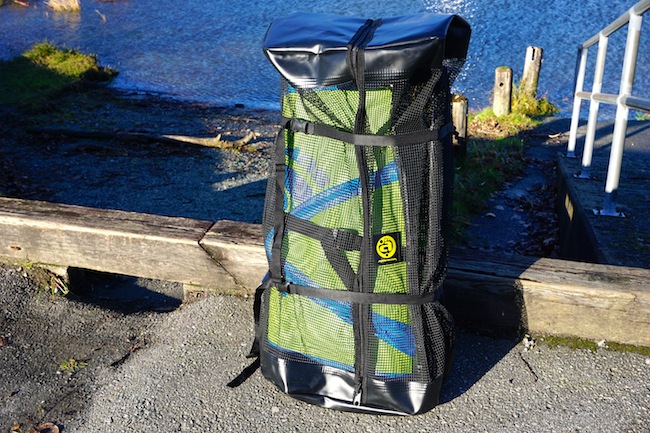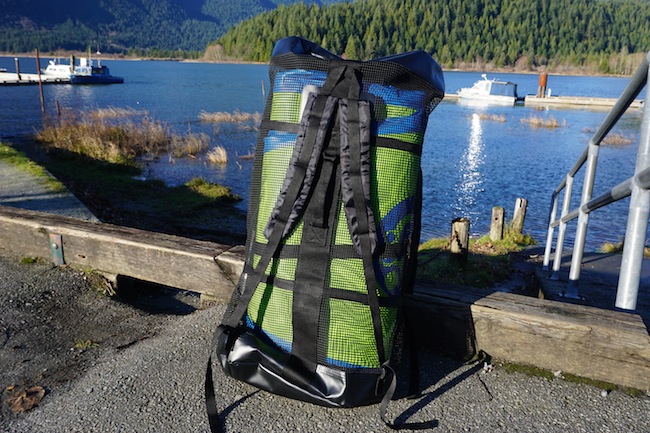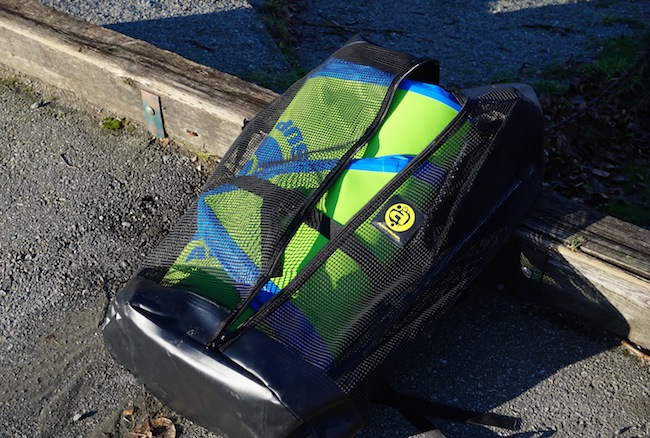 Easy Setup
As with most inflatable SUP's, setup is really easy.
Take the board out of the bag, inflate, then attach the fin.
You can inflate the Pace up to 15 PSI, which makes it very rigid. This board isn't very big so I found it inflated quickly.
The hand pump that comes with the Pace is basic but works well.  It has a pressure gauge so you can check your progress while pumping.
To make the process even easier you can purchase the Airhead Electric pump as an add on.  Attach the electric pump to your car battery and relax while it inflates your board for you (definitely my preferred method of inflating inflatable SUP's).
I found it very easy to carry the Pace to and from the water when fully inflated as it weighs only 24 lbs.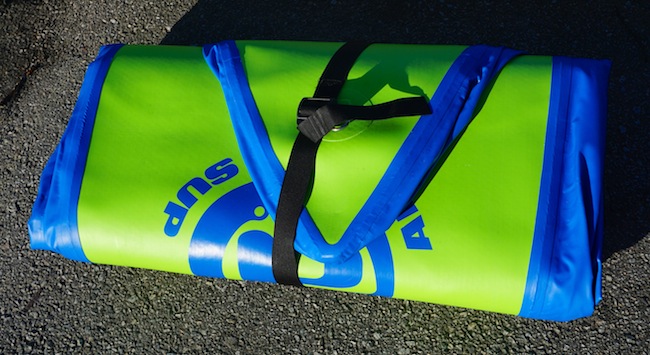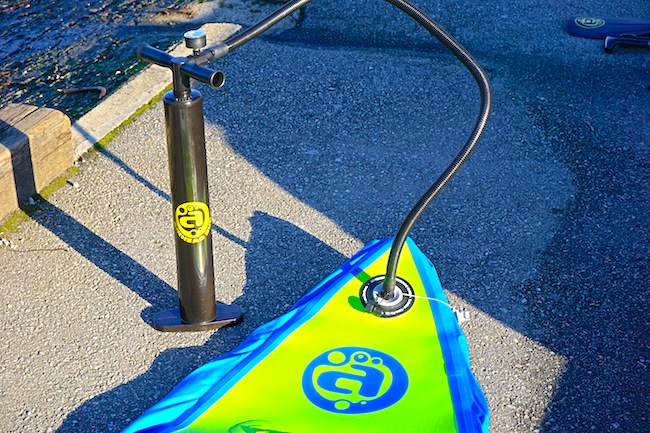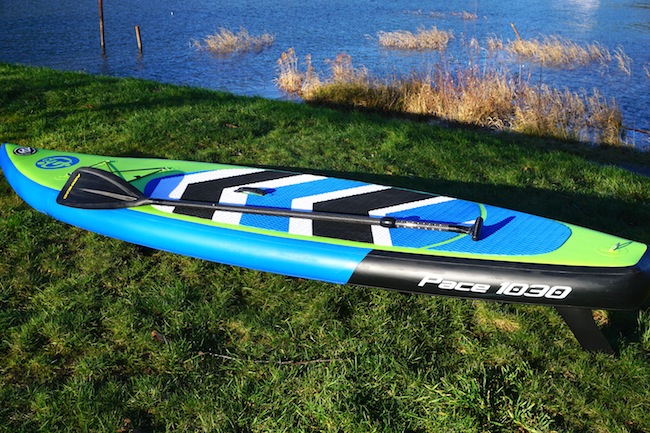 Versatility
This board is best suited for flat water but it is still fairly versatile.
The 6" thickness gives extra rigidity and stability making it useful for people of all different sizes.
The 10'6" Pace can hold up to 240 lbs. and the 12'6" Pace can hold up to 300 lbs.
You could use this ISUP on lakes, calm rivers and even around ocean bays if the water isn't too choppy.
We had no problem paddling this board with our little dog Seth.  He seemed quite comfortable and we had no stability issues even when he walked around (as he sometimes likes to do).
With a larger dog there would be less room with the tapered nose and I would think a larger dog would definitely need to sit still on this SUP.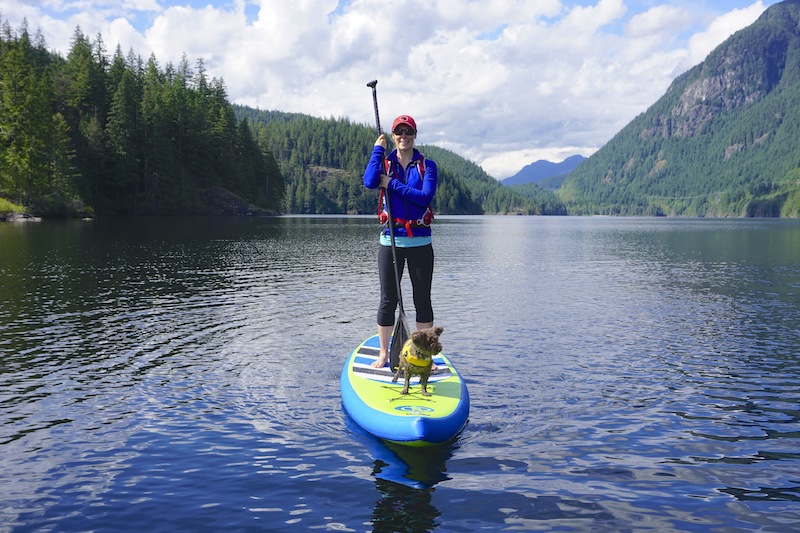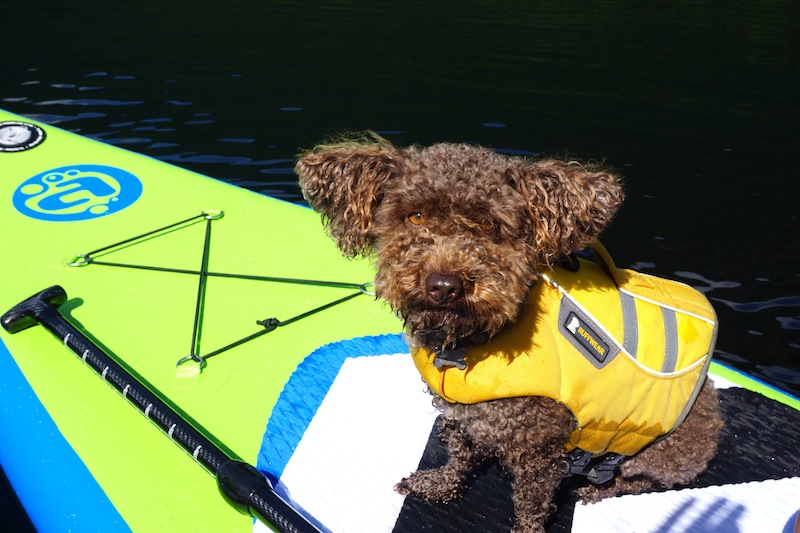 Airhead SUP Pace Performance
I like how the 10'6" Pace handles. It is easy to paddle and takes very little effort to get moving.
It turns quickly and easily and although the 30" width and narrow design does make it a little more wobbly, overall it is a lot of fun to paddle.
For a board that is only 10'6" long, it glides well. You can get a great workout and cover some good distance paddling this board on flat water.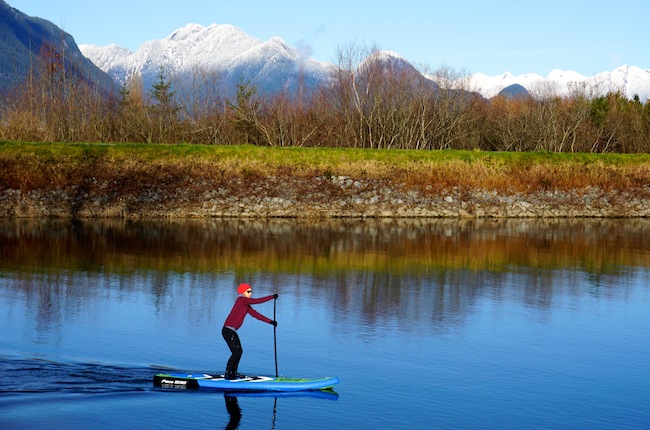 The Negative
This board does require more focus to paddle with the tapered nose and narrow width.  It is designed for speed instead of extra stability.
I find that you get used to the narrow design quickly however and even a beginner would love paddling this board after a few practice sessions.
The bag is basic but functional.  Whether or not you see the bag as a negative will depend on how you want to use the board.
If you simply plan to use it going to the water from your home and transporting it in a vehicle then the bag is just fine.  If you want to travel with it, you will need to invest in a bag that offers more protection.
Overall the Pace is a good board but I do feel like the price is a little steep for what you get.  However the performance ISUP's in general do tend to carry a higher price tag.
More Pictures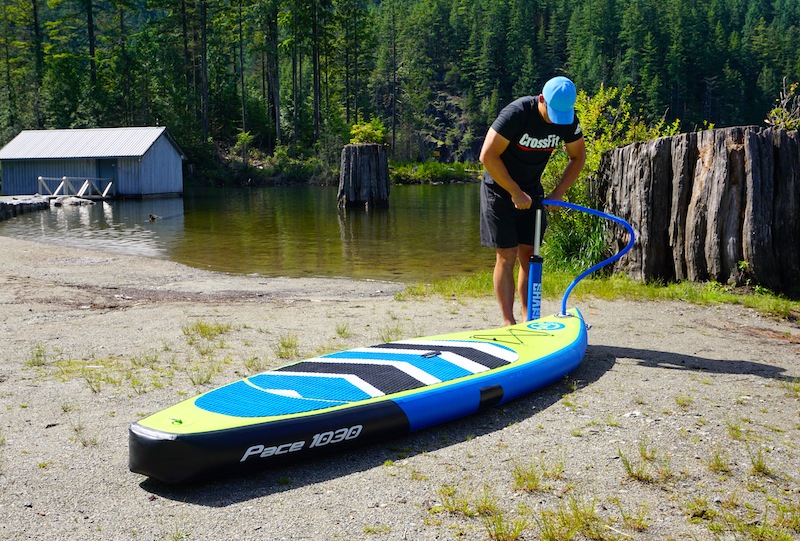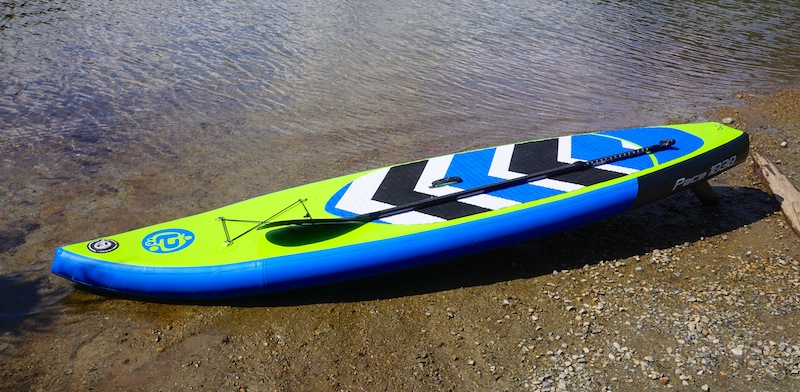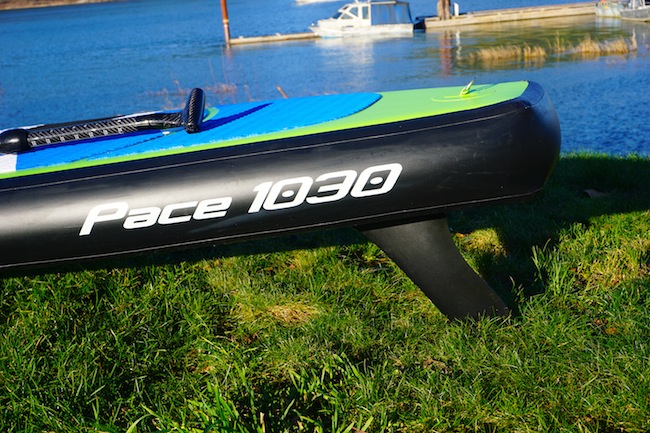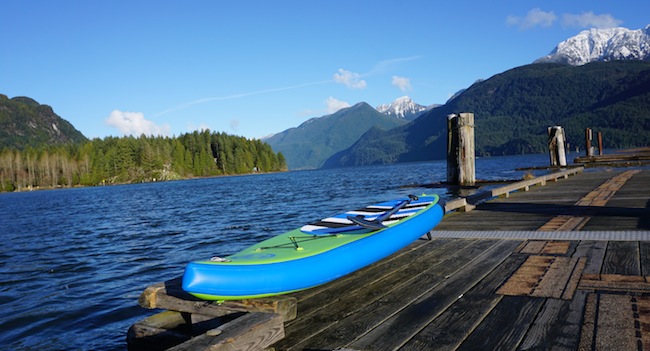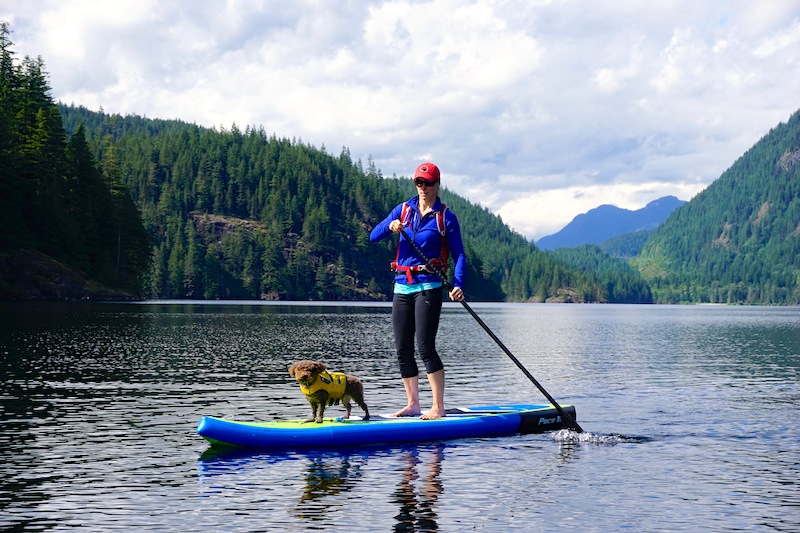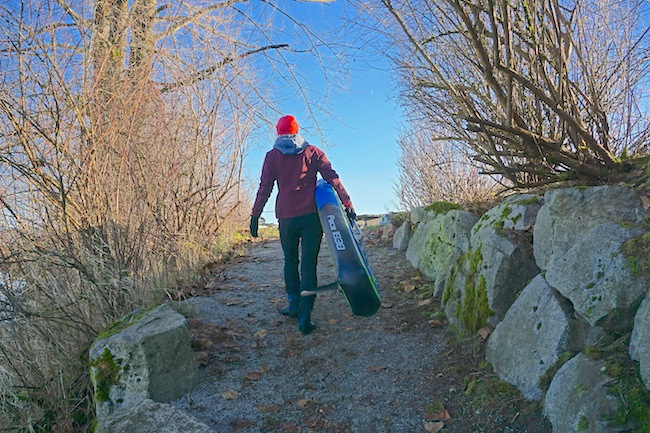 Final Thoughts
The Airhead SUP Pace is bright and colorful and really stands out on the water.
It handles well, moves swiftly, tracks nicely and is super portable.
It has some nice features making it very functional and although a little more wobbly than others, it is still a lot of fun to paddle.
Where To Buy
Click Here For The Best Deal On The Airhead SUP Pace At Amazon.com.
Did You Know?
By clicking on any of the above seller links you can help keep ISUPworld.com growing. When you make a purchase after clicking on our links, the retailer will contribute a portion of the sale to help support this site. It won't cost you anything extra and it's a simple way to help us fund our gear reviews. Thanks!