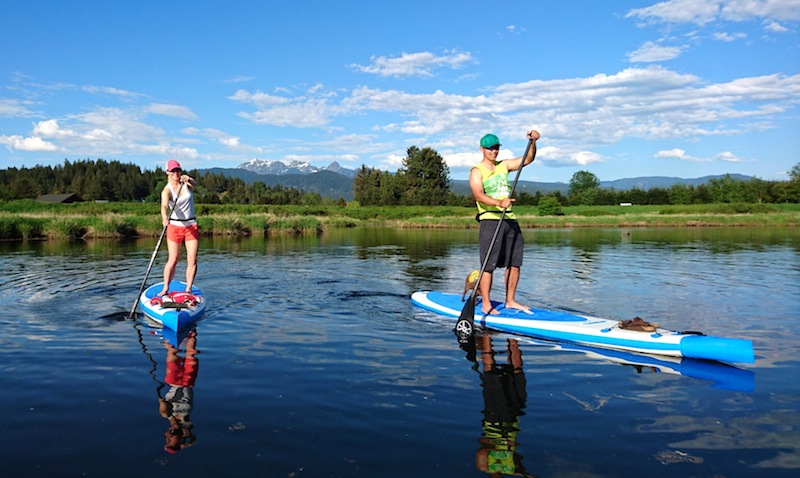 Sea Eagle has three different inflatable SUP's… the Longboard, the Hybrid SUP and the Needlenose. I am already a big fan of their Longboard, it was one of the original inflatable stand-up paddleboards that I tried several years ago.
Therefore I was quite excited to try out the Needlenose. The unique design and the fact that it is able to paddle faster and further with less effort really piqued my interest.
It has been a couple years now since I first reviewed this board and this year Sea Eagle updated and upgraded the look and design features.
I already love this ISUP – It is most definitely my board of choice for flat water paddling.  So I bought the new NN as soon as it came out so I could update my pictures and compare it to it's previous model.
Therefore this seemed like the perfect time to update my review.
After two years of steadily paddling the Needlenose SUP I feel I have a really good grasp for it's performance, features, pros as well as cons.
This board is unique and different from any other ISUP on the market.  If you like the idea of a smooth gliding paddle board that cuts through flat water effortlessly and tracks extremely well then read on…
Quick Stats
It is worth noting that there are three different size options for the Needlenose.  Which size you choose will depend on your size and your needs.
Specs for Needlenose 116:
11 feet, 6 inches long
30 inches wide
6 inches thick
weighs 24 pounds
can hold up to 200 pounds and still perform at its best
inflates to 15 PSI
has one large removable center fin as well as 2 attached smaller side fins
Specs for Needlenose 126:
12 feet, 6 inches long
30 inches wide
6 inches thick
weighs 26 pounds
can hold up to 225 pounds and still perform at it's best
inflates to 15 PSI
has one large removable center fin as well as 2 attached smaller side fins
Specs for Needlenose 14
14 feet long
30 inches wide
6 inches thick
weighs 26.5 pounds
can hold up to 276 pounds and still perform at it's best
inflates to 15 PSI
has one large removable center fin as well as 2 attached smaller side fins
Material: 1100 Decitex reinforced drop stitch. Drop stitch construction that allows for a very high air pressure.
Pros Light, compact, streamline design and sharp bow makes this board glide smoothly and quickly through the water, tracks very well, extra long deck pad, back kick tail for advanced moves, large removable fin, 2 attached side fins, option to sit or stand-up paddle, bungee tie-down cords at bow for securing gear, 3 year warranty.
Cons – This board is designed for and will excel on flat water. The design does not make it versatile for moving rivers or surf. It is best suited for lakes, ocean bays and calm wide rivers.  With the hard pointy nose it does make for a slightly bulkier package – but still very portable.
Where to Buy
When you buy directly from the manufacturer you truly get the best deal as you are able to take advantage of their 3-year warranty, 180-day risk free trial and frequent sales.
Click Here For The Best Deal On The Needlenose Inflatable SUP's From The Official SeaEagle.com Website.
More In-Depth Info
What really makes the Needlenose stand out is the design. As the name implies, the nose of this board is very pointed and totally rigid.
With the sharp nose, it cuts through the water beautifully and I would say definitely can paddle faster and further with less effort than most other recreational ISUP's.
There is no other inflatable SUP on the market (outside of the racing boards) that has a bow this sharp and consequently it really puts the Needlenose in a class of its own when it comes to touring and speed.
The length and width compliment the sharp nose nicely and make this SUP perfect for flat water paddling.
Interestingly I found that the pointy bow makes the board seem shorter than it really is.
You lose a bit of the width and room up front but it is still long enough to support a wide variety of people along with gear and even a dog if you choose.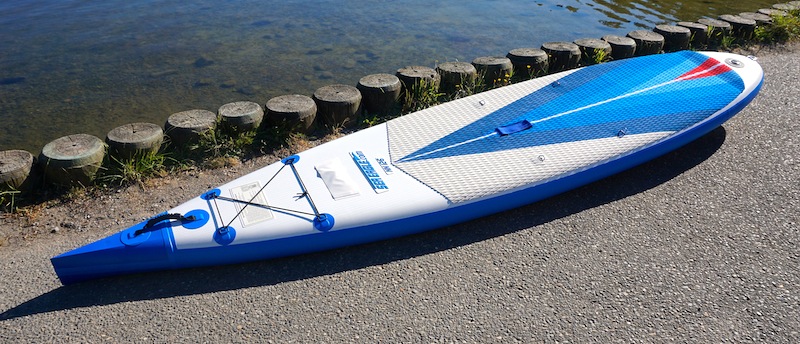 Setup
Setting up the Needlenose is similar to setting up most other inflatable paddle boards.  Take the board out of the bag and unroll.
Take the cap off the valve and push down the valve tip and twist so that it is in the 'up' position.
Then attach the green hand pump that comes with the board and start pumping.  The pump works well and it is fairly easy to inflate up until around 10 PSI.  The last 5 PSI take a bit of work but it's very doable.  Watch the gauge that comes with the pump to make sure you reach the right air pressure.
At 15 PSI this board is completely rigid.  The center fin can be secured either before or after inflation by sliding it into the fin slot and securing the clip.
The whole process takes less then 10 minutes and can even be done in 5 minutes if you are a super pumper!  I usually take a few breaks from hand pumping to catch my breath haha.
If you have an electric pump even better.  It takes roughly the same amount of time, maybe a little faster but it certainly saves your energy for when you are actually on the water.
Below I am unpacking and setting up my new Needlenose for the first time…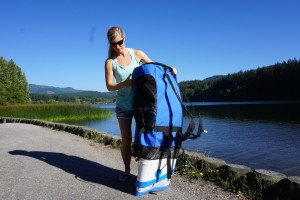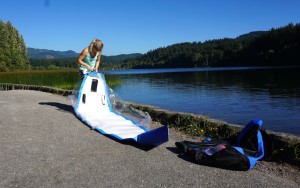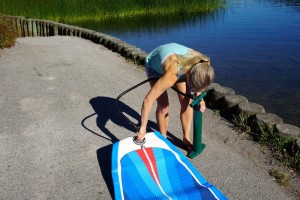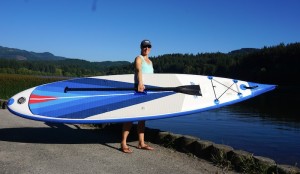 Performance
The first time I took this board out, I went with two friends and three different inflatable SUP's (including the Needlenose).
We all paddled each board and at the end we agreed that the difference between the Needlenose and the other two paddle boards was quite significant.
I now take this board out with me each time I do new reviews or go paddling with friends or family.
I like to get a variety of people trying the different boards as opinions and experience can differ. At the end of the day, the Needlenose is consistently the one that everyone wants to paddle.
I  have noticed that beginners find it less stable than some of the wider 'rounder' shaped board but they still love the way it moves in the water.  I would not put a beginner on this board in choppy ocean water.  However on flat water lakes or rivers most people do great!
On flat water, compared to many other inflatable stand-up paddle boards, the Needlenose is like a breath of fresh air… might sound strange but it really feels good to paddle this board.
It handles really well… tracks nicely, glides smoothly, feels solid and stable, and takes less effort to paddle further.
The difference in ease of paddling and in performance is quite noticeable.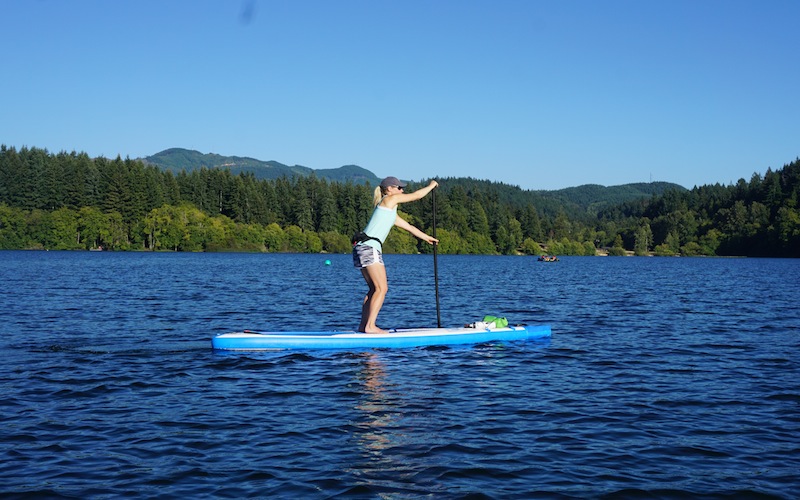 Choppy Water Or Surf
On choppy water and in surf this board is certainly less stable.  It was designed for touring and speed and really excels on flat water such as lakes, calm rivers or ocean bays.
Personally I still love paddling the NN in chop but I have several years of paddling experience.  For those just starting out, I would suggest using this ISUP on calm water until you gain your SUP legs.
It isn't ideal for surf although if you have the desire and the skill it can be done.  The hard tip nose that makes it cut through the water so nicely also makes it harder to turn and jump waves.
The front tip is heavier than one would normally like for a surf board.  The heavier tip also makes pivot turns harder to do.  A shorter board with a rounder nose is more ideal for surf.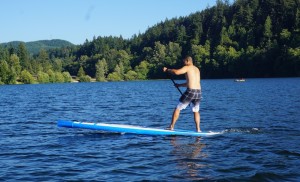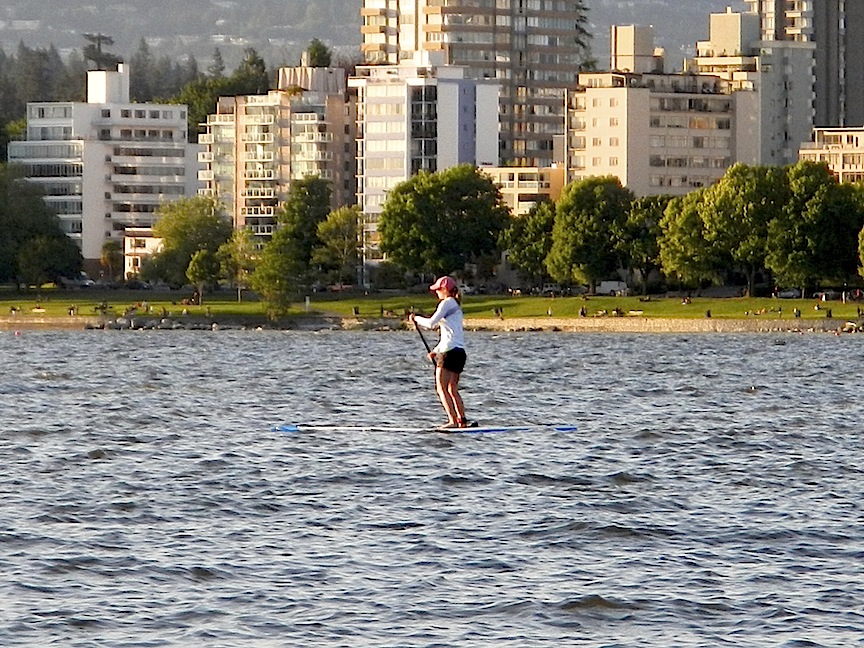 Which Size To Choose?
There are three different size to choose from:
a 6" thick 11' 6" long version called the Needlenose 116
a 6" thick 12' 6" long version called the Needlenose 126
and a 6″ thick 14′ long version called the Needlenose 14
The smaller 116 board weighs 24 pounds and can hold up to 200 pounds and still paddle well. The 12'6″ board weighs just over 26 pounds and can hold up to 225 pounds. The long 14′ board weighs 26.5 pounds and can hold up to 276 pounds.
All three boards can hold a lot of weight. The 6″ thickness provides more rigidity and less flex under pressure.
The nice thing about these boards is that they are all fairly lightweight. Therefore if you choose to go with the larger option you are still getting a SUP that is extremely easy to carry, transport and store.
All three sizes are ideal for touring open water, have great tracking and speed.
Large Fin
There are two smaller attached side fins and one large removable plastic fin.
The large fin is necessary to use for proper tracking. It slides into the fin box and then clips in. It is solid, secure and best of all very easy to take on and off.
I find that the fins on some boards are a real hassle to get on and off, but this one is very easy and it works great.
Use the large fin when paddling in open water. If you take this board on a shallow river then remove the large fin and only use the two smaller side fins.  However be warned that the tracking is infinitely better with the fin attached.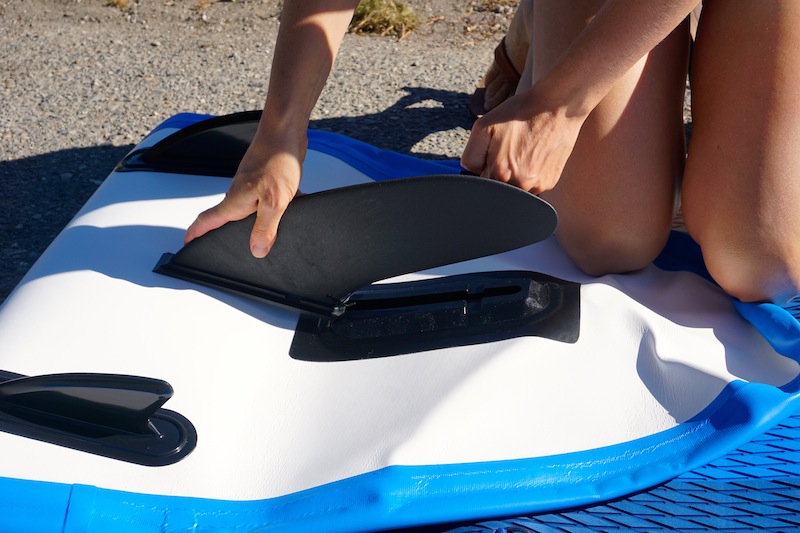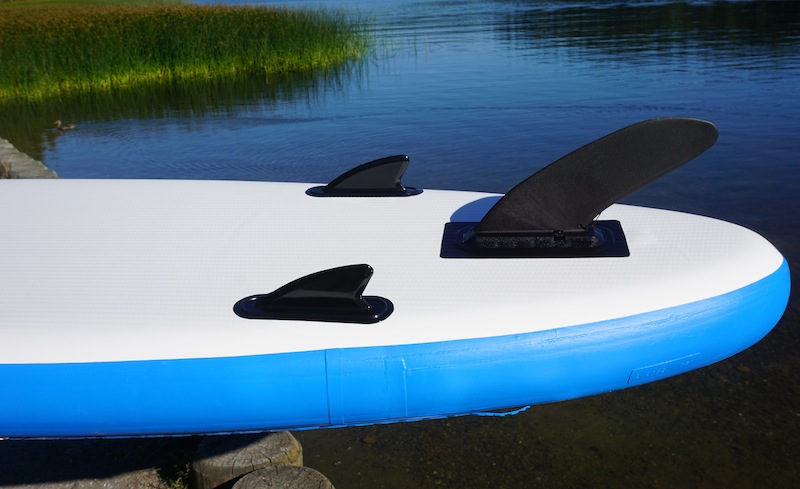 Paddle Holder
The new 2016 models have a paddle holder.  The paddle holder is basically a piece of PVC fabric attached up front on the board.  The blade of your paddle slips into the holder and stays in place when you are swimming in the water or just chilling out on the NN.
It's a nice feature, not critical but nice to have all the same.  I also found the paddle holder was nice to use when carrying the board and paddle together.
Kick Tail
You will notice on the back of the traction pad there is a slightly raised part.  This is the kick tail.
The kick tail on the 2016 NN SUP is slightly different from the older model.  It is quite a bit wider.
We always love to have a kick tail, it is ideal for doing pivot turns and advanced maneuvers.
However compared to many other ISUP's we find it much harder to actually use the kick tail on the NN because the front end of the board is heavier.
So it's nice to have and you will likely have a lot of fun trying to use it but ultimately what this board does best is just paddle straight and fast as opposed to fancy maneuvers.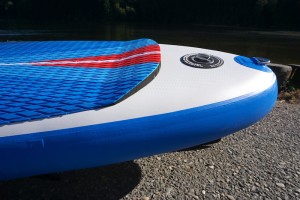 You Get A Lot For Your Money
As usual with the Sea Eagle inflatable SUP's and inflatable kayaks you really get a lot for your money.
Standard with every board are:
two attached small fins
large removable fin
D-rings and shock bungee cords to secure your gear
front as well as center grab handles
extra long skid resistant foot pad
kick tail for more advanced moves
SUP paddle
high pressure pump and pressure gauge
backpack carry bag to transport and store your board
repair kit
3-year warranty and 180 day risk free trial
Optional packages include:
deluxe inflatable seat (with back pocket) that you can attach to your board to paddle kayak style if you choose – this seat is also great for fishing
kayak paddle for sit-down paddling
swivel seat fish rig
3-piece carbon fiber SUP paddle
electric turbo pump
QuickRow kit and footrest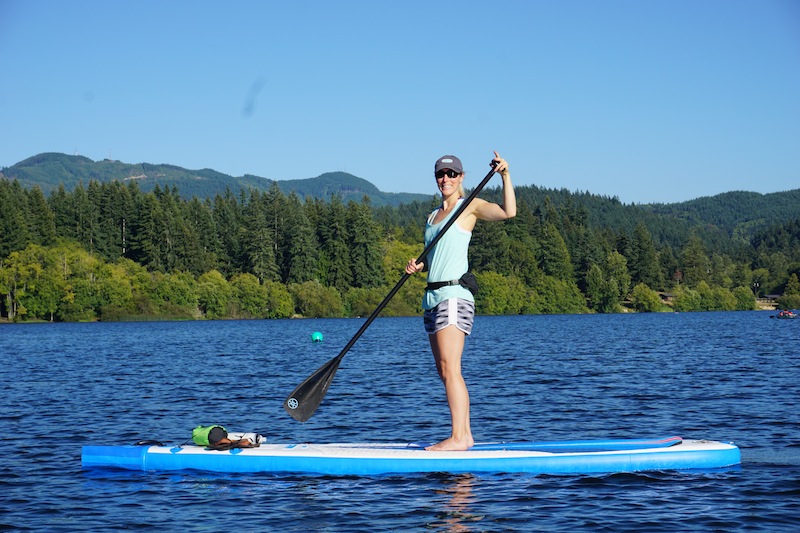 Click here for more pictures of the Sea Eagle Needlenose from the Sea Eagle website.
Stand Up Or Sit Down
A really cool feature is the option to attach a seat so you can paddle sitting down as well.
The seat attaches to the center D-rings and is great for someone who wants the added versatility of being able to paddle their board kayak-style as well as stand-up paddling.
I find the seat is also ideal for those who want to use their board for fishing.
I used to see people in Hawaii with a crate tied to their stand-up paddle board so they could sit while fishing out in the ocean.
The fact that you have the option of adding an inflatable seat to your package is pretty cool if this is something that interests you.
The seat is fairly comfortable.  It is a different feel than paddling a kayak and if you're used to standing on a SUP, it does feel different to sit down and paddle kayak-style.
However I found that I got used to it quickly.  It is easy to stand or sit with the seat attached so you can switch back and forth from standing to sitting and back if you choose.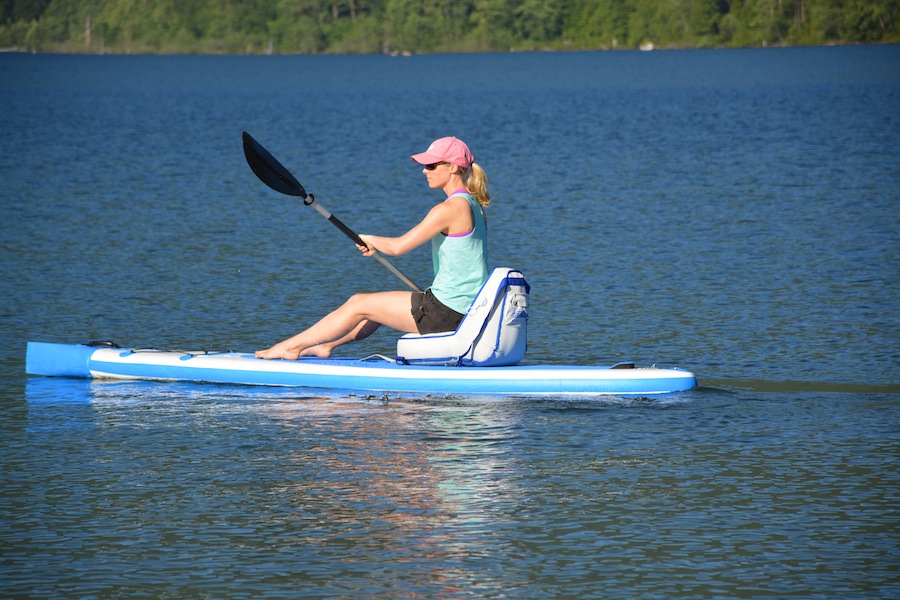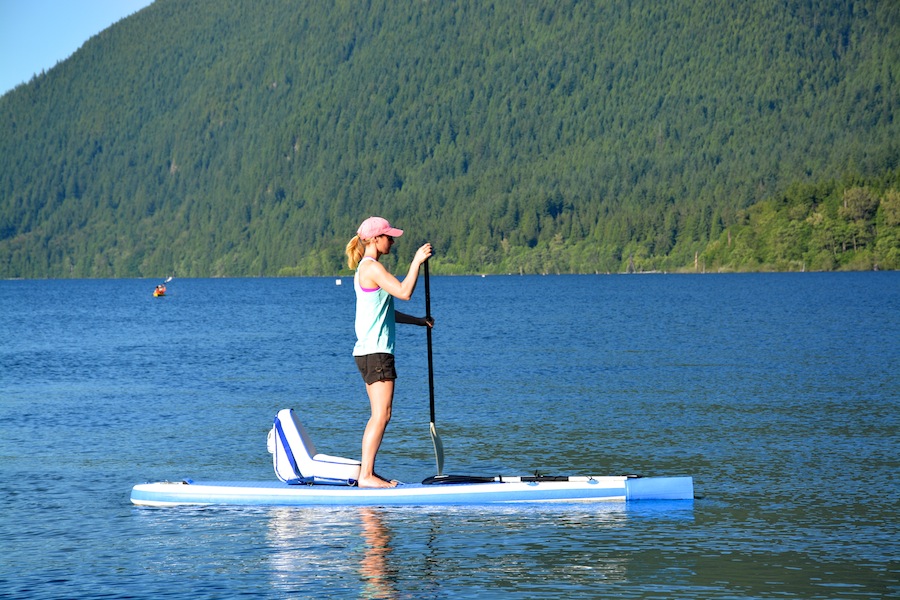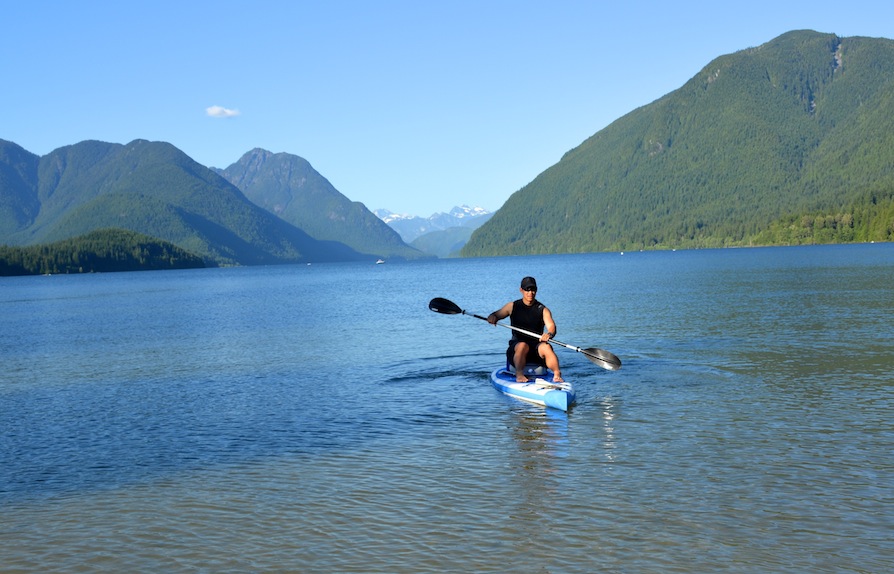 Convenience & Quality
I find the vast majority of inflatable SUP's to be extremely compact and convenient.
The Needlenose is no different and the fact that it is so lightweight makes it very easy to carry when it is inflated as well as when it is deflated and stored in the backpack.
The rigid nose does make the package a little bulkier when rolled up and stored away but it is still easily taken anywhere you want to go.
The quality is excellent. The material is tough and the construction is solid. I've never had any issues at all with any of the Sea Eagle products.
They stand behind their boards and offer a great 3-year warranty as well as a 180-day risk free trial.
Basically if you are unsatisfied with your purchase at any time within 180 days you can return it for a full refund as long as it is in good condition. That is always a nice added security.
Backpack Carry Bag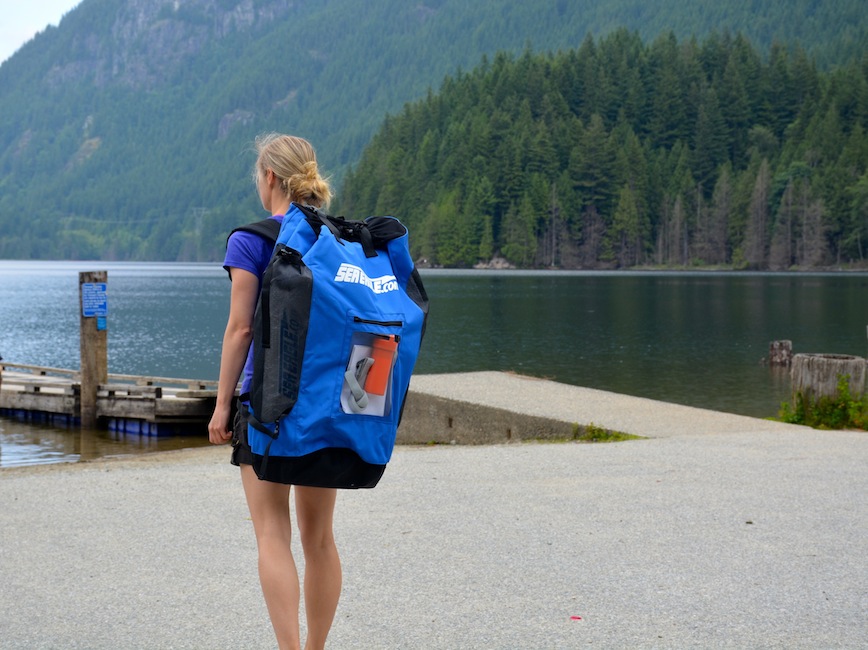 The bag that comes with this board is a nice blue backpack that is easy enough to carry.
I wouldn't say the bag is superb but it certainly does the trick.
It has padded shoulder straps and a front clear pocket which can hold a few accessories such as the repair kit and some straps or possibly your wallet.  It also has mesh sides so the board can breathe when stored in the bag.
The top of the bag has a draw cord to secure the top and there are also a couple of clips to secure the board in the bag.
The bag is standard size for an inflatable SUP and it fits the board plus the fin.
I find with the rigid nose of the Needlenose it can take a little extra effort to get the board back into the bag properly.  However if you fold the board up the right way it will all fit in fine.
I would love to see a side zipper added to this backpack carry bag however to make the process a little easier.
Check out this instruction video from Dan at Sea Eagle.  At around the 3 minute mark it shows how to effectively fold the board back up and put it in the bag.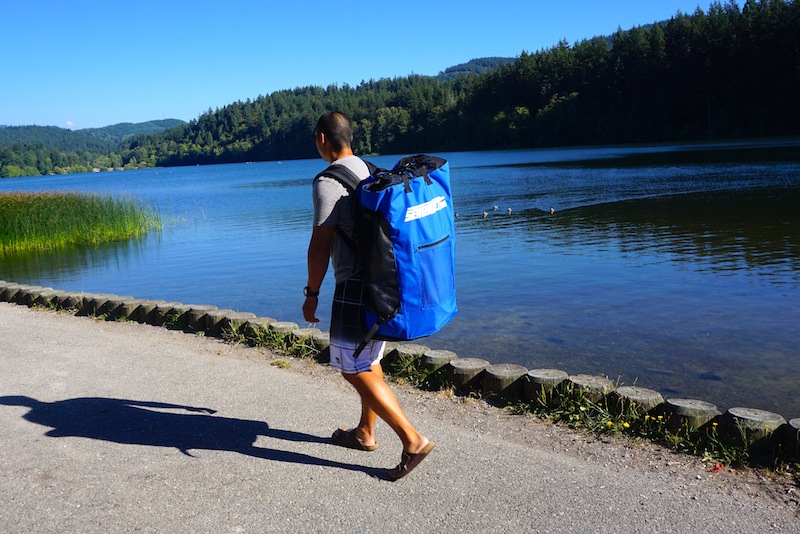 The Down Side
I found very few negatives with this stand-up paddle board. It impressed me a lot and has all the features that I want in a board.
The only thing I would caution is that if you are looking for complete versatility then this may not be the board for you.
It is best suited for flat water such as lakes, calm rivers and ocean bays. If surfing or whitewater is your thing, then you should look for a SUP with more of an upturned bow.
The one real downside that sometimes gets to me is folding it up and packing it away in the backpack.  Watch the above video to eliminate any frustration there.  It will fit in the backpack fine if you do it the right way.
After two years I have finally mastered the folding technique.  Don't ask why it took me so long!
More Pics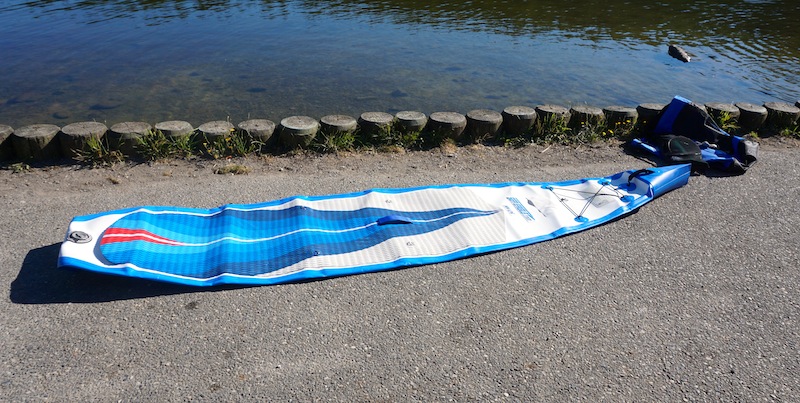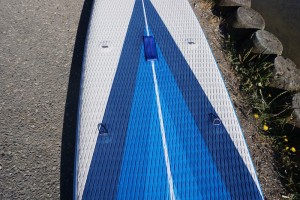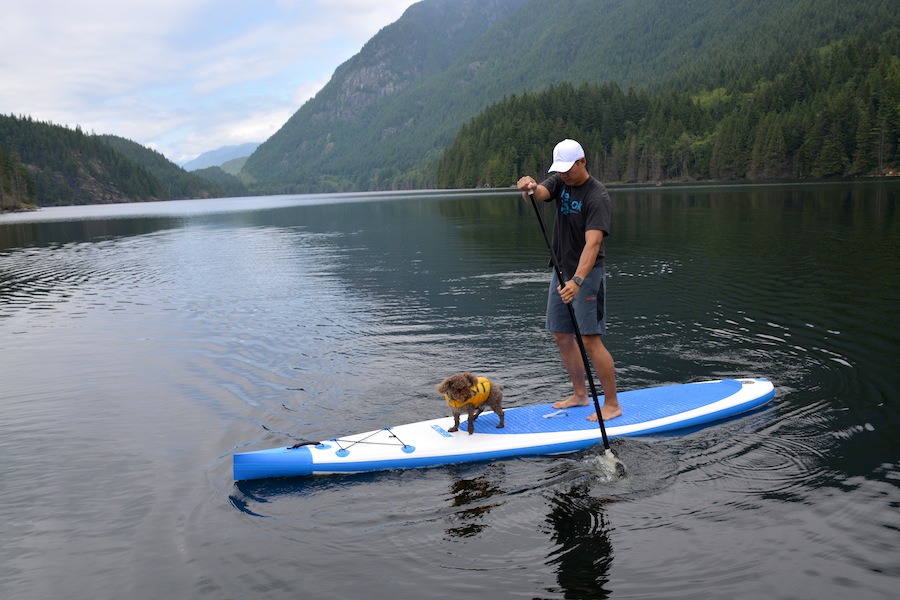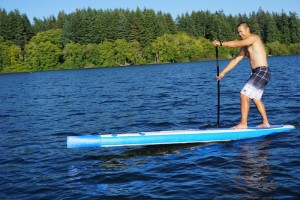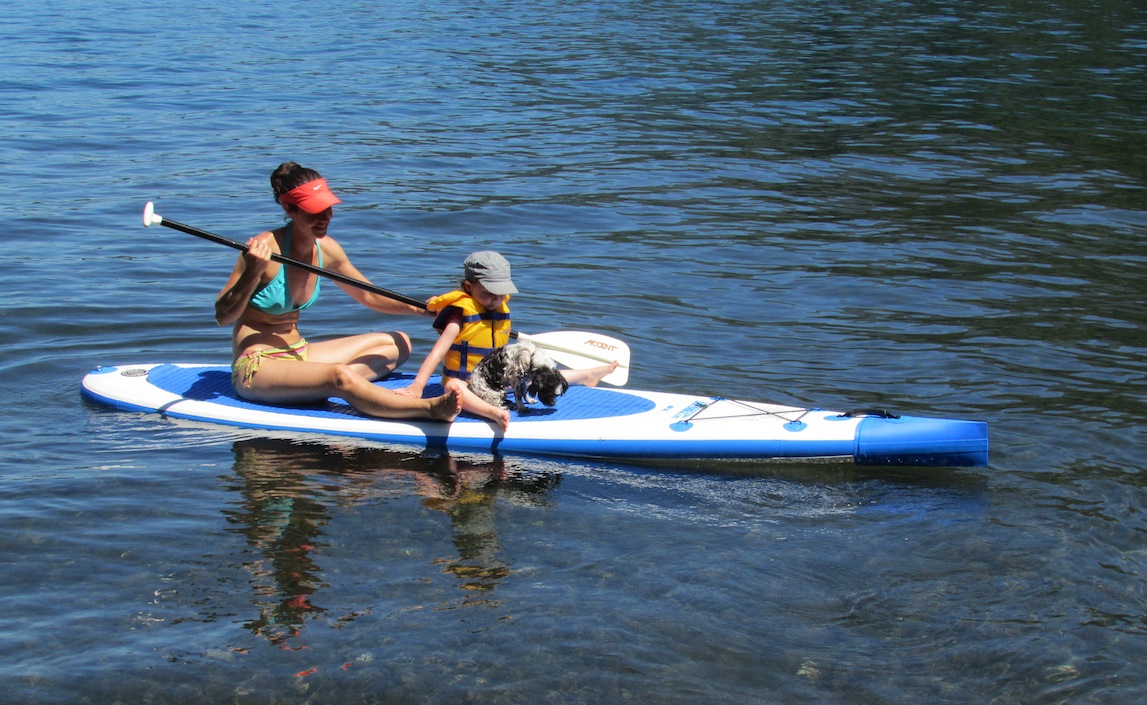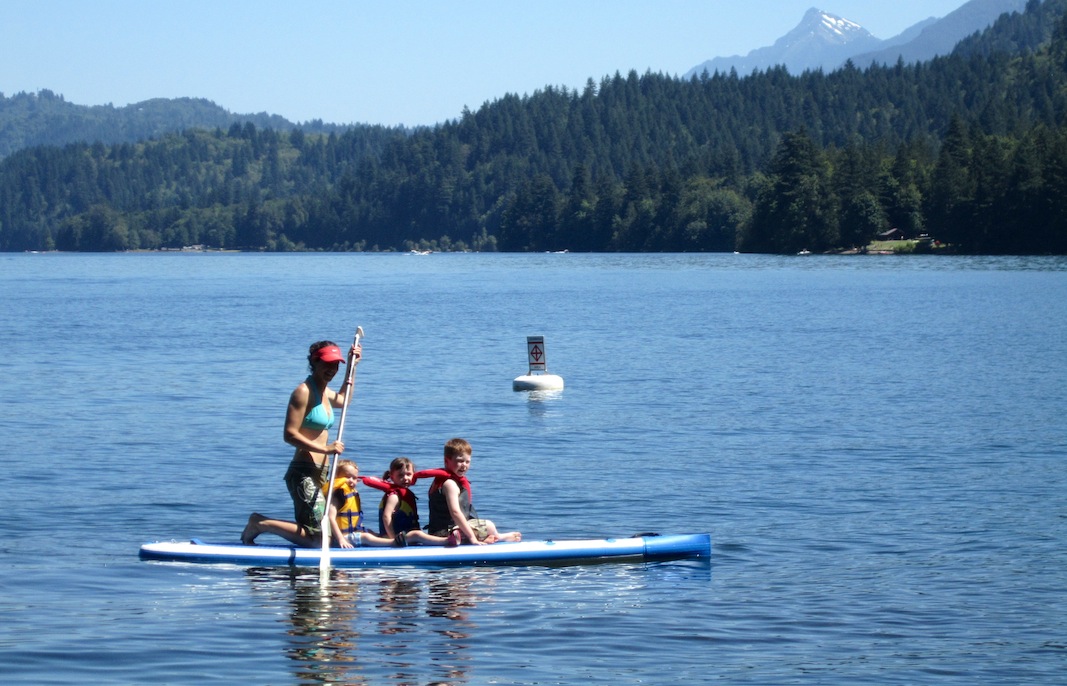 Final Thoughts
After over two years of paddling the Sea Eagle Needlenose it continues to be one of my favorite touring ISUP's that I have tried up to this point.
I now own the Needlenose 116 and my boyfriend owns the Needlenose 126.  Our new upgraded NN126 for 2016 looks sharp in my opinion.  I really like the added color and design features.  These are the boards we love to paddle most on flat water.
The 6″ thickness will appeal to newbies and the sleek design will appeal to more experienced stand-up paddlers. It really has all the bases covered for flat water touring.
The accessories and features are excellent and the price is good considering the quality and the fact that the package includes not only the board but also the backpack, paddle and pump.
I wouldn't hesitate to recommend the Needlenose to anyone who wants a compact inflatable SUP that tracks and glides smoothly on flat water lakes, rivers and ocean bays.
Where To Buy
Sea Eagle often has great sales going on.  The price can differ depending on the size of board you choose and the package option.
When you buy directly from the manufacturer you can take advantage of their 3-year warranty and 180-day risk free trial.
Click Here For Current Pricing On The Needlenose Inflatable SUP's From The Official Sea Eagle Website.
Did You Know?
By clicking on the above seller link you can help keep ISUPworld.com growing. When you make a purchase after clicking on our links, the retailer will contribute a portion of the sale to help support this site. It won't cost you anything extra and it's a simple way to help us fund our gear reviews. Thanks!