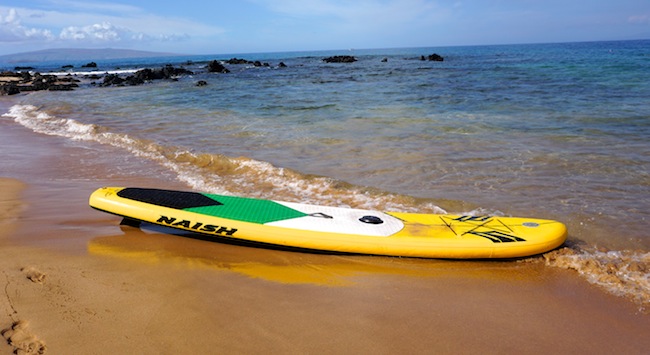 One of the boards I got to test out in Hawaii this year was the Naish Crossover Air inflatable SUP.
This board is designed for both windsurfing and stand-up paddling.
I am not a windsurfer and I didn't get to attach a windsurfing rig to test out the sailing performance.
However I did spend a lot of time paddling and cruising around and in the process got a pretty good feel for it.
The design is very versatile and fun. It is designed for windsurfing in light to moderate wind conditions and cruising around on flat water and small waves.
Specs For The Naish Crossover Air
10'6″ long
32" wide
6" thick
weighs 21.4 lbs.
can hold up to 210 lbs.
Material: Dropstitch outer shell, top and bottom PVC, urethane UV protection
Pros: Glides well, easy to maneuver, low rocker, versatile, light weight, bungee tie-down cords, 6 D-rings, large removable fin
Cons: A little unstable in waves
Where To Buy The Crossover Air
Click here for the best deal on the Naish Crossover Air At Amazon.com.
More In-Depth Info On The Naish Crossover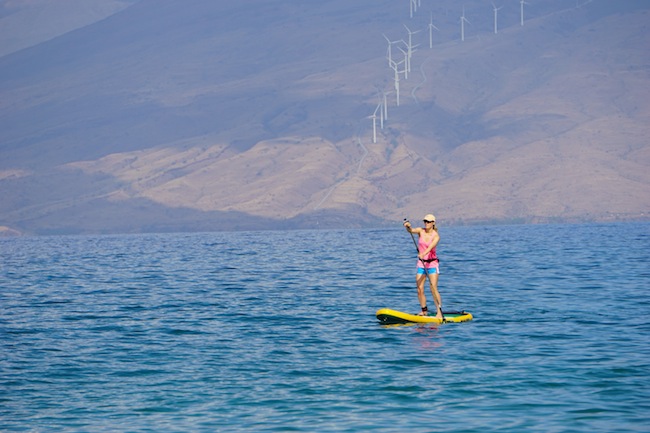 I feel that while reviewing this board I couldn't really give it a fair assessment performance wise since I didn't try windsurfing with it.
However I did really enjoy paddling the Naish Crossover and got a good feel for the design, shape and features that it offers.
It is obviously quite unique and as far as I know is the only inflatable stand-up paddleboard that doubles as a windsurfing board.
The innovative design makes it very versatile and the quality is top of the line just as you would expect from Naish.
The Crossover looks like a regular ISUP except it has an M8 universal insert for attaching the windsurfing rig.
It also has a slide in dagger fin, which is supposed to be ideal for upwind performance even in high winds.
I found with the fin attached it tracked quite well and I had no trouble in wind.
The narrow outline of the board does make it feel less stable so I noticed in waves I definitely had to focus a lot more.
However it does glide nicely and is super easy to maneuver.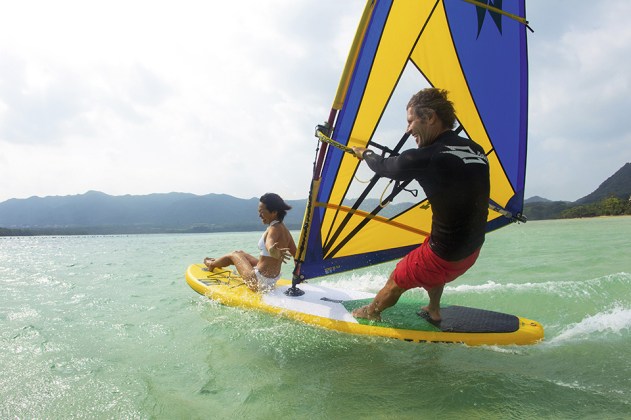 above pic from windsurf.co.uk
Naish Crossover Important Features
Bungee Tie-Downs – The bungee tie-downs are a nice size for securing your gear.
They are up front on the nose of the board out of the way of your feet.  The bungee cord tie downs sit just in front of the windsurfing rig if you have it attached.
I found that I used these bungee cords a lot to secure my water bottle and a few extra things. You could easily secure a dry bag under them if you wanted to keep your gear dry.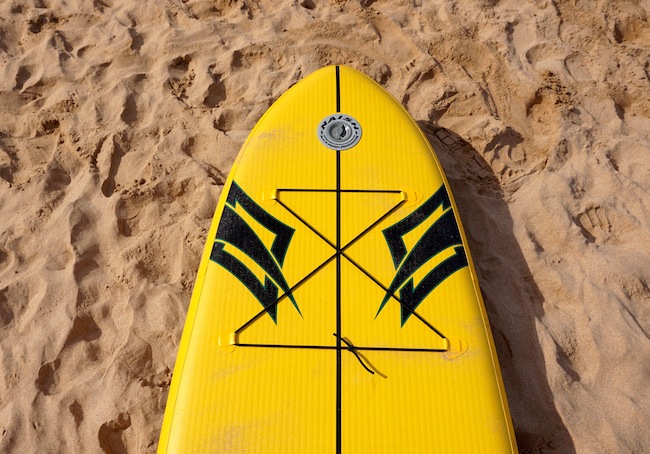 D-rings – There are 4 D-rings made from the same PVC material as the board up front securing the bungee cords.
There is also a metal D-ring at the tip of the tail, which is ideal for securing your SUP leash.
Then there is one more metal D-ring underneath the nose of the board that can be used for towing.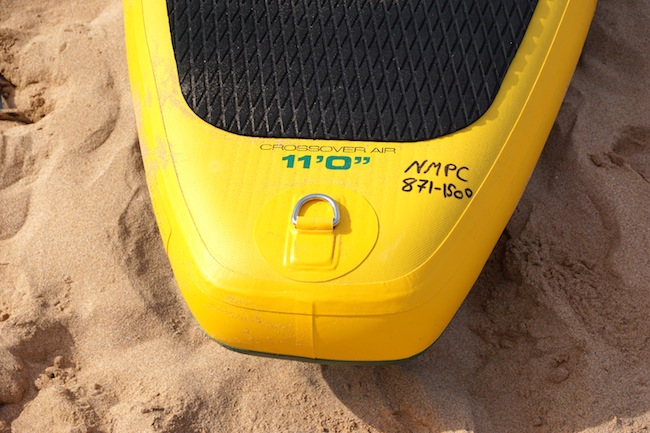 Carry Handle – The carry handle is made of strong nylon.
It lies flat on the board so doesn't get in the way of your feet.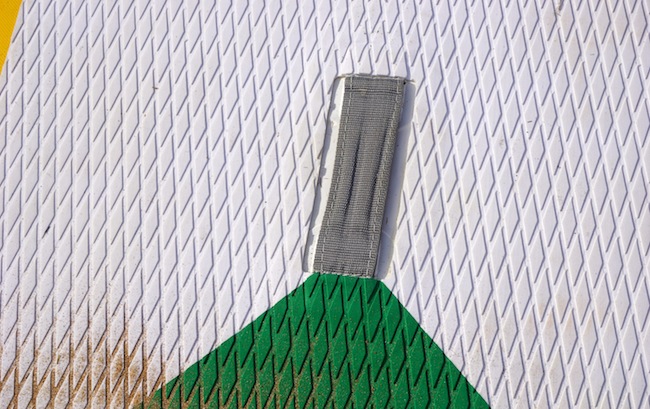 Valve – I have never had any issues with the Naish valves.
The Crossover has the typical Halkey Roberts style valve that is easy to use and ideal for a high pressure ISUP.
EVA Deck Pad – The deck pad is not that long. It goes right to the tail of the board but it stops just after the M8 universal insert for the sailing rig.
This is not a SUP where you would walk and maneuver further up the nose of the board so the deck pad fits just right for its intended purpose.
It is thick enough to feel very comfortable when standing or kneeling and we found it provided good traction when paddling.
M8 Universal Insert – This insert is a specialty feature that transforms this stand-up paddle board into a windsurfing board.
Although I didn't get a chance to try it out, it appears from what I have read and seen that it works really well.
The sailing rig is apparently easy to attach and detach and when not in use it really doesn't get in the way of your stand-up paddling performance.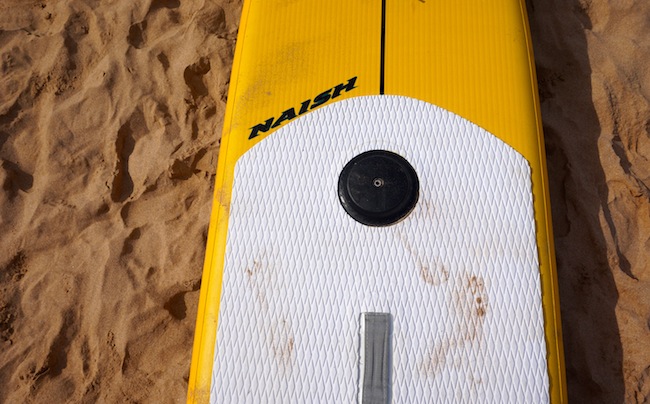 Fin – There is only one fin on this board but it is a nice one. It is quite long and really helps with directional stability and tracking.
The fin is really easy to attach, which I love. You just slide it into the fin box and secure the clip. It only takes a couple seconds to secure it and there are no extra parts to lose.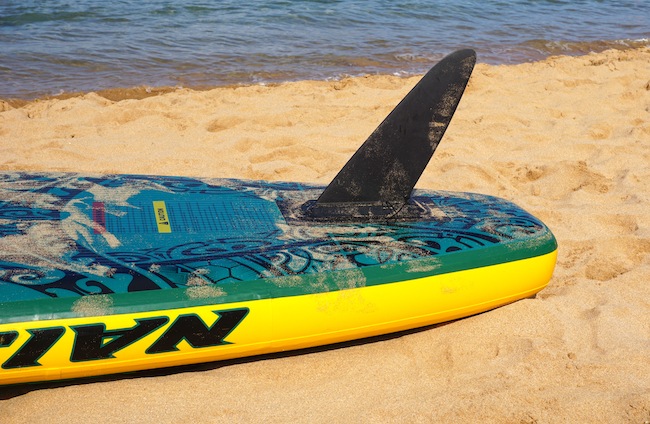 New Updated Naish Backpack
I had the older backpack with the Crossover Air when I reviewed this board.  The pic below is of the older pack.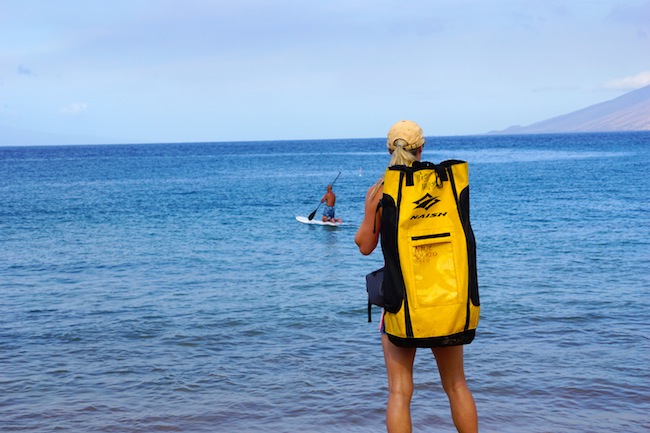 However Naish has recently updated their backpack and made some really great improvements.
The newer one that now comes standard with this board has a zip top, an extra zippered pocket under the hood of the bag, and paddle holder pockets at the bottom of the bag on the outer material.
The new bag is quite a bit larger making it very easy to put the rolled up SUP into the bag as well as take it out.
The padded shoulder straps are adjustable and fairly comfortable. There is also a chest clip for added support.
I really like the new backpack. It is durable and functional.  Below are a couple pics of the newer backpack that I had with another Naish board.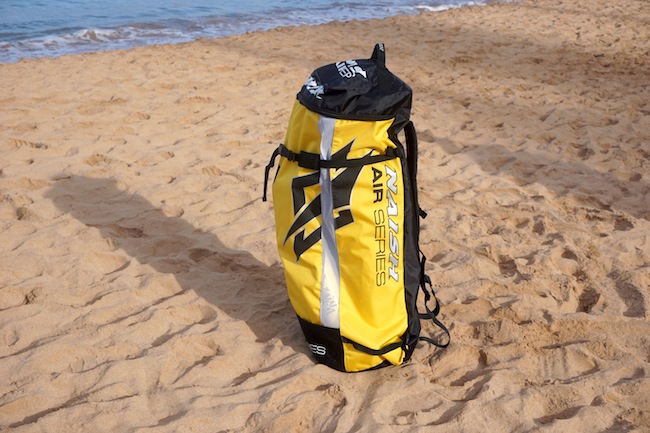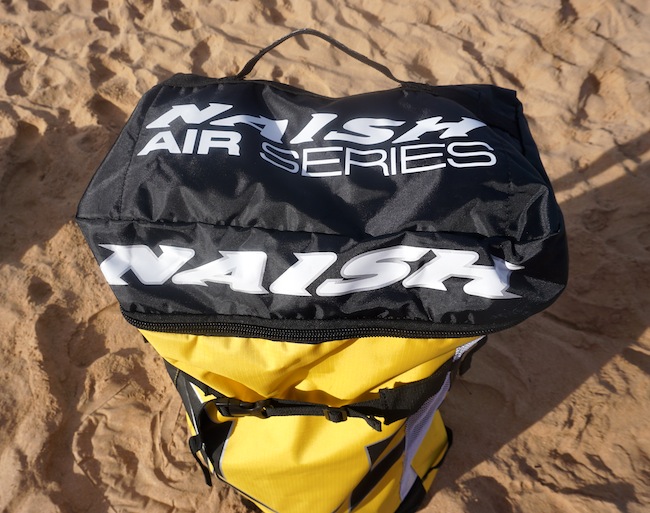 When I tried the new pack with the other Naish boards I reviewed I did find it quite large when carrying it on my back.
However it was no problem to do a little trek with it, I just wouldn't want to go on a major hike.
It is ideal for all types of traveling making this board very portable.
Crossover Air Setup
Setup is extremely easy. Take it out of the bag, unroll, attach the hand pump to the valve and inflate, then secure the fin.
It only took about 6-8 minutes to inflate the Crossover Air with the included hand pump.
My boyfriend and I took turns pumping.  Normally I would use an electric pump as I find it so much easier but while on vacation we only had the hand pump.
The Naish pump is quite good so it was still very doable and a little easier if you have someone you can pass off to when you get tired.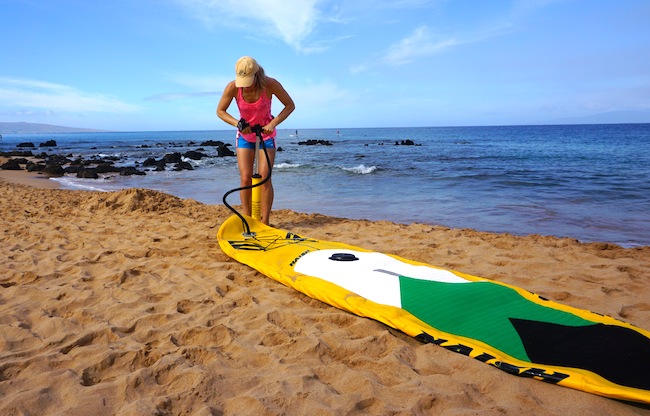 The whole process is really fast and can be done anywhere.
We carried the boards from our hotel to the water each day in their backpacks then inflated them on the beach. It was awesome.
After use if possible rinse the board with fresh water, towel dry then deflate and roll it back up into the bag.
Crossover Air Performance
I found that the Crossover glided smoothly, turned easily and was a lot of fun for quick maneuvers and cruising along ocean bays.
The narrow design does make it less stable but it can really move if you put in the effort.
I imagine in wind with the sailing rig attached it would be a lot of fun and really move swiftly.
It wouldn't be my personal choice for ocean touring however on flat water, it is quite fun to paddle.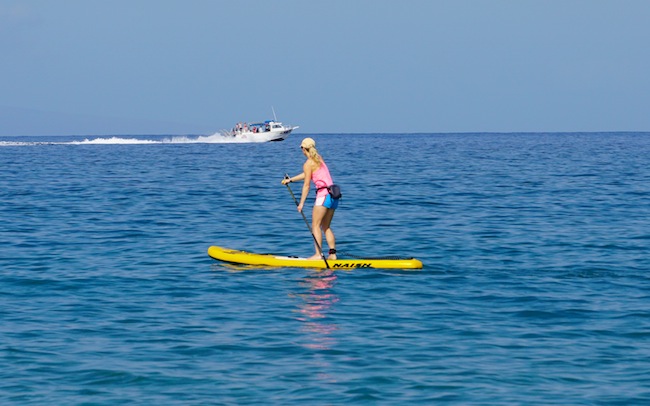 The Negatives
The only con for me was the lack of stability.
However for someone who is really into windsurfing or even someone who just wants to get into it, I imagine the narrow design would be a real plus.
Also it is worth noting that it wasn't extremely unstable, just more so than I was used to for ocean paddling.
It is 6" thick and very rigid so can hold quite a bit of weight with no flex.
More Pictures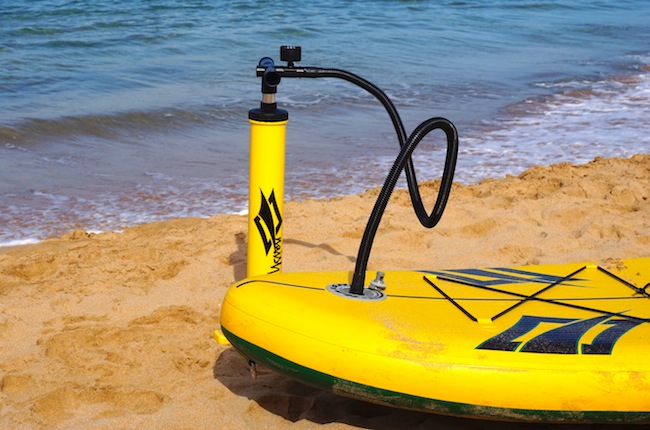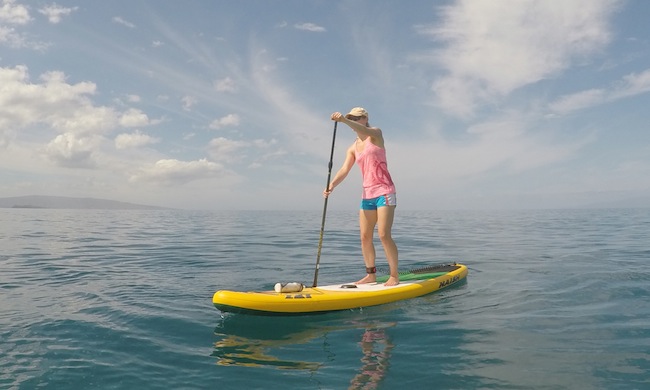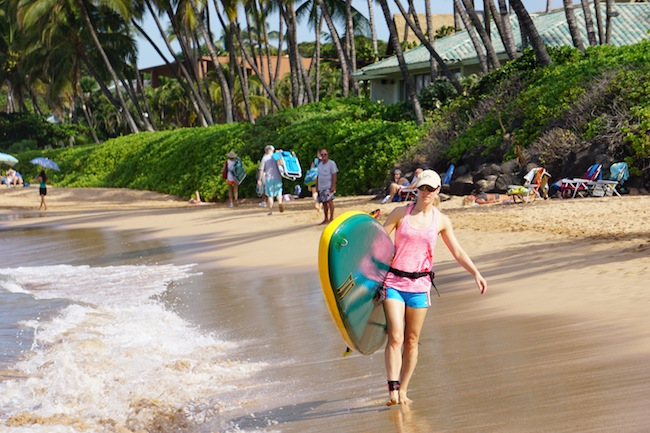 Final Thoughts
I love the design, I love the versatility and I love the quality.
For a stand-up paddler that also loves to windsurf, the Crossover Air is ideal.
It provides you with an ultra portable board that can be used anywhere in the world you want to go.
I was told by Naish that this board should be ideally inflated to 14 PSI for the best performance.
At 14 PSI I found it super rigid and great to paddle. With the updated backpack, this inflatable SUP is a very cool and very unique product!
Besides this 11′ model that I got to try, the Naish Crossover Air is also available in a similar 12′ model as well as a slightly wider yet shorter 9'10" model.
Where To Buy
Click Here For The Best Deal On The Naish Crossover Air At Amazon.com.
Did You Know?
By clicking on the above seller link you can help keep ISUPworld.com growing. When you make a purchase after clicking on our links, the retailer will contribute a portion of the sale to help support this site. It won't cost you anything extra and it's a simple way to help us fund our gear reviews. Thanks!