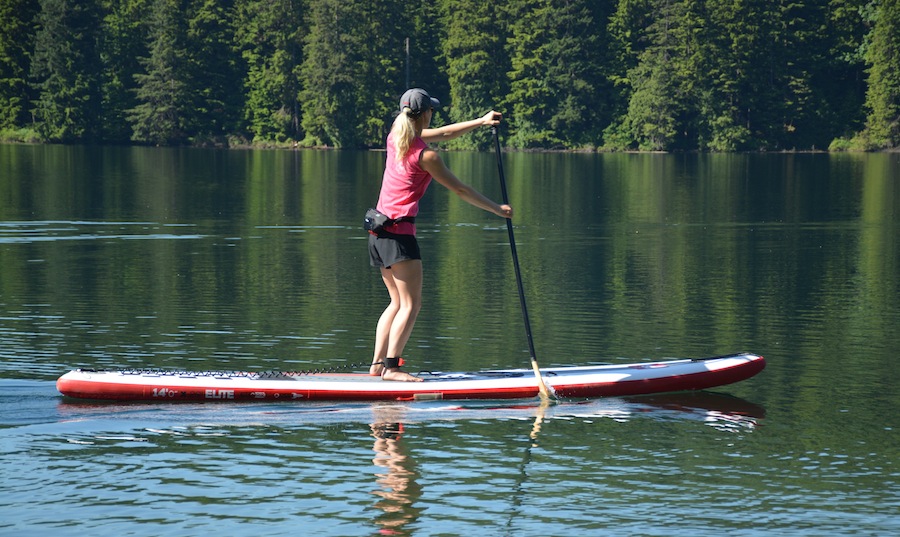 The Elite Race is an ISUP of a different class. This board can compete against hard-board designs in speed and performance.
It is lean and strong and extremely fun to paddle. If you are new to stand-up paddling it might take a little time to get used to the sleek design of this board.
However if you have some experience you will likely appreciate the performance it offers right off the bat.
You can paddle further with less effort and cover a lot of ground picking up some great speed.
Best of all it is an inflatable so it rolls up into a small package, stores inside the included rolling backpack carry bag and can be taken anywhere you want to go in the world.
Red Paddle Co Race Quick Stats
14' long
26" wide
5.9" thick
can hold up to 265 lbs.
weighs 33 lbs.
US fin box with removable fin
Material: 150mm drop-stitch material
Pros: Super fast, very rigid, Rocker Stiffening System, US box fin, removable racing fin, front bungee cord system, quick setup time, 3 convenient carry handles, extremely fun, comes with an awesome rolling backpack and the Titan pump
Cons: A little heavy
Where To Buy The Elite Race ISUP
Click here for the Red Paddle Co 14′ Elite Race at Outdoorplay.com.
Click here for the Red Paddle Co 14′ Elite Race at Amazon.com.
Click here for the Red Paddle Co 14′ Elite Race at GreenWaterSports.com.
More In-Depth Info On The Elite Race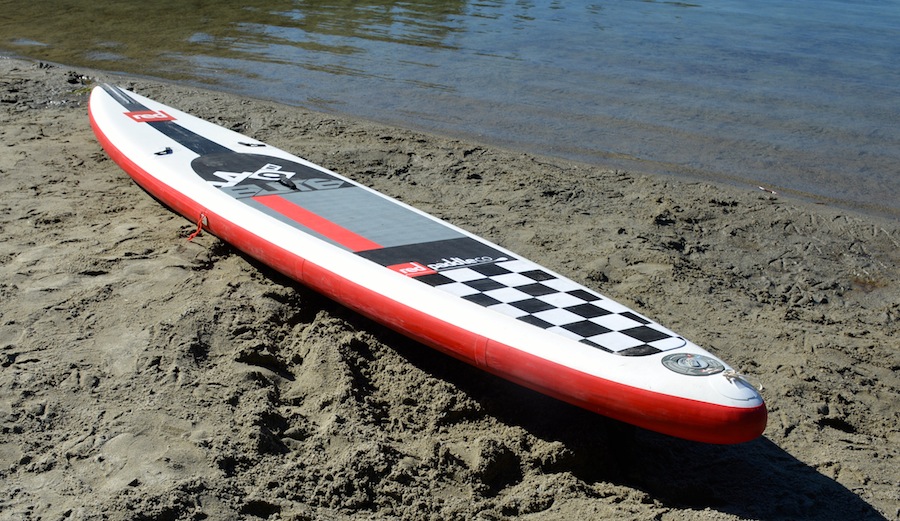 So many inflatable SUP boards are very similar in design, they paddle well, are great for cruising around but in effect are quite similar to many of the other boards out there.
So when I got to try out the Red Paddle Co Elite Race ISUP, I was thrilled to get a whole new SUP experience.
This board is unique. It is long and lean, fast and thrilling to paddle. If you want a very portable race board that is ideal for racing and fast exercise paddling, the Elite Race is the way to go.
This SUP comes in two different lengths… a 12'6" board and a 14' board. I got to try out the 14' Elite Race and I loved it.
I think if you really want a performance board, the 14' length is ideal. It glides smoothly through the water.
I only took it out on flat water with a little bit of wind. It is the sleekest inflatable SUP I've paddled at only 26" wide and I noticed the tippiness right away
However being 6" thick made it a very rigid platform and I found that even though I had to focus a little more than normal, I got comfortable quickly.
The Elite Race is easy to love, fast, fun and extremely well made.
Important Features Of The Elite Race
RSS Battens
The Rocker Stiffening System (RSS) that this board offers eliminates any possibility of flex making it even more competitive in the SUP racing world.
It comes with two RSS battens that slide into pockets on each side of the board.
They provide that extra little bit of stiffness to really make the Elite Race excel.
The RSS battens are a unique feature offered by Red Paddle Co alone.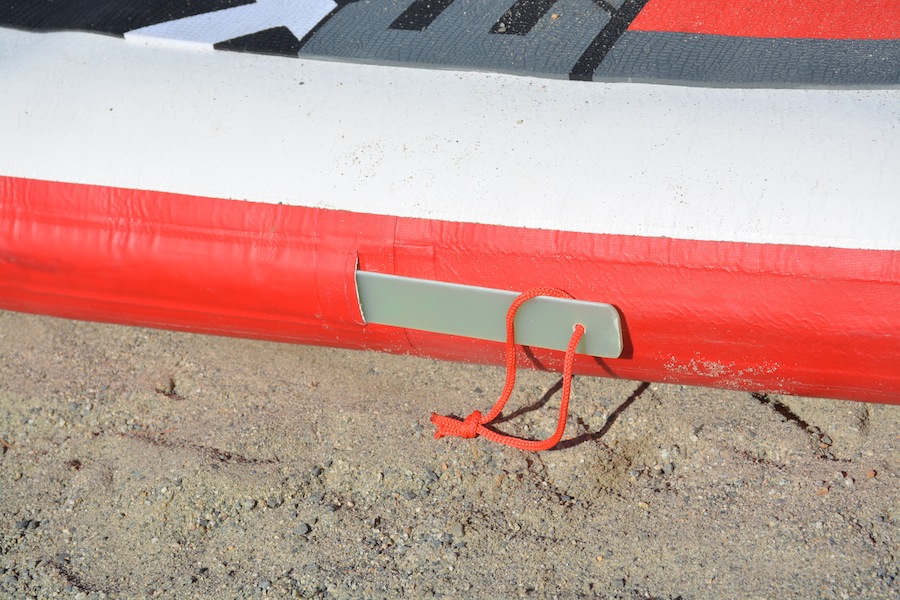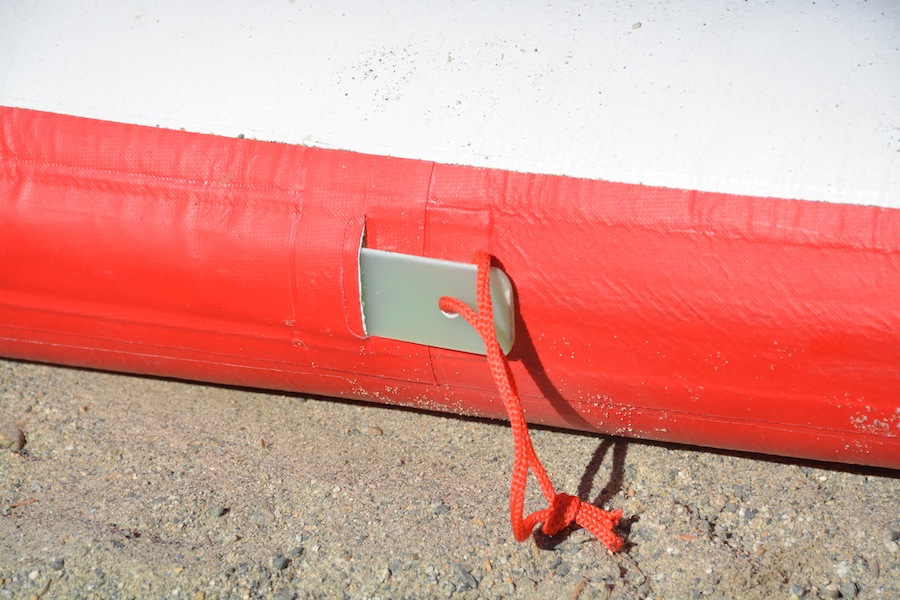 Forward Carry Handles
Besides the regular center carry handle the 14' Race has two forward carry handles as well, which are perfect for race starts or beach running.
They also work well for just hanging on to your board in the water. I like these forward carry handles a lot and I've never seen them on another inflatable SUP.
They are an ideal feature for a race board and really convenient to use. You will appreciate these forward handles when you need to enter the water fast.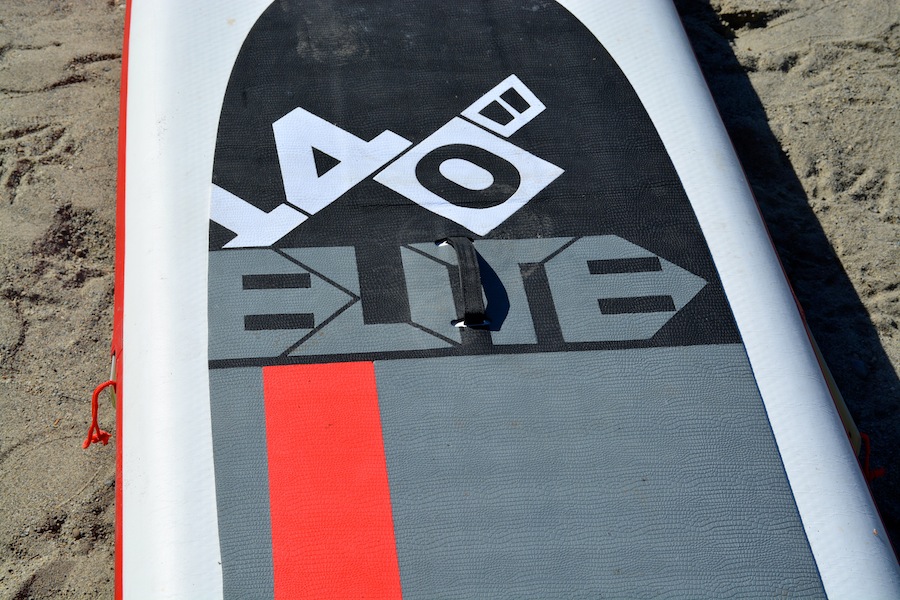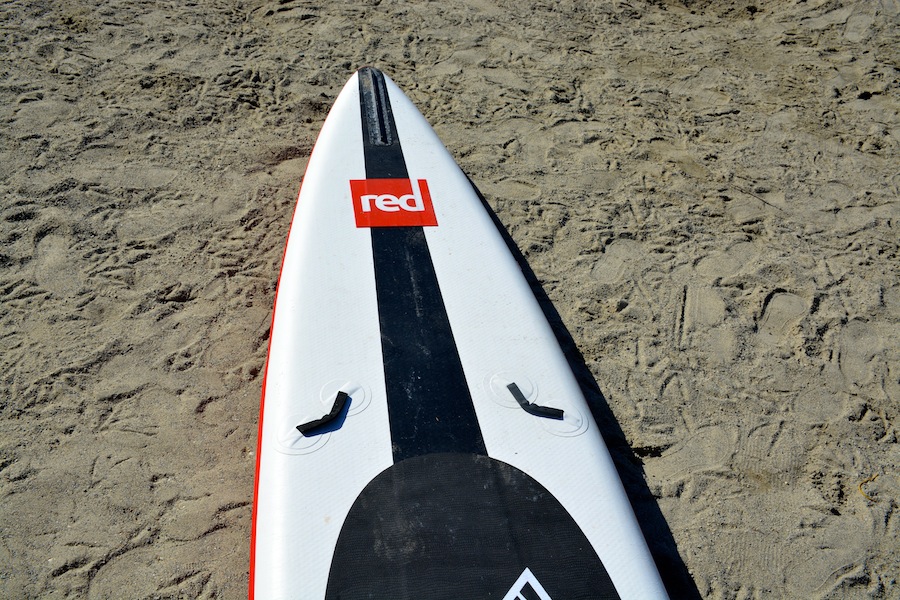 Nose Runner Fin
There is a nose runner fin on the deck that helps to prevent nose diving.
It is also very helpful in shedding water in choppy conditions.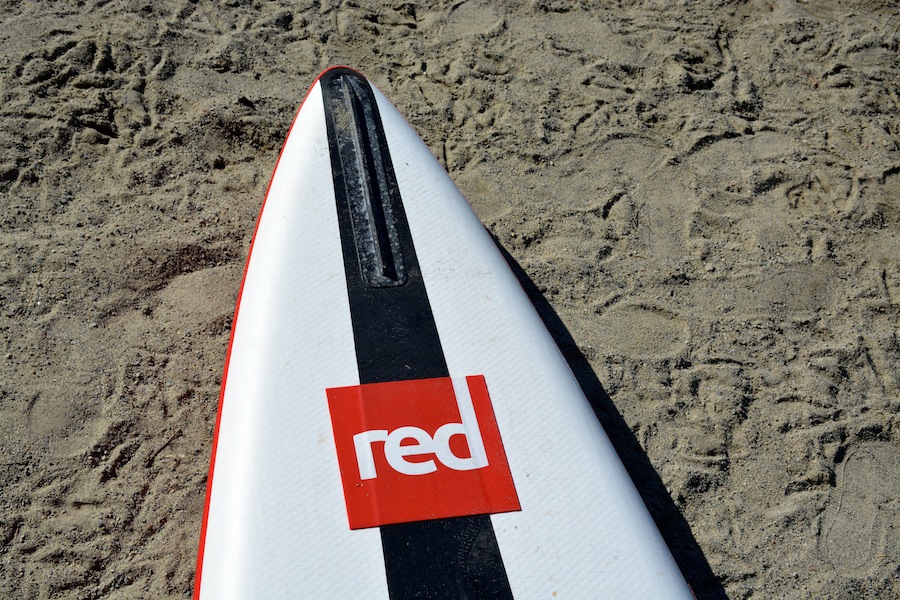 Racing Fin
As you would expect with a board of this caliber it comes with a fiberglass racing fin that secures nicely into the low profile US box fin system.
With the US box fin system you are able to switch out the fin for another one if you choose to or need to.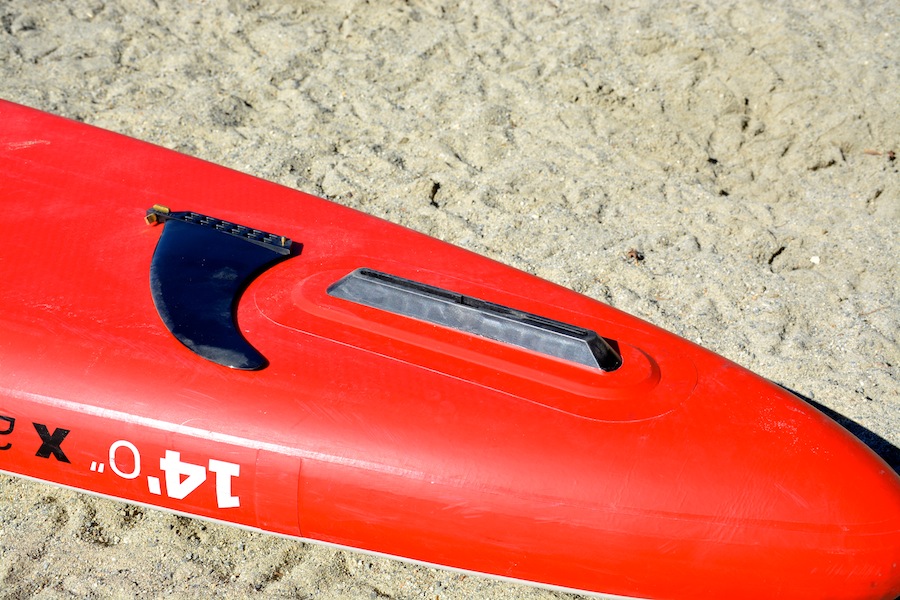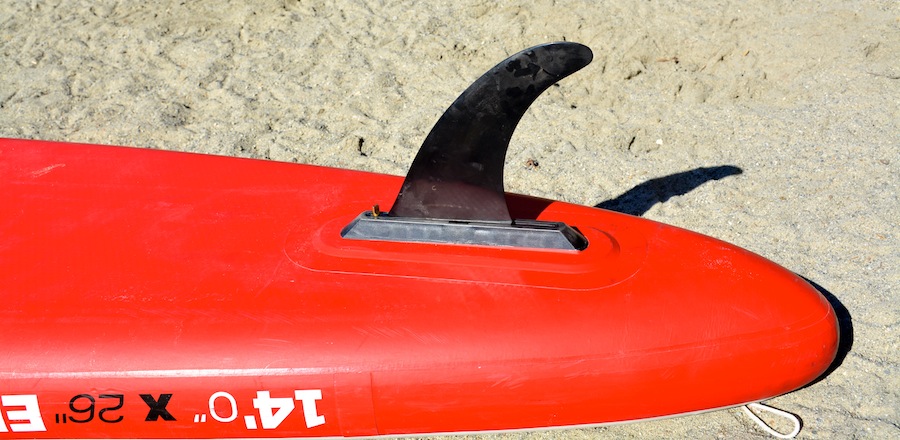 Front Loading Backpack
Red Paddle Co has offered the best backpack in the ISUP industry for a long time.
The bag has been improved upon this year so it is even better than ever.
It has wheels so you can pull it as opposed to carrying it, making it ideal for airplane travel.
It has padded shoulder and waist straps that can be tucked away when not in use.
It is a front loader, which makes it extremely easy to take the board out as well as place it back in.
The bag will fit the 14′ Race, the RSS battens as well as the Titan pump.
This bag is extremely durable and well made. It is ideal for traveling through airports or just transporting in the trunk of your car.
It comes standard with the package.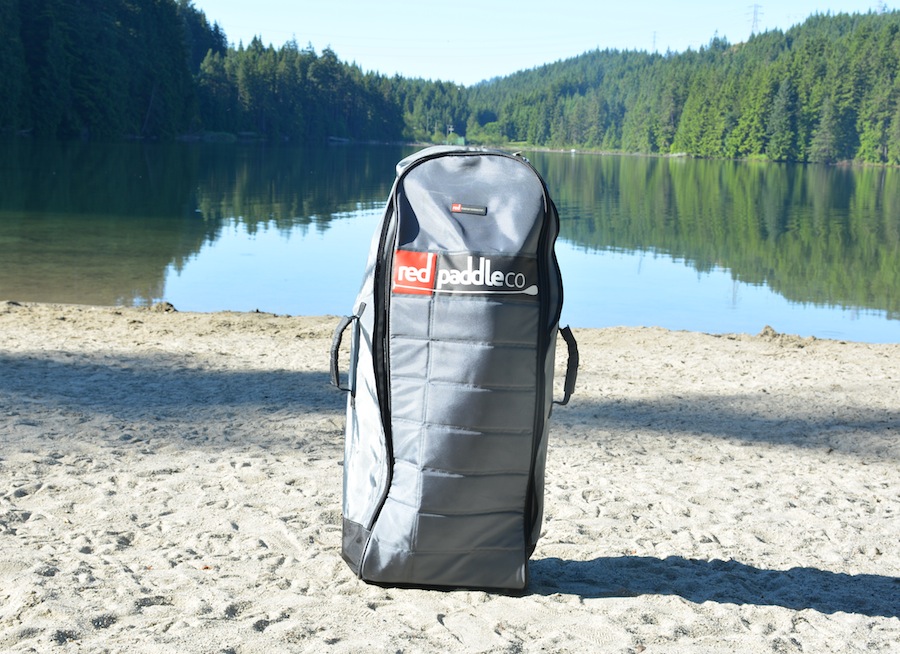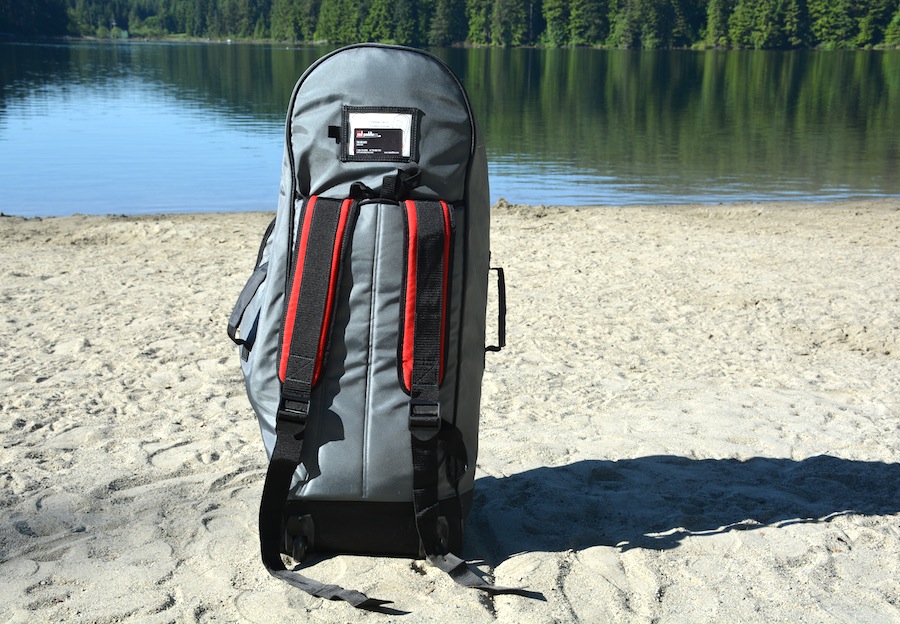 Titan Pump
Red Paddle Co has a new inflation pump that they include with some of their inflatable SUP boards… The Titan Pump.
This pump has two chambers and inflates in both high pressure and low pressure mode.
It has a wider handle making it more comfortable to pump and best of all it will inflate your board a lot faster than most other manual pumps.
I found the Titan pump easy to use and it definitely did inflate the 14' Race quickly.
It still takes a bit of work to get the board up to 20 PSI, but it takes less effort than usual and most importantly less time.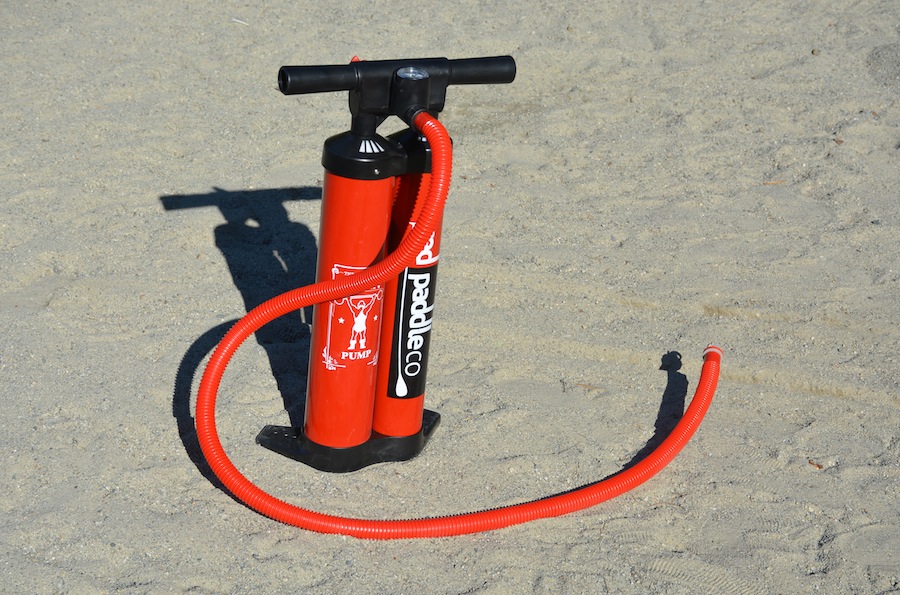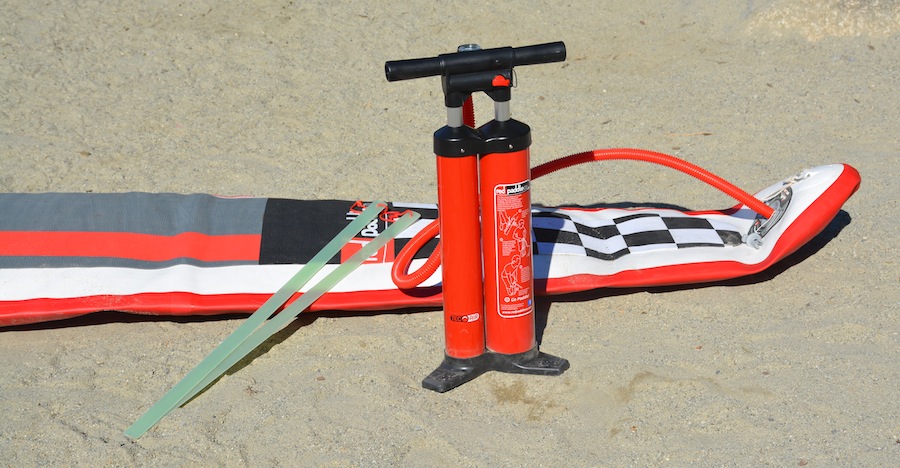 D-Ring
As this board is designed for racing there is not much need for numerous D-rings.
There is one D-ring however at the back of the board that is ideal for attaching your board leash.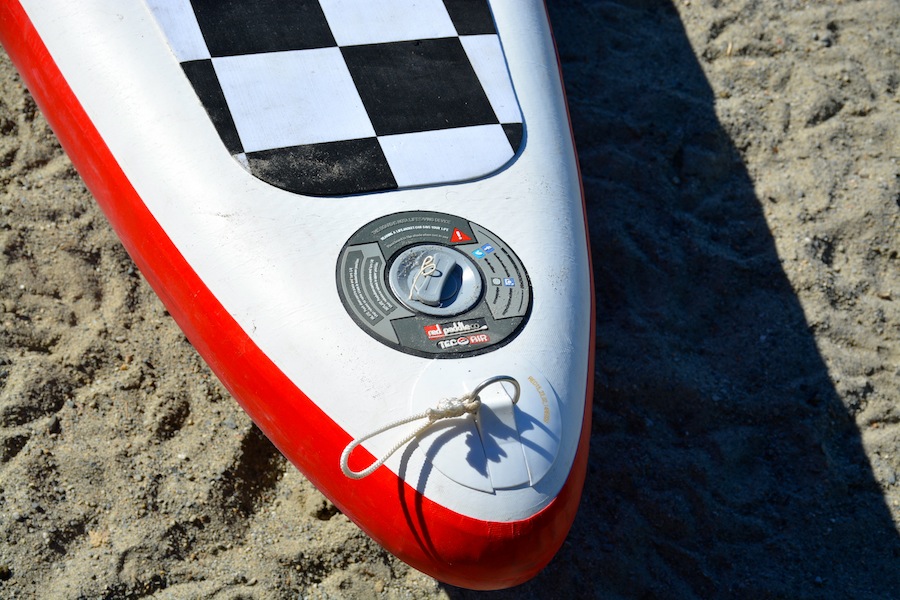 Drop-Stitch Material
As soon as you inflate the Red Elite Race you can feel how strong and durable it is.
All of the Red board are built using Tec Air specifications. Click here to learn more about the Tec Air process and how the Red Paddle Co ISUP's are constructed.
Red Paddle Co Elite Race Setup
I found the setup of the Elite Race was really fast.
Take the board out of the backpack, unroll and inflate with the Titan pump.
Inflate the board to roughly 1 PSI initially then insert the RSS battens.  Once inserted you can then finish inflating the Race up to 20 PSI.
This board is long but it is lean and you can have it inflated up to 20 PSI in well under 10 minutes.
Once inflated you can secure the fin and then hit the water.
Packing it away after use is just as simple. Give it a quick towel dry, unscrew the fin, deflate, pull out the RSS battens, roll it up then place everything back inside the backpack.
It is easy, portable and convenient.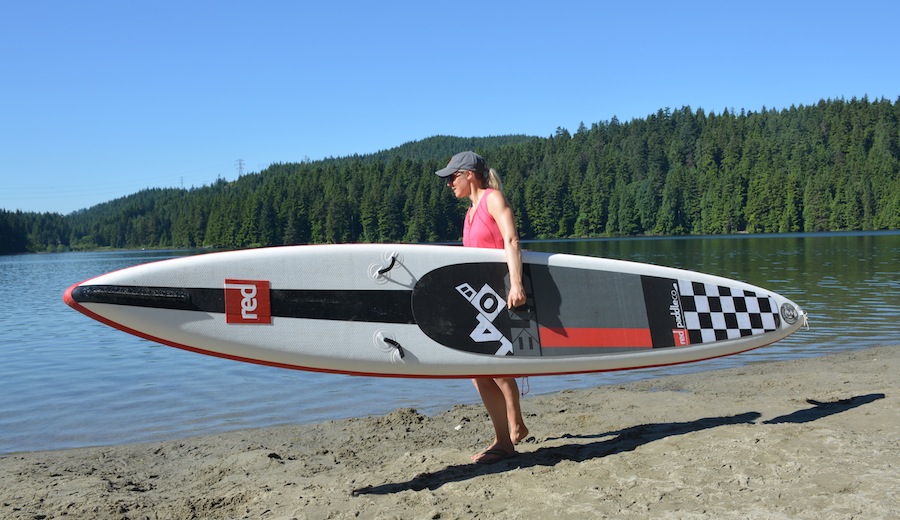 14' Elite Race Performance
The performance was excellent. I wouldn't say this is a board for beginners but if you have the skill you can paddle this SUP very fast.
It definitely has some rockiness to it, which is to be expected considering it is only 26" wide.
However I found that the 6" thickness still provided a fairly stable base and once comfortable it is extremely fun to paddle.
If you want a real race board that you can take anywhere in the world, this one will not disappoint.
It cuts through the water effortlessly and slices through chop with ease.
This wouldn't be my choice for just cruising around. There are other boards that are far more stable and far more versatile for recreational use.
However, if speed and racing are you thing, I'd highly recommend the Red Paddle Co 14' Elite Race.  I am not a racer but I liked this board far more than I expected to!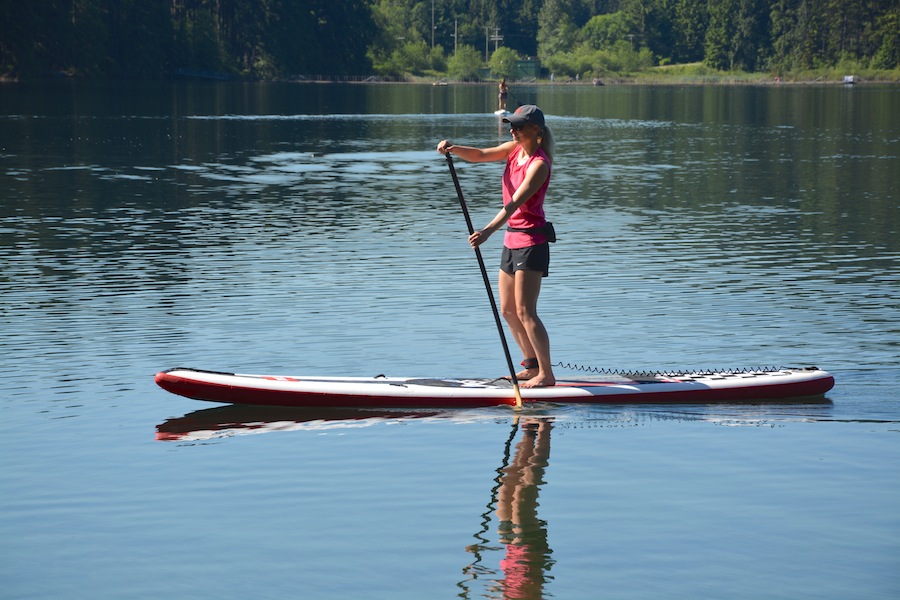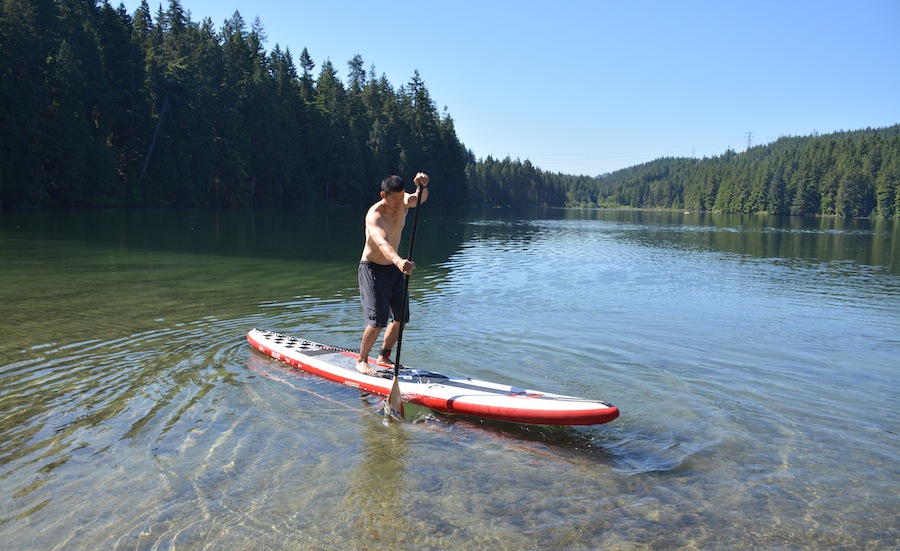 The Negatives
There is only one negative that stuck out for me with this board. It is a little heavier than I expected.
It is still very manageable so I don't think this should deter anyone who is considering buying it.
I just noticed that it was heavier at 34 lbs. than I expected for such a lean board.
I could still easily carry it however and that extra weight likely makes it more solid in the water and less likely to get blown by the wind.
More Pics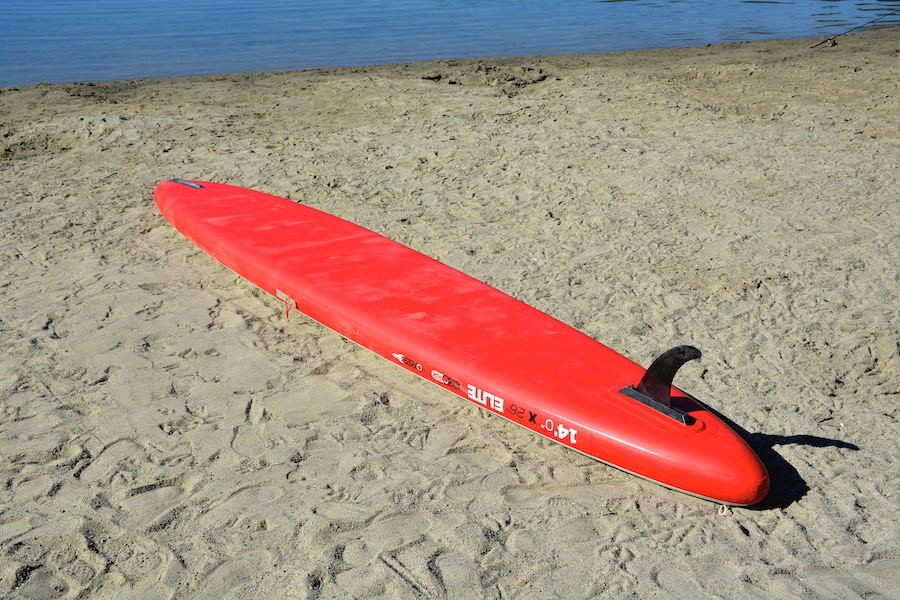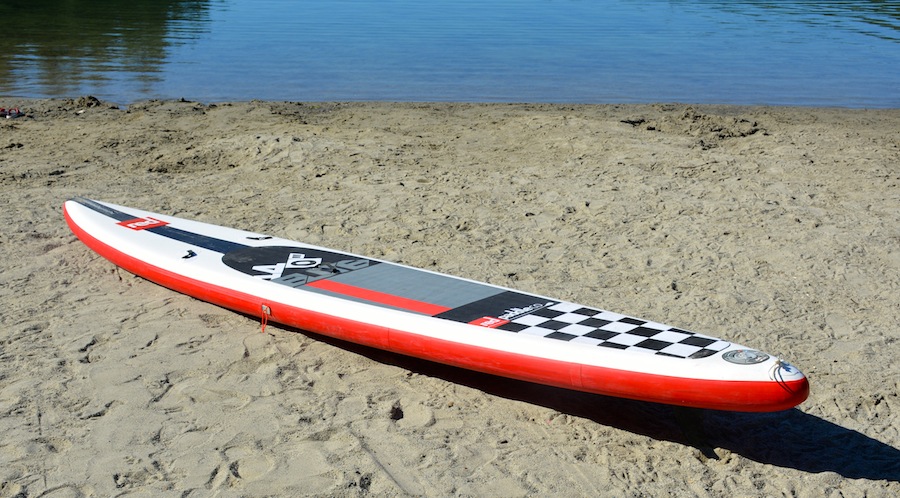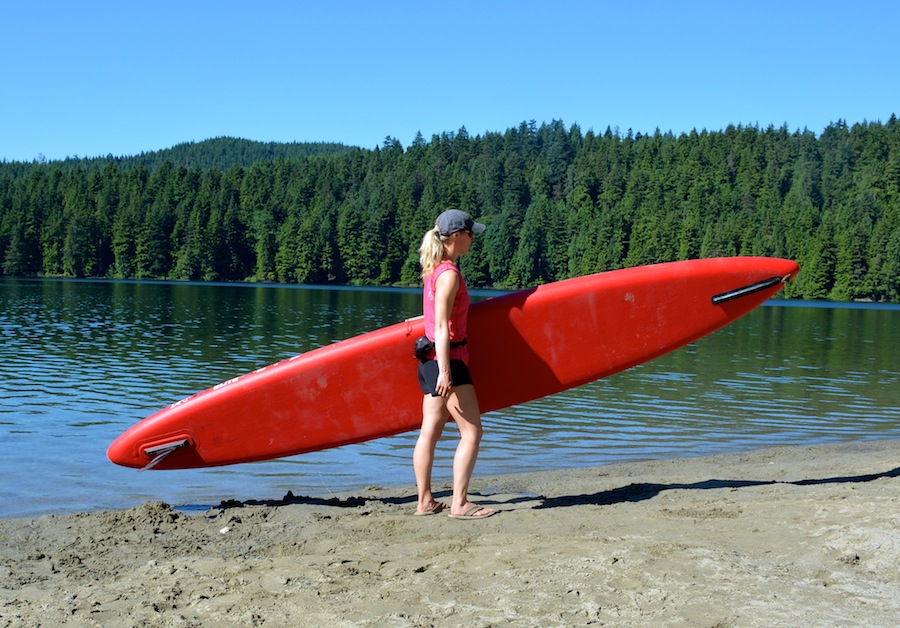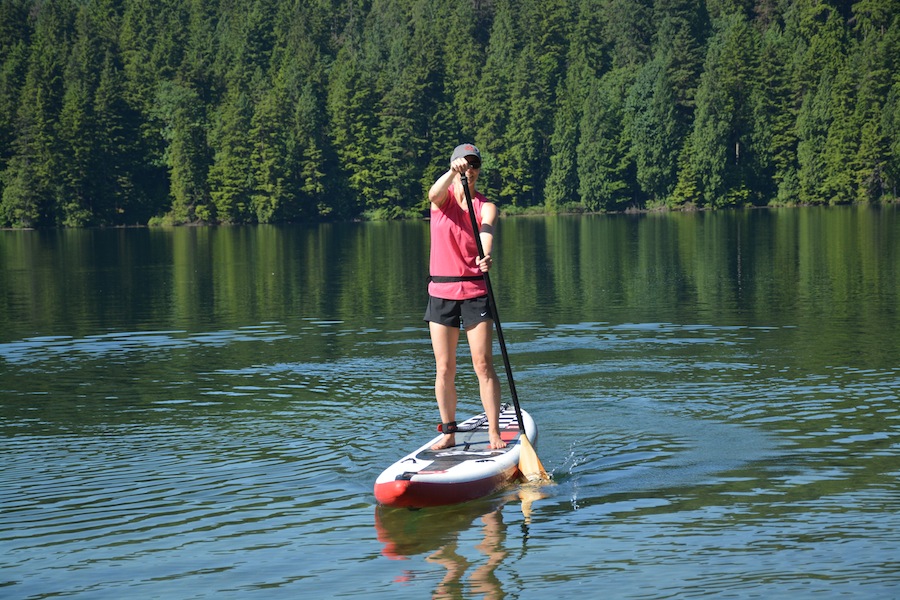 Where To Buy The Red Paddle Co 14' Elite Race
Click here for the Red Paddle Co 14′ Elite Race at Outdoorplay.com.
Click here for the Red Paddle Co 14′ Elite Race at Amazon.com.
Click here for the Red Paddle Co 14′ Elite Race at GreenWaterSports.com.
Did You Know?
By clicking on any of the above seller links you can help keep ISUPworld.com growing. When you make a purchase after clicking on our links, the retailer will contribute a portion of the sale to help support this site. It won't cost you anything extra and it's a simple way to help us fund our gear reviews. Thanks!