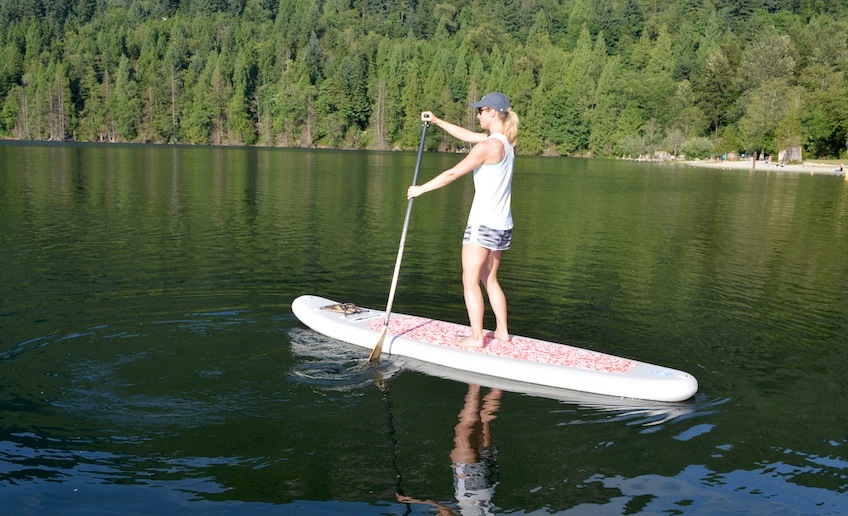 Wakooda Water Sports first introduced their inflatable stand-up paddleboards in 2012.
I got to try out their 10'6" ISUP and found it to be strong and rigid. It has some good features and is versatile enough for a wide variety of people.
The best part however is that the price is very affordable and you get great value for your money.
Quick Stats
10'6" long
32" wide
6" thick
weighs 18 lbs.
can carry up to 220 lbs.
air pressure: 15 PSI max
has one large removable fin
two small attached fins
Material: Korean drop stitch material, 410 denier space yarn and 1000 denier base cloth.
Pros: Light-weight, easy to carry, stable, rigid, tracks fairly well, affordable
Cons: Not that fast
More Detailed Info
The Wakooda 10'6" inflatable SUP is basic in design but strong, comfortable to stand on, functional and versatile.
It's not going to be the fastest board on the water but for those looking to do some recreational paddling, it's awesome.
I like the fact that this board is versatile enough to be used by a wide variety of people and age groups.
The 6" thickness makes it very rigid and the size makes it ideal for either flat water touring or light surf.
The 2014 Wakooda 10'6" inflatable SUP's are extremely light weight.  At only 18 lbs. (6 lbs. lighter than the older models) it is super easy to carry to and from the water.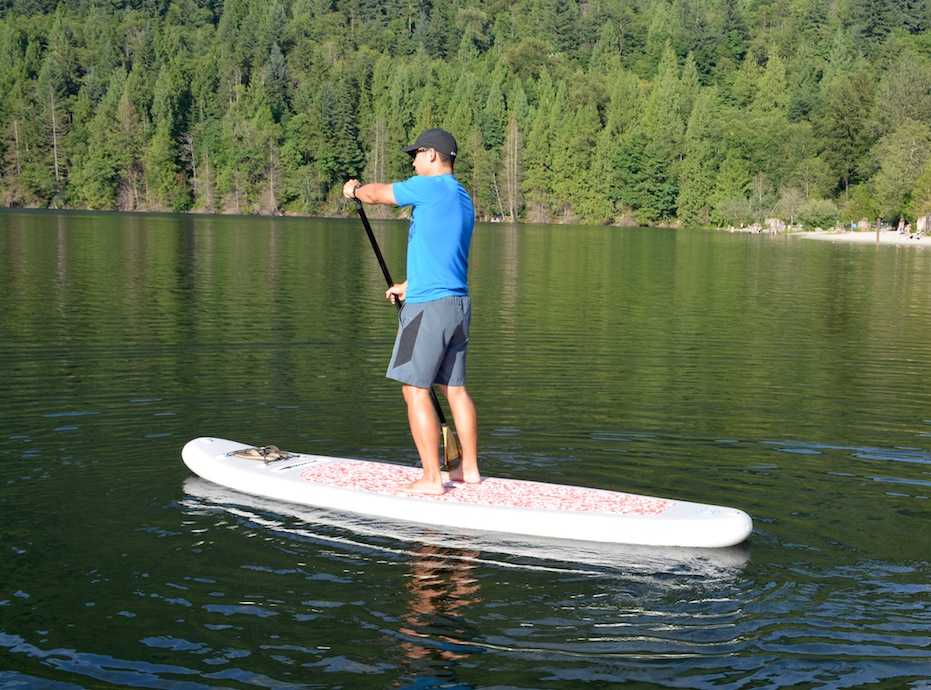 Setup
Setup is fast and easy. The fin needs to be attached first.  The fin attachment is super easy and fast.  Simply fold back the board at the base of the fin attachment and slide the fin in – see pictures below.  Once the board is inflated the fin is secure.
This ISUP can be inflated up to a maximum of 15 PSI and I found it to be very rigid.   It can hold up to 220 lbs. and still perform well.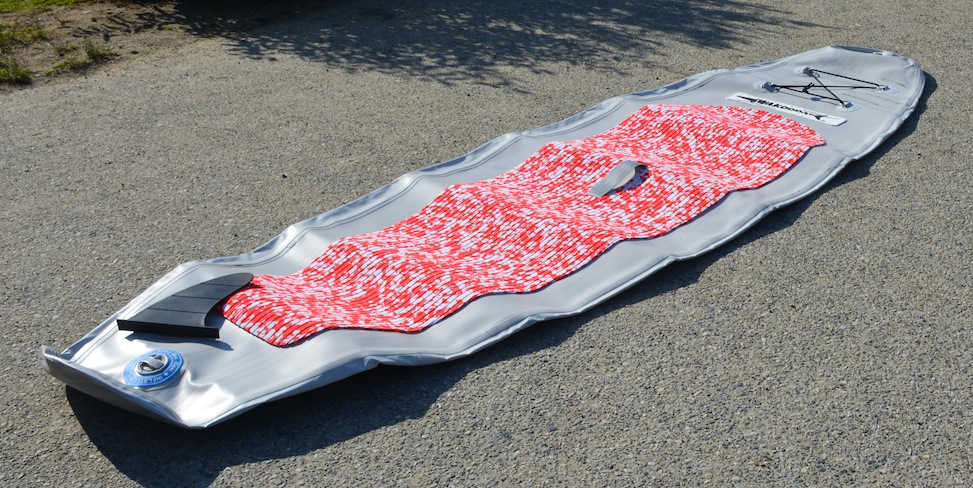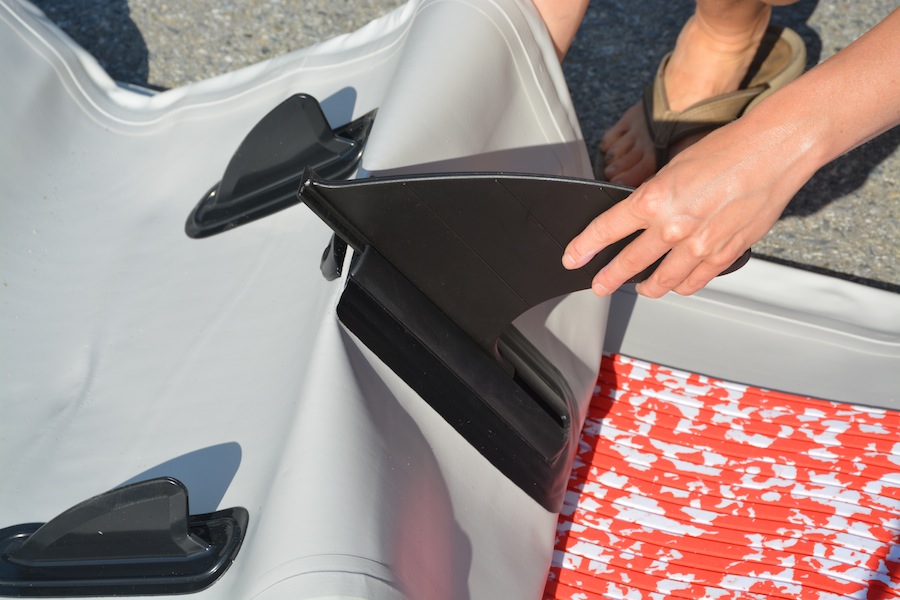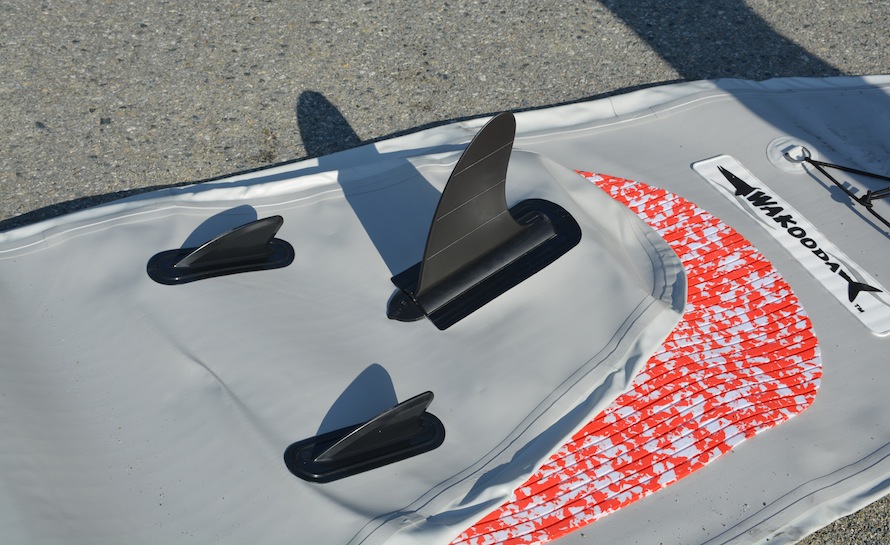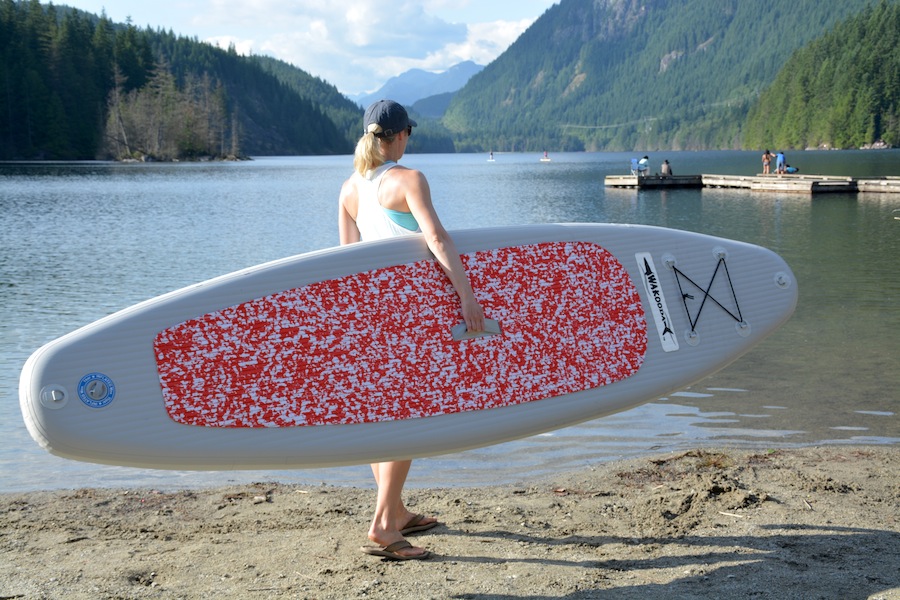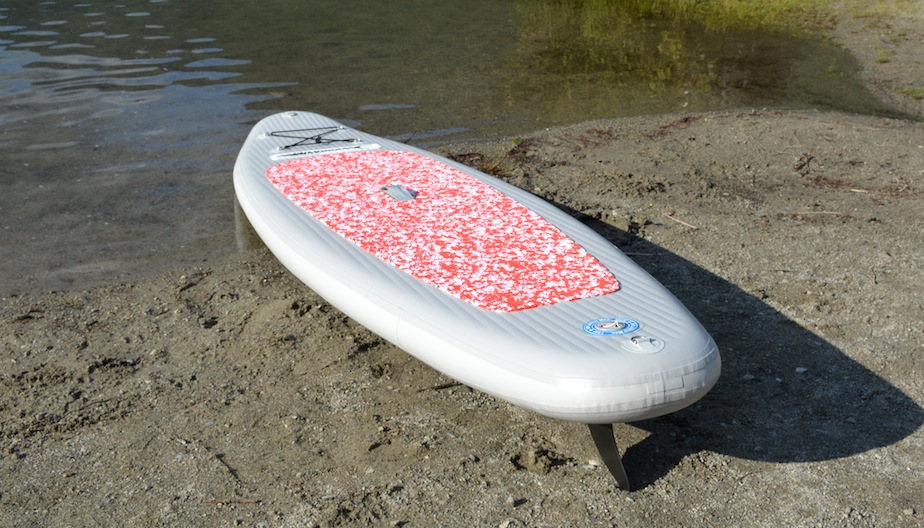 Performance
Overall, this Wakooda board was easy to paddle and quick to turn and maneuver.
I didn't find it to paddle super fast.  The upturned bow doesn't cut through the water as smoothly as a sleeker or flatter nose.
However the basic design does allow it to handle a variety of conditions fairly well and the shape and design make it quite versatile for flat water paddling or light surf or chop.
The 32″ width and 6″ thickness makes it feel stable and secure.  The size and rigidity of this board make it ideal for many different people.
Important Features
This inflatable SUP has all the basic features covered.
It has a large removable skeg that is very easy to attach and remove as well as two smaller attached skegs, which help with tracking straight.
There are bungee tie-down cords up front to secure gear. These are handy to secure your flip-flops, water bottle or a small dry bag.
It has a large ¼" thick EVA soft deck pad that is comfortable to stand or kneel on.
The inflation valve is at the rear of the board opening up the bow for GoPro mounts or other accessories.
There is a center carry handle to easily carry it when inflated.
The Downside
The only downside I really noticed was that it doesn't paddle that fast.
However unless you are used to a faster board, you probably won't notice the difference.
It paddles nicely and overall is a great ride.
More Pics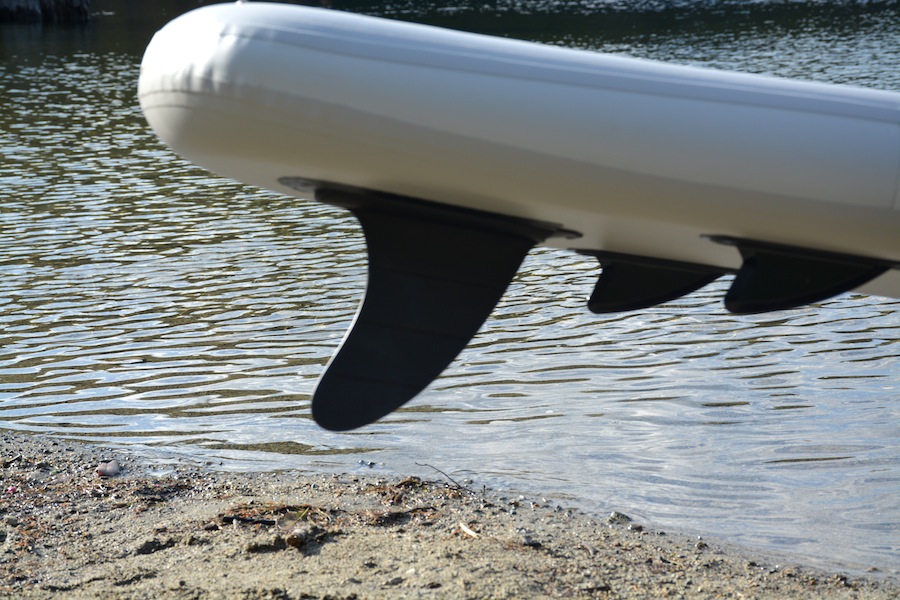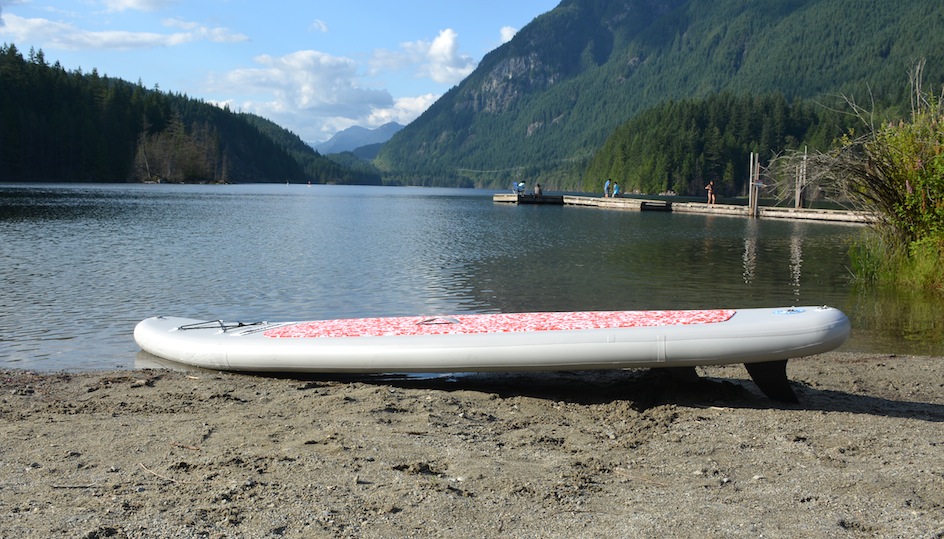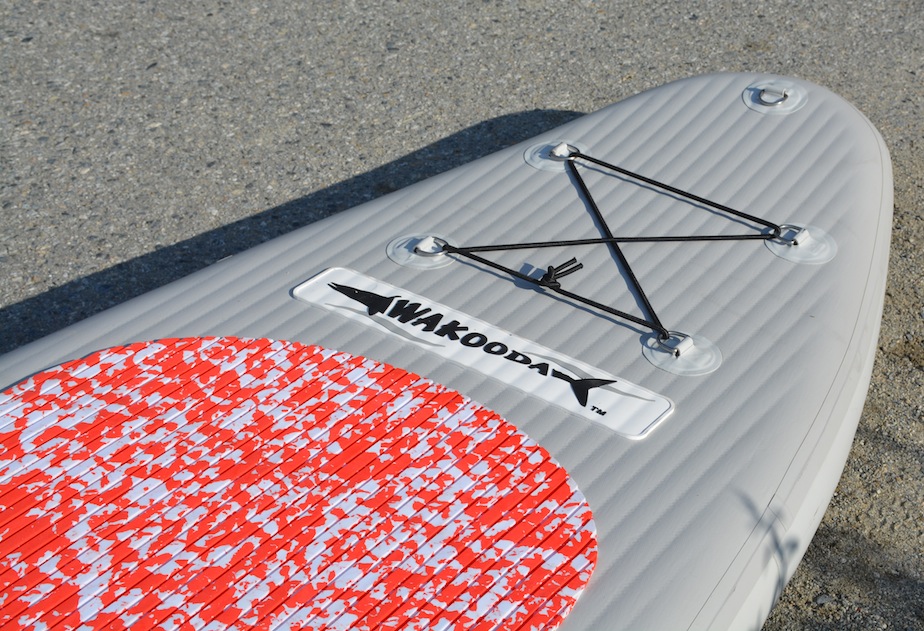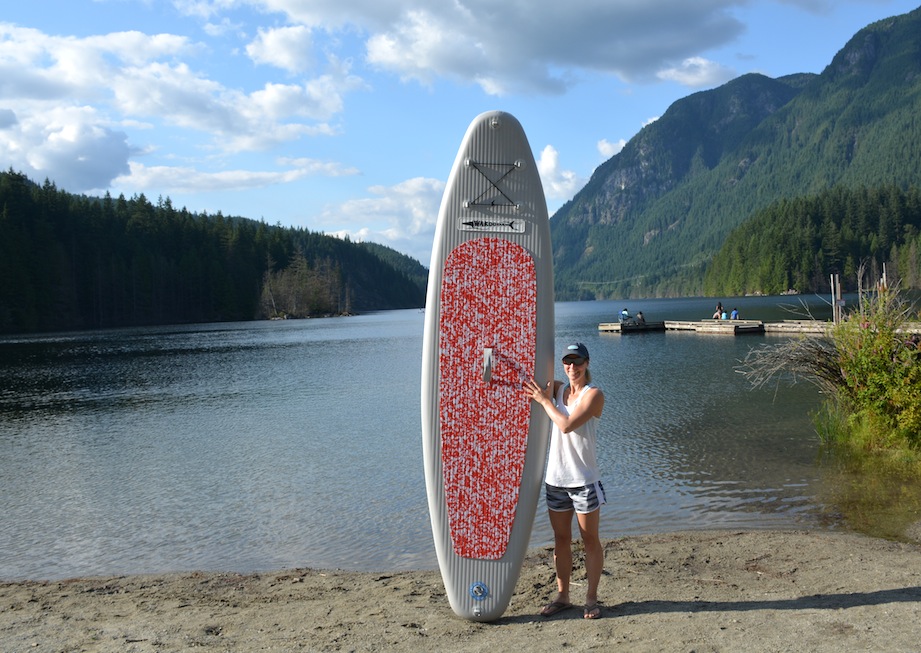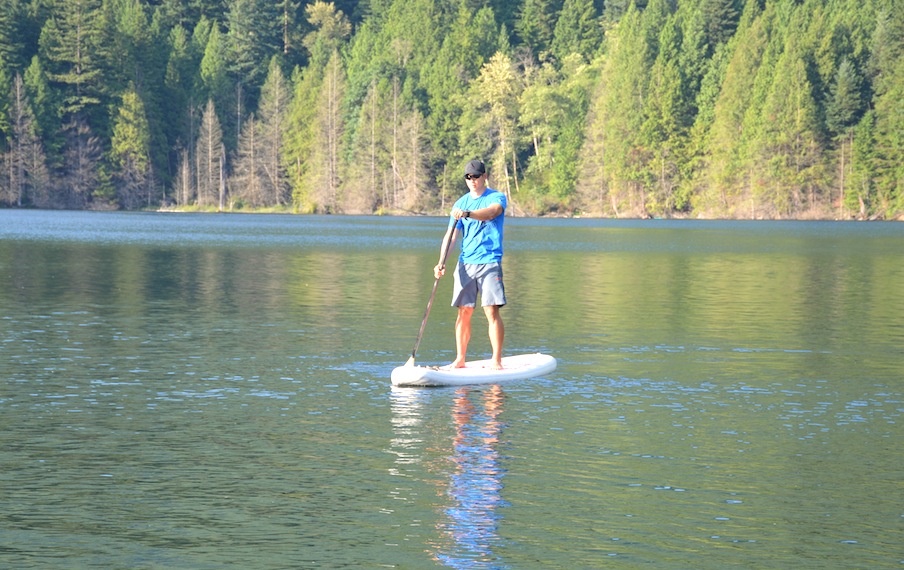 Final Thoughts
What I like most about the Wakooda 10'6" ISUP is the fact that it only weighs 18 lbs. It is seriously easy to carry and I imagine would be easy for most people.
With a board that light you can take it anywhere and it would be ideal for traveling. It rolls up easily into a nice small package.
It is versatile, convenient and fun. I think for the price, it's a great buy.
Each board comes with an adjustable SUP paddle, a pump with gauge, backpack and repair kit.
Where To Buy
The Wakooda 10'6″ ISUP is unavailable at this time.