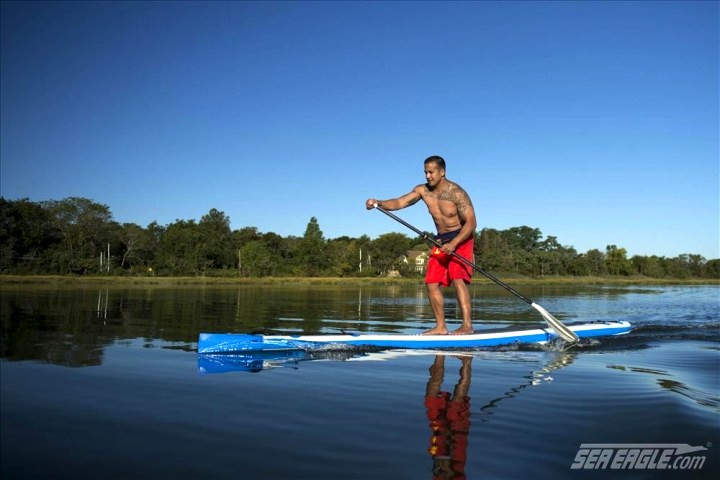 For 2014 Sea Eagle has added to their lineup of popular Needlenose SUP's.
There is now the option of a long 14' board! This is one of the longest if not the longest inflatable stand-up paddleboard that I know of.
The longer length, the lean design, sharp pointed bow, and the fact that it is 6 inches thick means that it will be one of the fastest and most stable touring ISUP's on the market.
It is a fairly big board and consequently can hold a lot of weight with no flex. The Needlenose 14 is designed to be able to withstand a lot and can hold up to 276 lbs. (125 kg) easily.
It weighs 28 lbs. (12.7 kg) so can still conveniently be transported anywhere including in the trunk of your vehicle, on an airplane, in an RV or on a larger boat.
That's the great thing about ISUP's… they can go anywhere you go and can be ready to use within minutes!
As this board is designed for open water touring it will best suit lakes or bays, slow-moving rivers, or ocean paddling.
The length and width will allow it to handle waves and choppy water well without causing you too many balance problems.
The size will take a little more strength to turn quickly and maneuver than a shorter board. However it is very doable and will truly excel on a straight course.
Even with the 6" thickness, the length to width ratio of the Needlenose 14 will allow it to paddle fast and smooth.
It has the same patent pending unique design of the other Needlenose SUP's. The straight-line hull and sharp bow are very different from other inflatable SUP's out there.
The Needlenose has the sharpest bow of any other ISUP in the world. It is sleek, fast and because it has no upturn, it slices through the water beautifully.
Specifications for the Needlenose 14
Length: 14 feet
Width: 30"
Thickness: 6"
Weight: 28 lbs. / 12.7 kg
Weight Capacity: 276 lbs. / 125 kg
Inflates to 15 PSI
One large removable skeg and 2 smaller attached side skegs
Bungee deck cords at bow and stern for securing gear
Center carry handle
Click here to read our full review of the Sea Eagle Needlenose SUP.