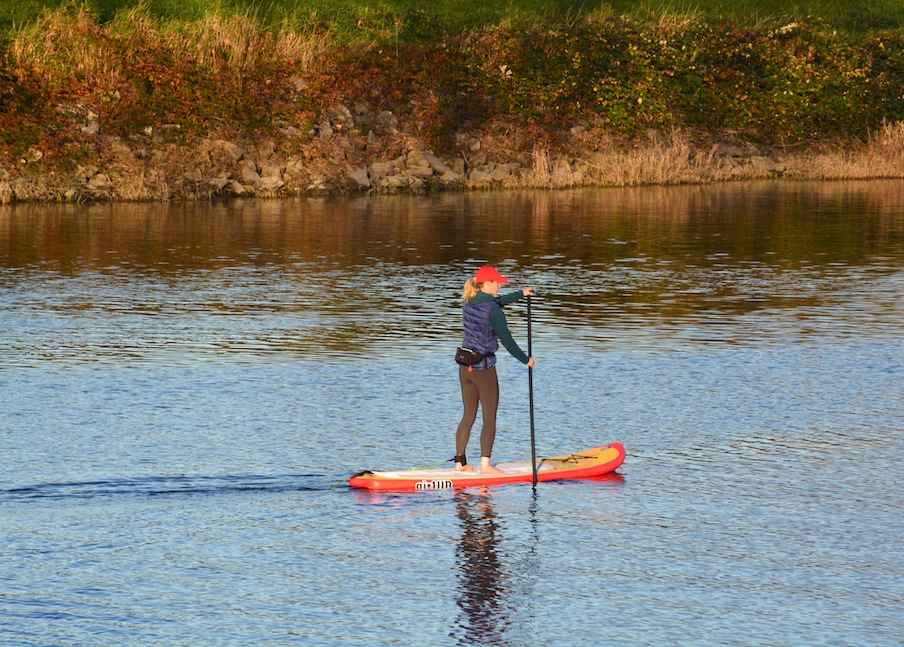 The airSUP company is based out of Japan and has an impressive line-up of inflatable stand-up paddleboards.
They ship worldwide and their boards are popular in Japan, Australia and the USA.
I was lucky to be able to try out their 9'6" super light inflatable SUP.  I was really impressed with this board and totally enjoyed paddling it.
I could not believe how light weight it was.  At 15.5 lbs. this is the lightest inflatable SUP I've tried and I loved it.
It is the ideal board for traveling as it is versatile, compact and easy to carry anywhere.
Quick Stats
9'6" long
32" wide
4" thick
weighs 15.5 lbs.
can hold up to 240 lbs. but best for riders under 200 lbs.
air pressure: 15 PSI
8" removable fin
Material: 4" thick drop stitch, durable PVC
Included in Package: Board, 8" removable fin, leash cord, high volume hand pump with pressure gauge, backpack carry bag and repair kit.
Pros: Super light and easy to carry, durable and strong, very responsive, good tracking with fin, easy to turn, versatile, compact and convenient
Cons: Not super fast
Where To Buy
Click Here For The Best Deal On The airSUP 96SL inflatable SUP At Amazon.com.
More In-Depth Info
The 9'6" airSUP is particularly versatile and ideal for riders who want a board that can paddle well on flat water but also take on some serious surf.
The length, design and removable fin make that versatility possible.
This board is highly maneuverable and ideal for beginners to advanced riders.
I found the airSUP to be a lot of fun to paddle. Even though it is only 4″ thick, it is super rigid and I found the 32″ width to make it quite stable.
It can be inflated up to 15 PSI and is best suited for riders under 200 lbs.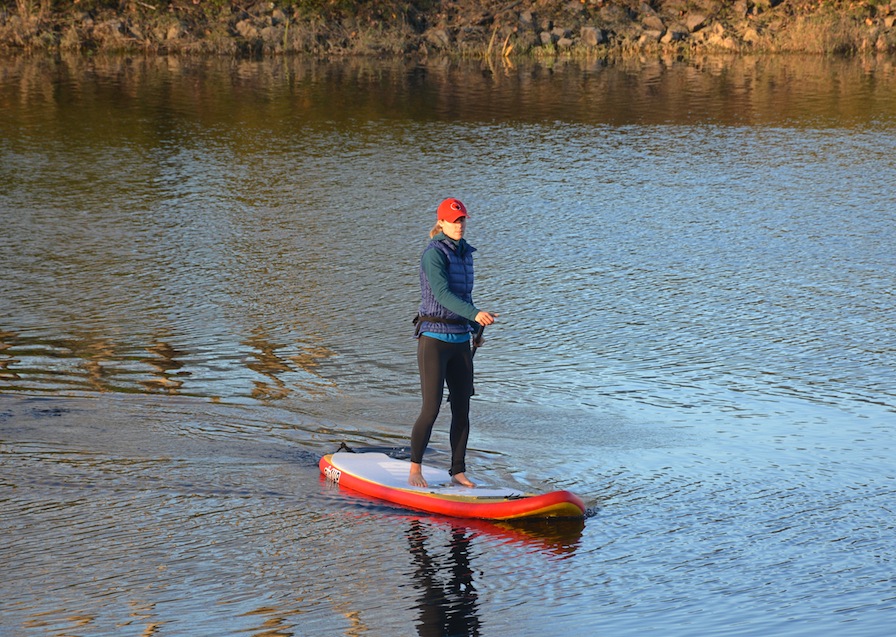 Cool Design Features
Full EVA Deck Pad
The deck pack is long enough to be comfortable while standing or kneeling.
The deck pad ends before the front bungee cords.  If you plan to paddle with your dog, he will have to sit closer to the center of your board.  This was no problem for my little guy, but if you have a larger dog you may need to add a traction pad up front.
However for the majority of people the traction pad is a great length and very comfortable.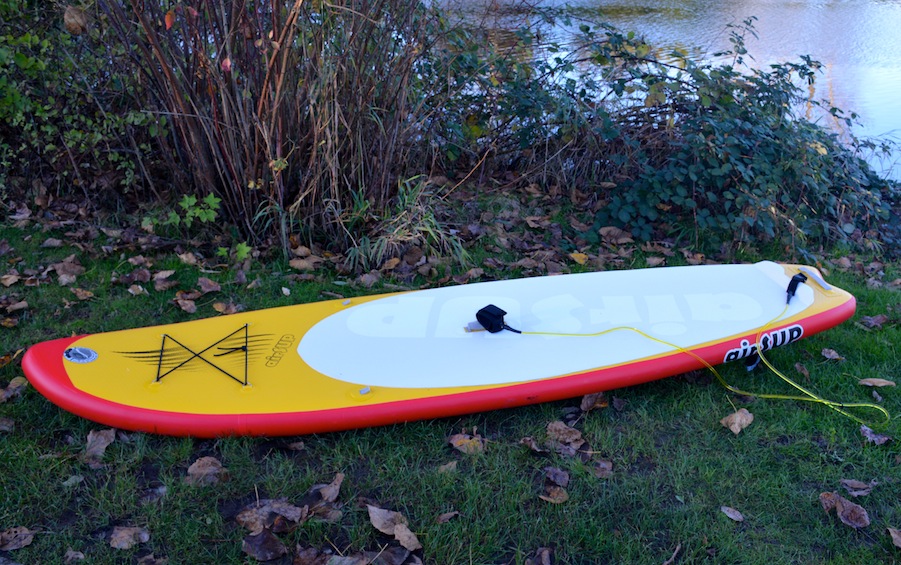 8" Removable Fin
The fin that comes with this board is a very good one.  It is long enough to really help provide great tracking and it requires no tools to attach it.  It uses an easy release screw.
Being able to remove the fin means you can use this board on all different types of water and it also allows you to easily roll it up into a small package when storing away or traveling.
Swallow Tail
You often see swallow tails on stand-up paddle boards designed for surf.  I find that depending on who you talk to, the swallow tail has some different benefits.
However overall it basically allows for a wider tail shape, which gives it a little extra stability and can help with carving and turns.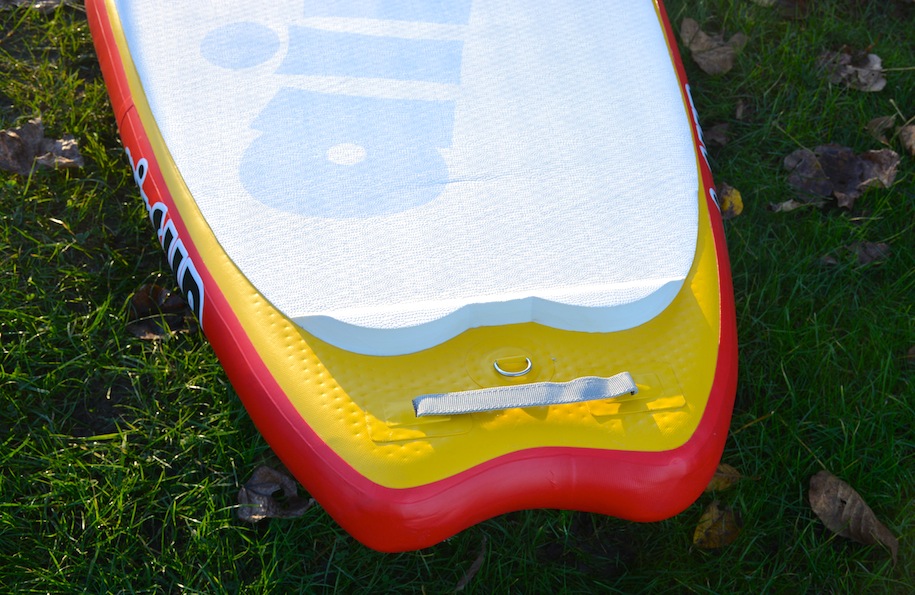 4" Drop Stitch Thick Material
The material is strong and feels very rigid when inflated.  I would have thought the board would be a little wobbly with the 4″ thickness but I actually didn't find that to be the case at all.
The shape and design of this board adds stability while the 4″ thickness allows for quick maneuvers and versatility.
Even my boyfriend who weighs roughly 190 lbs. found this board to be easy to paddle.
He found that with his weight on the board his feet get a lot more water on them than mine did as the board would sink a little more in the water but overall still a great ride.
D-Rings
There is one metal D-ring on the tail that is perfect for attaching your leash, as well as two cloth D-rings at the center of the board for attaching gear and accessories if needed.
There are 4 metal D-rings up front with the attached bungee cords for storing gear and one extra metal D-ring underneath the front of the board, which can be used for tethering the board to another board or boat.
Back Kick Tail
The back kick tail is a nice size and great for those who want to practice turns or pivots.  It is also useful when stepping back so you know where the end of the board is.
I find I don't use a kick tail when paddling on flat water but for ocean surf it's nice to have.
Center Carry Handle
The center carry handle is pretty standard.  It is made out of cloth, comfortable enough and does the trick.
This board is so super light that carrying it is a breeze.
Bungee Tie-Down Cords
I love when inflatable SUP's have some bungee tie-down cords up front like this one does.  They are so convenient to use for securing gear and accessories.
I use them most often to secure my water bottle, some snacks or my flip-flops bu they can be used to secure anything you want to bring along with you for the ride.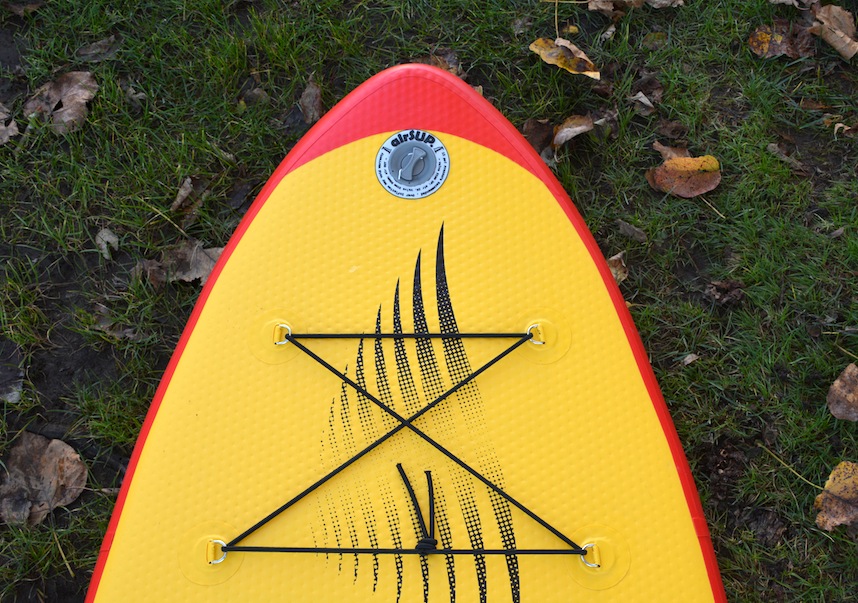 Setup
The airSUP comes with a high-pressure hand pump and gauge.
The pump works well. Once you take the board out of the carry bag, it takes roughly 5 to 8 minutes to inflate.
I found the board easy to inflate up to a certain point and then it got a little more difficult, which is pretty normal.  I let my boyfriend take over half way through once I got tired.
I prefer using an electric pump, but you can definitely get the board hard enough with this hand pump in a very short period of time, it just takes a little effort.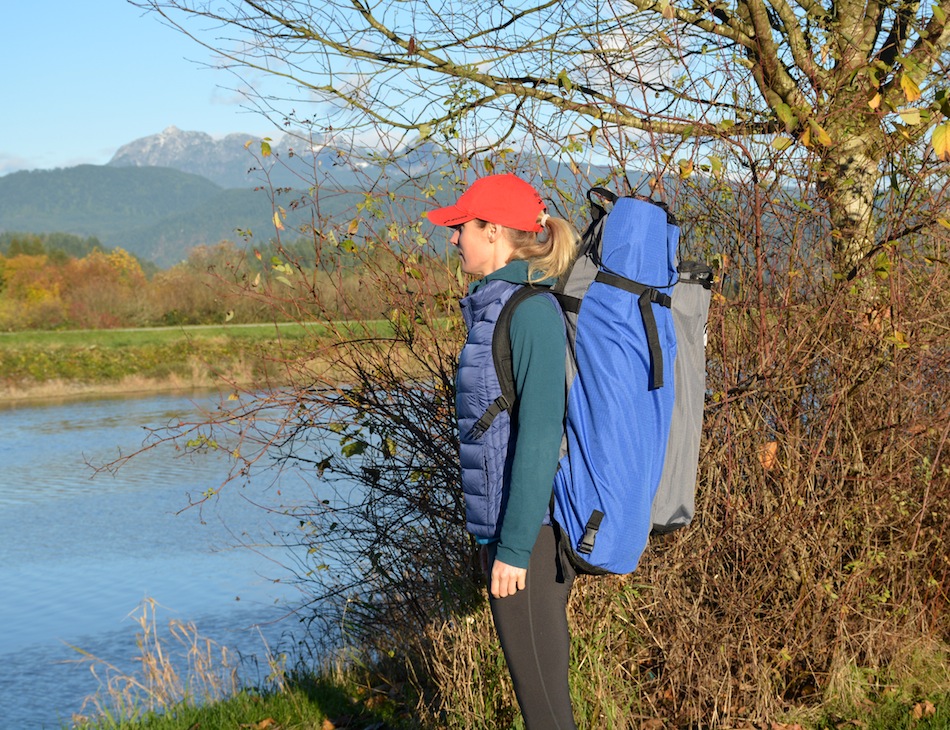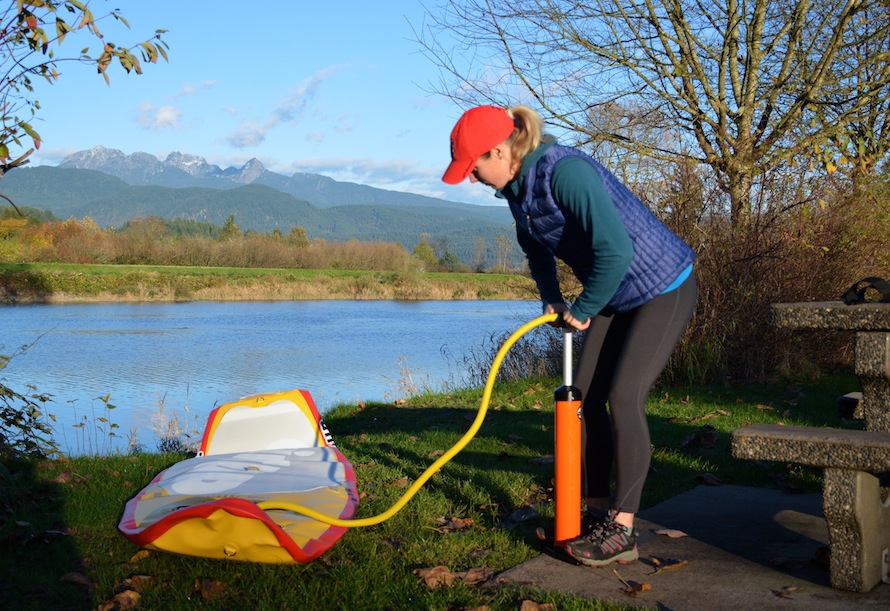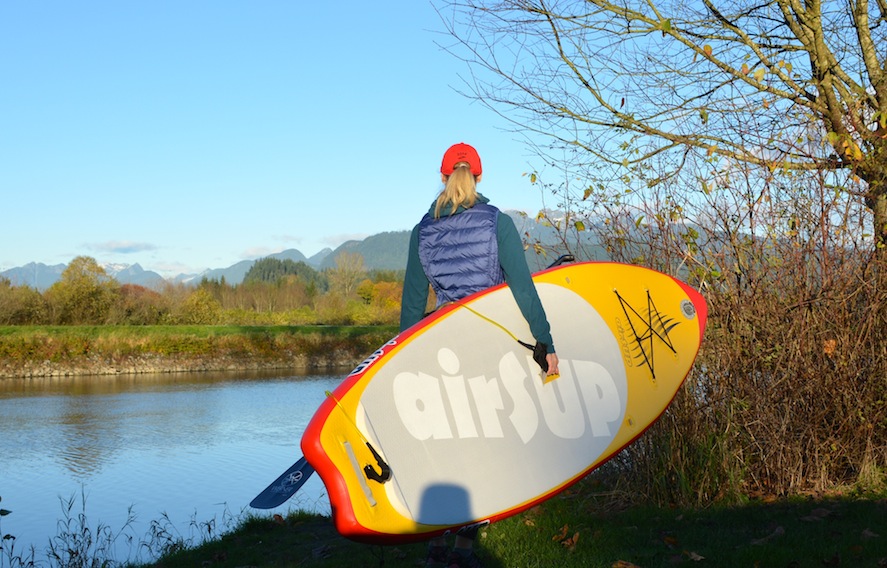 What Makes This Board So Light?
AirSUP has a line of SL (super light) boards that are all extremely light weight and super easy to transport and carry.
They differ from other inflatable SUP's on the market in the way they are made. The SL models use pre-laminated PVC drop stitch as opposed to regular double layer PVC drop stitch.
The color top layer of the SL models is welded to the drop-stitch when the inner core bladder fabric is made in Korea. The sides, deck pad and fin box are glued at the factory in China.
The SL models are not as resistant to scratches on the top and bottom because the PVC is not quite as thick. They also are not supposed to be able to get quite as rigid.
However I have to say that I noticed no difference in rigidity. For most people doing recreational paddling these issues are nothing to worry about.
In general the SL models are very popular as more and more people want an extra-light board.
What's Included
Included in the package are:
the 9'6" airSUP with 8" removable fin
a high-pressure hand pump with gauge
a board leash that attaches to your ankle
a backpack carry bag
a repair kit
a manual
Performance
The size and shape of this board make it very easy for anyone to paddle.
It takes very little effort to get it moving and it turns fast and easy.
I found it to be very responsive and the tracking with the 8" fin attached was quite good.
I didn't find it to be particularly fast however I wouldn't expect a board of this size to be super quick.
It is awesome for cruising around all day on lakes or ocean bays, meandering down a river or for playing in surf.
Unfortunately I have nothing more than small wake to try it out on where I live but it feels like it would handle some good sized ocean waves quite well.
The design is perfect for surf as the 4" thickness makes it easy to maneuver and the length is ideal for quick turns.
You can see from the picture below (taken from the air-sup.com website) that you could have a lot of fun with this board in ocean surf.
The 96SL airSUP can handle up to 240lbs. but it is really best suited for those under 200 lbs.
I found it to be fairly stable and to support me quite well. My boyfriend prefers a six inch thick board as he finds it will support his weight better.
However he had no problem paddling this one and loved how easy it was to move and maneuver.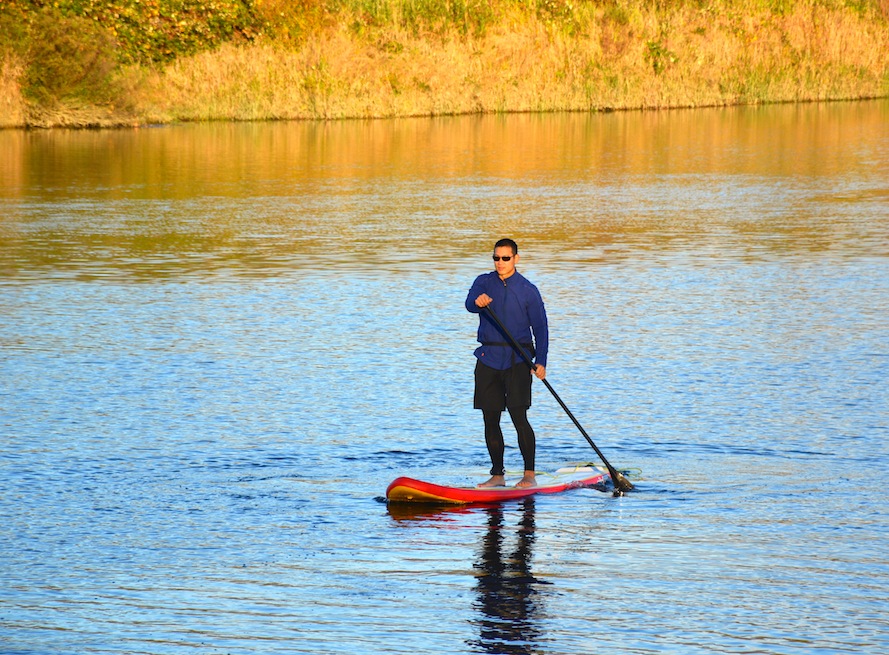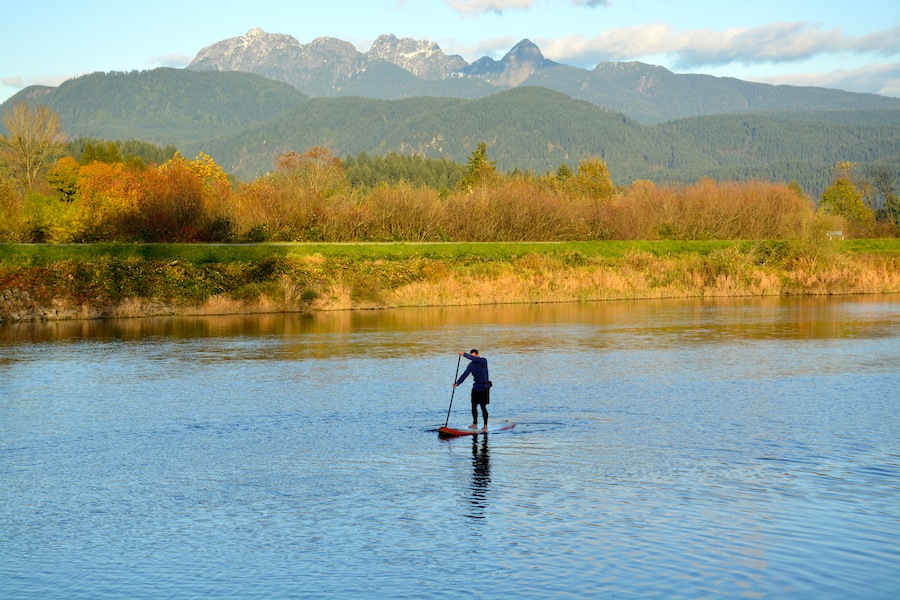 Backpack Carry Bag
The backpack carry bag is fairly standard in design but there are a couple things I really like about it.
For one the size is right… meaning the board fits easily rolled up into it. There's no fighting trying to make it fit back in once you take it out. It goes in easy.
Second the outside zipper pocket is very large. It's so big that it easily fits the hand pump, the repair kit, the fin and still you could probably stuff a few smaller accessories in there. It's a very handy pocket.
The bag has two padded shoulder straps, a very convenient top carry handle, and side straps to synch the board in tight.
You'll notice there are a couple strips of velcro on the bottom of the bag.  These were originally supposed to be for a wheel option that air-sup.com was going to sell.  However that wheel option is not yet available and for now the velcro straps add a little extra protection to the bottom of the bag.
The material is strong enough and the quality seems good. I like the bag… It is functional and works as it should.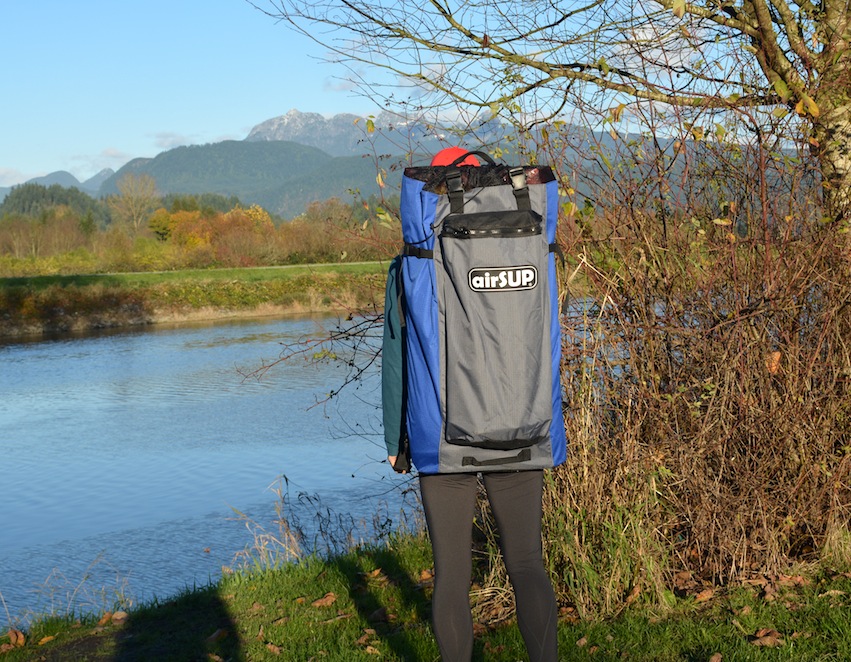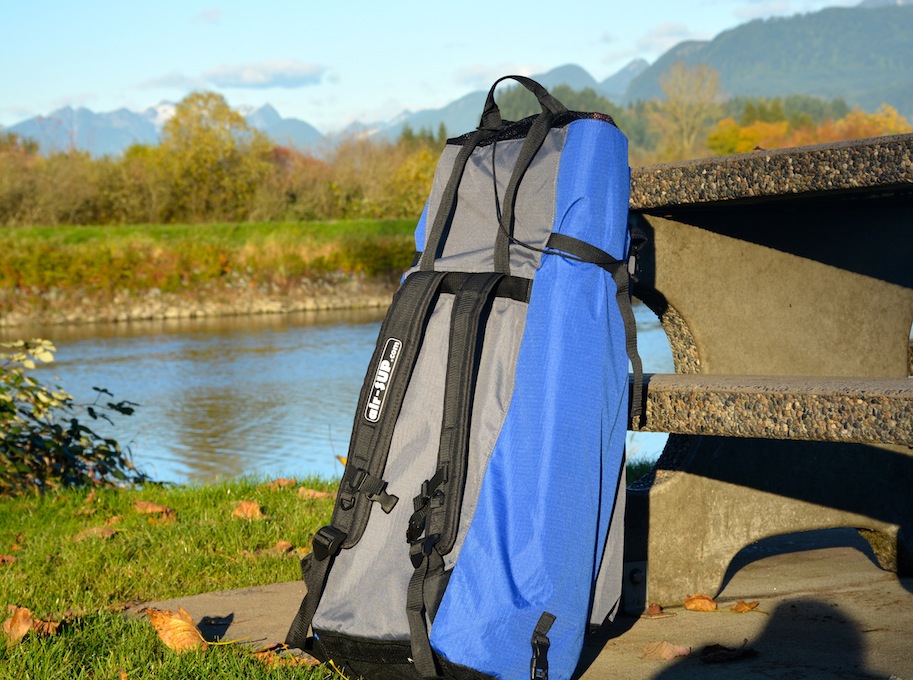 The Negative
There are very few negatives with this board. It handles well and the versatility it offers is pretty cool.
It's not super fast but it's also not designed for racing.
It's fairly basic in design… but it has all the bases covered for an awesome and convenient ride.
It has all the accessories you could need and best of all it is extremely light weight and so easy to carry anywhere.
It's a board the whole family could use.
More Pics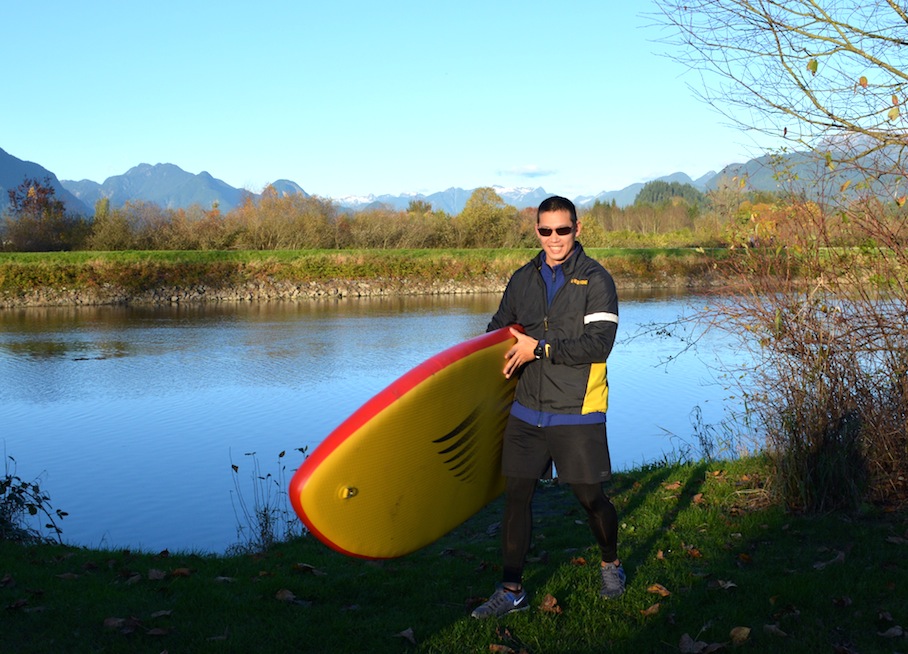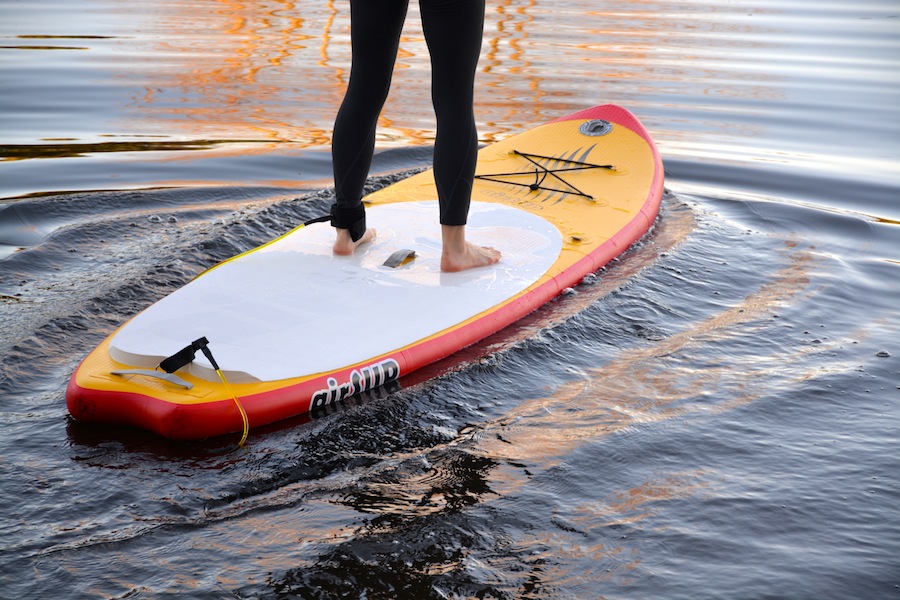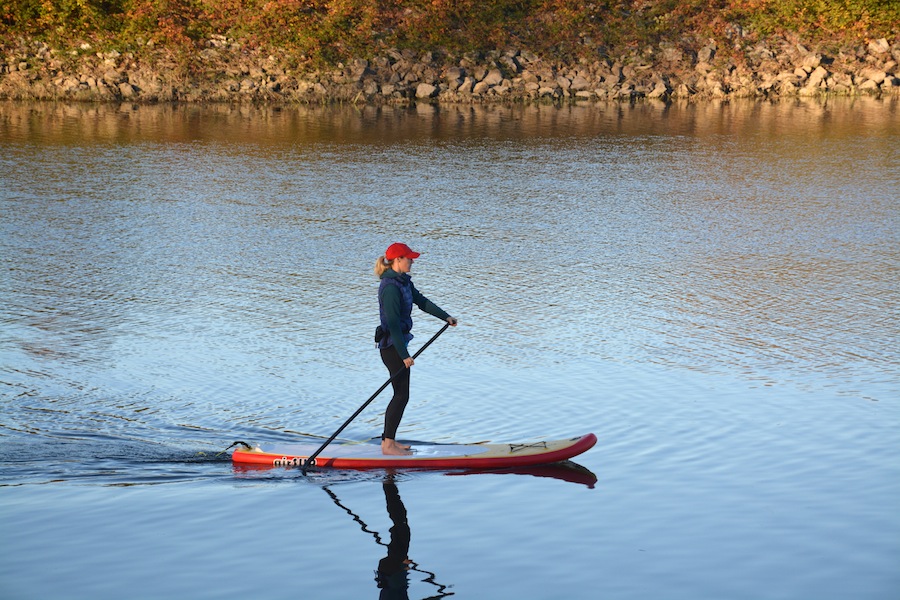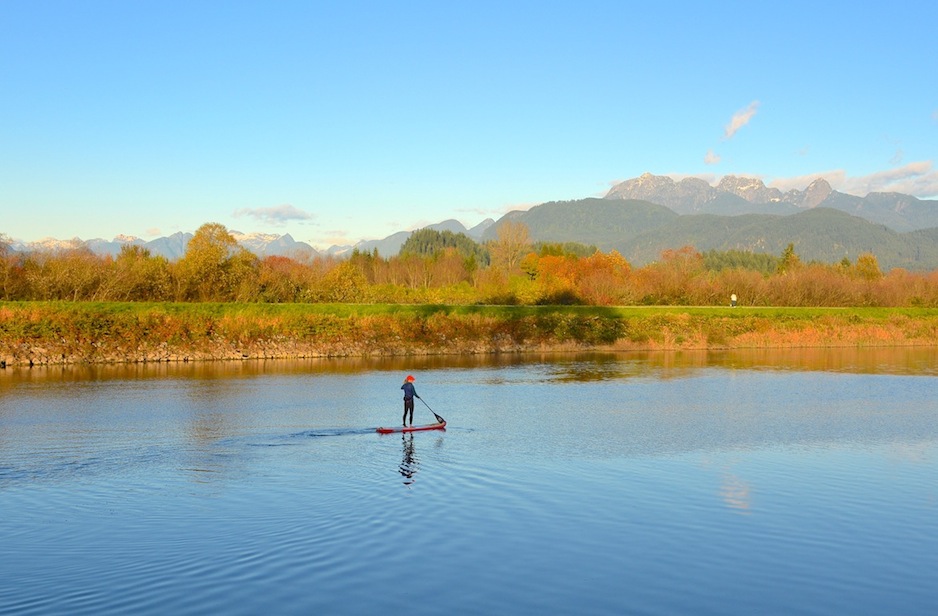 Where To Buy
Click Here For The Best Deal On The airSUP 96SL inflatable SUP At Amazon.com.
Did You Know?
By clicking on the above seller links you can help keep ISUPworld.com growing. When you make a purchase after clicking on our links, the retailer will contribute a portion of the sale to help support this site. It won't cost you anything extra and it's a simple way to help us fund our gear reviews. Thanks!