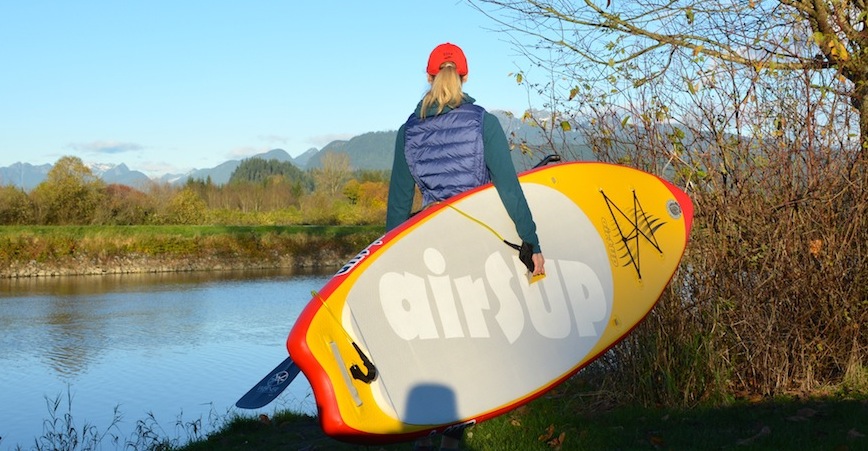 The airSUP company began back in 2010 originally producing boards for the Japan market. They are now sold globally and they have some pretty unique products.
All of their boards have a US style fin box, which is able to take almost any US box fin. Their ISUP's contain either an 8″ fin that is ideal for surfing or a 10″ fin that is perfect for flat water paddling.
Each of their boards can be inflated up to 15 PSI creating a rigid and stable riding platform. However what I love best about the airSUP company is their 'super light' inflatable SUP models.
They produce a few really nice inflatable SUP's that are extremely light weight. These boards are so easy to carry and a pleasure to paddle.  They are ideal for traveling or backpacking to remote water ways, quick to setup and overall quite solid considering how little they weigh.
Compare the different airSUP models below.
Compare airSUP Inflatable Stand-Up Paddle Boards
| | | | | | | | |
| --- | --- | --- | --- | --- | --- | --- | --- |
| Model | Best Uses | Length | Width | Thickness | Weight | Load Capacity | Where to Buy |
| | | | | | | | |
| airSUP 81SL  | surfing,cruising | 8'1" | 32″ | 4" | 12.5 lbs. | 210 lbs. | Amazon.com |
| airSUP 810SL  | surfing,cruising | 8'10" | 32″ | 4" | 17.5 lbs. | 210 lbs. | Amazon.com |
| airSUP 96SL  | surf, ocean bays, lakes, rivers | 9'6" | 32″ | 4" | 15.5 lbs. | 240 lbs. | Amazon.com |
| airSUP 10SL  | surf, flat water, cruising, larger paddlers | 10' | 32″ | 6" | 24 lbs. | 400 lbs. | Amazon.com |
| airSUP 126SL  | touring, cruising | 12'6" | 30″ | 6" | 24 lbs. | 400 lbs. | Amazon.com |