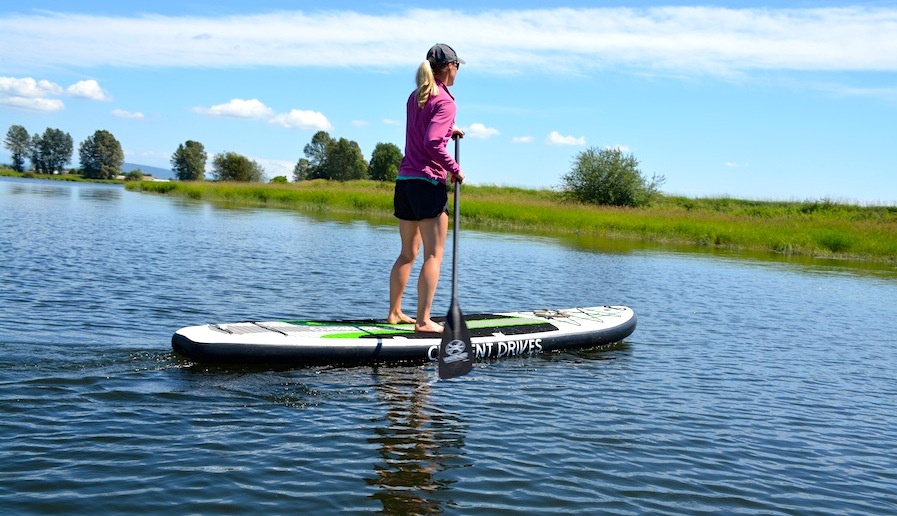 Current Drives is a company based out of Seattle that focuses on bringing clean, quiet and functional electric drive systems to water sports.
They have one highly durable inflatable SUP called the Current Drives Huey that I got to test out and review.
However besides their Huey ISUP they also manufacture an ElectraFin that can be added to any stand-up paddleboard – inflatable or fiberglass.
I will be reviewing the ElectraFin shortly as well but for now we will take a detailed look at their inflatable SUP.
Current Drives Huey Stats
11'6" long
34" width
6" thick
26 lbs.
air pressure: 10 – 15 PSI
can hold up to 390 lbs. with no flex (has been tested up to 500 lbs.)
has one large removable fin and two attached smaller side fins
Material: High-end drop stitch 1000-denier military grade PVC shell
Pros: Extremely stable, nice large bungee cord system for securing gear up front plus smaller bungee system at the back, US box fin, professional fin for good tracking, lots of D-rings, 3 carry handle, very durable and rigid construction
Cons: A little on the slow side, feels heavy to carry
More In-Depth Info On The Huey
There are three things that stuck out for me as soon as I inflated the Current Drive Huey.
It feels extremely durable and inflates to a very rigid air pressure.
It is wide and stable making it ideal for beginners, yoga, and paddling with kids, dogs or lots of gear.
It has all the important features covered giving you a lot of value for your money.
I took this SUP out several times before writing the review and I put several beginners on it to get their opinions as well.
We all felt very secure on the Huey and enjoyed paddling it.
It is not that fast but for the size and shape I wouldn't expect it to be. However it paddles well enough and I noticed the tracking was good.
I had my little dog out with me and he was totally comfortable. I think it would be ideal for paddling with a larger dog as well.
The 34" width creates a wide stable base and although it takes a little extra effort and reach to paddle the Huey, it is great for cruising around on lakes, rivers or ocean bays.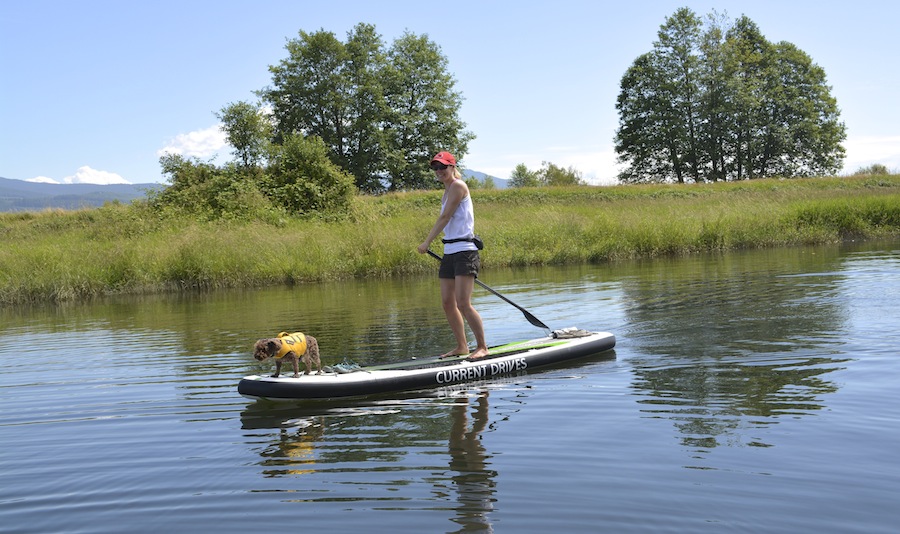 Important Features & Accessories
Bungee Cord System
There is a fairly large bungee cord system at the front of the deck pack that is ideal for securing your gear.
I really like having bungee cords on my SUP board as I find I use them all the time to secure my flip-flops, my water bottle and sometimes a small dry bag. It is a handy feature to have.
There is also a smaller bungee cord system at the back of this board.
It is there to hold the battery pack for the ElectraFin but without the electric fin it works great for securing more gear!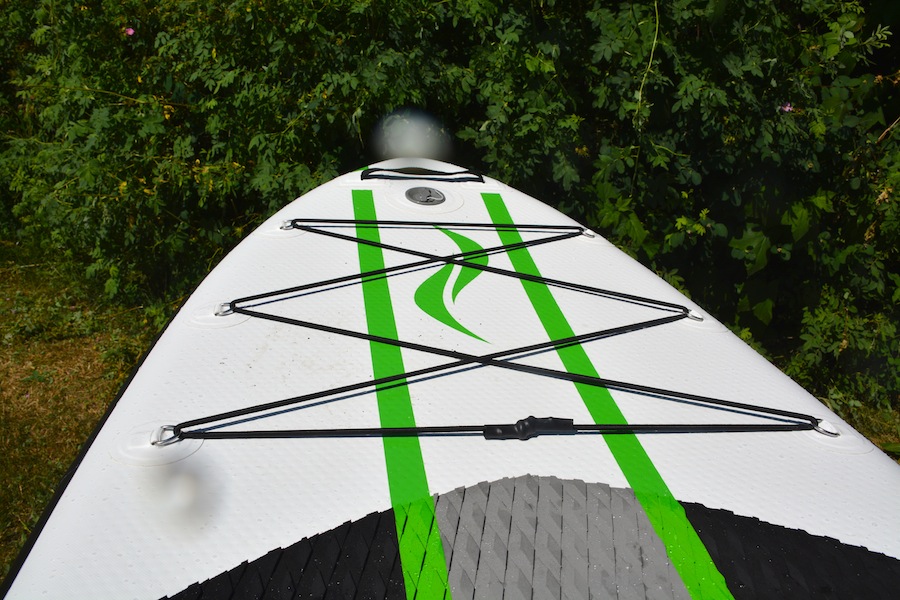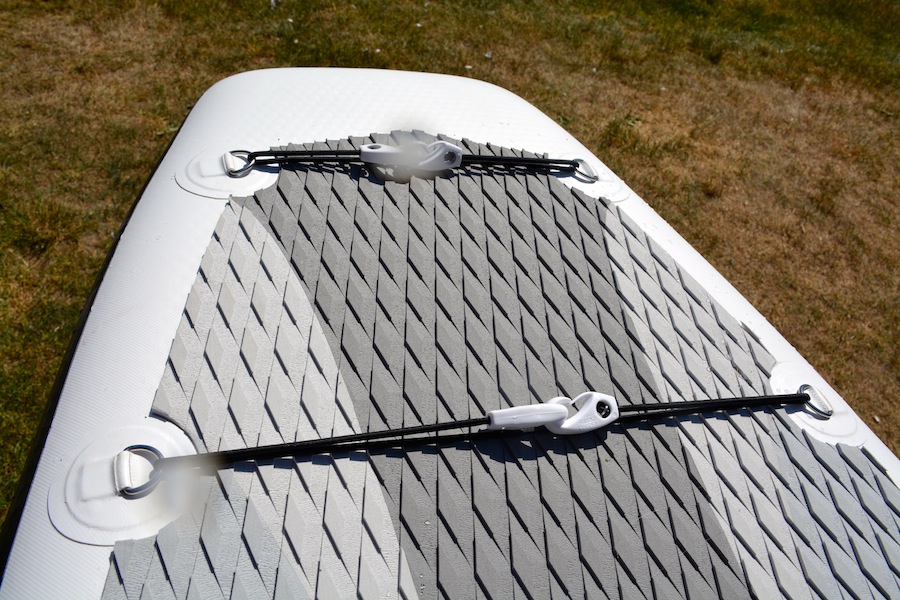 US Box Fin
The US Box Fin is ideal because it allows you to switch out the fin with any fin you like.
Not all inflatable SUP boards have a US Box Fin. It allows you to use a more professional fin option if you choose.
9" Removable Fin
Besides two smaller attached side fins, there is also one large 9" removable fin.
I found the fin to be solid and to really help with tracking when paddling on flat water.
Carry Handles
There are three carry handles on this board.
There is one wide heavy-duty nylon center carry handle and a nylon carry handle at either end of the board.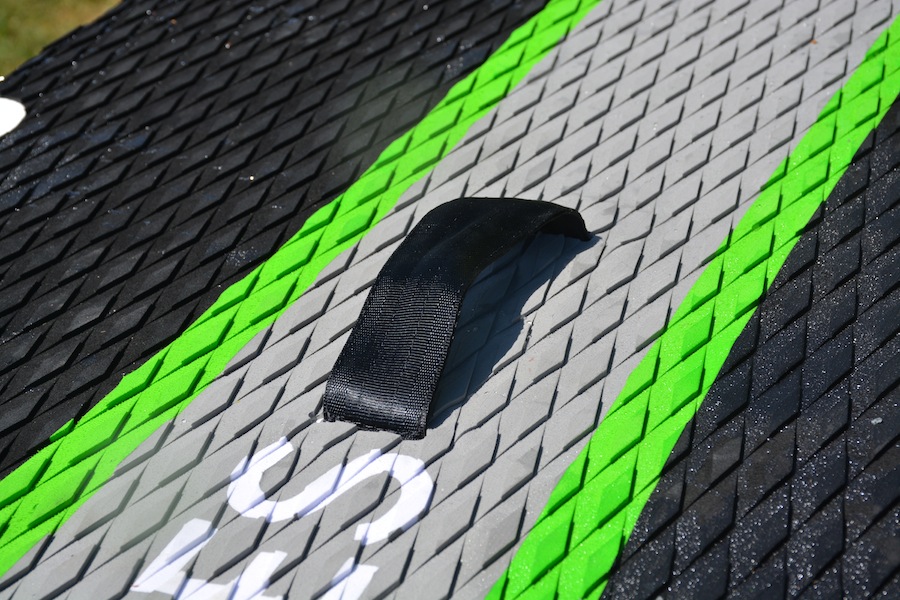 Deck Pad
The anti-skid deck pack is a good size. I found it comfortable to stand or kneel on and it really helped when gripping the board.
D-Rings
There is definitely no shortage of D-rings on this SUP.
There are 6 up front being used by the bungee cord system.
There are 4 center D-rings to attach the seat
Then there are four more at the back being used by the back bungee cord system – you can use one of these back D-rings to secure your board leash.
Seat
This SUP comes with a seat that can be attached to the center D-rings.
With the seat you can take a break from stand-up paddling and paddle your board kayak-style if you choose.
This is a really convenient feature that is great for fishing, powering through waves or just anyone who wants a versatile board that can be paddled standing or sitting.
The seat is basic but comfortable. The straps are adjustable and I found it provided decent back support.
It also has an elastic tie cord at the back that can be used to secure some gear.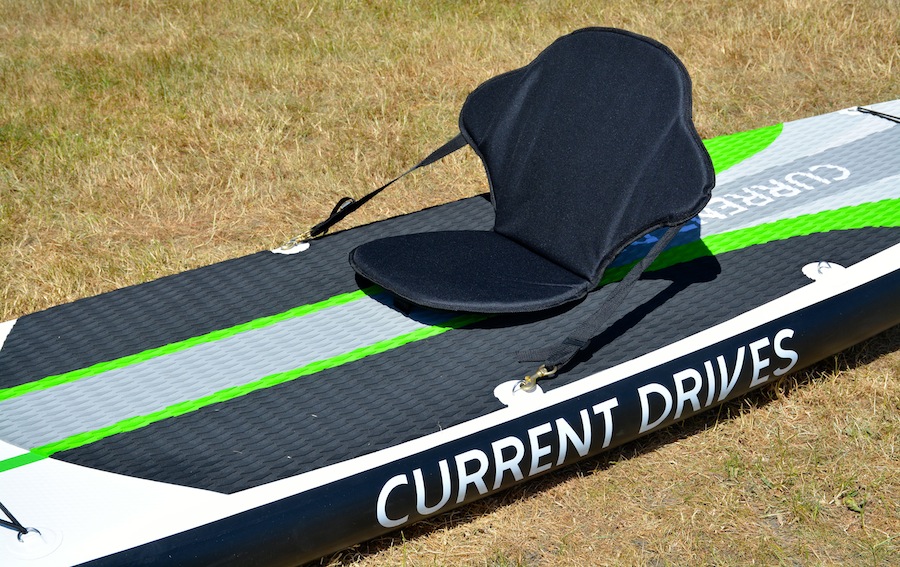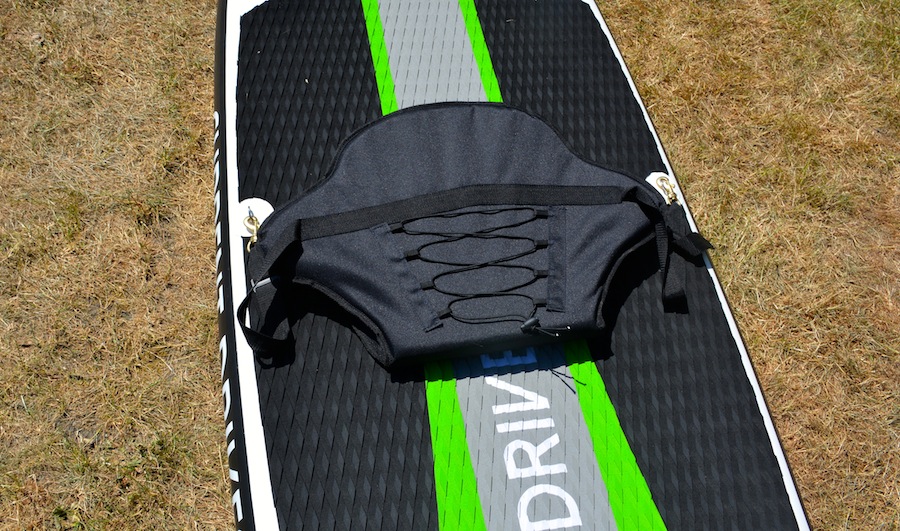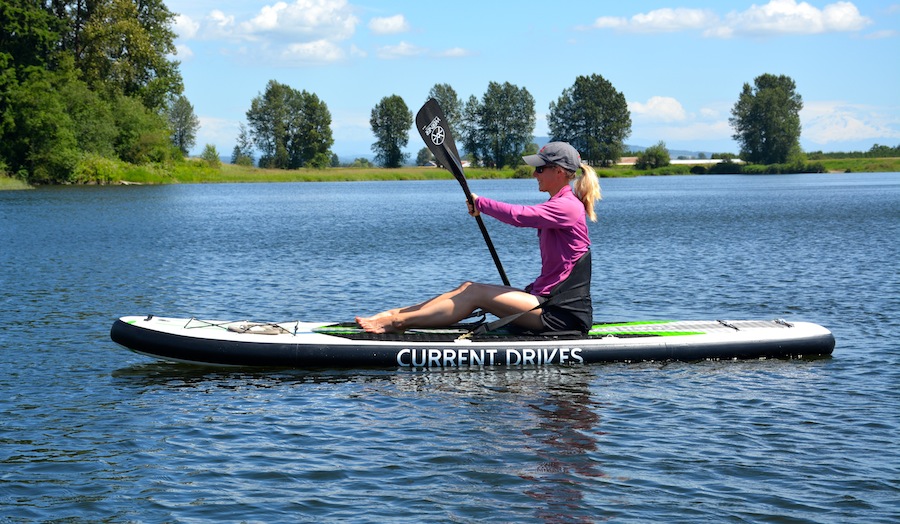 Pump
The pump is an extra cost with this board. You get the choice of adding on either a hand pump or an electric pump.
I got to try out both. The hand pump works well enough, it has a wide handle and a built in pressure-gauge making it very functional to use.
It takes a bit of effort but the pump works fine.  It has a high-pressure and low-pressure mode to make the inflation process as simple as possible.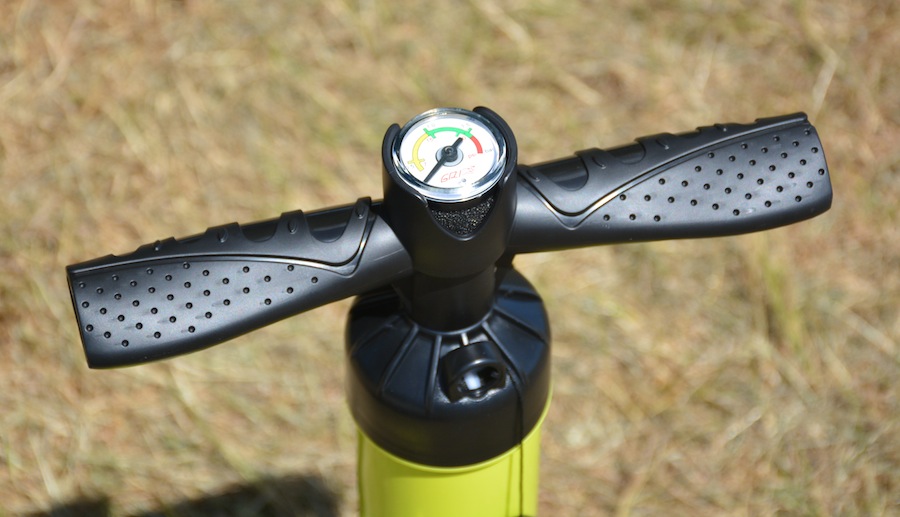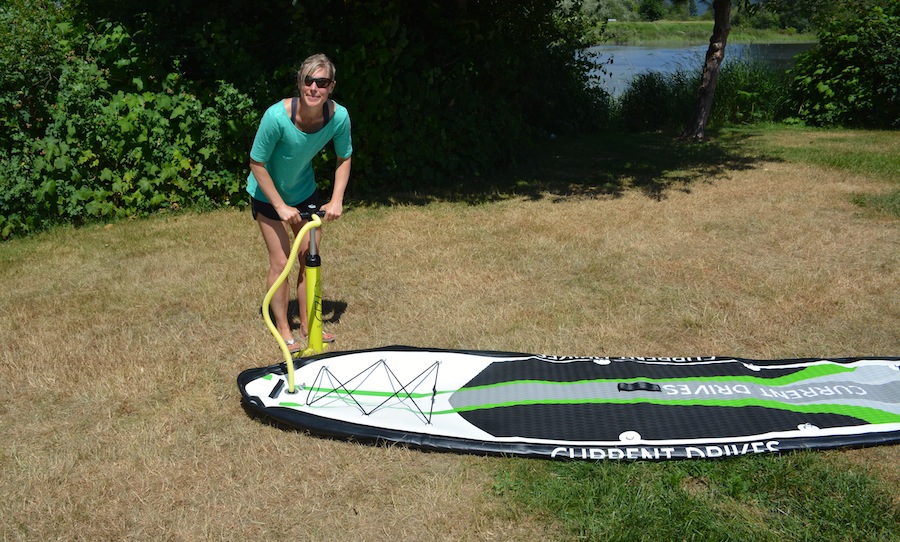 I personally much prefer the electric pump and if you don't mind spending a little extra, I feel the electric pump is totally worth it.
The Bravo BP12 electric pump allows you to set your PSI level, then it shuts off automatically when it reaches that level.
It comes with alligator clips to attach to your car battery and works great. I found it inflated the board quickly and eliminated the hard work of pumping.
We used the optional battery pack with the pump, which conveniently allowed us to inflate the board anywhere.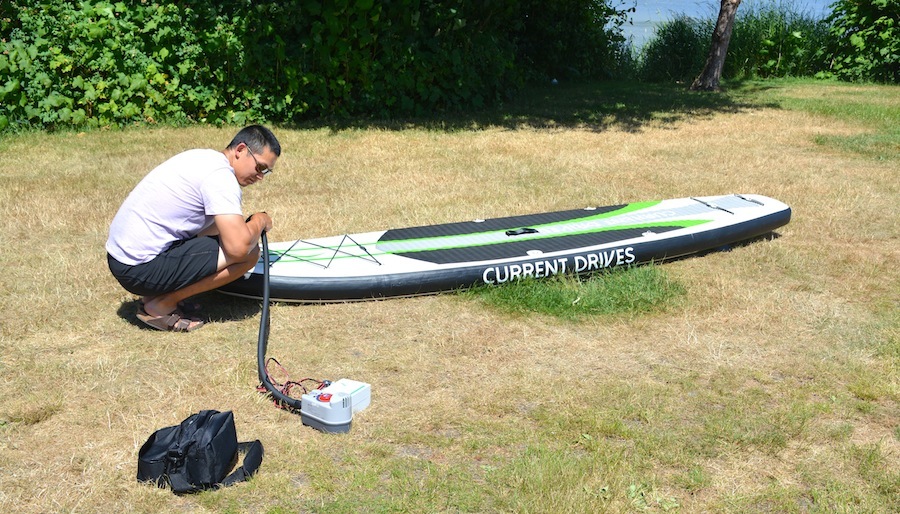 Backpack
I really like the backpack that comes with the Huey inflatable SUP.
It has mesh side panels that help the board to breathe when it is packed away.
The rest of the bag is made of a strong nylon material. It has a top draw cord to close up the bag and then two clips to secure it.
There is a front zippered pocked for storing small items.
There are two adjustable padded shoulder straps making it quite comfortable to carry and side straps for securing your paddle.
Overall I found the bag to be well made and best of all it was easy to take the SUP out and put it back in.
The backpack is included in the package.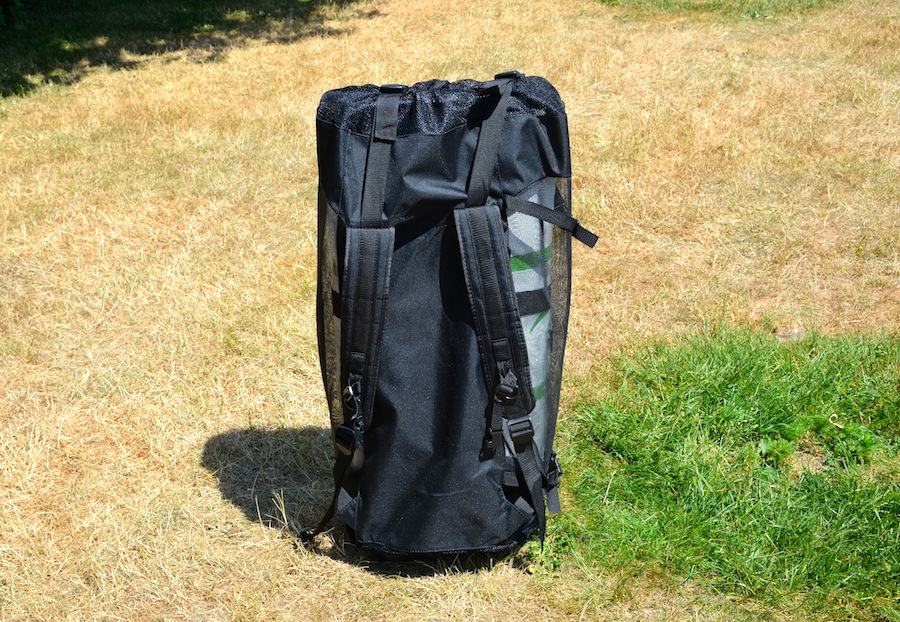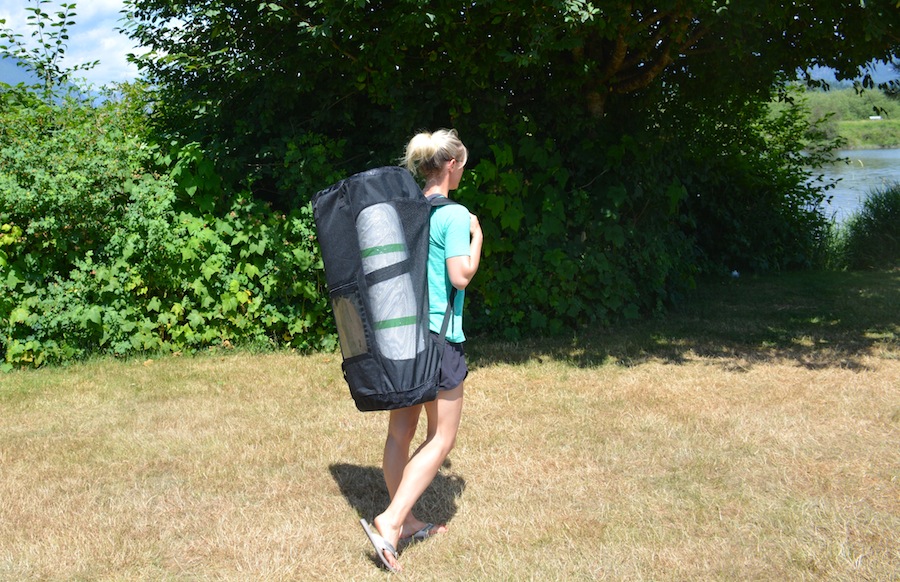 Paddle
The paddle is an optional extra cost. Current Drives gives you two options.
A 3-piece aluminum paddle – great for traveling
Or a more expensive lighter weight 3-piece carbon fiber paddle
I got to try out the carbon fiber paddle and I didn't mind it at all.  I found it comfortable and easy to use.
There are better paddles out there if you want to spend more money but for the price I thought it was good.
It is height adjustable so can be used with a wide range of people.
Below are the paddle specs…
Aluminum 3-Piece Paddle

Max Paddle Length: 84" blade to handle
Blade Spec (LxW): 16" x 8.75"
Weight: 38 ounces
Shaft: round

Carbon Fiber 3-Piece Paddle

Max Paddle Length: 67" – 83"
Blade Spec (LxW): 18.25" – 9.125"
Weight: 28 ounces
Shaft: round
Current Drives Huey Setup
Setup is simple enough. Remove the board from the bag.
Inflate with either the hand pump or the electric pump. Then attach the fin and hit the water.
It takes less than 10 minutes to get from your vehicle to the water.
When you are finished paddling dry the board off with a towel, remove the fin, and deflate.
I find that for the size, this board actually rolls up into quite a small package and easily fits back into the backpack.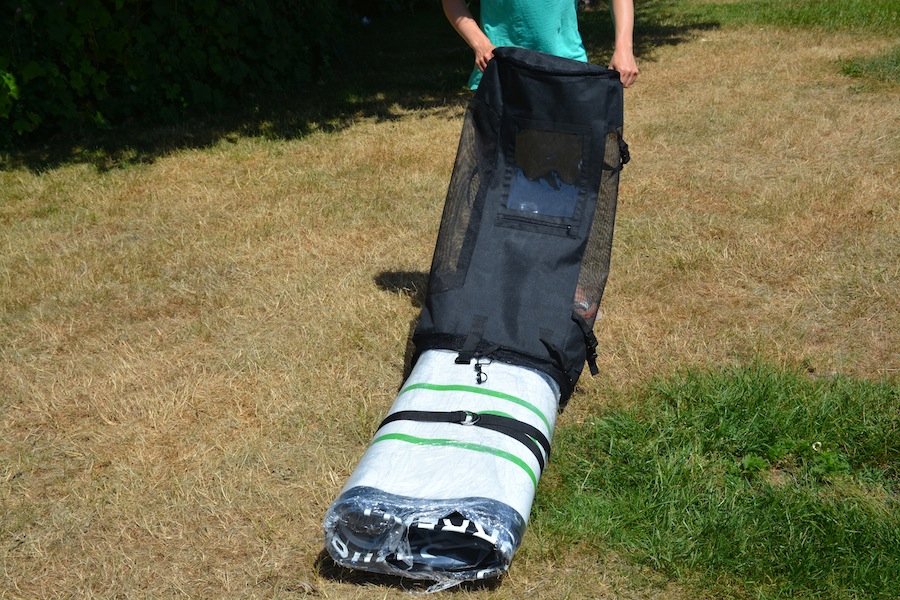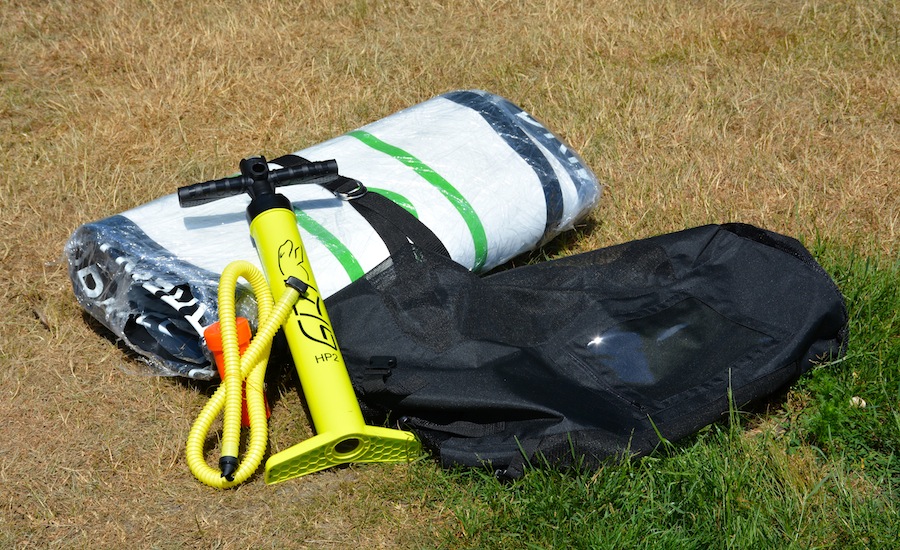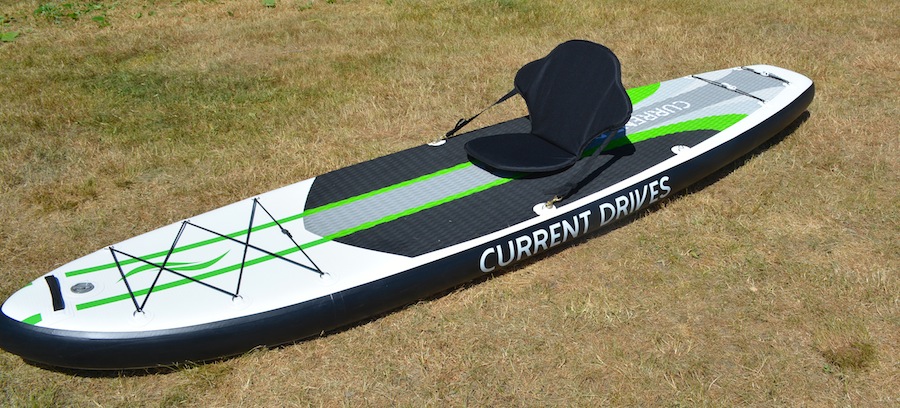 Current Drives ISUP Performance
This board paddles well but it is not a high-performance SUP.
It is big and stable and solid on the water. It tracks well, feels great but isn't overly fast.
The wider width means those with a smaller frame will have to reach more when paddling but I didn't find it an issue at all.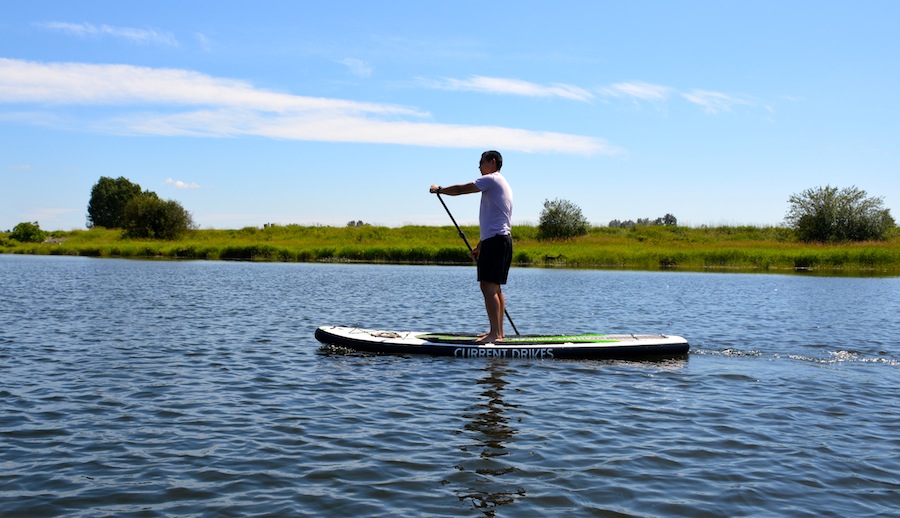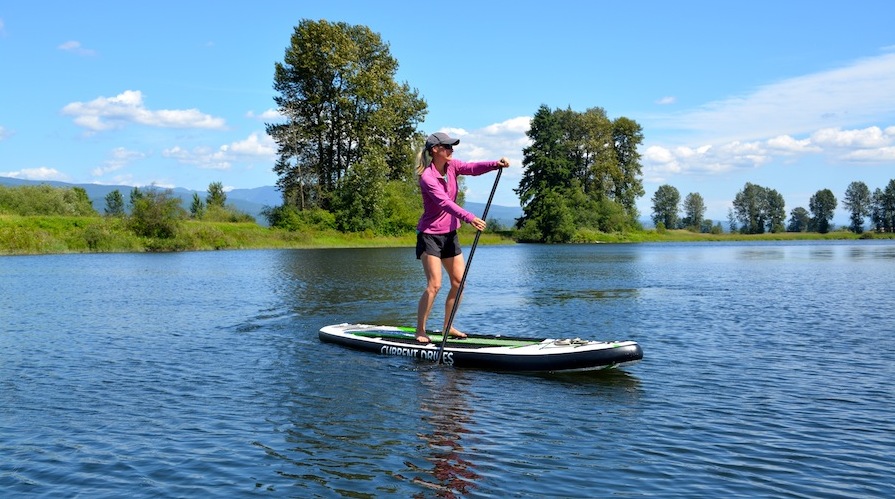 Quality Of Construction
I have to say that I found the quality of construction to be very good.
This board is durable and will be able to withstand a fair amount of abuse.
With a little care I think it will last a very long time.
The Negative
The Huey has a lot to offer but there are two negatives that stood out for me.
For one it was heavy. The Current Drives website says it weighs 26 lbs. but after carrying it I knew it had to weigh more.
I weighed it myself and when deflated in the backpack it weighed ?
When inflated it weighed
I found it quite a bit heavier than I was used to with other inflatable SUP boards. Not impossible to carry by any means but I wouldn't want to have to carry it too far.
The extra weight does make it solid in the water however and there is less of a chance of getting blown by the wind.
Also if you are using their optional ElectraFin I imagine the added weight really helps create a solid base when moving through the water.
The second thing is the speed. I mentioned this before and it isn't a big deal because this board isn't designed for racing.
However it is a little slower and heavier to get moving.
When out paddling with friends on other inflatable SUP boards however we all stayed together and it wasn't like I was lagging way behind. I just noticed that it is a little slower.
More Pics Of The Huey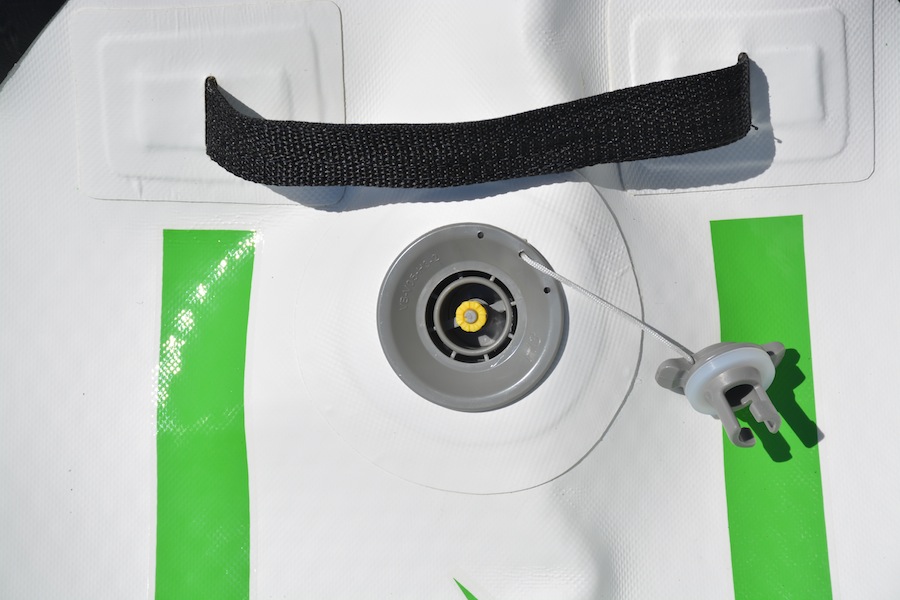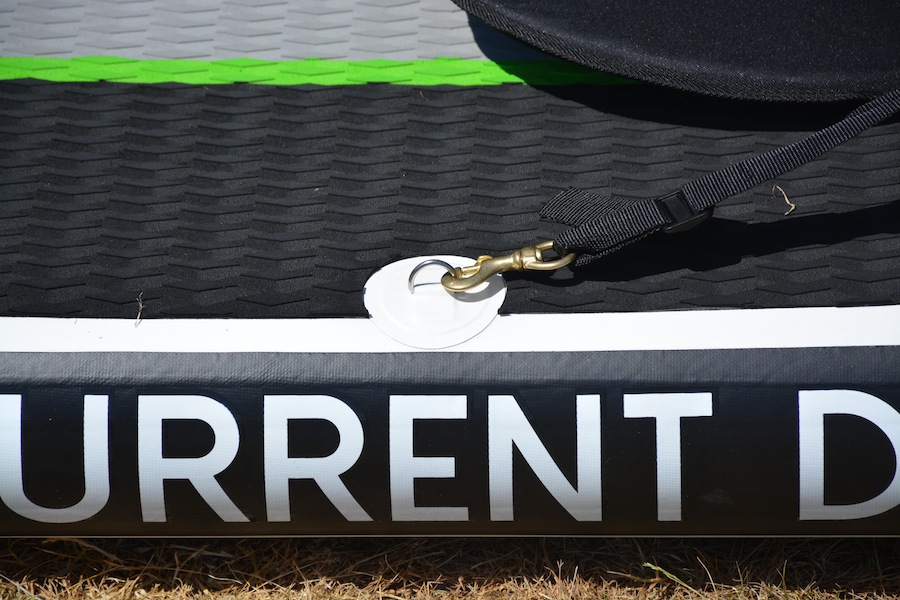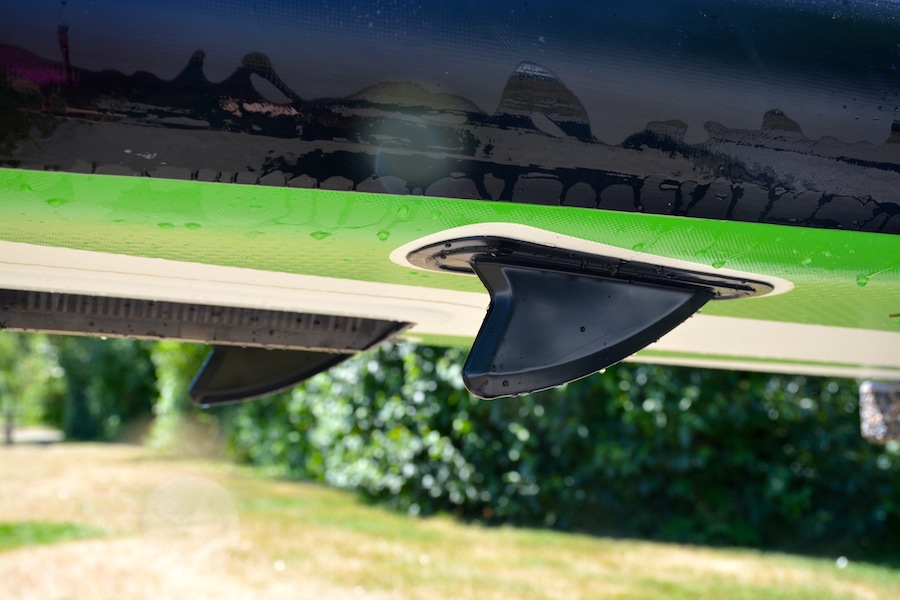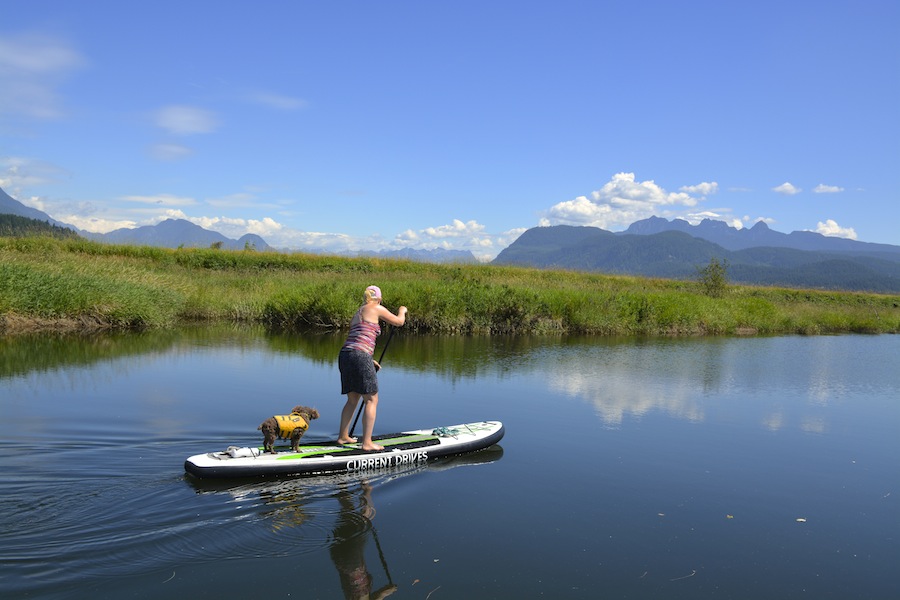 Where To Buy The Current Drives Huey
Click here for the Current Drives Huey ISUP at the official Current Drives website.