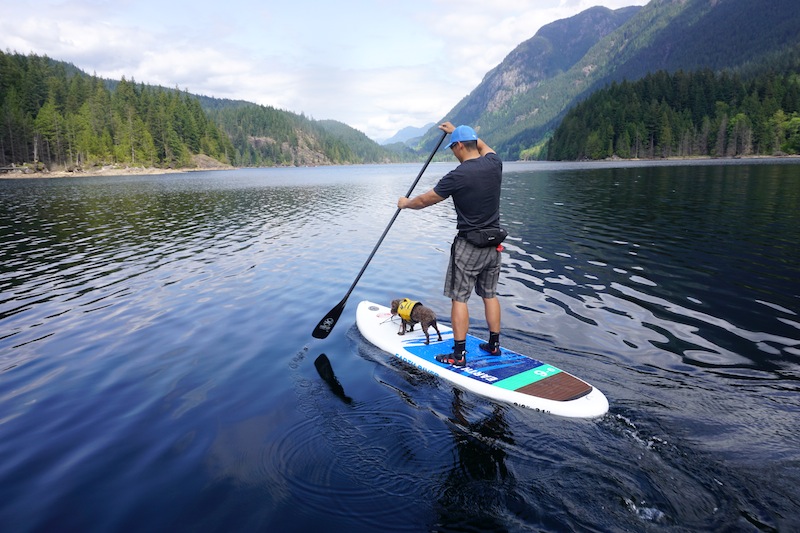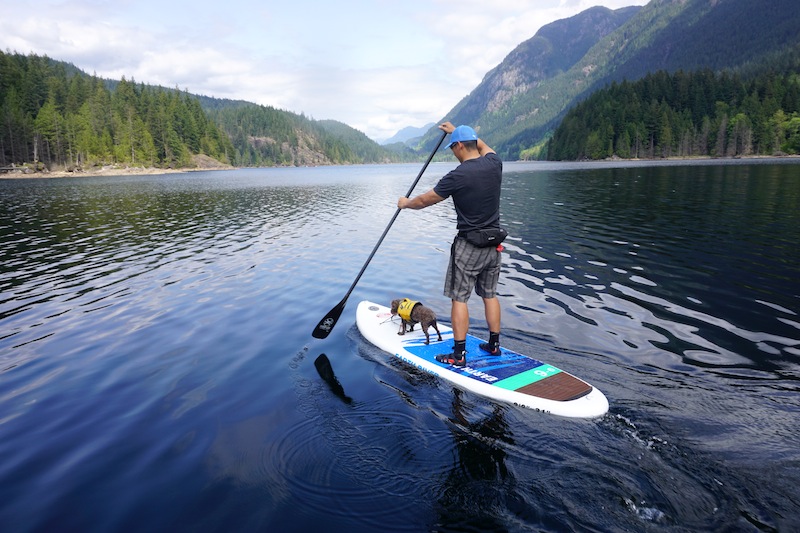 This was my first time trying an Earth River inflatable SUP and I was very impressed.
It feels very rugged and durable when inflated and performs well.
The size of this ISUP makes it quite versatile, very responsive, easy to paddle and overall just a lot of fun.
Specs For The Earth River 9'6"
9'6" long
31" wide
5" thick
weighs 20 lbs.
can hold up to 220 lbs.
air pressure: 15 PSI
Material: High grade 1000 denier drop stitch material
Best Suited For: Rivers and Surf
Pros: Strong and rugged construction, stable yet very responsive, light weight, nice bungee system for securing gear, good amount of D-rings, takes very little effort to get moving
Cons: Not that fast, tracking is decent but not fantastic when paddling on flat water
Where To Buy The Earth River 9'6" ISUP
Click here for the best deal on the Earth River 9'6″ ISUP at PumpedUpSup.com. – use coupon code ISWPUS75 for $75 off any SUP purchase.
More In-Depth Info On The Earth River 9'6"
The Earth River 9'6" SUP is designed to be able to paddle well on choppy water and surf while still cutting through flat water nicely.
It is a shorter board so it is not designed for speed or touring.
However I did not find it sluggish and the 5" thickness is a real bonus.
It is a little thicker than the average 4" thick board making it slightly more stable and able to hold more weight.
Yet it is not quite as thick as a 6" thick board so it is still very responsive on the water.
It moves easily and turns quickly making it a lot of fun to paddle.
I personally really like the 5" thickness and also the 31" width. Sometimes the shorter boards can get quite wide, which creates more stability but also hinders the performance.
I feel this Earth River board has a really nice balance between length, width and thickness making it easy to paddle on any type of water.  However it particularly excels on ocean surf and moving rivers.
Important Features
Traction Pad – The traction pad is a nice size and feels comfortable to stand or kneel on.
There is a small stomp pad at the back of the traction pad for pivot turns and quick maneuvers.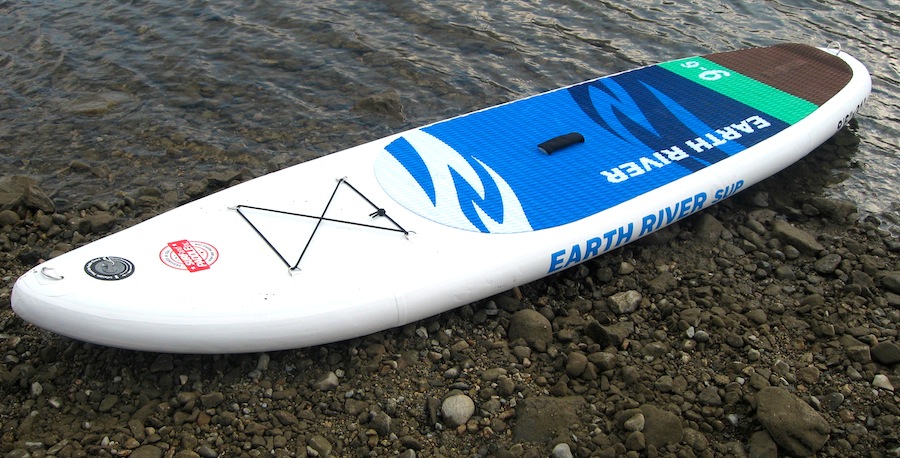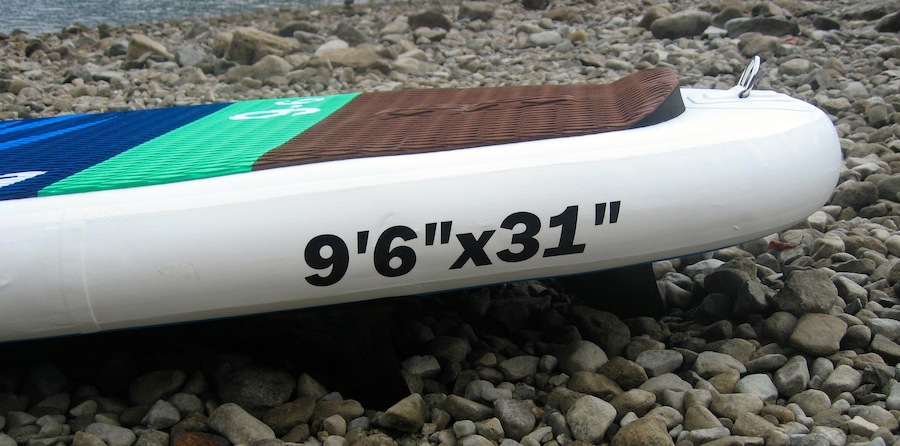 D-rings – There are six metal D-rings on this board.
There are four up front that secure the bungee system.
There is one D-ring at the nose of the board for towing and one at the tail end that is perfect for attaching your SUP leash.
Bungee System – The bungee system at the front of the board is a decent size.
I was able to secure my waterproof backpack under it as well as a water bottle.
It is ideal for securing any gear you would like to bring with you and is close enough to the traction pad that it is easy to reach when kneeling at the center of the board.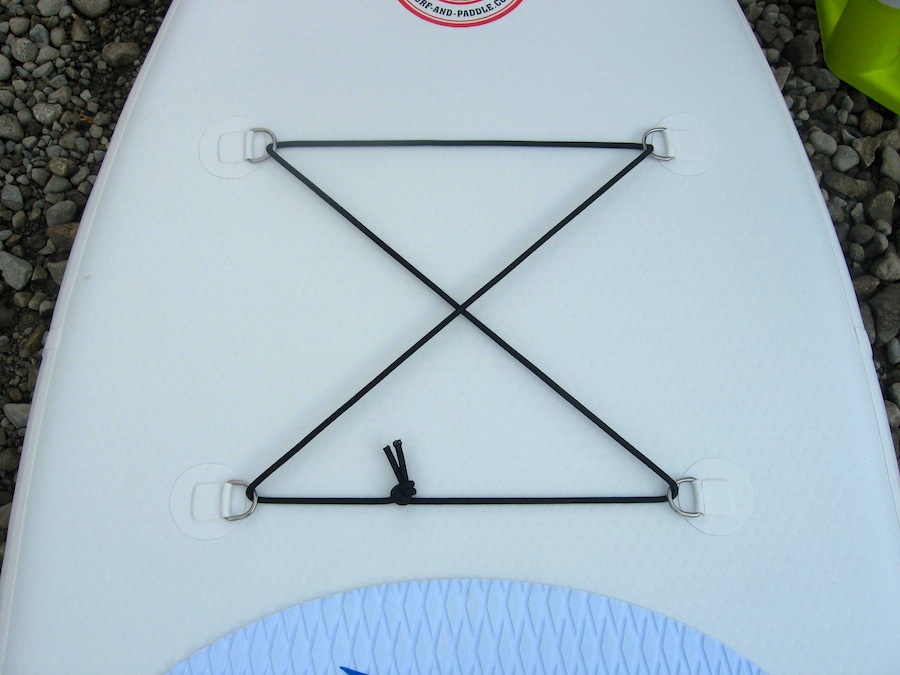 Fins – There are three fins on the Earth River 9'6" ISUP and all three are permanently attached.
They are 4" long and have a little flex to them. They are arranged in "thruster" configuration.
The fins are ideal for surf and rivers and paddling in low water where there might be debris.
They help with tracking but they are not touring fins. For flat water paddling you would normally have one larger fin that really helps with tracking.
These fins are ideal for the size of the board and for the type of water it was designed for.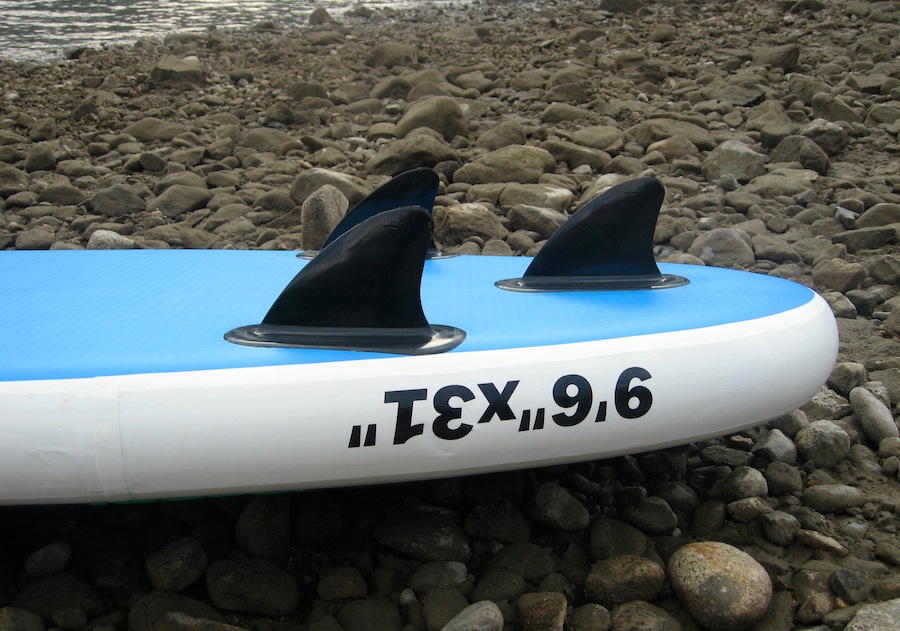 Construction – The construction seems solid. The board feels very strong and rigid when inflated.
They used 0.9mm military grade PVC with 2-ply top and bottom and 4-ply edges.
I wouldn't have any worries about this SUP bouncing off rocks or branches or hitting docks.
It is solid and feels very durable.  With a little care it should last a very long time.
Padded Carry Handle – There is one handle at the center of this board.  I really like that it is a padded handle.
It may seem like a small thing but when you have to carry a board any distance to the water, a padded carry handle makes a huge difference in your comfort level… even if the board is fairly light weight.
This one has a neoprene padded wrap attached to it.  The neoprene wrap can be removed for those who prefer the handle to lay flat.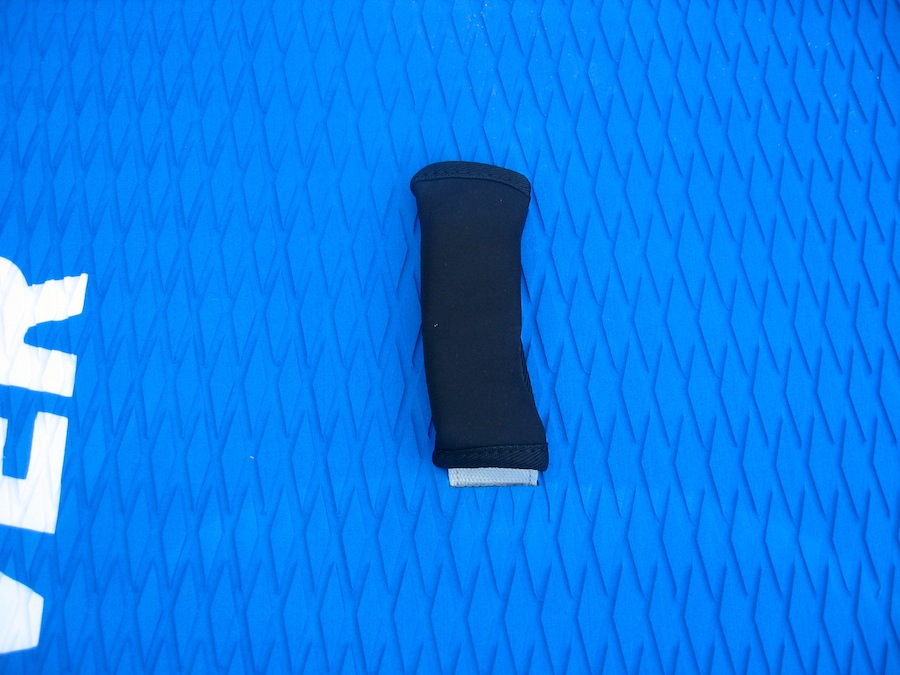 Backpack – The backpack has a few really nice features.
This pack is a good size and I really like that it has a front loading zipper. The whole front of the bag zips open making it super easy to place the rolled up ISUP back into the backpack.
The bag is also a good size. It easily fits the board, the pump, the repair kit and you could even throw in a few little extras if you needed to.
It has padded shoulder straps, a waist belt and a chest clip. The waist belt and the chest clip in my opinion are real bonuses… not many ISUP backpacks have them. They add a lot of support if you want to carry this bag on your back any distance. The shoulder straps don't have a huge amount of padding but there is a little and they are adjustable.
It also has a top padded carry handle for lifting the bag in and out of your vehicle.
There is a clear front zippered pocket to store small essentials.
Overall this bag is fairly comfortable to carry. With the padded shoulder straps, the waist belt and the chest clip, you could carry this inflatable SUP on your back for quite a distance if you were feeling ambitious and strong.  Even if you don't have far to go, the support features are really nice to have and to use.
The construction of the bag feels sound and fairly durable. I wouldn't say it is top of the line quality but for the price of this whole package, I think the bag is decent and well equipped to be very functional.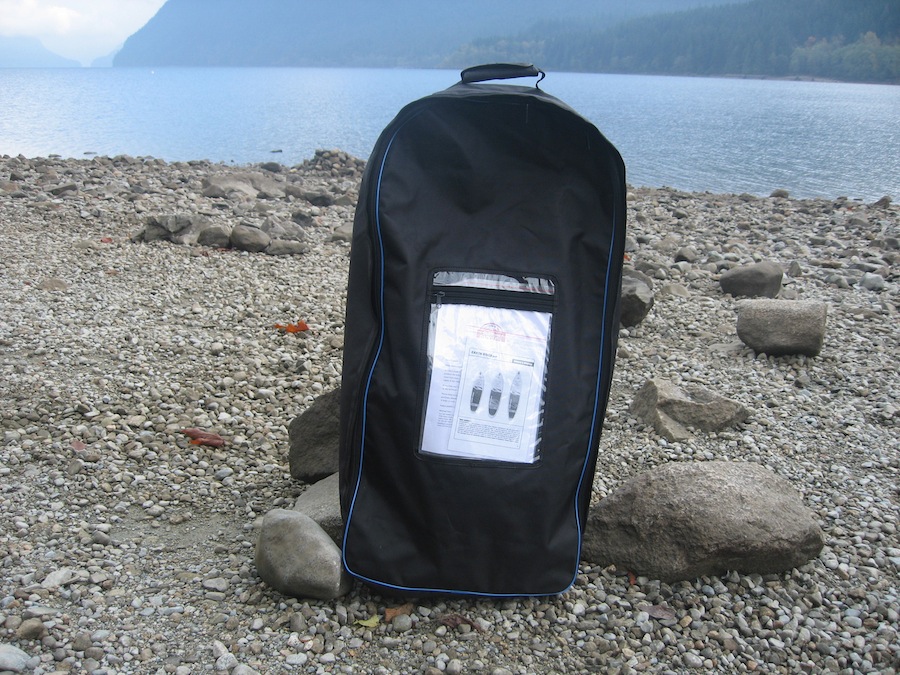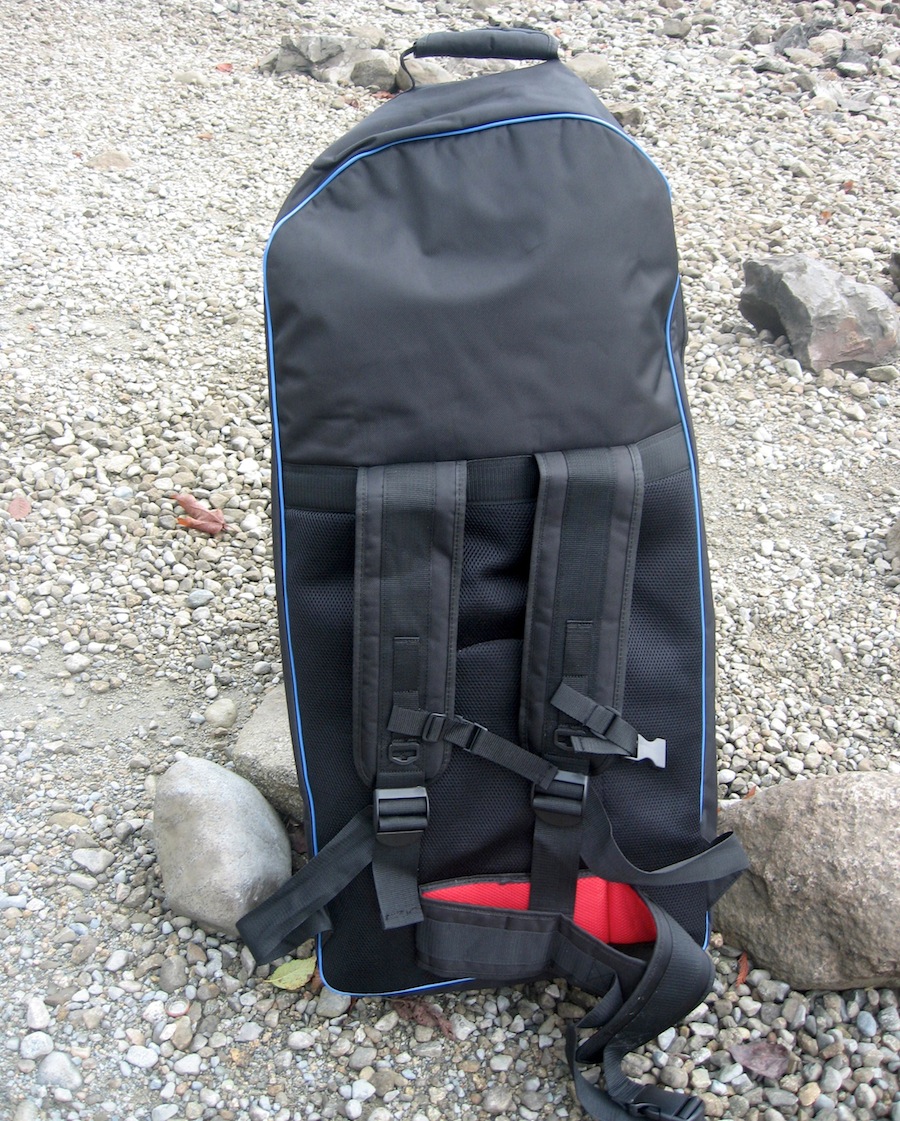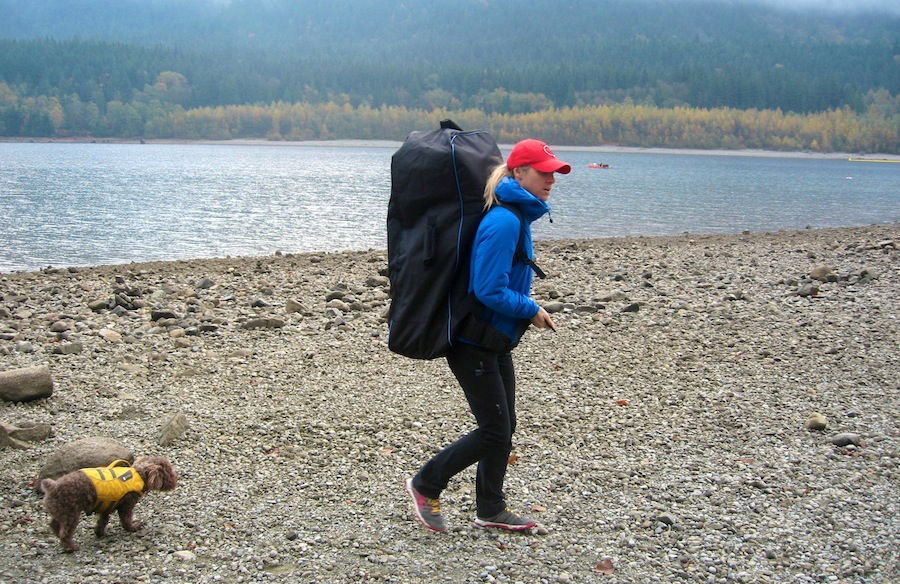 Hand Pump – The high pressure pump that comes with this package is decent.  It comes with a pressure gauge so you can check your progress while inflating the board.
It is a basic hand pump that works fairly well but does take some effort to get to 15 PSI.
I prefer using an electric pump but if you don't want to splurge on the extra cost, the hand pump will get the job done but it will take some work.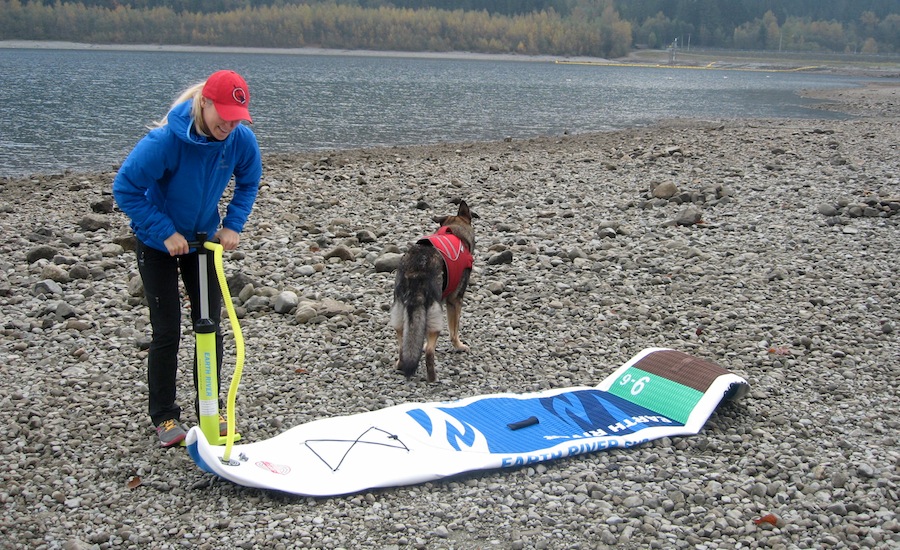 Earth River ISUP Setup
This ISUP is not that big and setup is really fast.
Take the board out of the backpack, unroll and inflate. Once you know what you are doing you can be on the water in less than ten minutes.
There are no extra parts to worry about, no fins to attach and nothing that is difficult to do.
After paddling you can just dry it off with a towel, deflate and roll it back up into the backpack.
It is ultra portable and extremely convenient.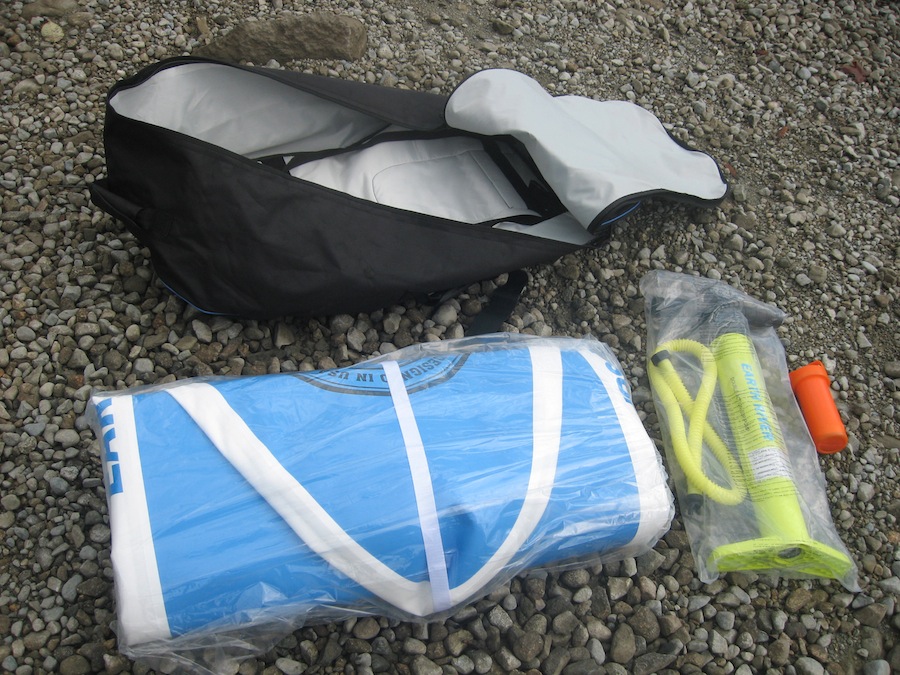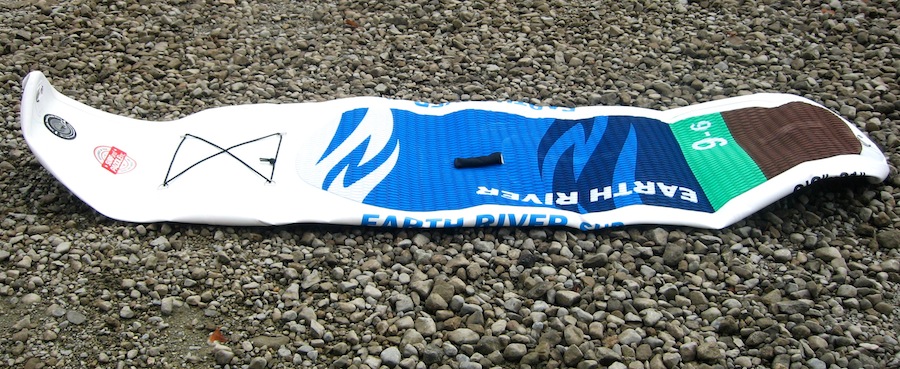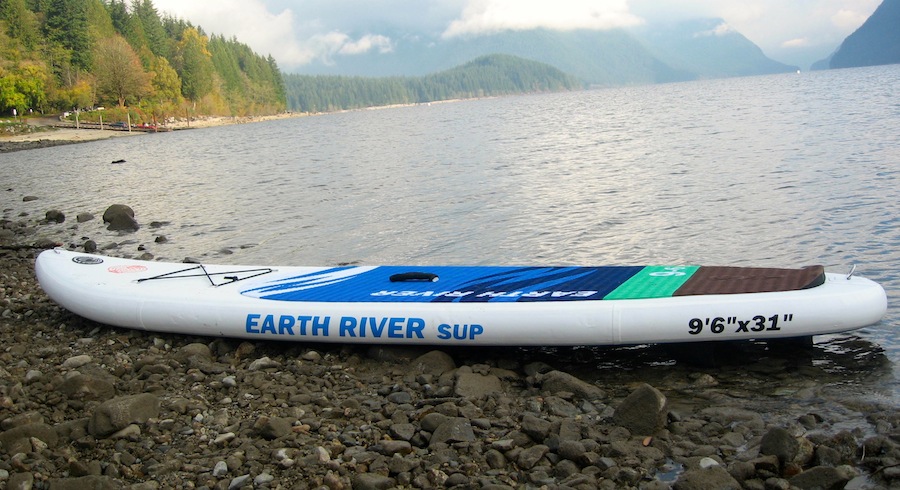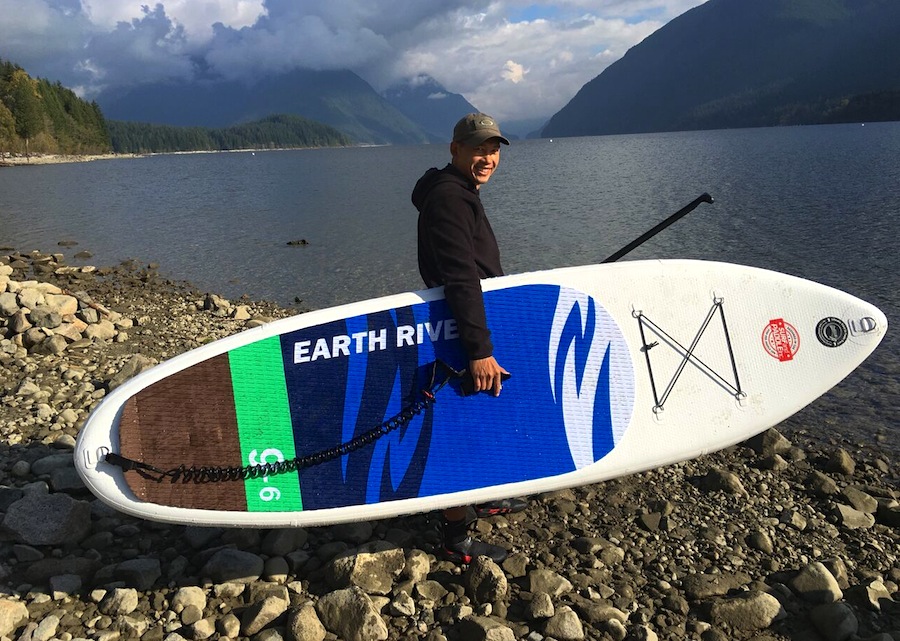 Earth River 9'6" Performance
Overall performance is good all the way around. It is not that fast but it moves easily, does not take a lot of effort to get going and turns quickly.
I really enjoyed paddling this board. It was easy and fun and still fairly stable.
It is able to hold up to 220 lbs. and still paddle at an optimum level and would suit a wide variety of people.
It is a lot of fun on ocean waves and I found it maneuvered down a moving river with ease.
It is very responsive and the tracking is decent. It is not a touring board so it wouldn't be my choice for exclusively paddling on flat water.
However for ocean waves and moving rivers it rides well and it is still fun to cruise around on flat water if you wanted to change it up.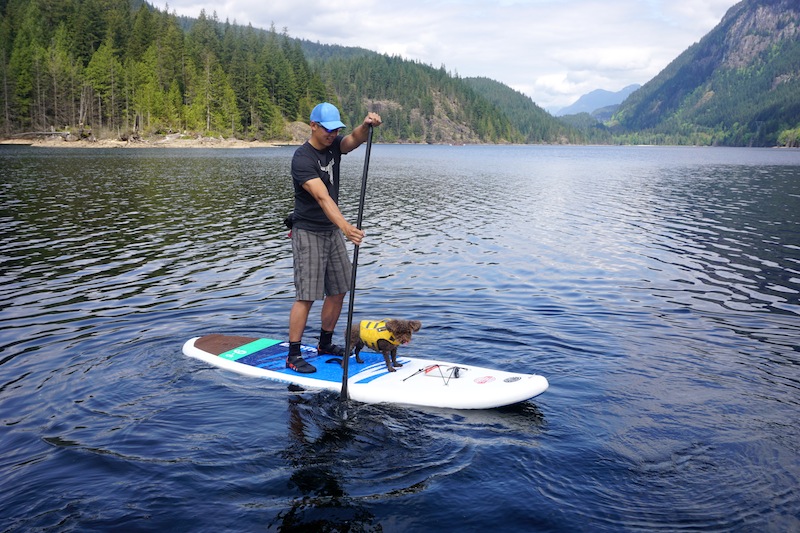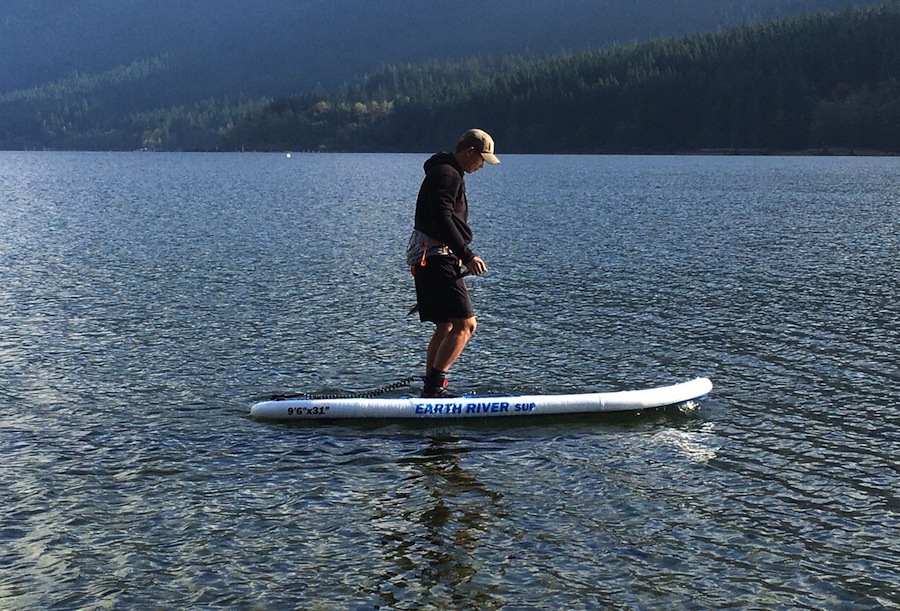 The Negative
There isn't much not to like about this board. It is durable and strong, paddles well and is very portable.
One thing I would point out is that it is not quite as stable as some other 9'6″ long boards. The 31″ width and 5″ thickness on this one make it very responsive and I think a lot of fun to paddle.
I find that often the shorter ISUP's will have a little extra width, which really helps with stability however it can also make them sluggish and harder to turn.
I quite like the size of this Earth River board and I think the width and thickness are ideal for optimum performance.  If you are 200 lbs. or less and have it inflated to the proper PSI level, you won't have any problems.
The only other possible negatives are that it is not that fast when paddling on flat water and the tracking is decent but not ideal for touring.
However it is almost not fair to point these out as negatives as this board was not designed for speed and touring. It will perform best on surf and rivers but can still be fun to cruise around on when paddling on flat water.
More Pictures Of The Earth River 9'6" ISUP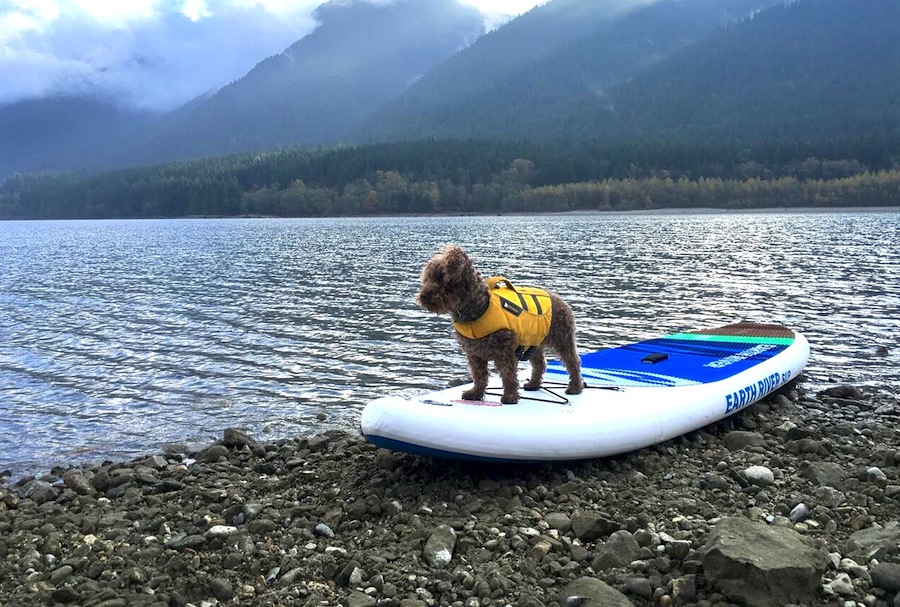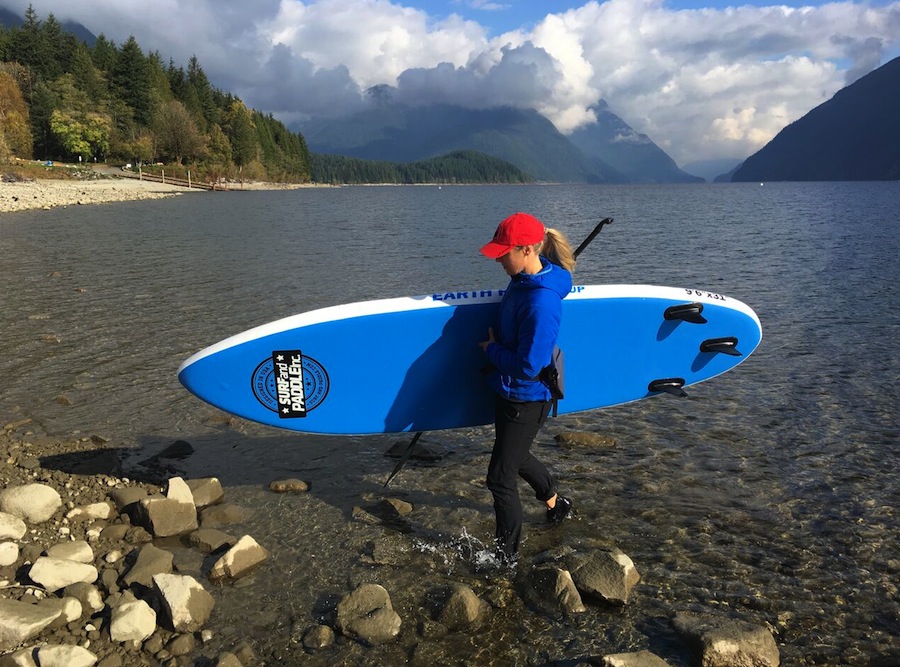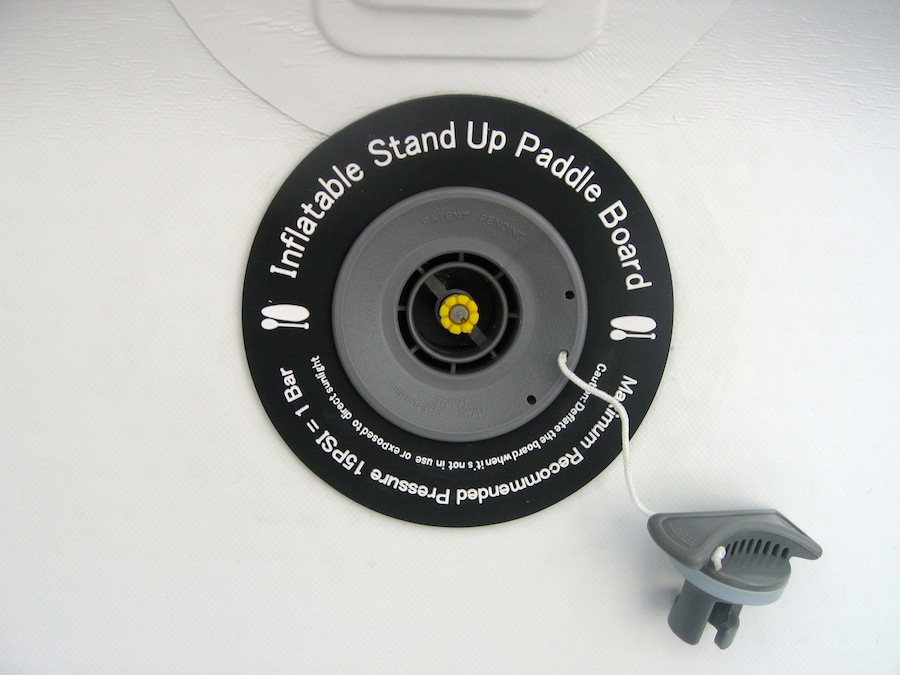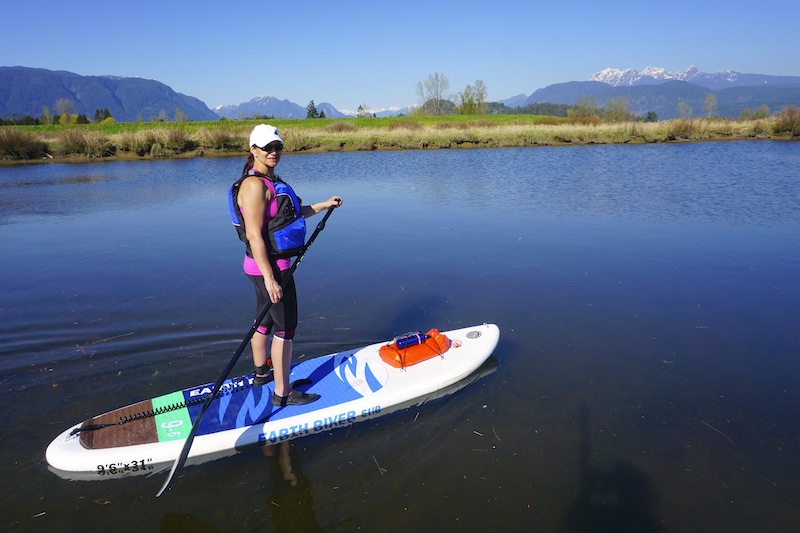 Bottom Line
Bottom line is that for the size, quality and price this is a great buy.
If you are looking for a shorter board that paddles well, is very responsive and easy to ride, can hold a fair amount of weight and can be brought absolutely anywhere, I would recommend that you seriously consider the Earth River 9'6″.
I love how portable and easy this board is to carry. The 5″ thickness and 31″ width make it a lot of fun to paddle and versatile for many people. It is very easy to turn and maneuver and takes little effort to get moving.
This ISUP would suit beginners but also performs well enough that there is room for growth as your skill level improves.
I think that novice and intermediate paddlers will appreciate the shape and size of this board as well as it's versatility.
Where To Buy
Click Here For The Earth River 9'6" ISUP At PumpedUpSup.com. – use coupon code ISWPUS75 for $75 off any SUP purchase.
Did You Know?
By clicking on any of the above seller links you can help keep ISUPworld.com growing. When you make a purchase after clicking on our links, the retailer will contribute a portion of the sale to help support this site. It won't cost you anything extra and it's a simple way to help us fund our gear reviews. Thanks!