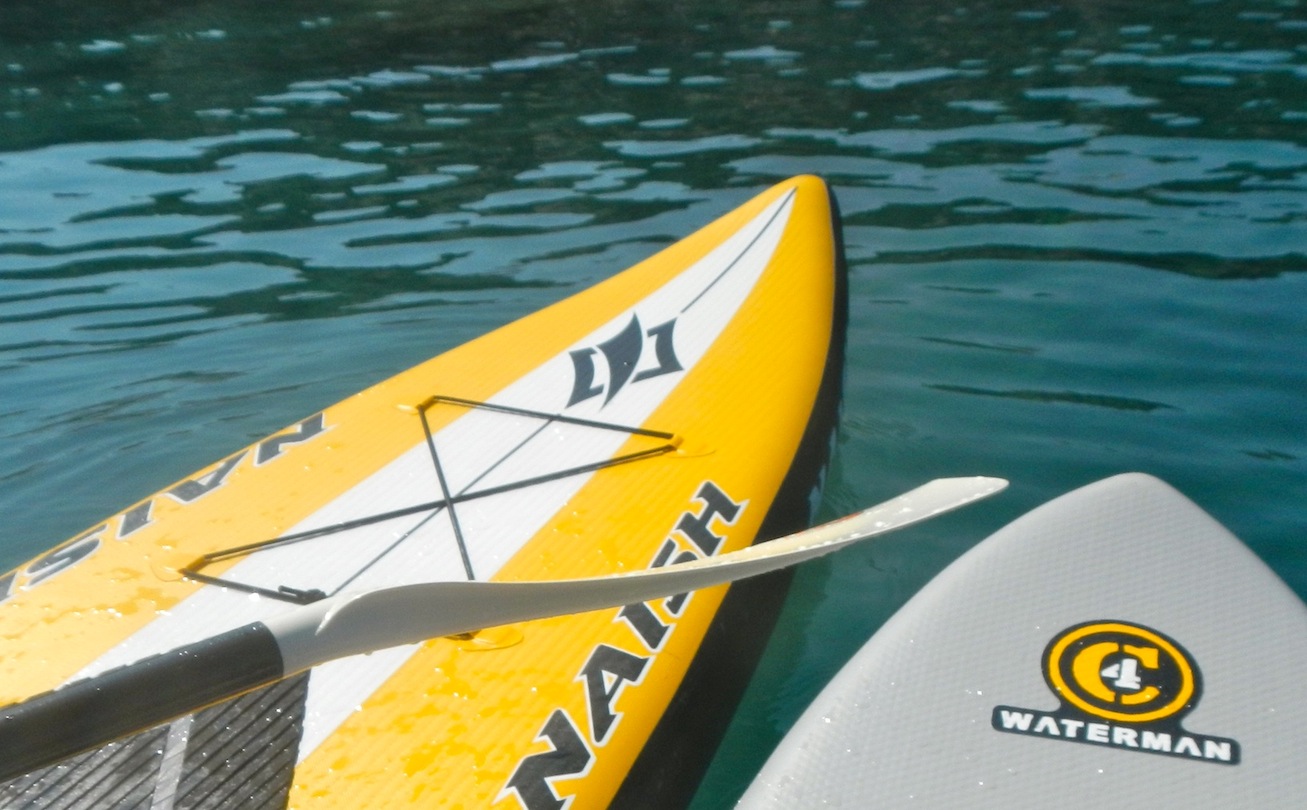 Depending on where you live it may not be all that easy to find a good selection of inflatable stand-up paddleboards.
Online you can find more board options as well as price differences. Also the shipping is often free or at least very minimal.
Below is a list of great inflatable SUP retailers – many of which I have shopped at myself. They are all excellent resources for ISUP's and paddling gear.
The majority are in the United States but if you scroll down you will find a few Canadian retailers as well as one in the UK.
United States Retailers
SeaEagle.com
I bought my first inflatable kayak at Sea Eagle years ago. I have since shopped there many times and find their prices to be awesome. They manufacturer their own line of inflatable boats, kayaks and now an ISUP. In my experience they offer a lot for your money and the quality is excellent. Their inflatable longboard is well worth checking out.  All of their products come with a great 3 year warranty.
Outdoorplay.com – Free shipping and no sales tax
Outdoorplay is a company based out of Oregon run by some enthusiastic and friendly people who are very passionate about paddling. They have a large selection of paddling equipment and gear and typically some great prices. Their range of inflatable SUP's is growing and they now carry Advanced Elements, Aire, Aquaglide, Bic Sport, Boardworks, NRS and Sea Eagle boards.
NRSweb.com
NRS is one of my personal faves. I love these guys as they tend to always carry my favorite gear. I have shopped there for years and besides a large selection of quality inflatable kayaks they also manufacturer their own inflatable stand-up paddleboards. In 2013 they added to their lineup of boards so there is a lot more choice now. Their ISUP's have been a favorite of mine and my friends for awhile now.
PumpedUpSup.com – $75 off any SUP purchase with coupon code ISWPUS75
Pumped Up Sup is run by stand up paddling enthusiasts and specializes in inflatable SUP's.  They sell a good selection of Red Paddle Co boards as well as the Starboard Astro line.  They also manufacture and sell their own brand of ISUP's called Earth River.  Besides paddle boards they also sell paddles, pumps and paddling safety equipment.
Backcountry.com
I have shopped at Backcountry for years. They have a large selection of outdoor gear as well as a few inflatable and hard-shell SUP's. You can find Surftech, Boardworks SHUBU, NRS and sometimes C4 Waterman boards at their online store.
ColoradoKayak.com
Besides having a lot of great paddling gear they are also a great information resource. I have personally found their customer service to be above and beyond many other stores. They have a large selection of boards and I actually bought my C4 Sub Vector ISUP from them. They carry NRS, C4 Waterman, MCIT and Astro inflatable stand-up boards.
Amazon.com

Amazon is always a great source for paddling gear and just about anything else. They have a decent selection of inflatable SUP's available and I would think in the future will probably offer even more. Right now you can usually find Naish, C4, NRS, SurfTech, Sevylor, Advanced Elements, Solstice, Boardworks, Hobie, Bic and Airhead boards.
AustinKayak.com
Austin Kayak sells a large variety of kayaks, stand-up paddleboards and tons of paddling gear and accessories. They are a great shop for paddles and gear. They sell Advanced Elements, Aquaglide, Bic, Hobie and NRS inflatable SUP's.
REI.com
Many of you are probably familiar with REI as they have stores all over the U.S. Their online store covers a variety of outdoor gear as well as a few ISUP's. They carry Advanced Elements and Boardworks SHUBU boards.
Swell.com
Swell is an awesome site for Surf and SUP addicts. They don't sell any inflatable stand-up paddle boards but they have tons of SUP gear and accessories including paddle bags, fins, leashes, swimsuits, waterproof cameras, and much more.
WestMarine.com
WestMarine is a boat store and carries a lot of great boating equipment. At this time they have the Soltice and the Surftech ISUP's.
Green Water Sports
This online store specializes in inflatable SUP boards. They carry a large selection of Red Paddle Co, Naish and Starboard inflatable stand-up paddle boards as well as tons of great gear and accessories. They also provide reviews, great pics and learning tools.
BluePlanetSurf.com
Based out of Hawaii, Blue Planet Surf offers a few of their own inflatable boards as well as gear, clothing and accessories.
CruiserSUP.com
Cruiser SUP carries their own brand of inflatable paddle boards with several options to choose from. Nice design, nice colors and they have a great two-board combo package deal. They offer free shipping and have lots of experience with paddle surfing. Cruiser SUP guarantees you receive the right gear, best value and unmatched customer service.
Naishsurfing.com
Naish manufacturers their own stand up paddle boards and has a few inflatables worth exploring.  I have always been a big fan of the Naish boards and find they rarely disappoint.
C4waterman.com
C4 Waterman inflatable SUP's are sold in a few different stores. This is the manufacturers online store and has the full collection of inflatable paddle boards.  Their Sub Vector ISUP was one of the first that I bought myself and still use it to this day over six years later.
UliBoards.com
Uli manufacturers their own ISUP's and has some great gear and accessories.  The Uli boards are known to be durable and strong.
BoatsToGo.com
Boats To Go offers a variety of inflatable kayaks and inflatable boats as well as the Saturn inflatable SUP's.
AirKayaks.com
Large selection of inflatable kayaks as well as some inflatable stand-up paddle boards.
WakoodaUSA.com
Nice selection of Wakooda inflatable SUP's, kayaks as well as paddling gear and accessories.
ISUPplanet.com
Focuses solely on inflatable stand-up paddle boards. Nice selection of boards, paddles and accessories. Small, veteran-owned business.
NixySports.com
Located in Southern California, Nixy Sports exclusively offers their own brand of inflatable stand-up paddle boards. They have some nice models to choose from and all the accessories you could need to go with it.
VermontSkiandSport.com – $80 off any SUP purchase over $800 with coupon code iSup80
Locations located in Vermont as well as in Cape Cod, Vermont Ski and Sport has several boards to choose from and great prices on the Red Paddle Co inflatable SUP's.  They also have a stand up paddle academy for athletes and enthusiasts.  All new inflatable SUP's include a free paddle and free domestic shipping.
CaribeSUP.com
Fun selection of inflatable stand-up paddle boards.  Their SUP's are unique and colorful.  Their board combos come with everything you need to get on the water right away.  Free shipping in continental US.
Canadian Retailers
BeachToyz.ca
Located in Toronto Canada, Beach Toyz has a large selection of Red Paddle Co inflatable SUP boards. If you live in the area they also offer SUP rentals as well.
InflatableSUPCanada.ca
Online store specializing in inflatable stand-up paddle boards.  Large variety of boards, paddles and accessories to choose from with free shipping for all orders over $50.
RedRiverPaddle.com
Another great Canadian SUP company based out of Winnipeg, Manitoba. Red River Paddle specializes in Red Paddle Co inflatable SUP's.
Timberless.com
Canadian company selling quality inflatable stand up paddle boards with several designs to choose from.  All boards include a 1-year warranty.
TrailHeadPaddleShack.ca
Located in Ottawa, Trail Head Paddle Shack has a large selection of outdoor equipment and SUP gear and accessories.  They have a variety of inflatable SUP's to choose from.
WhaSUP.ca
Canadian company based out of Ontario that sells and designs inflatable SUP's. Good selection of boards and paddles.
UK Retailers
EyeOfTheWave.co.uk
UK based company that sells some great inflatable SUP boards for a good price. Their Eye Of The Wave brand has four inflatable SUP's to choose from at this time.