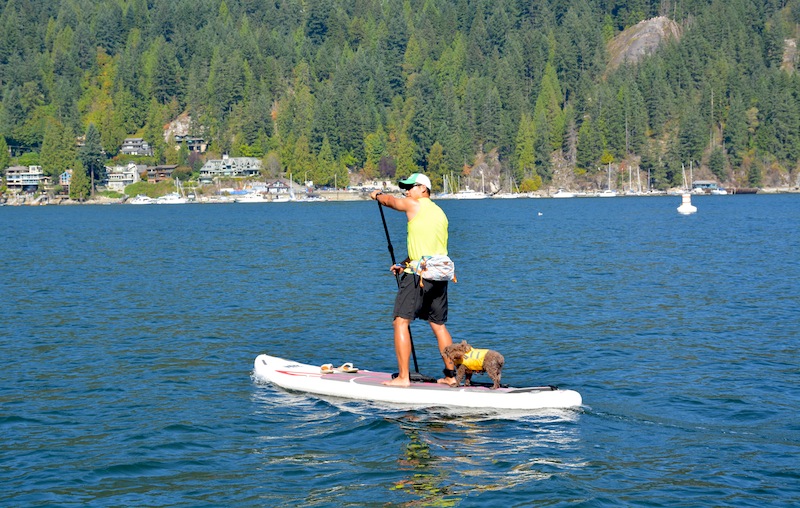 The Baron is a large inflatable stand-up paddle board that was made to be able to handle quite a bit of weight.
This is the board for the larger paddler, for families that want to load up their SUP with kids and dogs or for fishing and expeditions where you plan to load your board up with gear.
The large stable platform is also ideal for SUP yoga and fitness.
You can't help but feel secure on the Baron whether paddling on flat water lakes, heading downriver or pushing through ocean chop.
It comes in two different size options…
a 4" thick option
or a 6" thick option
The 4" thick board is a little more responsive and can hold up to 230 lbs.
The 6" thick Baron is extra rigid, extra stable and able to hold up to 275 lbs.
We reviewed the 6" thick Baron and all agreed that this ISUP is a beast!
Specs For The NRS Baron
| | | | | | | | |
| --- | --- | --- | --- | --- | --- | --- | --- |
| Model | Length | Width | Thickness | Weight | Max Weight | Air Pressure | Fins |
| | | | | | | | |
| NRS Baron 4 | 11'4" | 36″ | 4″ | 29 lbs. | 230 lbs. | 15 PSI | Two 2" fins, two 5" fins and one 9" fin |
| NRS Baron 6 | 11'4" | 36″ | 6″ | 30 lbs. | 275 lbs. | 15 PSI | Two 2" fins, two 5" fins and one 9" fin |
Material: PVC drop-stitch
Best Suited For: Fitness, flatwater, downriver, yoga
Pros: Stable, can hold a lot of weight, good fin options, versatile, good amount of D-rings, wide kick tail, lots of handles
Cons: Slow, no bungee system, heavy
More In-Depth Info On The Baron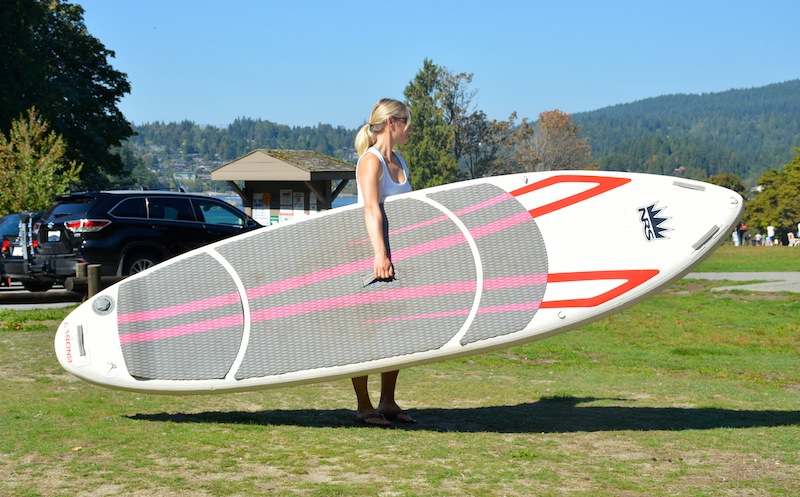 The Baron 6 that we reviewed was an older model. The only difference was the colors of the board and the handle placements. The shape, design and other features are identical to the latest Baron.
The board we had was well used and abused. You will notice in the pictures that the colors are faded on the traction pad and the backpack is quite banged up.
However it was still very usable and fun to paddle.
In truth we found the Baron to be large… A little too large for our liking.
However it serves a purpose and offers a very stable platform for the larger rider or for yoga.
It takes extra effort to paddle this board and it is definitely not that fast.
That being said it still glides nicely and feels good on the water.
It normally gets good reviews and for those looking for added stability it works great!
Important Features
D-rings – There are 6 D-rings included on the Baron.
There is one at the tip of the nose that is ideal for towing. There is one at the back of the board that can be used to attach your SUP leash.
There are also 4 stainless steel D-rings up front – 2 on each side that can be used to secure gear.
Handles – Most stand-up paddle boards only come with one center carry handle.
The Baron comes with three… One sturdy nylon center handle as well as one at the nose and back end of the board.
The front and back handles are ideal if two people are carrying this board together or if swimming with your SUP.
Fins – The Baron comes with quite a few interchangeable fin options.
There are two 2" fins, two 5" fins and one 9" center fin included in the package.
All these different fin sizes lets you customize the board for the type of paddling and water you will be in.
NRS includes more fin options than most other ISUP companies.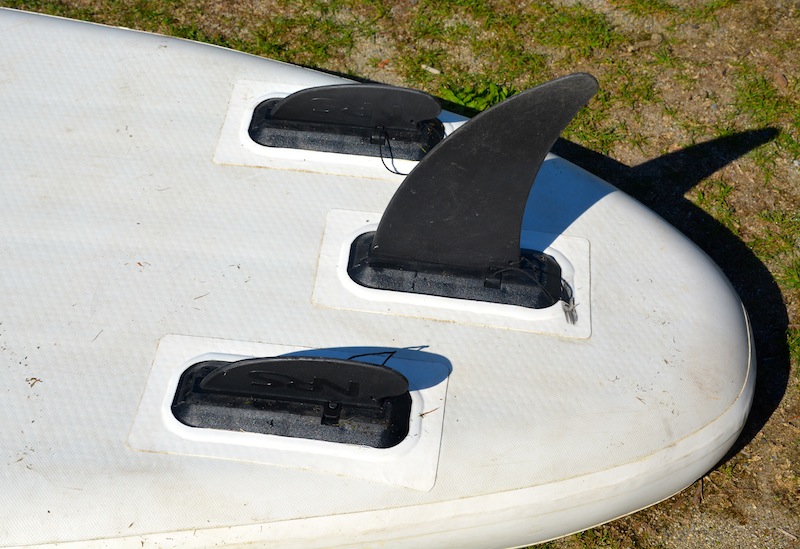 Valve – NRS uses a top quality Leafield C7 valve on their boards.
This type of valve is very reliable and works great with the NRS pump.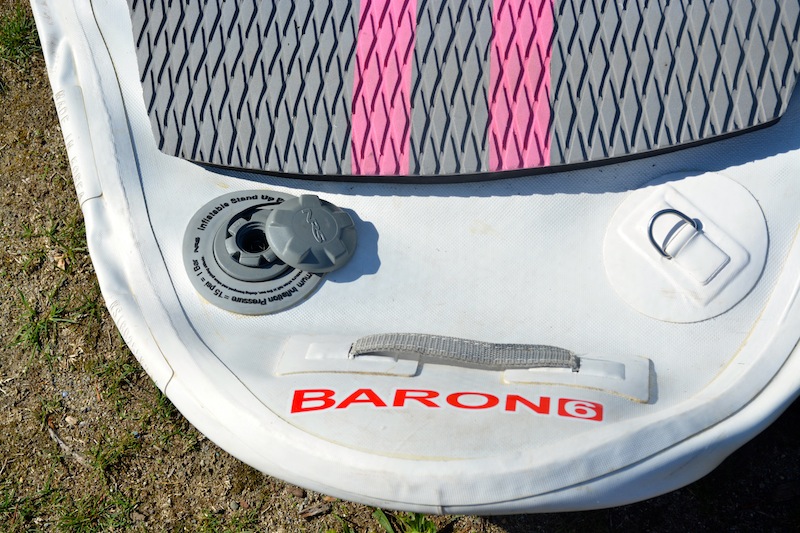 Backpack
The NRS backpack hasn't changed in quite a few years.
In a way it is kind of basic but it is functional and works well.
It is large enough to easily fit the board and the pump in the bag and take it out.
The side clips allow you to cinch it tight or loosen it to fit more inside. You can also use the side clips to attach a paddle.
There is a draw-cord at the top of the bag and clips to secure it closed.
The front zippered compartment is fairly large and allows you to store the fins and other essentials.
The padded shoulder straps are adjustable and overall this pack is fairly comfortable to carry short distances.
The backpack in our pictures is older and very well used and abused. You can see some rips and tears.
These tears can happen but keep in mind our sample pack was several years old and had been really put through the ringer.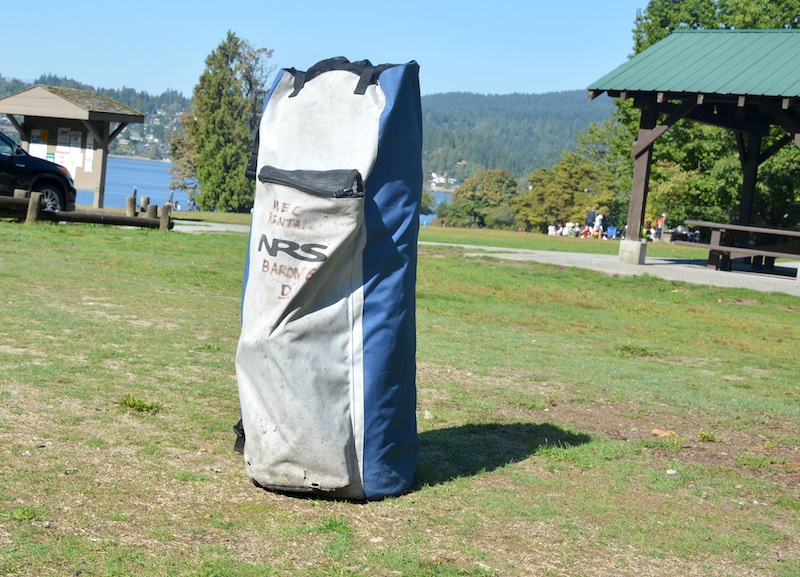 Pump – The NRS Super Pump is a good one and it works well with the Leafield C7 valve on this board.
The pump has two different mode settings that allow for high and low pressure inflation.
It took us roughly 8 minutes to get the Baron fully inflated to 15 PSI.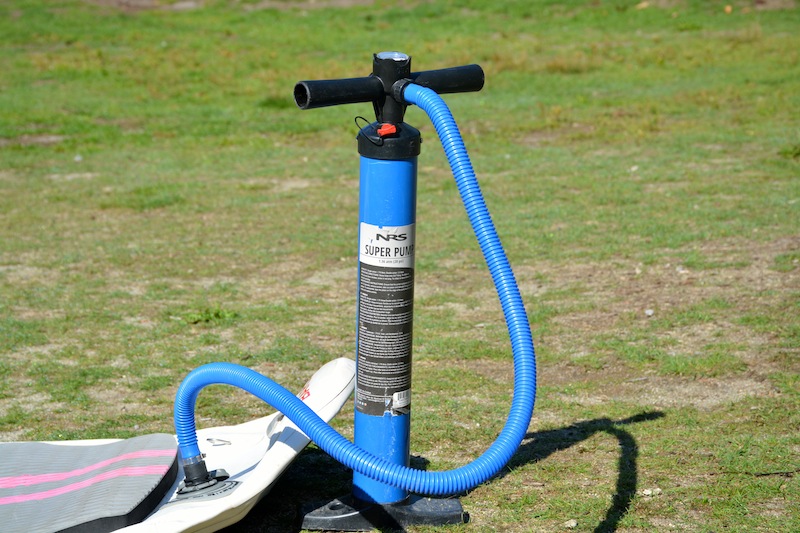 Baron Setup
Setup as with most inflatable stand-up paddle boards is simple.
Take the board out of the bag, unroll, attach the pump and inflate.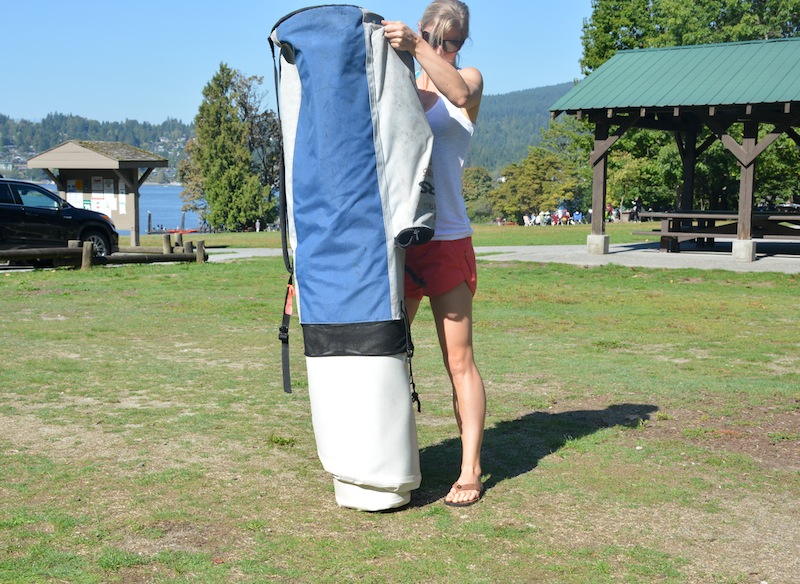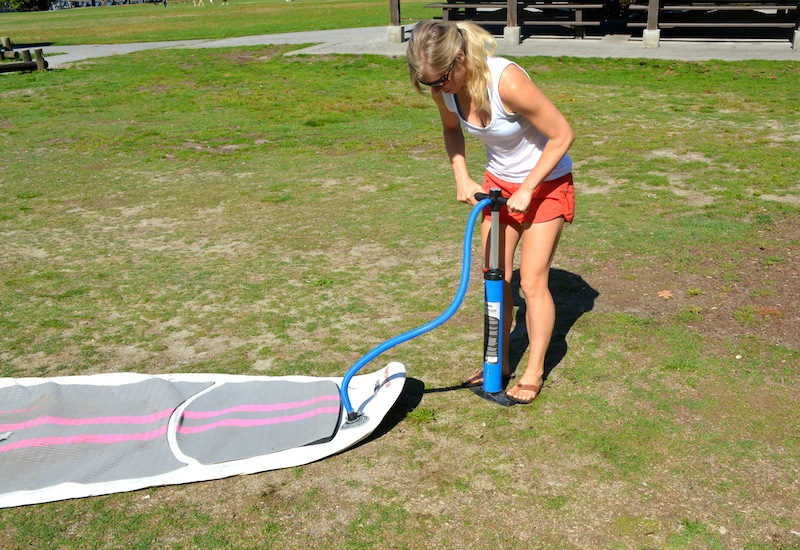 Once fully inflated you can attach whichever fins you choose to use then you are ready to go.
After use dry the board off with a towel, deflate, take the fins off, and roll the board back up so that it fits in the backpack.
The whole process is very simple and even with the size of this board you can be on the water in about 10-12 minutes from the time you arrive.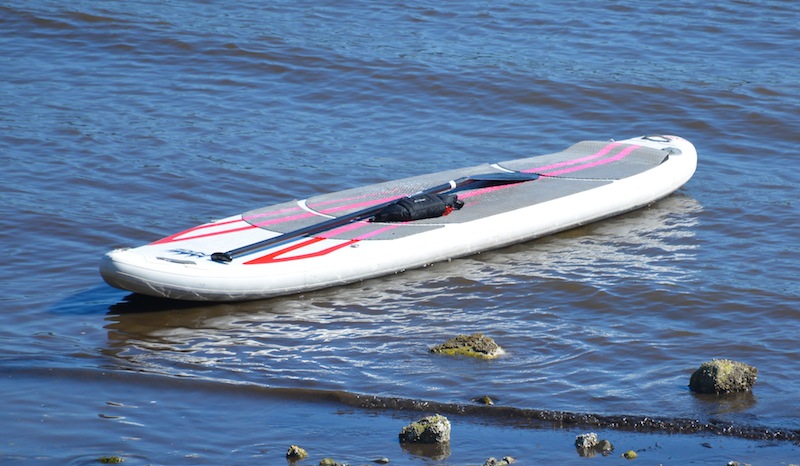 NRS Baron Performance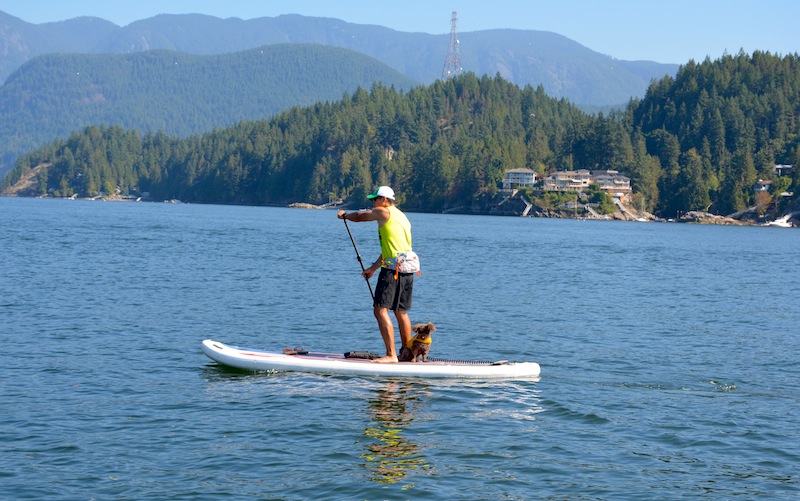 Performance is decent but keep in mind this board is 36" wide so it is not going to go that fast.
The shape and design with the tapered nose helps it to cut through the water nicely and considering the width and size I would say it actually paddles quite well.
However it is slow and it does take more effort to turn and maneuver this board.
For flat water touring it glides along nicely and we found it particularly stable and secure on ocean waves.
You could definitely use the Baron on moving rivers however it won't be as responsive as a leaner board.
The Baron 4 will be a little faster and easier to turn and maneuver but not quite as stable for a larger rider.
This board is also perfect for yoga. It provides a large stable platform for yoga poses and stretching. Even the 4" thick Baron would work fine for yoga.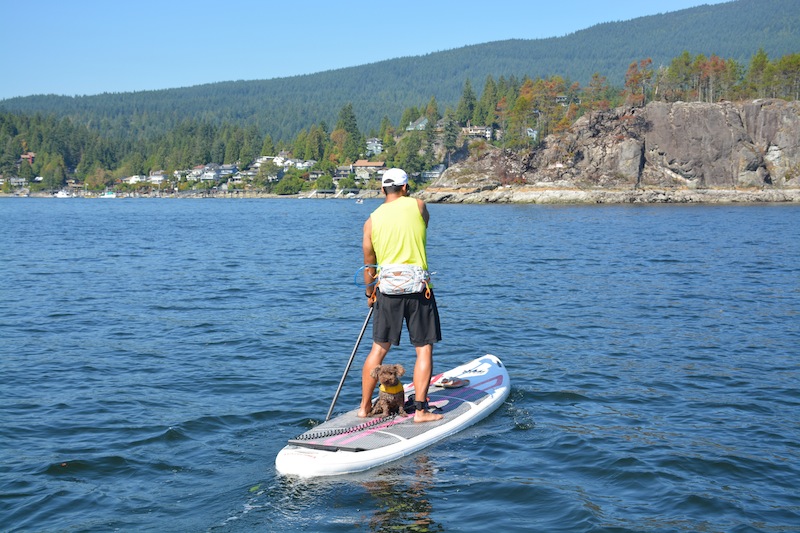 The Negatives
Weight – The Baron 4 weighs 29 lbs. and the Baron 6 weighs 30 lbs.
It's a little heavier than most but then again this board is a larger size.
The heavier weight doesn't make you want to carry it too far but it is still manageable.
Slow – As mentioned before this SUP is a little slow moving.
We like the tapered nose, which helps it to glide well.
A larger person with some good power and strength in their stroke will get this board moving nicely but it is still not considered a fast SUP.
No Bungee System – Many boards come with attached bungee cord that can be used to easily secure a dry bag or any gear you choose to bring with you.
The Baron has the D-rings up front but no bungee cord. The bungee cord is handy to have and if you want you can easily add some yourself for very little money.
More Pictures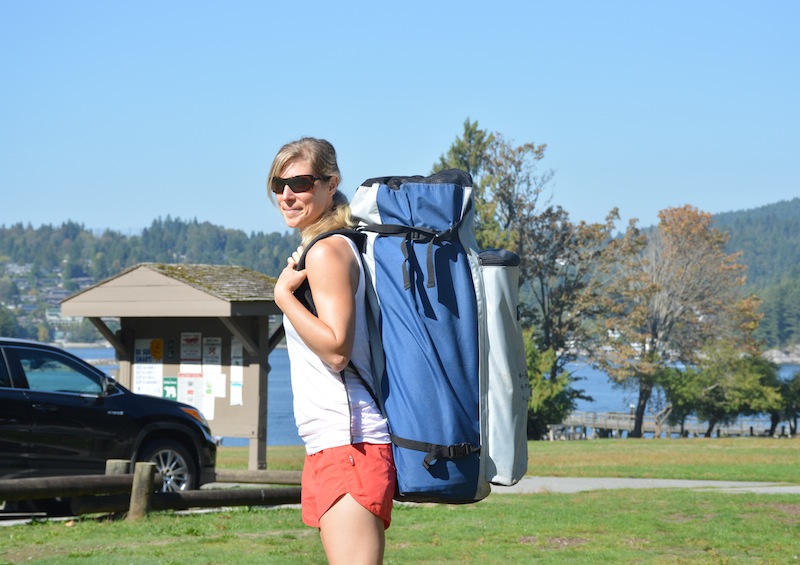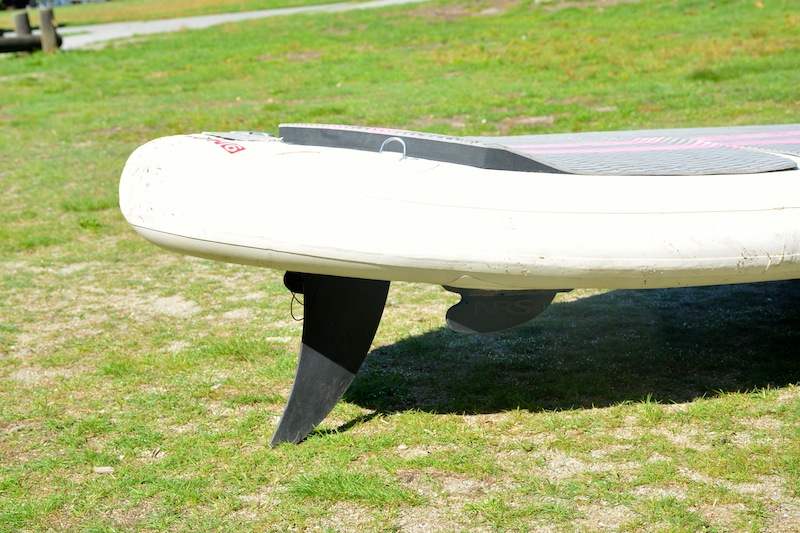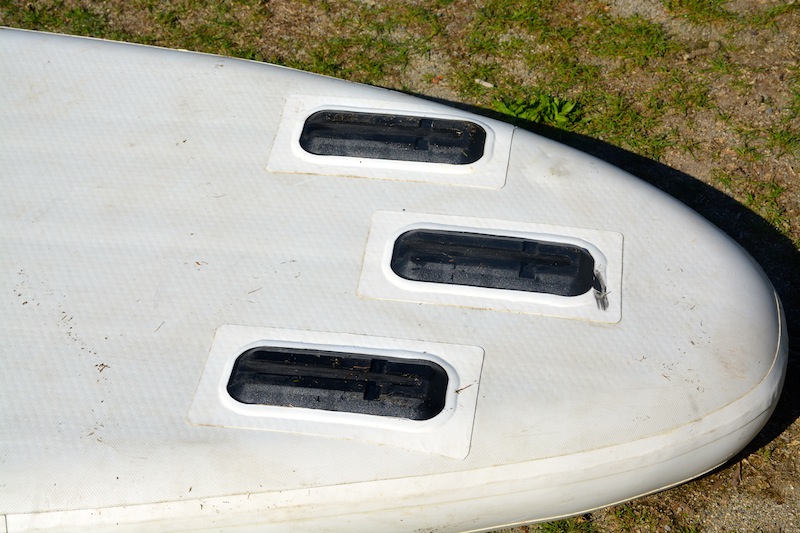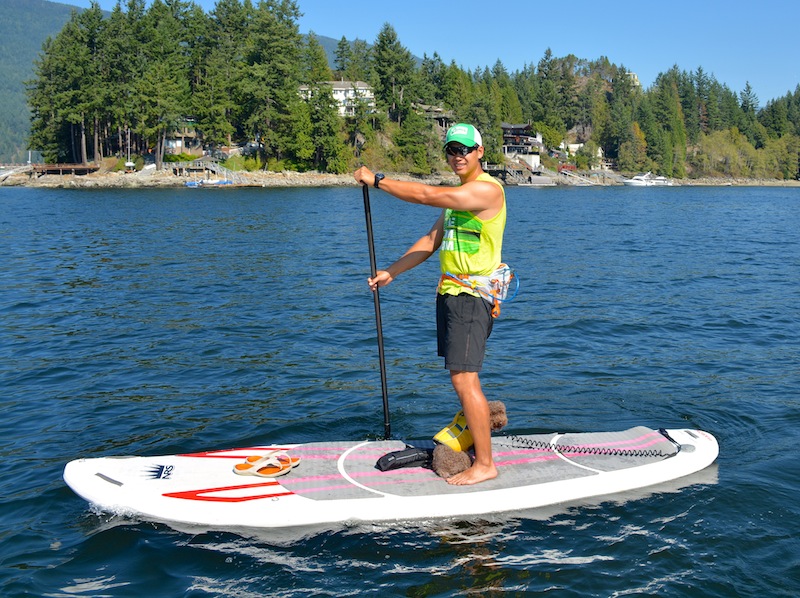 Final Thoughts
The 36" width works well for anyone needing more stability. Load this board up with kids, dogs or gear.
A larger paddler will really appreciate the extra rigidity and stability and yoga enthusiast will like the wide platform.
This board is big and versatile and well made. It wouldn't necessarily be my personal choice for touring but both my partner and I really enjoyed testing and reviewing the Baron 6.
Where To Buy The NRS Baron
The NRS Baron is no longer available.