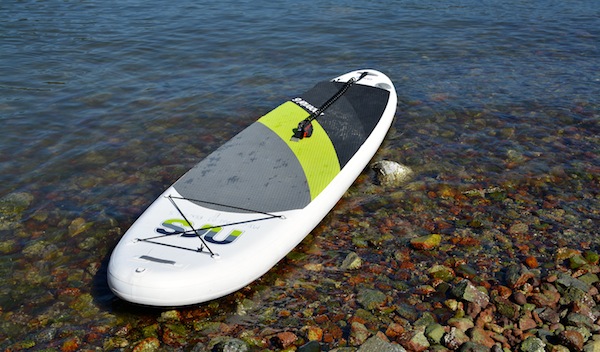 The NRS Imperial is ideal for calm ocean touring, flat-water cruising or even paddling down slow moving rivers.
It is versatile and durable and has two size options to suit your needs.
It has a lot of positives that make it a great all-around inflatable SUP for fitness and fun.
Specs For The NRS Imperial
This board comes in two sizes, the NRS Imperial 4 and the NRS Imperial 6. They are the same length and width but differ in thickness by 2".
The Imperial 6 is two inches thicker and consequently more stable and able to hold more weight.
Specs for the Imperial 4
10'6" long
32" wide
4" thick
weighs 25 lbs.
can hold up to 220 lbs.
Valve Type: Leafield C7
Air Pressure: up to 15 PSI
Includes two 2" fins, two 5" fins and one 9" fin
Specs for the Imperial 6
10'6" long
32" wide
6" thick
weighs 27 lbs.
can hold up to 260 lbs.
Valve Type: Leafield C7
Air Pressure: up to 15 PSI
Includes two 2" fins, two 5" fins and one 9" fin
Material: PVC drop-stitch
Best Suited For: Flatwater touring, light river running, fitness
Pros: Glides well, responsive, stable, nice fin options, versatile, easy setup, durable, 3 webbing handles – good for carrying as well as hanging on to if swimming, padded center handle
Cons: A little on the heavy side for its size, not that fast
More In-Depth Info On The NRS Imperial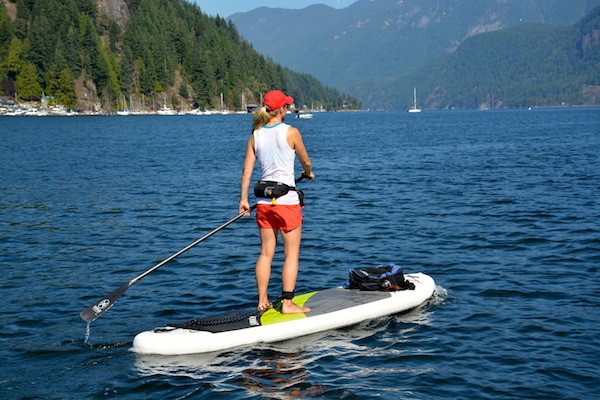 I tested out the 6" thick Imperial ISUP. This one is extra stable and able to hold more weight than the 4" thick Imperial.
I found the Imperial to be kind of basic in design but overall it paddled well.
The 6" thick board provided extra stability, which I found nice to have when ocean paddling.
This board has all the bases covered such as decent amount of D-rings, multiple fin atttachments, padded carry handle plus extra handles at front and back of board to hold onto while swimming, a long deck pad, bungee tie-down cords to secure gear and a decent backpack.
It is versatile enough as it can be used on ocean waves, flat water lakes or even on moving rivers.
The overall package is good and NRS has a decent 3-year warranty on all of their ISUP's.
The one I tested out was very well used and a little banged up.
That being said the quality was still evident and the NRS boards are known to be durable and rigid.
The dimensions of this board are very similar to the NRS Earl but the shape is slightly different.
I personally prefer the Earl 6 over the Imperial 6. I had more fun with the Earl and it felt better while paddling. Both boards however are quite versatile.
NRS Imperial Setup
Setup is easy enough. The hand pump that comes with this board works well.
The valve is a good one and inflation is fairly fast. I always prefer taking the lazy way out and using an electric pump with my ISUP's, however if the hand pump is all you have it still does the job quickly with a little effort.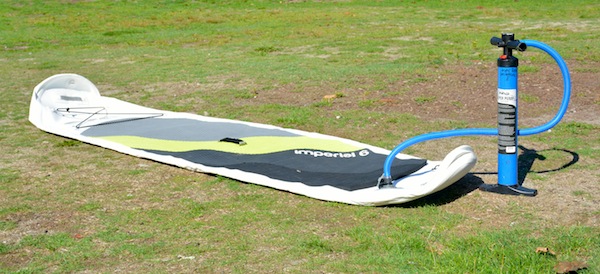 Once inflated you will need to attach the fins. The Imperial comes with two 2" side fins, two 5" side fins and one 9" center fin.  All fins are removable.
You can choose which side fins you want to use depending on the type of water you will be paddling in.
For shallow rivers you will want to use the smallest side fins and no center fin.
For touring I would suggest the larger side fins and definitely the 9" center fin.
My SUP leash didn't fit through the back D-ring so I had to attach it to the back carry handle.
I think this was a combination of my leash cord being particularly wide and the D-ring on this board being a little on the small side.
Once you know what you are doing you can easily be on the water in 10 minutes from the time you arrived.
Important Features
D-Rings – This board has 6 D-ring attachments.
There is one at the nose and at the back of the board as well as four up front (2 on each side).
The front D-ring is ideal for towing. The back D-ring is for your SUP leash.
The four front D-rings are for securing gear.
The board I tested had bungee cord attached to the four front D-rings. I notice in the picture on the NRS website that they show no bungee cord.
The board I had was an older model so it is possible that the newer models no longer come with bungee cord attachements.
If that is the case you can easily add your own if you wanted them.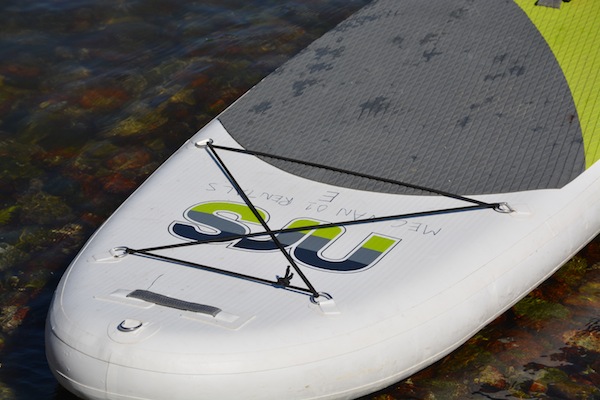 Traction Pad
The traction pad is ample long and comfortable to stand or kneel on.
There is a slightly upturned kick tail at the back of the traction pad, which is ideal for pivot turns and added control.
Handles – I do like the 3 handles offered on the Imperial.
There is one padded handle in the center of the board for carrying it.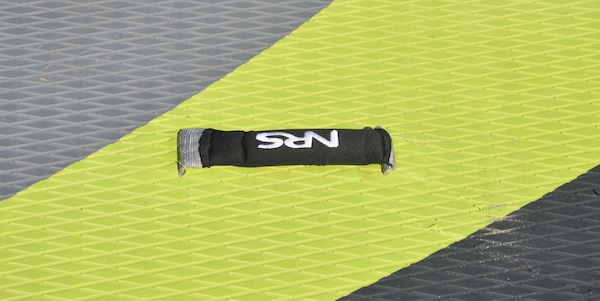 There is also one webbed handle at the front nose of the board and one at the back.
These are ideal for holding onto if you are swimming with your ISUP.
Durable Construction – The NRS inflatable SUP's have double sidewall construction making them very durable .
When inflated to 15 PSI this board is very rigid and solid.  It withstands abuse quite well.
Fins
The different sized fin options are nice to have. Being able to switch out the fins makes this board more versatile for different types of water.
The smaller fins have a little flex to them allowing them to absorb impacts without breaking.
The large 9" fin is made of ABS plastic and is more rigid and stiff.
I do know of people who have broken their NRS fins but they were whitewater SUP'ing down a river loaded with rocks and branches.
In general for the majority of paddlers, the fins will hold up very well.
The fins are all really easy to attach. They slide in and clip into place. Once the clip is in they are very secure.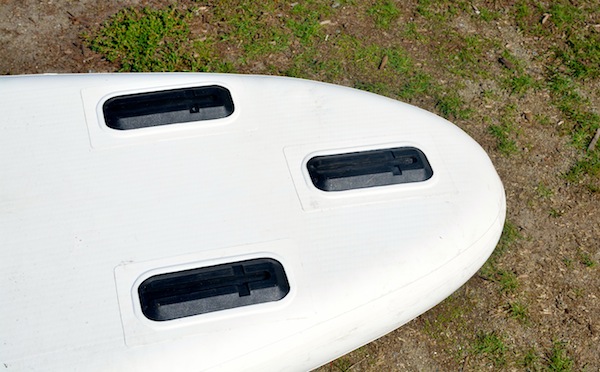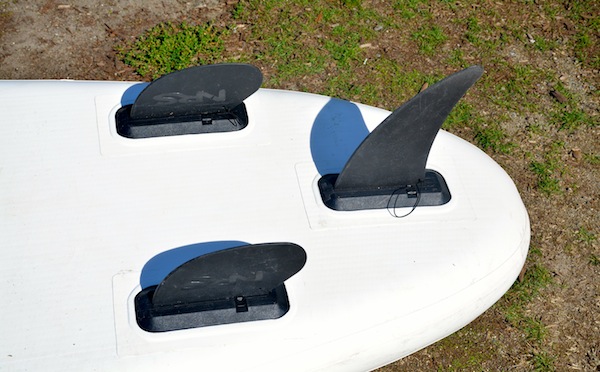 Hand Pump – The NRS pump is a good one as far as hand pumps go.
It has a low-pressure and high-pressure mode and a pressure gauge so you can watch your progress.
Hand pumps do take a bit of work and effort to use but they can get your board inflated in less than ten minutes.
I had no issues with this pump.
Backpack Carry Bag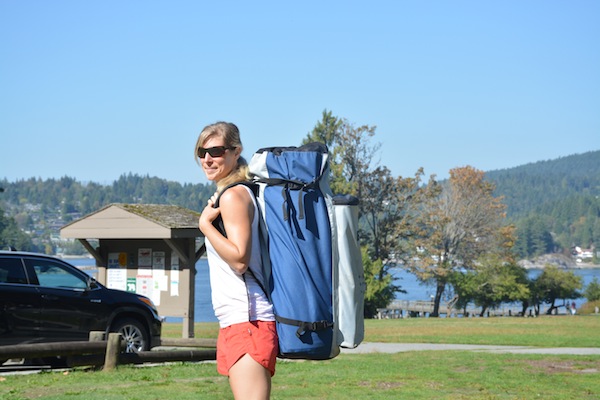 The NRS backpack is decent. It fits the board nicely and still has extra room for accessories.
There is a large zippered front pocked that can be used for storing smaller items.
The drawstring on top keeps the bag closed and there are also clips to secure it.
The side clips are ideal for securing your paddle or the pump.
The padded shoulder straps make it comfortable to carry a short distance to the water.
Overall the bag is a good size, durable enough and very functional.
NRS Imperial Performance
The performance is decent. I found it to be kind of steady-eddy but not overly exciting.
It is stable enough and fairly responsive. It turned quickly when I needed it to.
I thought it glided well but wasn't very fast. It cruised around on flat water just fine but I didn't find it nearly as stable on ocean chop as with some of the other NRS boards.
However it is versatile and easy to paddle.  Overall it is good but it just didn't stand out to me in any which way.
That being said it is a solid ISUP and as an all-around good board.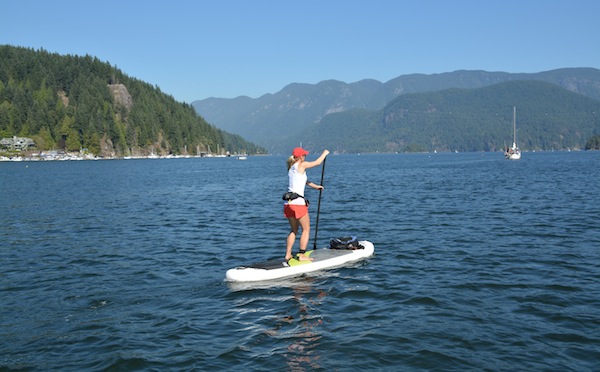 The Negatives
The negatives were that I didn't find the Imperial to be that fast. It moved okay but definitely isn't the fastest board in the water.
The second thing I noticed was the weight. At 27 lbs. it is a little on the heavy side for its size.
It is still easily manageable so I wouldn't let the weight deter you too much but it is worth noting that there are other boards of similar size that weigh less.
More Pictures Of The NRS Imperial 6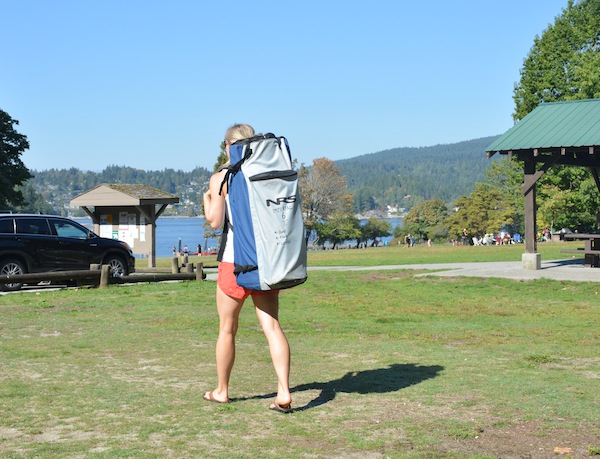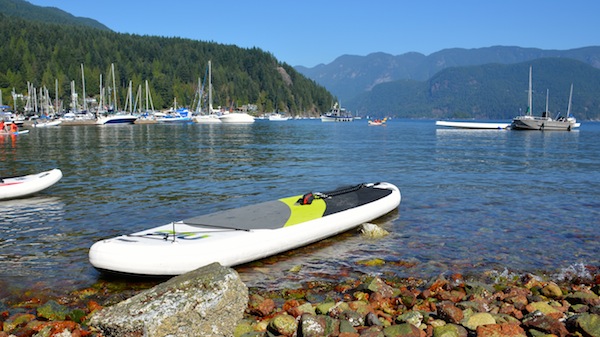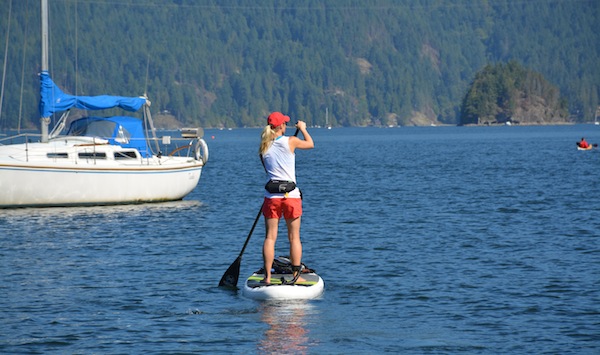 Final Thoughts
Overall this is a good board. It is versatile and easy to paddle.
NRS is known for durability and I believe the Imperial will hold up well with a little care.
The 4" thick Imperial will be a little more responsive and will move a little faster for a lighter paddler.
The 6" thick Imperial provides that extra bit of stability and rigidity and is far more ideal for a larger person or for those who want to load up their board with gear or possibly paddle with their dog.
Where To Buy
The NRS Imperial is no longer available.