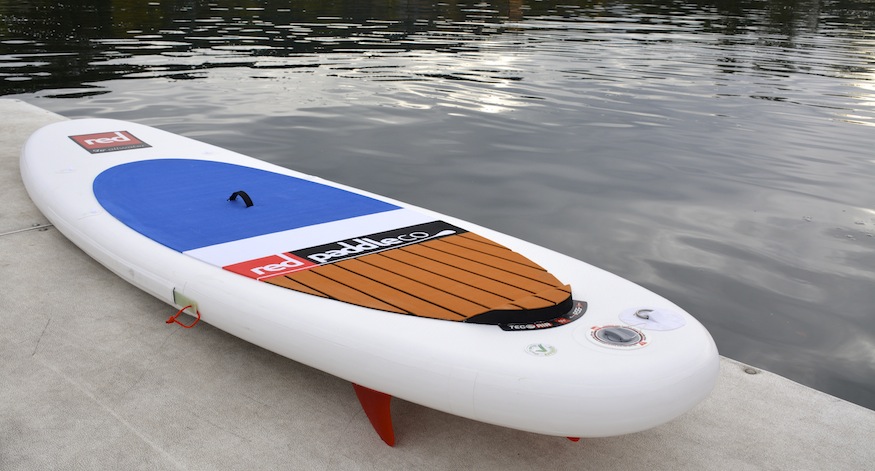 The Allwater was designed to paddle well on a variety of different waters.
It is extremely rigid and unique in that it has a Rocker Stiffening System. This system was designed to make this board extra rigid, which provides for more control, better performance and increased stability.
Although this inflatable SUP is not that big, it is strong enough to hold quite a bit of weight and would suit a large variety of riders.
Quick Stats
9'6" long
32" wide
3.93" thick
weighs 25 lbs.
can hold up to 215 lbs.
air pressure: 15 – 25 PSI
has 3 attached fins
2 side battens (RSS System)
Material: 100mm droptstitch PVC material
Pros: Easy to paddle, very responsive, rigid, compact, versatile, Rocker Stiffening System
Cons: A little slower for touring flat water, no bungee cords
More In-Depth Info
Testing out the Red 9'6" Allwater inflatable SUP was a lot of fun.
This board is only 3.93" thick, 9'6" long and 32" wide. It is thinner than most inflatable standup paddle boards that I've tried and I noticed the difference immediately.
However even though it is not that thick, it is still quite stable, even for someone up to 200 lbs., which says a lot for the overall design and quality of this Red board.
The shorter length and thinness of this board make it highly responsive. It turns quickly and easily and takes little effort to get moving.
I found it to be ideal on rivers and quite a bit of fun on ocean waves. Unfortunately I have no heavy surf near by to try it out on, but I imagine it would handle well.
On flat water such as lakes and ocean bays, I found it fun for recreational paddling but not super fast. It couldn't keep up with the longer more streamlined boards but overall it paddled really well.
This isn't going to be the fastest board on the water however it is very versatile, super responsive and a lot of fun.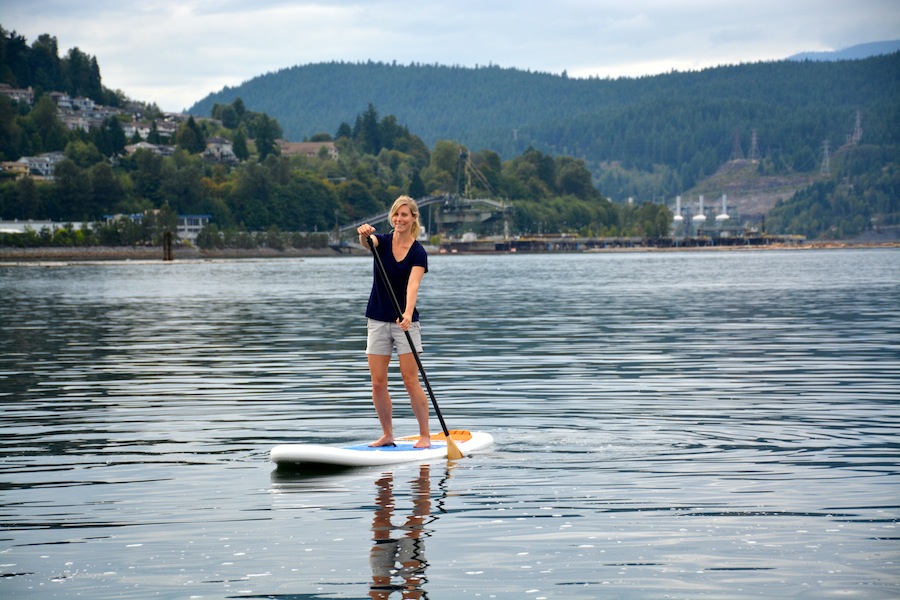 Unique Features
Rocker Stiffening System
The 2014 Allwater includes Red Paddle Co's patented Rocker Stiffening System (RSS).
The RSS was developed to reduce any and all flex and to increase rigidity.
It includes two battens that get inserted into slots on each side of the board.  These battens create a stiffer board, are removable and easily stored in the carry bag.
I found that with the battens inserted, the board was indeed extremely stiff and I believe that helped with stability.
With the battens inserted we had the Allwater inflated up to 20 PSI and found it to be very rigid and able to easily support up to 200 lbs. with no flex at all.
Normally a board with less than 4" of thickness would be a lot more unstable than the Allwater is.  We were impressed with the stability, rigidity and overall performance.
Note:  One thing to note about these battens is that the first couple times you use them it can be tricky to get them in and out of the slots on the side of the board.
We especially had a hard time getting them out after the first use. However don't despair, after using them a couple of times, this process gets much easier and they are very functional and useful.
Second time out it was much easier to insert them and take them out and then it just got easier from there.  It almost seems like the slots just need to be broken in a little.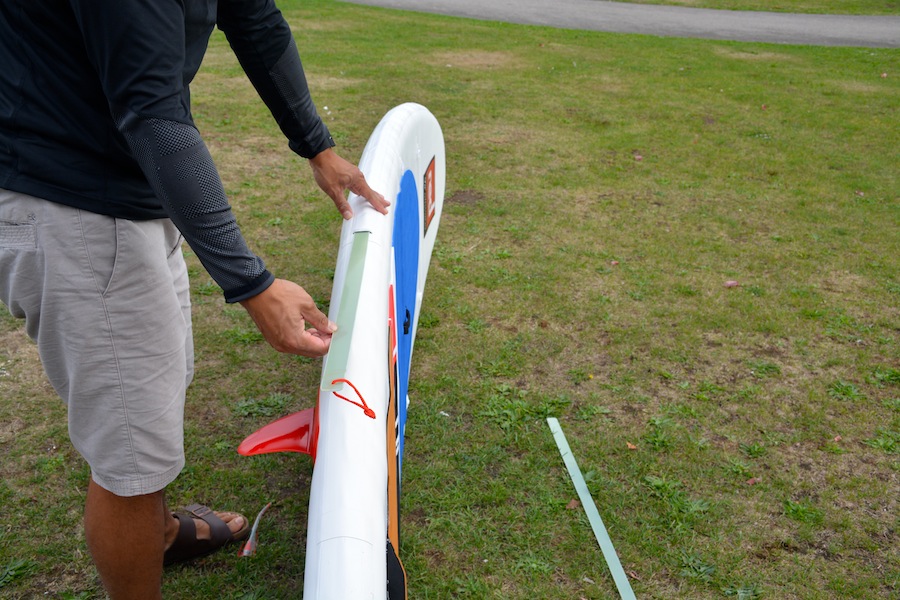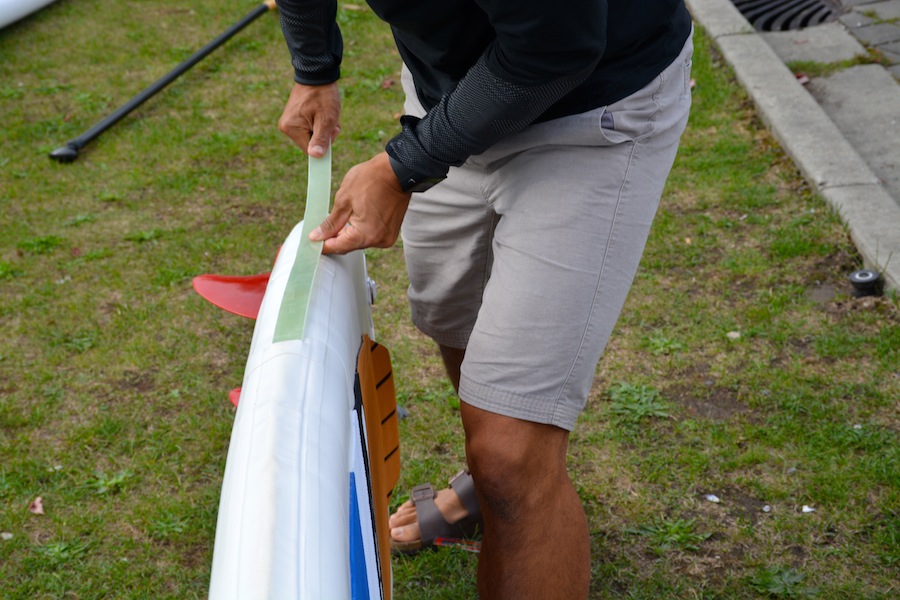 iFin System
I like the iFin system that some of the Red boards have a lot. It includes 3 smaller attached fins that are super strong and in my opinion very functional and convenient.
It's nice not having to worry about any extra parts with these attached fins. They work well and are ideal for an all-water SUP.
The board still rolls up easily with them attached and fits nicely inside the backpack carry bag.
I find the tracking with these fins to be quite good. In general the Red boards tend to glide nicely… combination of design and high quality materials I would guess. I've never been disappointed with any of their ISUP's.
D-Rings
The Allwater includes 1 metal D-ring behind the valve at the back of the board, which can be used to secure your leash.
There are also 4 plastic D-rings up front that can be used to secure gear as well as one more metal D-ring underneath the nose for towing.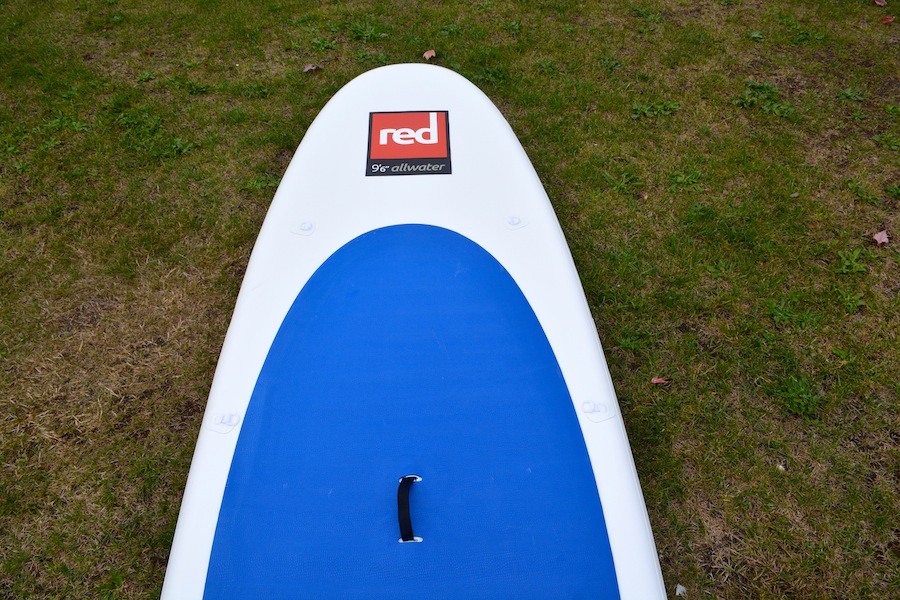 Deck Pad & Stomp Pad

I really like the deck pad on the Allwater. It's a little shorter, quite padded and comfortable to stand or kneel on.  I think the design and colors of the deck pad look great.
It also has a stomp pad (notice the raised part at the end of the pad) near the tail for doing pivot turns and for better control in surf.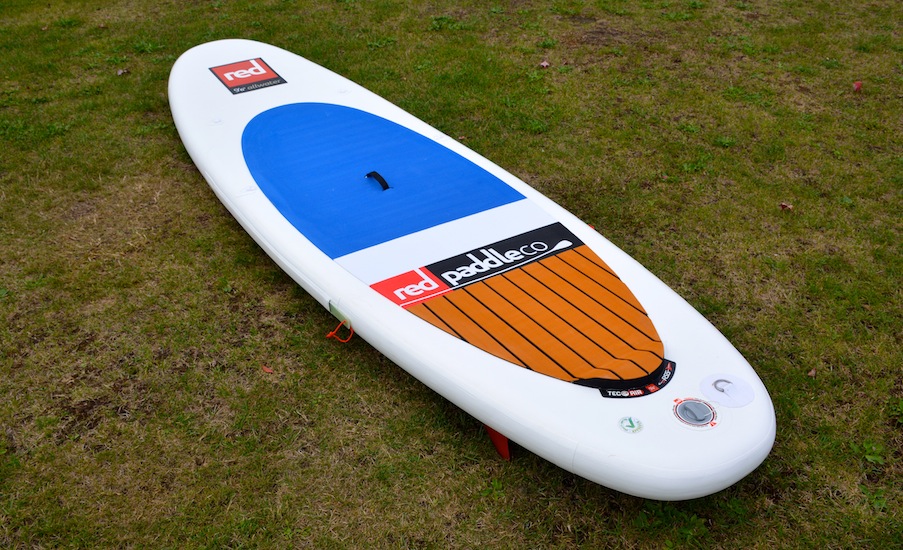 Construction
Construction as with all of the Red boards is excellent. When you inflate a Red inflatable SUP you can feel the difference… it feels totally solid.
The Allwater was built using Red's Tec Air specification processs that includes;
High density drop stitch material for a very strong and stiff core.
4-layers of taping on the rails which not only makes their boards super strong but also puncture resistant.
Their boards are actually 2 in 1. Red builds a complete board then laminate an outer layer. This creates a very strong outer shell.
Their boards can inflate up to 25 PSI. For many people 15 PSI is all you need but the bigger you are the more air you'll want to add. It makes a difference adding the extra air pressure.
Setup
The 9'6" Allwater weighs 25 lbs. which makes it easy to carry when in the backpack or else when inflated.
To setup simply remove the board from the bag and inflate with the included high-pressure Red Ezee pump that comes with it.
This pump is better than the majority of other hand pumps on the market. It can actually inflate your board well over 15 PSI up to a maximum of 25 PSI very quickly.
It took us 4 minutes and 30 seconds to inflate the Allwater to 20 PSI going non-stop with the Ezee pump.
The bigger you are, the more air pressure you will want to get the board as rigid as possible.
If you have a good electric pump you can save a lot of effort and inflate it to 15 PSI with the electric pump then top it up to 20 PSI or higher with the Ezee pump.
You can inflate this board up to a maximum of 25 PSI which is much higher than other inflatable SUP's on the market.
The Rocker Stiffening System battens should be inserted once you have pumped enough air into the board so that it takes shape but before it is fully inflated.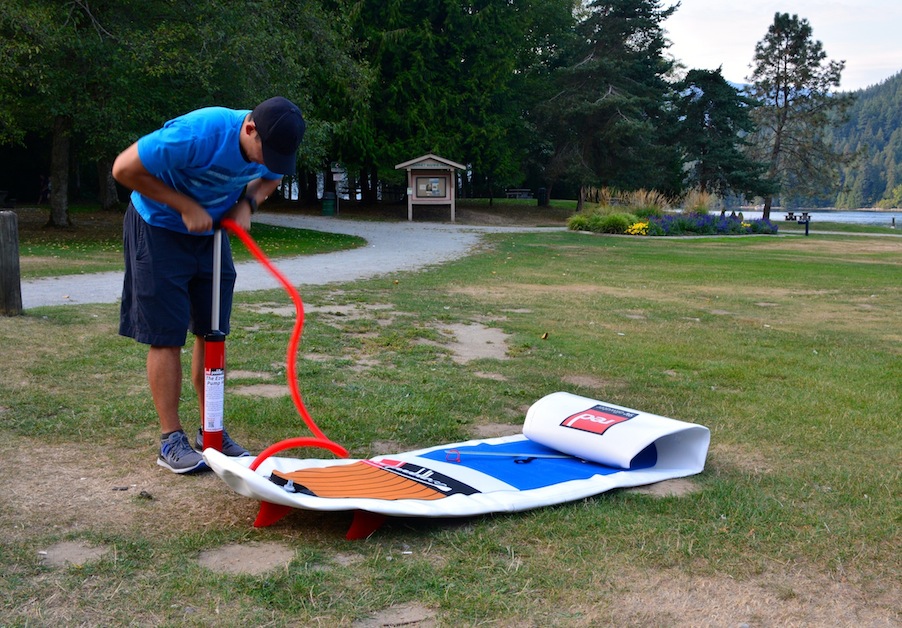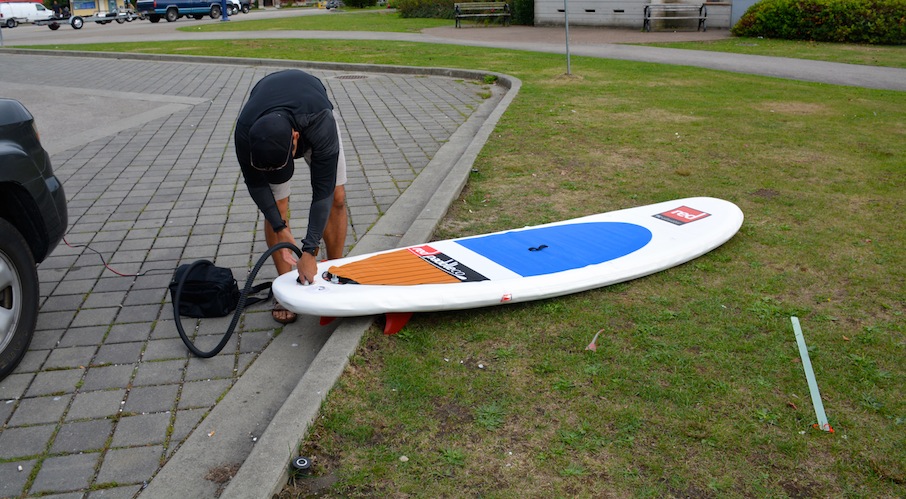 Performance
Overall this board is a lot of fun. It is highly responsive and takes little effort to move along.
It's not super fast but it glides nicely considering it's not very long and the tracking is good.
If you have any experience with thicker ISUP's, you will notice the thinner 3.93" thickness right away.
However after a couple times out you'll be used to it and find that with this lower center of gravity you have excellent control and the ability to really maneuver and have some fun.
The design and quality of construction make this board really stiff and able to support up to 215 lbs.
I think the Allwater is best suited to rivers, surf and flat water recreational paddling.
For touring it wouldn't be my overall choice.  It was fun to paddle on flat water but there are other boards that will perform better if touring is what you do most.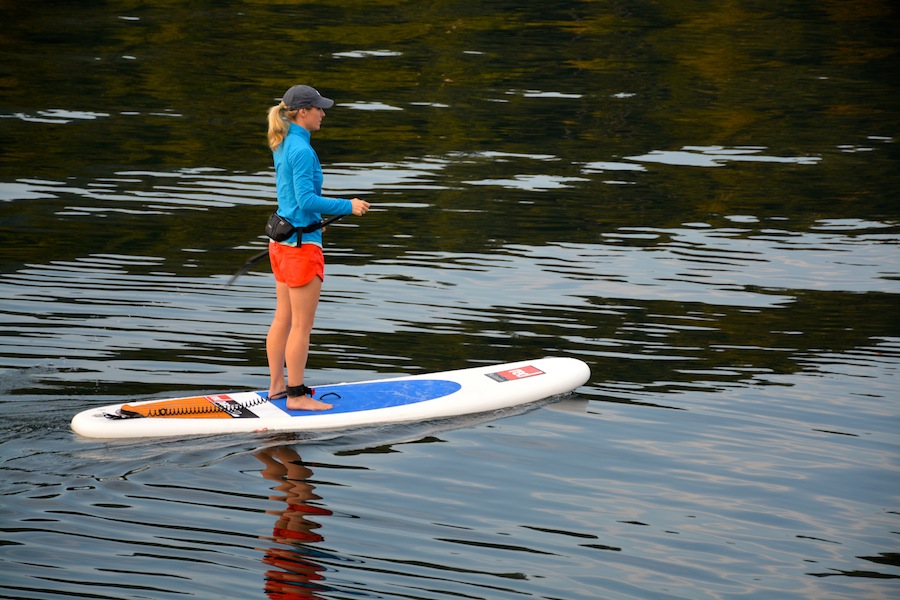 Backpack Carry Bag
The Red Paddle Co backpack carry bag is pretty awesome.
The quality is good and it is super functional. It includes a zipper that goes all around the front of the bag so that you can easily load the board in and easily take it out.
It also includes two wheels making this the ideal carry bag for traveling. The padded backpack straps can be tucked away when not in use so that they don't get in the way and this bag also has a waterproof cell phone case attached to it.
It definitely stands out as far as inflatable SUP carry bags go.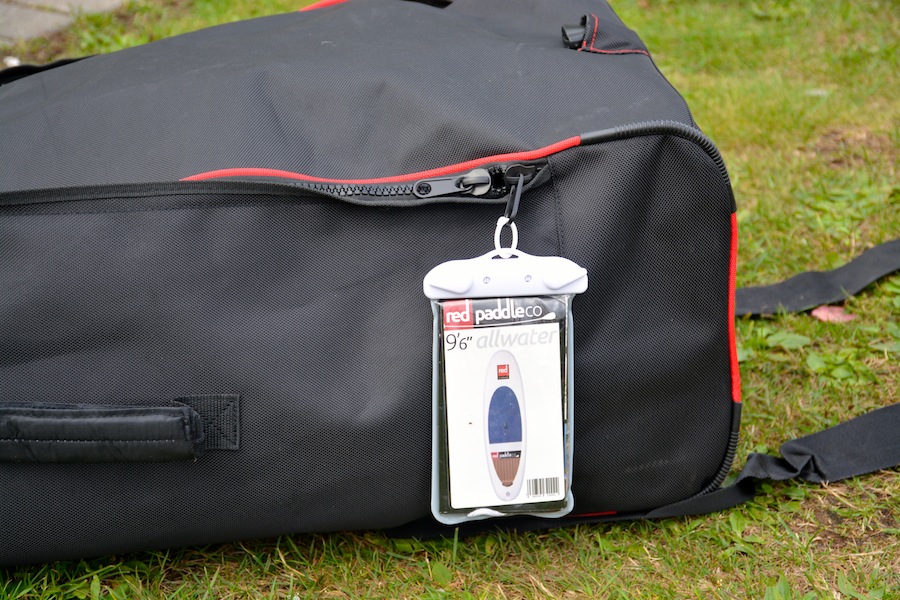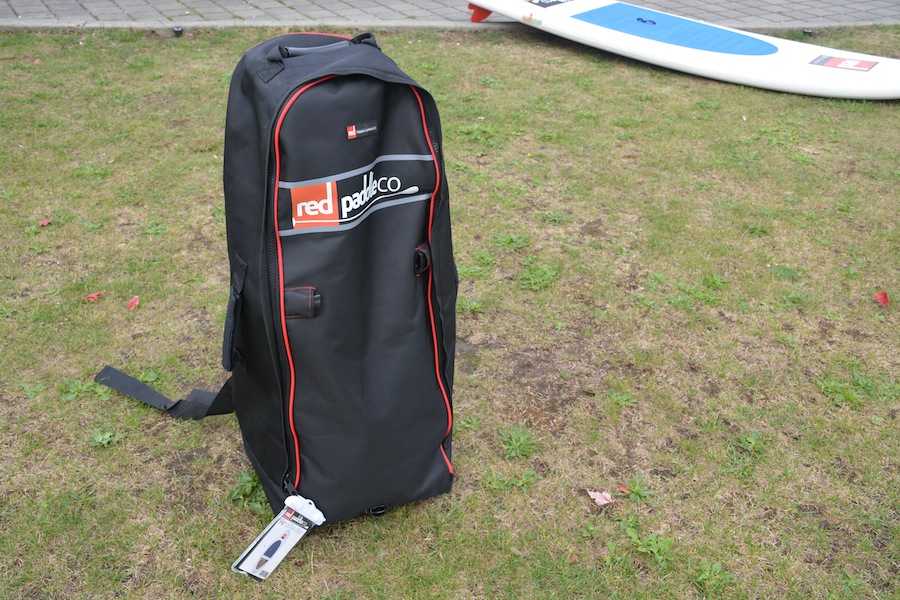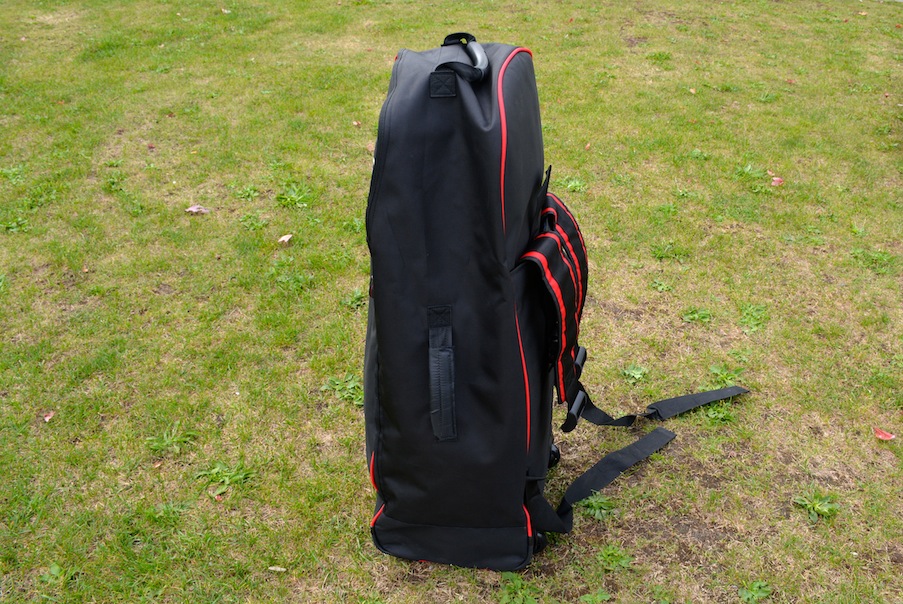 The Negative
This is a very versatile board and it can handle all types of water. That in itself is a huge plus and if you want the flexibility of being able to play on flat water as well as take on rivers and ocean surf then the Allwater is a great option.
If however you mostly plan to be doing flat water touring, I would suggest a board more specialized for that type of paddling.
As with all of the Red paddleboards, this one does not have any bungee tie-down cords.
I like the bungee cords in order to secure my gear. However there are 4 plastic D-rings up front so if you use your own bungees or cords you can easily secure what you need.
My Pics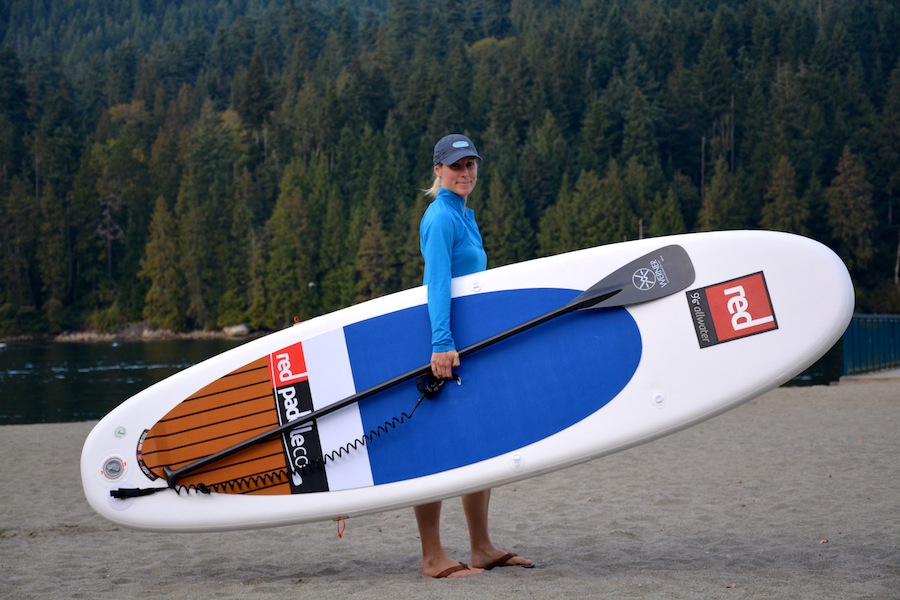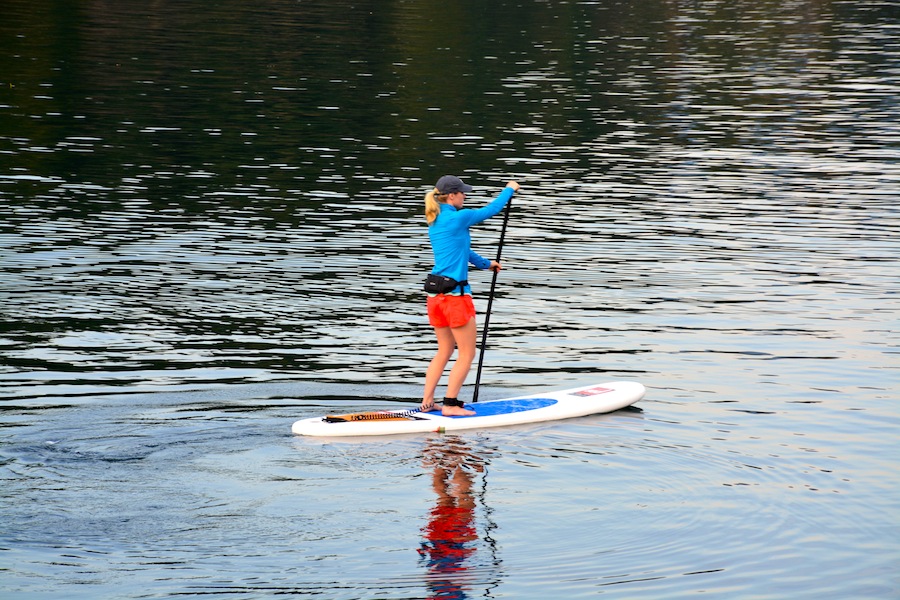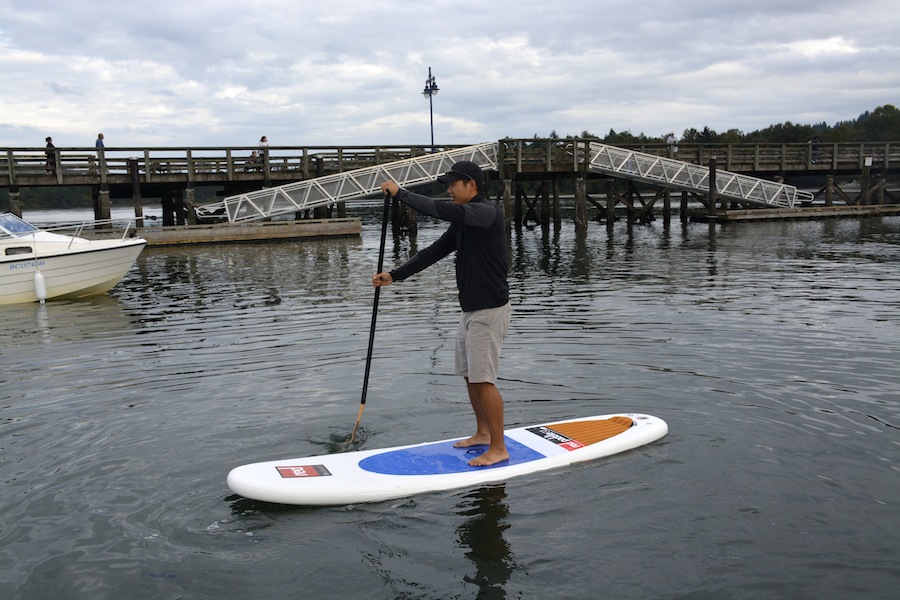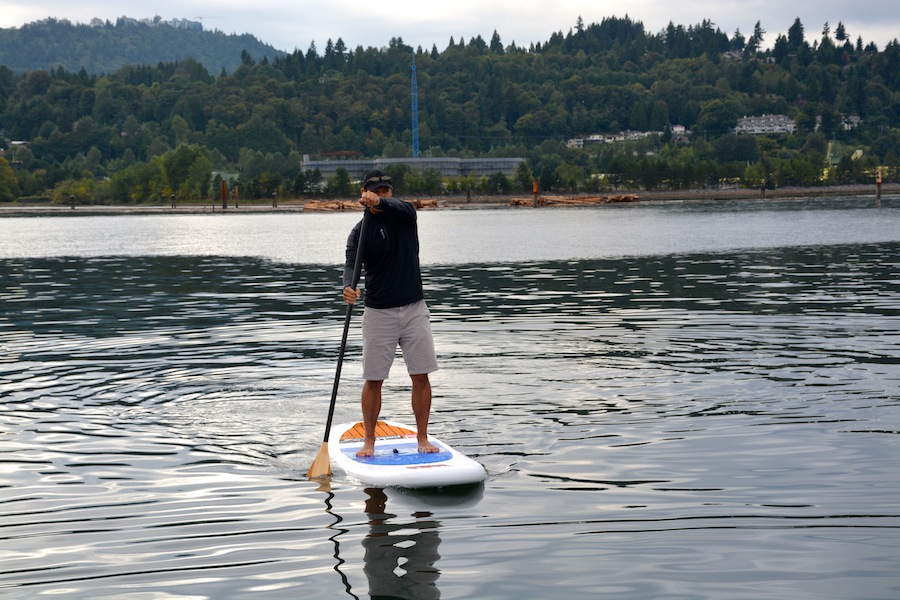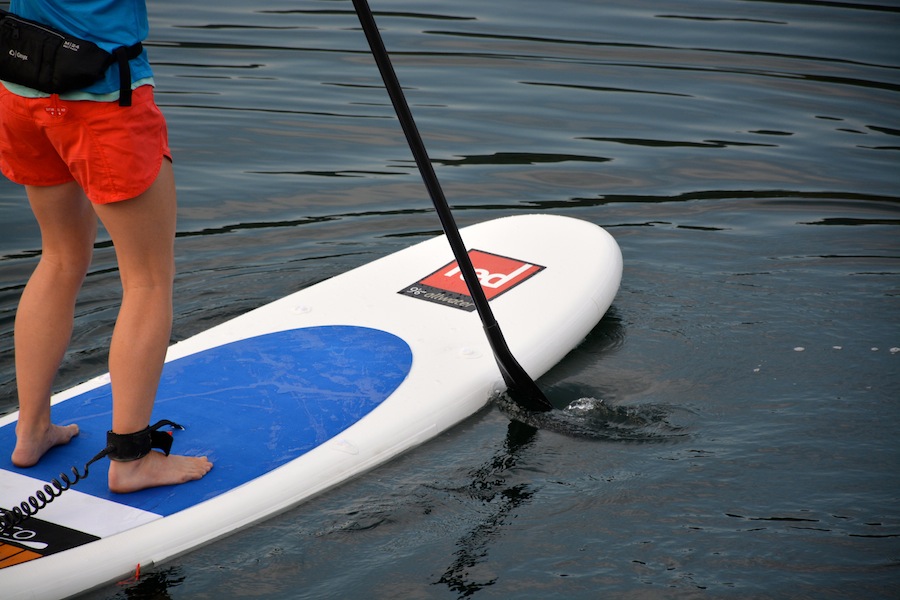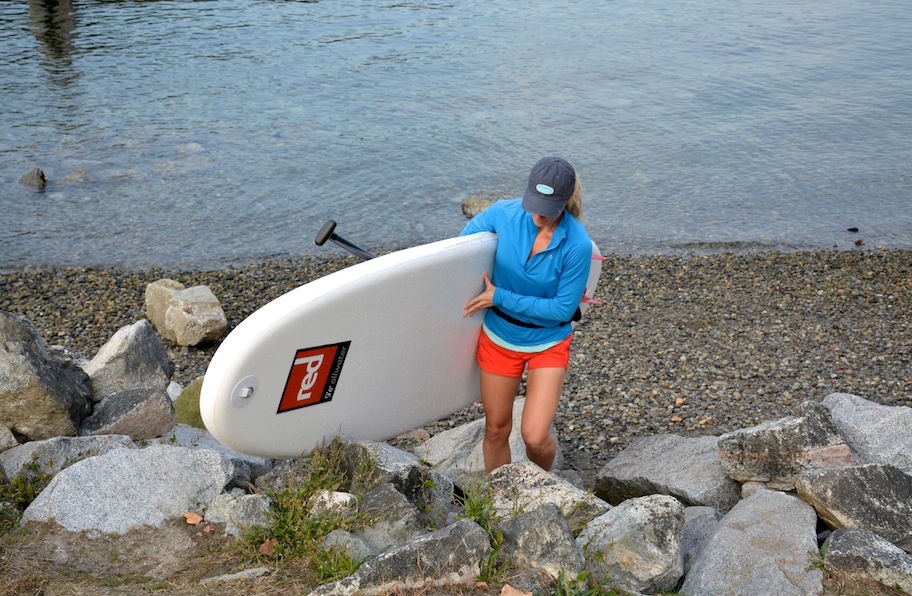 Bottom line is the design, quality of construction, fin's, RSS system and the fact that it can hold up to 25 PSI gives the Allwater a real edge performance wise over other inflatable SUP's of similar size.
Where To Buy
The Red Paddle Co Allwater is no longer available.