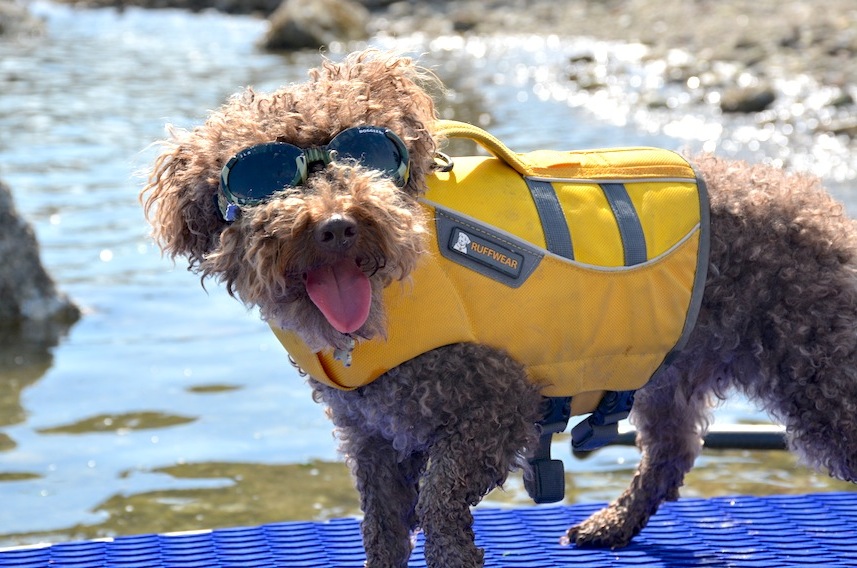 Meet Seth, my dog.  You may have noticed this little guy in many of our photos riding shotgun on our stand-up paddleboards.
He is as much a part of this website and our testing process as I am.
Seth absolutely loves to go stand-up paddling. When his lifejacket comes out he knows we're heading to the water and although he's not that keen on swimming, he is a pro at riding on the boards.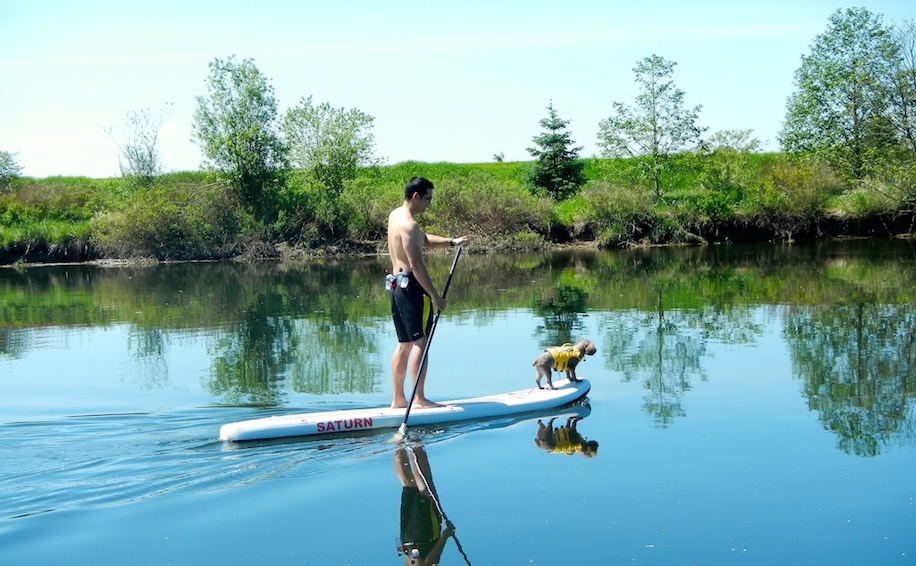 A Little History On Seth
I adopted Seth from a shelter back in June 2013. He was a stray that no one claimed. He had no collar, no tattoo, and didn't know any commands.
Many noises seemed to be foreign to him and he was scared to go down stairs.
I have no idea his background, where he came from, what his life was like before I met him or even how old he is.  We're guessing he was around 4 when I adopted him.
He is in my opinion adorably cute, a little crazy and up for any adventure.  He is part poodle for sure and we think part Jack Russell.
Personality Galore
When not out with me paddling or hiking, he can usually be found sleeping under my desk while I work.
He is such a character, with floppy ears that act like antennas and move at any noise or movement.  He loves everyone and if you give him even the slightest attention, he'll give you as much love as he possibly can.
He's a good dog with a few quirks.  He has that Jack Russel crazy energy and he can get hyper and over excited quickly.  Keeping him well exercised and relaxed are key to his good behavior.
He is a natural for any outdoor adventure and a star on my stand up paddleboards.
I had no intention of getting a tiny dog (Seth only weighs 13 lbs.). I wanted a larger dog that could go running and hiking with me.
However Seth ended up being the perfect size to easily ride on my boards and his energy is so abundant he can run and hike forever.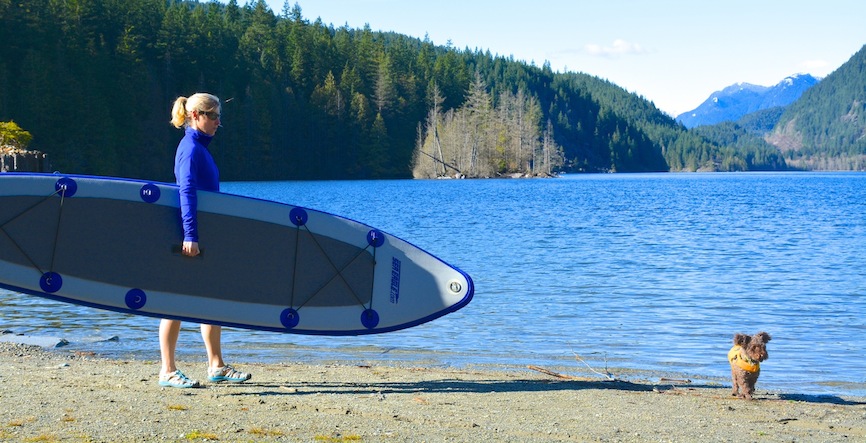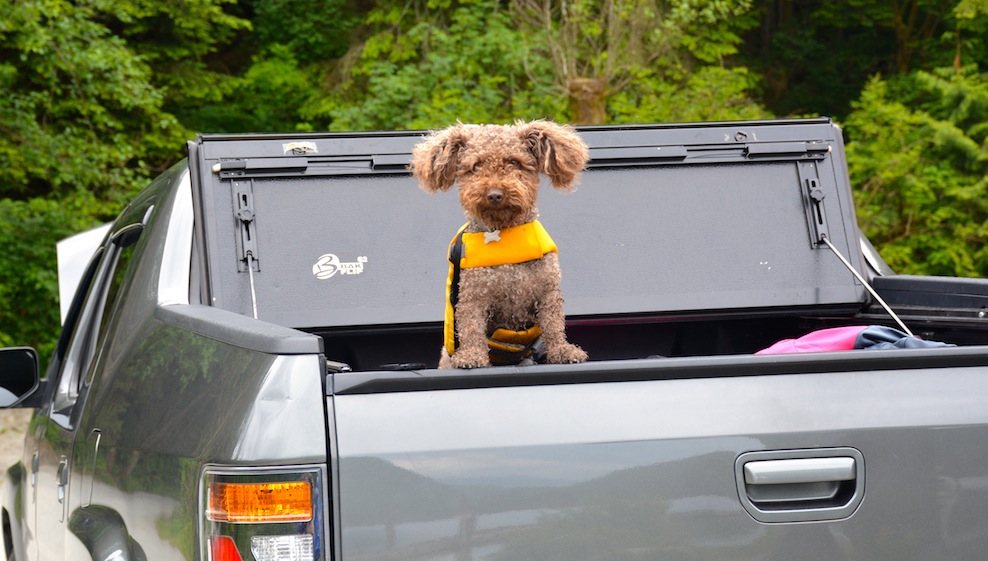 Seth's Introduction to Stand-Up Paddling
It was important to me that Seth got to participate in the activities that I love. So I introduced him to stand-up paddleboards the first week I had him.
I kept an inflated board in my living room for a couple weeks to get him comfortable with it.
I let him sniff it all over and check it out and eventually started putting treats and his favorite toys on the board to encourage him to walk on it.
He became so comfortable with the inflatable SUP that it would be his go-to place when he took a treat and he started leaving his toys on the board.
He began relaxing and laying on it and I'd teach him to stay and give him treats. Basically I wanted to make hanging out on the board as good an experience as possible so that he felt happy and comfortable on it.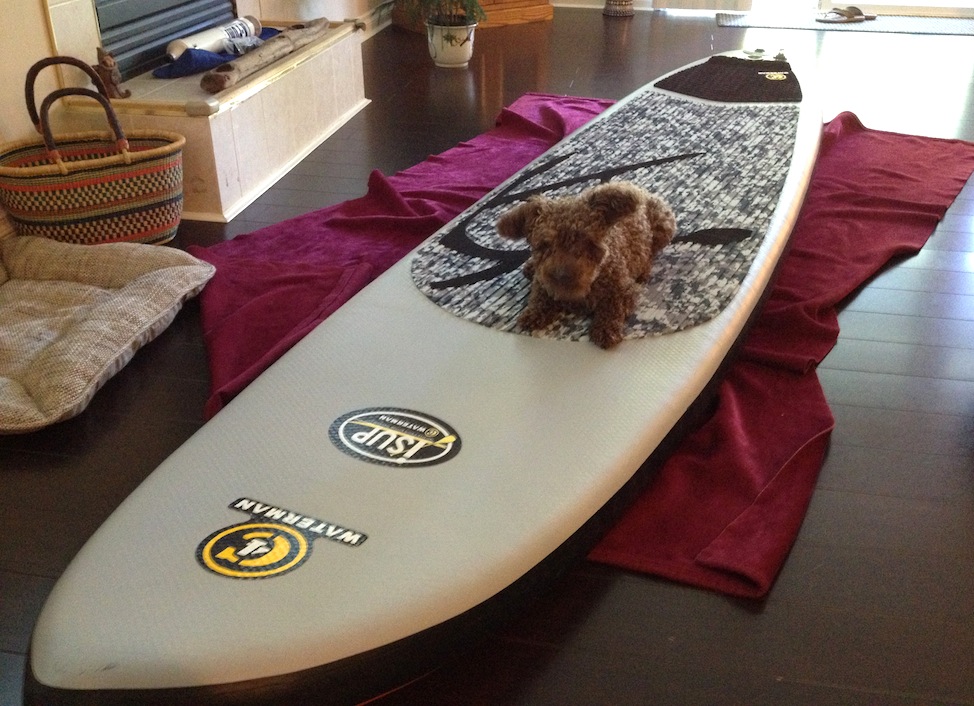 I eventually moved the board outside and started the process again out there.
Soon enough we were taking the board down to the water and practicing on shore and then on the water.
He adjusted to the board floating on water really fast.  I think the fact that he is so small is a real advantage as his weight doesn't make the board move or tip easily.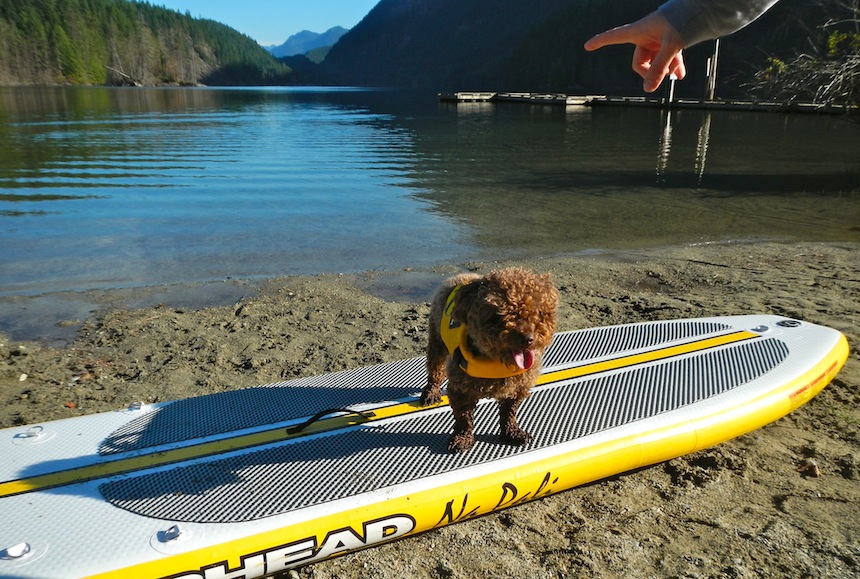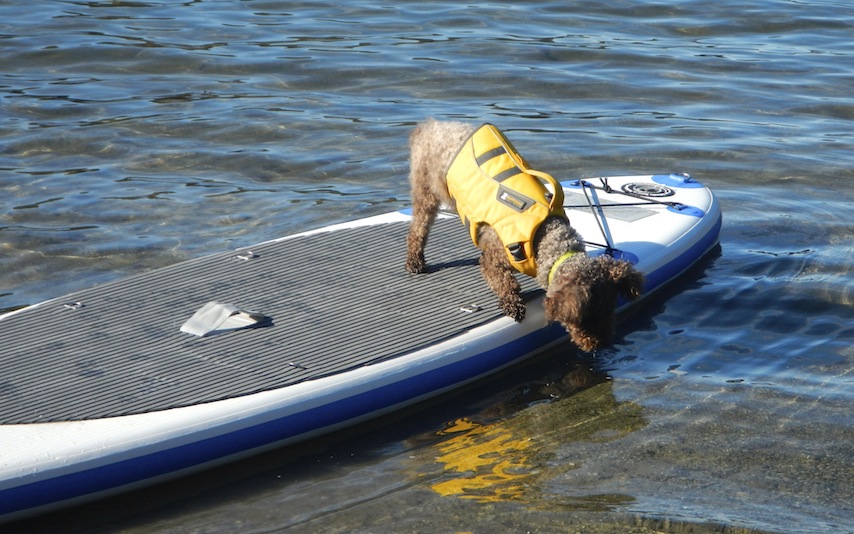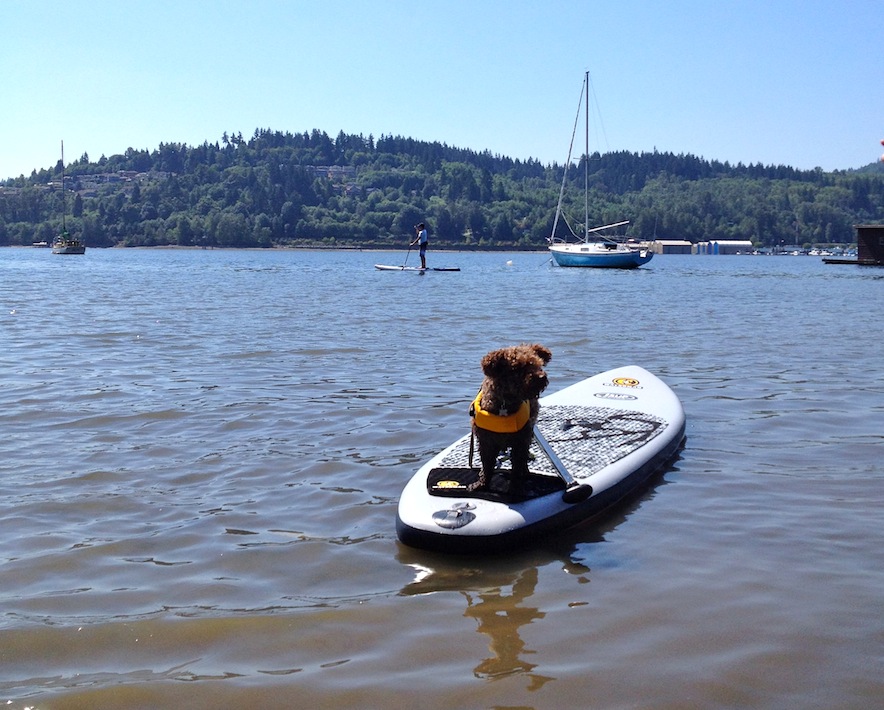 He caught on quickly and because he wanted to go everywhere I went, he was more than happy to leave the shoreline and float on the water with me.
I am lucky in that he is quite small and lightweight. I didn't need to worry too much if he walked on the board while we were paddling as his moving weight didn't affect my balance.
With a larger dog you would have to do more strict training to make sure they stay seated in one spot and didn't try to walk or jump off the board… Which would undoubtedly end up with both of you in the water.
Testing Out New Boards
Seth became my constant companion when testing out new inflatable stand-up paddleboards. He loves it and is always the first one on the board.
More often than not, while I am still getting ready, he is already on the board waiting to go.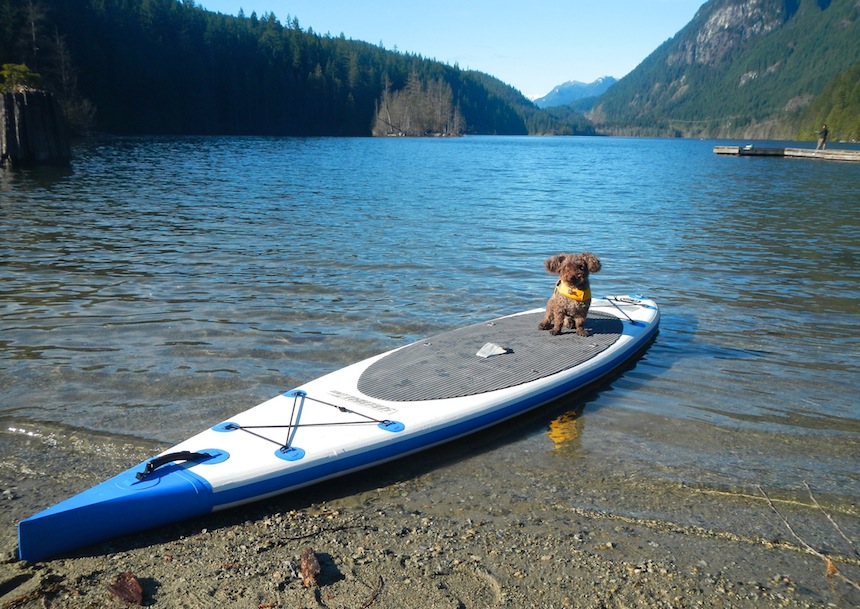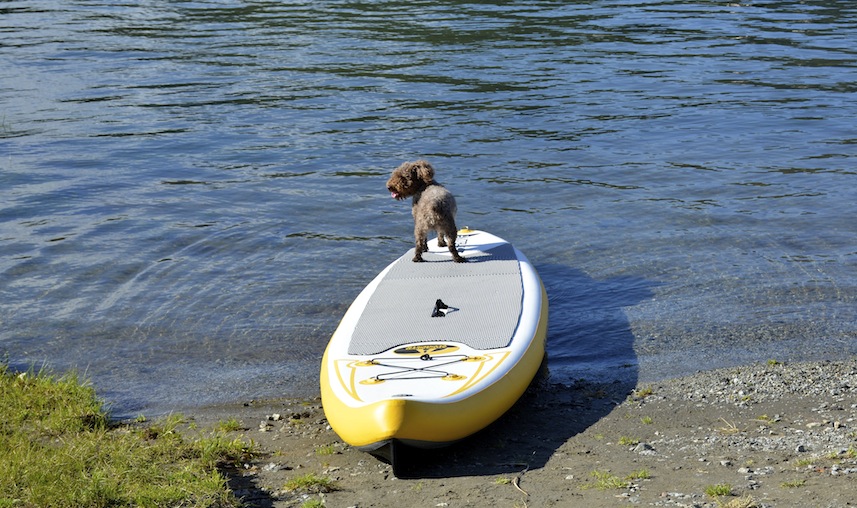 When paddling with other people, he will often board-hop… he likes to take a turn riding with each person.
We'll bring the boards close together and he'll hop on to the other board. As long as he can keep an eye on me, he's happy to ride with anyone.
He's tried jumping off the SUP a few times to go for a swim but each time he ends up scrambling to get back on the board. Like me, he'd rather be on the board paddling than swimming.
I keep a lifejacket with a handle on him so I can easily pluck him out of the water and put him back on my SUP.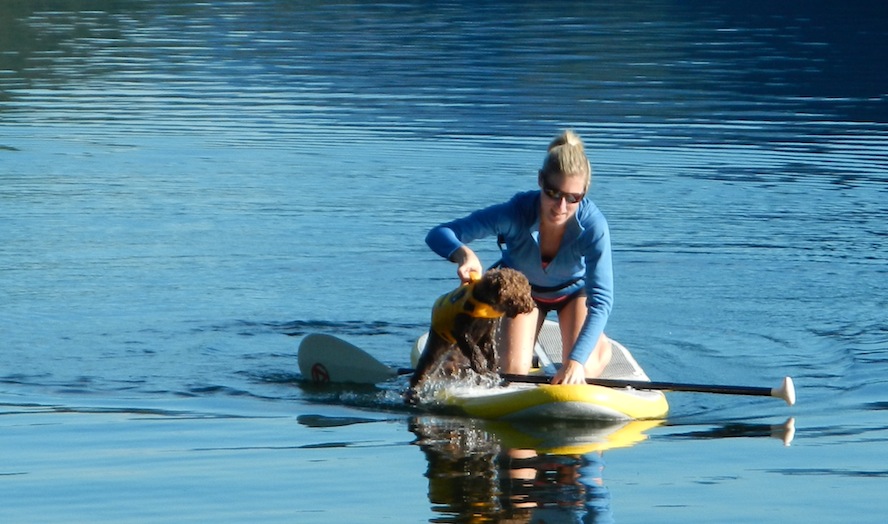 Paddling With A Dog
Not all dogs are going to be into stand-up paddling.  Some of them won't be interested at all.
Seth now has a brother, an older German Shepherd named Oscar.  Oscar is a big swimmer and we never thought he would stay on a paddle board.
However it got hard to leave him behind so we thought we'd give it a shot.  After a shaky start the old guy really got into it and now he gets super excited when we pull out the boards and lifejackets.
It may not be your dogs thing, but give it a shot, your dog might surprise you and it is such a rewarding experience to share with him.
I love paddling with Seth and now with Oscar too. I think sharing an outdoor activity that you enjoy with your dog is a great bonding experience and wonderful for both you and your dog.
I highly recommend it. Just make sure to do the proper training and prep work beforehand and don't rush it.
It's all about making sure he's comfortable and happy. Then the experience will be awesome.
Click here to view more pictures of Seth on his SUP adventures on our Flickr page.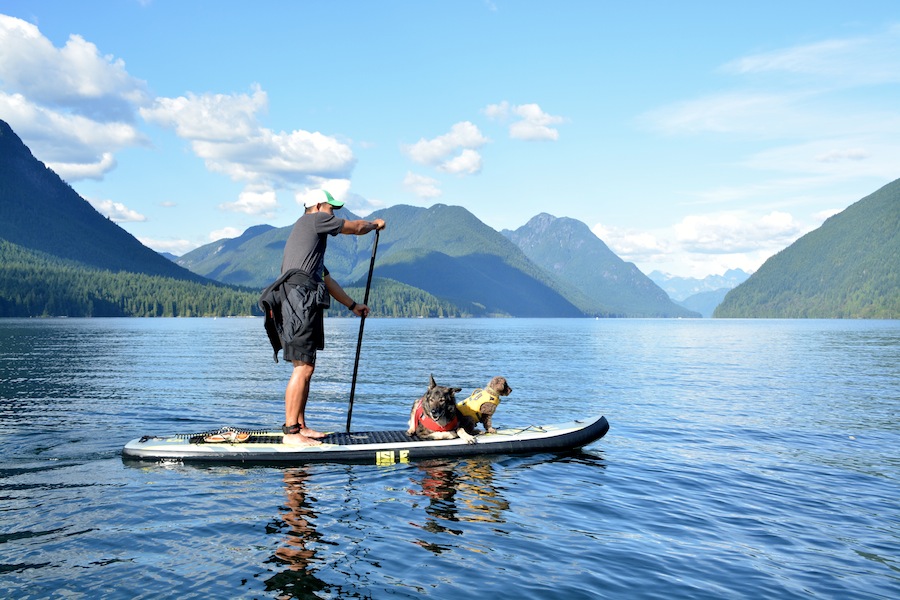 Inflatable SUP's Perfect For Dogs
Inflatable stand-up paddleboards are absolutely ideal for paddling with dogs.
They are not as slippery for them to sit or lay down on. They provide more traction under their paws.
They also provide more cushioning if the dog should fall and typically more stability for the person and the dog.
Although you can always add a traction pad on the board for your dog, I highly recommend an inflatable SUP.
Their convenience, portability and comfort are huge advantages.  They are perfect for paddling with your furry friend.
For more info on how to train your dog to go stand-up paddling with you click here to read our five step guide on how to SUP with your pup.