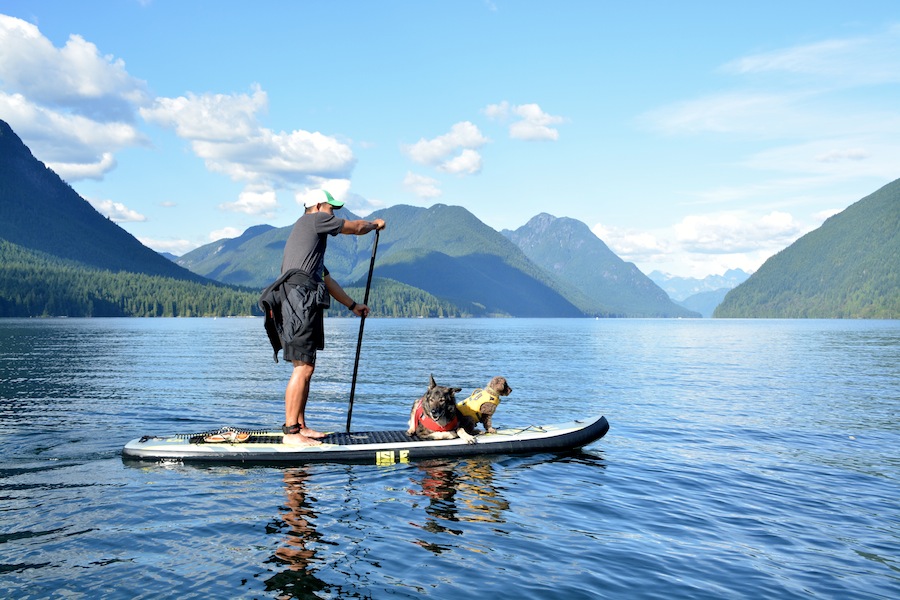 Taking your dog out stand-up paddle boarding with you can be an awesome outdoor adventure for both you and your pup.
The trick to making it a fun and rewarding experience is to train your dog well before he ever gets on the water.
When I adopted my dog Seth I knew I wanted to share my love of stand-up paddling with him. It was important to me that he not only wanted to come out on the water but enjoyed the experience as well.
Thankfully he is the personality type to be up for any adventure and he doesn't like to be left behind so he was a natural at stand-up paddling.  However I spent some time getting him ready and training him before ever getting on the water.
I started right away getting him accustomed to my board and getting him comfortable just being on the paddle board.
In a very short period of time Seth became a SUP pro! The 5 steps below are a good guide to follow and worked really well for us.
5 Step Guide
1. Keep your board in the house for a week in an area your dog is comfortable.
The point of this is to help your dog get used to the board and for him to see it as a fun and safe thing that he doesn't need to be afraid of.
Let your dog explore the board on his own at first. He will probably sniff it all over and may or may not try to walk on it.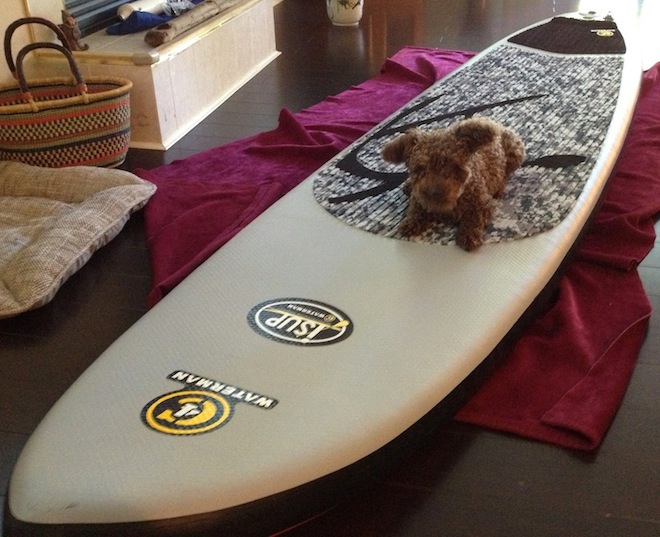 2. Place a treat on the board.
After a day or so of this place a treat on the board so that your dog must walk on it in order to get it.
Once he's on the board give him another treat. Ask him to sit, give another treat.
Do this periodically throughout the day. If your dog still seems uncomfortable then take the process a little slower.
If your dog easily gets on the board for his treat continue on.
My dog got the message very quickly… He understood that when he sat on the board he got a treat. Suddenly your paddle board is looking pretty good to him as it has been a rewarding experience so far.
Always keep the energy light and make the board a fun place.  If he's having trouble with this process just take it slow and allow him to get fully comfortable before moving on to the next step.
Once your dog is comfortable sitting on the board on his own, practice with his PFD on so that he learns to associate the lifejacket with the whole process.
3. Have special commands for getting off and on the board.
Having a special command for getting on and off the board during this process is quite important.
If your dog should jump off the board because he sees a duck while you are paddling in the water, he may throw you overboard as well.
Give your dog a special command for getting on the board to get his treat.
Then make sure you give another special command when you ask your dog to get off. Each time he gets a treat when this is done properly.
If your dog jumps off the board before you have given the command then there is no treat.
Ask your dog to get back on, sit, and stay. Then give the command to get off. Overtime you will be able to lengthen the amount of time he stays on the board before asking him to get off.
4. Practice sitting, standing and paddling on the board with your dog.
Once your dog is comfortable sitting on the board in the right spot by himself now you can practice sitting and standing on the board with him.
Ask your dog to get on the board and sit in his spot. Then sit on the board behind your dog. Give him another treat when he stays in place with you sitting behind him.
When he is comfortable with that try standing and rocking back and forth a bit.
Some dogs are better with this than others, so if your pup is having trouble, just take it slow and go back a step if you need to.
Try to keep the environment positive and rewarding as opposed to setting him up for failure.
Once he is comfortable with this step you can practice the paddling stroke with your SUP paddle while standing to get your dog used to the paddle moving around him.
5. Head to the water.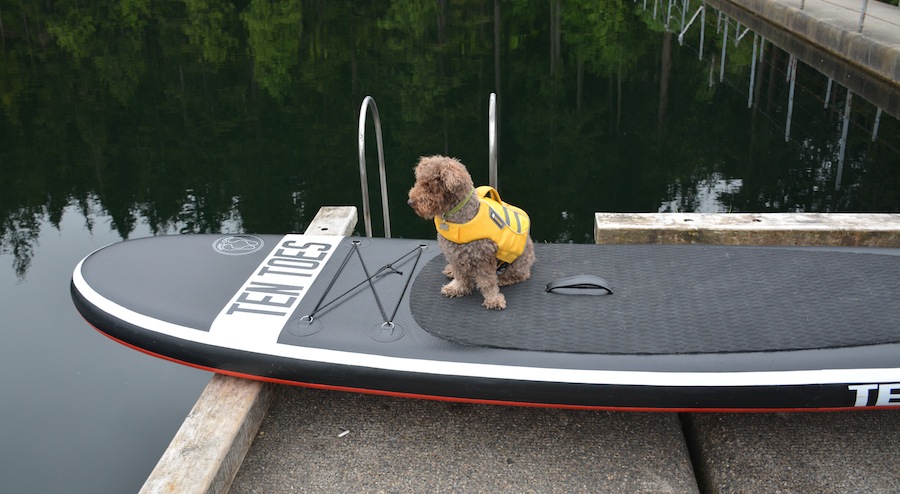 Next take your dog to the water with the board and practice the same steps with the board close to the water or slightly on the water.
Go through each step to make sure he responds the same way in a different environment.
Depending on your dog's nature you may need to practice this a few times before you ever actual get on the water.
Seth is so used to our routine that I am often still getting ready and find him sitting patiently on my board waiting to launch.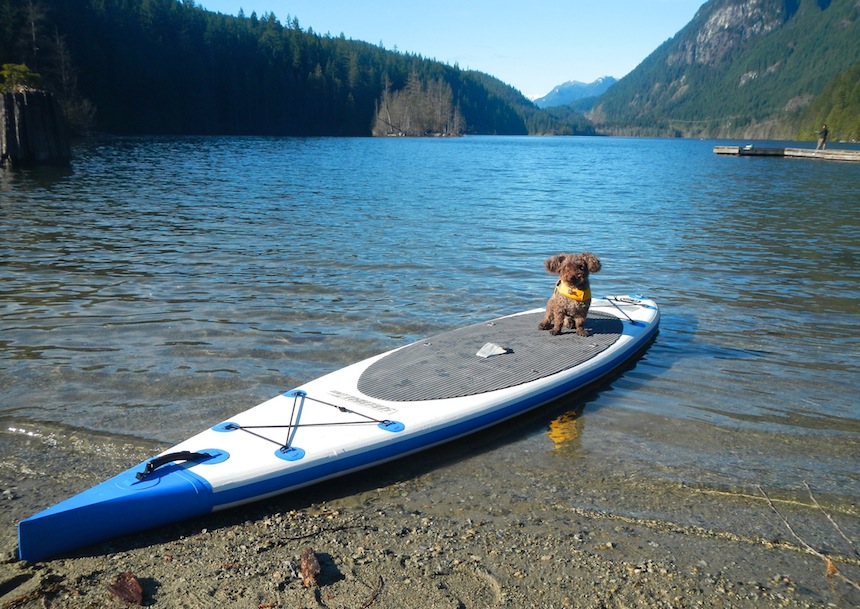 When your dog feels comfortable and confident give it a shot. Keep your first outing short and give your dog lots of praise when you are done.
Expect a few mistakes and possibly a few wet tumbles.
However once your dog gets it the experience is truly awesome.  Seth and I have paddled everywhere together from beautiful mountain lakes, to meandering rivers, to taking on some serious ocean chop.
He's not fond of crashing through heavy waves but with his doggles on he tolerates the spray and handles it like a champ.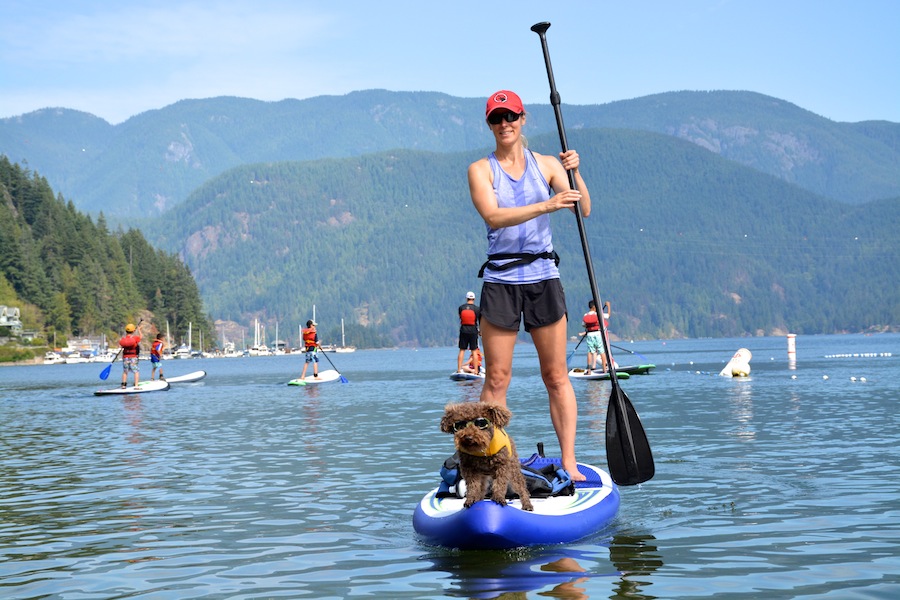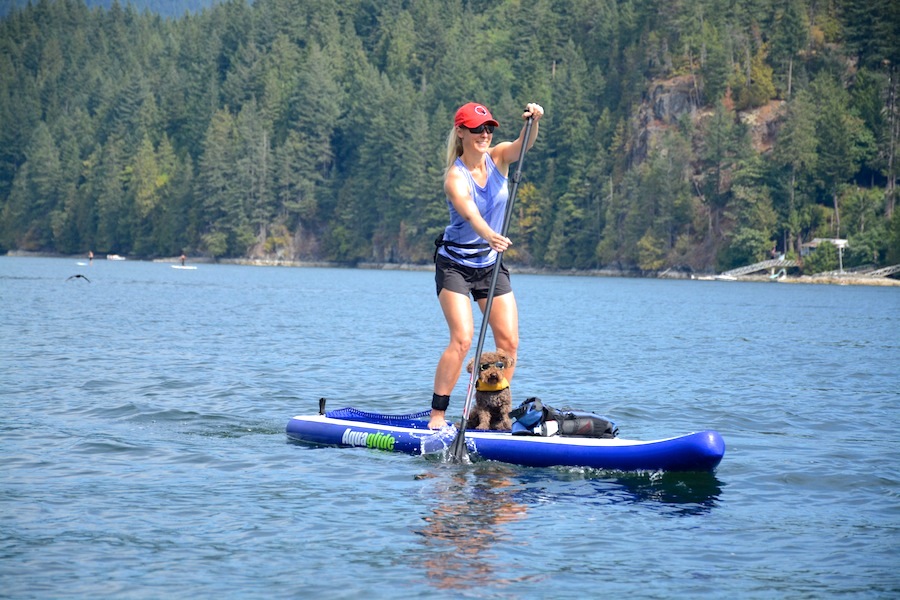 Safety Precautions
It is highly recommended that your dog wear a PFD while stand-up paddling. This will ensure that your dog is safe should he fall or jump in the water or hit his head.  Ideally his PFD should have a handle on top.  The handle is critical to helping pull your dog back on the paddle board should he fall or go in for a swim.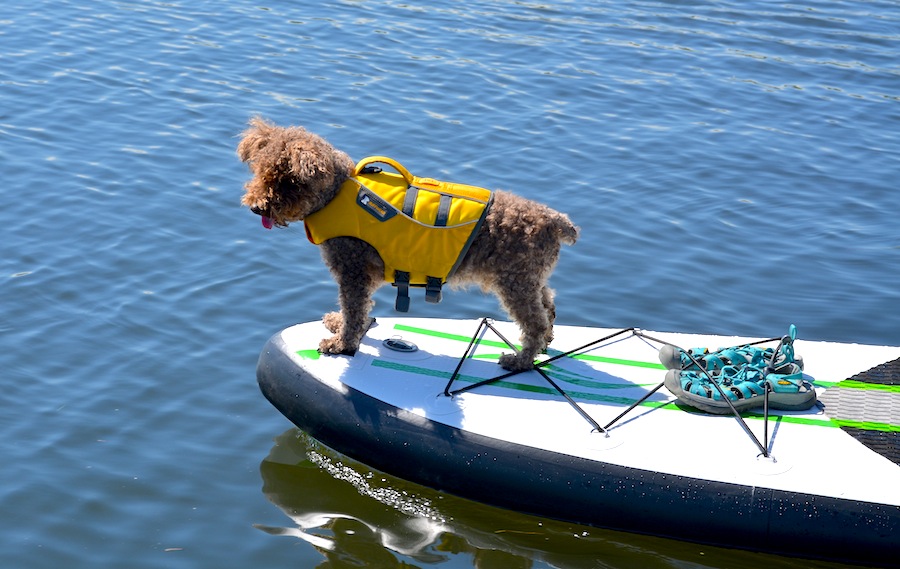 It is also highly recommended that you never keep your dog hooked to a leash while paddling. If your dog should end up in the water accidentally the leash could strangle him. Train your dog before getting on the board so that the leash is not necessary.
If your dog is scared of water then that will be your first obstacle to overcome before ever getting on the board. That being said Seth does not like to swim.  He jumped off once, realized it meant he would have to swim and has never jumped off again.  So it could possibly work in your favor too!
When Training Goes Out The Window
With Seth I followed these steps closely and consequently I feel he is a very confident rider on my stand-up paddle board and he absolutely loves to come out with me.
He will board hop when paddling with friends as he likes to take a turn with everyone.  These steps worked really well for him.
A little while after Seth came into my life I ended up with a boyfriend who had an older German Shepard named Oscar who LOVES to swim and we weren't sure he would ever stay on a board long enough to be able to paddle with us.
As we became a family leaving Oscar behind when heading out on our paddling adventures was not an option.
We finally decided to give it a go with Oscar on a whim while on a road trip.  We literally skipped each one of these steps and just went for it.
We started with him in a kayak as we thought that might be an easier transition.  Then got him on a board.  As you can imagine paddling with a 75 lbs. German Shepard is a lot different than paddling with a 13 lbs. Poodle mix!
It was not as smooth of a learning curve however Oscar did surprisingly well and as long as he got rewarded with a swim at some point during or after the paddle, he was a very happy boy to be along for the ride.
It took a little time for him to get fully confident and to lose the 'shaky legs'.  However he endured and impressed us with his resolve to master this new skill.  We feel blessed that he is able to come with us and enjoy paddling in his senior years.
So I guess sometimes depending on your dogs personality you just have to go for it.  I would just caution to make sure there are lots of rewards.  The last thing you want is for it to be such a scary and bad experience that he never wants to go near your board again.
You can read more about Oscar's paddling experience in our post "Teaching An Old Dog New Tricks".
Inflatable Paddle Boards Are Perfect For Dogs
Inflatable SUP's tend to be ideal for paddling with a dog. They provide great traction for their paws and are quite stable.
We have compiled a list of the Best SUPs For Paddling With Dogs that you might find helpful in order to choose a board that will suit your needs and your dogs needs best.
Good luck and happy paddling!!