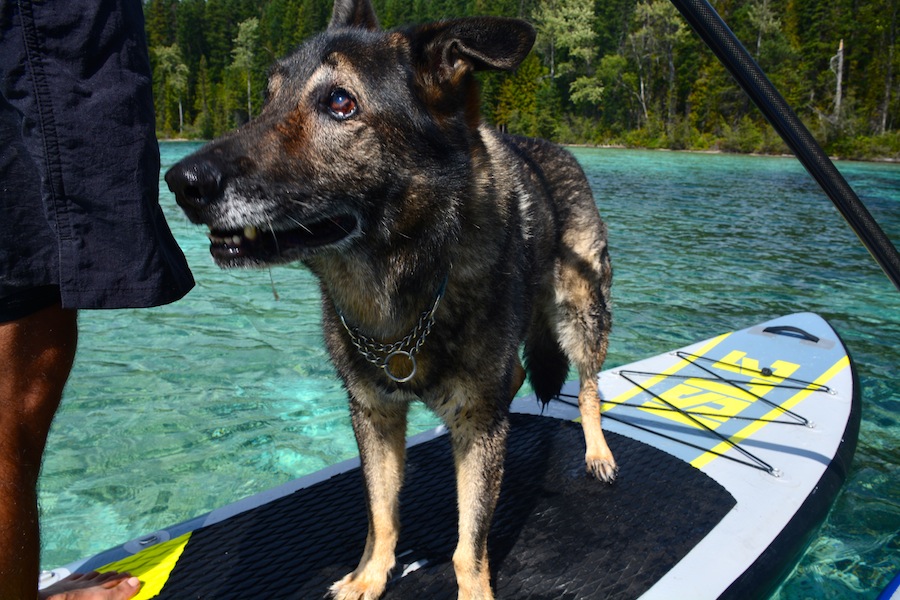 We have two wonderful dogs in our family each with their own unique personality.
You have likely seen the pictures of our little guy Seth testing out all the boards with us.
He has been stand-up paddling with me since the day I got him so he is fully comfortable on the boards and loves paddling.
Oscar our older German Shepard loves to swim but had never been paddle boarding.
Being older (he was 10 and a half when he first learned to ride with us) and being a swimming fanatic, we were hesitant to take him out with us.
However the dogs are a big part of our life and leaving Oscar behind was getting harder and harder.
So we decided that this summer was his year to learn to SUP.
Road Trip!
My boyfriend and I were going on a little road trip and bringing both the dogs with us.
Our road trip included two full days of paddling and we decided this was the time for Oscar to gain his SUP legs so to speak.
His first day paddling was at Heffley Lake near Sun Peaks in Kamloops, BC. We brought out an inflatable kayak and an inflatable SUP.
We thought we'd try him in the kayak first and see how he did.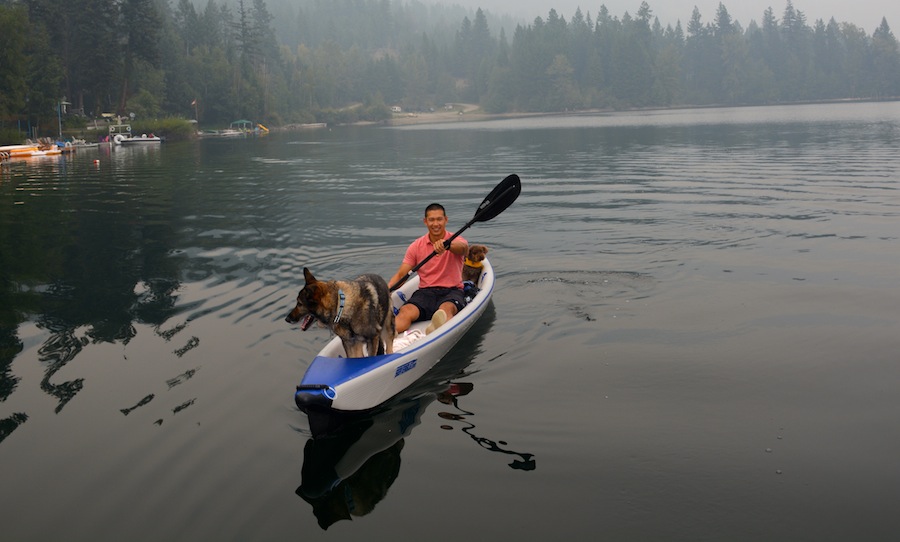 We really should have practiced getting him comfortable in the kayak and on a board at home first but we didn't follow any of my own advice on how to SUP with your pup.
So we just winged it and counted on his easy-going spirit to pull him through.
He was very shaky in the kayak and looked quite uncomfortable. After a valiant effort we decided to try the board and come back to the kayak later.
Getting Oscar onto the board was tricky. He would put one paw on and when the board would move in the water he would jump back.
I didn't think to bring treats that first day… which would have really helped as Oscar is extremely food motivated.
There were a few whimpers and finally a lunge as he hopped awkwardly onto the SUP.
He actually seemed a little more stable on the paddle board than in the kayak. He stood shakily trying to get his balance.
He refused to sit or lay down and I was sure we were going to end up in the water.  He went to the very tip of the board causing us both to be quite shaky.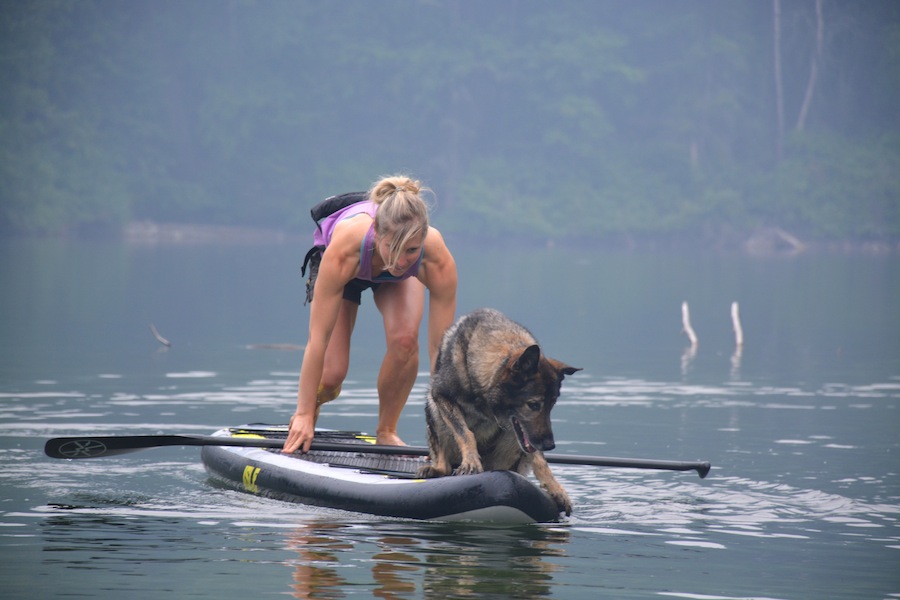 Darryl and I took turns paddling with him in shallow water and gave him a break on the shore in between.
Day one was a minor success but we figured he had a long ways to go to feel really comfortable riding shotgun on our paddle boards… as you can tell from his awkward position on the board in the pic below!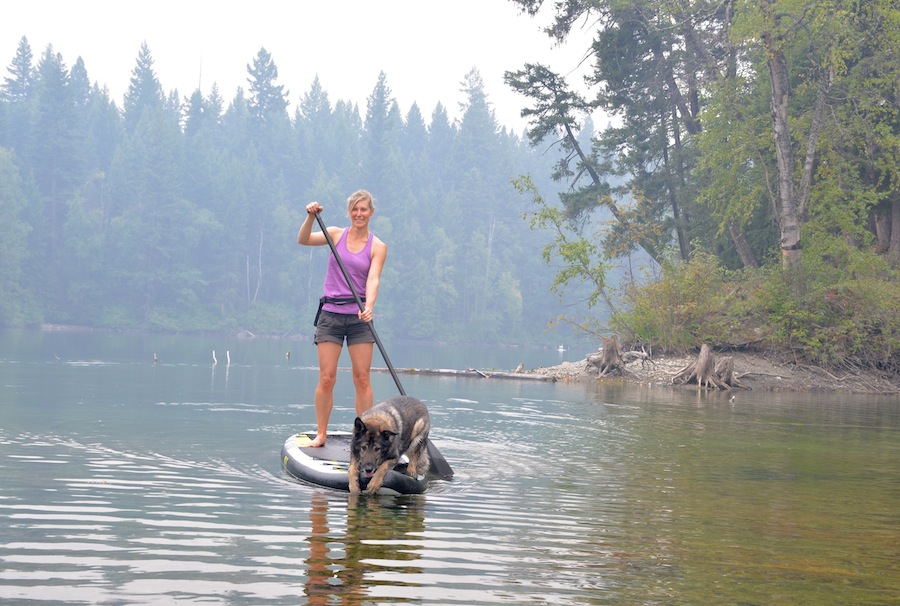 Day 2 Total Success
On day two we drove an hour and a half to an absolutely stunning lake nestled between the mountains called Johnson Lake.
This lake has turquoise water and white sand and is awesome for paddling and swimming. It is far enough out of the way that there was almost no one there.
We brought treats this time and had no problem bribing Oscar right onto the board.  He got lots of love and praise for being so brave.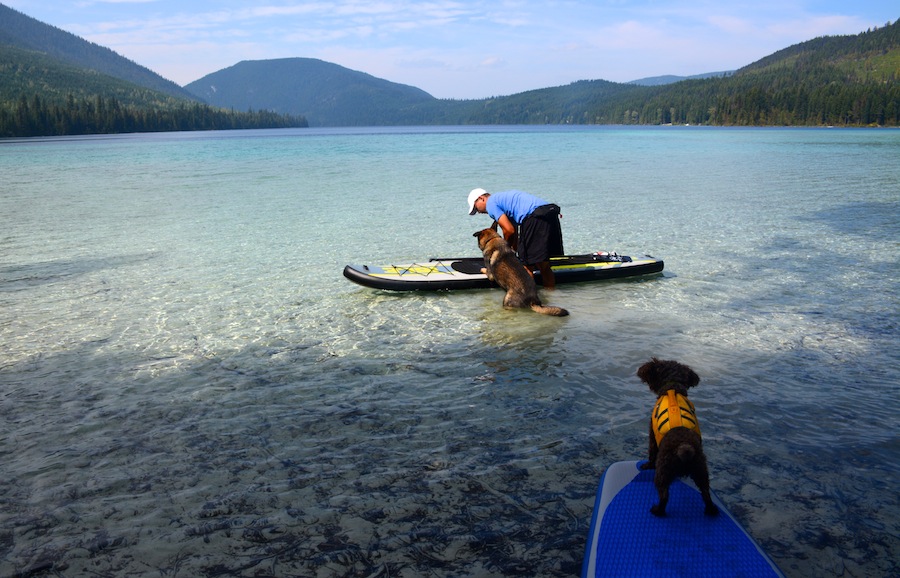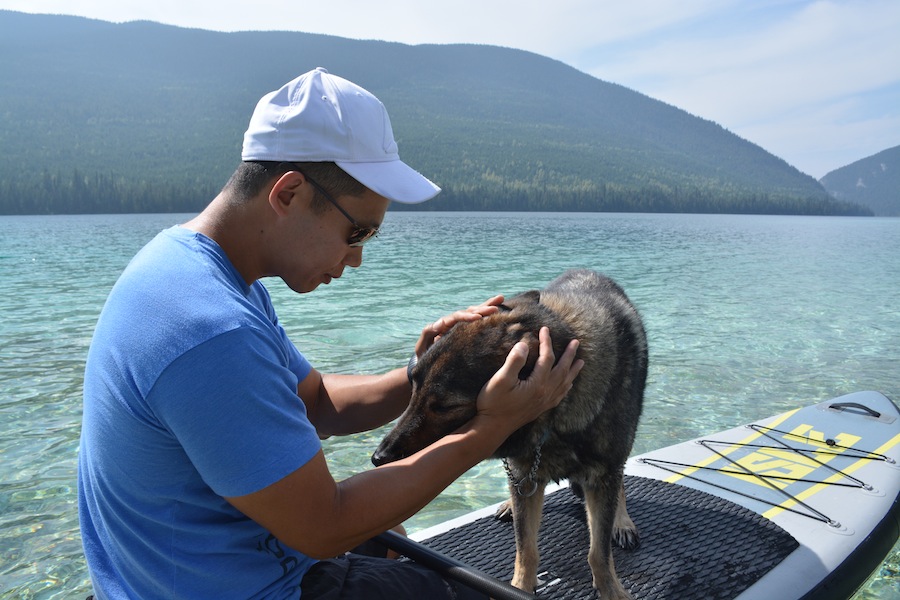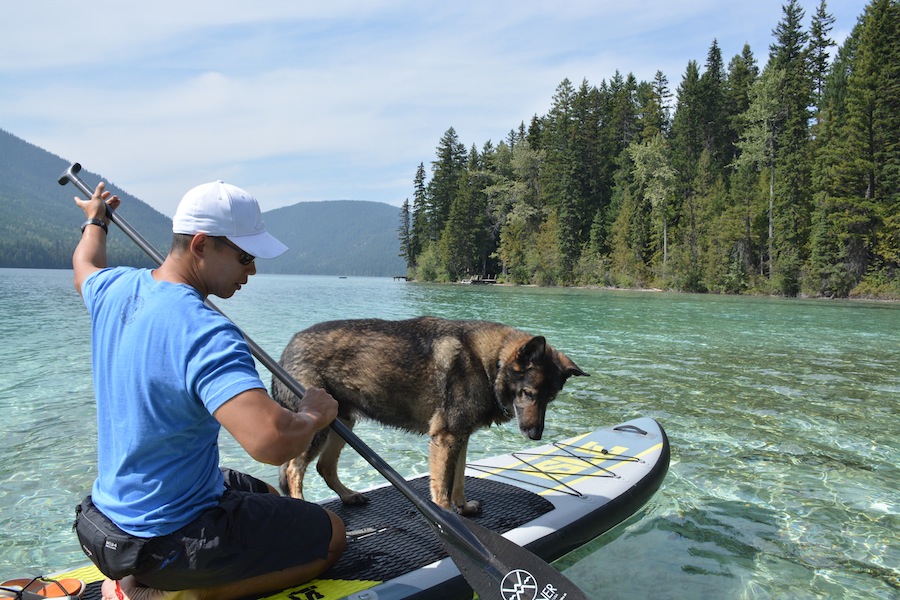 For some reason he was far calmer this time around and adapted really quickly. We got him sitting on the board and then laying down and we paddled for a good couple hours even in windy conditions.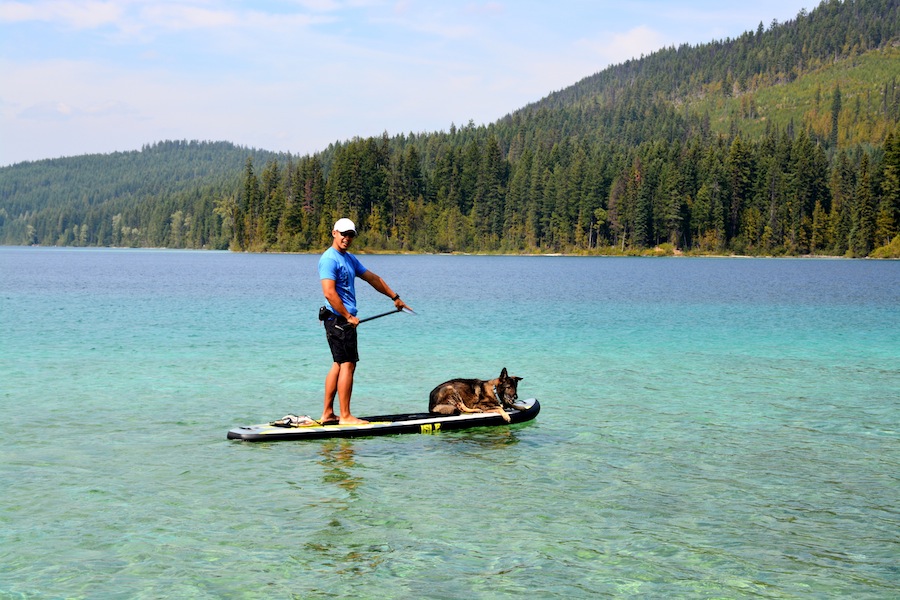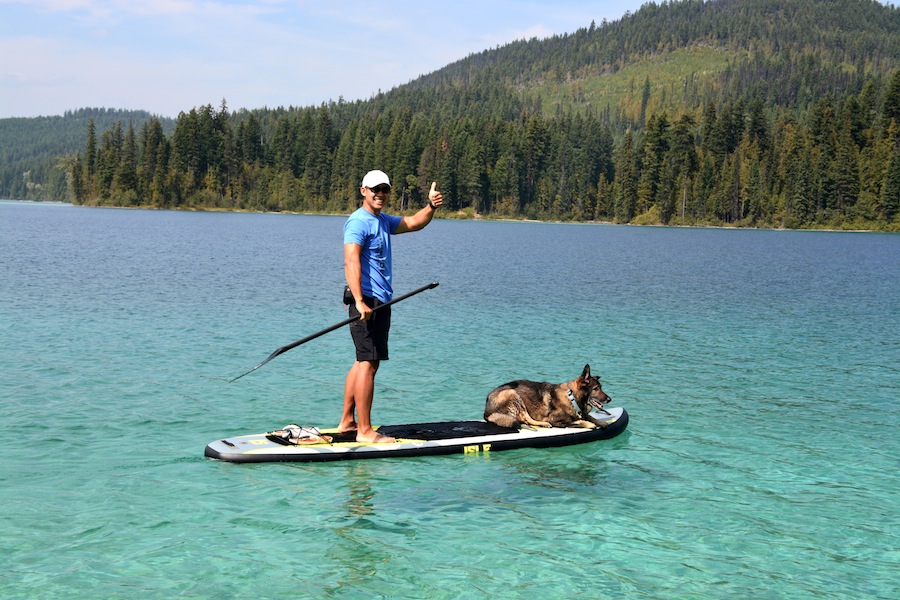 He fell off once and had to swim to shore but other than that he was a champ.
We were so proud of him. I have to say I did not think he would adapt to stand-up paddling that easily and thought for sure we'd have many moments of being toppled overboard before he adjusted to the movement of riding on the water.
He even got to ride with his little brother Seth who begrudgingly shared the board with him.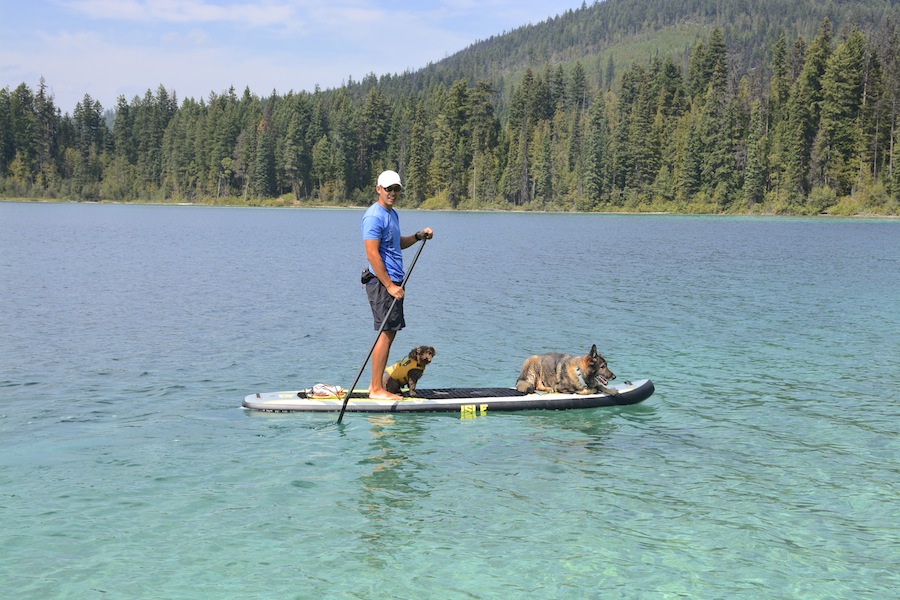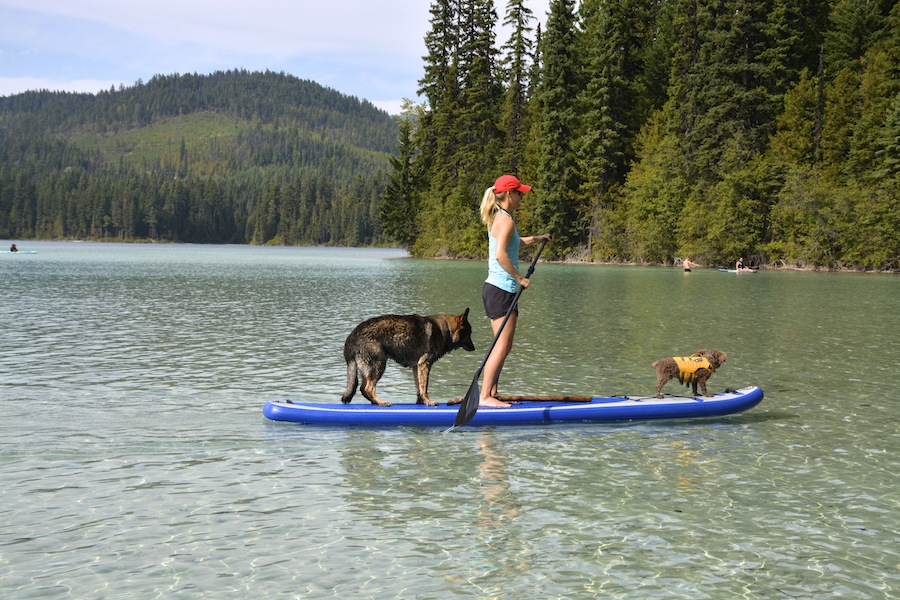 Tricks and Tips
We practiced for quite awhile in shallow water that day and found that what really helped with Oscar was a) having treats to offer and b) keeping a stick on the board.
Oscar is a swimmer and loves to retrieve sticks in the water. We took his swimming stick and kept it on the board which seemed to help him stay in place.
After being out several times now, he no longer needs the motivation but if there is something your dog really likes that you can bring with you initially, it might help.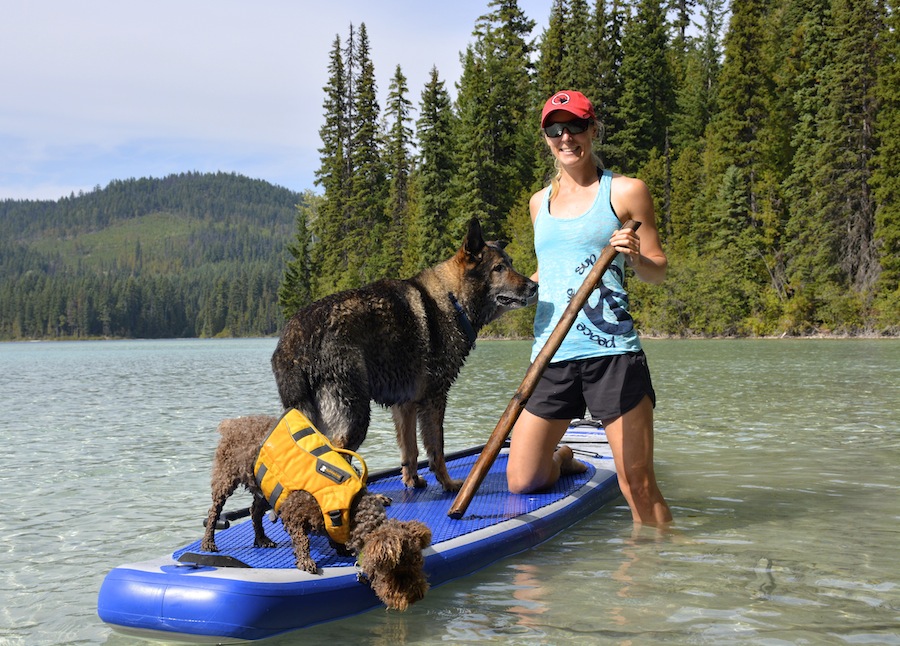 We just kept practicing until he seemed relaxed and comfortable. We even had him on the board by himself for a bit 🙂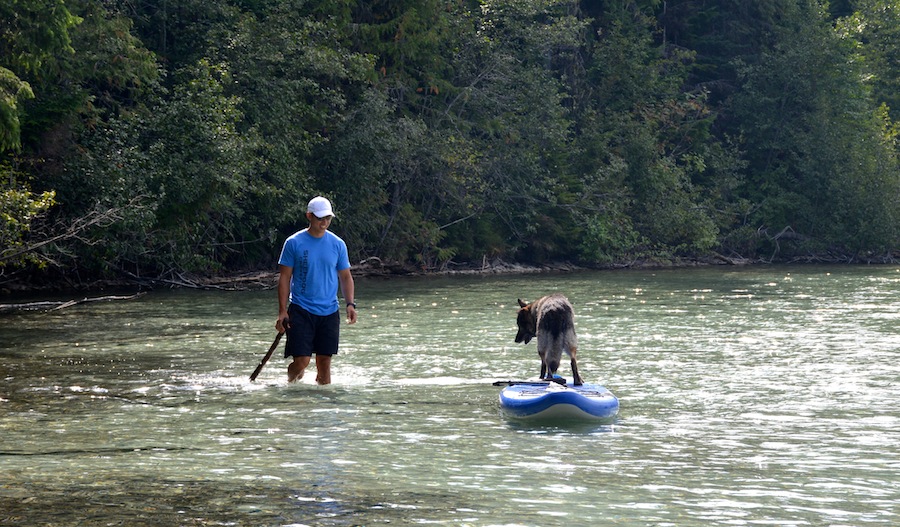 A couple things we noticed that we don't really have to think about when paddling with Seth…
Oscar is a 75 lbs. dog. Any move he makes affects our stability on the SUP. Seth only weighs 13 lbs. so he can walk all over the board and it doesn't really matter.
However it was important for Oscar to stay in place and that took practice. When he would get nervous he would get up and try to walk about causing us both to feel very unsteady.
So if you are paddling with a larger dog be sure to practice the sit or lay down position to keep him still and relaxed while you paddle.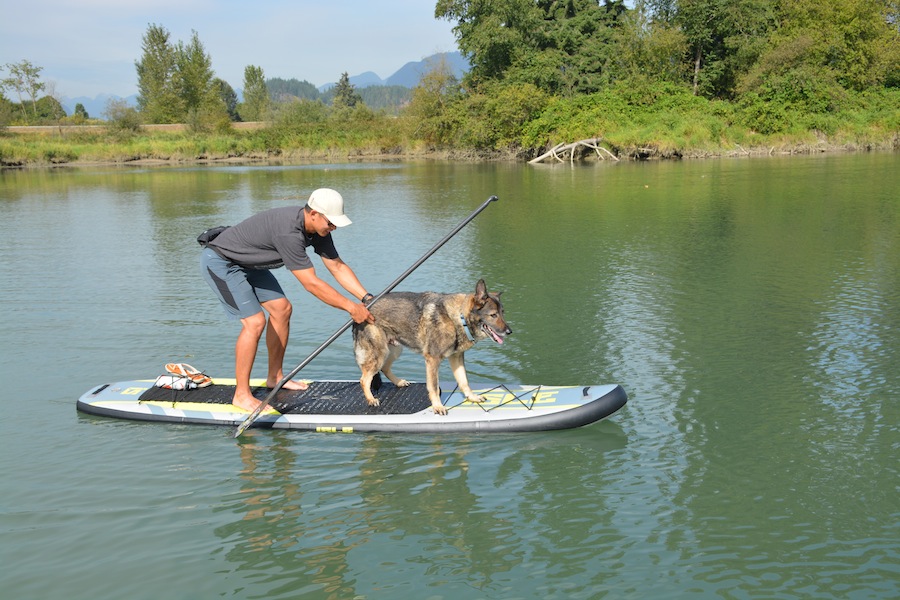 We also found it much easier to paddle when Oscar was positioned at the middle of the board as opposed to standing or sitting at either end.
In the middle the weight distribution is more even and paddling will be more efficient and take less effort.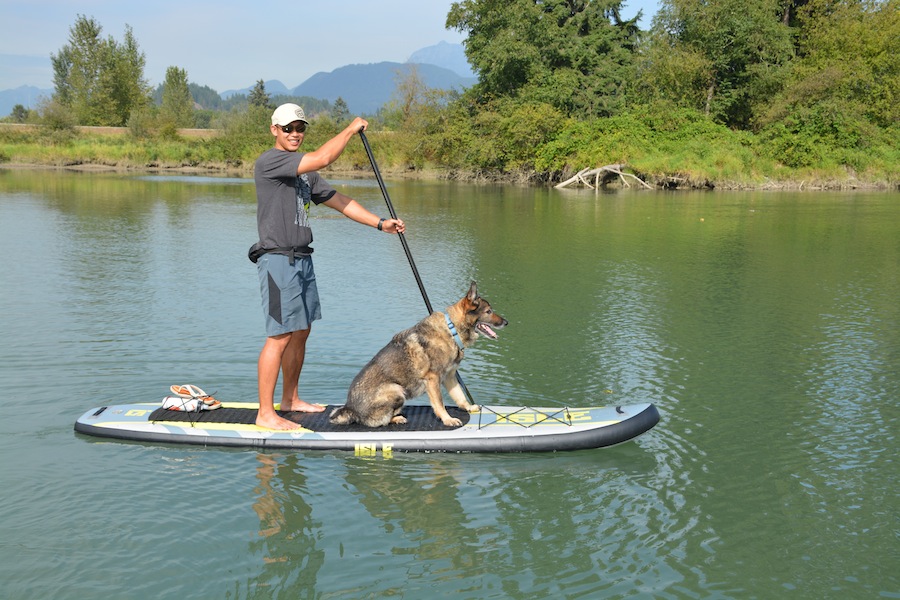 Oscar has not perfected staying in the middle yet but we're working on it.
When you first get your dog on the board start off paddling on your knees.  This will feel more stable for both you and your dog and lessen the chances of both of you going in the water.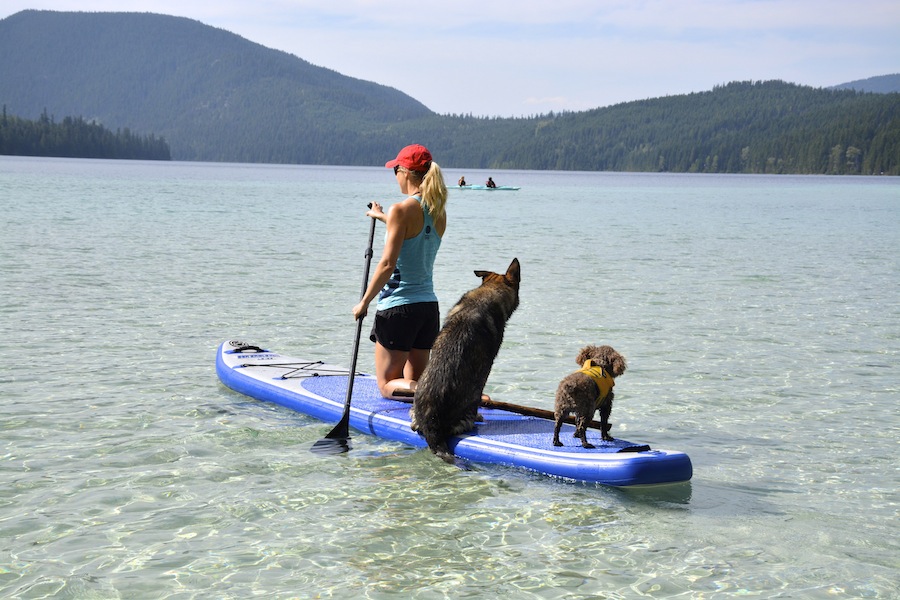 Also if your dog is a swimmer, paddle to a beach area and let him go for a swim as a reward.  Then paddle back.  This has worked well for us with Oscar.  He sees riding on the stand-up paddle board as a means to an end to get to swim.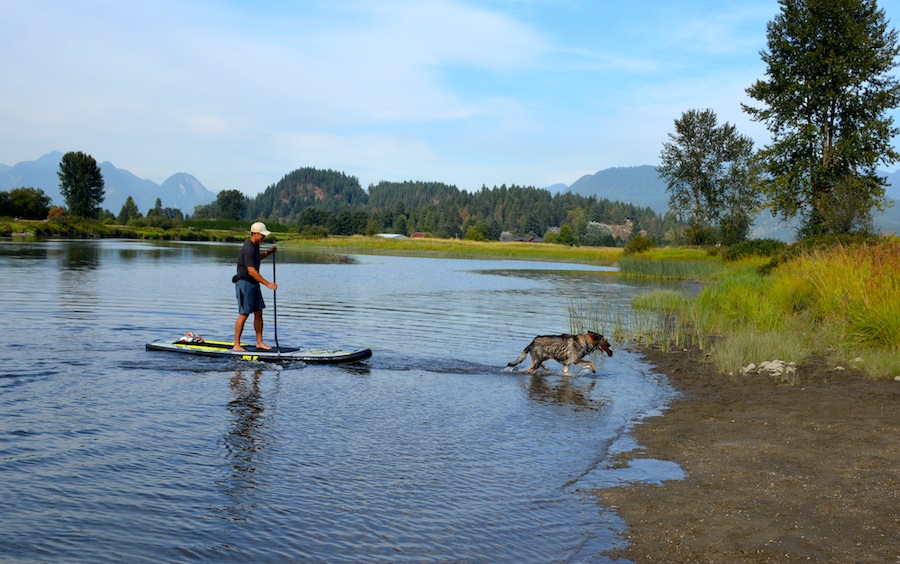 Mobility Issues
Oscar is a senior and (he is now 12 years old as of 2017).  He does quite well for an older dog but I notice that he does get up and down a little slower these days.  His joints do get a little sore.
If your older dog has any mobility issues or aches and pains, stand up paddle boarding is still a possibility.
You just might need to make sure he is laying down on the board before you paddle too far out.
Oscar was a little shaky getting down and we found that he would kind of just let his legs go and drop to the board so he could lay down.
Once down, he seemed much more comfortable and didn't have to worry about keeping his balance as much.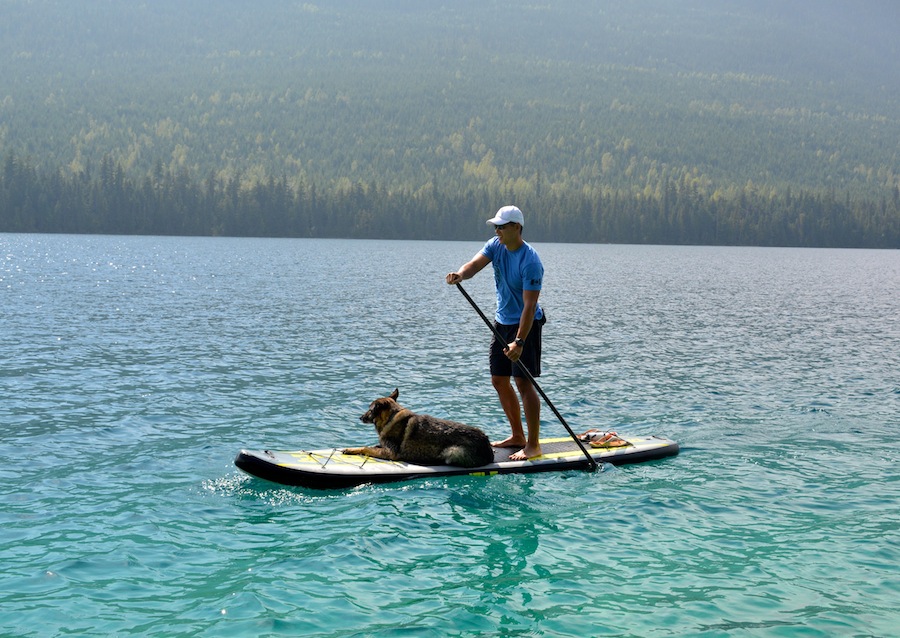 This might take a little practice if your dog suffers from arthritis or sore joints. Take it slow and be patient.
It is still possible and your dog might really enjoy the ride once he gets into a comfortable position.
Time To Gear Up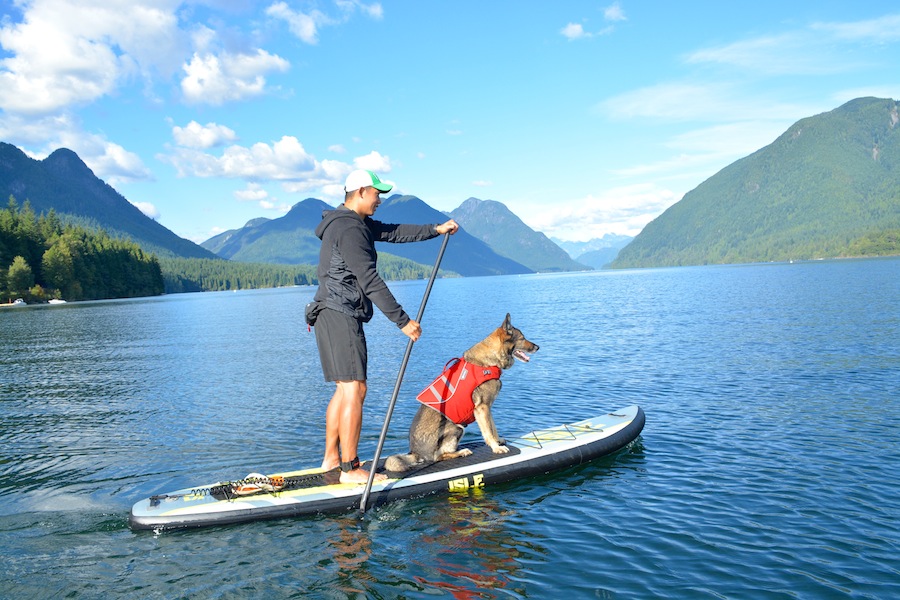 Now that we knew Oscar could paddle with us it was time to get him a lifejacket.
Even though Oscar is an excellent swimmer we realized that it is extremely difficult to get him back on the board if he goes in.
If we are close to shore he can simply swim to shore but in open water it is necessary to get him back on the board.
So we bought him the Ruffwear K9 Float Coat that has a handle on top – this is the same one we have for Seth. Oscar weighs 75 lbs. so lifting him back onto the SUP is no easy feat and he can't make it on his own.
The handle on the lifejacket helps to pull him up as he scrambles to get back on the board.
Have An Older Dog?
Bottom line is if you have an older dog that you would like to bring stand-up paddling with you, don't give up on him.
I truly didn't think Oscar would take to it so well and thought for sure that even if he got on the board he would just jump off and want to swim.
Your dog might surprise you too. Paddling with your dog can be very rewarding for both you and your pup. Give it a shot and hopefully it will give your dog a fun new activity to do with you!
It is worth noting that inflatable stand-up paddle boards are ideal for paddling with a dog as they offer a bit more stability and good traction so they don't slip. They are extremely durable and you do not have to worry about your dogs nails puncturing them.
Oscar now gets extremely excited when we pull out the boards and PFD's to go paddling.  We are thrilled to share our love of paddling with him and it makes us so happy to see him smiling and feeling good about himself.