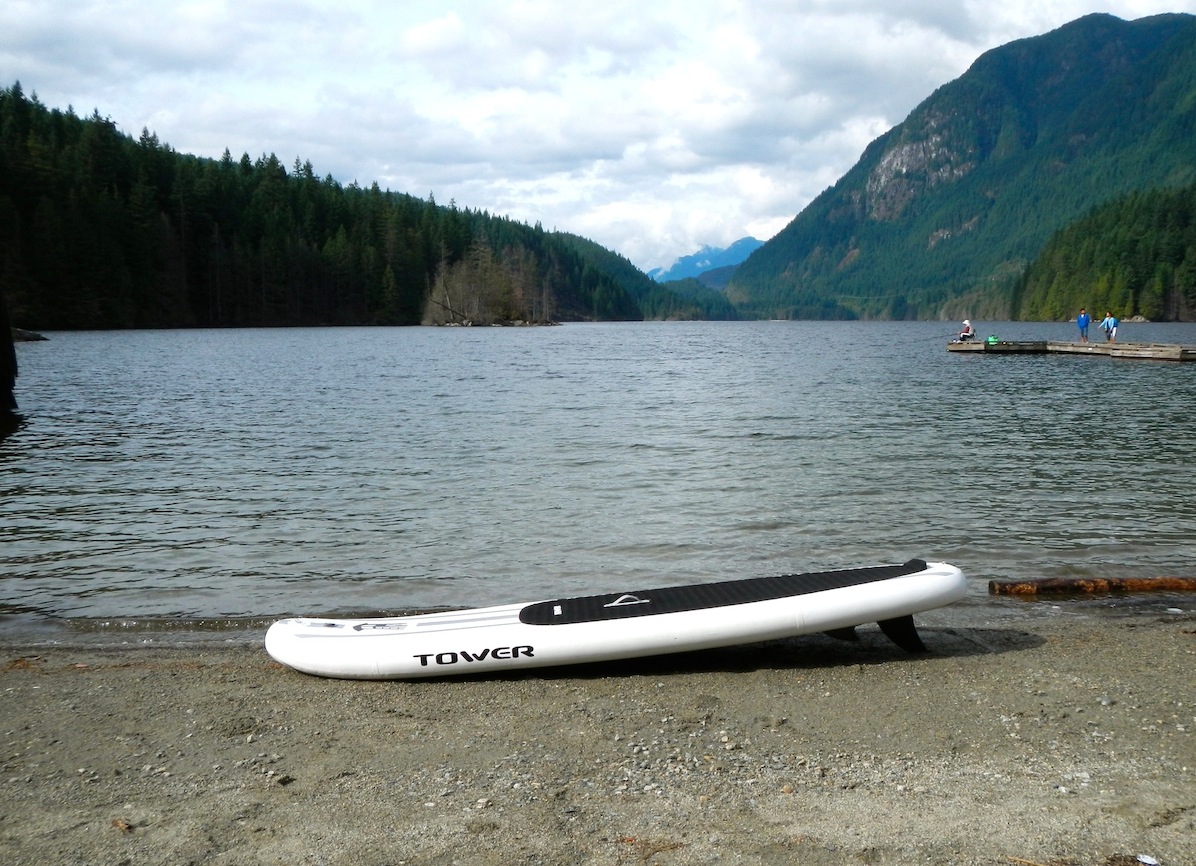 I get really excited to try out new boards. They are all a little different and it's a lot of fun to test and compare.
The Tower Adventurer was one that I wasn't all that familiar with until visitors to ISUPworld.com started asking about it.
So when I was lucky enough to get one to test out I couldn't wait to get it out on the water so I could post a review.
My initial impressions were all good. This board is affordable, solid, and paddles quite well considering it is fairly short and wide.
The 6" thickness makes it very stable which is nice for a board less than 10 feet long, as they can be a little tippier.
Although a shorter board is not always ideal for touring or lake paddling, the extra large removable center fin really helps it to track straight and glide smoothly.
Quick Stats
Specs:
9 feet 10 inches long
32 inches wide
6 inches thick
weighs 24 lbs.
can hold up to 400 lbs.
has 1 large removable center skeg
has two smaller attached side skegs
2-year warranty
Material: Rugged drop-stitch PVC material
Pros: Compact & easy to carry, very rigid, inflates quickly, comfortable traction pad to stand on, good tracking, 3 fins – one large removable fin for flat water paddling and 2 smaller attached side fins, affordable
Cons: No carry bag, no bungee cords or D-rings to tie down gear
Where To Buy The Tower Adventurer
Click here for the best deal on the Tower Adventurer ISUP at Amazon.com.
More In-Depth Info On The Adventurer ISUP
In my opinion the Tower Adventurer is a great little inflatable SUP.
I think that when it is inflated it looks kind of basic but in truth it has some really nice design features and covers all the necessities without adding any expensive extras… which is why the price is kept fairly low.
At 9' 10" long it is extremely compact and convenient to bring anywhere. There is not a lot of extra room on this board but I found it ample for my small dog and myself and could hold a ton of weight with no flex at all.
The main features of the Adventurer are:
Diamond grooved deck pad that provides good comfort and grip for your feet
1 large removable skeg that is ideal for flat water paddling
2 small attached side skegs for rivers or surf
Hand hold strap in the center of the board
D-ring at the back for your leash
Roll-up carrying strap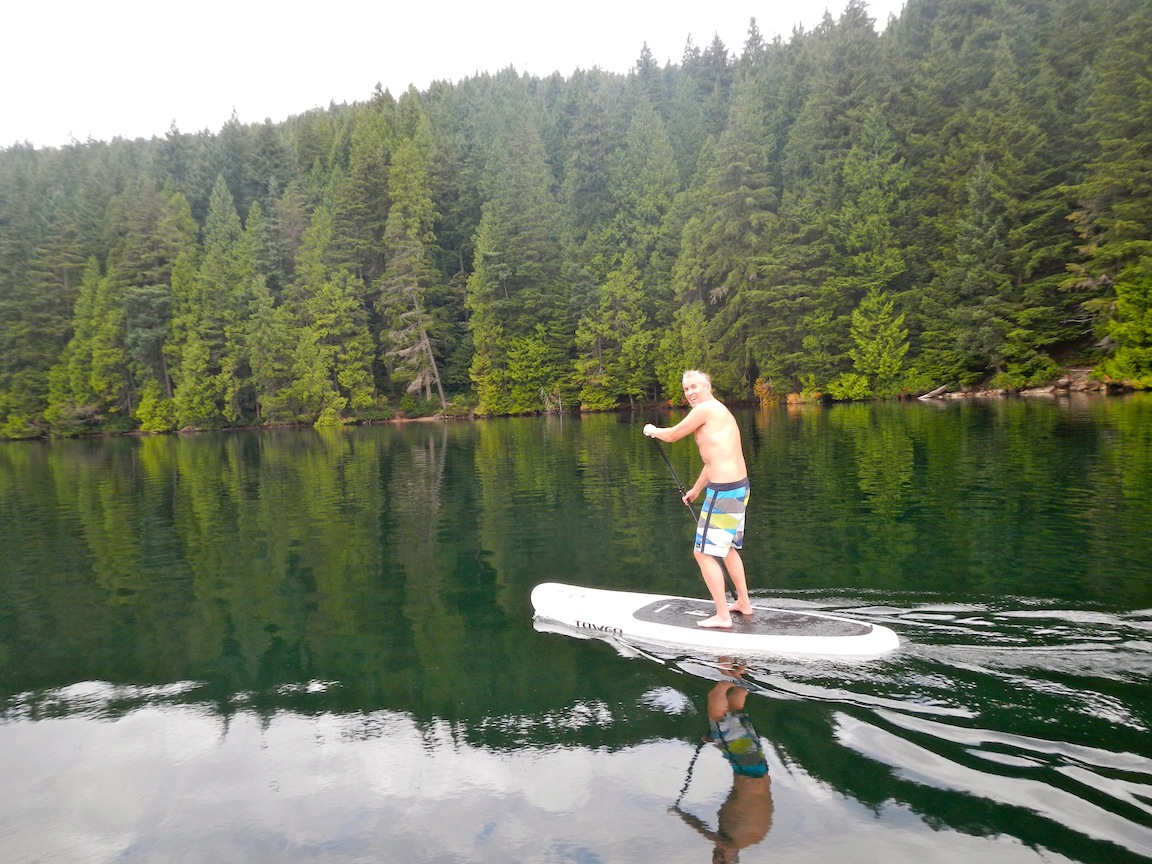 Setup
Setup is very easy. There is one valve for inflation and because this board is not that long, I found it took only a few minutes to get it fully inflated.
The hand pump works fine buy my first time out I used my electric pump and set the PSI level to 11. 11 PSI is the recommended air pressure for this board.
11 PSI might not sound that high compared to some other inflatable SUP's that are able to inflate to 15 to 17 PSI but I can tell you in all honesty that at 11 PSI this board is totally rigid and strong and able to support a very large amount of weight with zero flex.
If you will be paddling in flat water then you will need to attach the center fin.
I'm not that fond of the fin attachment on the Adventurer. It works just fine but compared to other fin attachments that I have seen, this is not my favorite.
The reason is because you have to use a hex screw to attach it. Although this makes for a very secure fin, it is also a little part that is easy to lose.
When not in use you might want to put the fin and the hex screw in a ziplock bag for safekeeping.
I would recommend reading the instructions before attaching the fin just to make sure you do it properly.
It does take a bit of effort to get it placed properly but once attached it is extremely solid.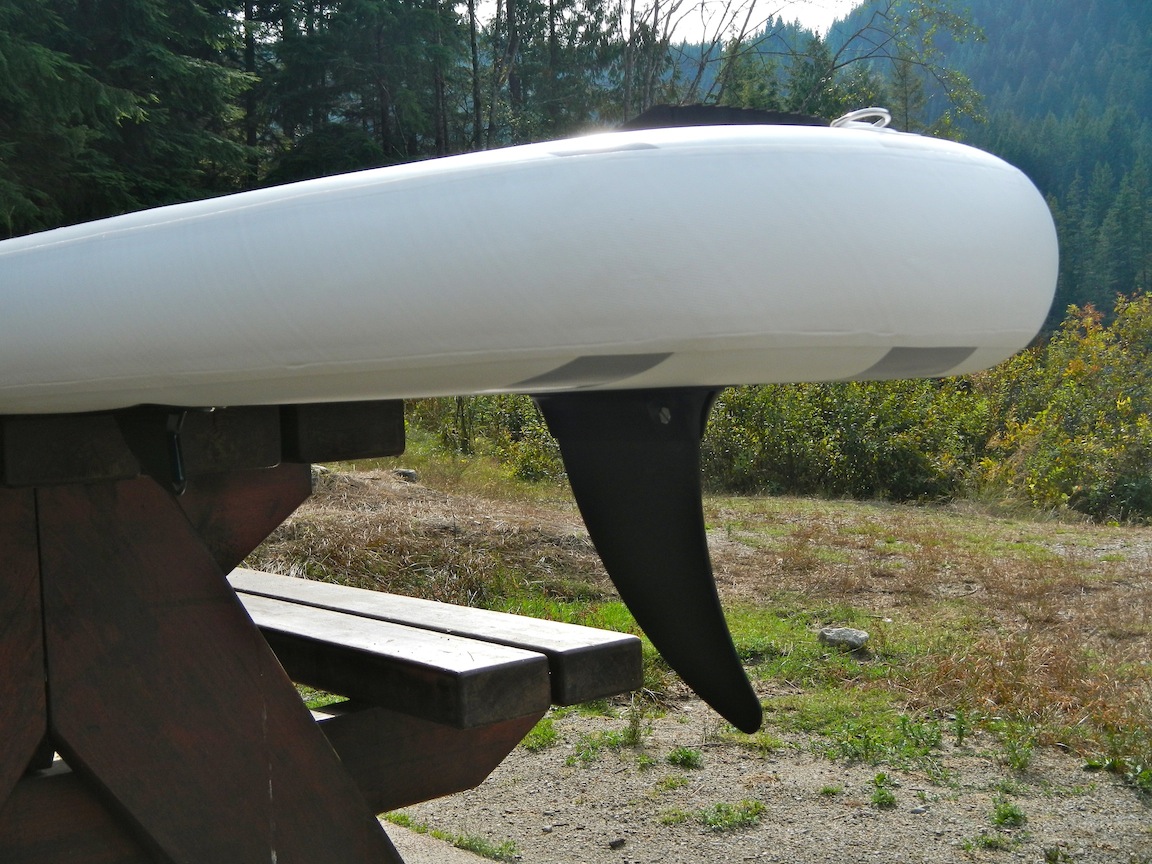 Performance
In truth I wasn't expecting a super great performance from this board. It's not a real expensive stand-up paddle board and the size made me think it would probably slug along.
However I was quite impressed. Although it is quite wide and not that long, the Adventurer tracks nicely and even though it wasn't that fast, it glided quite smoothly.
After taking it out a few times in different weather conditions, I was satisfied with the performance.
Myself and two of my male friends spent a fair amount of time on the Adventurer and all agreed that it's not the fanciest board, it's not the fastest board but it is a good ISUP… and perfectly fine for cruising around.
The other thing I was impressed with was the stability. Shorter boards are known to be highly maneuverable but also a lot tippier.
The 6" thickness and 32" width makes it very stable. I felt totally comfortable even with my little dog moving around.
The 6" thickness also means that your feet stay well above the water, which is a nice thing if the water is cold.
If you are looking for a faster touring SUP, Tower has another model called the Xplorer that is longer and sleeker and better suited for touring and speed.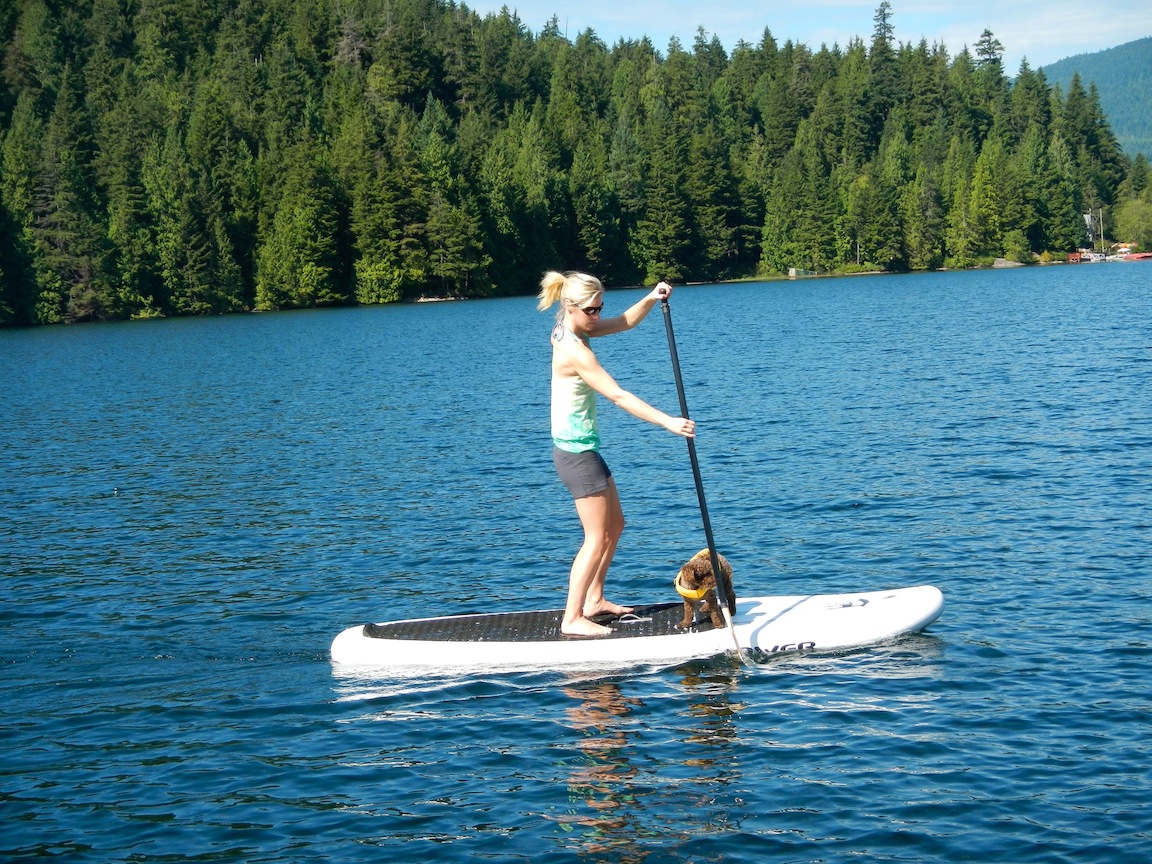 Convenient and Compact
Inflatable SUP's are pretty much convenient right across the board. They roll up into a little package that you can store in a small space.
They can be brought traveling, transported in the trunk of your car, taken on an airplane, stored in your RV or boat and are light enough to carry by yourself.
The Tower Adventurer is no different. This board is compact and light enough to easily take anywhere.
The Down Side
There are a couple of downsides to this board worth noting.
The most obvious one is that it does not come with a carry bag. It does have a strap that keeps it together when rolled up but I still personally really like having a bag to carry it in and store it in.
No bag does keep the cost a little lower and if you wanted one you can buy the Tower backpack separetely.
The other thing it does not have is any extra D-rings for attaching gear or bungee cords. This one is not a big deal, as many smaller boards do not include these accessories but thought it was still worth mentioning.
My Pics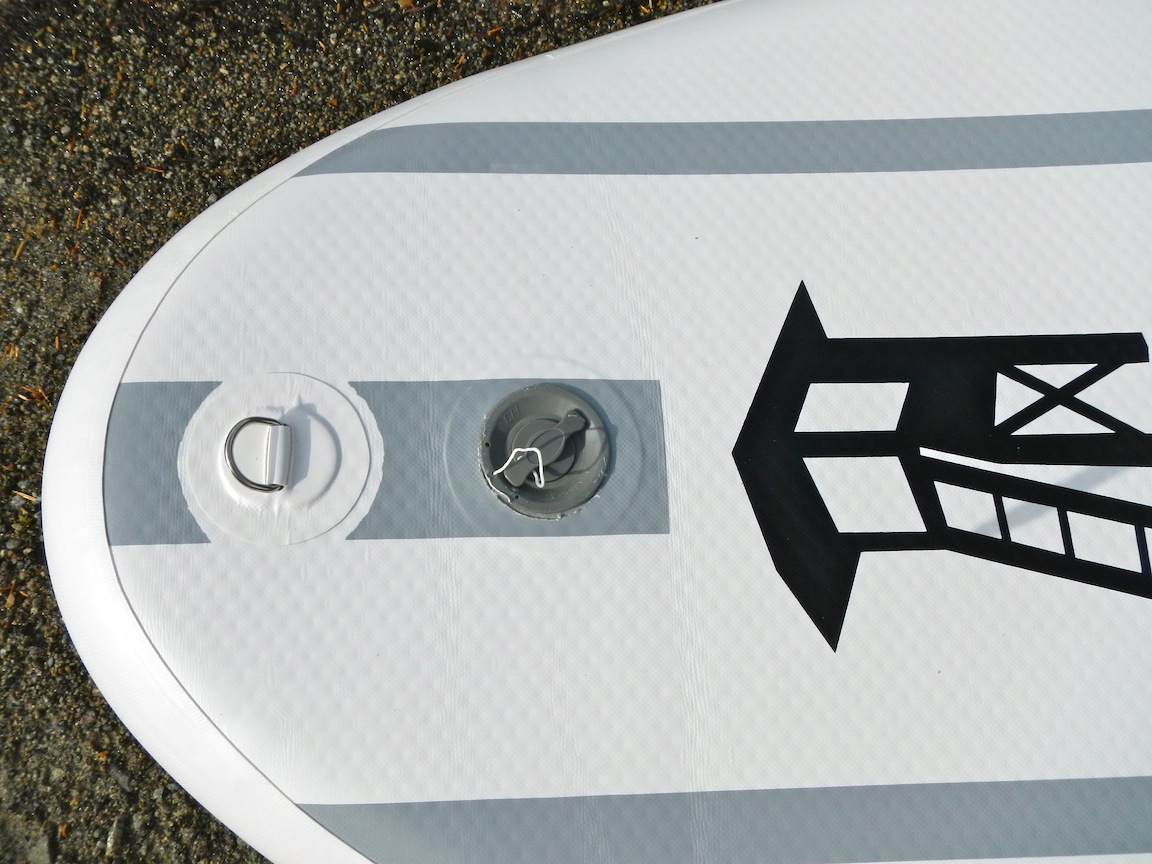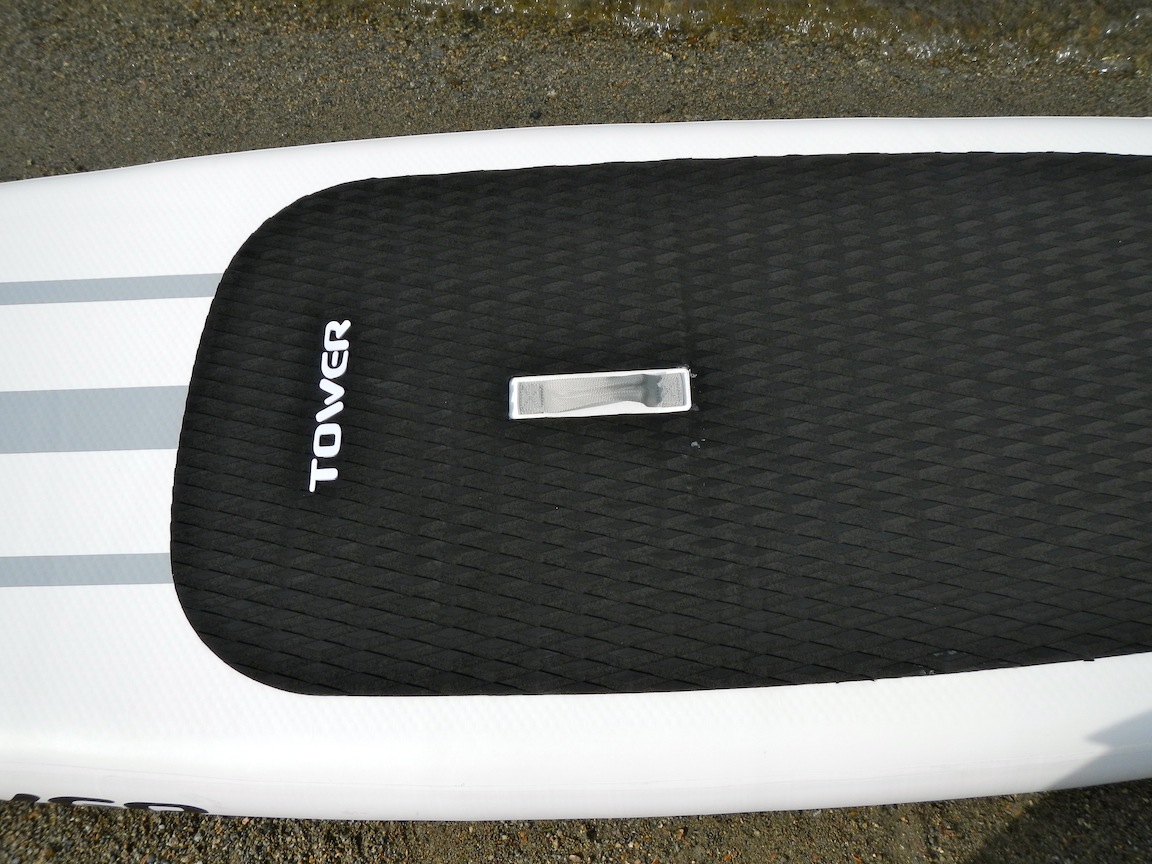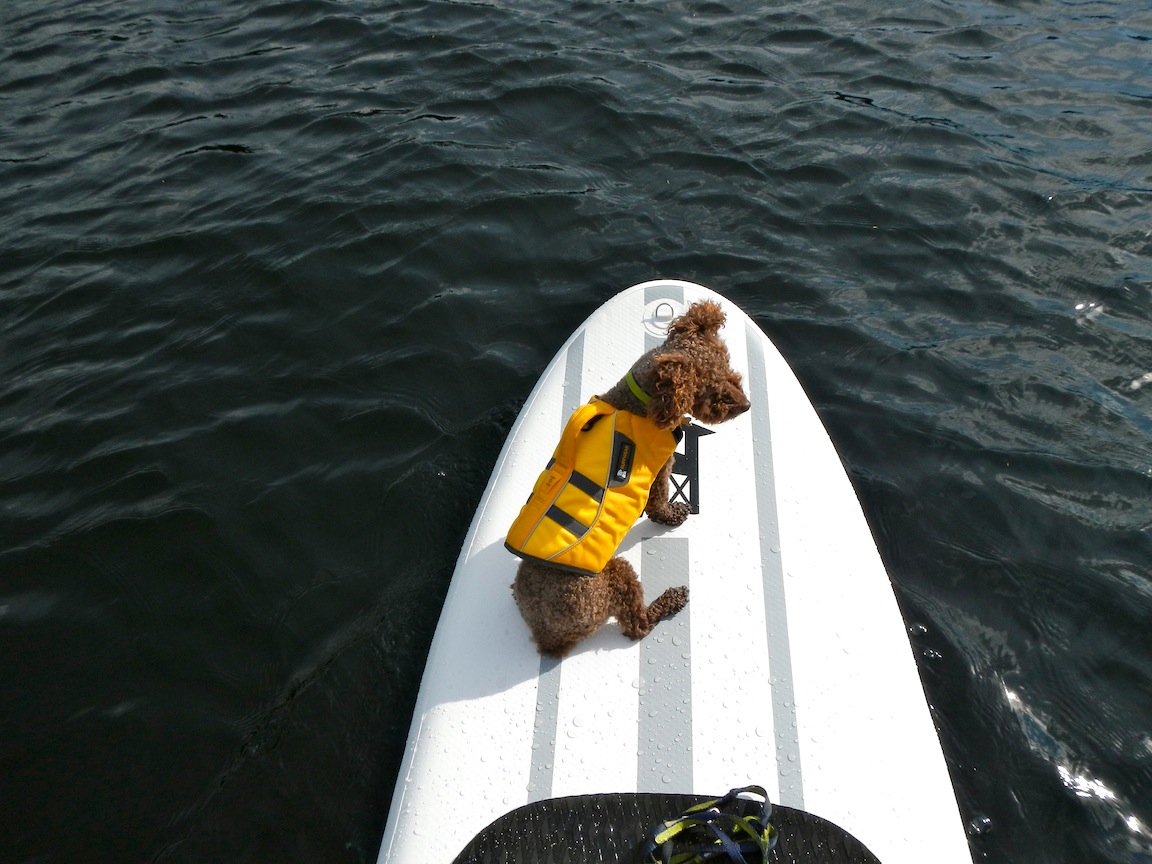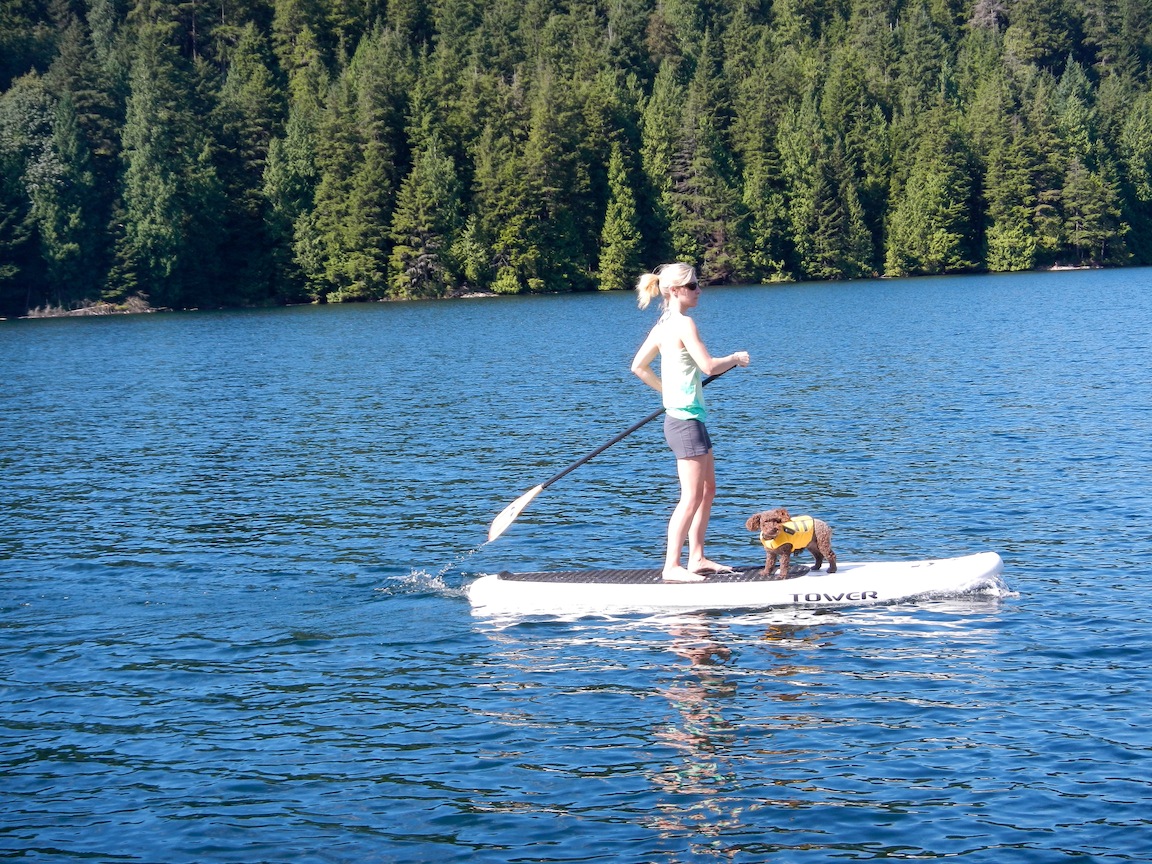 Final Thoughts
Overall the Adventurer is a great SUP. It is extremely rigid, seems to be quite well made and performs better than one would expect for a shorter and wider board.
This would make a great entry level SUP for anyone who wants an easy way to get out and explore some new waterways.
Where To Buy
The best price for the Tower Adventurer is at Amazon.com especially with the free shipping. The package includes the board, the pump and a 3-piece adjustable aluminum paddle.
Click Here For The Best Price On The Tower Adventurer ISUP At Amazon.com.
Did You Know?
By clicking on any of the above seller links you can help keep ISUPworld.com growing. When you make a purchase after clicking on our links, the retailer will contribute a portion of the sale to help support this site. It won't cost you anything extra and it's a simple way to help us fund our gear reviews. Thanks!