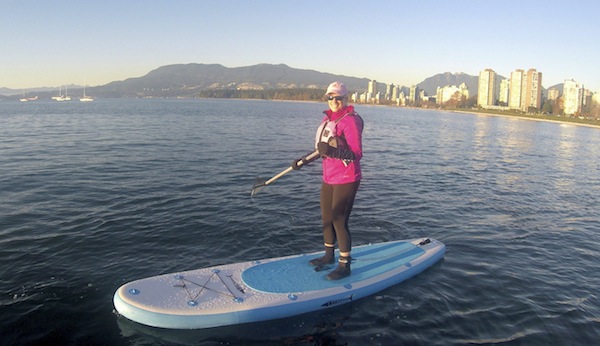 I like the Wakooda boards for a few of reasons. They tend to be light weight and super portable, versatile and very well priced.
The Wakooda LA 132 (LA = light activity) is the latest model I have reviewed and it shines in providing great value for an affordable price.
This isn't a performance board however it is rugged and durable, versatile and portable, easy to paddle and stable.
The package comes with everything you need to get out on the water right away.
This board suits a beginner to intermediate paddler who wants a versatile SUP for cruising, yoga, kids and dogs.
Specs For The Wakooda LA132
11' long
32" wide
6" thick
weighs 21 lbs.
can hold up to 250 lbs.
ISUP Package Includes: 11' board, Bravo 3-piece adjustable SUP paddle, Bravo HD inflation pump, backpack, ankle leash, repair kit
Material:Durable PVC
Pros: Stable, nice fins, removable center fin, lots of D-rings, easy setup, bungee tie-downs for securing gear, comes with 3-piece paddle, easy to maneuver
Cons: Basic SUP shape, not that fast
More In-Depth Info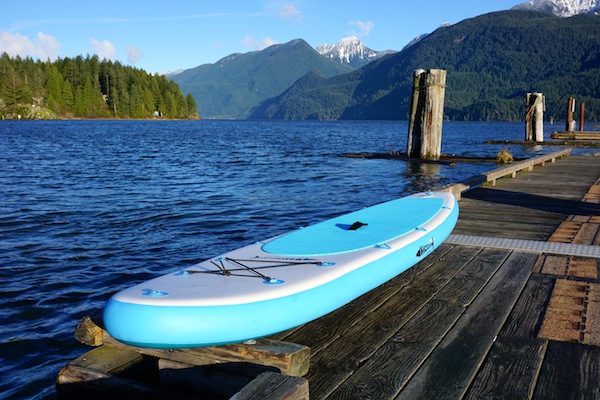 The Wakooda LA132 is a great all around cruising board.
Whether you are just starting out or have been paddling for awhile you will be able to appreciate the stability as well as how easy it is to paddle this ISUP.
The shape is basic, there isn't anything really unique about it. However it glides well and the fins really help with tracking.
It isn't that fast but for cruising around having fun, it really works great.
It is quite versatile as well and can be used on just about any type of water.
I really like that it only weighs 21 lbs. It is easy to take anywhere.
Wakooda LA132 Important Features
I found that this board had most of the important features that people seem to look for in a cruising board covered.
D-rings – There are 12 D-rings in total! There are 6 at the center of the board (3 on each side) that can be used for securing a seat or gear.
There are four D-rings up front being used by the bungee cords.
Then there is one D-ring at the top nose of the board as well as one at the back tail for securing your board leash.
With all these D-rings you have a lot of versatility for securing any type of gear.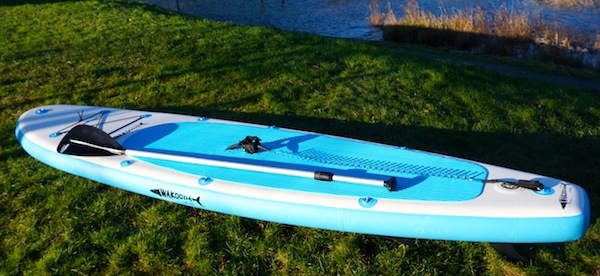 Traction Pad – The lined traction pad provides good grip and comfort when paddling.
I found that the pad seemed to get little indents in it easily. However it didn't seem flimsy and it was glued on well.
Indents are not uncommon on the traction pads of inflatable SUP's. This one may have showed them more because of the color.
Bungee Tie-Downs – Bungee tie-downs are a must for a cruiser in my opinion.
They are ideal for securing your water bottle, your shoes, a dry bag, your PFD or any extra gear you would like to bring along for a day of exploring.
The bungee cords are located at the nose of the board and are easy to reach when kneeling.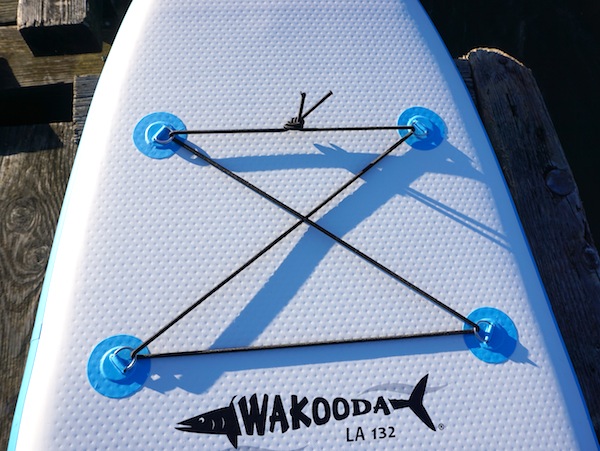 Valve – The valve is a typical Halkey-Roberts style valve that you see on most ISUP's.
It works well and I had no issues with air leakage. Once inflated you can secure the valve cap.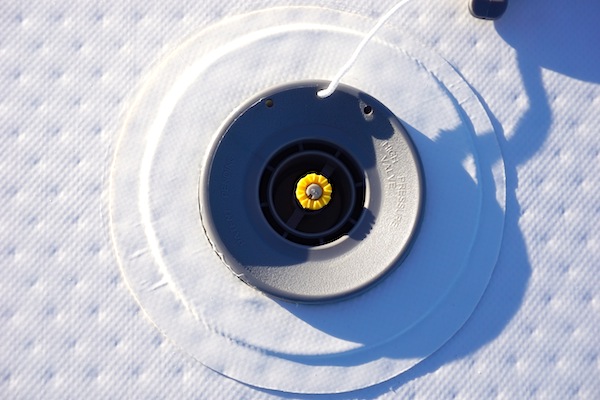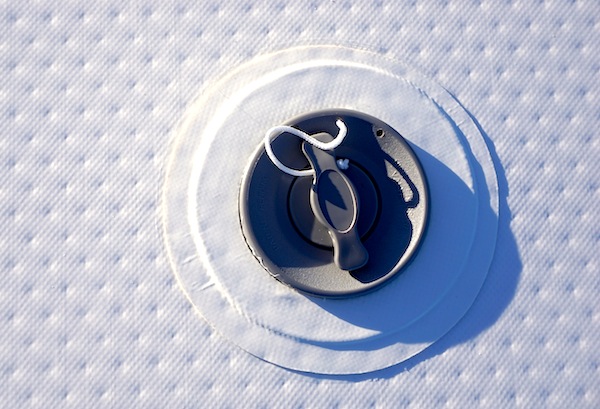 Fin Box – This board has a US style fin box. This type of fin box allows you to switch to a different fin if you want to.
I don't think too many people would need to switch the fin as the one that comes with the board is good, but the option is there.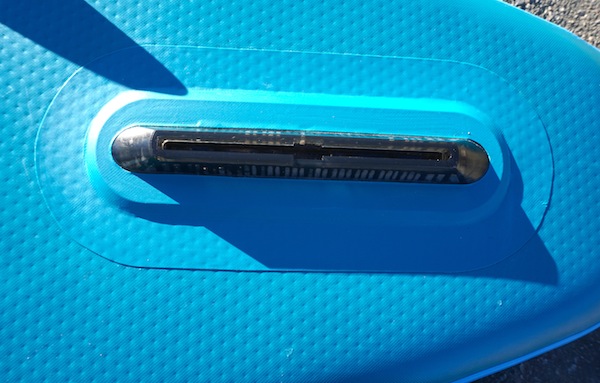 Fins – There are three fins… 2 smaller attached fins and one large removable fin.
This tri-fin configuration really helps with tracking. I would suggest always using the three fins unless you are in really shallow water.
The large removable fin is attached with a little screw. It is fairly easy to secure and once attached very solid.
I personally don't like having an extra little part that I could lose but this is a popular type of fin attachment for SUP's and it works well.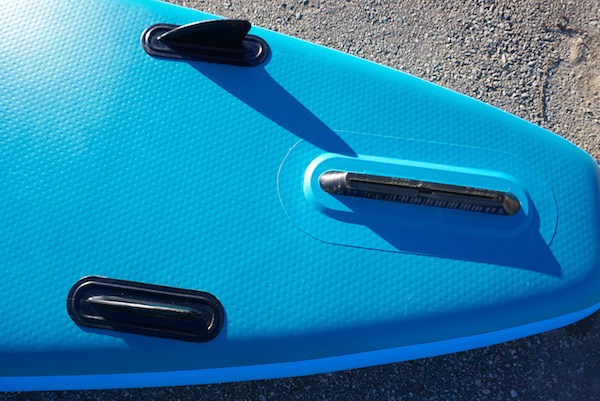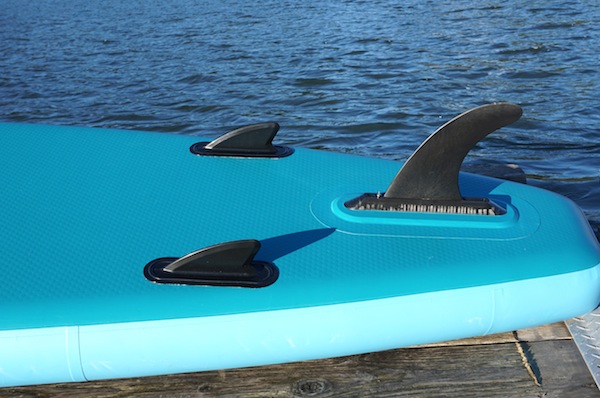 Carry Handle – The carry handle is made of strong nylon.
It lies flat when not being used so doesn't get in the way of any activity you will be doing on this inflatable SUP.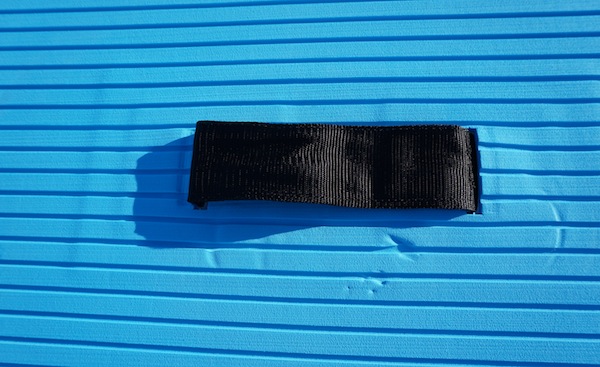 Backpack – For the most part I like the backpack that comes with the LA132.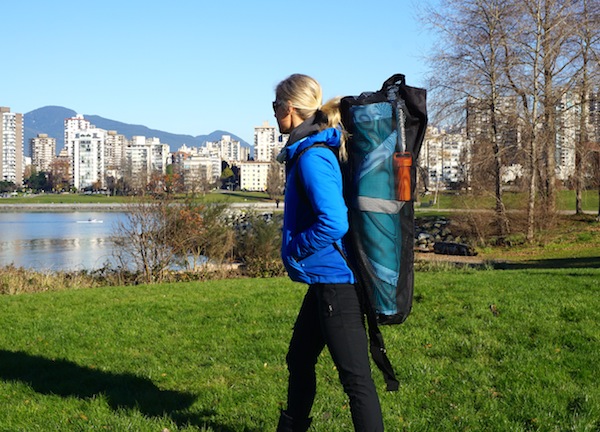 It is not fancy but it works well. It has mesh side panels that allow the board to breath.
It isn't super wide but I didn't find that I had much trouble getting the board back into the bag after use.
The top of the bag secures closed with a clip. The padded shoulder straps make it easy to carry.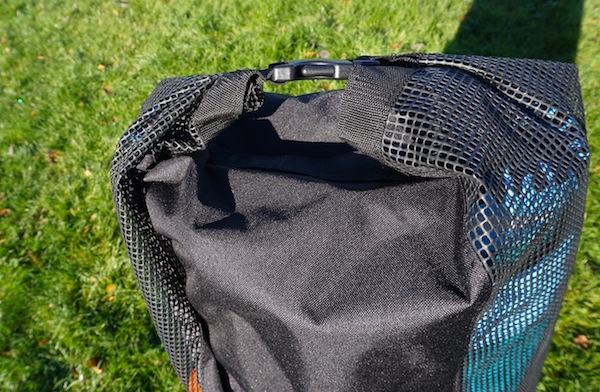 I thought the shoulder straps could have used a little extra padding to make it a little more comfortable.
However overall the bag is functional and fine for carrying to and from your vehicle as well as for storing the board when not in use.
It would not work that well for airplane travel so if you plan to travel with your board you will have to invest in a different type of travel case.
It can hold the board, the 3-piece paddle and the repair kit. There isn't room for much else but it does hold the essentials.
The front of the bag has bungee ties that can be used to secure the pump or other gear, which I think is a handy feature.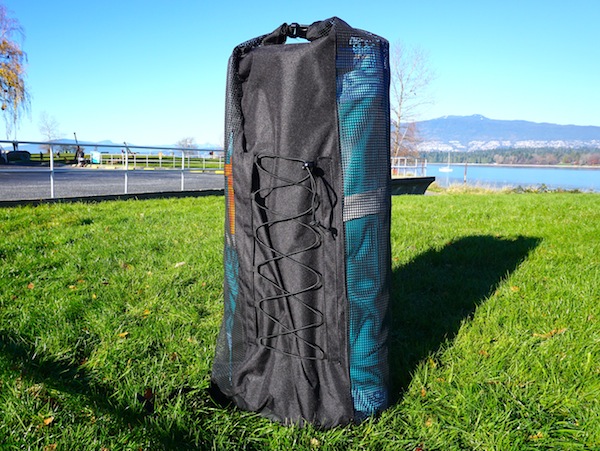 Setup & Portability
Setup is simple. This board does not take that long to inflate. With the hand pump you can count on a good 5 – 8 minutes. With an electric pump you would be done much faster.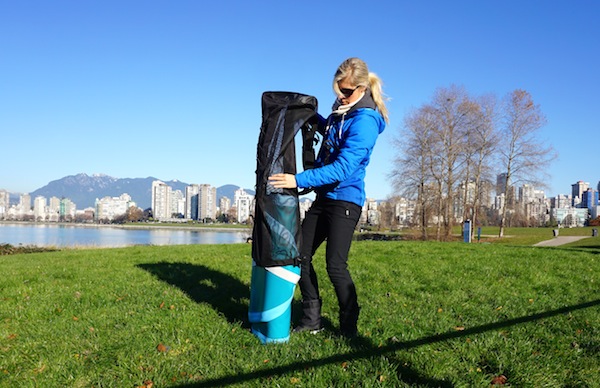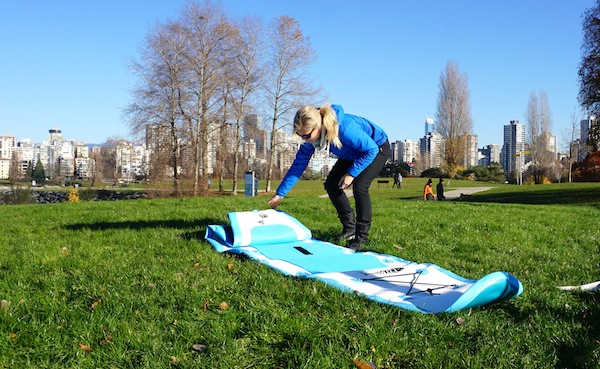 The fin might take a minute or two to secure especially your first time out.  However in general I would say you can be on the water in ten minutes or less from the time you arrive.
Weighing only 21 lbs. this ISUP is very portable. I found it easy to carry when inflated as well as when it is in the backpack.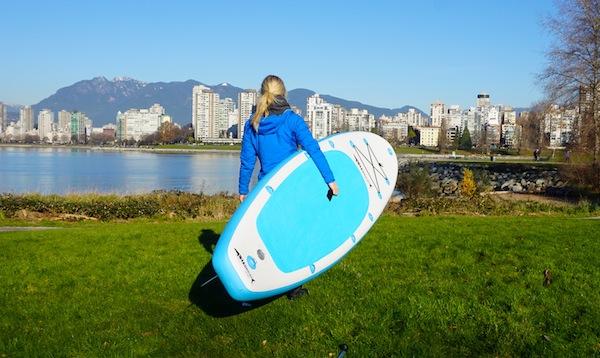 Performance
I didn't feel the LA 132 shone performance wise. It seemed to me like a jack-of-all-trades but a master at none… And to be honest there is nothing wrong with that.
It is stable, easy to paddle and has all the right features covered for a great day out on the water either by yourself or with your family or dog.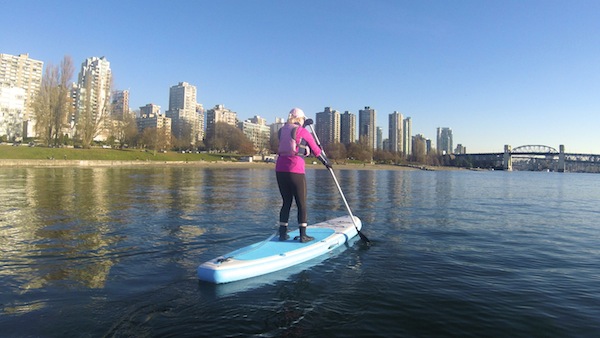 The tracking is good and I found it handled equally as well on ocean bays, lakes or calm rivers.
It is also a good size for SUP yoga if you are so inclined.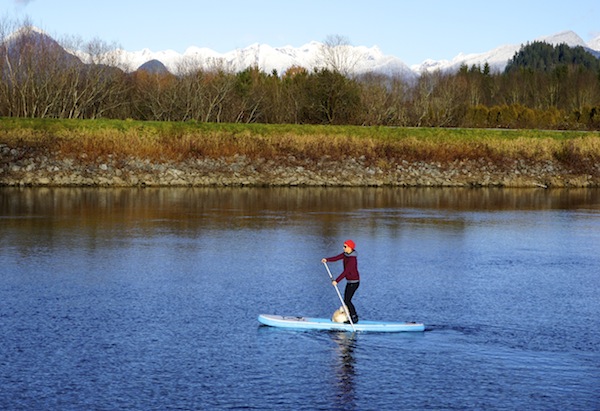 Versatility
I think versatility is what this board really has going for it.
Use it for cruising around on lakes, rivers or ocean bays. Use it for yoga. Use it for stretching. Use it for kids or pets.
Basically it is ideal for all of these things and that versatility makes it really appealing.
The Negative
The negatives are not major. It is not a performance board, so don't expect top performance from this SUP. It paddles well but you won't be winning any races.
The bag could use a few improvements but overall I think unless you are planning to do some airplane travel, most people would be quite happy with it.
More Pictures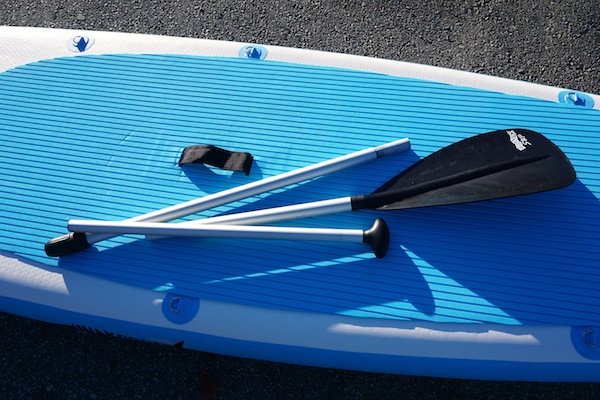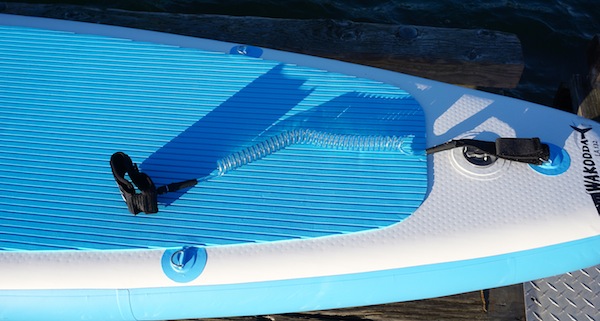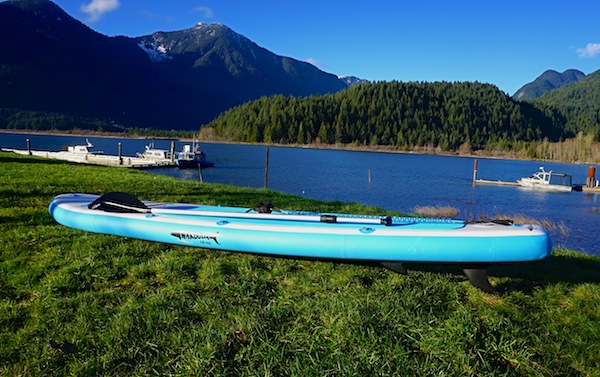 Final Thoughts
I like the Wakooda LA132. It doesn't necessarily have that wow factor but it is a nice stable versatile board that could be used by just about anybody.
For the price it is a good deal and you get everything you need in the package to start paddling right away.
The package includes the board, a 3-piece SUP paddle, the backpack, a repair kit, a high-pressure hand pump as well as an ankle leash. The whole package is really a great deal.
Where To Buy The Wakooda LA132
Click here for the Wakooda LA132 at the official Wakooda USA website.