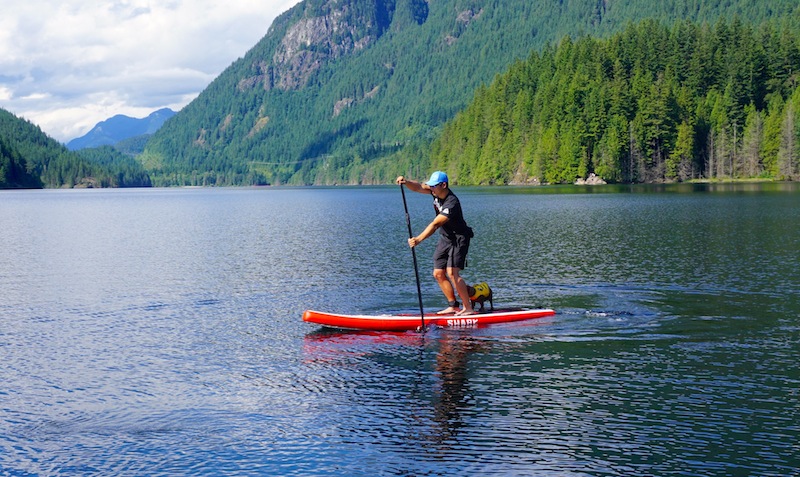 Brand new for 2016 is this very cool 10'6" White Shark Touring inflatable paddle board.
The shape and design of this Shark SUP make it very fun to paddle as well as quite versatile.
It has all the important features covered such as bungee tie down cords up front for securing gear, good fins, and lots of D-rings.
I love that the package comes with everything you need to get on the water including a paddle, a SUP leash, a pump, a waterproof phone case and an awesome backpack with wheels.
This is a SUP package definitely worth considering.
Specs For The White Shark Touring
10'6" long
30" wide
6" thick
weighs 24 lbs.
can hold up to 220 lbs.
air pressure: 18 – 25 PSI
Material: Durable drop-stitch PVC
Best Suited For: Touring, cruising
Pros: Glides well, responsive, bungee ties up front to secure gear, 6 stainless steel D-rings, 9" removable center fin plus two smaller attached side fins, decent tracking, comes with great accessories, gets good speed for a smaller board
Cons: A little heavy for the size, no kick tail, harder to paddle in wind
Where To Buy The Shark 10'6" ISUP
Click here for the best deal on the White Shark 10'6" Touring ISUP at Amazon.com.
More In-Depth Info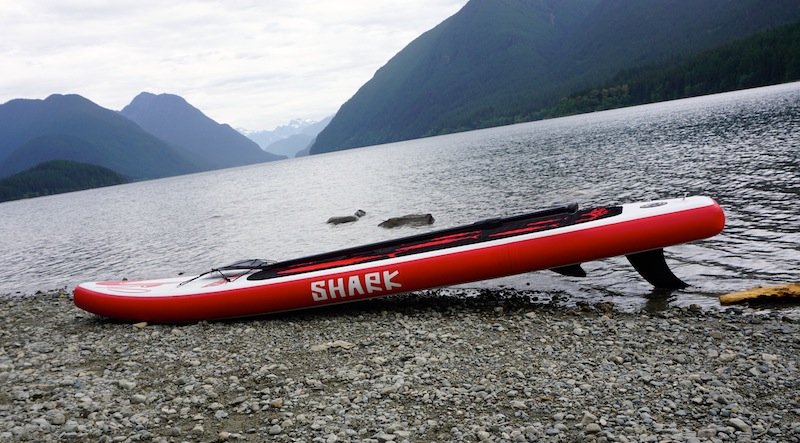 I have really enjoyed testing this board.  It has a little more kick to it than many of the other larger more stable paddle boards I often test out.
The tapered nose and tail kick up the performance a notch.  The 30″ width keeps it highly maneuverable and easy to paddle and the 6″ thickness provides the right amount of stability.
For a board under 11′ it moves well, glides nicely and held it's own in windy choppy conditions.
The quality of construction seems good – same as many others in this price range.  However where this board really shines is with the amount you get in the overall package for the price.
Included with the Shark board package is an adjustable two-piece paddle, 9″ removable fin, SUP leash, waterproof phone case, repair kit and a very functional rolling backpack.
In other words you get a fun versatile SUP and a package that gives you a lot for your money.
Important Features
D-rings – There are 6 stainless steel D-rings included on this board.
There are four up front being used by the bungee tie down cords.
Then there is one at the back end that is ideal for attaching your SUP leash.
There is also one underneath the nose that can be used for towing.
There are no center D-rings for attaching a seat, but if that is something you would like to do you could always glue extra on yourself.
Traction Pad – The traction pad is a decent size for touring and comfortable to stand or kneel on.
I like the shark designs on the pad… makes it unique and fun and obviously suits the name.
Bungee Cords – The bungee tie-down cords are always handy to have.
These ones are a good size. The way the D-rings and bungee cords are positioned allows for ample storage for larger miscellaneous items you might take with you on your adventure.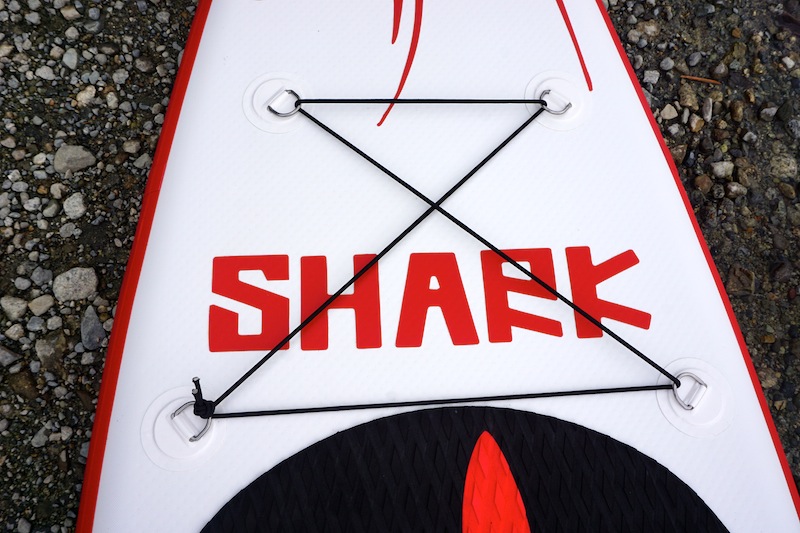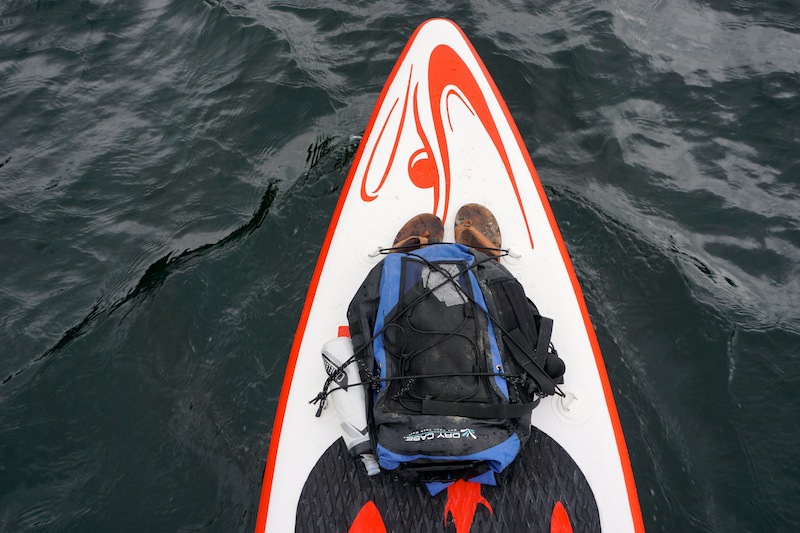 Fins – There are two attached smaller side fins as well as one 9" removable center fin.
The tri-fin configuration provides a lot of versatility. Add the large center fin for good tracking in flat water or leave it off in shallow rivers.
The center fin is easy to clip in and once attached very secure.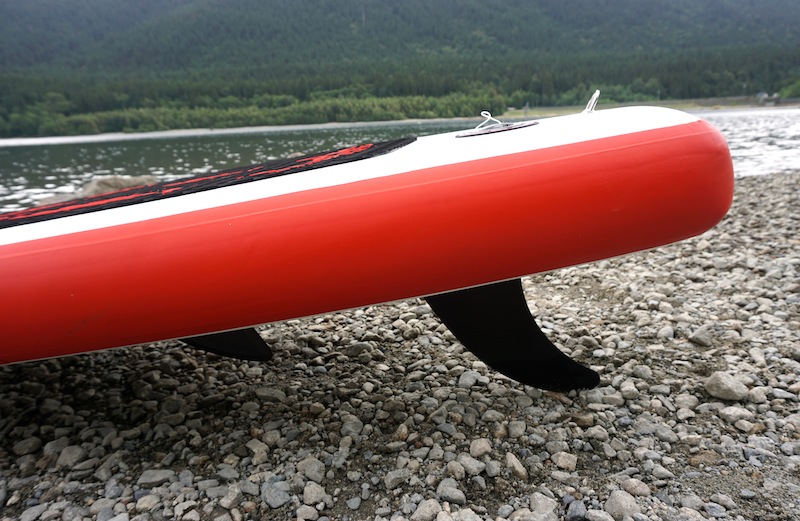 Carry Handle – The carry handle is made of strong nylon. It is a pretty standard handle that is very common on inflatable SUP boards.
It works well but I didn't find it that comfortable to carry a longer distance.
Some padding on the handle would be nice but that's just being picky.
Shape and Design – The overall design of this paddle board is worth mentioning because once inflated it not only looks great but it performs well.
The red and white colors really stand out on the water. The black traction pad won't show the dirt as much and the red shark designs on the traction pad are quite funky.
The pointier nose and tapered tail really help this board to glide well on flat water.  It picks up speed better than many other ISUP's I have tried of similar size.
The learner 30″ width means that even a smaller person won't have to reach far to paddle and keeps this SUP streamlined and moving with less drag.
For a board under 11' it paddles quite well and I had little trouble keeping up with longer faster boards.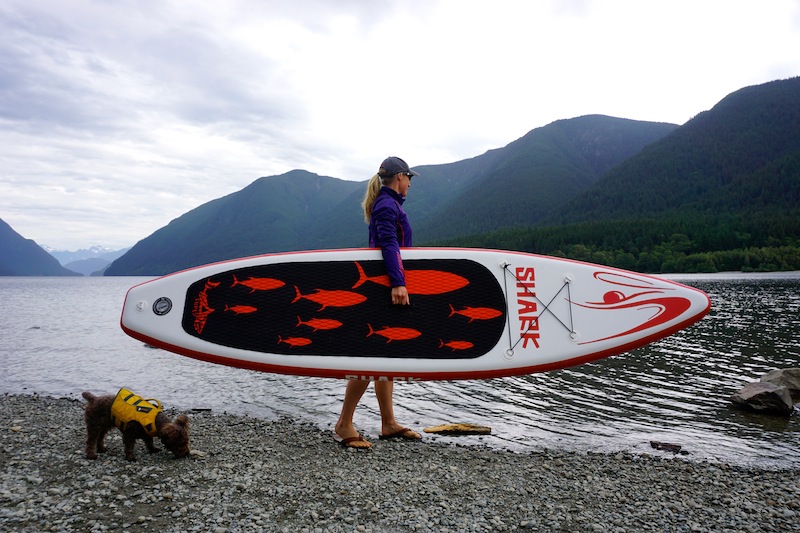 Backpack – The backpack is well constructed – the quality is similar to many others out there. However what makes it stand out is the complete functionality of it.
Shark has put some good consideration into what consumers want in an ISUP bag.
It has a full front load zipper making it very easy to get the board in and out.  There is no problem fitting the board inside the bag.
There is another large zippered pocket at the front of the bag that easily holds the pump, your leash, the repair kit and other small accessories.
The shoulder straps are lightly padded and adjustable. There is a chest strap and a padded waist clip for added support.
The bottom of the bag has two wheels so you can wheel the bag around instead of carrying it if you choose.
There are also two little legs at the front bottom of the bag to help it stand upright. This is a nice feature although depending on how I packed the bag it still tended to tip when I tried to stand it upright.
For traveling and ease of portability this carrying bag is great.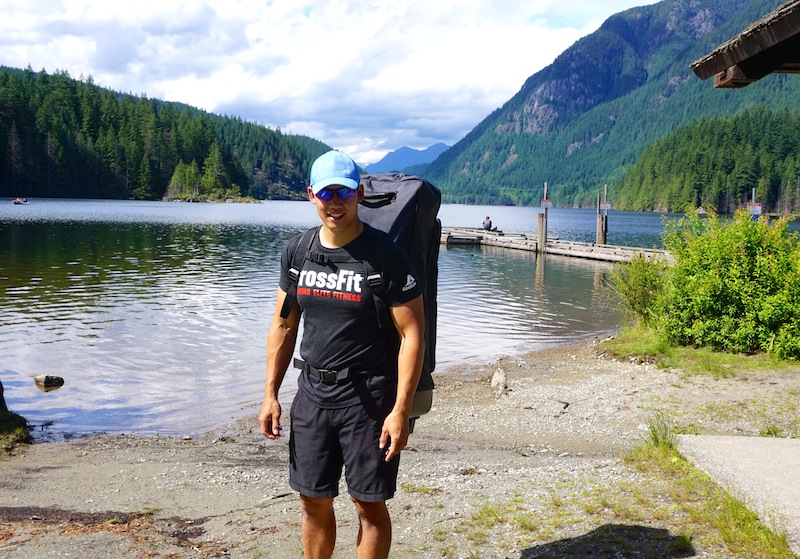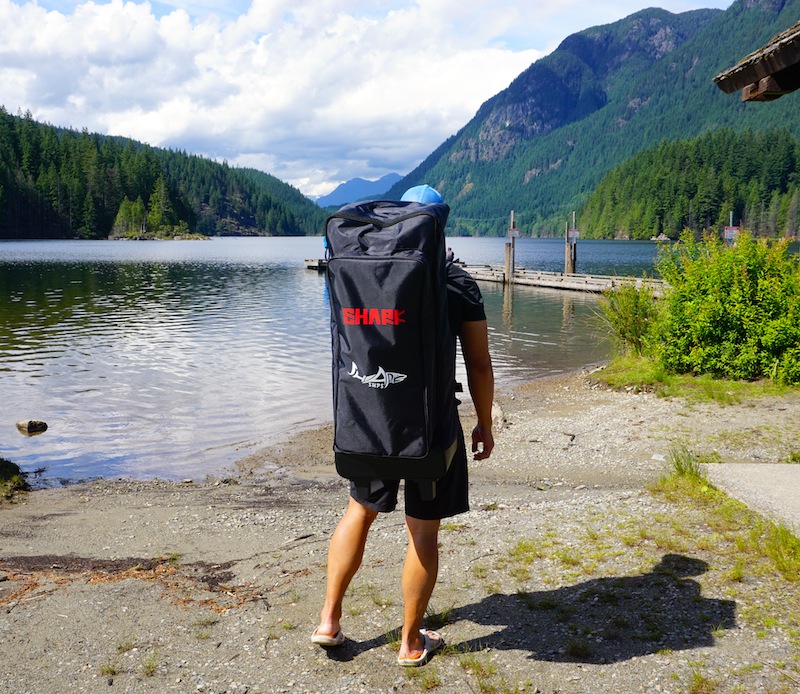 Pump – The hand pump that comes with this package is excellent.
It has a double action and a single action switch so you can get your board inflated in record time with less effort.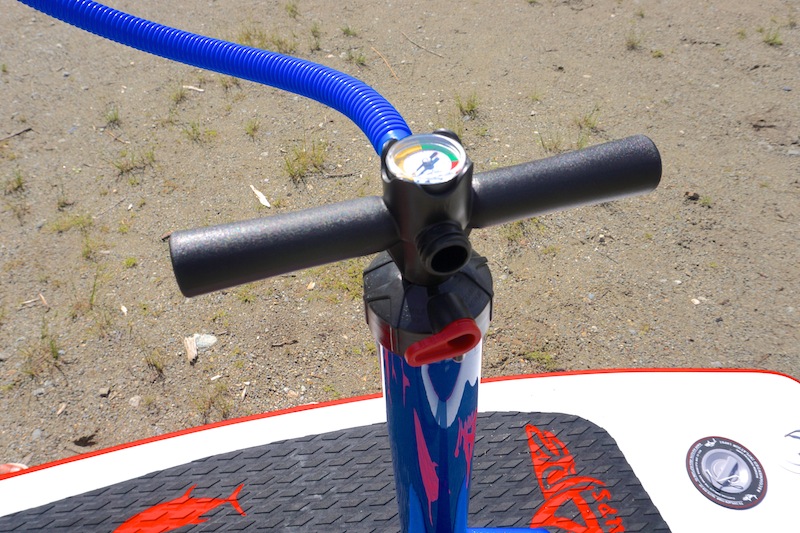 We were impressed with how well it worked.  It has a sturdy base and a built in pressure gauge.
The pressure gauge allows you to check your progress as you pump.  It shows you three stages by colour.
In the yellow zone your board is not nearly inflated enough.  In the green zone it is good to go.  The green zone is 15 PSI up to 25 PSI.   The red zone is too far.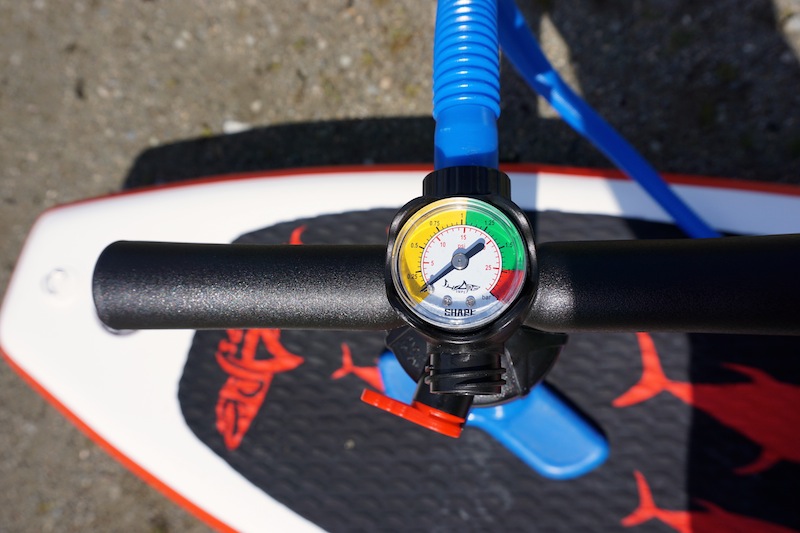 This board can be inflated up to 25 PSI but takes a bit of work to get it there.
We found it paddled just fine for both myself and my boyfriend when it was inflated to the standard 15 PSI mark.  However it is capable of holding more air if you would like to make it even more rigid.
Paddle – Also included in the package is a 2-piece adjustable aluminum paddle.
The paddle is a little on the heavy side but very usable and perfect for starting out.
You may want to upgrade down the road but it is nice to have the paddle included in the price.
It is easily adjustable to suit your height.
Waterproof Phone Case
I love when little accessories are added in the package.  This waterproof phone case is a nice touch and a handy thing to have.
It has a large transparent window and measures 3.5″ x 6″.
It was able to fit a Samsung Note 5 phone without the case.  If you have a thinner case you might be able to fit it in with the case on but for us it worked better without.  It should fit most standard smart phones.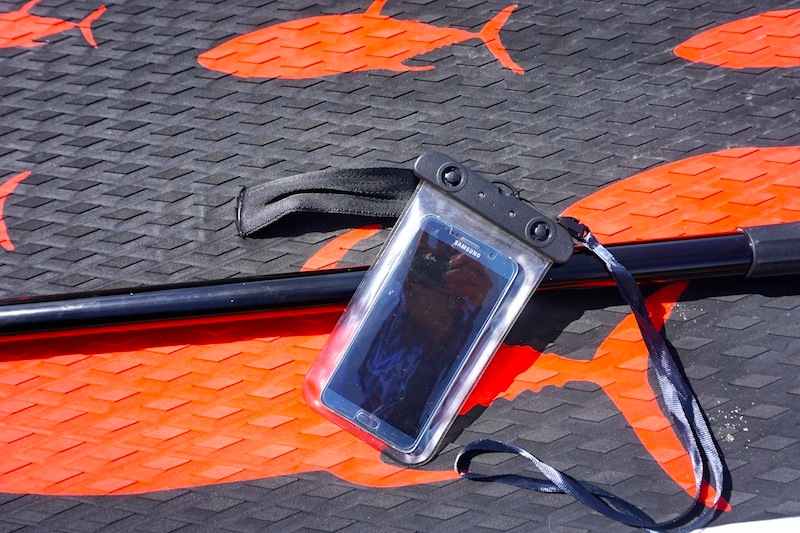 SUP Leash
Also included is a coiled SUP leash.  A leash is important to use while stand-up paddling.  It keeps you connected to your board if you should fall in the water.
One end of the leash attaches to your ankle and the other will attach to the back D-ring on your board.  This leash measures 10′ long.
Shark SUP Touring Setup
Setup is fast as with most inflatable paddle boards. Take it out of the bag, unroll and press in the tip of the valve so that it pops up.
Secure the pump hose to the valve and inflate.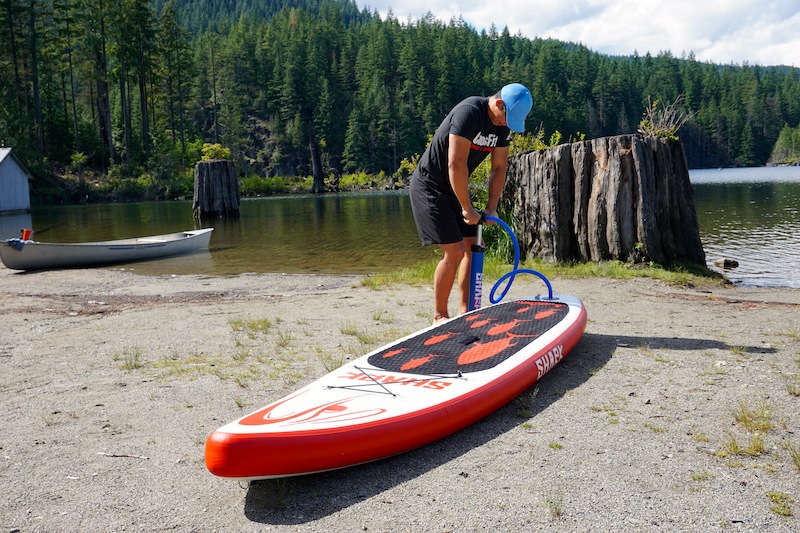 Once inflated secure the center fin, attach your SUP leash and off you go.
Once you have done it a couple times the whole process takes roughly only 10 minutes to get on the water.
Shark 10'6" Touring ISUP Performance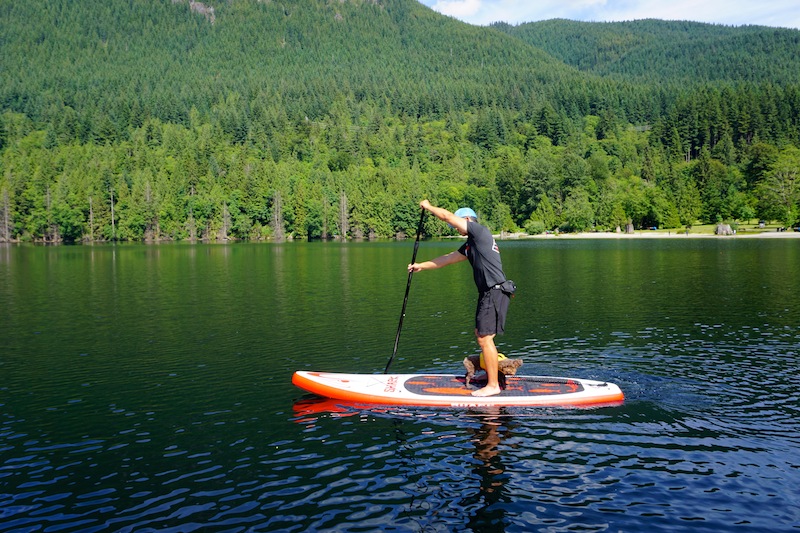 My first day out on the Shark 10'6" I got caught in heavy wind and rain on my ride back.
Although I got cold and wet and had to work a little harder, it was a good test to see how this SUP handles.
I was enjoying it on flat water before the wind started. It glides well and for a smaller board it holds its own.
It turns easily and feels really responsive.
The 30" width does make it less stable than other slightly wider boards but on the flip side that leaner width really helps it to perform well.
I enjoyed it a lot. A beginner will find it a little less stable initially but there's room to grow as your technique and balance improves.
Both my boyfriend and I found that after just paddling for half an hour you really get used to the feel of it and enjoy how well it rides.
I never expect ISUP's under 11' to be that fast and this one won't be the fastest board on the water but for it's size it moves really well.  It definitely does not feel sluggish.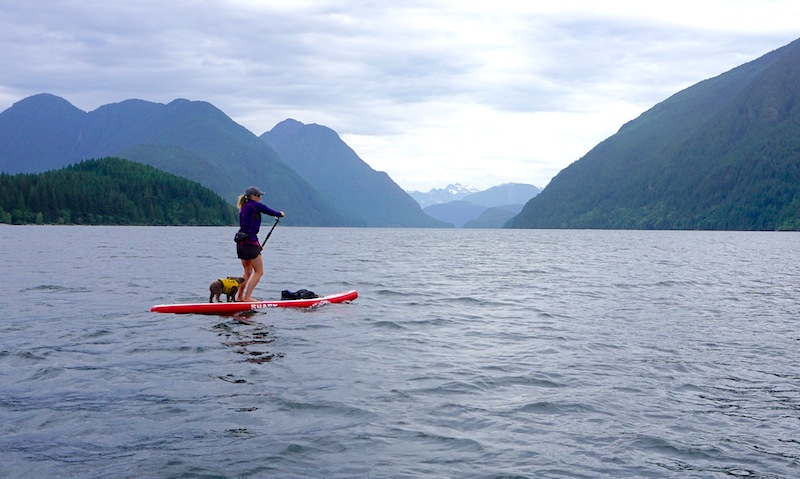 The 6" thickness provides good stability and rigidity. I believe this board also comes in a 4" thick option.
However because the shape is so tapered and lean I think the 6″ thickness provides a nice balance and ultimately helps create a comfortable ride.
In the heavy wind it got difficult to paddle – as do many boards.  The wind picked up that first day much more than I liked and it took work to keep moving forward.
It was less stable on heavy chop but still manageable. If you have no experience you will find it more 'tippy' on waves and chop but I wouldn't let that deter you unless you really wanted a wide extra stable board.
I found this board less stable with my dog on it as well.  Normally he is so small that I don't feel him move around much even though he likes to walk from front to back on the SUP.
With the 10'6″ Touring I did notice his movement and found it took more concentration to paddle.  With a larger dog it could be quite tricky unless they sat very still and you were quite confident in your paddling and stability.
However I didn't mind this at all.  It was still refreshing to paddle a shorter board that is not a cookie cutter shape and that moves well.
After that first windy paddling day we had it out several more times in calmer conditions and it excelled.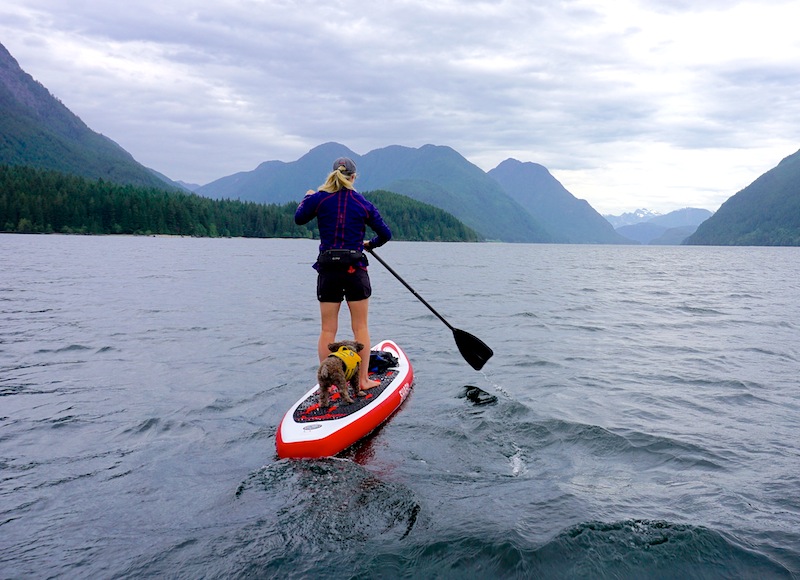 A Male Perspective…
My partner Darryl helps me to review all of the stand-up paddle boards for this site.  I like getting his perspective and feel for different boards as he is bigger and heavier than I am and of course is able to provide a male point of view.
He thought the 10'6″ White Shark SUP was nice, quick and nimble.  He thinks it will offer a challenge to newer paddlers initially but said it will keep you focused and help you develop your skills and improve confidence, which is a good thing.
This board doesn't get boring to ride and although it is a little less stable than he would prefer for his size and comfort level he handled it just fine.
Versatility
The size of this Shark SUP makes it very versatile. You can use it for touring on flat water lakes or cruising on ocean bays.
It can also handle small waves well and although I feel it is best suited for flat water touring, it could handle some mild river running as well.
The Negative
The negatives are not major. I would love this board to be slightly lighter for it's size, that would have been a huge plus.
It is still easy enough to carry at 24 lbs. and in truth that is a pretty standard weight for ISUP's  but just a couple pounds lighter would be ideal.
There is no kick tail at the end of the traction pad. Kick tails are good for doing pivot turns and quick maneuvers.  They add more versatility and are fun to have but not critical.
I found the leaner width to be less stable when paddling into the wind but again this is not a major complaint, just something to be aware of.
Overall it seems well made and the valve worked perfectly. Time will tell how well it holds up. It does come with a 2-year warranty, which is nice to have.
More Pictures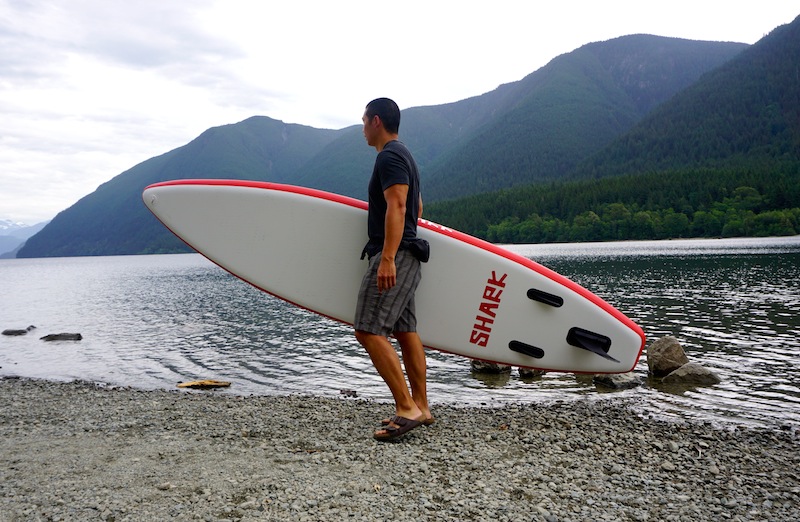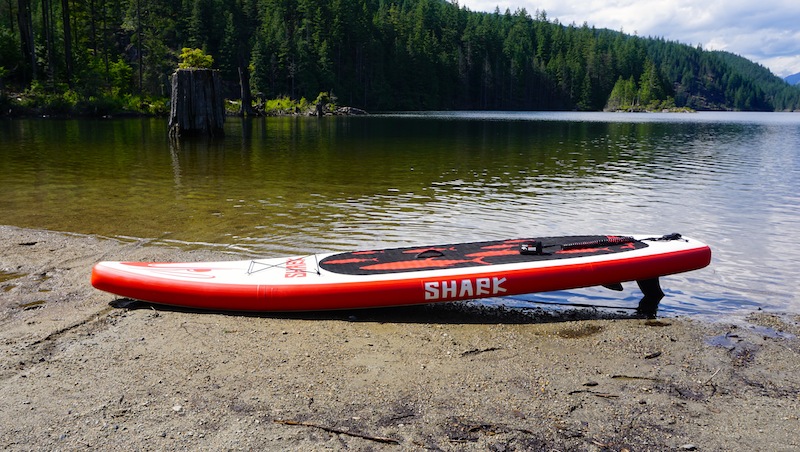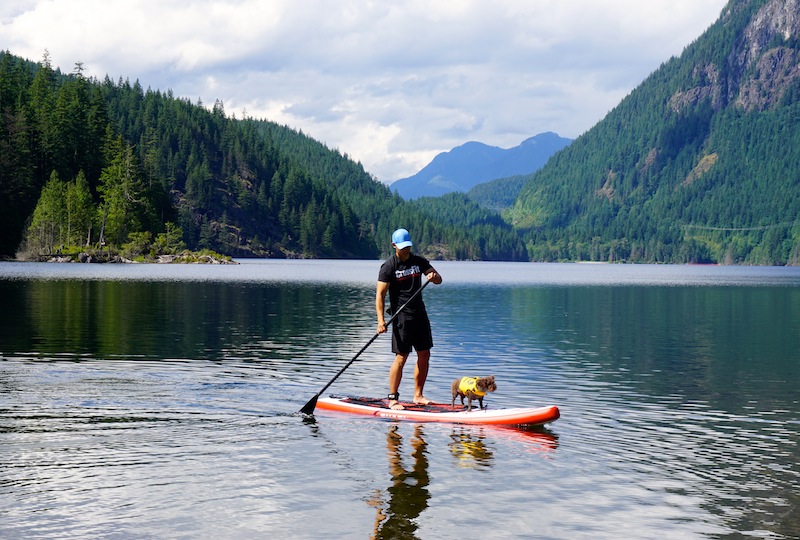 Final Thoughts
The 10'6" White Shark Touring SUP is simply a lot of fun. It is a good versatile board that just about anybody could use although we felt it best suited a smaller frame.
The package comes with the SUP, a paddle, a SUP leash, a repair kit and an added bonus – a waterproof phone case.
If you want a smaller board that can hold quite a bit of weight but still  has a some good kick to it, this one is a great choice.
Where To Buy The Shark SUP 10'6" Touring ISUP
Click Here For The Best Deal On The 10'6" White Shark Touring ISUP At Amazon.com.
Did You Know?
By clicking on the above seller link you can help keep ISUPworld.com growing. When you make a purchase after clicking on our links, the retailer will contribute a portion of the sale to help support this site. It won't cost you anything extra and it's a simple way to help us fund our gear reviews. Thanks!